Hawaiian Blue and Frost White 1972 K5 Blazer With a Refreshed Classic Design
By Tommy Lee Byrd   –   Photography by the Author
Back in 1969 the K5 Blazer entered the space between the 1/2-ton Chevy pickup and the Suburban and was often used as a recreational vehicle since it didn't serve as a practical truck or an efficient people-mover. The K5 Blazer 4×4 was more of a purpose-built play toy that gave you just enough room to pile a few buddies inside and hit the trail. This 1972 Chevy K5 Blazer lived the life of most four-wheel-drive trucks. It wasn't pampered or babied, but it was given a new life by Trent and Diane Moore of Maroa, Illinois. The hard-working couple didn't exactly have time to fit a project truck into their busy schedule, but they brought in this Blazer 4×4 in the fall of 2017.
Read More: Duramax Powered Chevy K2500
Trent saw the truck on Craigslist and couldn't resist the urge. He and his son loaded it up and brought it home, with endless ideas floating around on the drive home. The K5 Blazer was a basketcase, giving Trent a blank canvas to build upon. The chassis was intact, but needed a complete restoration, and the body had been through the wringer. The engine and transmission were gone, but the original axles and transfer case were in good shape, so Trent began gathering parts and working toward getting the old Chevy Blazer back into shape. This time around, it would be set up for highway cruising instead of goofing around in the woods.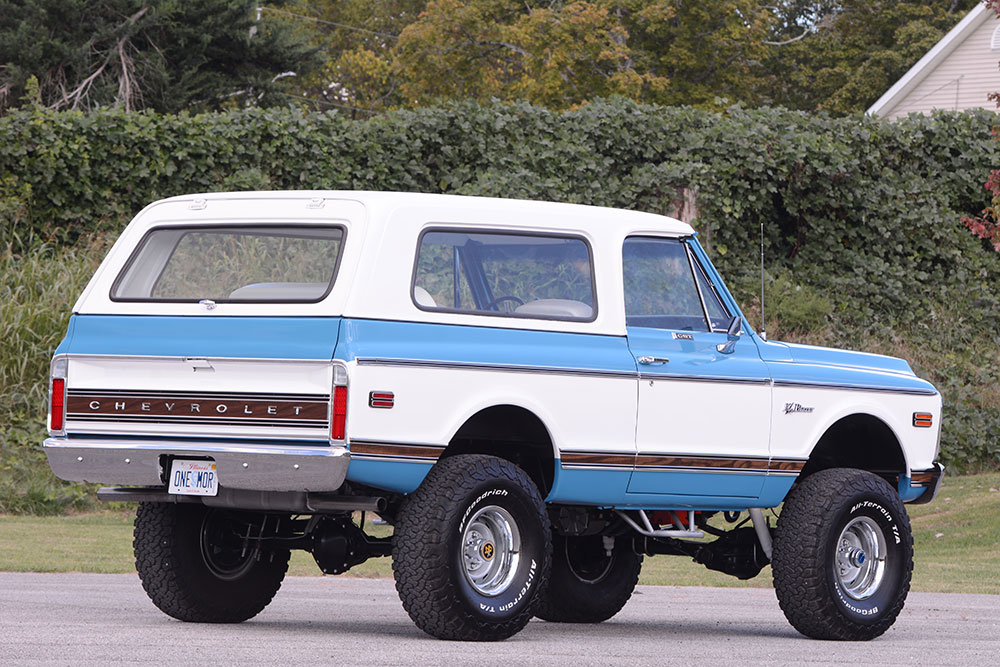 Even with a packed work schedule, Trent made time to sneak out to the garage and chip away at his project. The chassis came first, and it received a full suspension and steering rebuild. While it was apart, Trent added a Tuff Country EZ-Ride Suspension straight axle lift kit, which consists of new leaf springs, U-bolts, and shocks. The Tuff Country lift kit raised the K5 Blazer 4 inches, providing adequate room for the beefy BFGoodrich All-Terrain T/A KO2 off-road tires, which measure 35×12.50R15 and feature the classic look of raised white letters. The wheels are original six-lug truck rallyes, measuring 15×8 and wearing bright trim rings and center caps. During the undercarriage rebuild, Trent also rebuilt the brakes, including all-new hard lines, power booster, and master cylinder.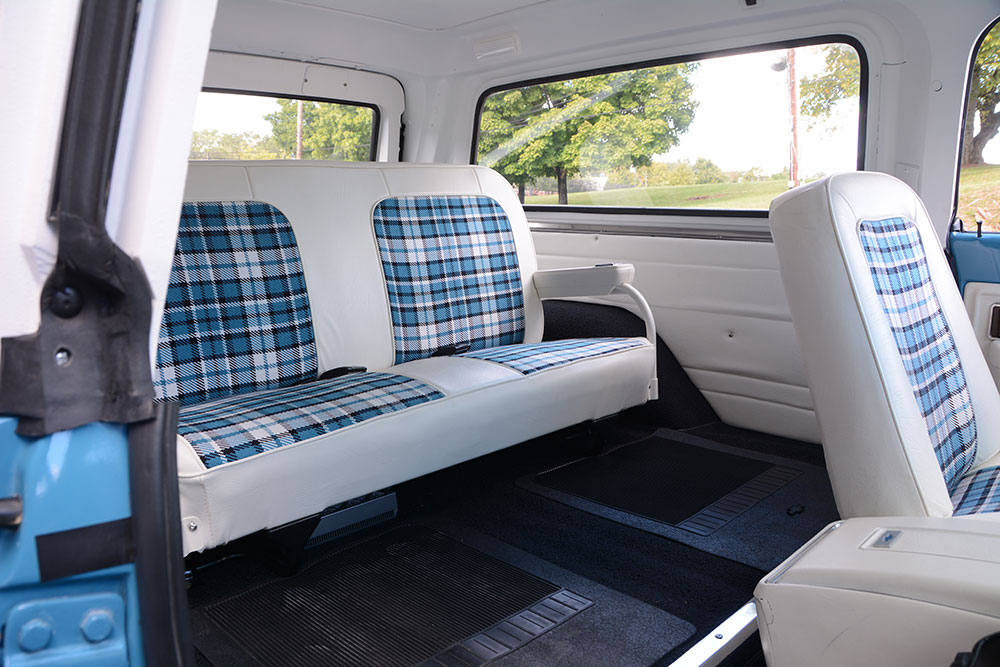 Read More: Gritty 1968 Dodge Power Wagon with Hellcat Hemi Power!
Since there was no engine or transmission, Trent decided to reach into the modern era with an '04 model Chevy 5.3L LS engine. He had a local machine shop go through the engine to make sure it was ready for action, but he wanted to keep it as close to stock as possible. Wearing a coat of Chevrolet Orange paint, the LS engine slid comfortably into its new home with the use of Flowtech exhaust manifolds, a Holley accessory drive system, and a direct-fit aluminum radiator with dual electric fans. Trent also added a custom intake manifold system from LS Classic Series by Lokar to replicate the original 14-inch air cleaner setup, while utilizing a BP Automotive engine and transmission wiring harness that ties into the American Autowire main harness. Behind the 5.3L LS engine is a 4L60E transmission, which is mated to the original 4×4 transfer case with Advanced Adapters components. The overdrive transmission gives Trent and Diane the ability to hit the highway comfortably, while still retaining the proper ratios for the occasional off-road adventure.
Although the body had seen its share of abuse and Midwestern winters, it still had enough substance to be saved. After replacing a few body panels, Russ Weber straightened the panels and applied the Hawaiian Blue and Frost White paint. From there, it was a matter of sanding, buffing, and polishing the fresh materials, and re-installing all of the factory CST trim. The only exterior modification comes in the form of LED taillights, providing better visibility without taking away from the truck's original appearance.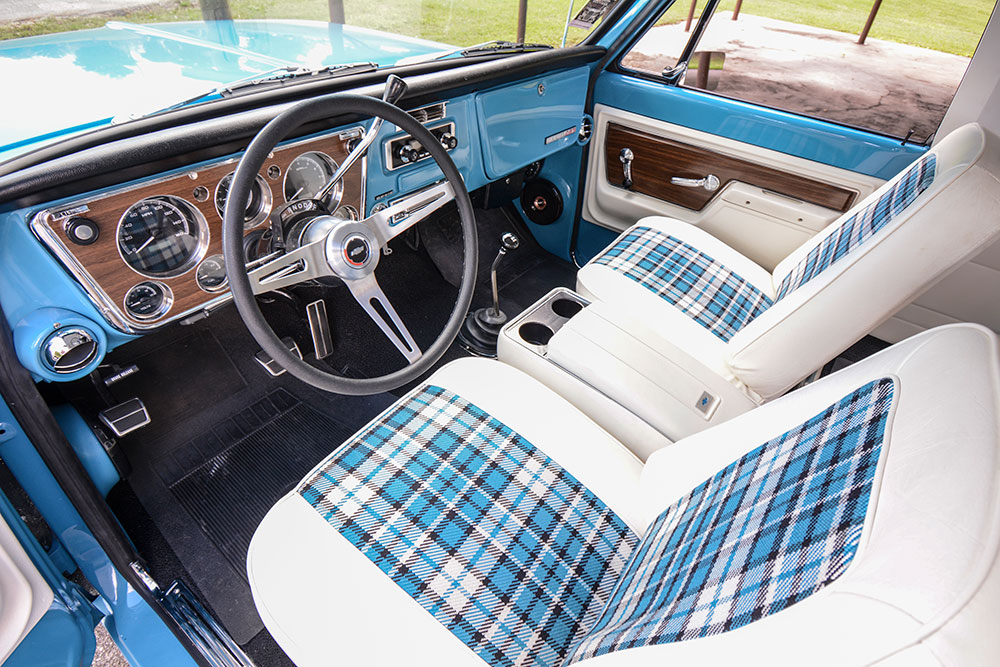 Read More: $100 DIY Paint Job: Budget Black Blazer
Inside is a fresh take on a classic design. Trent called upon the help of Mac's Upholstery to re-cover the original bucket seats and rear bench with white vinyl and Blue Highlander Plaid inserts from SMS Auto Fabrics. White interior panels with original woodgrain trim offers the perfect contrast against the painted dash and doors. Black carpet with factory-style rubber mats complete the all-original look. While great care was taken to retain originality, Trent also gave the Blazer a few creature comforts. This includes a Vintage Air heat and AC system, complete with a new control panel as well as a Custom Autosound Manufacturing stereo head unit with custom speakers in the kick panels. Dakota Digital gauges are surrounded by the original woodgrain bezel.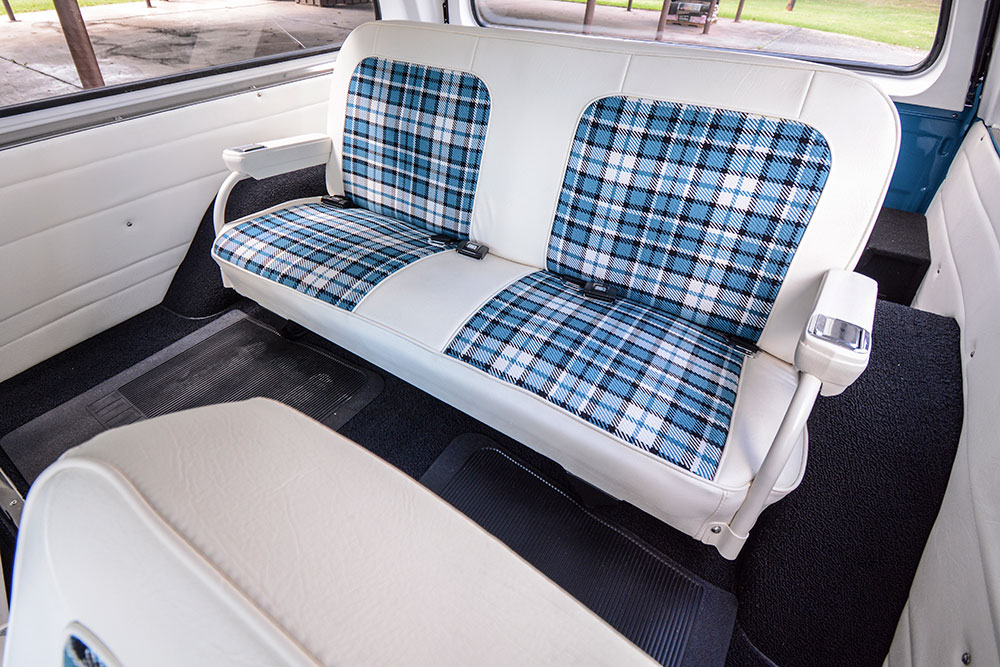 Soon after its completion, Trent and Diane began driving the 4×4 Chevy Blazer to local events and eventually ventured out a little further. We spotted it at the NSRA Street Rod Nationals South in Knoxville, Tennessee, and they have also traveled as far as Fort Worth, Texas. It commands attention wherever it goes, thanks to its traditional color combination, classic stance, and upgraded drivetrain. The first gen Chevy Blazer has racked up many awards along the way, but most importantly, it has racked up a lot of miles, which is the new purpose of this extensively restored Chevy K5.
Best Of Both Worlds: LS Swapped '72 K5 Blazer