A 1983  Built For Ricky By Slick's
By Fuelish Media – Photography by the Author
It's one thing to indulge in the urge to tweak a mostly stock truck, but completely hacking the thing apart and spending nearly an entire decade putting it back together again is something entirely different. It wasn't until recently that Ricky Ramon was able to finally experience both sides of the custom spectrum. Growing up reading Hot Rod, Lowrider, and every auto magazine in between, Ricky developed a love for all types of custom vehicles, and that love only grew stronger as he got older.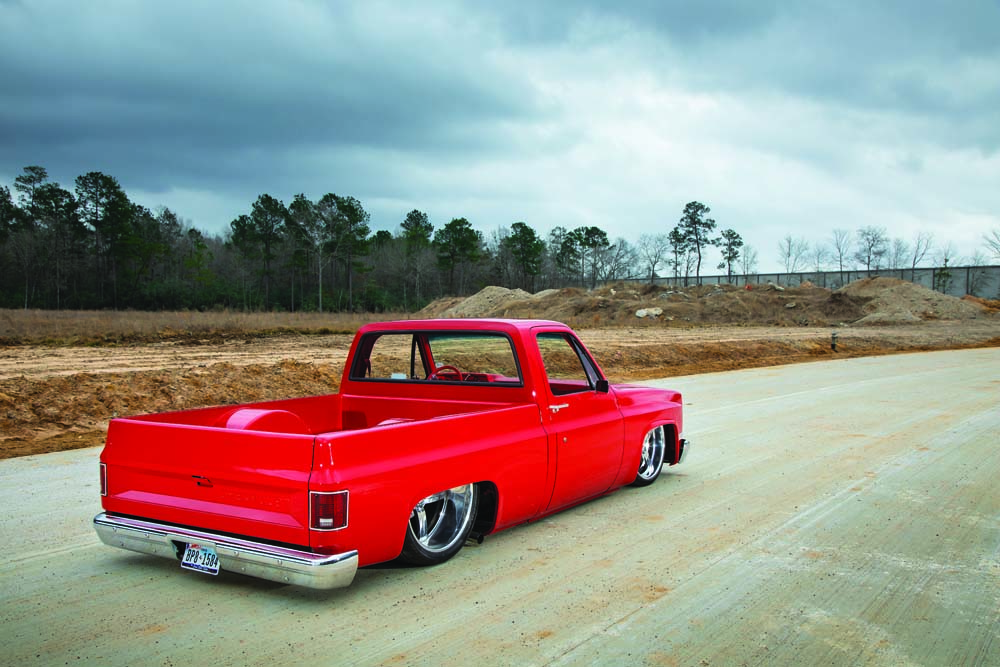 Read More: Corner Carving Chevy 3100
"Since I was about 15 years old, I've loved the early '90s mini-truck and lowrider scene," he says. "I never keep my vehicles in factory condition, as most of them usually have at least aftermarket wheels, stereo components, or something along those lines. As I got older, I wanted something in the way of a full-custom Chevy Squarebody to enjoy with my wife and daughter, but it was just a matter of finding one that was mostly stock and not previously chopped beyond repair."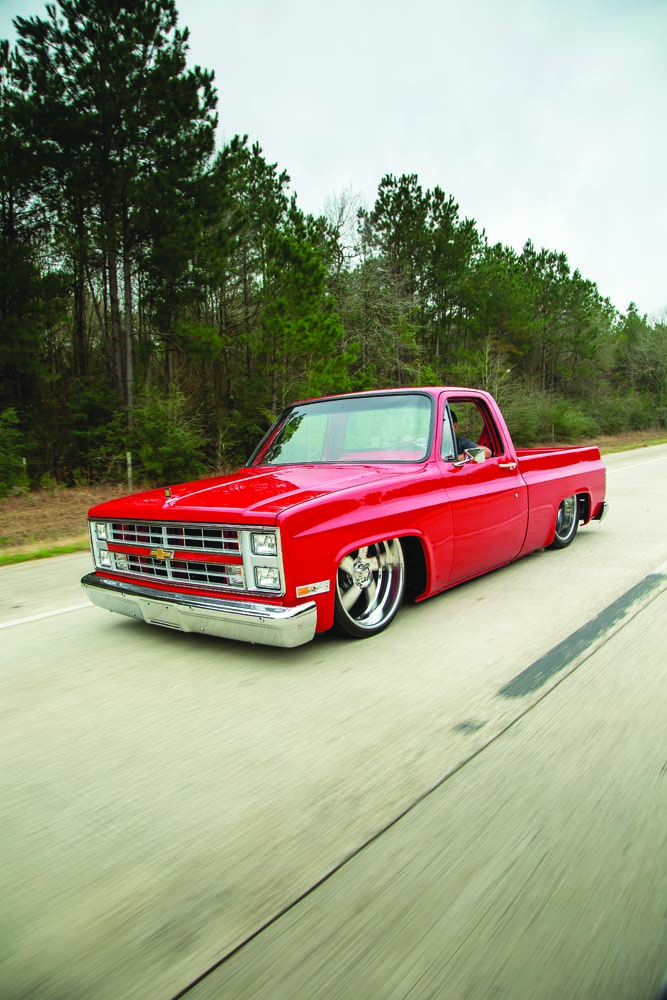 After spending months searching high and low for the perfect project truck, Ricky was finally able to track one down in his hometown of Houston for the right price. "I bought this 1983 for $4,000, and best yet it was still in 99 percent factory condition. The old truck had some wear and tear but was all-original for the most part." After locking down a truck with a legit foundation to start building on, Ricky was finally able to move on with what he had planned for his project truck. What he had in mind was something "mild"—'bagged but still factory looking with big lip wheels along with some other modest alterations.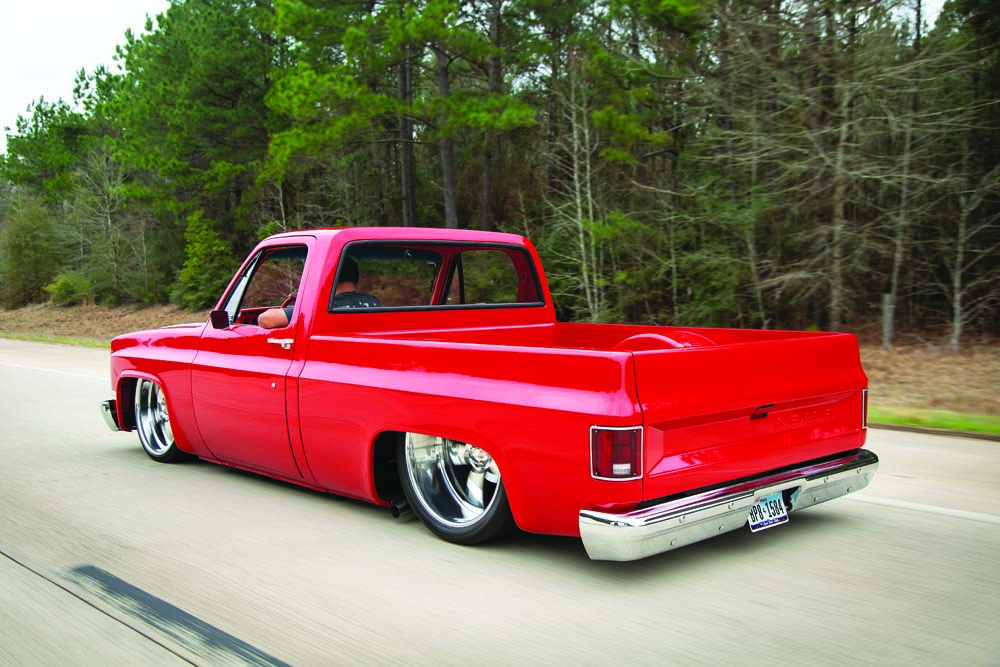 The whole "less is more" approach is appealing, and for years that's what Ricky was into. He would start a project, finish the project, then let the truck sit for a while before jumping back on it again. "I did lose interest in it for a couple of years, I won't lie about that," Ricky says. It wasn't until 2017 when he got a good second wind on the project and realized that if he wanted the old truck to get finished at all, he was going to have to look for a helping hand. This is the point when Scott Luscombe of Slick's Fab Shop enters the story.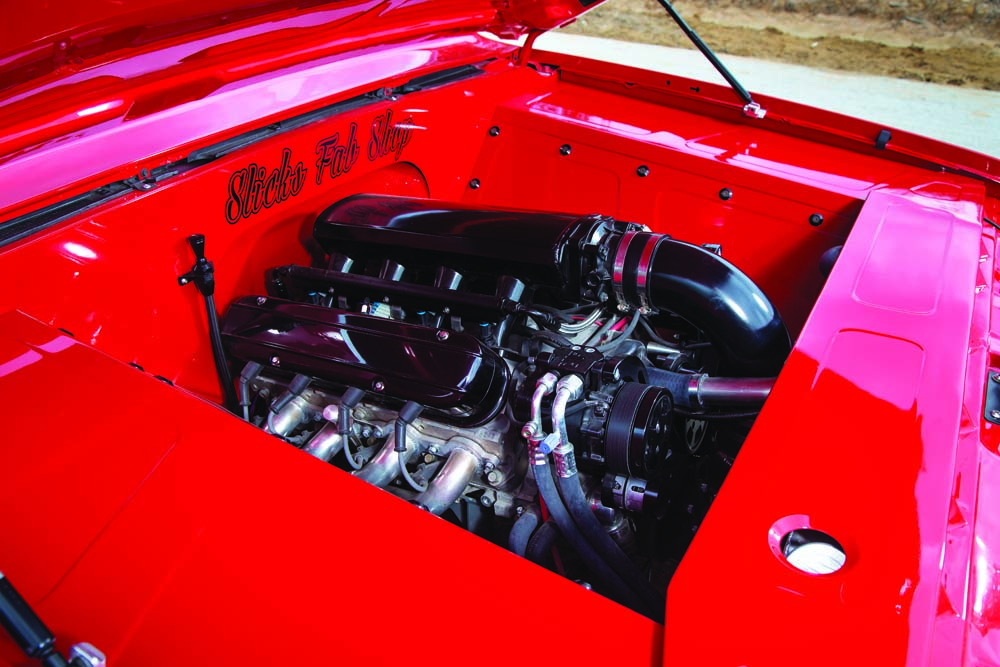 With Luscombe's shop being conveniently located in Houston, Ricky felt good about not having to be too far away from his old truck while it was being worked on. There had also been some good buzz going around about Luscombe's fabrication skills, so that also played a positive factor in trusting Slick's to take control of the rest of the build. "At the time, Luscombe had just opened his one-stop shop, which was just starting to get recognition in the scene," Ricky says. "[Luscombe] has since built a pretty solid reputation, but back then my truck was his first full custom project that he took on. It's cool to think that my Squarebody was the first to have all of his custom metalwork, with there being several completed builds of Luscombe's now out in the show circuit."
Read More: Family Heirloom Revived: 1972 Ford F-100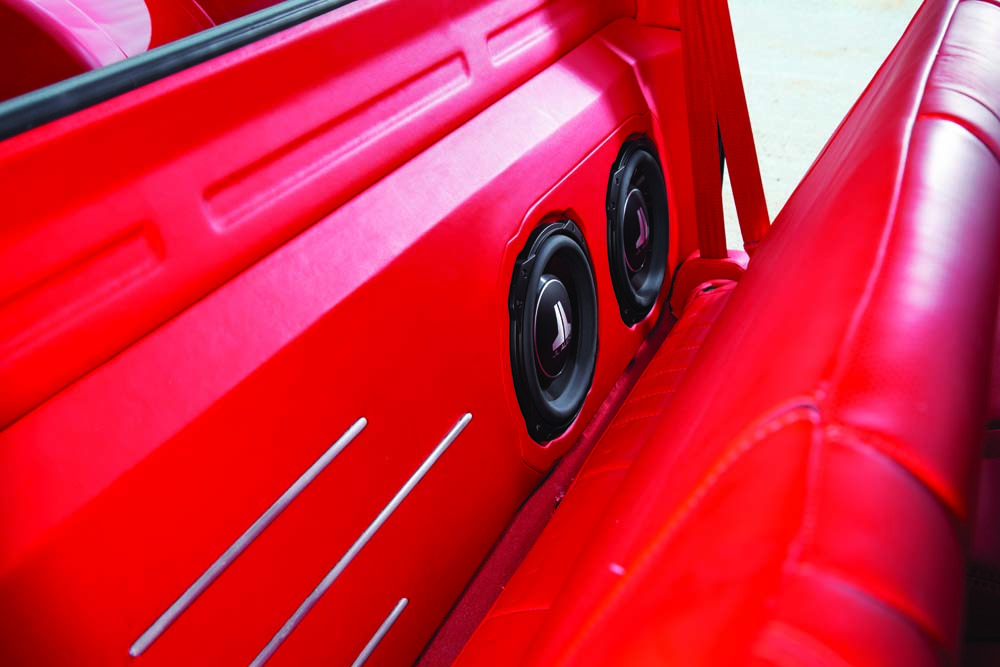 The Squarebody's suspension system was a joint effort that included the handiwork of Mark Fehrle of Slaughter House—another talented Texas fabrication shop that specializes in all things chassis-related. The frontend features a Porterbuilt Fab crossmember setup, 2-inch modular drop spindles, Michigan Metal Works upper and lower control arms, Mustang II power rack-and-pinion, and the rear setup was completely left up to Slaughter House to design and execute. An Air Lift 3P air pressure management system was then added, which allows Ricky to easily adjust his truck's ride and park height with the use of programmable presets.
To finish off the chassis upgrades, a set of 24×9 and 24×12 Bonspeed Sweep wheels were incorporated into the build, as well as fresh 255/30-24 and 405/25-24 Pirelli P Zero tires. With the truck being equipped with so much billet and rubber, the braking system also had to be upgraded. So, to give the 1983 more reliable stopping power, Wilwood rotors, calipers, and master cylinder were thrown into the mix for good measure.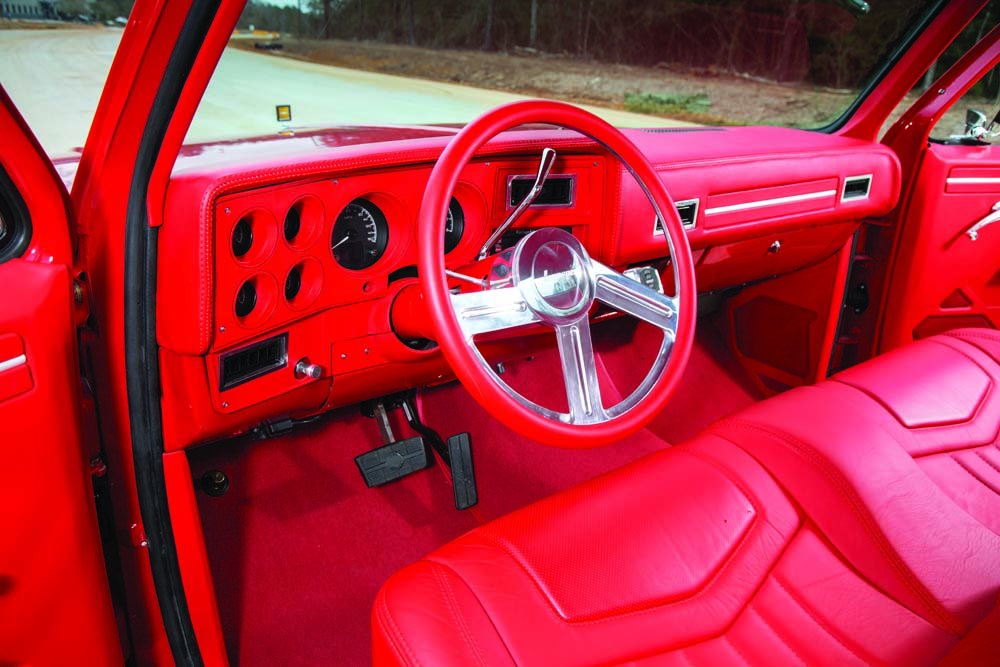 When the time came to whip the Squarebody's exterior into shape, Luscombe was ready to do what he does best. Anyone familiar with his work knows that Luscombe wanted his shop to produce high-quality custom sheet metal work along with creative fabrication design that wouldn't soon be forgotten. With Ricky's truck being the first to hit the streets with the Slick's stamp on it, he figured he would go above and beyond with the 1983.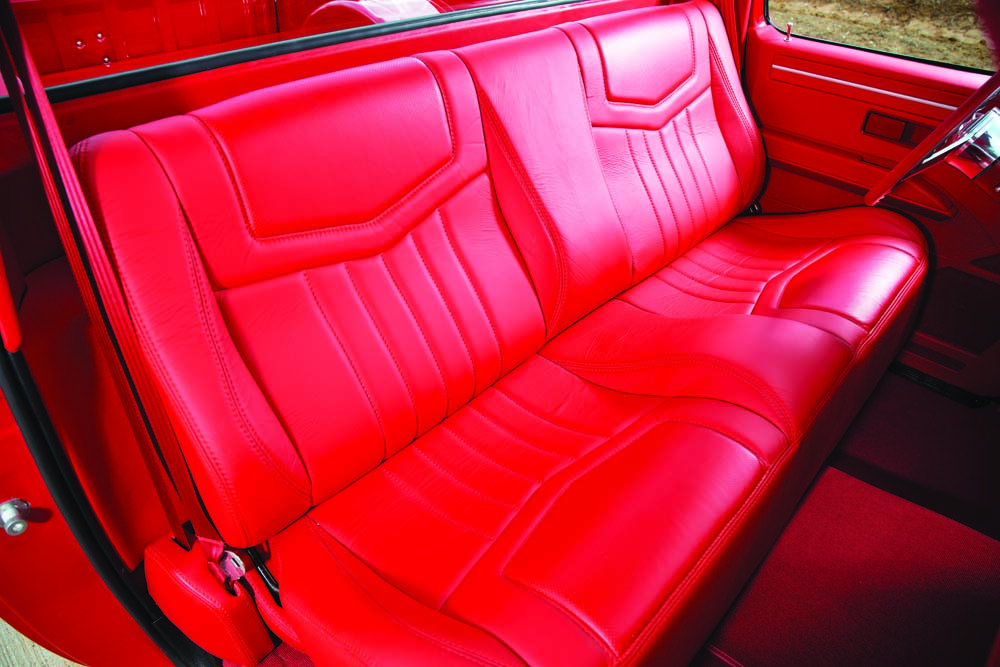 The entire engine bay was treated with sheet metal magic, including subtle bead-rolled details throughout that surround the FiTech EFI–equipped LS2 engine that's backed by a 4L60E transmission. The bed floor was outfitted with a center panel that raises in order to access the rear suspension. Luscombe also shaved the wiper cowl, gas door, drip rails, and went so far as to narrow the gap between the cab and bed for a unique touch most onlookers might miss. To finish off all that work, Luscombe and Ricky selected Victory Red to be the truck's new color, which does suit it nicely, don't you think? While most of the exterior parts are of early '80s factory standards, GSI Machine billet door handles and United Pacific LED headlights and taillights update the 1983 just enough.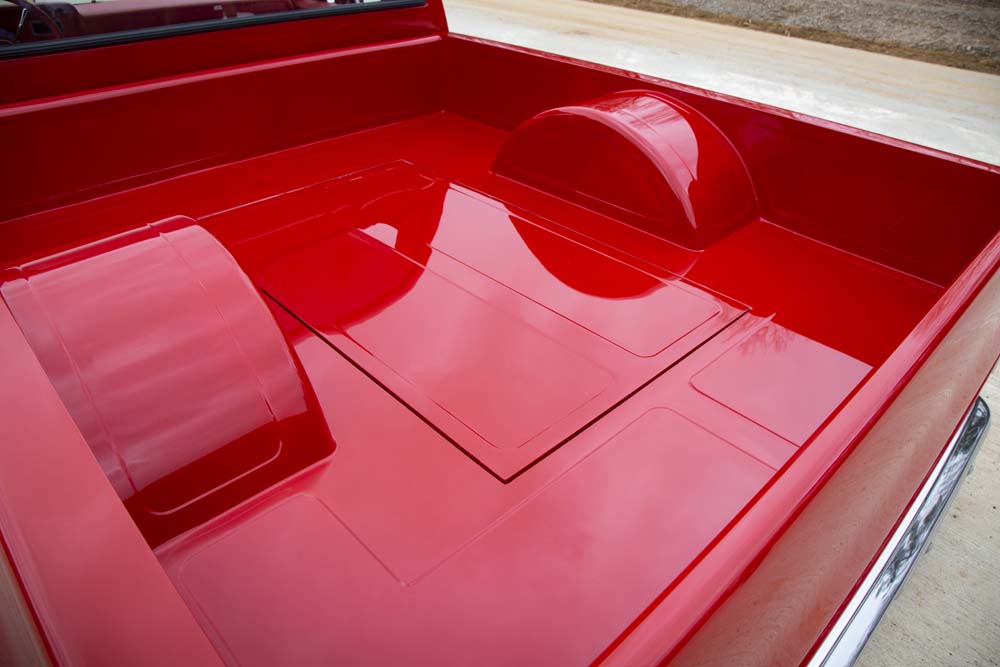 Since Ricky intended to drive and show this truck when it was all finished, the interior was going to need a major overhaul as well. Sublime Heights, also of Houston, handled new upholstery and the stereo install. Perforated leather hides cover the factory bench seat, dash, door panels, and the enclosure behind the seat, which houses two 10-inch JL Audio TW3 subs and the amps that power them, as well as the one that sends juice to the Morel front and rear speakers. Further interior amenities include Dakota Digital HDX instrumentation, Vintage Air AC, Restomod Air Diablo polished AC vents, a leather-wrapped billet Bonspeed Sweep steering wheel, and fresh carpet for a plush finishing touch.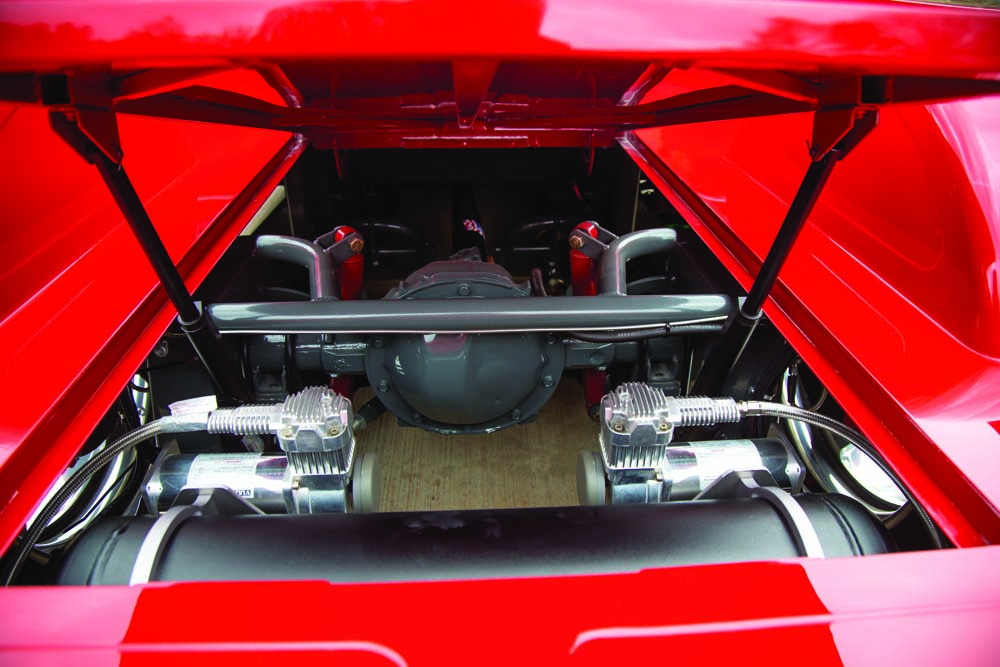 Read More: 1950 Ford F-1: Iconic Style With 4BT Diesel Power
"I was forced to take a couple financial breaks in between some of the work," Ricky admits. "The truck ended up being more involved than I had first intended, but once we got to a certain point there was no going back." In the midst of the whole COVID-19 mess, this Squarebody Chevy was completed in late 2020, which was perfect timing to hit the ground running for this year's show season. "I debuted the truck at 2021 Lone Star Throwdown, and walked away with a Top 100 award, which I was so grateful for. As a family man, I look forward to sharing this truck with my daughter Rikki, as I plan to enter it at future shows under her name. I'd like to thank my wife, Vilma, for supporting me and my hobbies, and thank you to all who had a hand in building this truck. It was well worth all the hard work, stress, and headaches that go along with this kind of build."