It's for More Than Just Classic Cars
By Brian Brennan – Photography by Author
The Danchuk Tri-Five Nationals has been around for some six years and each year it has shown growth—and that's a good thing. However, what one should realize is it's for more than just cars. The Tri-Five Nationals is most assuredly a haven for '55, '56, and '57 Chevy passenger cars but the event is for Tri-Five Chevys and that includes Corvettes and trucks of the same three-year vintage.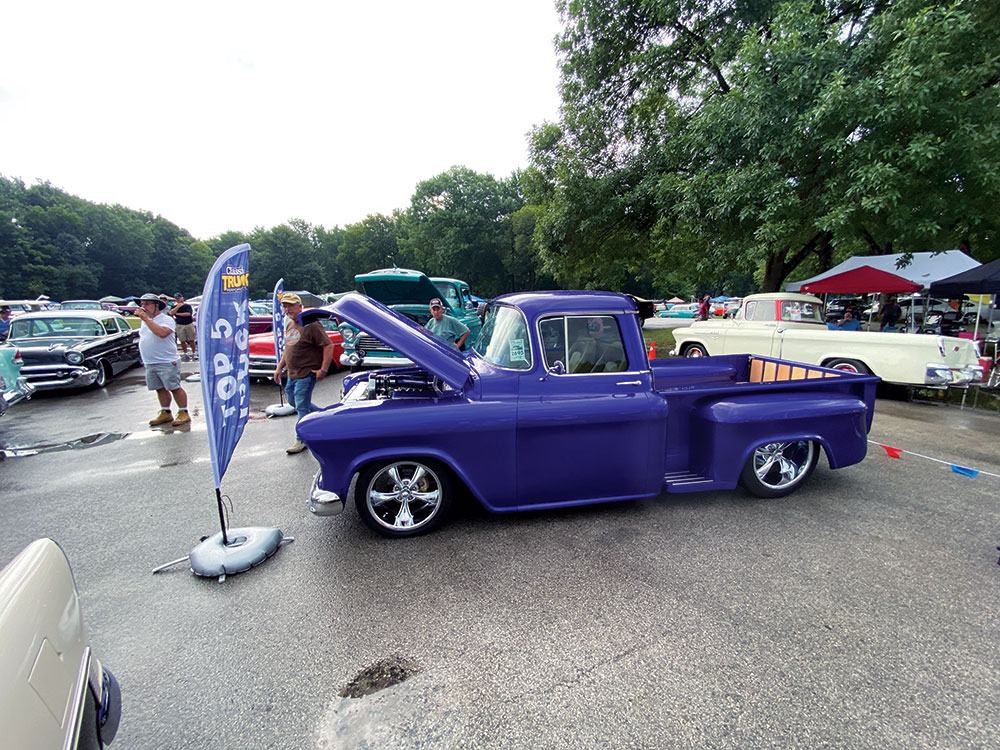 In past years one could find the isolated Corvette and maybe a little better luck with pickups. This year proved to be a watershed year and event as there was a noticeable uptick in pickup beds on the storied grounds of Beech Bend Raceway located in Bowling Green, Kentucky. Expanded from a two-day to a three-day event covering Thursday through Saturday, the extra time was a welcomed gift, especially for those drag racing as it allowed for plenty of trips down the hallowed quarter-mile that's Beech Bend Raceway.
Read More: Danny's LS3 Powered Sonic Gray Pearl Tri-Five Chevy
There were also plenty of exhibitors (more than 150), a tremendous number of spectators, and 2,813 registered participants—setting a new record. This is also the event that gives away a freshly built Tri-Five each year to a participant who comes to the event with their ride. Doesn't matter whether you showed up in a Tri-Five that's a car or a truck you are in the running for the grand prize of all grand prizes. This year Stephen Swendsen from White Pine, Tennessee, weathered—and we do mean weathered—Saturday's significant rainfall. Anytime you take home a very cool looking and expertly built and accessorized '57 Chevy the weather all of a sudden isn't a factor!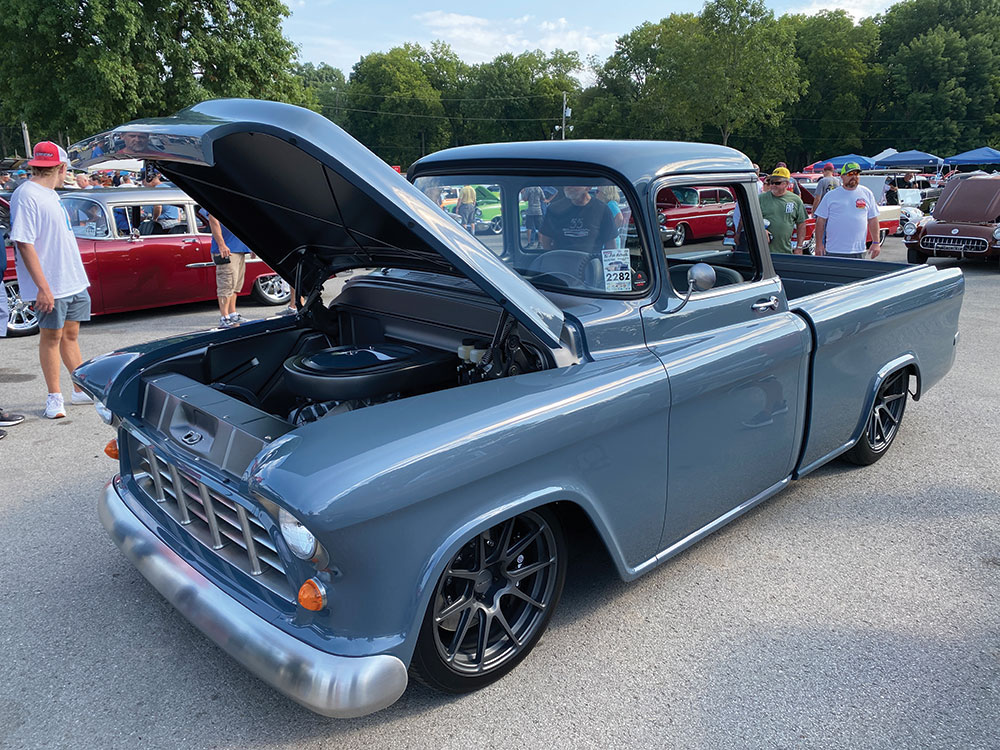 What we did notice was the increase in classic trucks. Sure, they were all old Chevys and they were just from the '55-'57 era, but there was plenty to see. Classic Truck Performance was on hand and handed out a Top 5 award to what was considered five of the best-looking classic trucks at the event.
Read More: How To Install Coilover Conversion Kit On A Tri-Five Chevy
Top 5 Trucks
Classic Truck Performance was honored to hand out awards to the Top 5 classic trucks at the 6th Danchuk Tri-Five Nationals.
Probably the finest Tri-Five truck you will see in a long time belongs to Bob Garwood of Humble, Texas, with his gray '55 Chevy Cameo that's LS7 powered with a Tremec T56 manual transmission and sits on a Roadster Shop chassis with Baer brakes, Forgeline wheels, a custom bed, '55 Chevy passenger car dash fitted with Dakota Digital instruments, a Billet Specialties steering wheel, and is loaded with brushed chrome. It was built at Mike Goldman Customs. Bob's truck also took home Top 25 honors, which is really saying something as his old truck was judged as one of the finest (car or truck) at the event.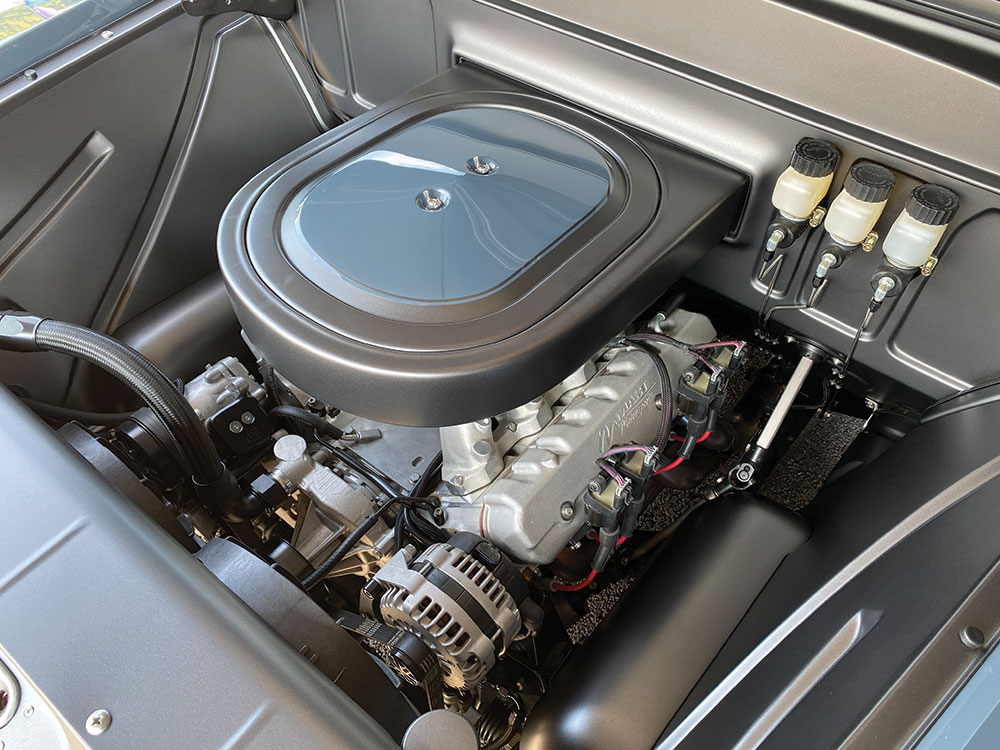 Other Top 5 trucks included the '57 GMC 3/4-ton 4×4 owned by Gary Miller of Irvine, Kentucky, with his Pontiac 389 V8 powered, which in today's world is detailed and decaled to look like a GMC V8. It's then hooked to a 4-speed transmission.
Read More: Shop Truck: 1955 Tri-Five Chevy Station Wagon
Another looker is the '57 Chevy 3100 custom belonging to Kirk Peterson out of Niceville, Florida. It is LT1 powered and is attached to a 4L60E transmission. It's painted in a distinctive Glasurit Lamborghini Monterey Blue with silver and purple mid- and basecoats. It also boasts a 4-inch chop, suicide doors with 6 inches removed from the bottom, and the cab floor expanded 6 inches. Another interesting touch is the use of a Cadillac Allante disc brake rear end with Eaton 3-inch dropped springs and features Heidts' new power rack-and-pinion steering up front.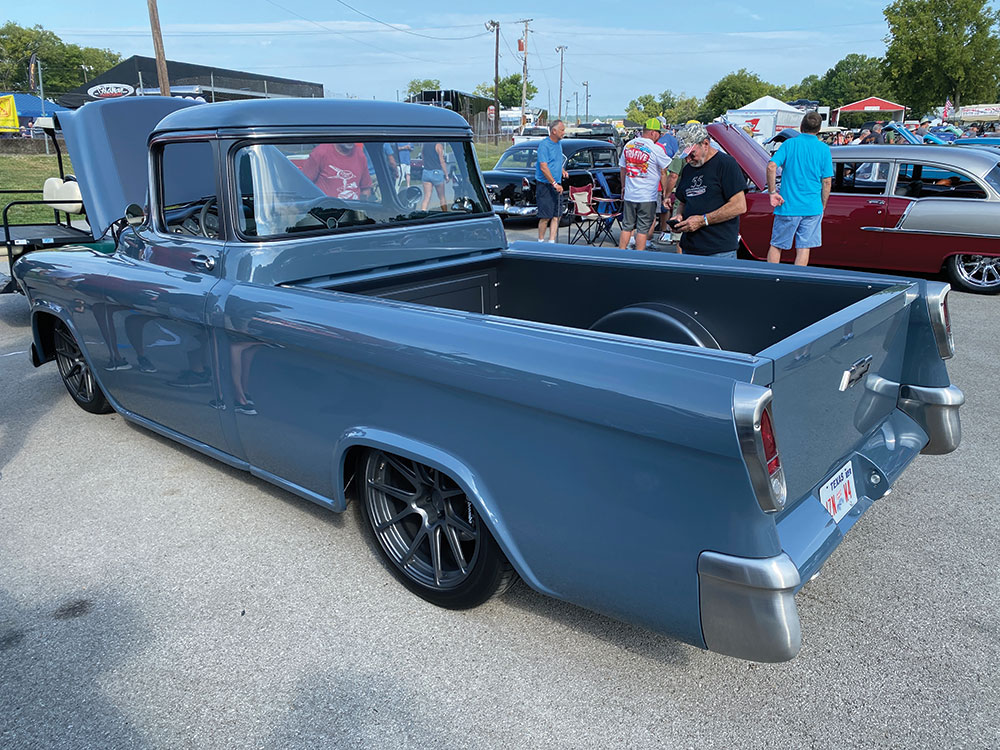 Clay Bilyeu of Russellville, Kentucky, was on hand with his LS-powered Tri-Five pickup that also features an electric blue paint, blonde bed wood, and polished five-spoke wheels plus disc brakes with drilled-and-slotted rotors all around. The interior also features a wooden headliner, bucket seats, and a custom-made center console as well as Dakota Digital gauges, Vintage Air AC, Lokar shifter and pedals, and a Billet Specialties three-spoke wheel.
Rounding out the Top 5 Classic Truck Performance picks was the Tri-Five pickup belonging to James Gougeon of Harbor Beach, Michigan.
The Danchuk Tri-Five Nationals was everything the Tri-Five Nationals should be. Lots of well-built Tri-Fives to look at, plenty of driving events headlined by the drag racing that is always fun to sit back and watch as well as a very cool car town with lots to offer—not the least of which is the Corvette Museum, manufacturing plant, and the test track. Beech Bend Raceway offers a great deal of nostalgia and plenty of what's happening in the world of Tri-Fives … it should be on your "bucket list." CTP