By Fuelish Media – Photography by the Author
Danny Carrasco, of Chino Hills, California, is a certified Tri-Five Chevy truck purist. From the time he was a teenager up until now (42 years old), there has always been something about 1955-1957 3100 Chevy trucks that has lured him into starting one fresh build scenario after another. Over the years, he's owned other types of classic cars but when it comes to pickups, he always comes right back to this specific model.
In the beginning of 2020 Danny had decided to go ahead and build another 3100 Chevy truck, which would mark his fifth one so far. While he didn't have a project heap sitting around that he could use as a foundation (and neither did he have the desire to go out and hunt for one), he figured he'd just start with a brand-new 1956 instead. Yep, you read that correctly, and yes, it is absolutely possible—well, it is if you contact Premier Street Rods in Lake Havasu City, Arizona.
Read More: 1954 Ford F-100 G-Comp Independent Front Suspension Upgrade
Danny knows from previous personal experience working with Premier Street Rods on his last major Chevy truck build that having an actual truck isn't necessary since they specialize in manufacturing 1947-1953 and 1955-1959 licensed GM truck complete bodies and also now offer 1967-1972 C10 bodies!
This is huge for someone who doesn't want to make multiple trips to the junkyard to buy a few different trucks just to have enough parts to piece together for one solid starting point. However, this project did take some time to pin down a set of ideas that would serve as the main building blocks for what the truck would ultimately become.
To get the project started, Danny knew right at the jump that a full custom frame was in order. He's been through enough of these projects to know that it's always easier to aim higher and start from scratch, but since there was no actual truck to begin with here, the decision was that much easier to make. Running with a customized Total Cost Involved (TCI) chassis equipped with RideTech Air Suspension, Wilwood brakes, and a Currie 9 inch Ford rear end was definitely the way to go to achieve the modern ride quality Danny was after. To finish off the chassis, a set of 20- and 22-inch Tungsten G-Series Budnik Wheels wrapped in 245/35ZR20 and 285/30ZR22 Nitto INVO rubber gave the truck a sense of elevated style and performance.
As far as the engine and drivetrain combo was concerned, the guys opted for a new GM LS3 crate engine and transmission package from Gandrud Chevrolet to get the truck moving in the right direction. To spice up the fresh mill, a Performance Rod & Custom radiator, Holley intake, and one-off exhaust system featuring Borla S-Type mufflers were thrown into the mix.
When it came time to piecing Premier Street Rods' body kit systems together, a lot of subtle body modification also went into creating a look that gives off a streamlined elegance that has become their official calling card. The bed has been reworked, the turn signals have been incorporated into the Nova Lux LED headlight housings, the grille, and taillight brackets—there's so much bodywork here to admire, not to mention the amount of craftsmanship that often goes undetected.
It's the same artistic handiwork that was featured on Premier Street Rods' previously notable 1957 Chevy truck build dubbed "Snow White," which received so much praise within the pickup scene and beyond. These guys turn any vehicle, whether it's a car or truck, into a fairy tale story that soars to a higher level of legend status time after time.
Read More: Dream Build: LS2-Powered 1954 Chevy 3100
To fully capitalize on the Premier Street Rods team's level of bodywork, Danny and the guys had put a big emphasis on paint selection and had been tossing ideas around for the better part of two months. "I had a vision of gray paint and a red interior, but deciding on the shades of the two colors proved to be harder than we thought," he says about their painting woes. "It wasn't until I was at the Honda dealership picking up a part for my daily driver that I saw the direct inspiration for the colors we ended up running with."
It was one of those sporty hatchback Civic models in the showroom that caught Danny's eye, and the paper on the window listed the paint color as Sonic Gray Pearl. That's all the info Jason Deering at Premier needed to get the PPG color loaded in his paint gun before covering the freshly assembled and contoured 1956 body with its new hue. Deering, along with Ross Logsdon, then cooked up some custom graphics for the hood that gives the truck a subtle splash of street rod flash.
Sew Cal Rods, in Ontario, California, was soon called upon to design the cab space to complement the spirit of this particular truck's character. The entire interior was machined and built using aluminum and plastic, and utilizes one-off door panel designs, plush Italian leather from Crest Leather, and a hidden magnetic mounting system to make servicing behind the panels a breeze to access. Other Sew Cal Rods' signature interior packages were also used to give the interior a seamless and cohesive appearance.
The custom wrapped leather dash was outfitted with Dakota Digital HDX gauges, as well as the Restomod AC controls and vents. For sounds, a full orchestration of Kenwood and Kicker Audio components have been stashed all throughout the cab, including behind the seats, thanks to Sew Cal's own subwoofer enclosure.
While a true vintage, 65-year-old pickup with hundreds of thousands of miles on the odometer can one day look as good as this "brand-new" version comprised of hundreds of components with a combined amount of zero time on the road, it's no longer necessary to start a truck build with an actual truck at its nucleus. Premier Street Rod is helping get more of these classic Chevy trucks back on the road, even if it means making them from scratch.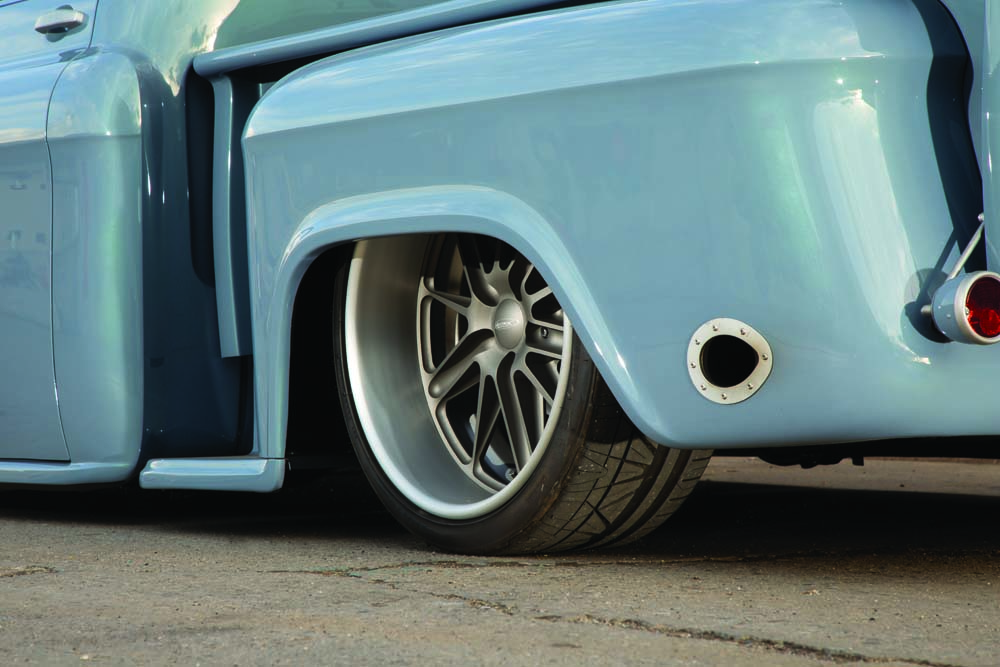 Read More: Father-and-Son Built Big-Block Chevy C10 The Upper Crust
A project like this requires an all-hands-on-deck approach, and Danny would like to thank all the manufacturers and talented artists for coming aboard to assist in their own special way. "Aside from the companies that have already been mentioned so far, I'd like to extend a shout-out to Billet Specialties for the steering wheel, Mar-K for the wood bed floor, Lokar for the door handles, Steele Rubber for all the seals needed for the entire truck, Lucky's Classic Auto Glass, Glide Engineering, American Autowire, Trique Manufacturing, Eddie Motorsports, United Pacific, Pinstriping by Chris, Goolsby Customs; we couldn't have pulled this off without you all."