By Ron Ceridono – Photography By Nick Licata
Over the years American manufacturers have produced a number of automobiles that quickly reached icon status with enthusiasts. Remarkably General Motors managed to do it three years in a row with the 1955, 1956, and 1957 Chevrolets. With outstanding performance and crisp, clean styling, these cars were instant hits with hot rodders and remain so today.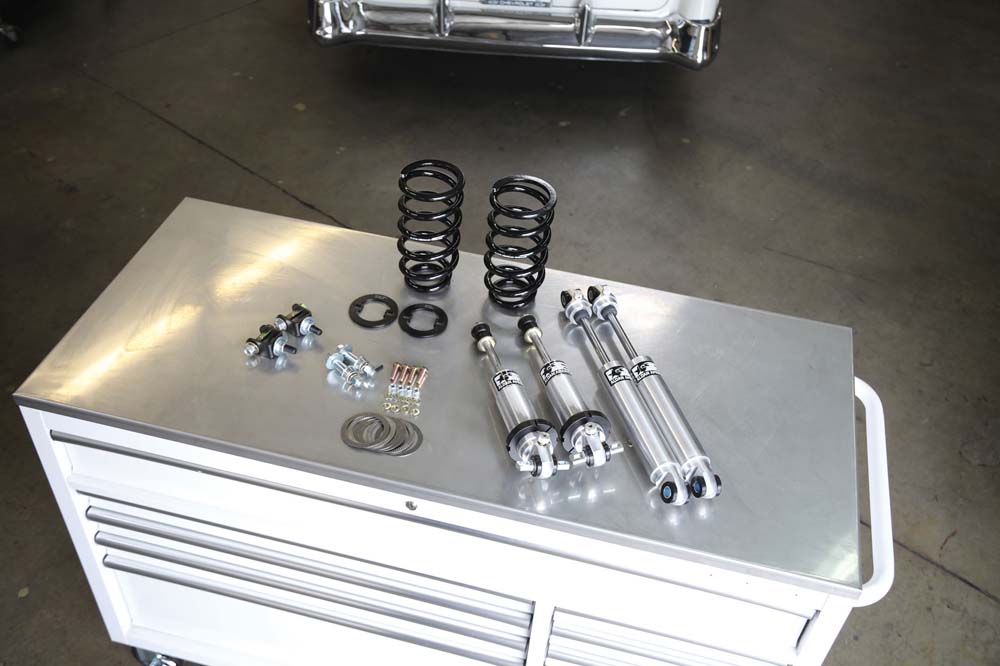 While the styling of Tri-Five Chevys is timeless, the same can't be said for their performance. Fortunately, there are a number of ways to update components like the running gear, steering, and brakes and now Aldan American has done the same for the suspension system. With their bolt-on Direct Fit Road Comp (PN 300119) front coilovers and rear shock kits, those beloved Tri-Five Chevys can have improved ride and handling with a ride height from stock to 2 inches lower.
Read More: Father-Son 1957 Chevy 210 with 427 Big-Block Chevy Power
There are a number of advantages with coilover shocks when compared to more traditional suspension systems. Coilovers are compact and allow the suspension's spring rate to be optimized by changing the easily replaceable coils that are available in a wide range of rates. In addition, altering ride height can be done by turning the threaded adjuster on the shock absorber body to change the preload on the springs.
Regardless of whether a shock absorber is used with a spring wrapped around it or not, its function is the same—to dampen the motion of the spring during compression when the car hits a bump and afterward when the spring rebounds returning to ride height. In simple terms a shock absorber is a type of oil pump. A piston with a series of holes in it moves up and down in an oil-filled tube (nitrogen gas is often used to keep the oil from foaming) as the suspension operates. Forcing the oil through those openings provides resistance, which dampens the suspension's movement. One-way valves and various size openings allow compression and rebound damping to be optimized for the application. In operation, hydraulic shocks adjust to road conditions—the faster the suspension moves, the more resistance they provide.
Read More: Installing a Universal Fuel Sending Unit and Fuel Tank – 1936 Ford Project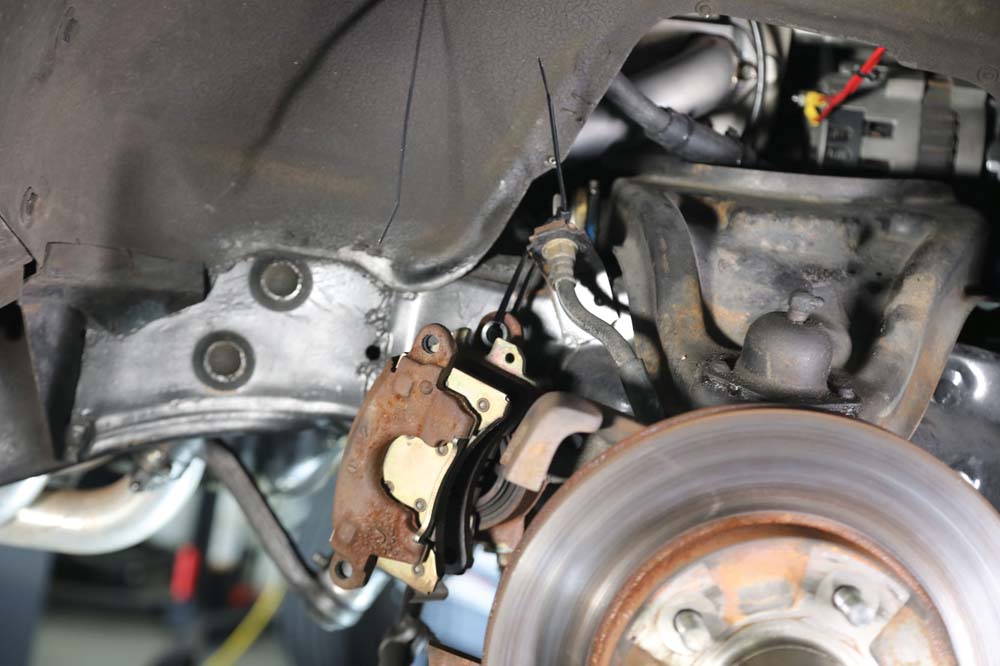 Aldan American offers shock absorbers in a variety of configurations, fixed valves, single adjustable that allow compression or rebound rates to be tuned, and double adjustable that provide tuning of both functions. Non-adjustable shocks have preset factory valving optimized for specific applications based on Aldan American's 40 years of experience.
Adjustable dampening shocks have six settings, while rebound adjustable shocks offer six to eleven. Double-adjustable shocks offer 17 individual settings. Regardless of the number of adjustments, all Aldan shocks are made in-house to strict quality standards. The shock bodies are machined from solid bars of 6061-T6 billet aluminum, Viton seals and O-rings are used throughout, and the shafts are heat treated and chromed for a long service life. If it's ever needed, Aldan shocks can be rebuilt or re-valved.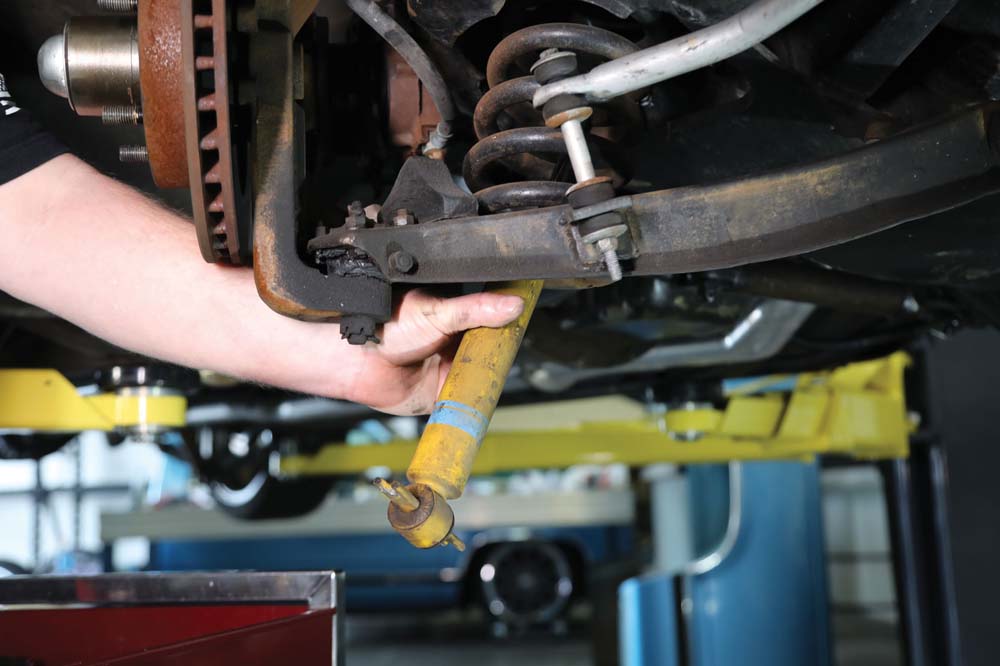 The Tri-Five Chevy kit shown here came with single adjustable shocks (compression only) up front and single adjustable shocks (rebound only) in the rear. To fine-tune the shocks Aldan American's Gary Nelson recommends adjusting one end of the car at a time, starting with compression damping up front. Find a stretch of road with a bump or dip, drive the car through it at 15-20 mph. Adjust the front damping until any bounce is eliminated. Next, using the same section of road, adjust the rebound in the rear for the smoothest ride.
Read More: The Matador Red 1959 Chevy Apache Pickup
Aldan American's Tri-Five Chevy coilover conversion kit is a direct bolt-in installation, but the results belie the effort involved. It just seems like the installation should be more complicated judging by the results, but it's not. It is the quick-and-easy way to add modern suspension components to an iconic car. MR
Source
Aldan American
(310) 384-7478
aldanamerican.com