Known for Auctioning the Most Desirable Cars, They Now Recognize the Greatest Hot Rod Builds
By Brian Brennan   –   Photography by the Author
The Barrett-Jackson auctions are well known for their automotive venues. In an attempt to become more inclusive of all parts of the automotive world, they initiated the Barrett-Jackson Cup a few years back. Initiated to recognize more than cars that are just auctioned, the Barrett-Jackson Cup brought out 50 of some of the finest hot rod builds in the country to compete for one significant award and a cash prize. Initially it was the late Pete Chapouris, of SO-CAL Speed Shop fame; Bobby Alloway, of Alloway's Hot Rods; and Bob Millard, a lifelong indoor car show judge, who were the three-person team who determined the overall "Cup" winner.
Originally held in Reno, Nevada, the pursuit of the Barrett-Jackson Cup has moved. Now, for the second time and for the foreseeable future, to Scottsdale, Arizona, where it is a major part of the largest and arguably most exciting of the Barrett-Jackson Auctions. It is a nine-day affair where more than 1,600 collectable cars, trucks, motorcycles, and other collectibles cross the stage. The Scottsdale site for the Barrett-Jackson Cup, which is comprised of 50 pre-entered cars and trucks, selected by Barrett-Jackson staff, and its People's Choice award, are part of the main stage anticipation. On the morning of Super Saturday, the five finalists for the "Ultimate Best in Show" will be announced on stage, and the winner, as well as the winner of the "People's Choice Award," will be crowned prior to that day's collector car auction.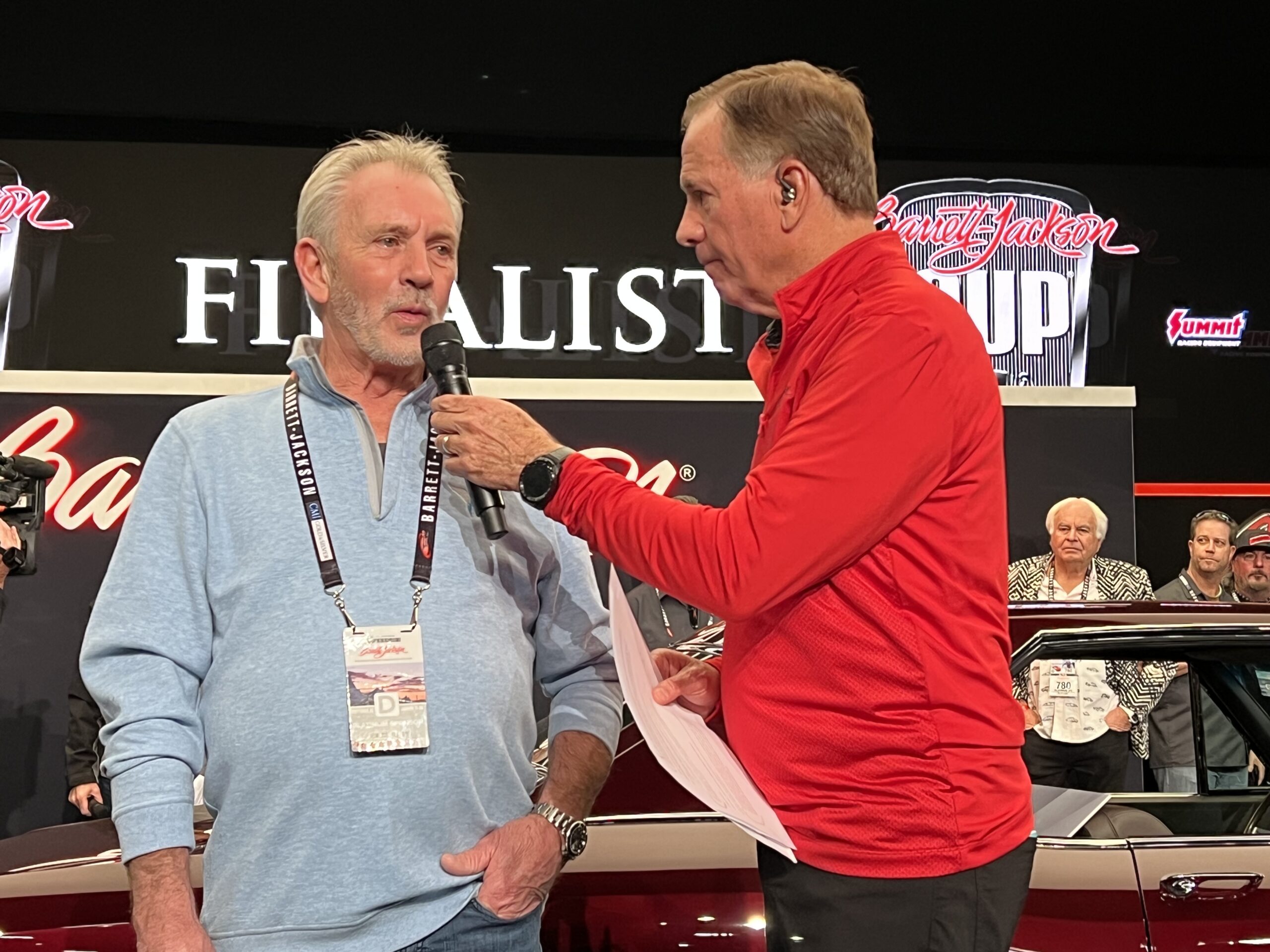 The new home also brought several significant changes, with the naming of two of the hot rod industry's most highly recognized and respected builders to act as the official judging team, Bobby Alloway and Troy Trepanier of Rad Rides by Troy. There is no denying their long list of accomplishments and contributions to our hobby. These two titans of our industry are the beginning, middle, and end of the judging line for the Barrett-Jackson Cup. The People's Choice award is just that, the people's choice, and is (was) accomplished through online voting.
Also referred to as the Ultimate Best in Show winner, the car owner receives a $20,000 cash purse among other prizes. The Cup winner is selected from the collection of the Top Five finalists, selected by Alloway and Trepanier, and each will receive a tool chest and gift certificates. The People's Choice winner is also included in the introduction of the Top Five.
For 2023, the Barrett-Jackson Cup winning hot rod was the '69 Pontiac Firebird belonging to Brad Sather of Georgetown, Texas, while the builder is none other than Troy Gudgel and his highly talented team of coachbuilders from BBT Fabrications of Mahomet, Illinois.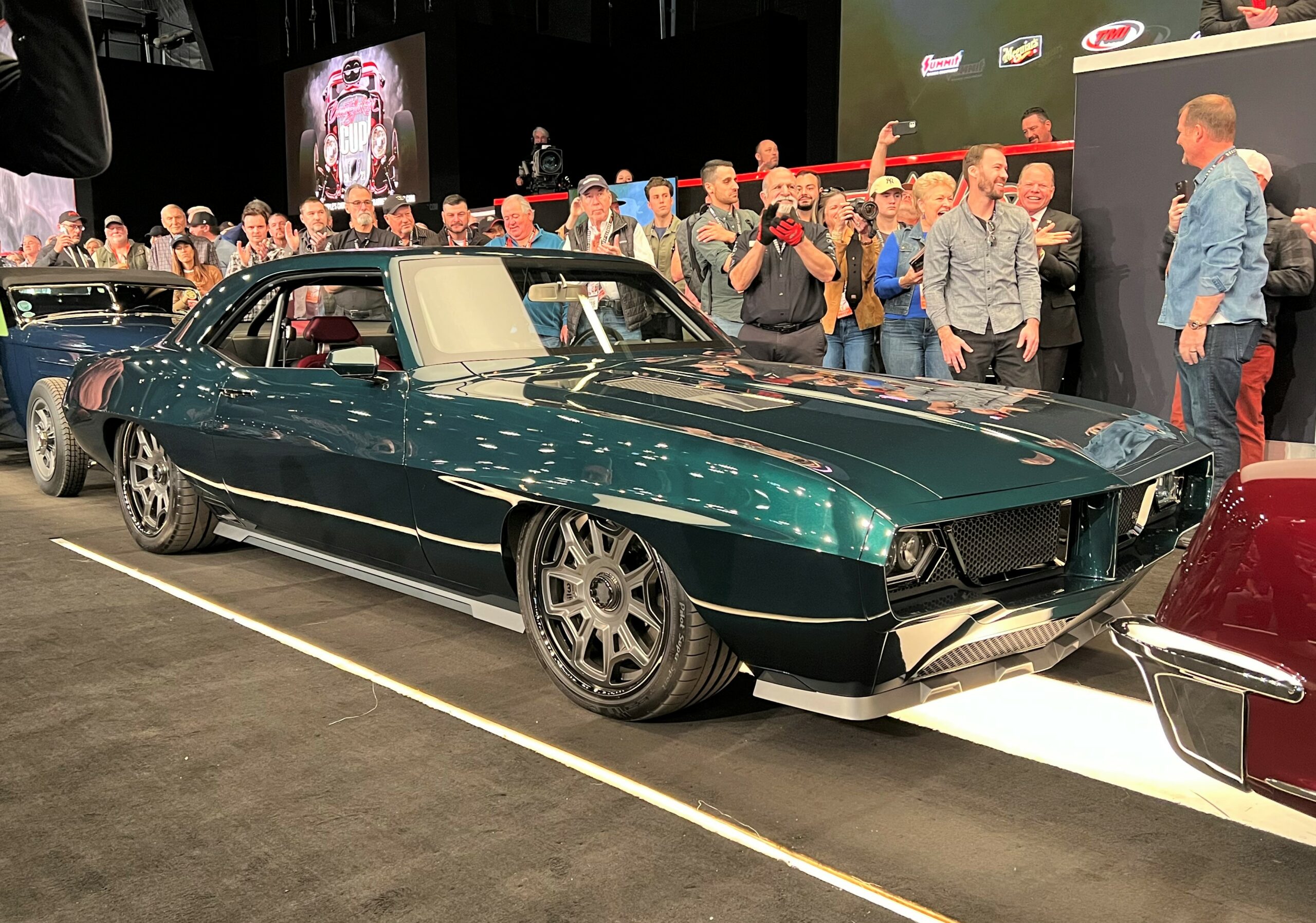 People's Choice
The People's Choice Award, chosen by fans voting online, went to David Biegler for his '64 Buick Riviera built by Cruzer's Customs of New Braunfels, Texas. This Rivi has taken home other honors in the form of the Goodguys Custom Rod of the Year, Goodguys Gold Award at SEMA, and the Roadster Shop award for the Best on RS … rides on a Roadster Shop chassis.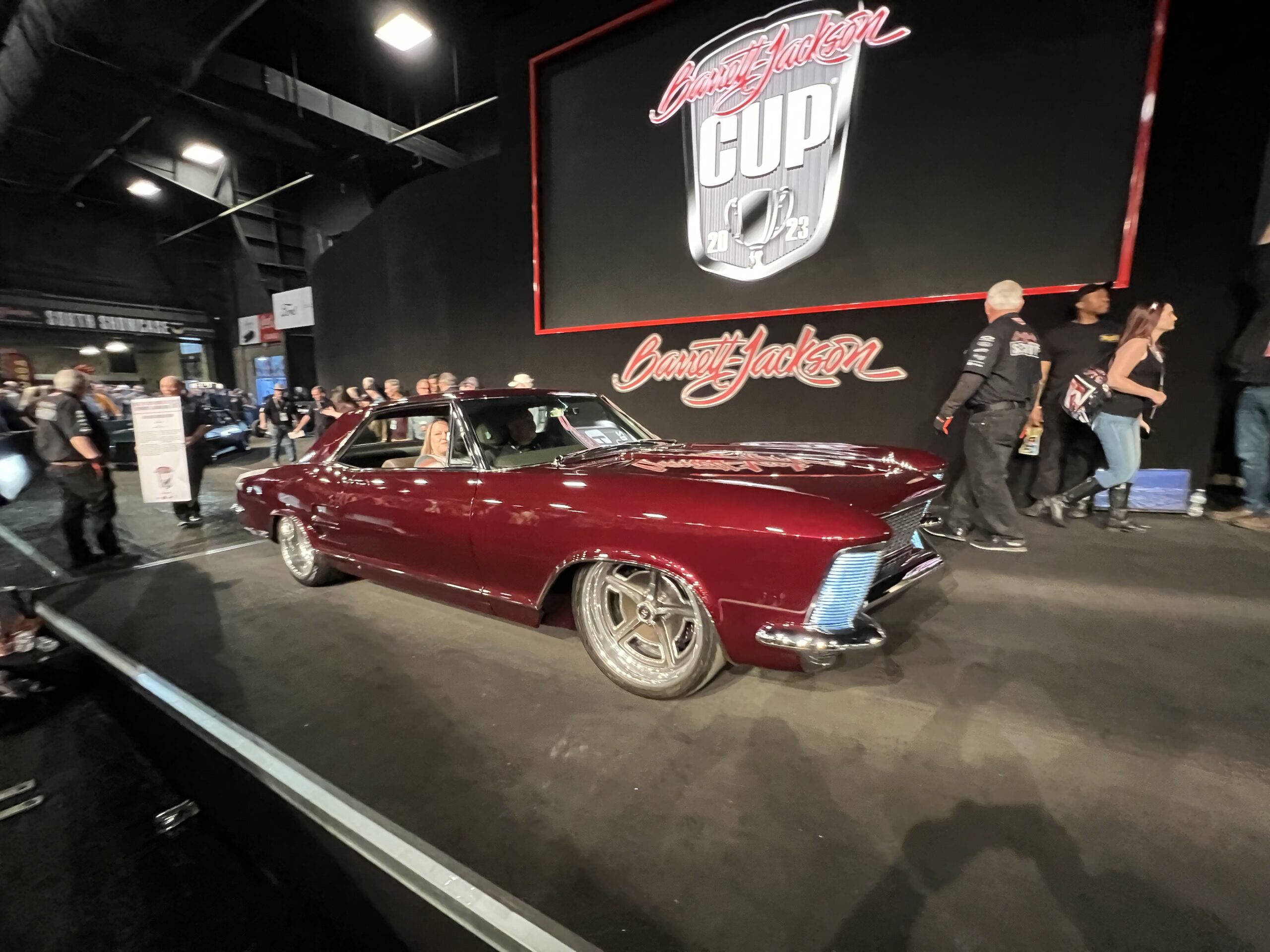 The channeled '64 Buick Riviera was painted by Cruzer's Customs in a BASF Glasurit Burgundy Velvet Pearl. It also features one-off machine work from EVOD in the form of one-off wheels, grille, and valve covers.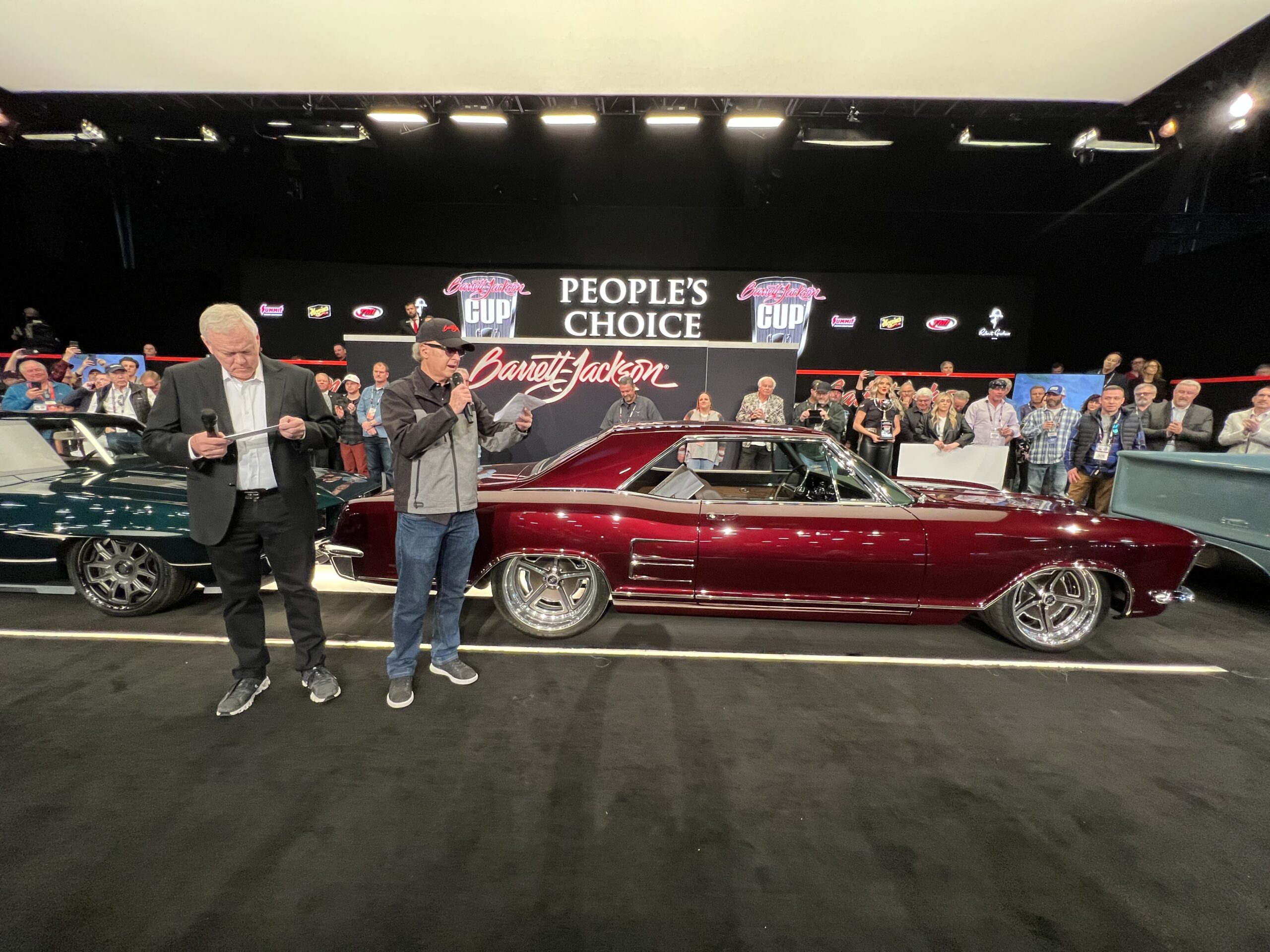 The Roadster Shop Revo chassis corrals a Don Hardy–built 376ci LS3 pumping 550 hp and tucked up to a Bowler Performance 4L70E transmission. We should note that a quick look underhood gives the appearance of the vintage Buick Nailhead V-8, but one needs to look more closely. It's an LS3 in Nailhead clothing.
Avant-Garde Design received the nod for the interior along with Vintage Air A/C and Classic Instruments gauges. Other trim pieces, including pedals, are from Billet Specialties.
The Top Five
The Top 5 is comprised of cars and trucks from five of the country's top builders. The Ringbrothers with their personal '48 Chevy Loadmaster pickup, Classic Car Studio with Wade and Esmeralda Sutton's '56 Ford F-600 Custom (four-door) pickup, Tim Devlin of Devlin Rod and Customs with the '34 Chevy highboy roadster belonging to Jeff Breault, and Dave Kindig with the '58 Lincoln Continental custom owned by Jenny and Bob "JB" Salter, and Troy Gudgel of BBT Fabrications was on hand with Brad Sather's '69 Pontiac Firebird.
'48 Chevy Loadmaster 1.5-Ton Pickup
Pretty hard not to see, be stopped, and thoroughly amazed by the SEMA Battle of the Builders–winning '48 Chevy Loadmaster 1.5-ton pickup, built and owned by Ringbrothers Jim and Mike Ring.
Built at Ringbrothers, the '48 Chevy Loadmaster is powered by a 510-inch tall-deck LS V-8 from Goodwin Competition Racing Engines with a Bowler Performance 4L80E automatic featuring transaxle and torque tube mounting. A Kinsler LS-Sprint eight-stack injection and custom stainless steel exhaust system display additional eye appeal on the V-8. The powertrain and body find home on a Roadster Shop custom chassis with Ahlman Engineering components all riding on a set of HRE Performance Wheels 911 centerlocks and a full complement of Goodyear Eagle slicks. Stopping this most unusual hot rod is a full set of Brembo GTTS M6 brakes with six-piston calipers. Ohlins TTX coilover shocks are also part of the suspension.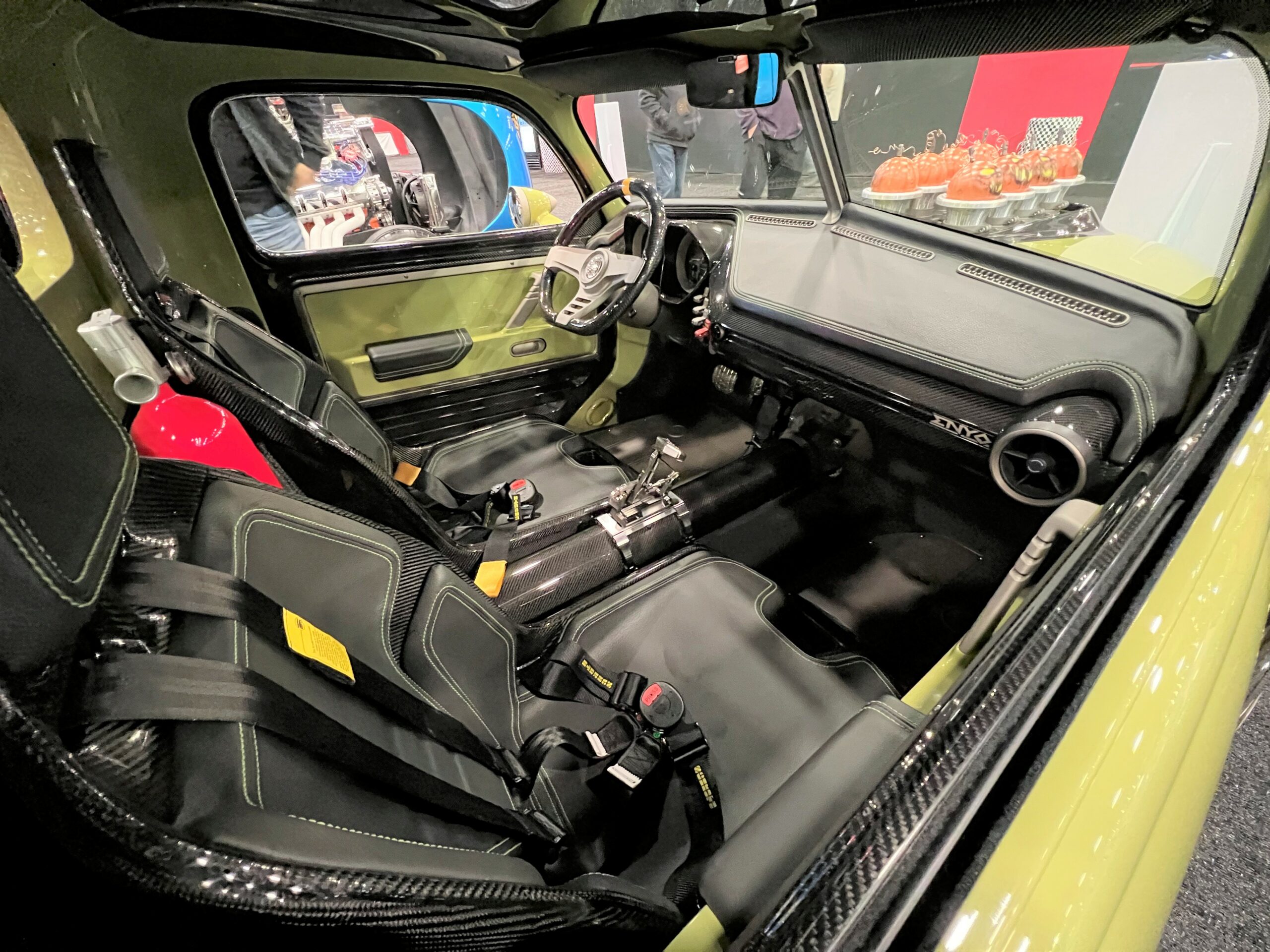 The '48 Chevy Loadmaster is painted in BASF Glasurit paint over a custom one-off interior.
'56 Ford F-600 Pickup
One of the truly interesting builds among the Barrett-Jackson Cup competitors is this '56 Ford F-600 pickup built by Classic Car Studio and owned by Wade and Esmeralda Sutton. Where to start?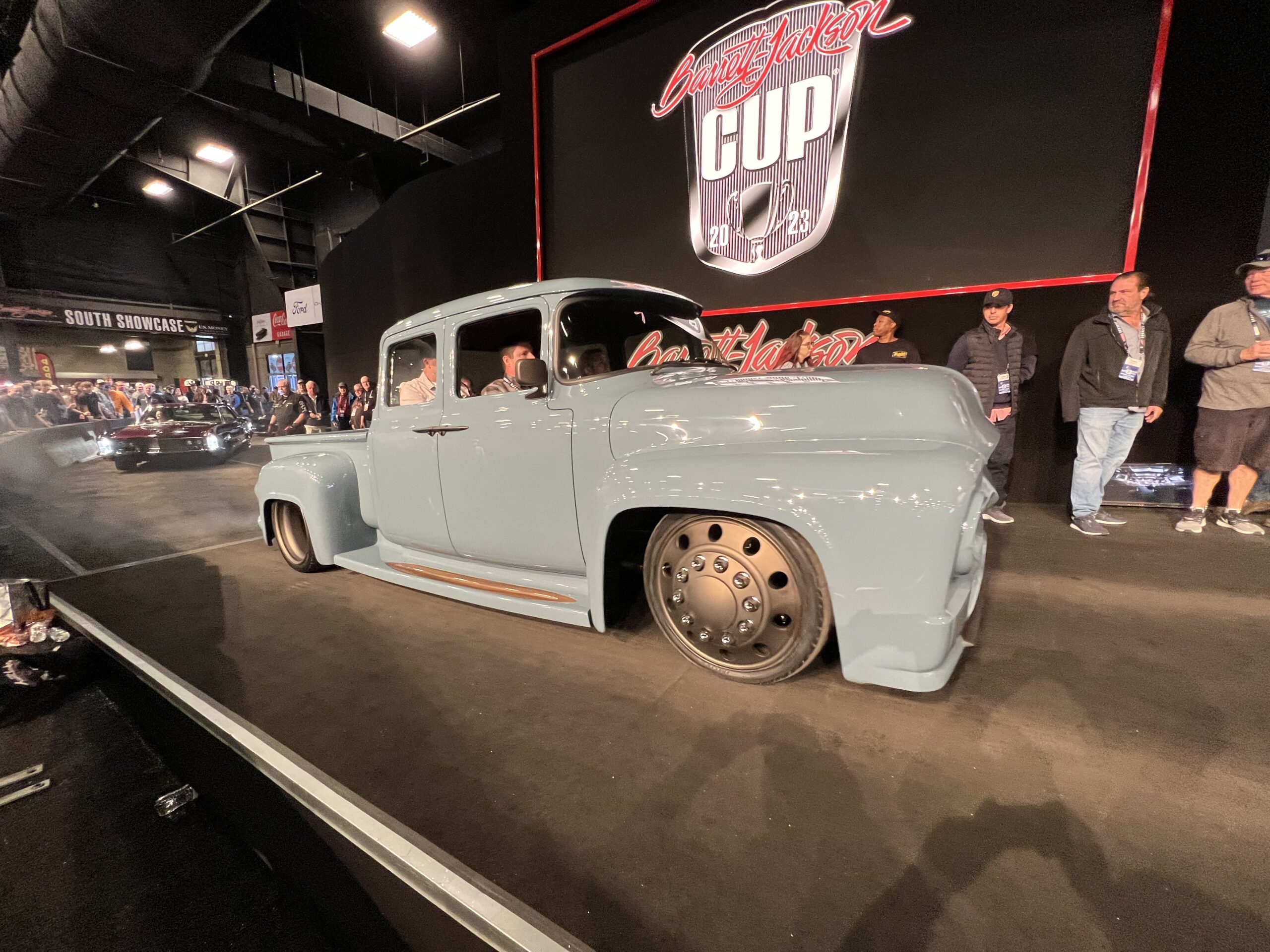 It is powered by a non-conforming hot rod powerplant in the selection of a supercharged 6.7L D&J Cummins diesel engine. The custom chassis was built at Classic Car Studio and the rig rides on 323 Duallysportz wheels. The unique four-door with "suicide" rear-opening doors and custom bed was handled at Classic Car Studio. They also designed the interior while covering the sheetmetal in Glasurit "dove gray" paint.
'34 Chevy Roadster
This highboy '34 Chevy roadster was built at Devlin Rod and Customs and is owned by Jeff Breault. This roadster was featured in a series of build stories, feature, and the cover of Modern Rodding. It is also a past America's Beautiful Roadster winner from the Grand National Roadster Show, Goodguys Street Rod of the Year, and a SEMA Battle of the Builders finalist.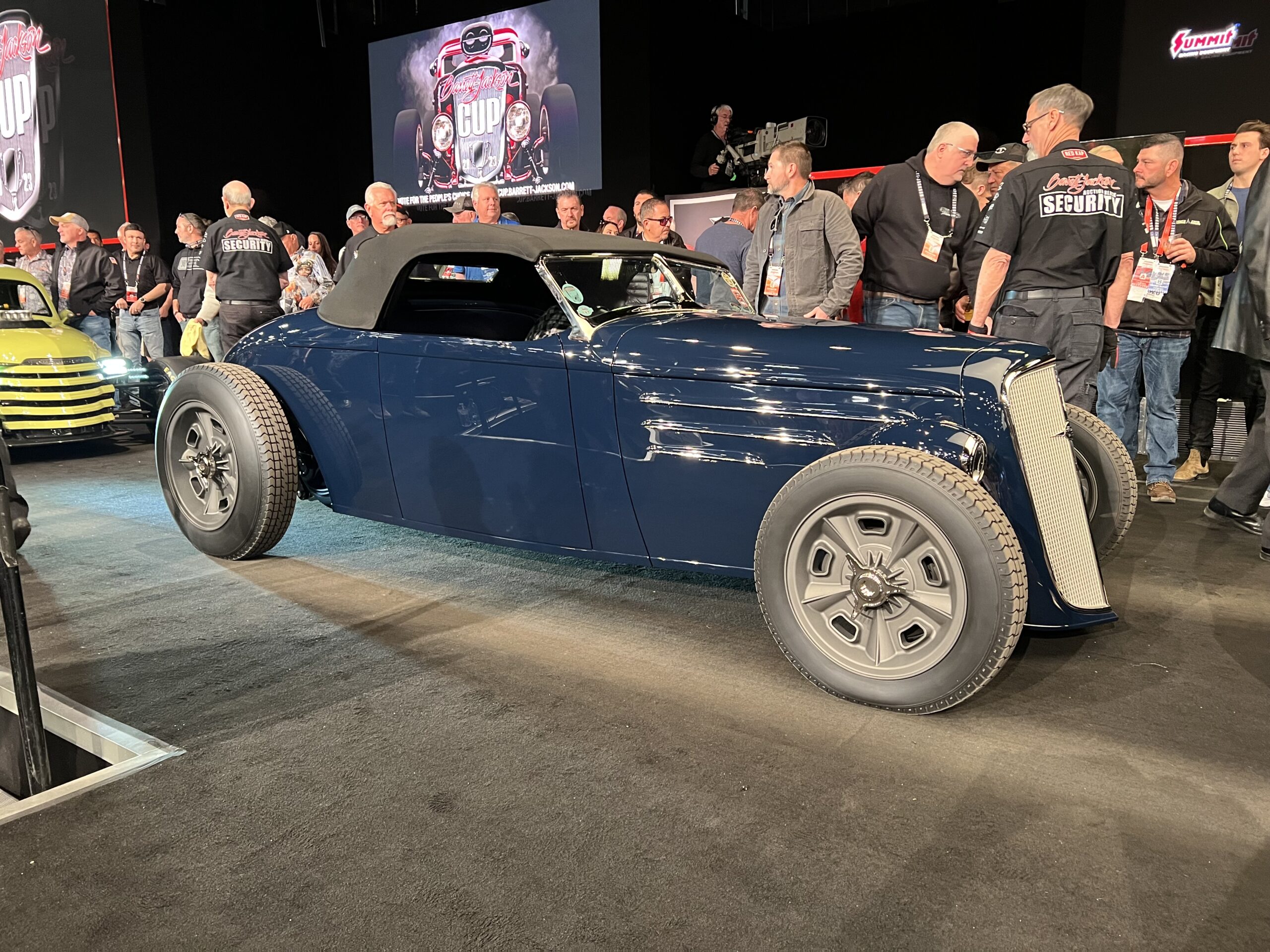 Power comes by way of a 441-inch LS3 Dart block by Keith Dorton with custom intake by Johnson's Hot Rod Shop all backed up to a Bowler Performance–prepped TREMEC five-speed trans. All this rests between the 'rails of a custom Roadster Shop chassis with a custom IFS and a custom four-link rear and a set of custom wheels from Greening Auto.
Chuck Rowland Interiors handled the stitchwork while the paint comes by way of BASF custom Breault Blue and applied while at Devlin Rod and Customs. Other custom appointments include the retractable top that disappears and a custom hood.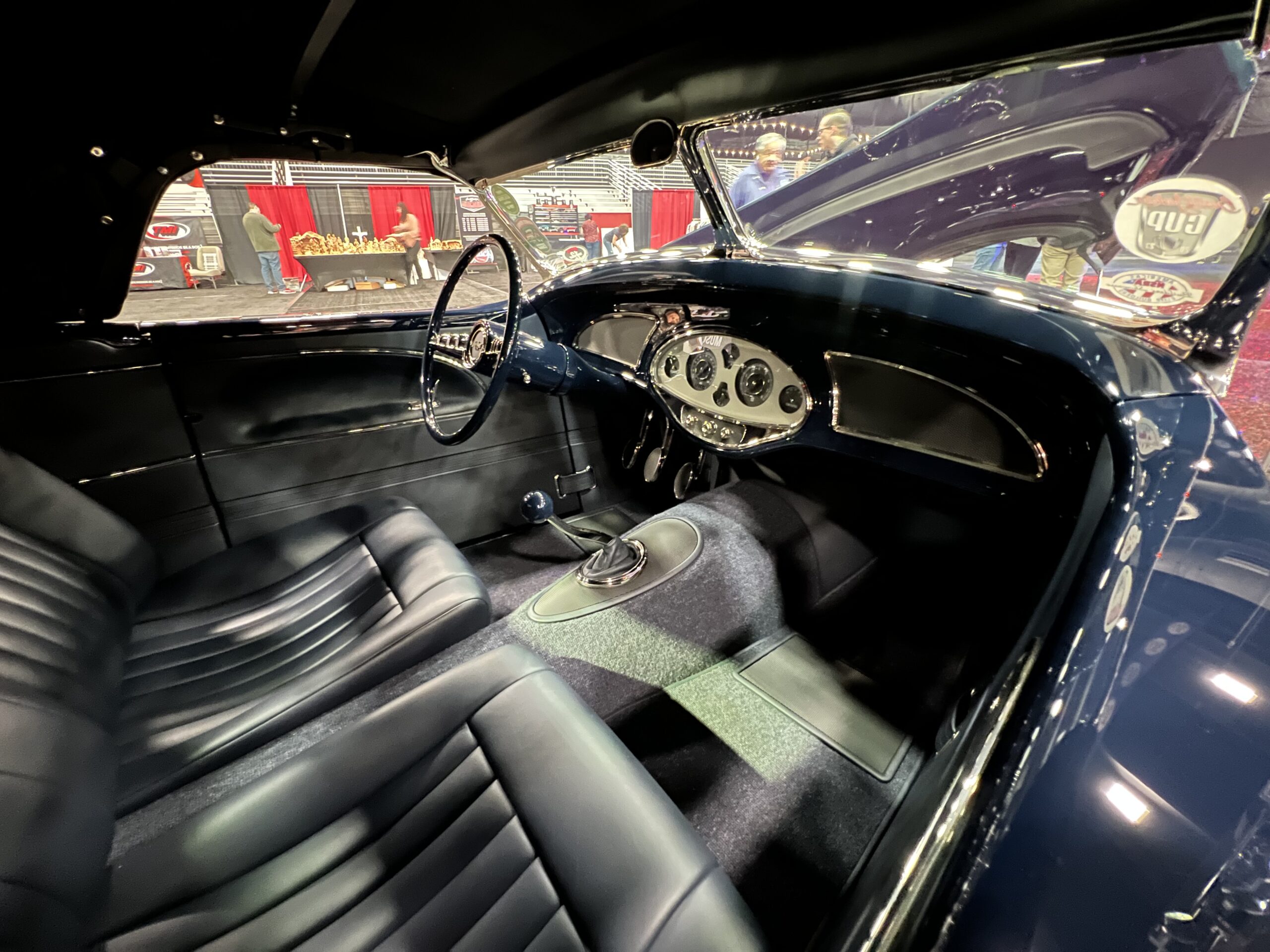 '58 Lincoln Continental Convertible
From the workbench of Dave Kindig of Kindig-It Design, owned by Jenny and Jim "Bob" Salter, is a 600-inch aluminum V-12 with twin custom V-6 Magnuson superchargers built by Ray Falconer, is a '58 Lincoln Continental convertible. Imagine having an engine that's been "detuned" to 1,000 hp from an engine capable of 3,000 hp. Shifting chores are handled by a 4L80E and the powertrain rests in an Art Morrison custom frame with AccuAir adjustable-height suspension. Rolling stock is made up of EVOD Enterprises custom wheels and Pirelli rubber.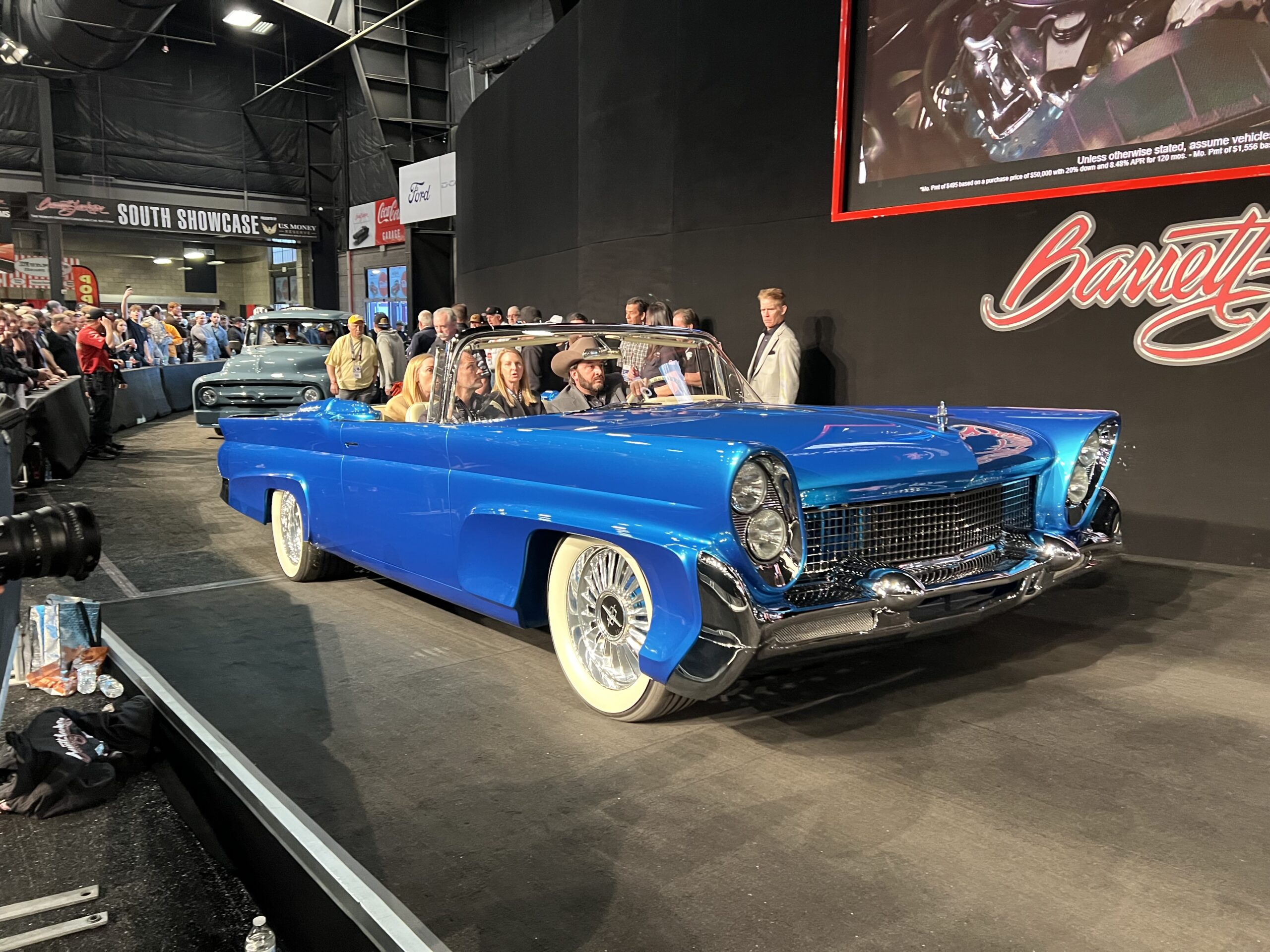 Some of the unique sheetmetal work includes the "jewelry box" acrylic hood bubble featuring metalworking contributions from Gene Winfield. More metalwork includes sectioned front fenders and a full-width LED taillight. Dakota Digital received the nod for the digital instruments.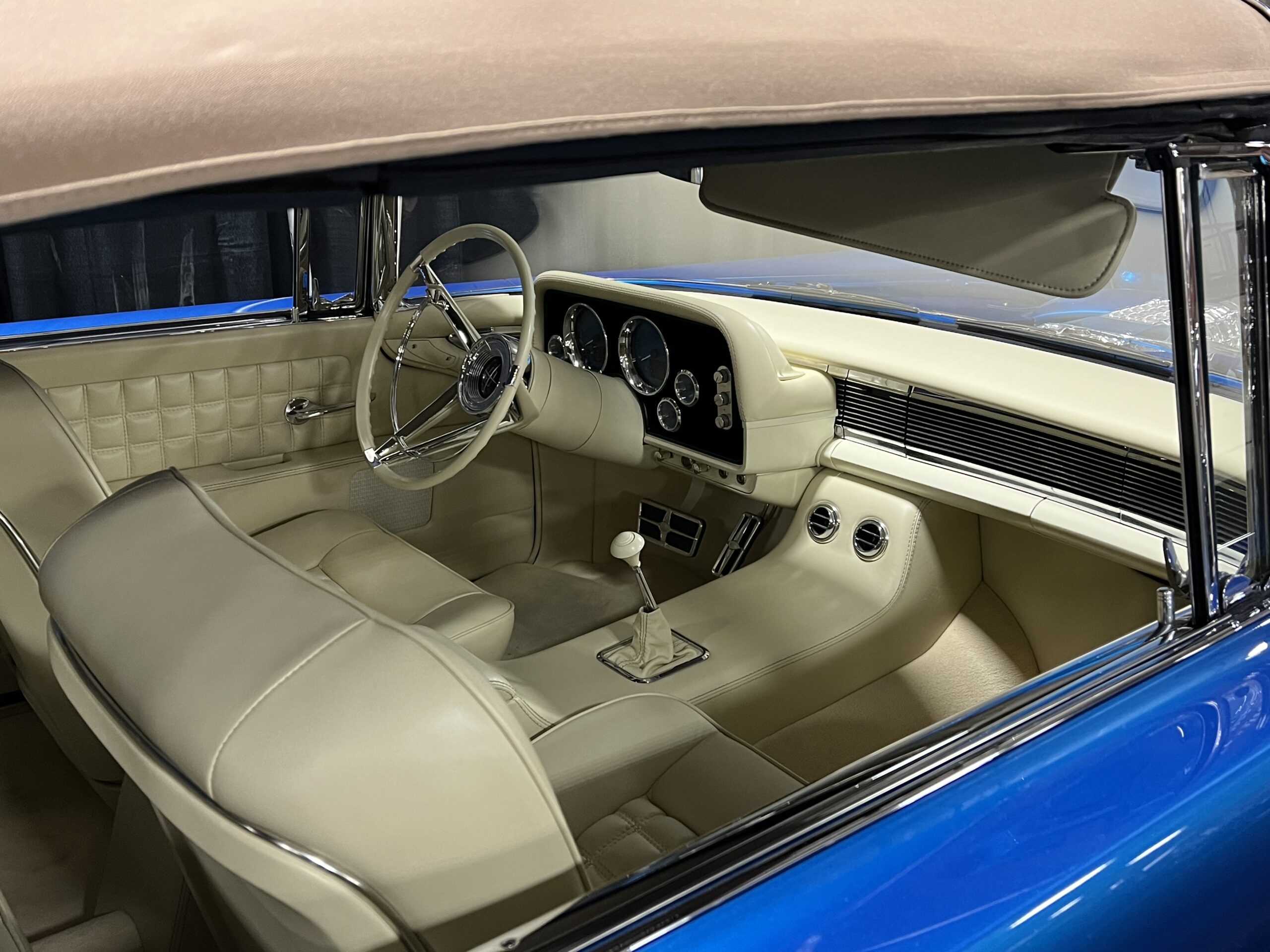 It's a multi-award-winning build having taken home honors from the Grand National Roadster Show, Sacramento Autorama, and was voted Goodguys Custom Rod of the Year finalist.
'69 Pontiac Firebird
Best of Show … Barrett-Jackson Cup Winner
Bob Sather's '69 Firebird is on the Feb. '23 cover of Modern Rodding and is the winner of the Best Street Machine category in the 2022 Triple Crown of Rodding. The 199.027-mph Firebird is a class record holder at ECTA in the standing mile. It has also captured the Goodguys Street Machine of the Year. (It topped 200 mph going out the "back door.")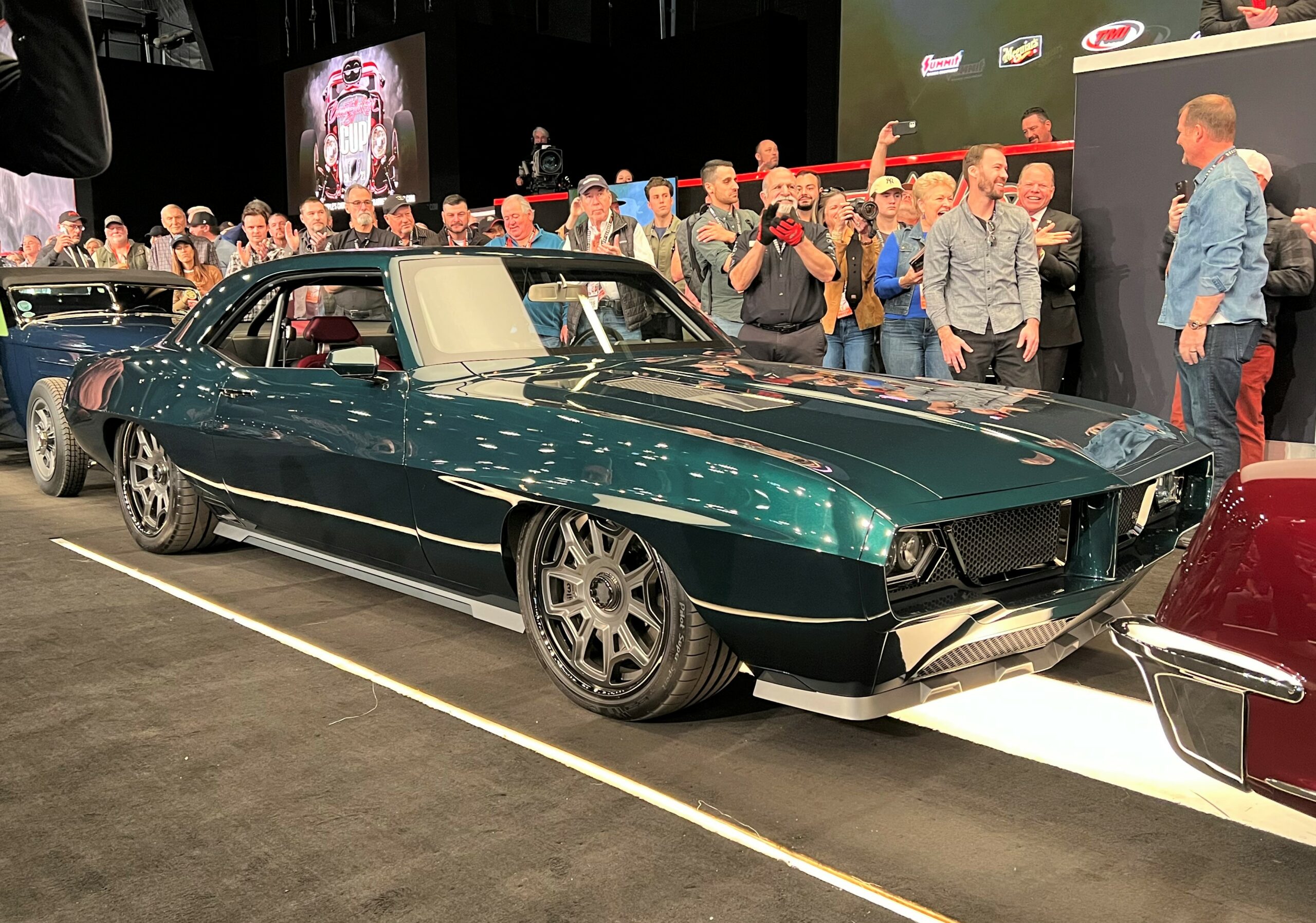 The Firebird is powered by a 482ci twin-turbo Butler Performance Pontiac V-8 that produces 1,500 hp. The six-speed matched to the Honcho V-8 was prepped by Bowler Transmissions. All the powertrain rests between a Roadster Shop Fast Track chassis complete with a Roadster Shop IRS. The one-off wheels come by way of EVOD Industries.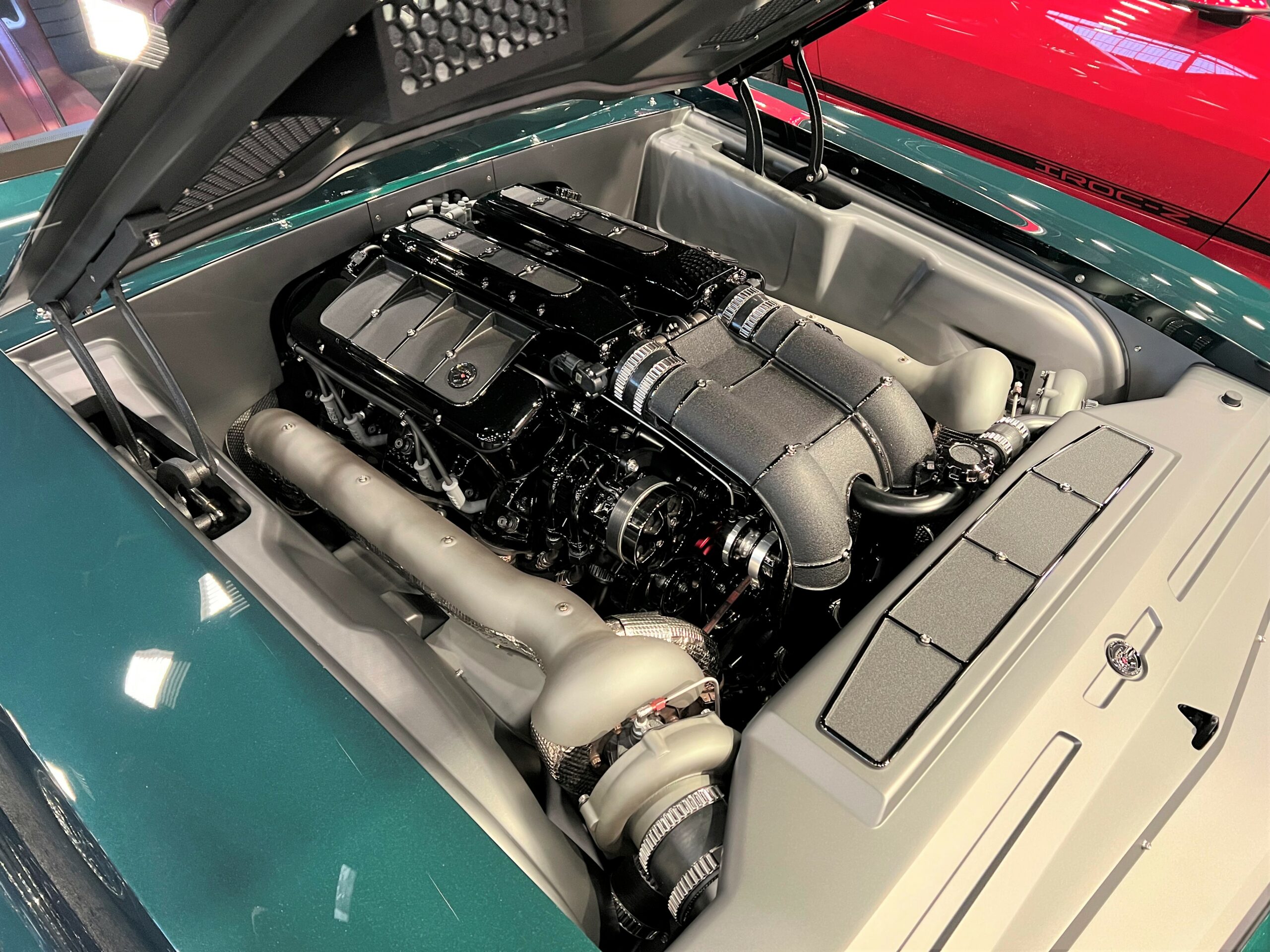 The body, with its widened front fenders, one-off aluminum hood, and full bellypan, is painted in PPG McLaren Racing Green by the squirters at Relic Restomods. The interior was stitched by Cato's Upholstery.
Well, there you have it. The Top Five and the People's Choice from the 2023 Barrett-Jackson Cup competition. The auction, well, that is a sight to behold, and if you ever get the chance to attend it is most definitely a "bucket list" item that you should really experience. For more information on next year's Barrett-Jackson Cup or the auctions themselves you can go to barrett-jackson.com. MR