427 LS Power That Looks Like Vintage 409 in 1961 Bubble Top Impala
By Brian Brennan – Photography by John Jackson
We are all used to seeing finished builds … they look great. But this time we thought you would enjoy seeing the time before the "king gets his clothes," so to speak. Joe Nichols of Overkill Speed and Color is from Illinois and both the owner and co-builder, along with his friend Bob Thrash, as they spent a good chunk of their time fabricating, painting, and assembling this '61 Chevy Impala bubble top. Upon closer inspection you will note the tribute paid to the Z06-equipped Corvette with the crossed flags on the trunk and note the wheel caps, the Z06-style air cleaner, and the LS7 engine.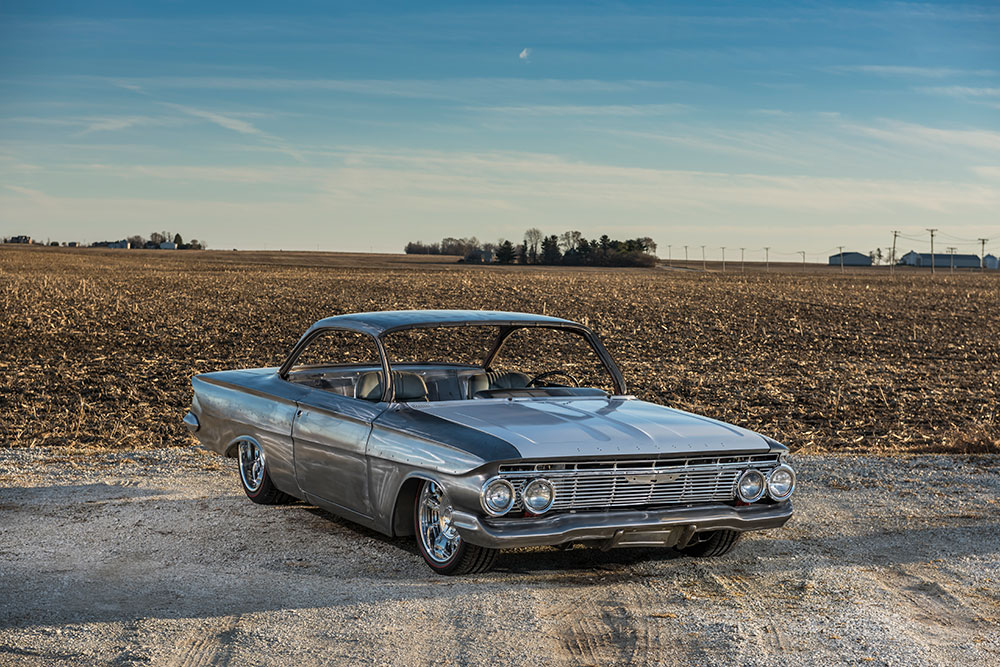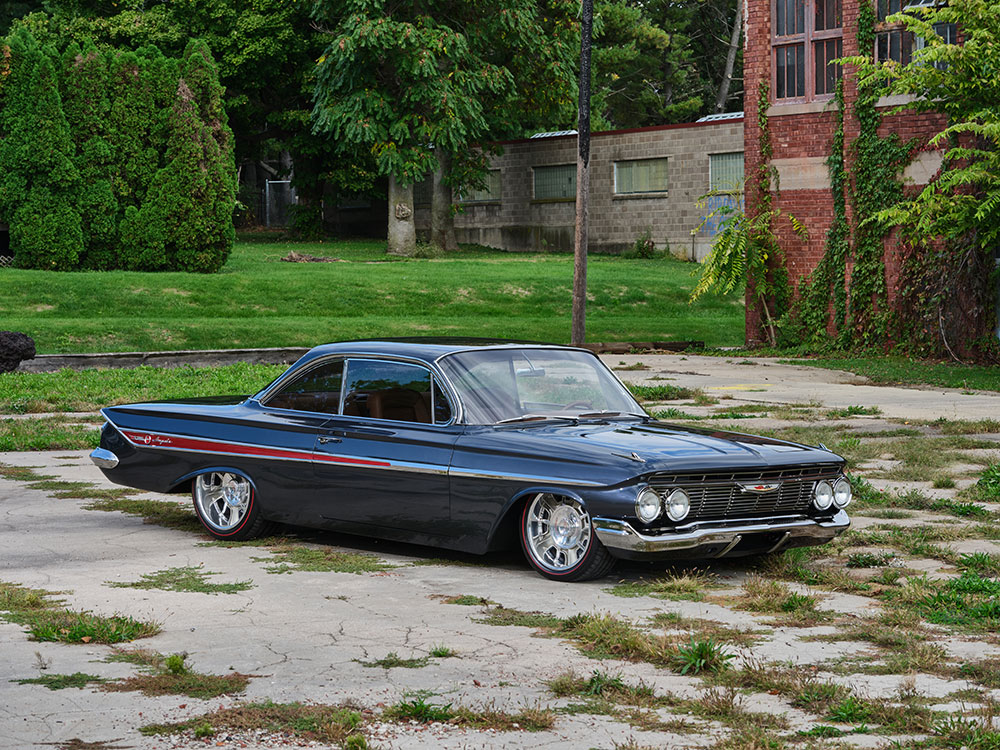 A few words on the '61 Chevy Impala, affectionately known as the "bubbletop." It was manufactured from 1959 through 1961 and features the thin arching A-pillar with no B-pillar closed off with another arching C-pillar. (In 1962 the "convertible top" look was brought in.) Now, there was a '61 Chevy Impala SS bubbletop, but in order to get one of these there were a handful of mandatory options, but the most desirable of these was the 305hp W-motor sporting the iconic 409 engine.
Read More: Impala with an LS3 from Pace Performance
We hope you like the car in metal finish, as it gives you a feel for the work that was done but then hidden under the final body- and paintwork. (The bubble top is painted in PPG Cyber Gray but may "lean" toward the blue hue because of the reflection from the blue in the sky.) Let's stay on the subject of body- and paintwork. On bodywork it was a combination of Joe and Rich Melton. While the PPG paint was applied by Joe Thrash handled the red airbrush work inside the signature side chrome trim. Joe also gives credit to Jason Kilmer for a clinic called Gloss University that helped with painting techniques. Additional paint guidance and helpful tips came from none other than Charley Hutton, master of all things that come out of a spray gun!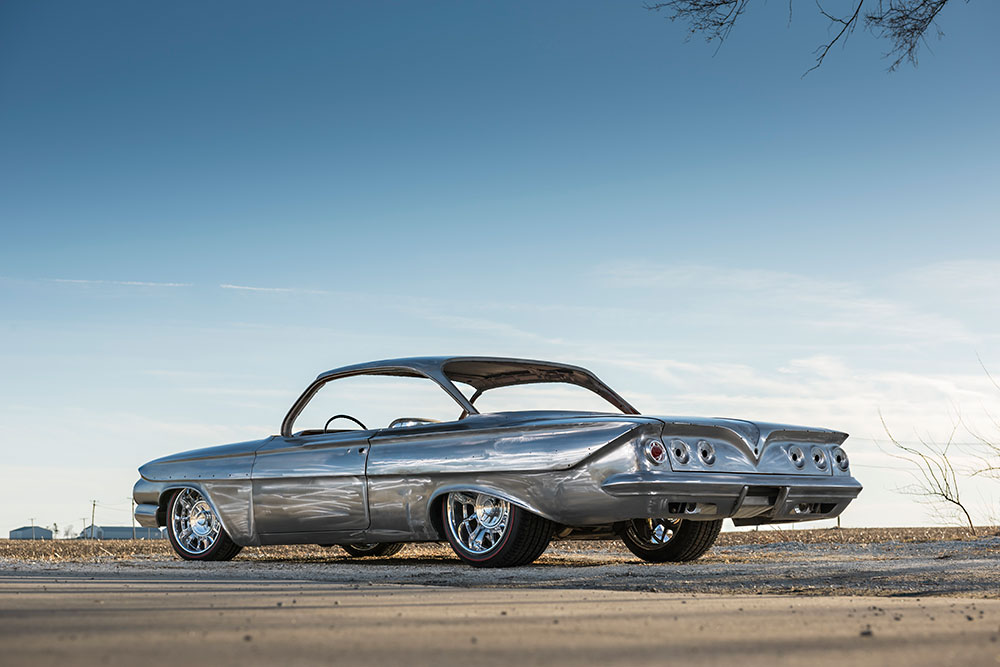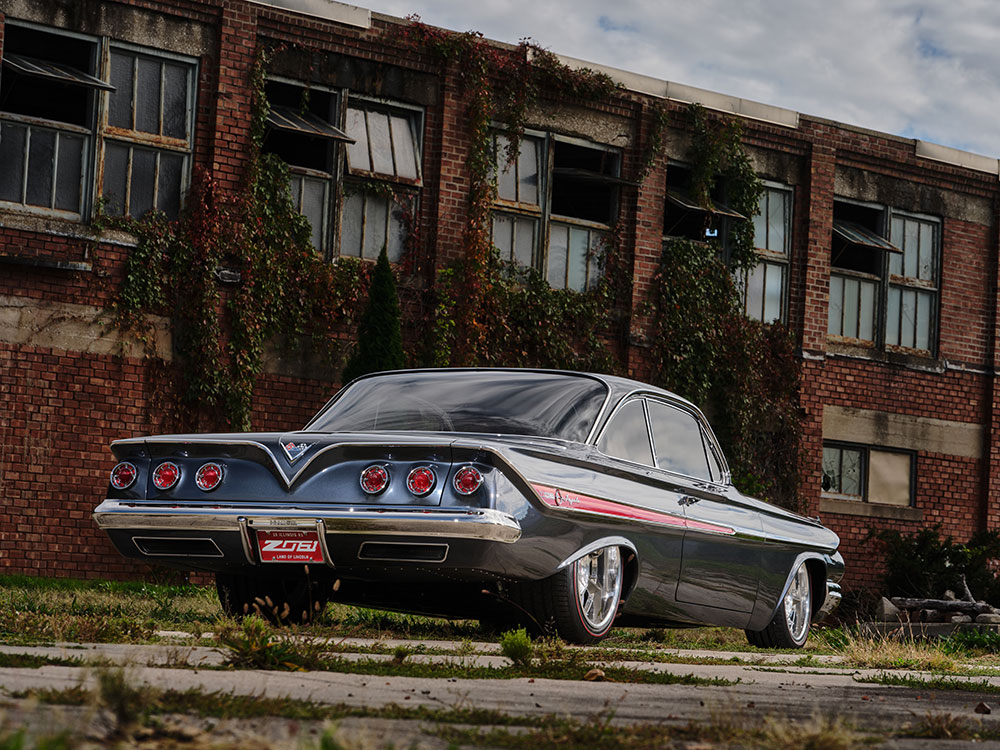 The '61 Chevy Impala bubble top is based on factory sheetmetal while there are a few subtle changes. For instance, there's a front spoiler (housed here are the turn signals and parking lamps) and a rear spoiler that encloses the dual outlet exhaust tip. While you can't readily see it there's a belly pan while the front fenders were reworked (hiding the lower mounting bolts), and the external door latches were eliminated. The hood is stock but the emblem area was shaved. Joe also had the body scanned at Atomic Machine and from here what was once trim is now made from billet, such as the taillights, fender pieces, and the one-piece quarter-panel side trim. As for finishing off of the brightwork it was John Wright's Custom Chrome Plating on the chrome and Stainless Rehab that masterfully massaged all of the original stainless trim that was retained.
More on the hidden and not-so hidden sheet metal changes. The fan shroud and the air cleaner (Z06-style) are more amazing sheet metal work by Joe and Thrash . From here they made the firewall and flooring as well as the rear wheel tubs and front inner fenders where each was raised and widened 3 inches. It should be noted that the body sits over the Art Morrison Enterprises chassis (2x4x4 muscle car 'rails) with its 119-inch wheelbase providing for its low stance with a front ride height of 5-1/2 inches and in the rear 6 inches yielding its low stance. The Art Morrison chassis utilizes its own four-bar and a Ford 9-inch rear end (53-3/4-inch housing width) fitted with a Strange Engineering pumpkin filled with 3.73 gears, 31-spline axles, and coilover shocks. A 1-inch Hotchkis front sway bar is used while Joe and  Thrash made the rear sway bar work in this application. The front Independent Front Suspension is more Art Morrison parts, utilizing their control arms, dropped spindles, Detroit Speed rack-and-pinion, Strange Engineering coilover shocks, and Wilwood disc brakes.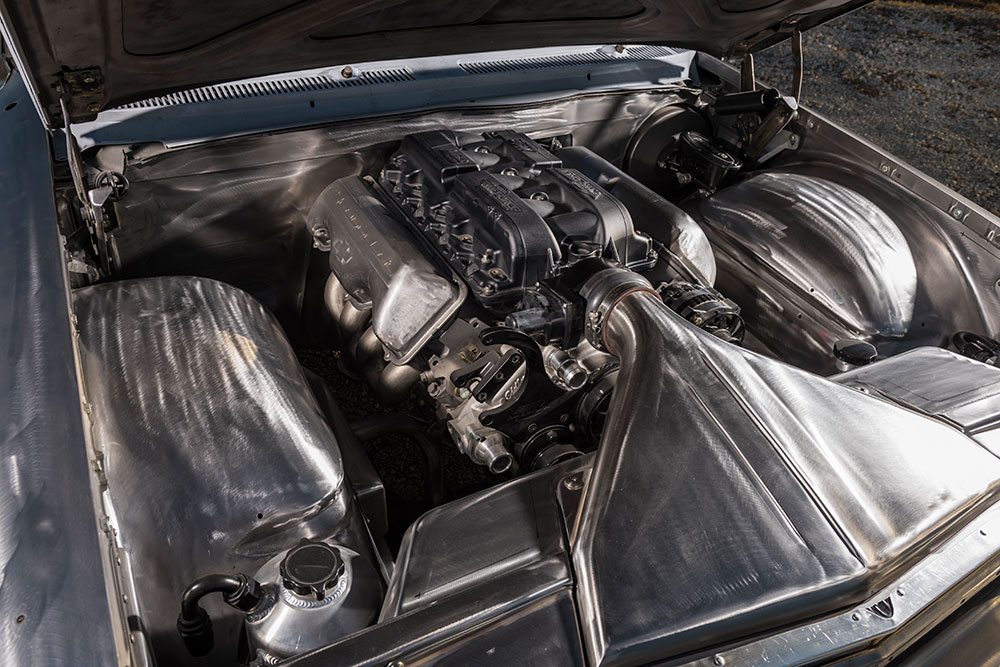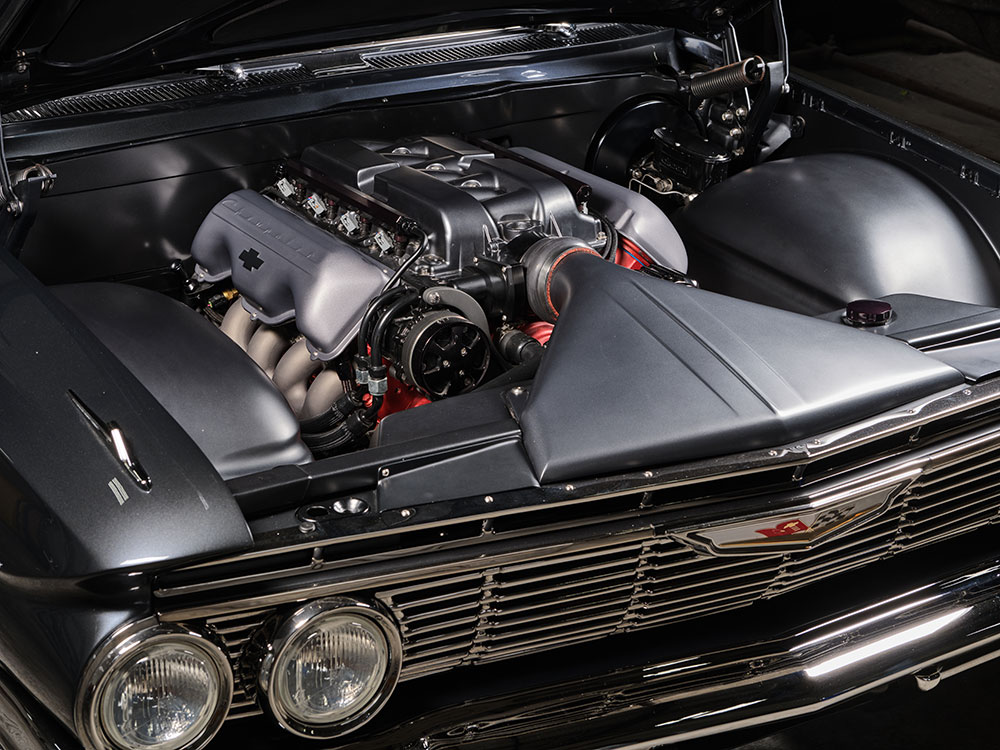 The one-off custom wheels come from Mike Curtis who built the 7×18 fronts (4.5 backspace) and the 12×20 rears (5-inch backspace) all wrapped in Pirelli thin redline rubber. The fronts are P Zero 225/45R18s in front and P Zero 345/45R20s in back. If you look closely you will see Wilwood 14-inch drilled-and-slotted rotors with 6-piston calipers in front and 4-piston calipers in back.
Read More: This 1958 Chevy Impala Blends the Lines Between Cruiser and Performer
We mentioned that the bubbletop while looking true to its heritage does have a few tricks hidden underhood. The motor is an LS7 that represents an all-aluminum 427ci or 7.0L V8. Joe utilized aftermarket balanced factory parts intended for the potent Corvette LS7 engine and to this he utilized a fully detailed (sanded smooth) aluminum block and then painted it. Chevrolet Performance LS7 aluminum heads were retained but this time around ARP head studs were used. While the Impala 409 engine valve covers jump out at you these are more handmade items by Joe that fit over the factory LS valve covers. The front accessory drive system is from Billet Specialties with Vintage Air condenser and drier. It adds a touch of nostalgia to the engine compartment and makes everyone take a second glance. Once again upon closer inspection you will note an MSD intake manifold with Haltech EFI system with ECU, coil, and their injectors. Taylor received the nod for the spark plug wires. It's here you will notice the Z06 Corvette–appearing air intake and cleaner system. A few accessory items include the Billet Specialties black finished alternator and smoothed aluminum water pump, a GM starter, and a single Maradyne electric fan. The twin batteries are mounted, one per side within the trunk. The Mocal oil cooler is center mounted behind the front bumper. Exiting the spent gases are a pair of Hooker cast-style exhaust manifolds that are now sanded and powdercoated. Joe took over from here and fabricated the 3-inch stainless steel exhaust tubes that run back to the Flowmaster mufflers. The nearly 600hp LS7 is backed up to a 6L80E transmission with a 12-inch, 3,000-stall torque converter controlled by a Corvette shifter, all the while maintaining cool temps through a Matson transmission cooler. It should also be noted that Matson Radiator was tapped to control the LS7 engine temps through a custom radiator.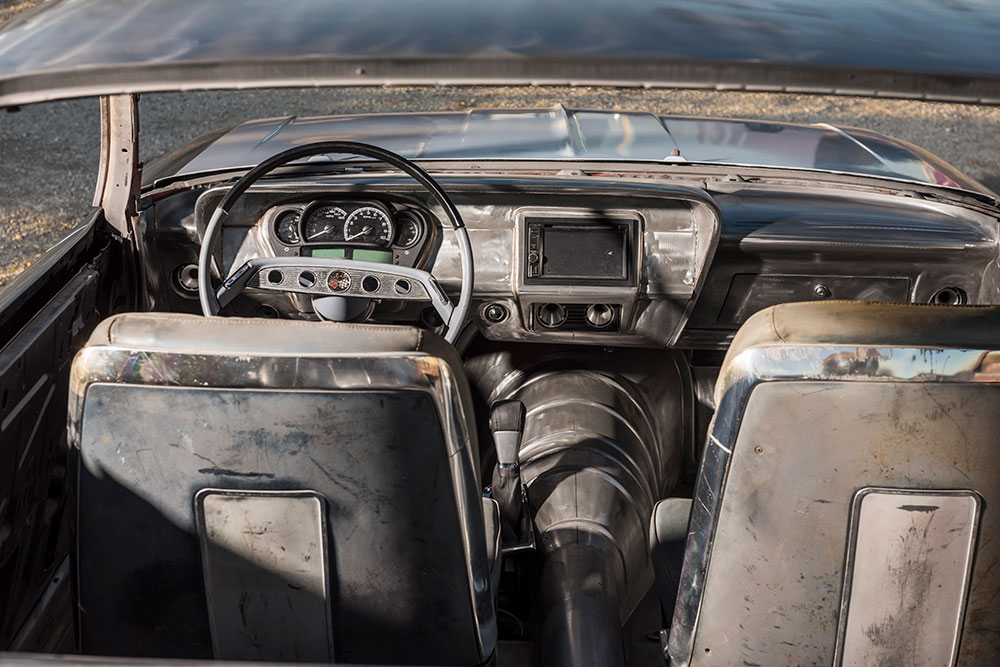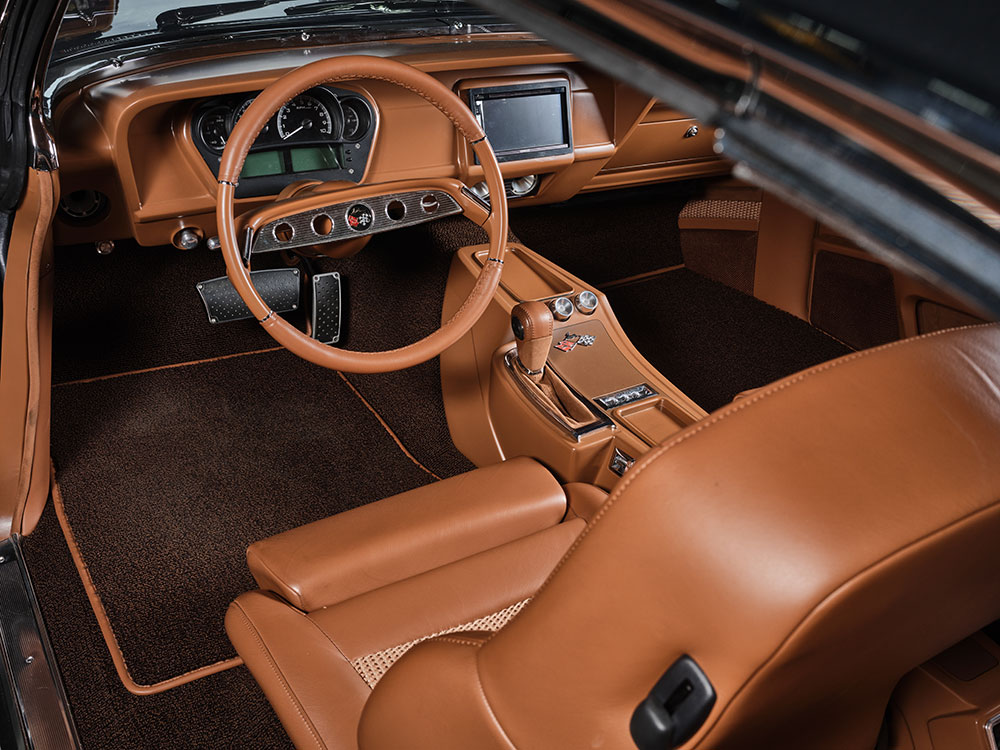 Inside is truly a work of art, starting with a highly modified stock dash with the glovebox moved far right, the stereo system center mounted, and a Dakota Digital instrument cluster (billet aluminum faceplate that's powdercoated in flat black) that rests in front of Joe's eyes when scootin' down the road. The Dakota Digital unit is a VHX-1100 that measures 6×10-3/4 inches with its LCD message center and is referred to as a competition, analog VHX instrumentation.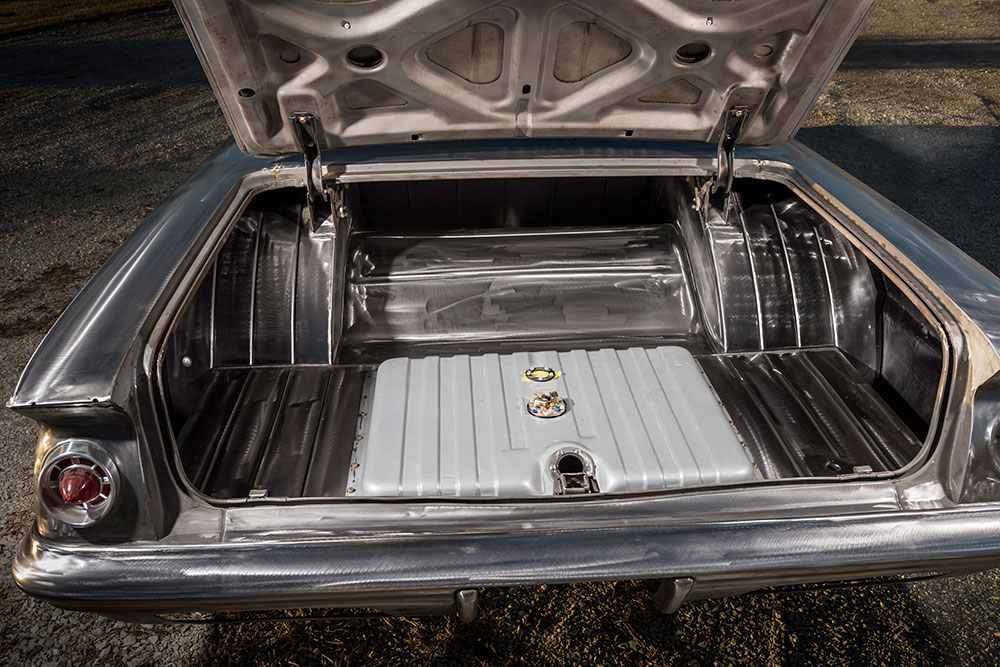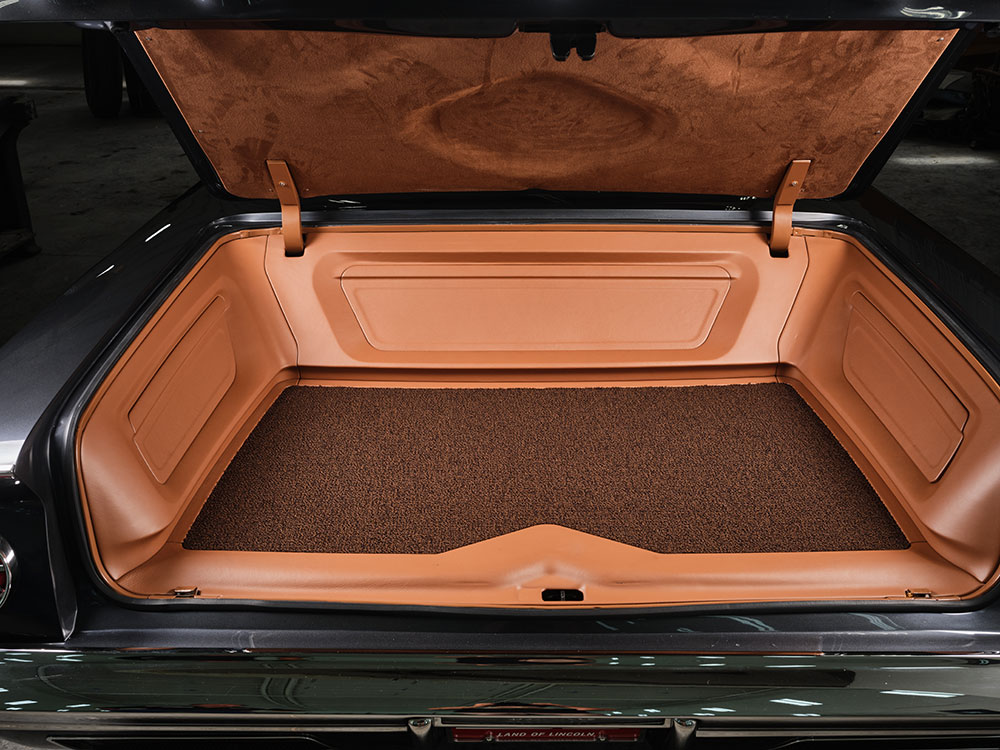 All of the necessary electrical wiring was handled by Joe using an American Autowire kit. There's an ididit steering column with a 2-inch downsized stock wheel then wrapped in brown leather to match the interior. More interior trim callouts are the pair of front-mounted brown leather Recaro bucket seats, the rear bench is scratch built and also covered in matching brown leather, while the headliner is done in a brown suede and then brown cloth carpeting. All of the expert stitchwork was handled by Avant-Garde Design in Florida. Between the buckets is the homemade center console that houses the restored switches and dials along with the power window and power wing vent switches.
Read More: 1961 Chevy Impala Good Looks & Better Performance
Joe has had the '61 Chevy Impala bubble top at a handful of Goodguys shows and has taken home an impressive list of awards. Included are the Custom Rod of the year (finalist), received Builders Choice at three different shows, and also took home the Meguiar's Excellence Award at Goodguys Del Mar. We are confident you will take a long first look but make sure to come back for seconds and thirds; you will not be disappointed. MR