1933 ASC Speed33 From Roy Brizio Street Rods
By Brian Brennan – Photography By Michael Christensen
Change is inevitable. Nick Testa, who lives in one of the SoCal beach communities, has a collection of Deuces that includes a roadster, a coupe, and a sedan. Where the 1932 Ford Street Rod comes up short is literally in legroom. Nick will tell you, as time has gone by, being comfortable for those cruises up and down the coast has become more and more important. There's still the desire for the open air a roadster or convertible provides but enjoying the drive is now an important part of the equation.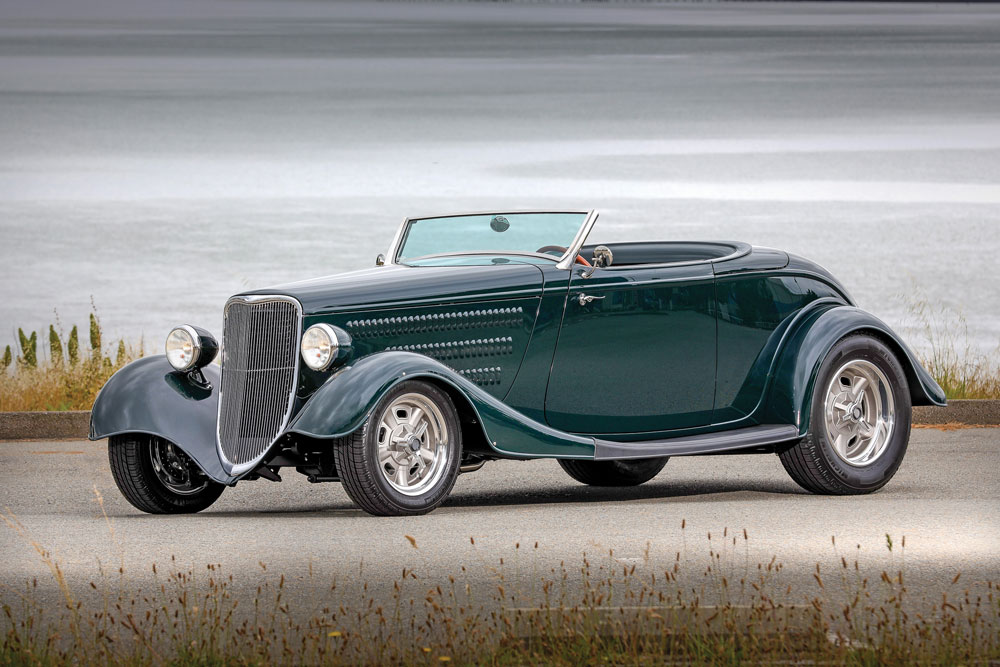 Several years ago, Nick joined "forces" with Roy Brizio of Roy Brizio Street Rods and a 1933 Ford Deuce roadster was the end result. In time, having walked the aisles of the Grand National Roadster Show, Nick saw the ASC Speed33 and over time became more and more fascinated with the looks and what appeared to be ample leg and body room. Next, Nick and Brizio came up with a plan to build one of these convertibles. What you see in front of you is the end result.
Check Out: Isky – Part 1 … The Man Then The Hot Rod
The body is an ASC Speed33 where the hood, an aluminum three-piece model built by Jack Hagemann Jr., was lengthened 3 inches. (Hagemann has been doing Brizio's hoods for at least the past 20-plus years.) While maintaining the inherently good looks of the 1933 Ford street rod roadster, the Speed33 is made from its own body panel stampings made out of 18-gauge steel outfitted with a fully integrated convertible top.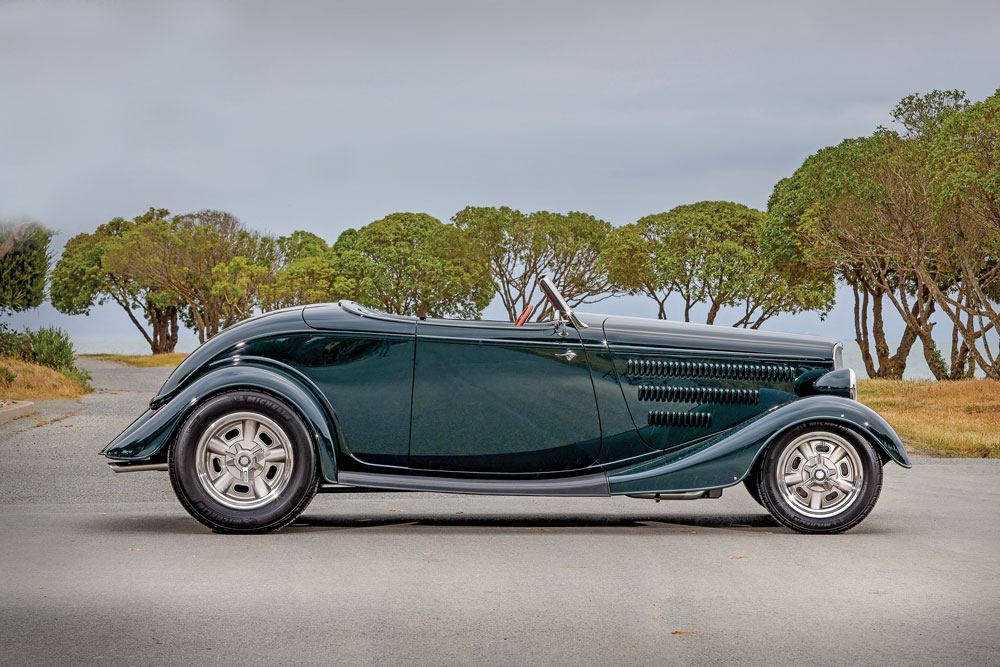 The body also has a stainless steel windshield frame and stanchions as well as power door glass and a contemporary OEM-style convertible top assembly that's completely hidden away under a hard tonneau cover when not in use. Attached to the body is a pair of ASC Shorty Swan Neck side mirrors that are 4 inches around.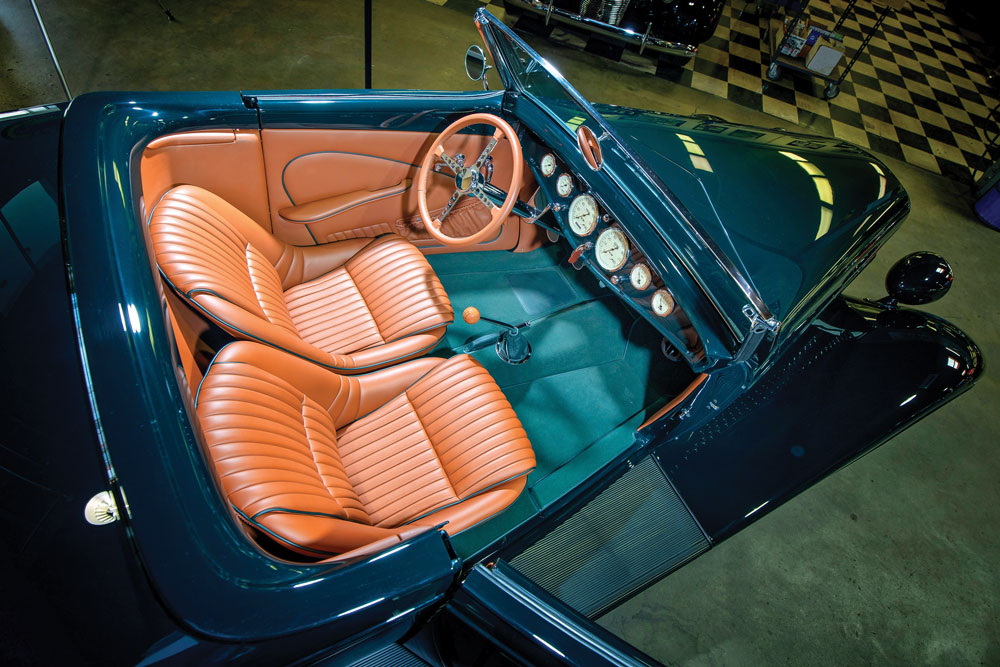 Next up, the metalwork was handled at Brizio's while bodywork, primer, and final color was managed by one of the truly great ones in the biz, Darryl Hollenbeck of Vintage Color Studio. On this build he used a custom mix green from PPG. Within the sheetmetal you will find a Roy Brizio '32 Ford–appearing dashboard that's equipped with a six pack of Classic Instruments custom-face gauges along with a center-mounted ignition, headlight, and wiper switches.
The Vintage Air A/C controls are on a panel hidden, on the '33 Ford, just beneath the center of the dash. Look a little further down and you will see Lokar pedals as well as the shift lever. The essential wiring was handled by Jim Vickery of Brizio's.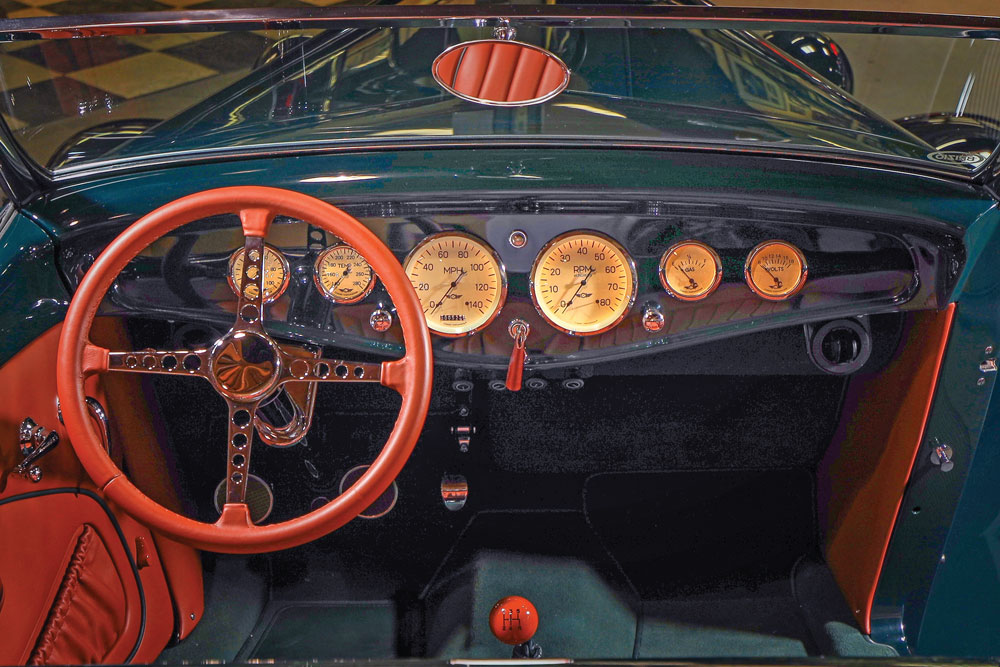 The steering column is a LimeWorks topped with a leather-wrapped four-spoke Bell-style wheel from Mooneyes. The Newstalgia Style upholstery treatment from Sid Chavers Company sewing machines, one of the premier upholstery shops in the country, is based on a pair of Ferrari bucket seats stitched in tan leather with green piping. The carpeting is a tight weave green to complement the exterior body color.
Check Out: A Look at the 51st NSRA Street Rod Nationals
The chassis is another eye-appealing choice based on efforts of Total Cost Involved 'rails and suspension appointments further massaged by Jack Stratton of Brizio's. The chassis uses their IFS with RideTech coilover shocks, rack-and-pinion steering, and Wilwood 12-inch drilled-and-slotted rotors, Dynalite calipers, and a Wilwood under-floorboard polished master cylinder linked to a Wilwood hydraulic clutch cylinder/reservoir.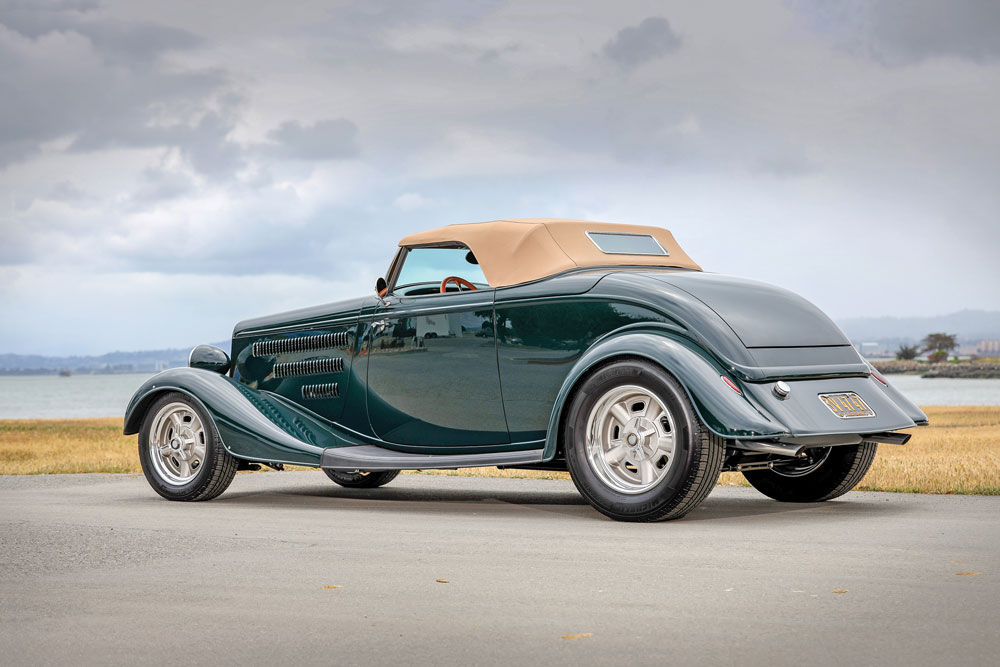 The rear suspension is most assuredly more eye candy based on a Kugel Komponents IRS, 9-inch centersection with 4.10 gears, and Kugel half shafts, plus inboard Wilwood 12-inch drilled-and-slotted rotors, Dynalite calipers, a Total Cost Involved sway bar, and a Modern Driveline driveshaft. Keeping this ASC Speed33 rolling down the road is a full complement of ET wheels, measuring 16×6 an 18×7, and bundled with Michelin Premier A/S radial rubber in 195/60R16 and 255/65R18 sizes.
Check Out: 1932 Ford Five Window Coupe & It's All Steel
Settled between the custom street rod's 'rails is an aluminum block LS3 6.2L (376 inches) that features the expertise of Don Hardy Race Cars (DHRC). It comes from the DHRC engine shop in the form of a 550hp V-8 that is derived from the 11 to 1 compression ratio, a DHRC custom grind cam, and an entire list of internal goodies. In the dress-up department there's a Billet Specialties serpentine belt system, DHRC coil covers, Powermaster alternator and starter, Cooling Components electrical fan, and an Edelbrock water pump.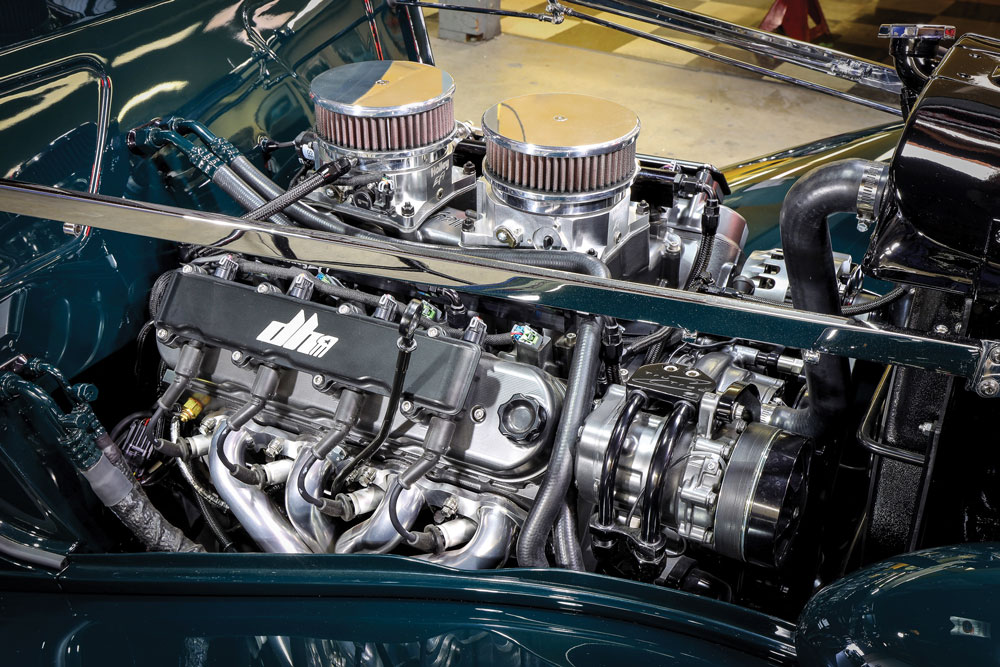 The exhaust system comes by way of Sanderson headers with Stratton-fabricated 2-1/4-inch exhaust pipes running back to the pair of stainless steel mufflers. The top is supplied with a Holley Terminator EFI system comprised of a pair of Holley throttle bodies (1,000 cfm) sitting on a Holley intake and utilizing 39-pound injectors. Bolted to the LS is a TREMEC TKO 600 five-speed from Modern Driveline that also features their flywheel and clutch package.
Well, there you have it. It's simply amazing how the more things stay the same the more they change! MR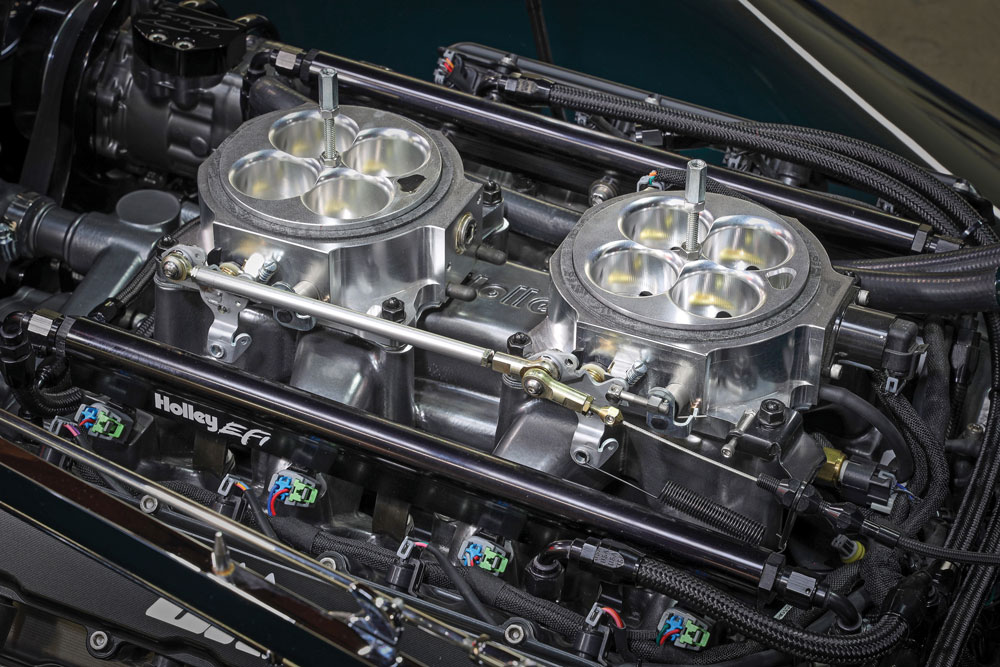 GALLERY