What More Can Be Said About Jon Hall's '27 Ford Highboy Roadster
By Brian Brennan   –   Photography By John Jackson   –   Artwork By Eric Brockmeyer
This track-nosed '27 Ford highboy roadster comes from longtime and well-known hot rodder Jon Hall. Many car guys will know Jon as he is the founder and owner of Shadow Rods and the owner of Motor City Flathead, both of Michigan. Both companies are longtime hot rod fixtures and an integral part of this build.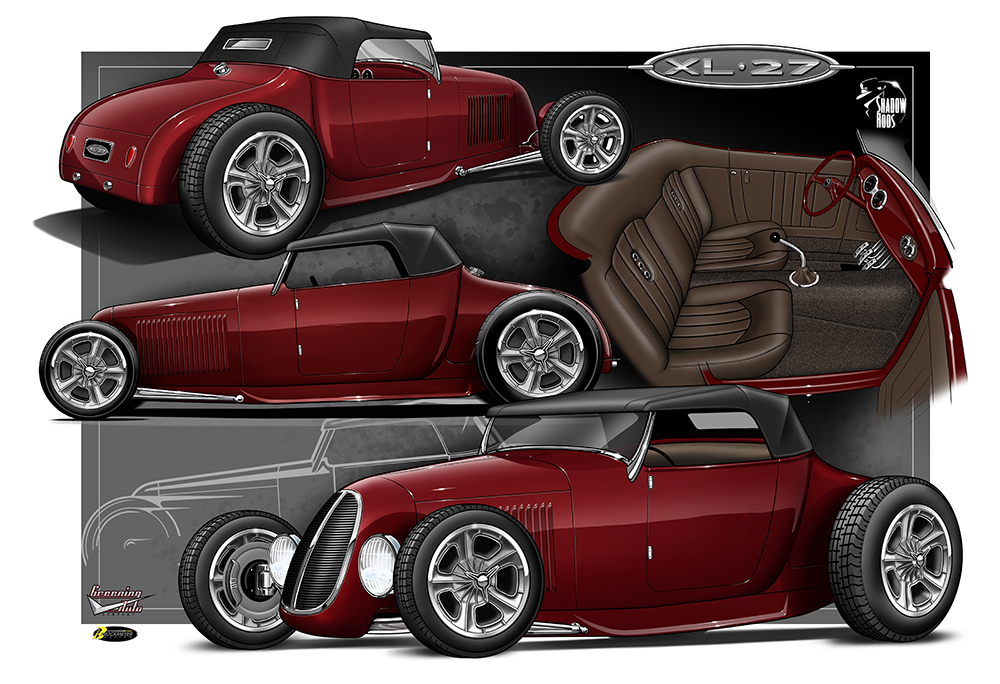 It's been said that it takes a "lot of friends" to build your hot rod; such was the case for Jon and his '27 Ford roadster. Beginning with a "clean sheet" and ending up with a roller, it was all done at Shadow Rods led by Jon with the likes of Randy Norton and Ashley Root. Substantial amounts of sheetmetal work was then performed by Dave Autin while considerable machining was handled by Cliff Samual. Once this team accomplished their efforts it was onto Jesse Greening and the team at Greening Auto Company (GAC) for the final push. Here all the body- and paintwork was handled, along with the final fit and finish and a number of specialty parts that needed to be machined and brought to life. While in the south at Greening the track-nose roadster made its way over to M&M Hot Rod Interiors where Wayne and Pamela McGriff working closely with GAC came up with the unpretentious yet striking interior. It should be noted that the seed for this track-nose grille–equipped '27 Ford highboy roadster was inspired by an Eric Brockmeyer rendering. Jon took the idea and "ran" with it. Originally the idea was based on a Shadow Rods roadster pickup, but things changed as he began thinking about competing for the America's Most Beautiful Roadster. It turns out Brockmeyer has done a great deal of work for Jon and Shadow Rods, which includes design, sketches, and renderings over the years for all sorts of projects.
The initial rendering got Jon to thinking as he wanted the final build to showcase everything Shadow Rods, from the stamped steel '27 bodies to the stamped '32 framerails incorporating their own wishbone front and rear suspension. To this, Motor City Flathead, a division of Shadow Rods, was included with their wholly developed all-aluminum Flathead V-8. To this point it was Jon's wish to finish a project that was begun by longtime friend, the late Mark Kirby. To this end both wishes were completed.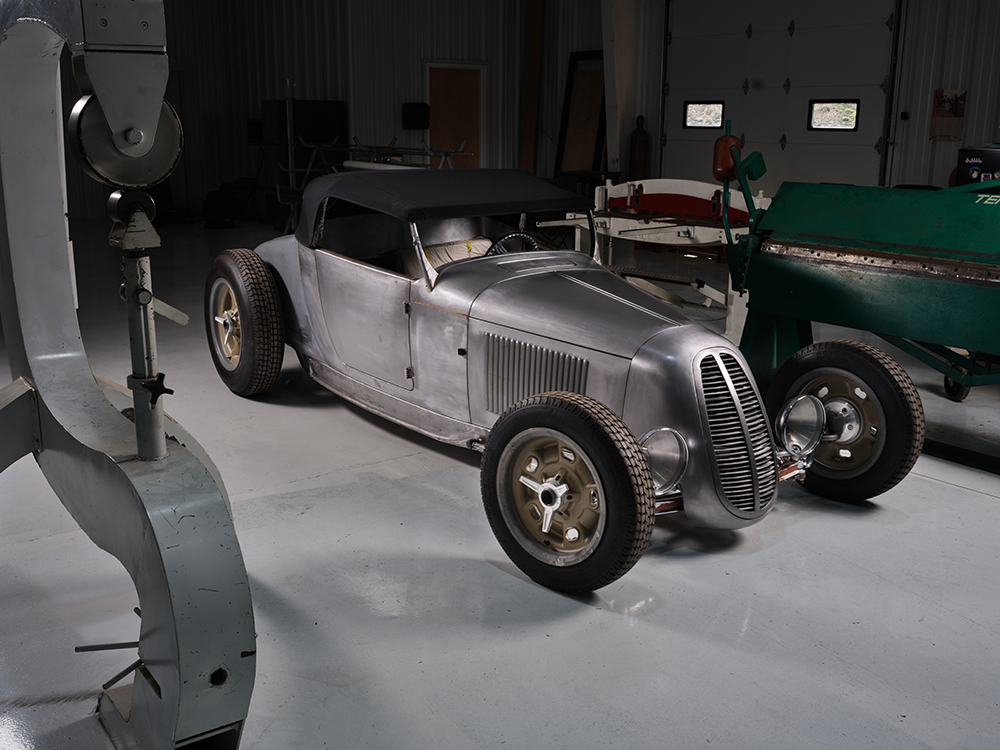 The original Ford Model T is known for its square and straight-line design, but Jon wanted to update the look. Look closely and see how the windshield frame and glass are now curved and the stanchions themselves have a pleasant arc to them. As a result of this approach, it was required that John Wagner of Rod Tops would have to make a top that features a custom frame and a machined number one bow (header) so that it matches and perfectly fits the curved windshield. Note the entire build has softened edges and a flowing and pleasant appeal to its thorough design.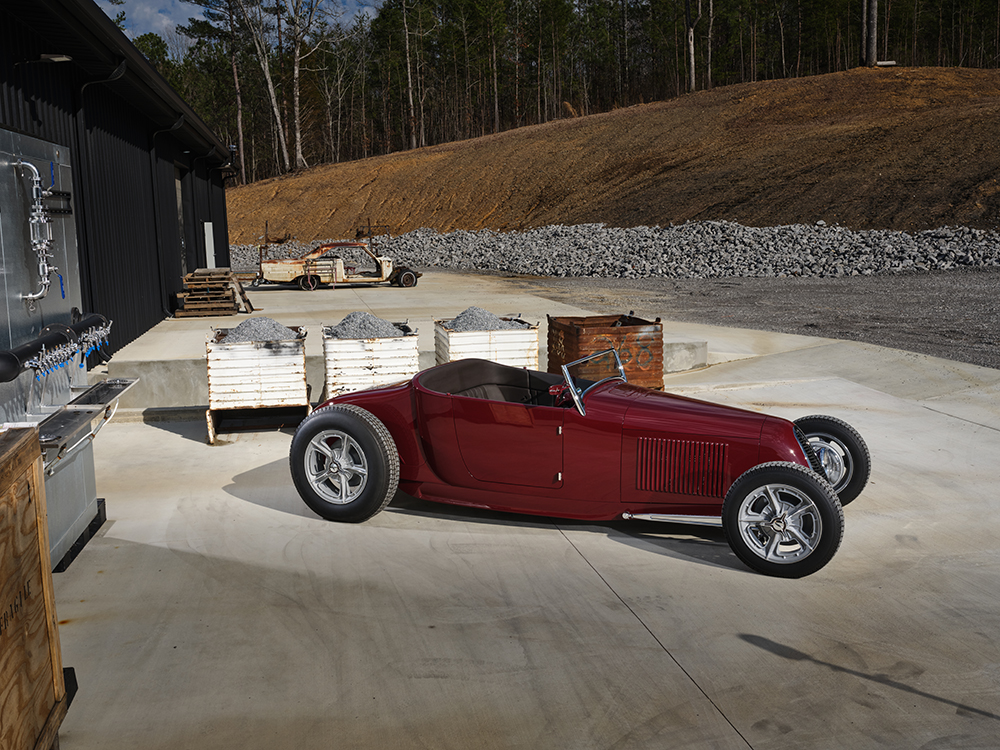 The body began life as a stamped steel Shadow Rods XL27. At this point the abundant amount of sheetmetal work was begun. Briefly, the roadster features one custom effort after another: a wedge cut sectioned body, flush fit and lengthened doors, machined doorjambs, track nose and hood (with curved and stamped side louvers), roll pan, stamped taillight and license plate panel, stamped fuel filler panel, a stamped firewall, floors, inner trunk panels, and toeboard. Might say it's a custom handmade one-off body–and you would be correct. Next up came the steady and numerous hours of initial and final bodywork, all handled at GAC. The paint is a custom-mix Glasurit 55 Line in a Brilliant Maroon. (We are told some of the benefits of the 55 Line of paints is the very good hiding properties, short flash-off times, and highly efficient, i.e. cost effective.) The color was applied by Chance Lott and Jeff Greening of GAC.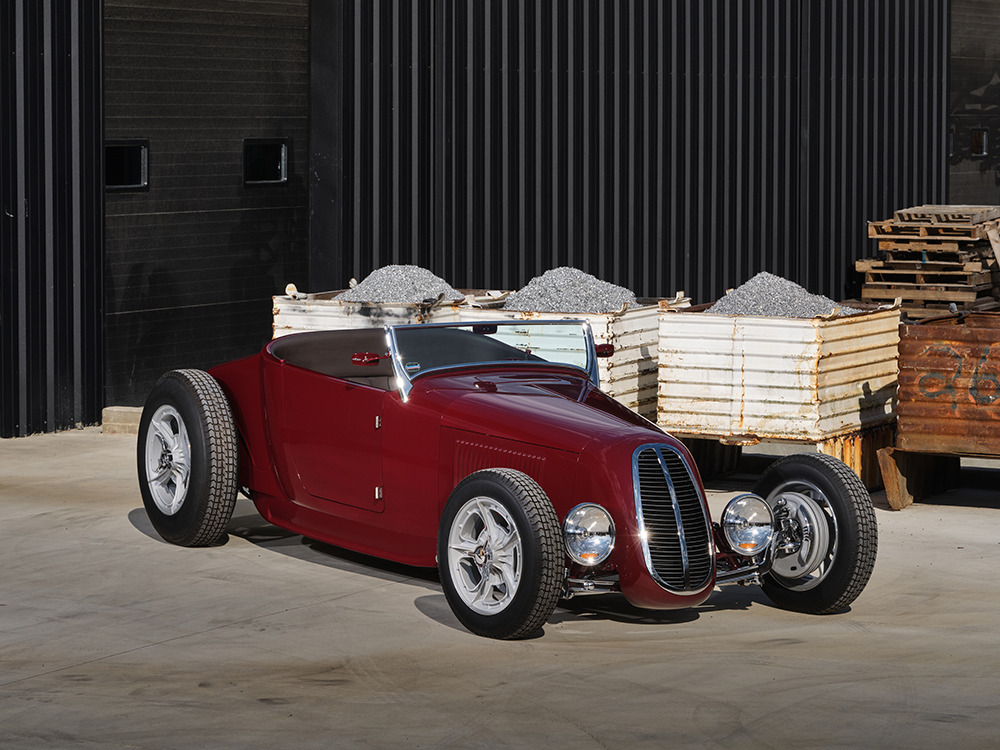 GAC's amazing efforts can be seen throughout this build. For instance, take a look at some of their handmade one-off parts: The following were designed, engineered, and fabricated, such as the wheels and knock-offs, headlight and taillight cans and lenses, instrument cluster bezel, steering wheel, rearend and master cylinder covers, air cleaner assemblies, wire loom and brake line hold downs, mirrors, license plate frame, shifter and bezel, and a potpourri of small parts. From GAC it was a short run over to Advanced Plating for an amazing effort in prep, polishing, and plating.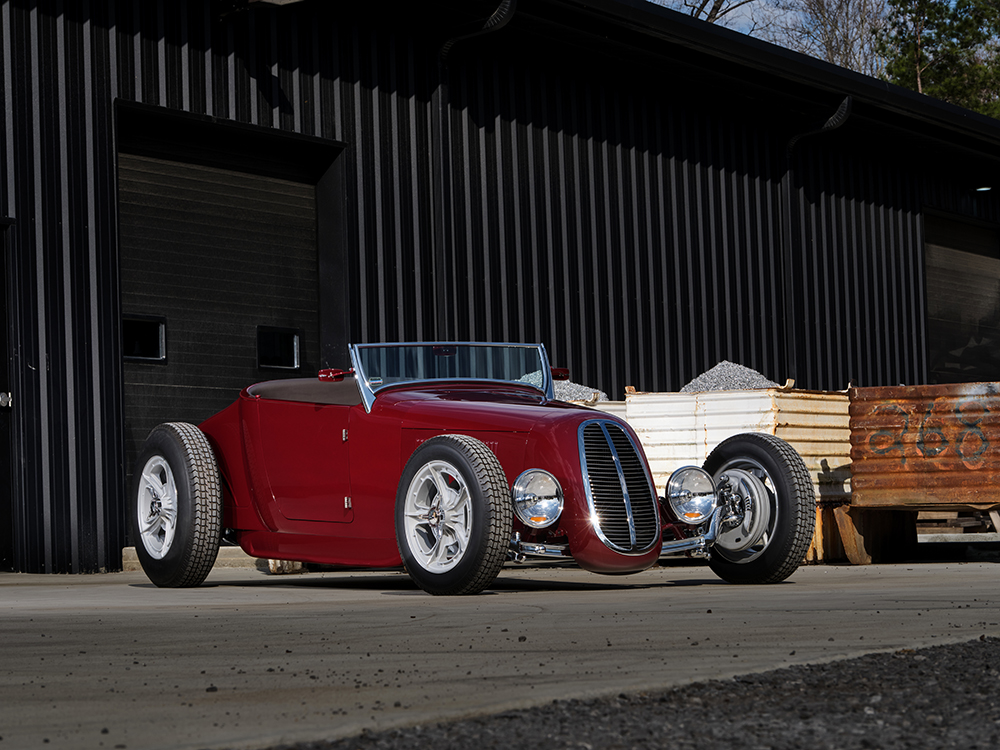 The one-off '27 Ford roadster body rests on a custom Shadow Rods frame and chassis. The beginnings are Shadow Rods stamped 'rails that were cut down 1 inch. Rather than the normal 6-inch-tall '32 side 'rail it is now 5 inches. From here the centersection, or X-member, is another one-off item, along with the front crossmember, the rear frame section featuring a "kickup" and the factory '32 wheelbase were then stretched 4 inches. All the frame and chassis work was handled at Shadow Rods.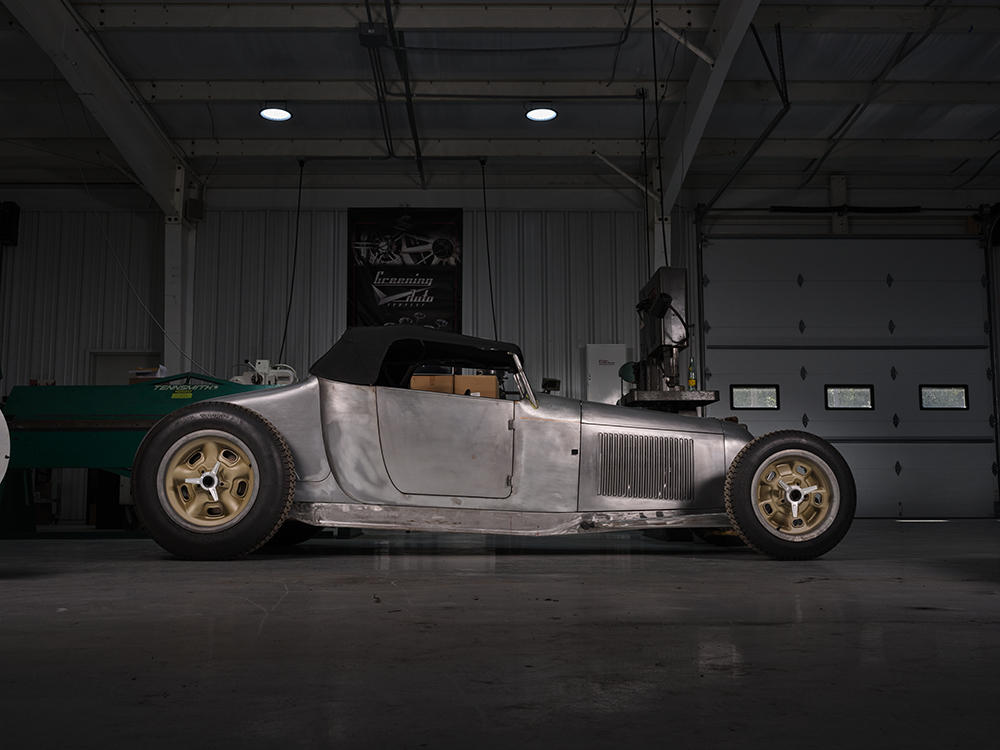 The front suspension is traditional hot rod with a GAC-machined Super Bell chrome 4-inch drop I-beam axle outfitted with GAC-machined Shadow Rods wishbones. Chrome Super Bell spindles were used along with painted Ridetech tube shocks, a Posies spring, and a custom Panhard rod. Steering chores are controlled by a Borgeson box working through an ididit column. In back everything is intended to enhance the Winters quick-change and axles. Equipped with a final 4.10 gear, there are Ridetech shocks, a Modern Driveline driveshaft, more Shadow Rods custom wishbones, and a custom buggy spring. Braking is by way of Thompson's Garage '39 Lincoln drums fully customized at GAC. The master cylinder comes from Pacific Customs Unlimited with Shadow Rods machined pedals.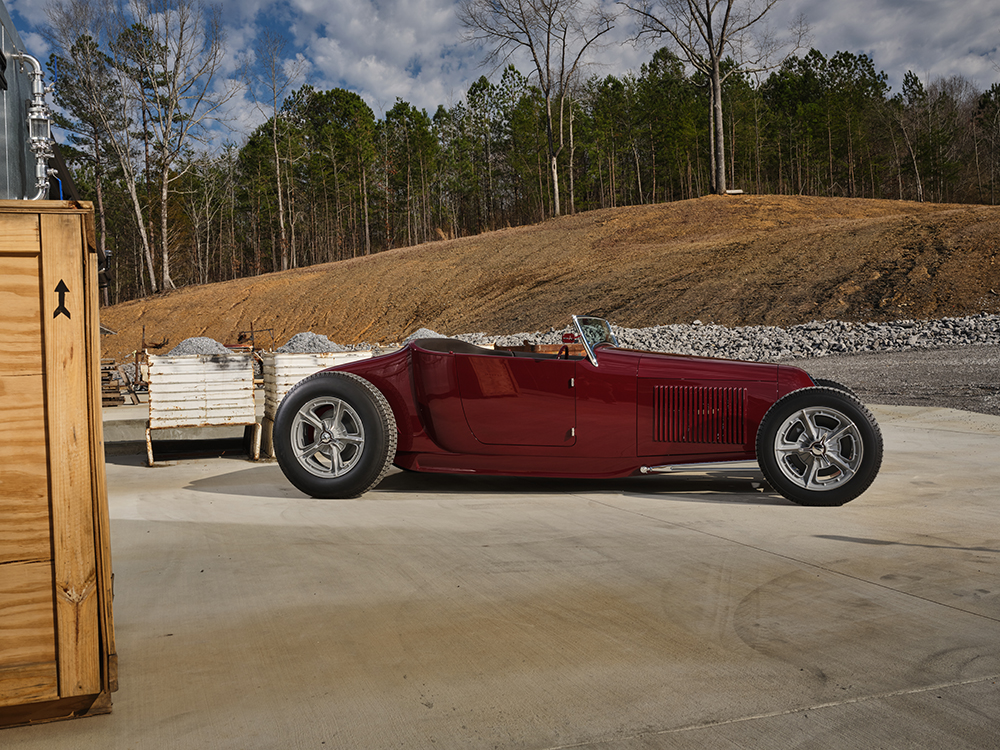 On any highboy roadster you best get the wheel and tire combination right … there is nothing to hide behind! We think Jon got it "absolutely right" with the combination of one-off GAC billet wheels with knock-offs measuring 16×5 and 18×7 then circled with Coker/Excelsior radials that come in at 5.00-5.50/16 and 7.00/18.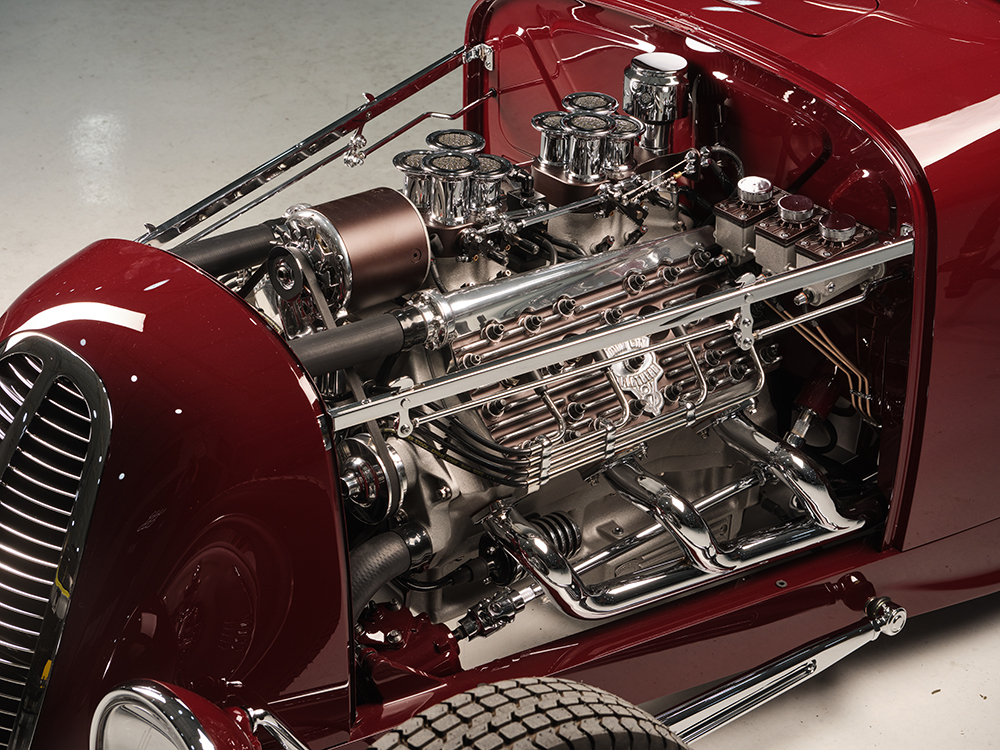 The interior is based on the Shadow Rods XL27 architecture featuring a stamped steel dashboard that is now furnished with custom Dakota Digital HDX gauges. Making sure the instruments come to life cascades to the American Autowire system that is patiently attached by the hands at GAC. A GAC wheel tops the ididit steering column that is held in place through a hidden mount. A seldom-seen touch to this hot rod's dash are a pair of Breitling timing devices–a chronometer and a stopwatch (capable of accurately timing down to the fractions of a second. Something you might expect if you were to rally compete with your hot rod.). The Wise Guys bucket seats were modified and then covered in deep brown leather at M&M Upholstery by Kristina Crawford. The carpeting is an automotive loop-style in wool showing off more of the M&M Upholstery handiwork. Although you can't see (but believe us) the door latch and striker assemblies were reworked when the doorjambs were freshly machined from billet and then incorporated into the stamped body side panels. The notable modification is the reverse treatment of the door handle that is now positioned on the inner trim panel and not on the door.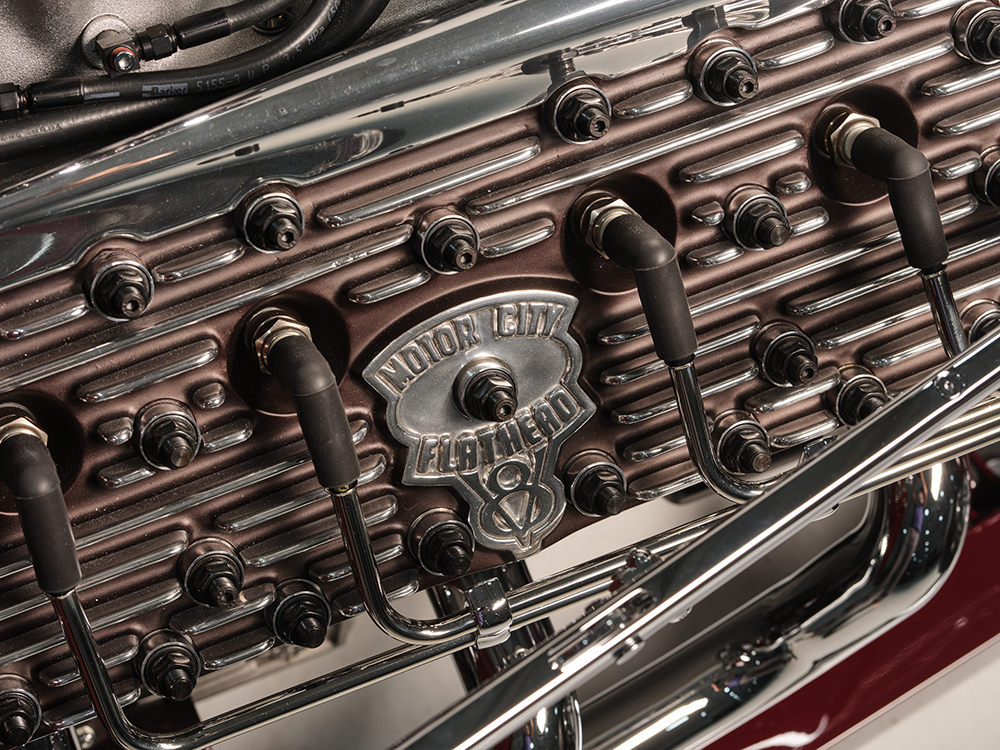 I've said this a thousand times: the heart and soul of any hot rod is what lies beneath the hood. While no one element of any well-done build should "overpower" the presentation of any other component, the motor should make a statement. There can be little doubt that Jon checked this box with a really big marker! Jon refers to Motor City Flathead's all-aluminum V-8 as a prototype. It's serving as a "mule" motor so that somewhere in the future Jon will be able to introduce to the rodding world a brand-new Flathead. The block you see here is cast from A356 aluminum. (A356 aluminum alloy is made up of approximately 92 percent aluminum and then a series of other metals at lesser percentages. It is said to be lightweight and extremely corrosion-resistant, like stainless steel.) The block and other components used throughout were metal finished by Steadfast MFG, under the watchful eye of Henry Richards. All the cast-aluminum parts underwent a shot peening process to ensure a consistent texture and finish.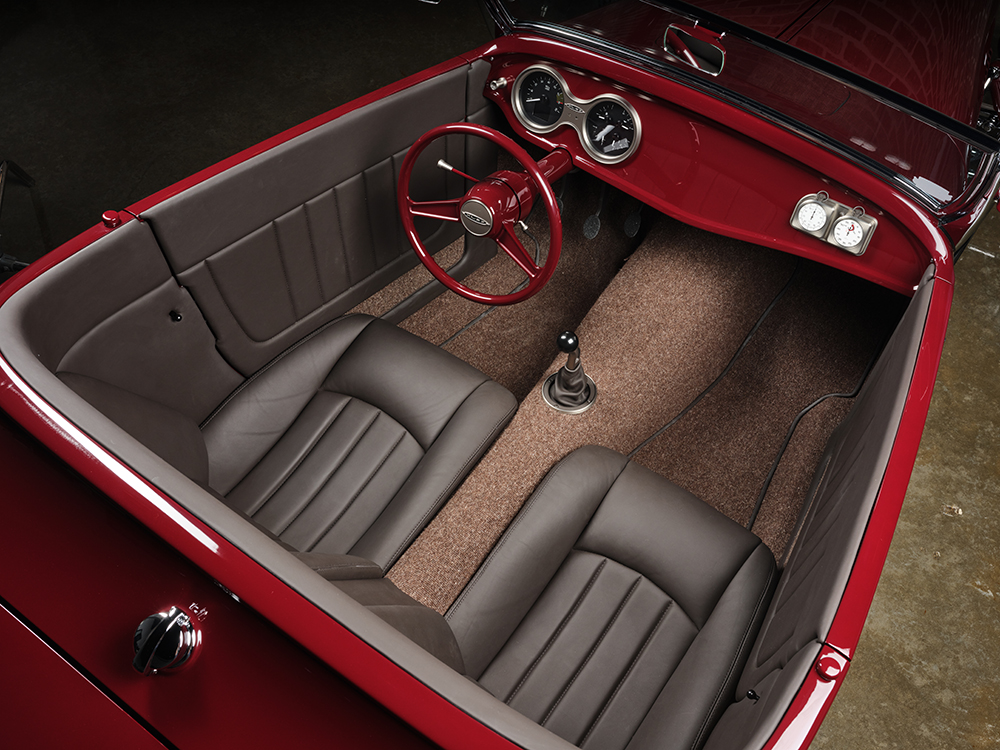 While the original Flatheads measured between 221 and 239 ci this new block was redesigned to come in at 327 ci. (One must see the humor in that!) The motor uses Diamond Pistons 8.6:1 slugs, the camshaft is a custom Howards 'shaft, the heads are more A356 aluminum, and a comprehensive use of ARP hardware to hold things together.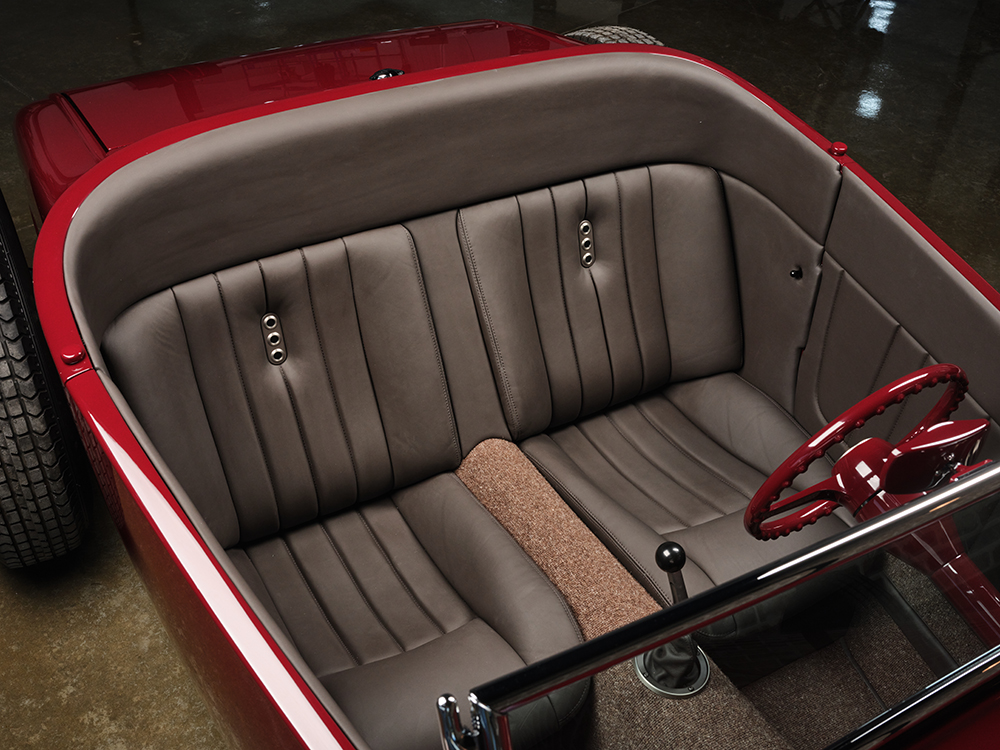 Resting between the all-aluminum heads is the one-off EFI. It was designed and built to be reminiscent of the vintage Hilborn mechanical units of the day. You will see what appear to be fuel lines, but they serve as the vacuum ports for the MAP sensor. The injectors and their wiring run through the lifter valley beneath the intake. The initial design was handled by Shadow Rods and then it was over to Kinsler Fuel Injection to develop the internal injector locations as well as specifying the correct ones. Then it was back to Shadow Rods and it was determined there how best to machine and tool for the build. In the meantime, Kinsler worked on the electronics using a Holley system as the foundation. Other motor choices include the MSD electronic ignition and coil and ACCEL plug wires. Once the fuel load works its way through the engine the expended gases depart through the motor within a set of Shadow Rods custom exhaust manifolds, pipe, and one-off mufflers.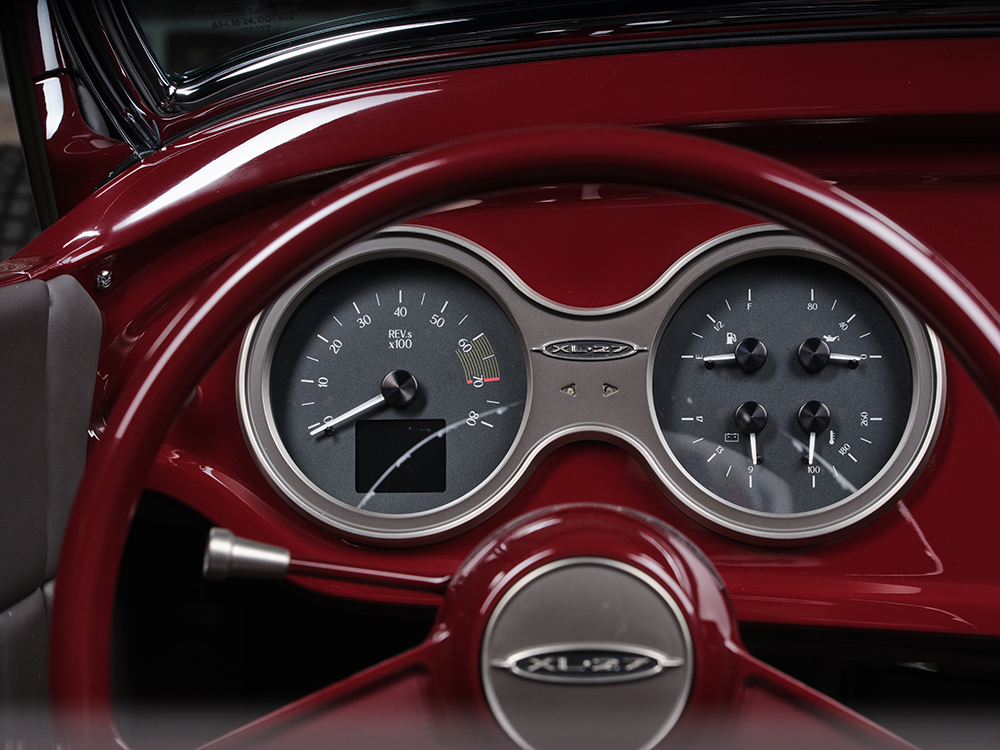 The '27 Ford highboy roadster is also a showstopper. It has already taken home some prestigious hardware from two of the iconic indoor shows such as the Grand National Roadster Show (GNRS) and the Detroit Autorama. While at the GNRS the roadster was a contender for America's Most Beautiful Roadster taking home Outstanding Display, Outstanding Undercarriage, Outstanding Engine, and 1st in Street T-Roadster Pre 1928. Next up the track-nose roadster captured the CASI Cup at Detroit, which is the highest award the show presents aside from the BASF Great 8 and the Don Ridler Memorial Award. MR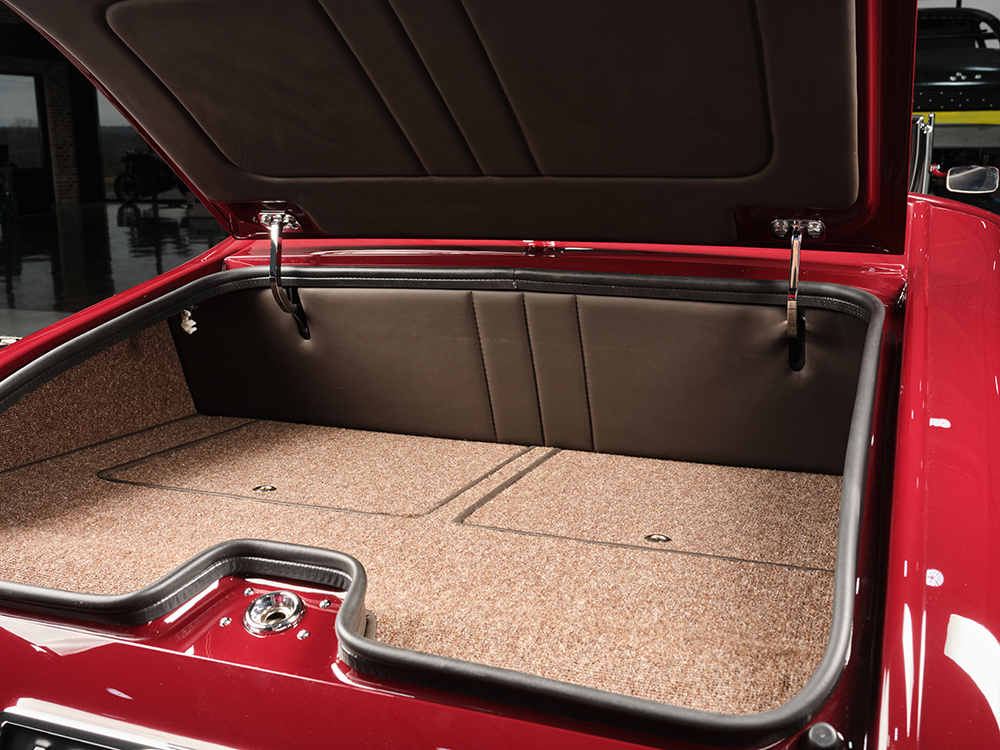 (Editor's Note: For more "behind the scenes" looks, follow along with Ron Covell as he has shown us how the roll pan was done and how the hood and nose were made viewable. —B.B.)