By Brian Brennan – Photography by Wes Allison
There's a great deal of pride taken in building one's own hot rod. Many of us "build" our cars where the range of self-performed work varies. However, it's a rare build indeed when such significant portions of the build, such as the chassis fabrication and assembly, all the metal- and bodywork along with the paint and  interior aluminum work, are all performed in one's own garage. Such was the case with Jim Lee and his 1934 Ford five-window coupe during its construction in his SoCal garage. In the case of Jim's 1934 Ford five-window coupe, he really did perform all of the build right there at home.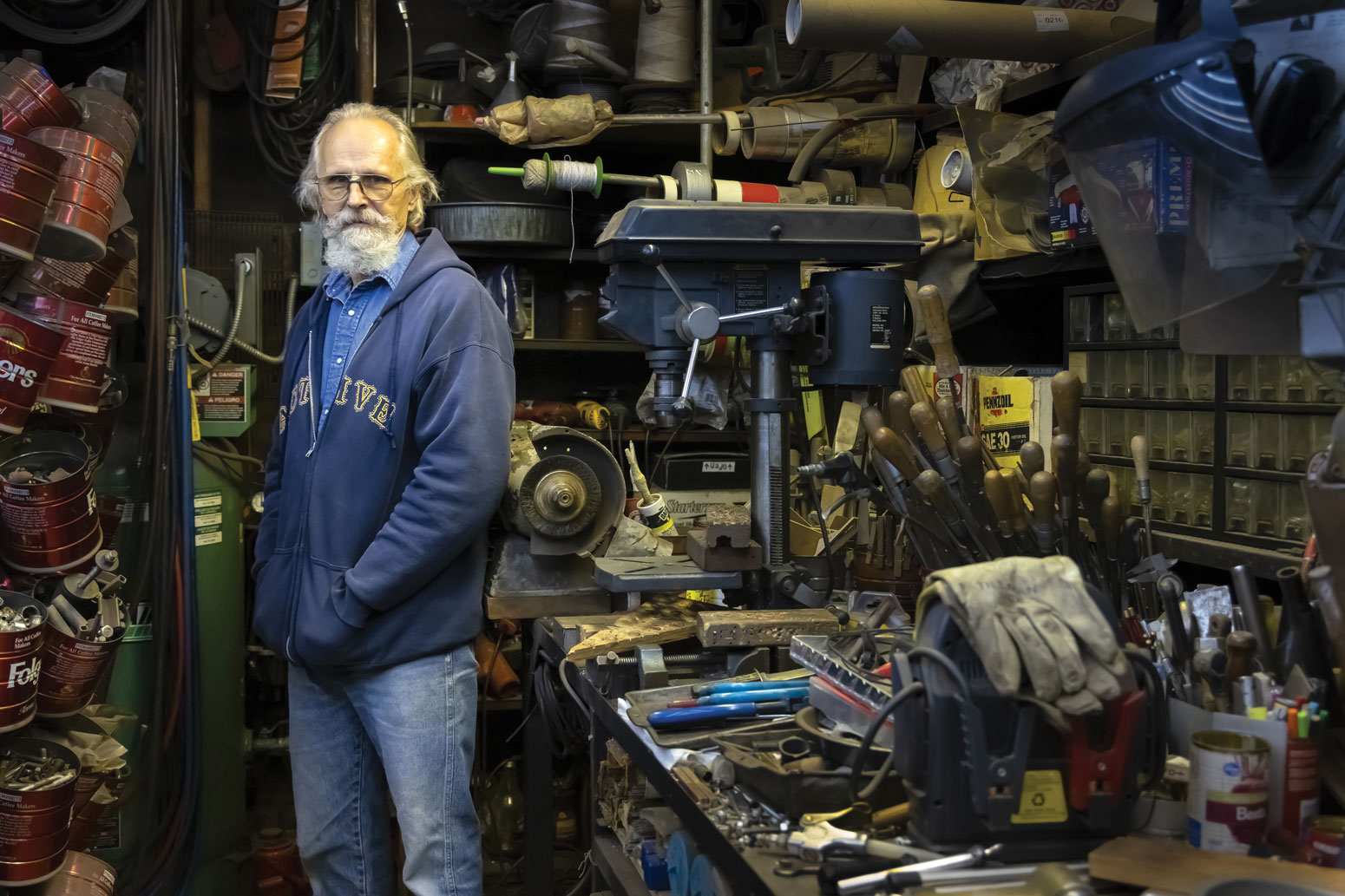 This SoCal rodder spent a lifetime as a certified welder, making the fabrication and welding well within his skill set. His various talents were then genuinely refined over 20 years of building and riding motorcycles, followed by 30 years of building and driving hot rods of all makes and years.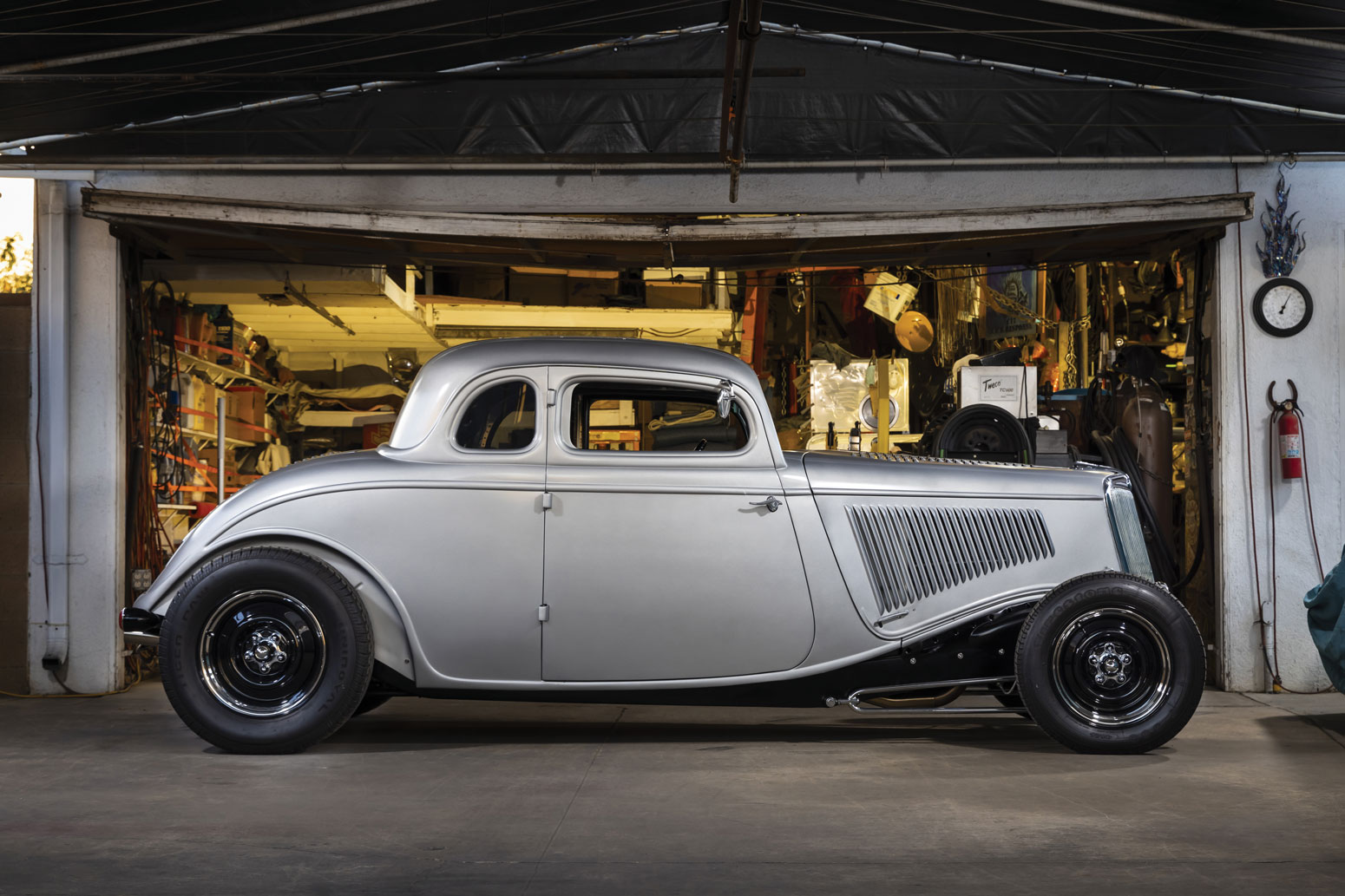 Talking to Jim, he will tell you that the 1934 Ford five-window coupe was a "basket case" in every sense of the words. The frame is based on outer 'rails where 120 holes were filled and/or repaired! From here the boxing plates, notched rear with its 4-inch kick up of the 'rails, the X-member (made from 3/4×2-inch 0.095 wall rectangular tubing), along with the rear crossmember and raised (1-1/4 inches) center portion of the front crossmember were fabricated in Jim's home garage.
Read More Ford Five Window Content: 1932 Ford Five Window Coupe & It's All Steel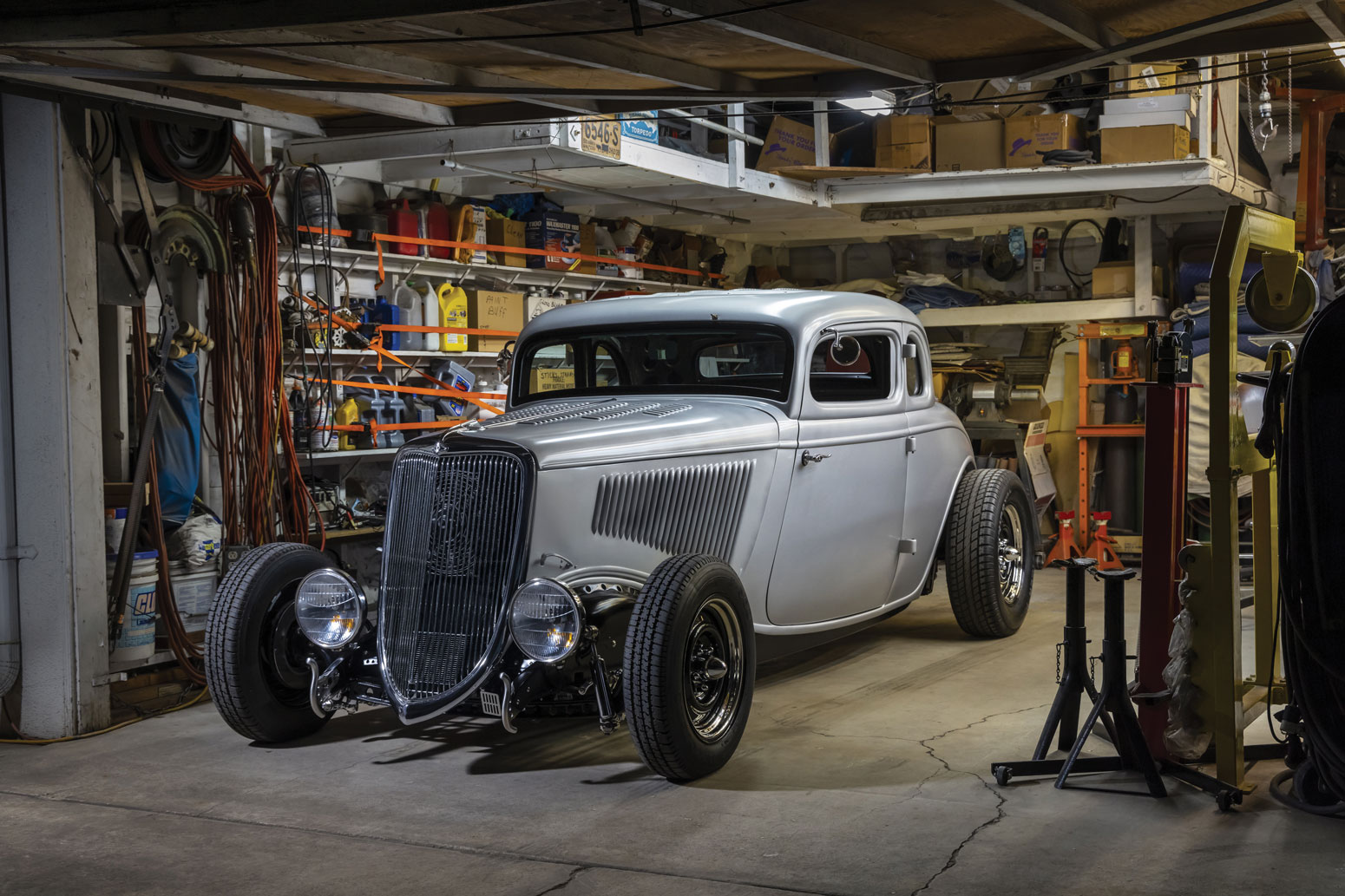 It didn't stop here. The body was another "love affair" requiring profuse amounts of work to bring it to some form of recognition. Both of the rear quarter- and rocker panels were replaced, as they had been repaired in the past, and let's say the decades-old workmanship left a great deal to be desired. At some point in the car's life it had been hit on both sides, rolled upside down, and suffered from bent and twisted "B" pillars. This bucket of bent metal necessitated enormous amounts of metal- and bodywork to be performed by Jim.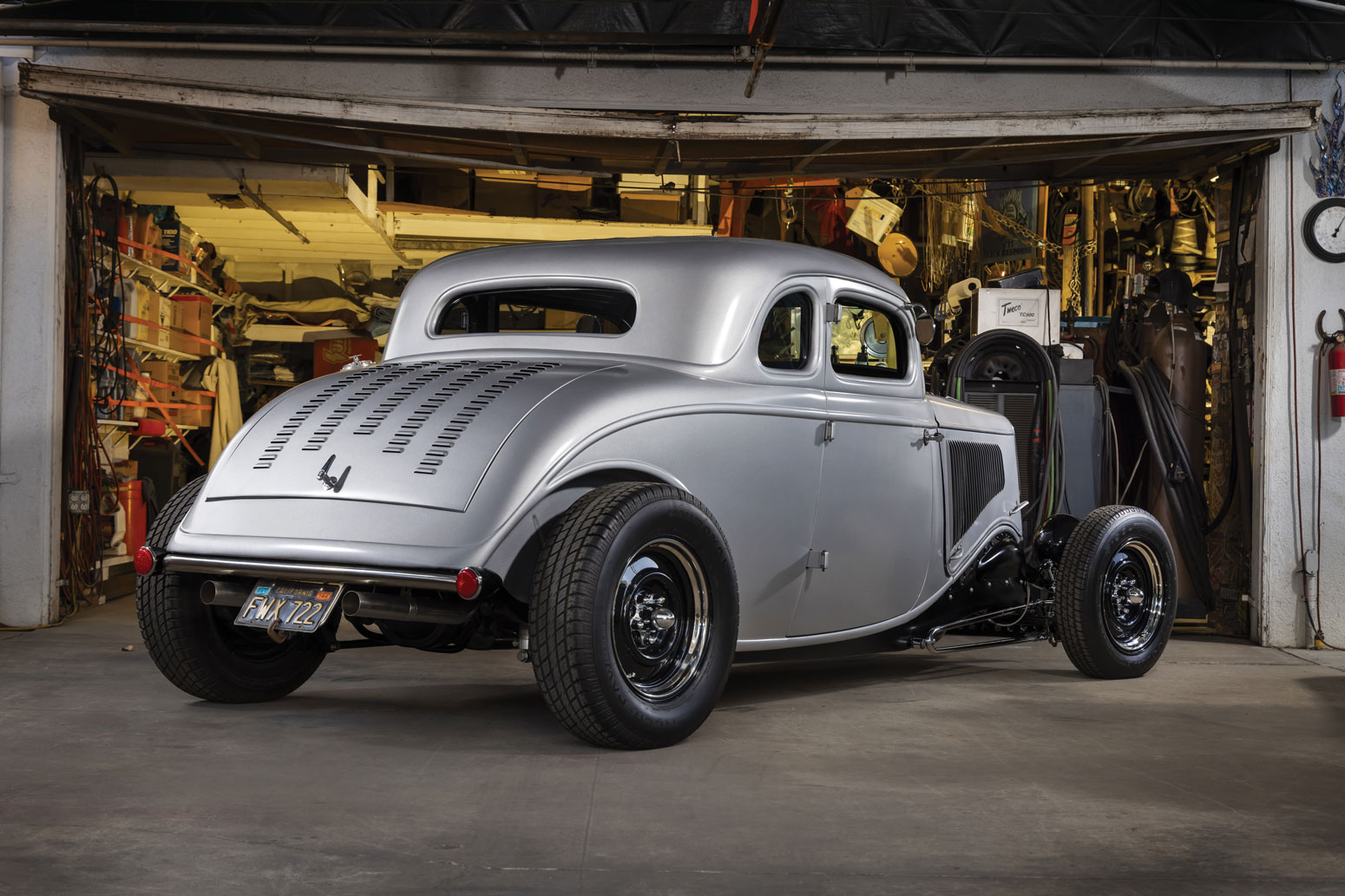 In an attempt to make "things right" he opted to chop the top (his first chop) 3 inches while only taking 2 inches out of the rear window. In the top chopping process the roof was stretched. This, along with the home-fabricated floorpan, trunk floor, driveshaft and trans tunnels, roof insert, door panels, battery box, trunk located tool carrier and gas tank, and the notched firewall to handle the engine length are more of Jim's handiwork. The underside was coated in Lizard Skin based on five coats of sound deadening and five coats of thermal coatings.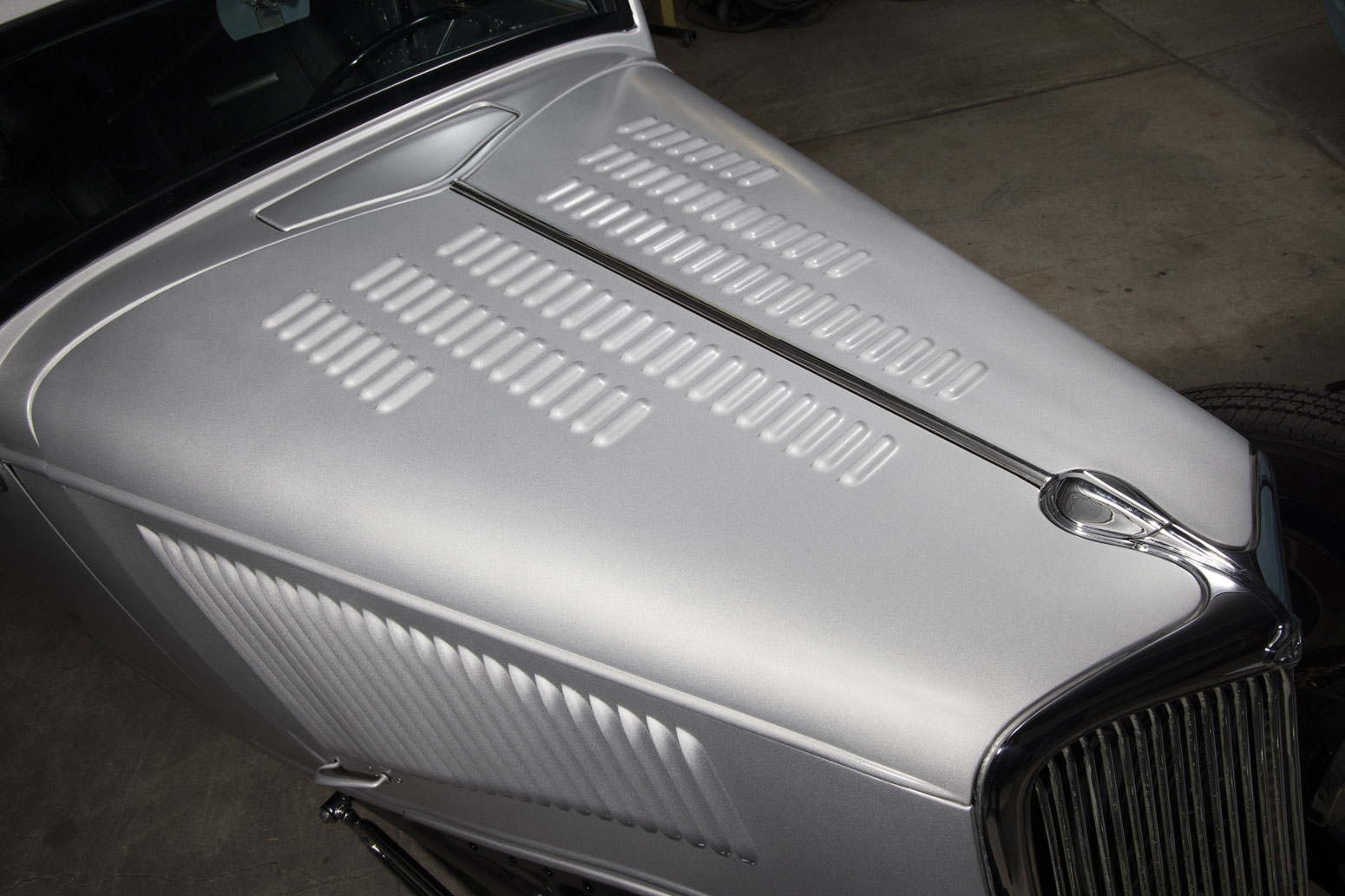 Inside, plenty of Dynamat and Dynaliner was used to assist with the insulation and to enhance the quietness of the ride. As you can guess all of the painting was also performed by Jim, but this time in his driveway. He used a flat sterling silver with a satin clear to give the car its present look.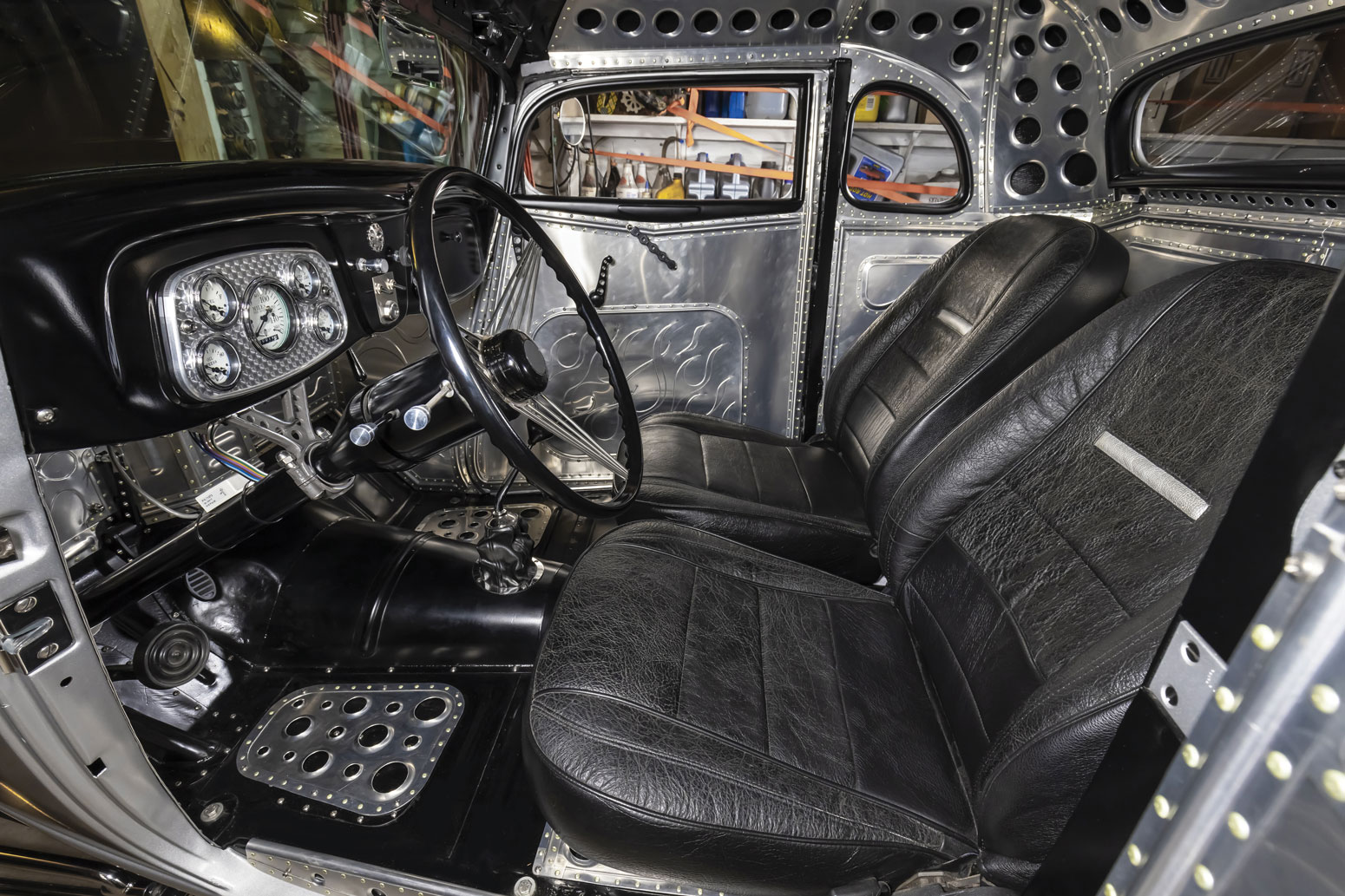 An immediate impression is gained by looking at the interior with its significant amount of shaped aluminum, which includes the top insert (two of them: one for cold weather and one for warm weather), six removable door panels with each featuring different accents to alter the interior appearance, and the 3,100 rivets dressing the interior aluminum. There are also 300-plus louvers (when the summer roof insert is in use), along with the decklid, hood and side panels, again, more of Jim's handiwork.
Read More Ford Highboys: 1932 Ford Highboy Roadster New Zealand-Style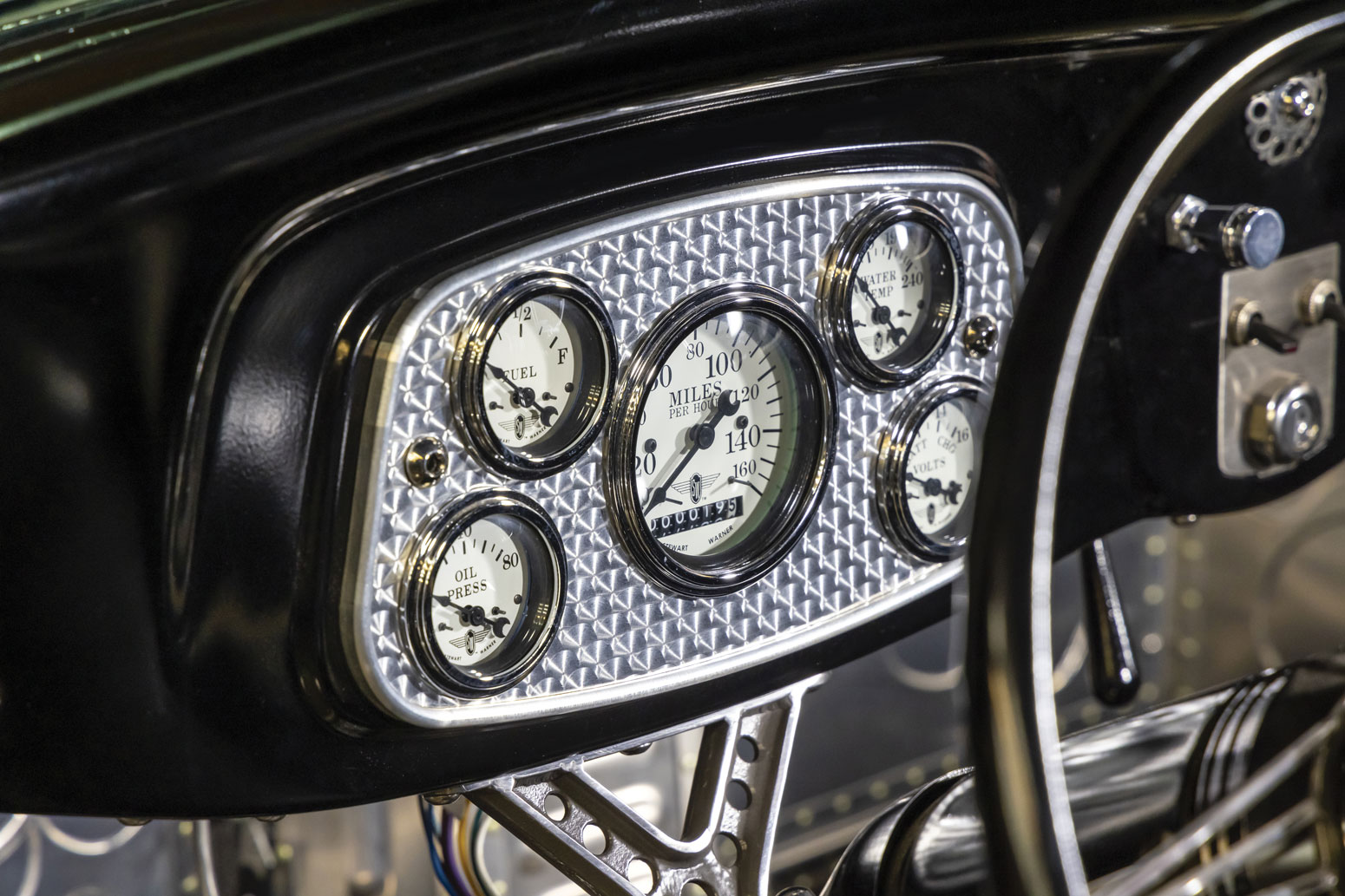 All hot rods have one thing in common: there is never enough horsepower. Of course, determining what's necessary is the age-old argument and enough never seems to be enough. In Jim's case he has a mild-mannered Chevy 350 crate motor that sports 350 hp, which is plenty of punch for a 3,000-pound hot rod. The V8 and rear shocks came by way of Jim's good friend Mike Saiki.
A quick look of the V8 and you will see plenty of standard rodding fare with a Chevrolet Performance Vortec dual-plane intake topped with a Holley 650-cfm carb operated by a Lokar throttle cable assembly, a mechanical fuel pump delivers the fuel, a K&N air filter takes large gulps of air, a Powermaster 100-amp alternator regenerates juice, a FlowKooler water pump and a mechanical fan with an electrical fan as a backup help maintain the V-8's cool. From here finned valve covers, a Chevy HEI ignition and wires, and a pair of rams horn exhaust manifolds with 2-1/2-inch mandrel-bent stainless steel exhaust tubing that runs back to a pair of Borla exhaust to finish out the appearance. The Bowtie V8 is backed up to a 700-R4 with a shift kit, Lokar shifter, and a trans cooler. The tranny mods were done by Jon Hosington and the driveshaft came from Powertrain Industries that links to the 1968 Cougar 8-inch rearend with 3.55 limited-slip gears and narrowed axles.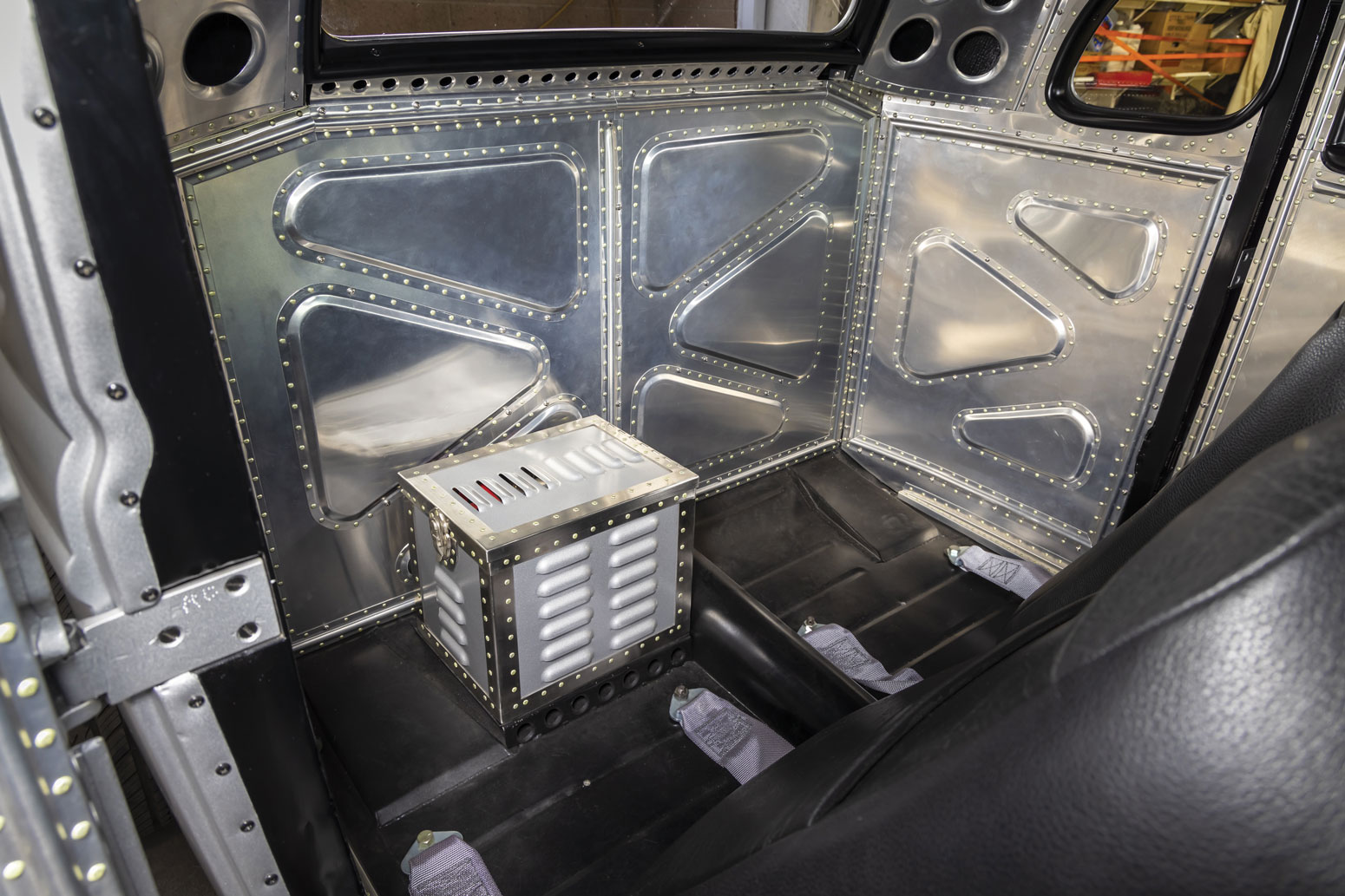 The chassis features a SO-CAL Speed Shop 4-inch drop, drilled, and painted I-beam axle with a reversed eye spring and hairpins, a pair of tube shocks, Speedway Motors spindles, plus 11-inch solid face rotors with GM "metric"-style single-piston calipers with 7/16-inch -20 banjo-style inlets. The master cylinder is another Speedway Motors item while the pedal assembly is a custom-fabbed piece by Jim. The steering is a Unisteer rack-and-pinion assembly that's linked through Borgeson Steering Shafts and U-joints back to an ididit steering column.
The rear suspension is based around a Ford 8-inch drum brake rearend with a SO-CAL Speed Shop parallel four bar, a 1985 Blazer 1-inch sway bar, and Viking double-adjustable coilovers. The wheels and tires are based on Firestone rubber (155R15) in front and Tiger Paw rear rubber (215/70R16) and all wrapped around Coker steelies with a chrome trim ring and spider caps.
Read More 32 Fords: Red-Ram Hemi Vs. 5.7L Hemi – Identical '32 Ford Builds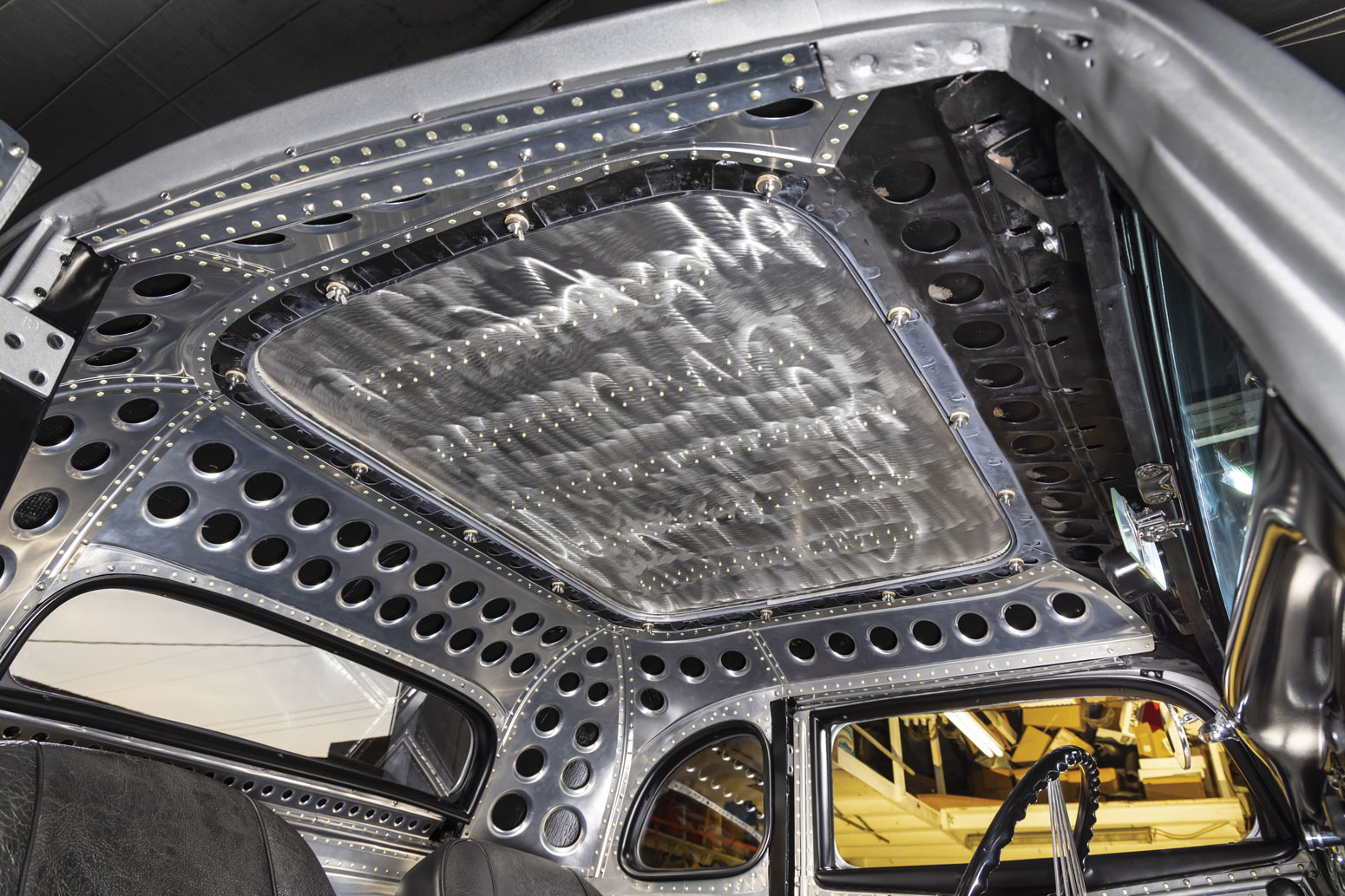 The interior is immediately identifiable with all of Jim's aluminum handiwork. Looking forward you will see a stock 1934 Ford Five-Window Coupe dash with an engine-turned insert housing the Stewart-Warner Wings gauges and a GPS actuated speedo. The car's wiring all comes together through an American Autowire Highway 22 Plus system that receives its juice from an Optima battery (located in an aluminum box behind the passenger bucket seat) and all that wiring is positioned by Jim. Other dash items include more of Jim's handiwork in the custom steering column drop made from small block Chevy connecting rods.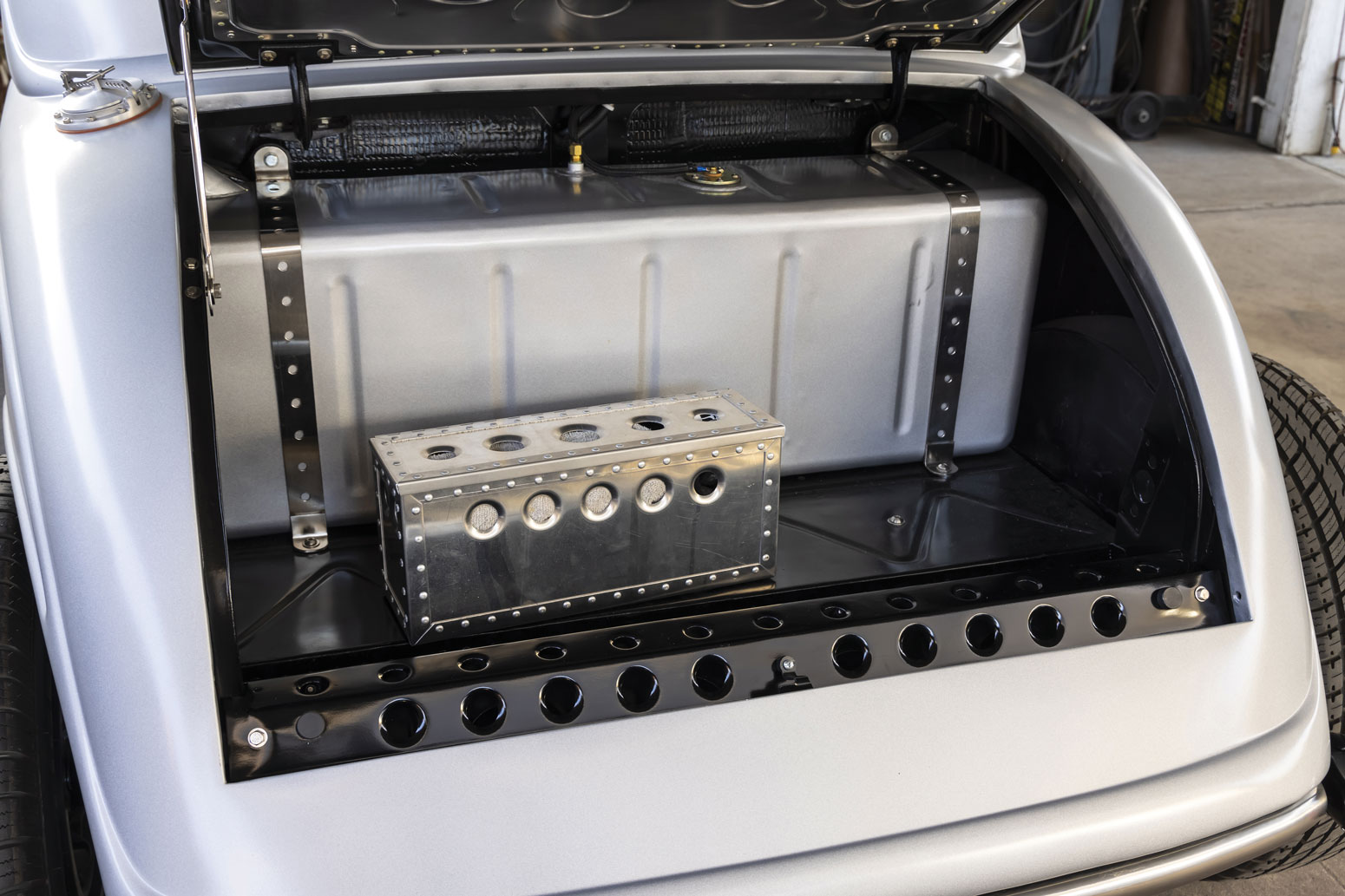 As mentioned earlier the column is an ididit topped with a custom-made wheel featuring more of Jim's expertise. The bucket seats are 1994 Mustang that are covered in black buffalo hides while the inserts are made from elephant hides from an old jacket that Jim wore during his military service while in Vietnam. The stitchwork comes from the sewing machine of Jerry Barrios of G & D Custom Upholstery. Sitting between the buckets and poking through Jim's metal worked trans tunnel is a Lokar floor shifter.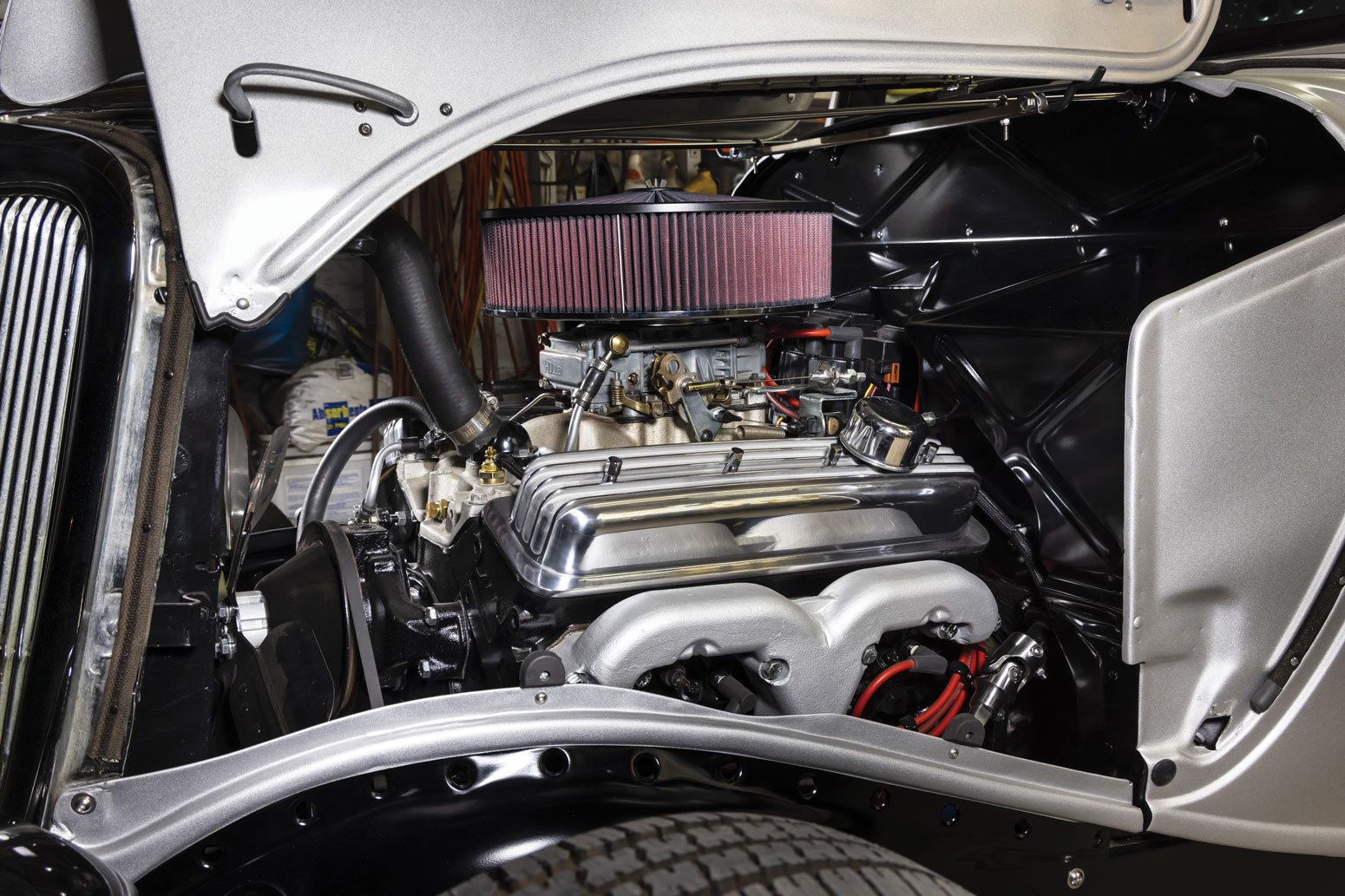 It may have taken upwards of 27 different cars and numerous street rod manufacturers to assemble all of the necessary pieces required to build this homebuilt hot rod but Jim did it and now he's enjoying the labor of his love—lots of miles are being racked up as you read this story. MR