Childhood Dream of a 1961 Chevy Impala Becomes Reality
By Joe Greeves – Photography by Author
Len Evans, from Conyers, Georgia, has been a car guy for as long as he can remember. His latest, this green and white 1961 Chevy Impala bubbletop is a sought-after car that has been on his mind for decades. Growing up in an automotive family, he recalls the time at about age 11 when his father purchased a new 1964 Henry J. It was the family car until five years later when Len became the new owner on his 16th birthday. It was the start of a wonderful connection and, as a young driver, he cleaned and polished the car at every opportunity, proud to call it his own.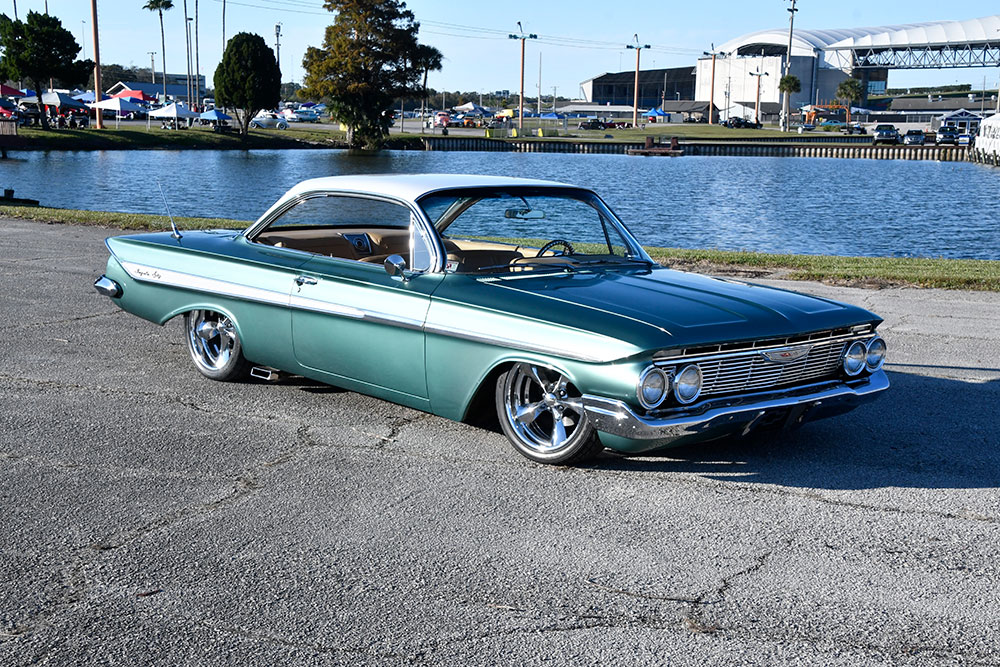 The next automotive milestone followed soon after. He remembers the day his high school classmate pulled up, driving a car destined to make a very special impression. His friend was behind the wheel of a 1961 Impala SS bubbletop: red with bucket seats. The lines of the car were amazing with its distinctive airy roof line and crisp styling. It was a defining moment and Len knew that someday he would have a bubbletop of his own.
Read More: The Best Powertrain Combo For Your Hot Rod
It's safe to say that the car planted a seed. Over the years more than half a dozen highly unique cars have been in the Evans garage, ranging from a 1923 T-bucket and a 1998 Ferrari Testarossa to a 1941 Willys Pro Street and 1955 Chevrolet Bel Air hardtop drag car. Car club participation has also been part of the fun, enjoying membership in the National Street Rod Association, Goodguys Rod & Custom Association, the Ferrari club, the Georgia Street Rodders, and the American Street Rodders. The old Henry J clearly started the ball rolling!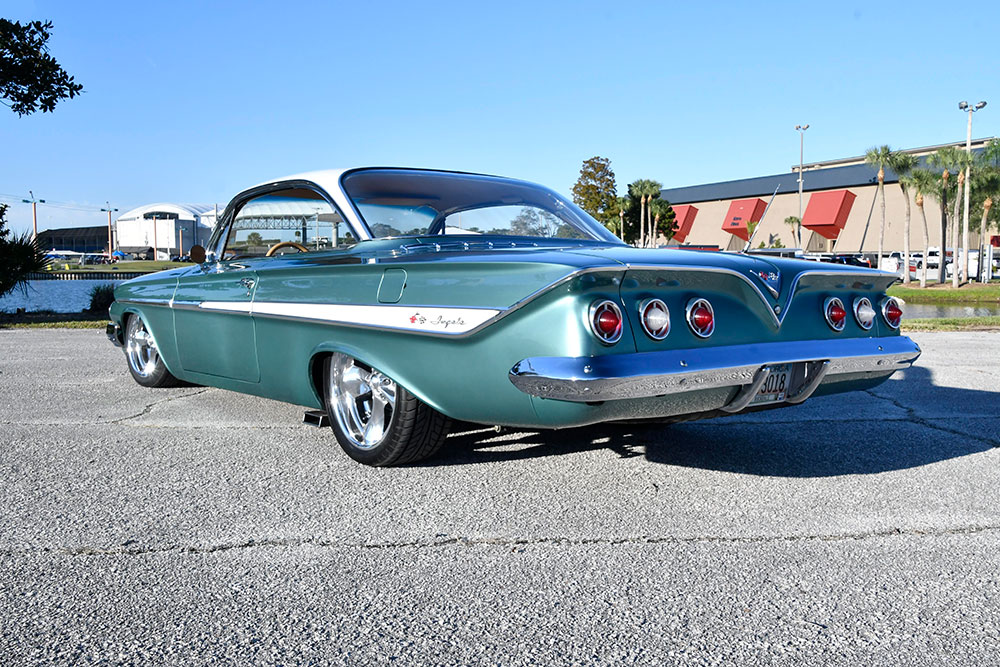 Fast-forward many years later when Len and a friend were judging a car show in Cumming, Georgia. Several bubbletops entered the event and a flood of familiar memories began to reassert themselves, prompting a search for his old high school dream ride. Finally, in 2007, he heard about a 1961 for sale in North Georgia. The car was owned by an older gentleman who had it stored in a detached garage along with several others. Although the vintage car was covered with cobwebs and dust, the car's potential was more than obvious. Len and his wife, Susan, made the deal and drove the car home. Although it took a little buffing to get down to the original shade, Susan told Len how much she loved that green color. Len, of course, was envisioning images of the original, certain that the new repaint would be white, black, or red.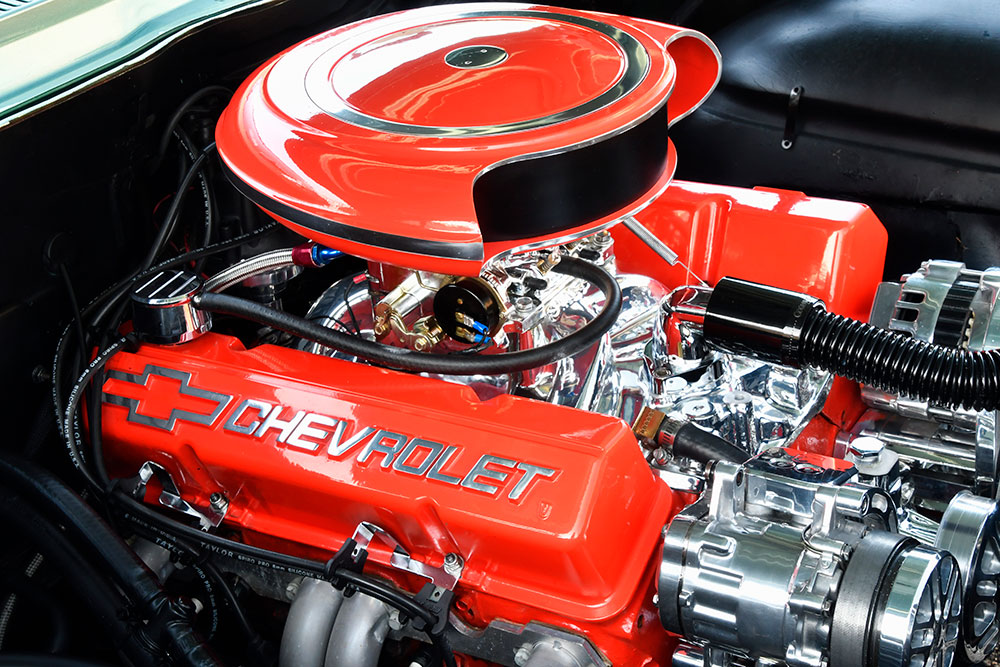 Lots of work was required to recreate that distant dream, beginning with the stance of the vehicle. "It sat so far off the ground that it looked like it was a four-wheel-drive vehicle," Len says with a smile, "but that was the way they looked back in the day." The first of many changes that transformed the car was the Ridetech air suspension. Teamed up with their front drop spindles, A-arms, and rear sway bar, it dramatically redefined the car's profile. The compressors and reserve tank were relocated behind a panel in the trunk. Suspension upgrades also included new 13-inch power disc brakes up front and rejuvenated 10-inch drums in the rear. As every customizer knows, wheels are always critical to the final design, so Len opted for a classic set of Boyd Coddington Junkyard Dog rims (18×8 up front and 20×10 in the rear) wrapped in Nitto 555 Extreme ZR rubber. The hunkered-down car now had wheels that filled the wells.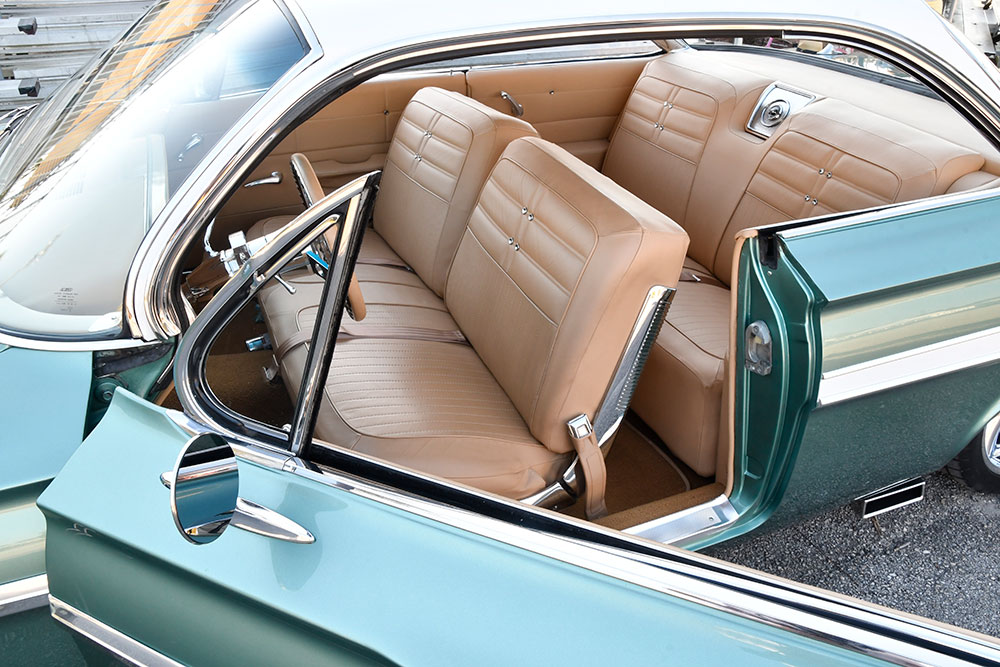 Read More: A Single Steering Wheel Began This Ford Ranch Wagon Build
Although the original 350 V8 underhood was still functioning, it was tired and needed to be refreshed. Thomas Racing Engines in Cumming handled the job, modifying the heads and then installing new 8.5-1 JE pistons and an Engle hydraulic cam. An Edelbrock 650 carburetor sits on a Edelbrock polished intake manifold, MSD ignition lights the fire, and a 1-7/8-inch exhaust with a pair of Flowmaster mufflers and side tips added a new dimension of responsive power and reliability. Len added a 700R4 transmission, Hughes torque converter, and TCI 700R4 constant pressure valve body, then detailed the motor with red accents.
At this point, the car was not only driveable but impressive on the road. It was time for internal and external cosmetics to ensure the car matched the image in Len's mind. Since the original lines were what attracted him to it in the first place, body mods were kept to a minimum. His good friend Dave Gerber began by removing the Chevrolet nameplate on the hood and the chrome markers on top of the fenders. He finished the car in a special PPG mix of Susan Green and white. When it rolled out of the shop, Len says "It was clear that Susan had been right all along about the color."
The elegant tan leather interior was accomplished by Mike George of Alpharetta, Georgia, using showy Chevrolet convertible seat patterns from Cars Inc. Len chose a custom-designed, leather wrapped, CON2R steering wheel on a Flaming River steering column, augmented with dash-mounted Teleflex gauges. Custom panels were designed for the trunk to hide the car's air suspension system, then upholstered in leather to match the interior.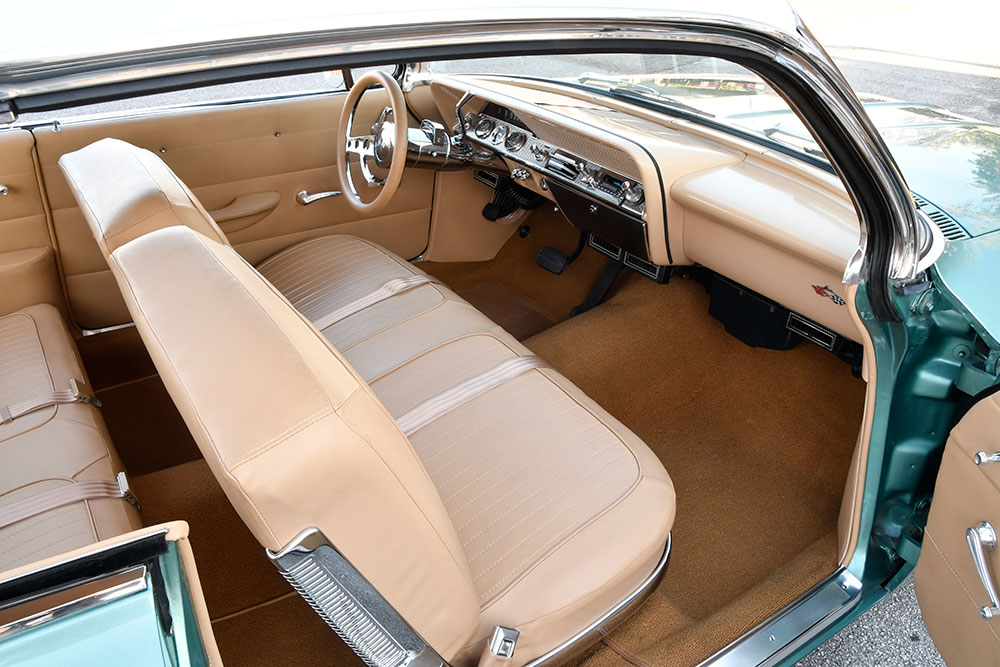 Read More: One-of-a-Kind Missile, Piranha Green 1968 Camaro
While the start date for the project was 2007, Len lists the completion date as "ongoing," knowing that the car will be a work in progress for as long as he has it. It has already been successful on the show circuit, capturing multiple awards along with admiring glances from spectators. "The best part," Len says "is watching people's reactions to the car and hearing their favorable comments. Some want to know the make and year or the color, while many remember seeing the car when it was initially introduced."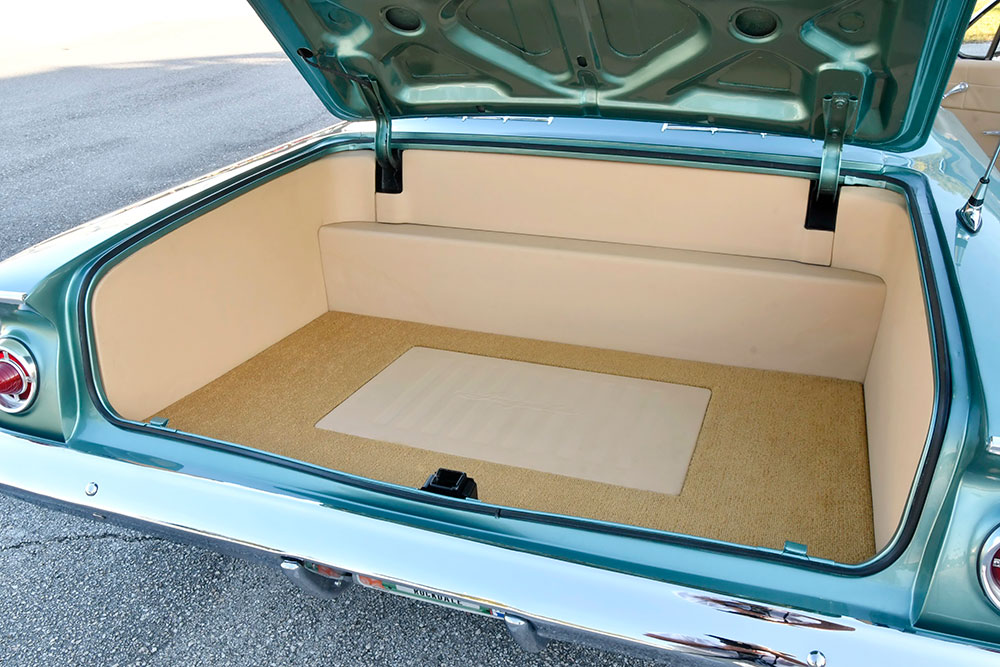 Maybe the best part? The cars in Len's life have allowed him to return to a simpler time and place. He and Susan have met and made many friends through car shows over the years and their cool '61 Impala bubbletop has certainly expanded the list! MR