By Chuck Vranas – Photography by the Author
There's a lot to be said about the cool factor and how it's managed to create a distinct vibe through the decades. Many times for a youngster it could have been something as simple as seeing an Ed Roth monster T-shirt, riding a Schwinn Sting-Ray, or visiting a dragstrip to catch a whiff of burnt rubber and nitro.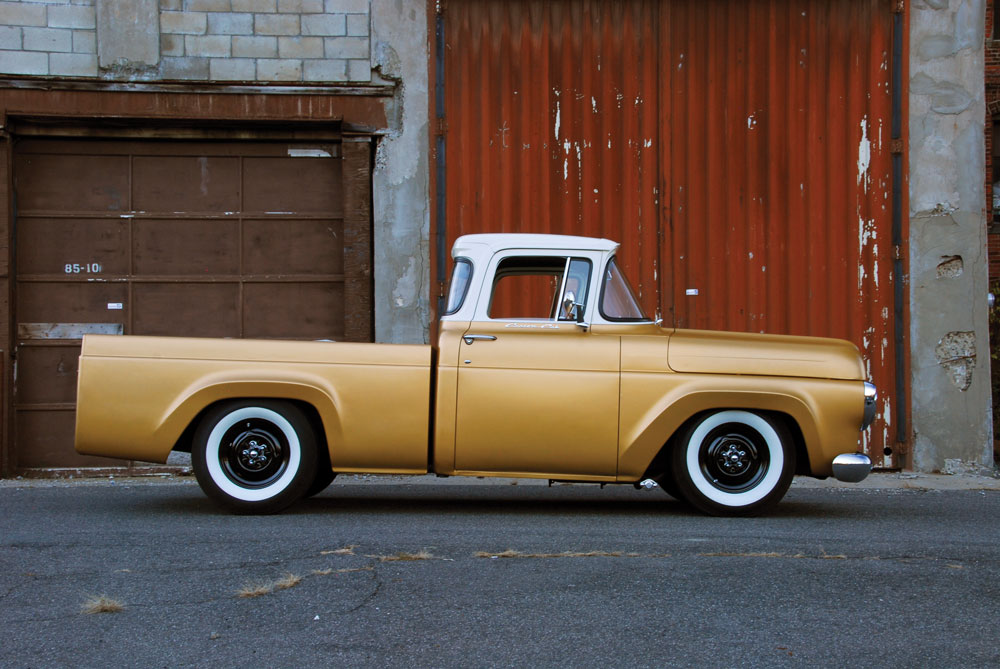 In any case, imagine just how high the level of cool would have been if your dad owned and operated his very own ice cream distribution company. For Bill Gagliardi of Canton, Connecticut, the experience eventually led to the creation of the mild custom 1959 Ford you see laid out across our pages.
Check Out: An Aussie in America Builds a Track-Capable Turbocharged 1956 Chevy 3100 in his Home…
Growing up, Bill, along with his brothers Ben and Bob, spent plenty of weekends with their dad who owned Mellocrest Ice Cream as he visited summertime venues, including ballgames, outdoor concerts, and parades. While each of them had particular responsibilities, it was a family affair where they not only learned the business but also its charm and, most of all, just what their truly unique truck represented.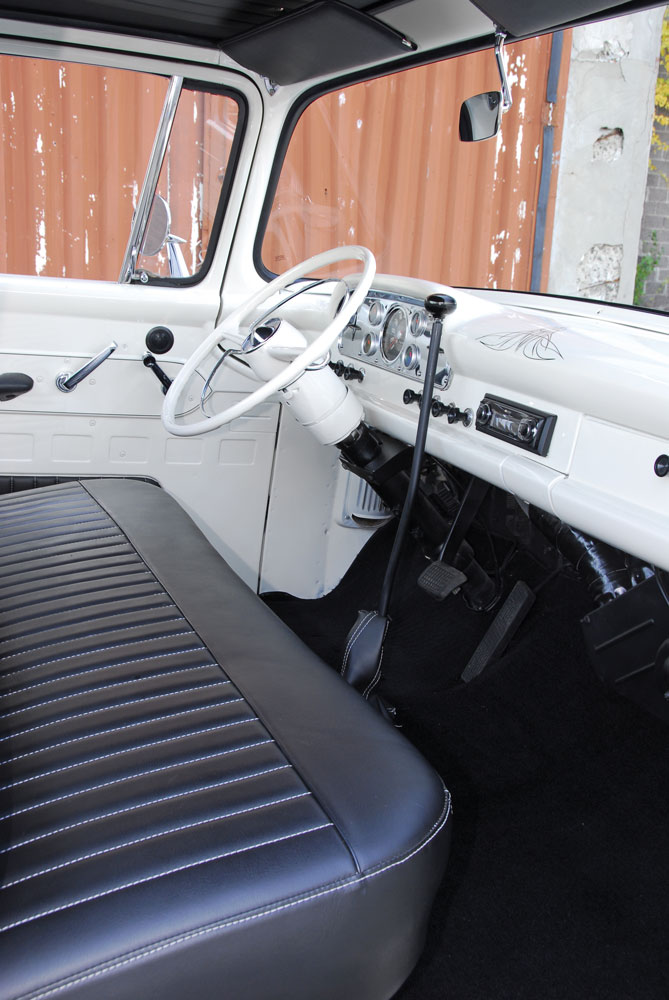 When it was time to put the old workhorse 1959 Ford out to pasture in 1969, Ben, as the oldest, was given the chance to buy it, less freezer, for $25. He might have only been 13 years old at the time but that didn't stop their dad from taking his trio of sons to an empty parking lot on weekends to teach them how to drive. As Ben got older he eventually sold off the old Ford truck for a new ride, leaving plenty of memories for the brothers to hold onto.
Check Out: Dan Bouchard's Award-Winning 1958 Ford F-100
Some experiences you never forget and Bill always longed for a 1959 Ford that would be his own, so he eventually began a search for a suitable project. It wasn't long before he located a relatively complete and solid F-100. A deal was made swapping cash for keys and the hauler was soon in his home garage waiting for a game plan. Bill envisioned bringing the truck back to life with an early '60s custom vibe, so he met with Derrick Pesko of Allstar Hot Rods located in Waterford, Connecticut, to discuss the ideas. Sharing many of the same values on what it would take to bring it to the next level, the truck was delivered to Allstar to begin its makeover.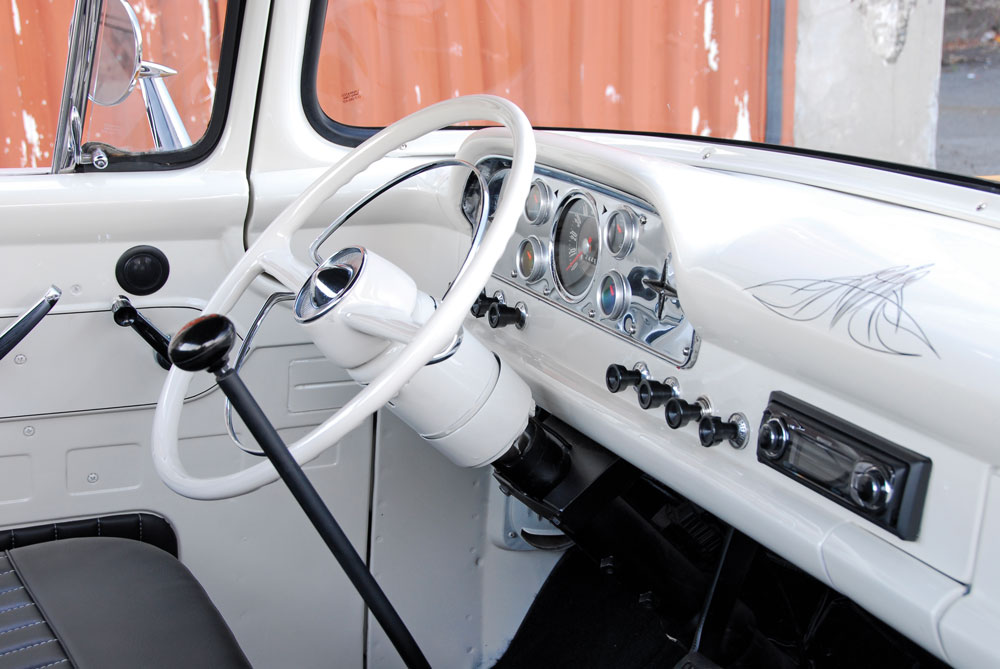 With the spine in solid shape, it was blasted clean and boxed for additional strength. It was sent over to Race Works in Berlin to C-notch the back as well as flip the Ford 9 inch axles, spinning 3.55:1 gears. They followed by locating it under a set of stock replacement leaf springs, lowering the ride height accented by Bilstein shocks from Allstar.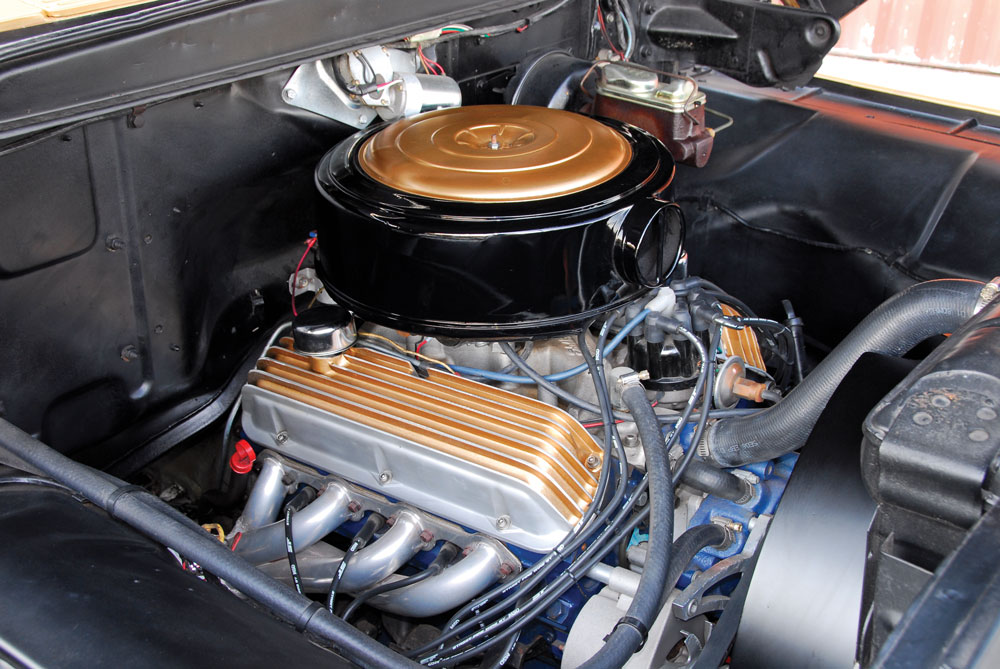 To update attitude and handling, Allstar added a Heidts IFS featuring tubular upper and lower control arms, exclusive 2-inch drop spindles, rack-and-pinion steering, and Bilstein shocks. For plenty of braking power, a Mustang dual master cylinder pushes fluid through steel lines to Ford front discs and rear drums to get the job done. To capture a truly traditional look, a set of 15×7 Ford steelies combined with spyder caps add accents to Coker wide white bias-ply rubber at each corner, letting the F-100 roll in style.
There's nothing like keeping a Ford engine in a Ford truck, so when it came time to power the truck Bill decided to keep the rock-solid 306 V8 in the same place the factory put it well over 60 years ago. The block packs a stock crank and rods linked to TRW slugs getting bumped by a COMP Cams stick. Up top, a set of massaged cast-iron heads make plenty of power, especially when matched to an Edelbrock intake manifold sucking down the goods through a 650cfm Holley carb.
A factory ignition with PerTronix internals lights the fire with spent gases dumping through a set of Hedman headers to a 2-inch steel exhaust with custom dumps and Flowmaster mufflers by Allstar. Cool underhood bits include a set of vintage Cal Custom finned aluminum valve covers, 1956 Mercury air cleaner, March Performance serpentine belt system, and custom fan shroud.  The Ford 306 Engine moves through a stock Ford C4 transmission linked to a custom driveshaft by Allstar.
Check Out: Disc Brake Spindle Options for Twin I-Beam 1965-72 Ford F-100s
When it came time to address the cab and bed, the Allstar team stripped everything to bare metal, revealing the truck's not-so pleasant past, including plenty of bad bodywork and extreme amounts of body filler. Not to be deterred, the team forged on, correcting all indications of past abuse. Derrick followed by laying out a menu of mild custom touches, which included a mild shave, filled bed stake pockets, 1955 Chevy front bumper, 1950 Pontiac taillights, custom front hood insert fashioned from aluminum mesh, and, finally, a tonneau cover. Once metal-finished with the gaps set, he loaded his spray gun with an alluring custom blend of Axalta Gold Digger and laid down a perfect satin coating accented by ivory gloss on the roof and interior of the cab.
To give the business office an equal amount of tradition, the factory dash packs a custom insert filled with Auto Meter dials to monitor the vitals. A smoothed early Ford Bronco steering column meets a modified 1950 Mercury steering wheel to carve a course while shifts click though a custom unit by Allstar. CZ's Auto Upholstery followed by recovering the stock bench seat with classic rolls and pleats in black vinyl while also adding matching pleats to the roof panel accented by black loop carpeting.  The final icing came from One Arm Bandit who added his special accents, sealing the deal. This is one F-100 that sees plenty of action, bringing a smile to Bill's face as he relives the past and to us that's just plain cool!