Gittin' Down With Dino Battilana's LS swapped 1973 Square Body Stepside
By Rob Fortier   –   Photography by John Jackson
If you've been around the classic Chevy truck scene for any length of time—at least in the last decade or so—there are some names in the game that, well, if you don't know or recognize you probably haven't been around for as long as you may think!\
Read More: Brothers Trucks 23rd Annual Show 'n Shine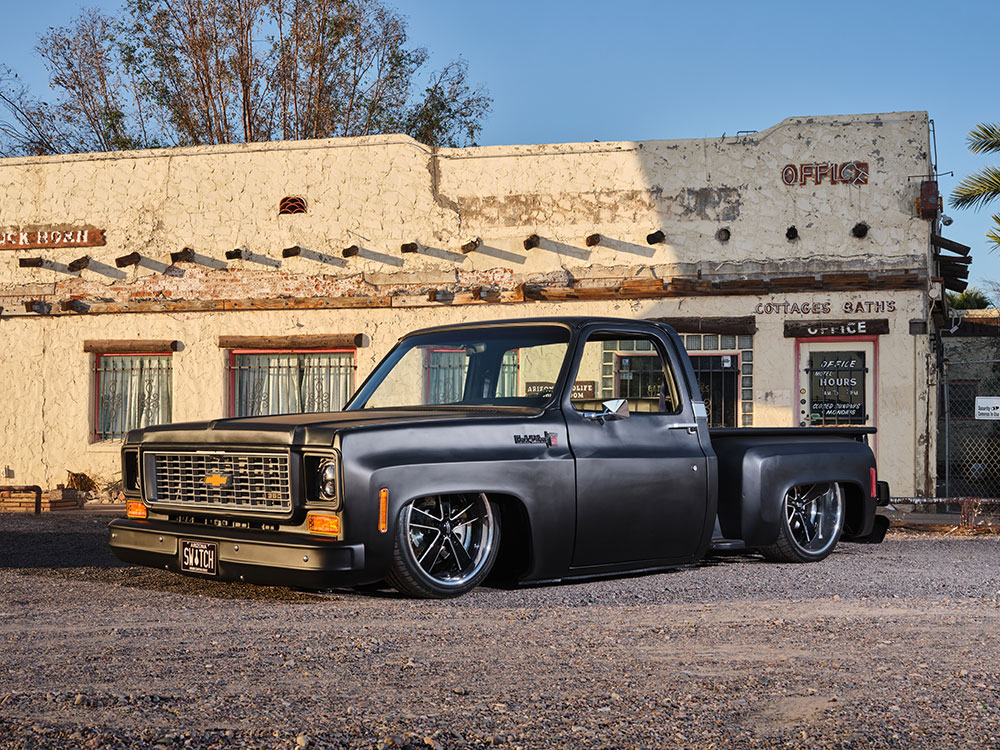 Of the key figures on the West Coast when it comes to all things C10, especially bartering with, Rene Martinez is the man—they don't call him C10 King for nothing! A few years back, he worked a deal with fellow collector/aficionado of classic Chevy trucks, Sam Castronova, on a '73 Chevy Stepside. However, once the Squarebody arrived at its new home in Arizona, Castronova opted to pass on the project, instead offering it to his friend and founder of one of the largest Chevy-only events in the west (Dino's Git Down), Dino Battilana, who was more than "up to the task."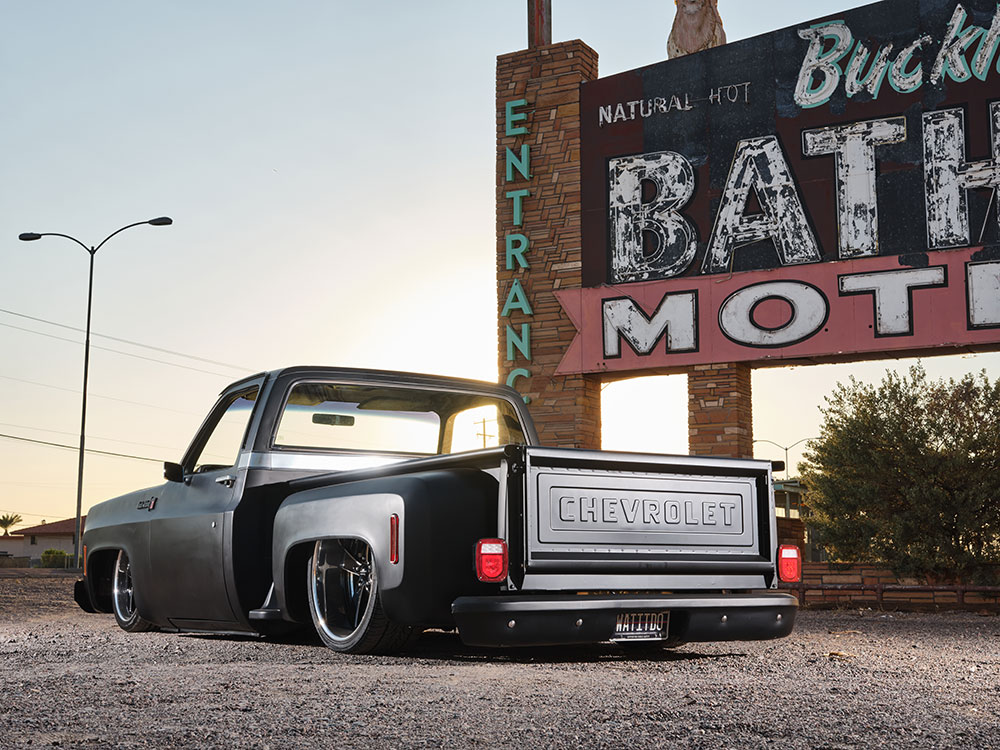 Enlisting the help of Seth Mcatee, who operates one of the Phoenix area's leading-edge shops, Switch Suspension, the Stepside was completely disassembled back in 2018. It was at this point that the truck earned something Dino says he's never given a project before: a name! Due to the excess amount of particular spiders that were not only discovered initially, but according to Dino are still being found to this day, the '73 was christened the "Black Widow." Now maybe you can better understand the relevance of the custom fender badges and choice of exterior finish, but more on those in a bit.
Read More: Square Body C10 Built For Performance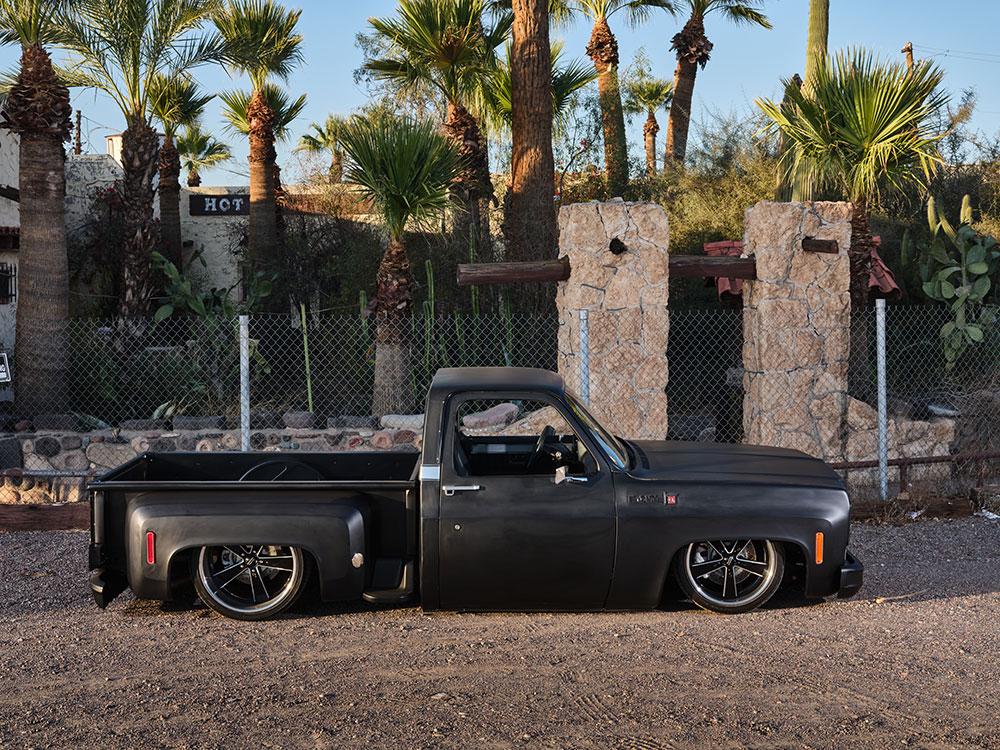 The stock chassis was initially upgraded by Switch with a Chopping Block/Slam Specialties suspension front and rear with adjustable Ridetech shocks and 14-inch Baer brake kit on all fours. A 4-inch narrowed Eaton Truetrac posi rear-end was used to help accommodate the 22×10 two-piece "Burnouts" American Racing wheels wearing 30-series Nexen radials. Next, a LS3 crate engine paired to a 4L65E transmission combo was put in place with an E-Force Edelbrock supercharger replacing the stock EFI intake and Borla exhaust system fabbed up to efficiently (and audibly) expel the additional air ingestion!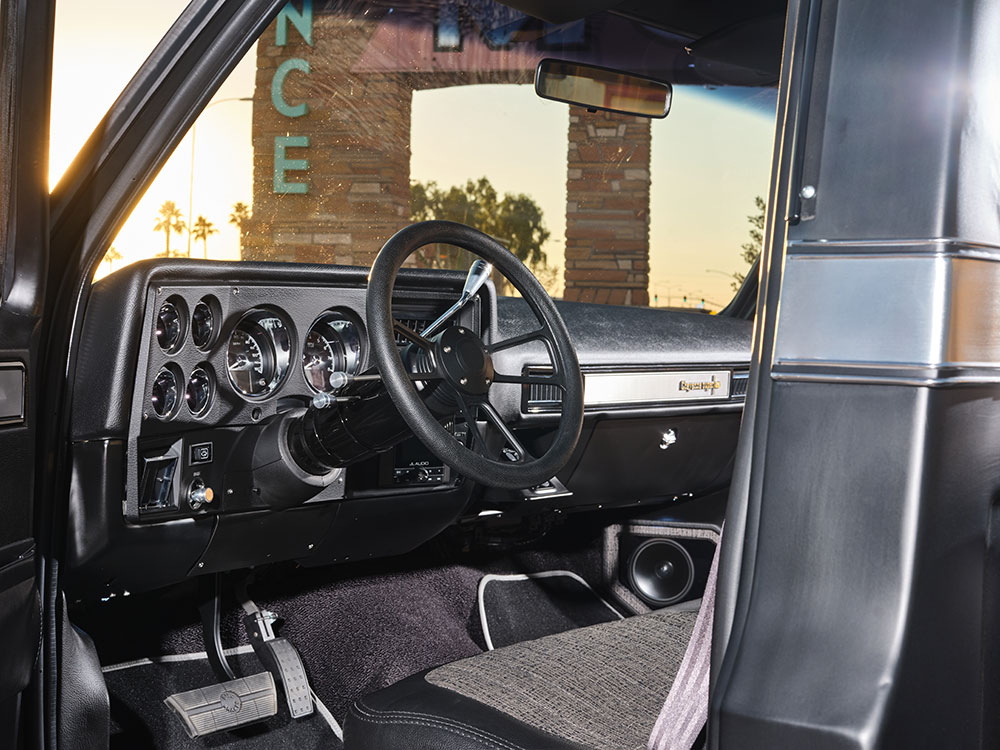 After Switch finished fabricating a custom raised bed floor and fitting a host of replacement sheet metal (including the LMC Truck hood carbon-wrapped by "Wonder Kid" Connor with stock hinges assisted by Wam Rods struts), Dino opted to go a different route with the finishing of his Stepside's exterior: he had it powder coated satin black by Pro Strip in nearby Mesa, Arizona. LMC Truck was also sourced for miscellaneous items, such as bumpers and mirrors, while the LED upgrades came from United Pacific (taillights) and JW Speaker (headlights) and the non-stock door handles from Delmo's. Those aforementioned Black Widow/Chevy Only badges were custom-milled by Rad Machining.
Read More: Electric Parking Brake Conversion Kit For C10s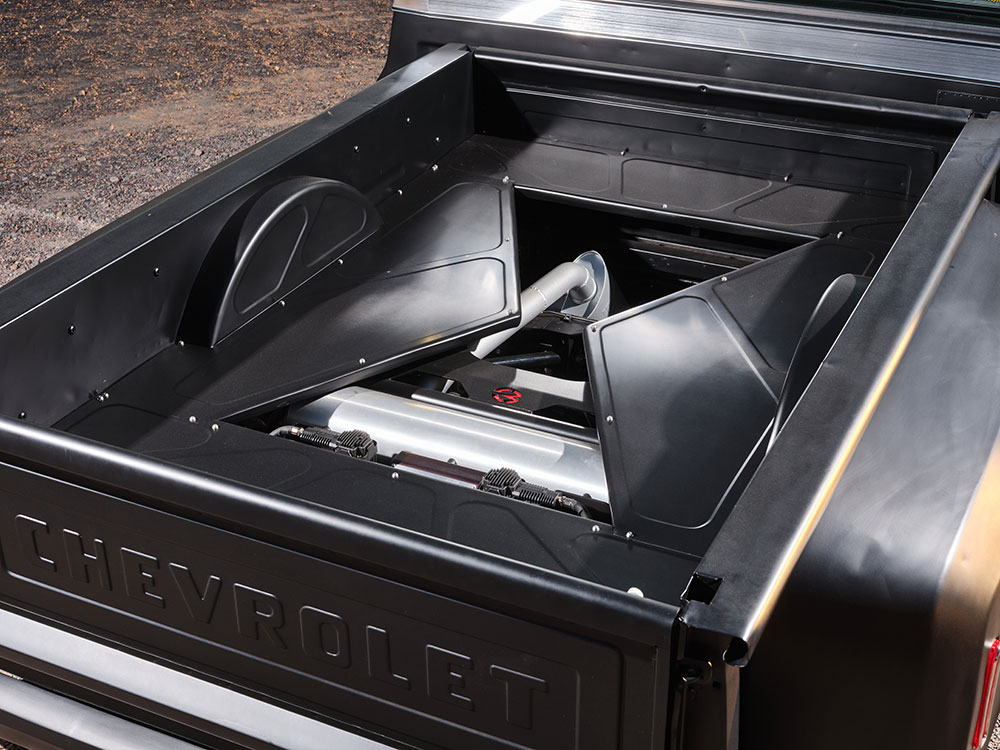 Lastly, Dino consigned Dbomb Custom Interior Fab to wrap up the innards of the Stepside using, as the owner stated, "fancy" materials! Above and beyond the custom threads, featured hard parts include a Squarebody Syndicate column with a billet Forever Sharp steering wheel, Dakota Digital HDX gauges, LMC Cheyenne dash/insert and door panels, and a full JL Audio sound system by Jeff James at Connections Audio.
When asked what his most memorable experience to date has been with the Cheyenne, Dino aptly replied, "… all the black widows!"
Dino's "Black Widow" 1973 Chevy C10 Stepside