Rob Carmichael's SuperCar Killer 1978 C10
By Chuck Vranas – Photography by the Author
Nothing raises your adrenalin faster than a perfectly balanced fusion of acceleration and handling as you carve your way through a combination of twists, turns, and straightaways. To get there, you can either set your sights on a modern-day exotic or lay down plans to build a classic with far more personality than one could ever have off the showroom floor. The 1978 Chevy C10 laid out across our pages, owned by Rob Carmichael of Tyngsboro, Massachusetts, is a perfect illustration of what can be crafted when all the planets align.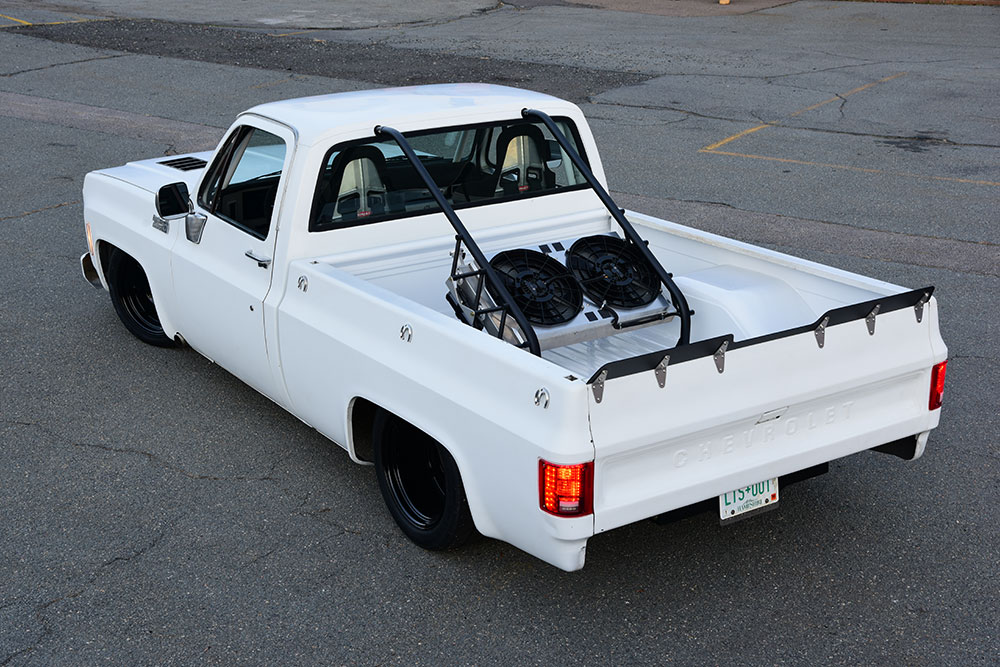 Easily, it might have been the automotive-themed wallpaper framing his bedroom or vintage record albums with the sounds of Indy Cars spinning on the stereo coupled with his dad sharing an appreciation for motorsports that helped pave Rob's performance path. Visits to New England Dragway added just the right bit of nitro to the mix, especially when accented by catching an endless stream of hot rods, muscle cars, and classic trucks cruising the main drag strip in Hampton Beach, New Hampshire, during the summers while growing up. With time marching on, he became involved in the family business where Chevy square body provided a rock-solid foundation for every need.
Read More: The Perfect C10 Combo!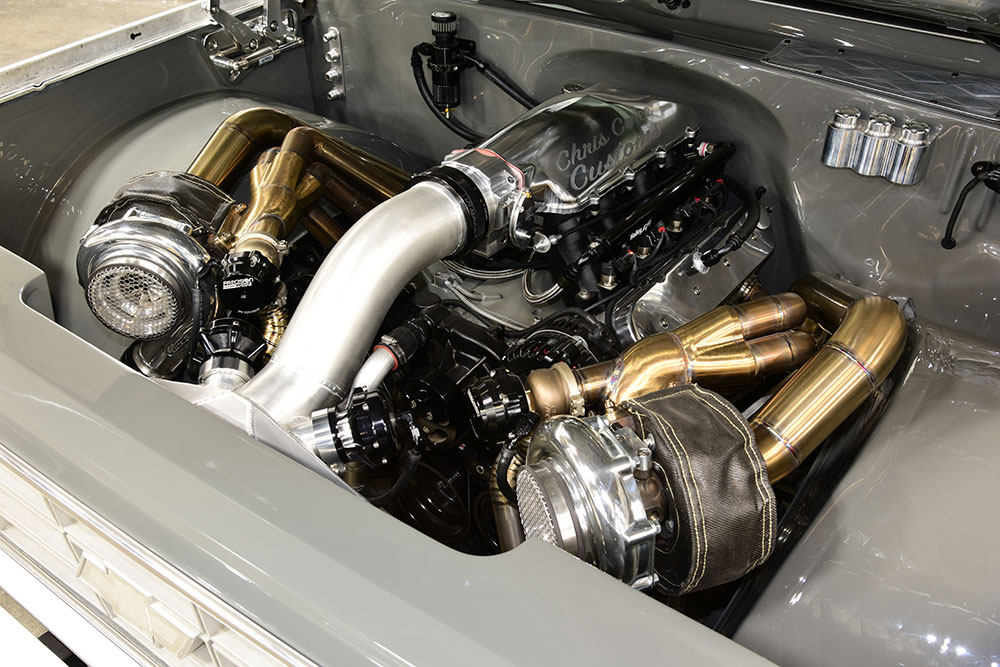 During this time, a passion for Chevy trucks led to building several of them, including an 1985 K10 Suburban, 1991 K20 Suburban, and 1975 K5 Blazer, but somehow something was still missing. Looking back at the formative years, it was always square body Chevy trucks that maintained a certain level of cool, regardless of whether they were bone stock or modified. Having always wanted a hopped-up hauler with plenty of raw power, capable of outperforming a sports car, it was only natural to make a decision to commence the search for a clean truck to get started with. Finding just the right base can take time while you wade through a sea of possibilities, especially if you live in New England where salt eats steel for a living. Finally, after an exhaustive search, Rob met with Joe Wieners of New England Classic Cars of Middleborough, Massachusetts, who had recently received delivery of a 1978 C10 from California. The truck was absolutely rust-free with a straight, clean body so perfect that it would be a shame to repaint. Without wasting any time he swapped cash for keys and started laying out a game plan for its resurrection. It was at that point good friend Dave Delancey (CTP readers will remember Dave's wicked '65 C10 featured in the Sept. '21 issue) introduced Rob to Chris Cerce of Chris Cerce Customs in Taunton, Massachusetts, knowing the direction he wanted to follow on the build. Having seen many of the performance trucks built at the speed shop, it was a perfect opportunity to round-table ideas along with cousin, Steve Johnston, on what it would take to build a hard-core performer.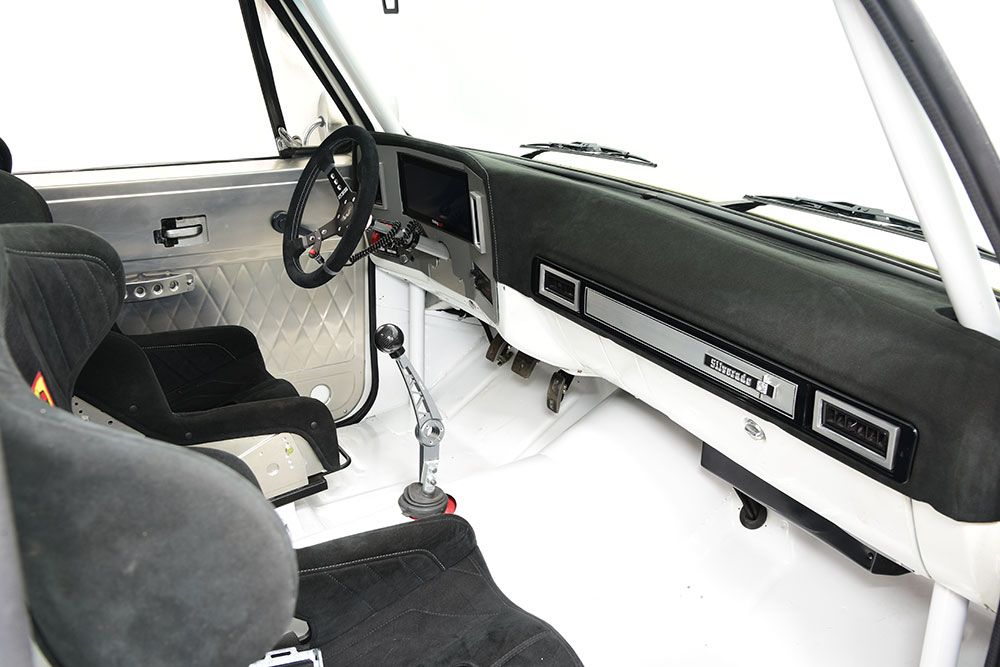 Getting started, it was obvious the factory spine would have to go in favor of a modern base capable of supporting the massive horsepower increase planned. For the ultimate in foundation strength, a Choppin' Block Chassis was selected showcasing their exclusive frame rails, crossmembers, reinforced gusset plates, and modular design. Out back, a Dutchman Ford 9 inch rear end housing packs 4.11 gears spinning 35-spline Moser Engineering axles, suspended in place by a CB triangulated 4-link kit, sway bar, and single-adjustable Viking coilovers. Razor-sharp handling comes from CB's tubular control arms deftly matched to Wilwood 2 1/2-inch dropped Spindles, single-adjustable Viking coilovers, rack-and-pinion steering, and sway bar. For plenty of stopping power, a Tilton master cylinder moves fluid through stainless lines to massive Wilwood AERO6 14-inch drilled-and-slotted rotors with matching six-piston front and four-piston rear calipers. Linking it all to the street are a set of American Racing wheels, sized 18×10 front and 18×12 rear, wearing Nitto NT05 Max Performance front tires and Mickey Thompson ET Street rears, respectively.
Read More: Square Body Chevy Refined To Perfection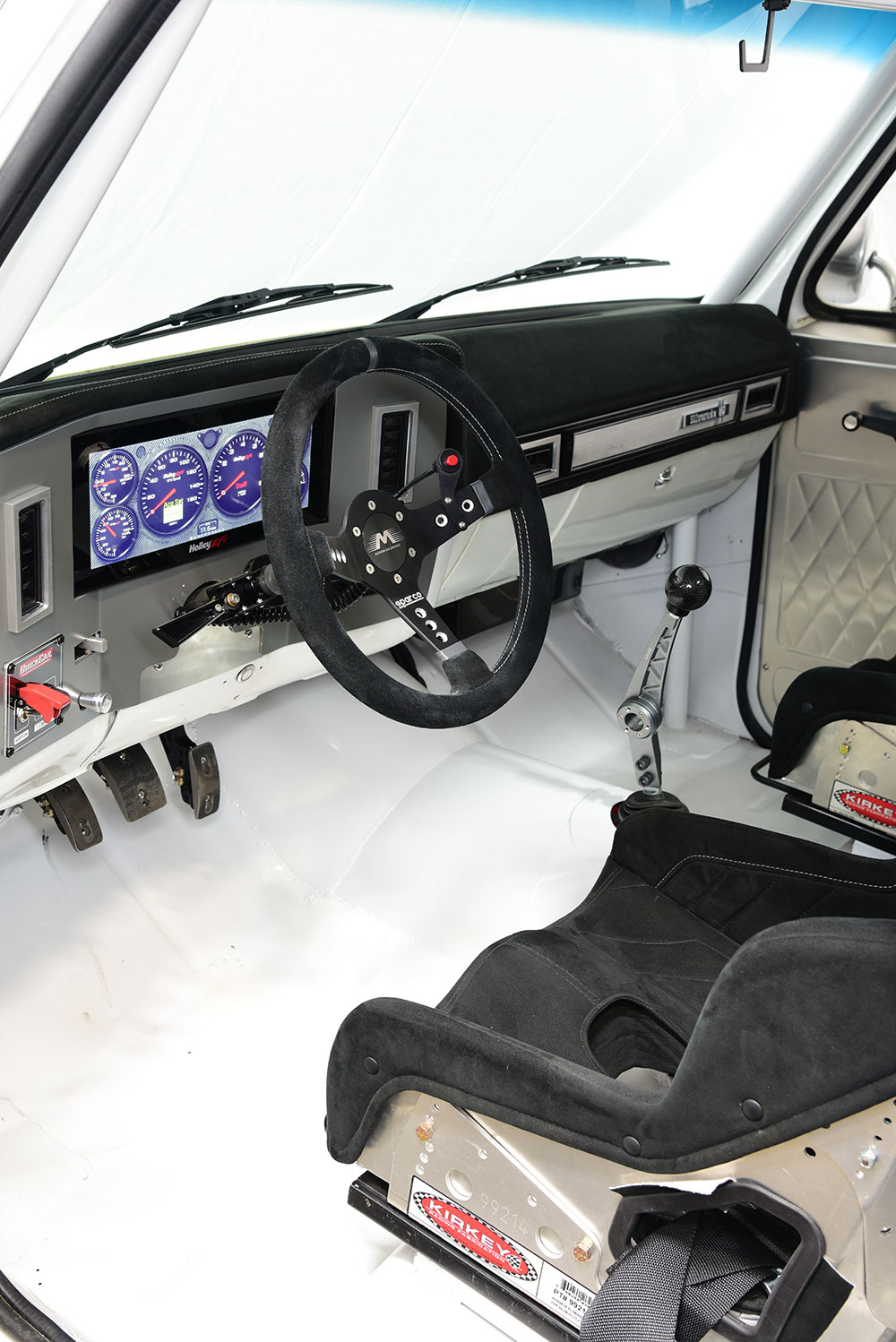 For a massive dose of LS power, Rob went straight to the masters at Golen Engine Service of Hudson, New Hampshire. Starting with a Chevrolet Performance LSX Bowtie cast-iron block massaged to 427 ci, it was filled with a speed shop full of go-fast parts, starting with a 4340 forged steel Callies Dragonslayer Crankshaft linked to matching Ultra H-beam rods capped with forged aluminum Wiseco pistons bumped by a Comp Cam hydraulic roller cam. A set of Trick Flow GenX LS7 six-bolt aluminum heads with high-velocity CNC Competition-Ported runners feature upgraded PAC Racing valve springs and titanium retainers for even more edge. Up top, there's a Holley Hi Ram intake manifold with matching LS billet fuel rails and 120-lb/hr fuel injectors along with a CNC billet Nick Williams 103mm throttle body and one-off Chris Cerce Customs plenum top. Here's where Cerce turned up the heat, fabricating a custom twin-turbo system starting with headers linked to a pair of fully polished Nelson T4 Mirror-Image 64mm turbos combined with Precision PTE 50mm blow-off valves, TIAL MVR 44mm wastegates and a hand-fabricated custom intercooler. It's all managed by a Holley Dominator system sparked to life by LS7 coil packs with hot gasses flowing through a 3-inch stainless steel exhaust pipe to MagnaFlow mufflers. But wait, there's more, including a relocated in-bed cooling system featuring more of Chris Cerce Customs's magic, starting with 1 1/2-inch aluminum tube plumbing to a custom-mounted Ron Davis aluminum radiator with dual cooling fans and XRP fittings. Power gets pushed through an RPM T56 Magnum 6 speed manual transmission with McLeod billet flywheel and Monster S-series twin-disc clutch linked to a custom driveshaft. It's all good for a tire-melting 1200 hp on pump gas.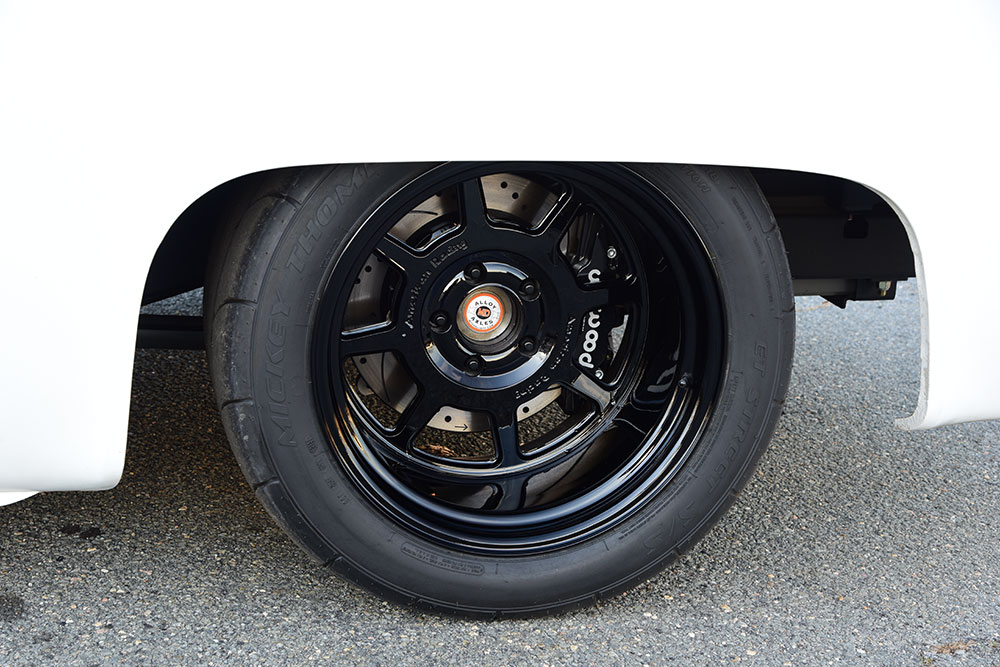 When it came time to address the exterior, it was obvious that the original Chevrolet Frost White paint had aged to perfection, giving it a well-earned patina. Seeing that there were no signs of rust or prior damage, Rob decided to retain its original glory while focusing on additional fabrication needed to complete the mechanical updates to the truck. This is where the Chris Cerce Customs team got busy, starting in the engine bay by fabricating a custom firewall and intercooler filler panel, installing fresh inner fenders from Hart Fab, and finally laying down a lustrous coating of gray vibe to bring it all to life. Inside the cab, a 1 5/8-inch roll cage was tied in along with a new transmission tunnel while out back the bed floor was raised 3 1/2 inches and treated to custom wheel tubs. Completing the updates, the bottom of the bed was smoothed and treated to gray gloss, matching the engine bay.
Read More: Turbocharged LS Motorvates 1983 Chevrolet C10 Pickup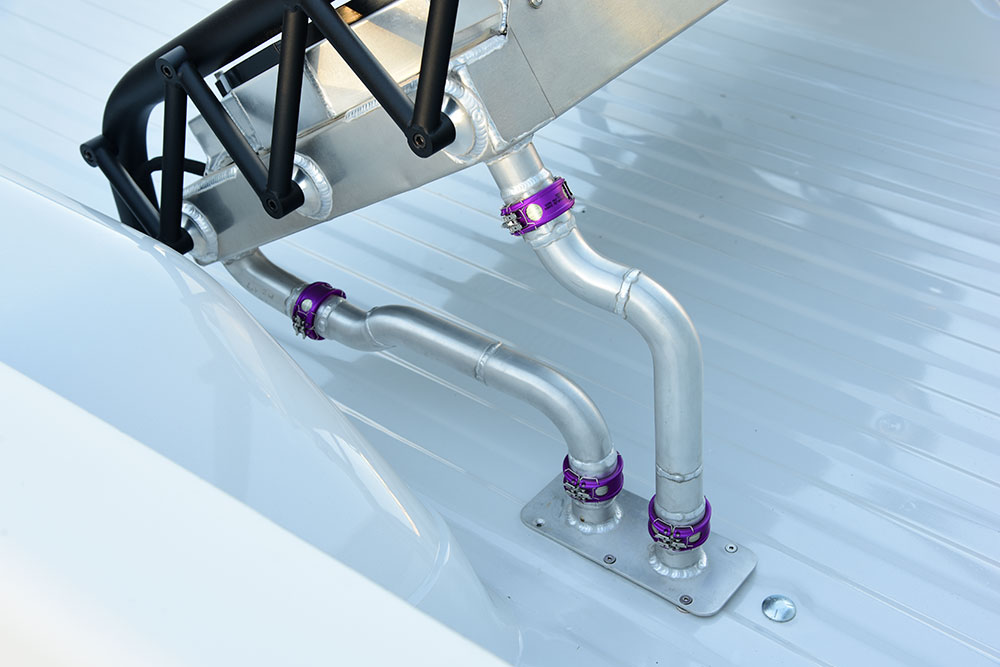 With the aggressive theme of the truck, it was obvious the attitude would need to follow suit in the cab. It's all business as soon as you open the driver door, starting with a custom dash from Chris Cerce Customs filled with a cutting-edge 12.3-inch Holley Pro Dash to monitor the vitals, complemented by wiring by Chris Cerce Customs. A chromoly Motion Raceworks steering column with quick-release hub mounts a Model L777 Sparco steering wheel while shifts flying through an adjustable billet, Truss-Style stick from Clayton Machine Works. Kirkey racing seats wear black Alcantara by Inside-Out Customs of Lunenburg who also covered the dash in matching material while a set of RCI five-point harnesses keeps it safe. This is one Square body Chevy with enough punch to take on any supercar, and to us that is about as real as it gets!