Old School Style and Modern Performance
By Brian Brennan   –   Photography By Wes Allison
This 1932 Ford highboy five-window coupe represents the pulling together of many dreams. It was John Docktor's, of Bedford, Texas, "dream" to build a hot rod that maybe a returning GI from World War II would have built for himself as his daily driver and weekend racer. John assembled the SO CAL Speed Shop rolling chassis at home in Texas and then from there he leaned on the Veazie Brothers shop in Pomona, California, to bring it to its current finished state.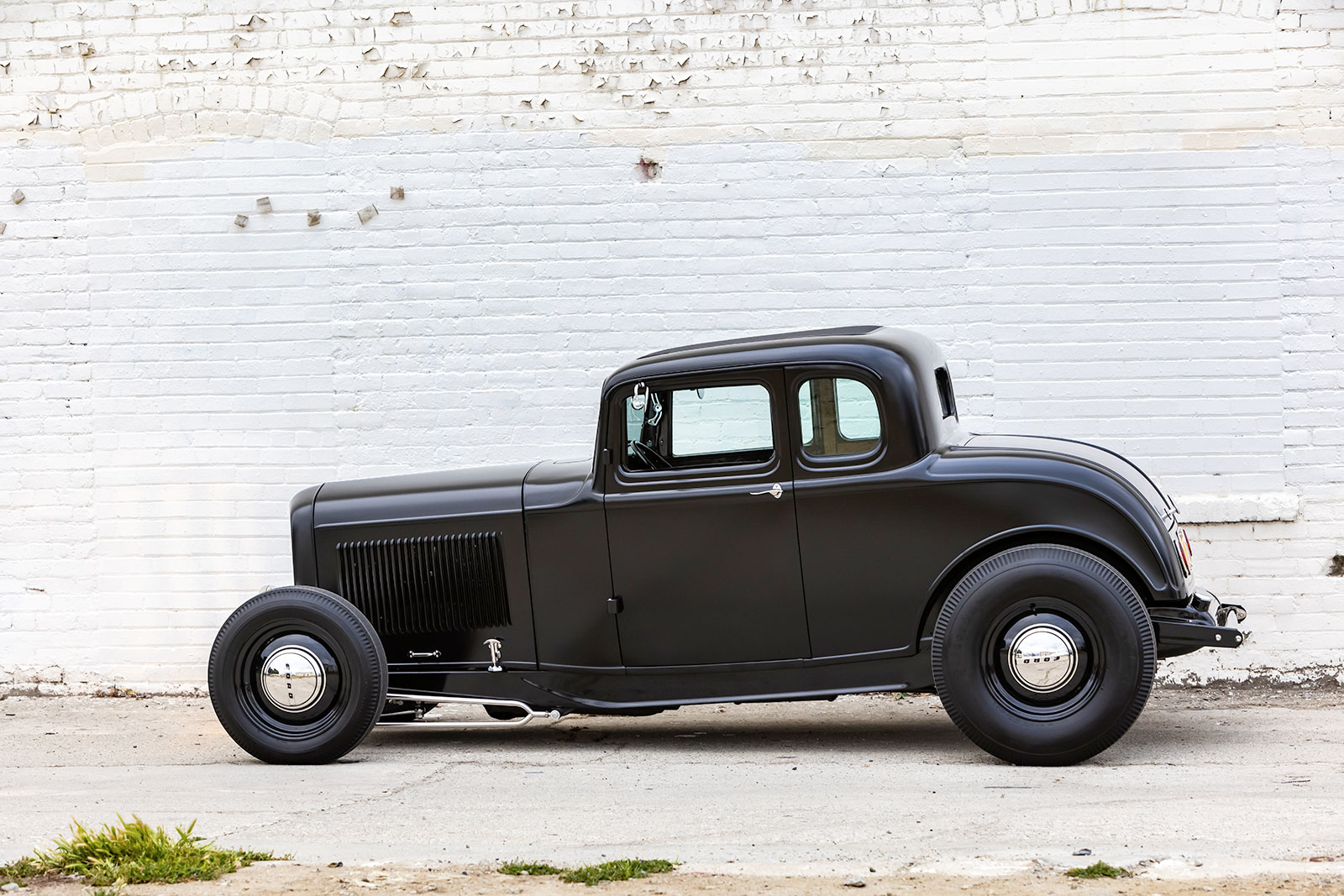 The SO CAL Speed Shop chassis' 107-1/2-inch wheelbase is based on one of its Step-Boxed frames. The custom Deuce 'rails benefit from a flat front crossmember (such as a Model A, adding an additional inch of lower suspension drop), motor mounts, a custom center crossmember that provides for the manual transmission mount, and the rear crossmember that works with a Ford 9 inch rear end and SO CAL Speed Shop tube shocks.
Read More: Two Timeless Model A Hot Rods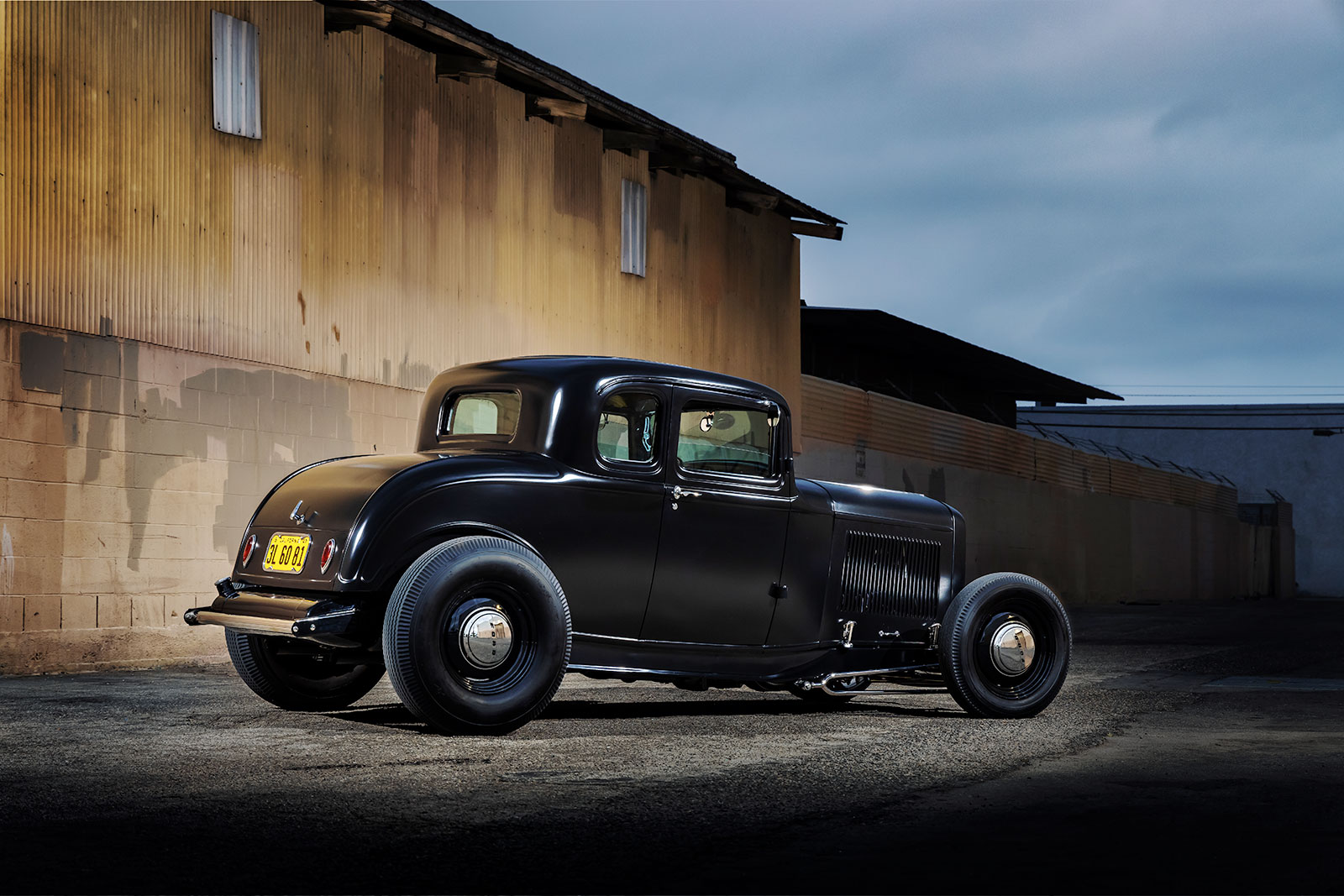 The remainder of the chassis is based on more SO CAL Speed Shop components. The front suspension is founded around a chrome 4-inch drop I-beam axle, a pair of 2-inch drop early Ford spindles working together with a pair of Wilson Welding '39 Lincoln-style brakes, a pair of chrome tube shocks, a chrome Panhard bar plus steering stabilizer, a pair of chrome hairpin radius rods, a Borgeson (Vega-style) steering box, and a front painted transverse leaf spring.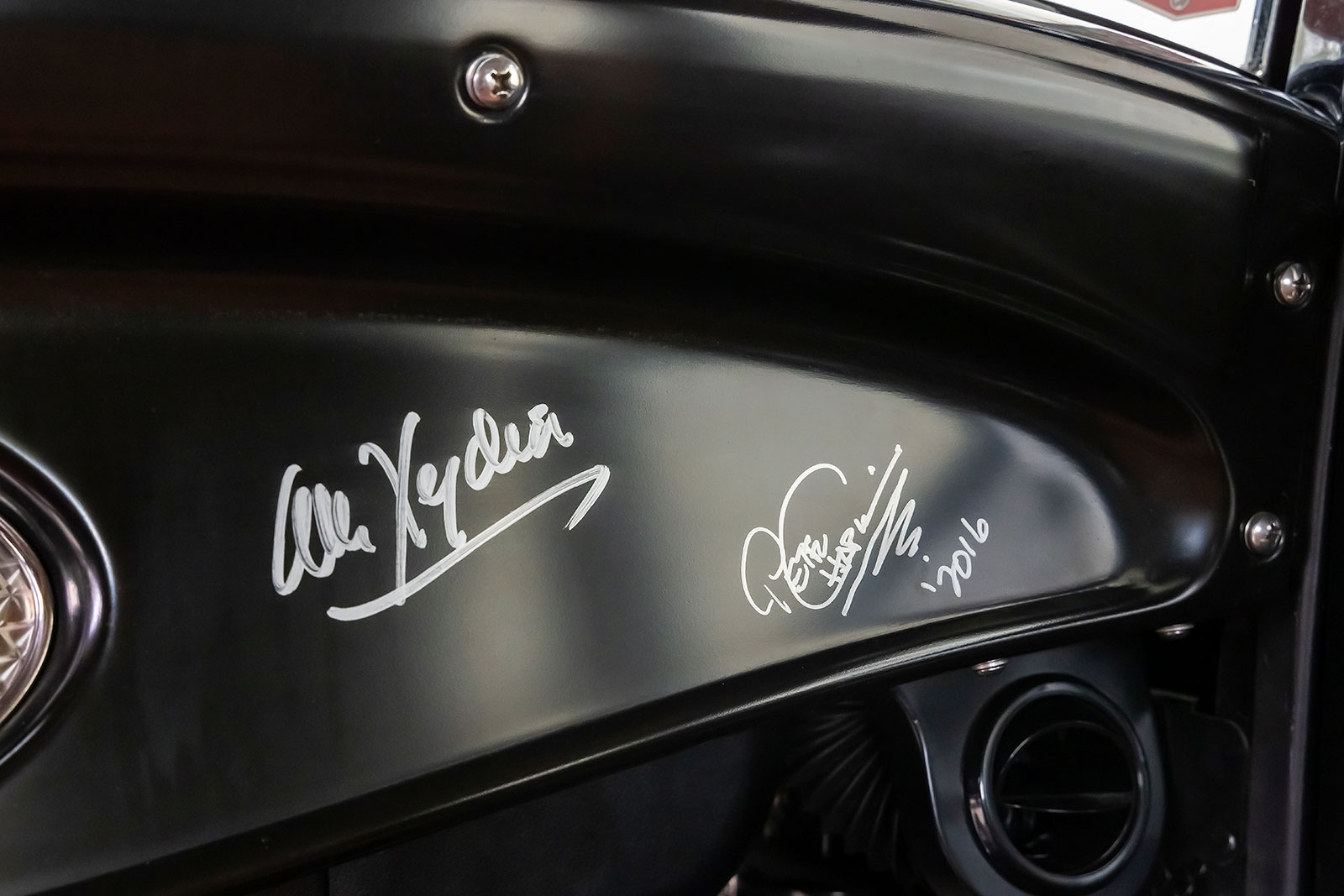 The SO CAL Speed Shop rear suspension is based on a Ford-style 9 inch rear end (3.50 gears and 31-spline axles), ladder bar kit, chrome tube shocks, a transverse "buggy" spring (engineered to look more like the "flat" 40 Ford spring), a Panhard bar, and drum brakes. The combination of Lincoln-style drum brakes in front and Ford drums in back are operated through SO CAL Speed Shop pedal assembly and a Wilwood master cylinder. More corner appointments included the painted Wheelsmith steelies, with Ford caps, measuring 16×4.5 and 16×6 front to rear then wrapped in Coker/Firestone 5.50×16 and 7.50×16.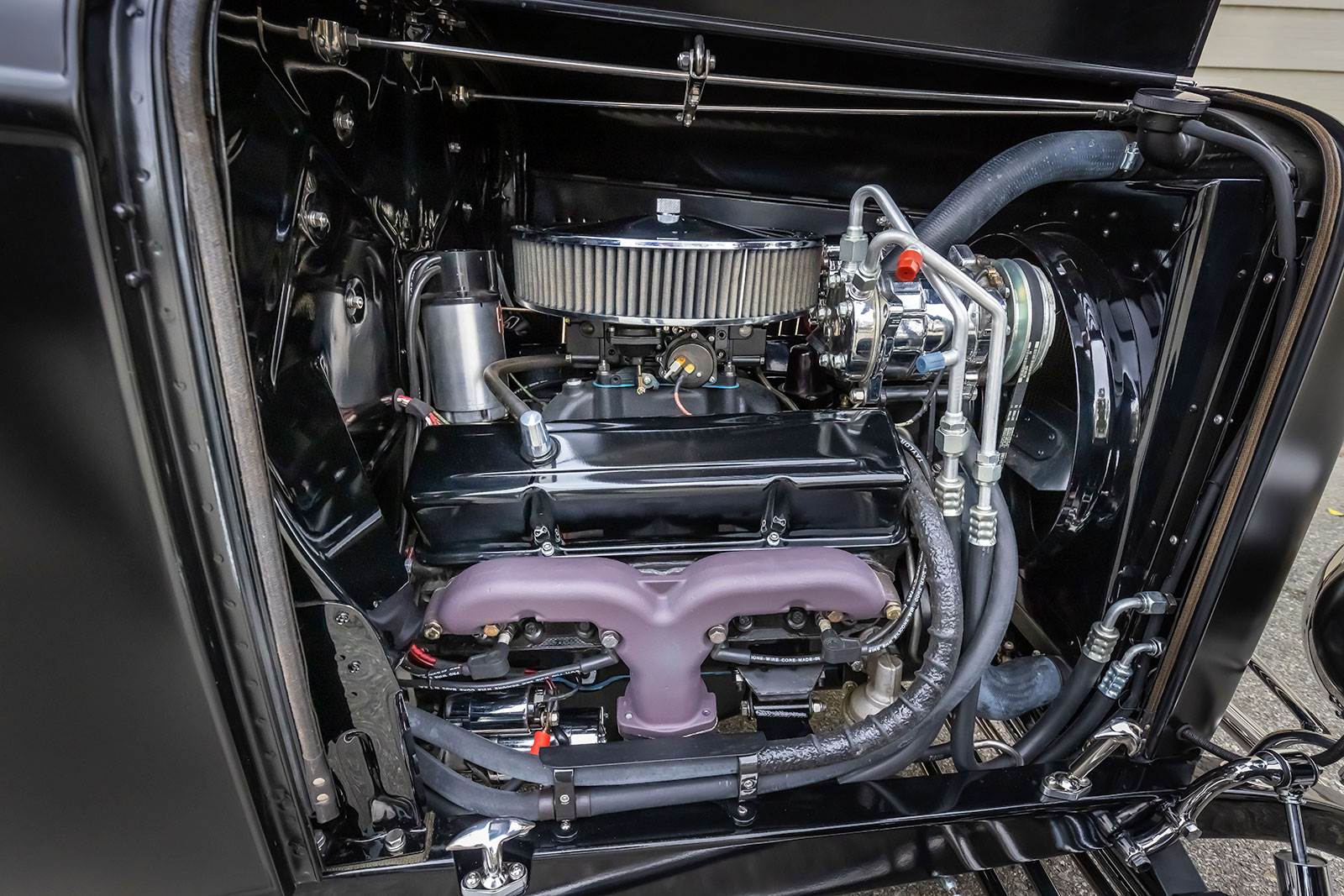 Mounted between the frame rails is a small block Chevy, something that wouldn't have been around in the years immediately after World War II but it did come within the emerging decade. Now, we will also admit that having air conditioning wasn't until several decades later, but one must make concessions for modern rodding and the long-lasting benefits specific mechanical changes do add to the driveability.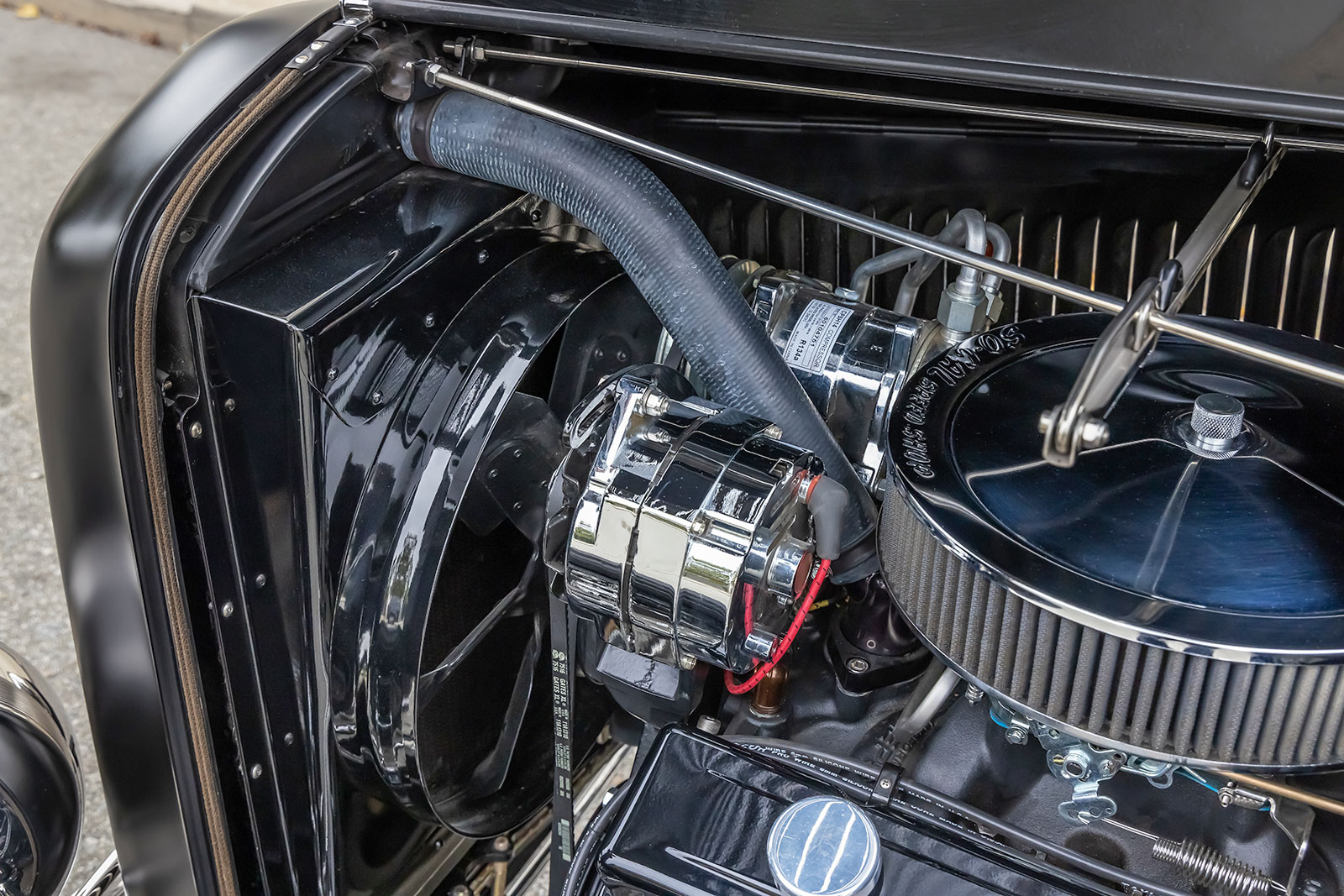 Other Small Block Chevy appointments include the use of a Don Zig magneto, a company known for its ability to rehabilitate original Mallory and Vertex magnetos. Don Zig Magnetos also manufactures their own line of Vertex magneto base assemblies. Upon closer examination you will see that his small-block does use a Vertex mag with Taylor spark plug wires. From here an Edelbrock intake manifold and a Quick Fuel Technologies four-barrel supplies the fuel to the Vertex "lights."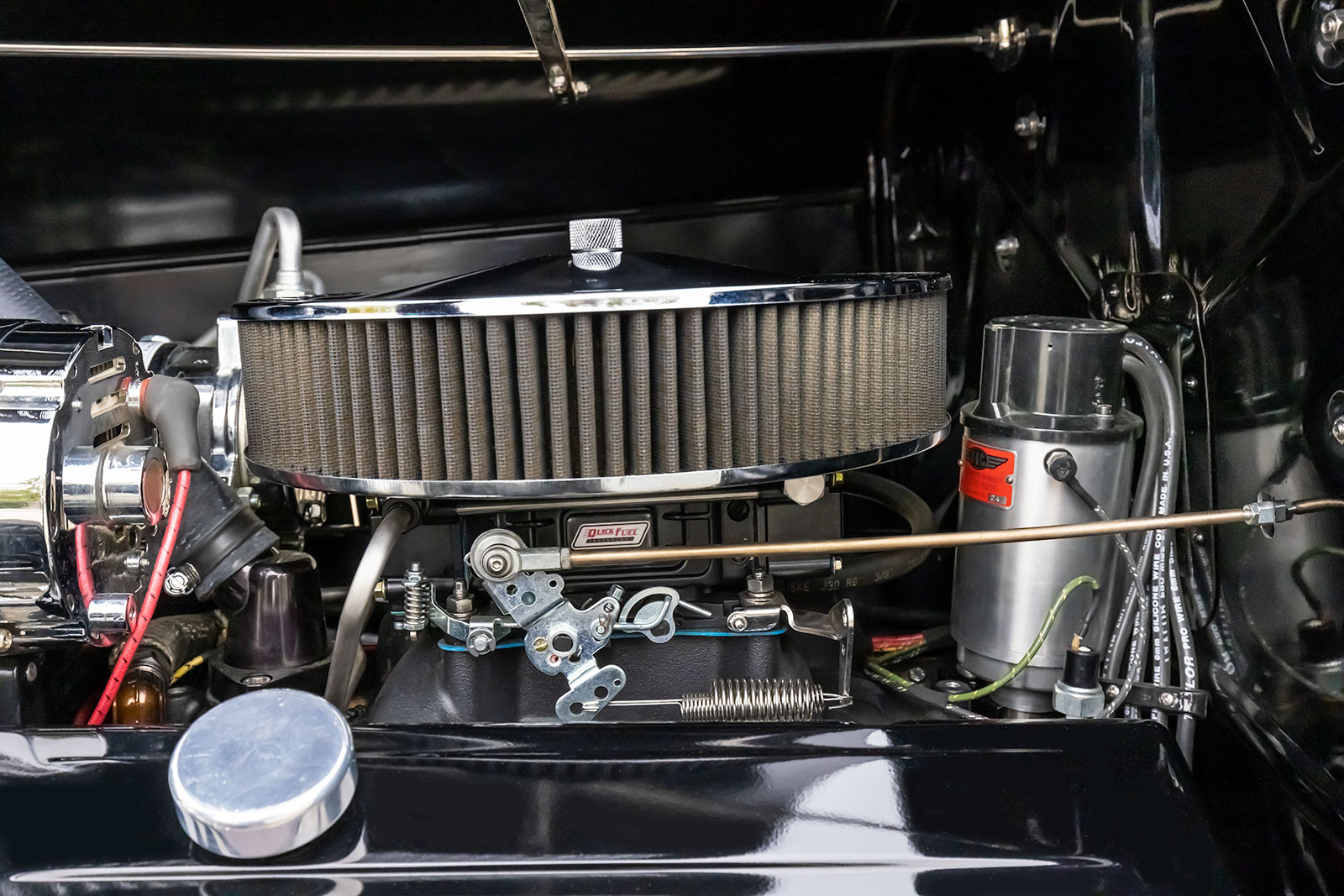 The cast-iron manifolds are the hi-po Chevy ram's-horn exhaust that then connects to mandrel-bent and TIG-welded tubing by the Veazie Brothers. From here these are connected to a pair of Turbo mufflers that are heat coated by Young Guns Performance.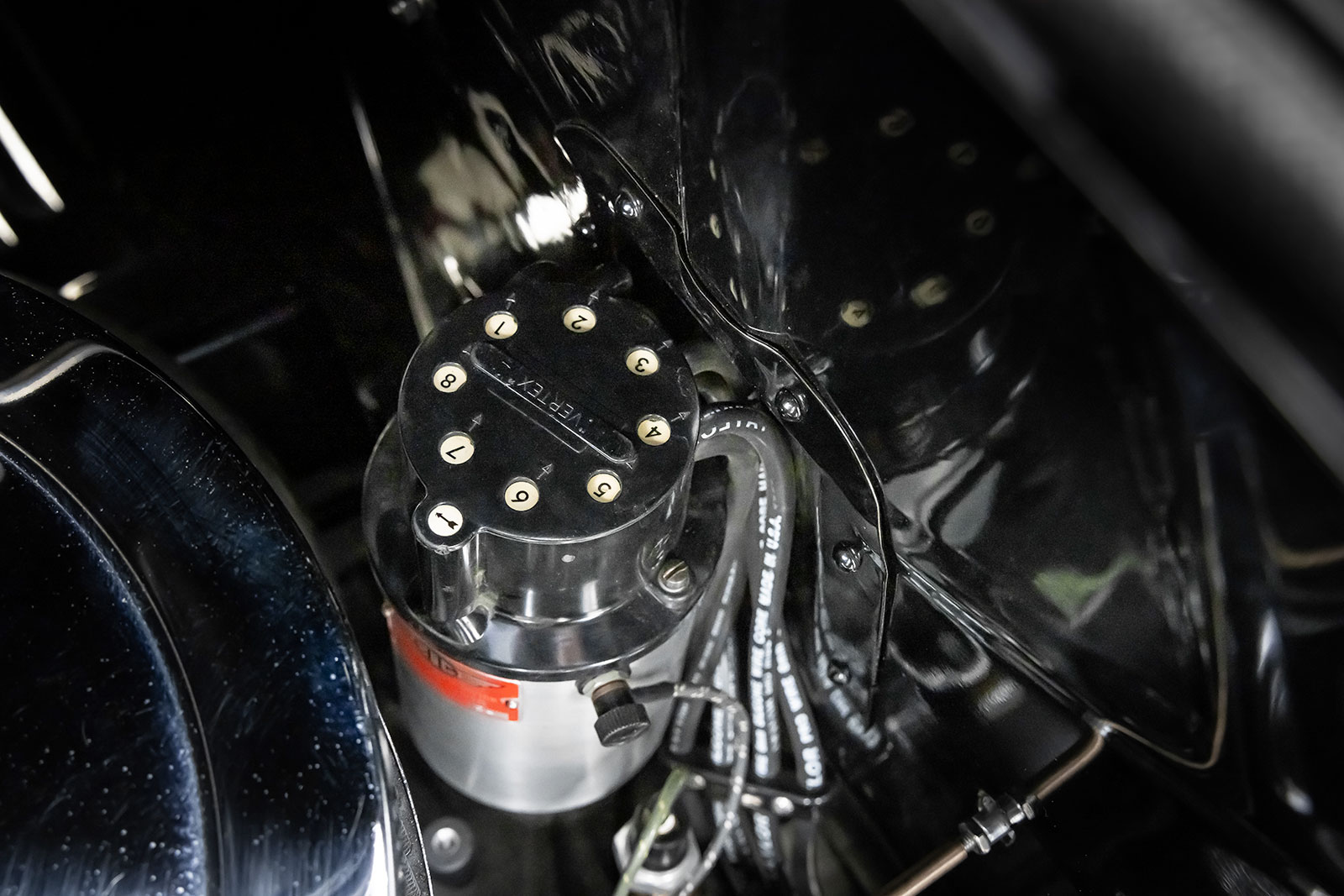 To aid in the cooling, the Small Block Chevy uses a riser on its Zips water pump. This riser positions the fan so that it is ideally placed within the Veazie Brothers–fabricated radiator shroud and barrel allowing the mechanical fan to work at its optimum. The Chevy 350 V8 engine is matched to a TREMEC TKO 600 (2.87 First gear and 0.82 Fifth gear) with a Veazie Brothers–fabricated shifter.
Read More: 1936 Ford Coupe Turned AMBR Contender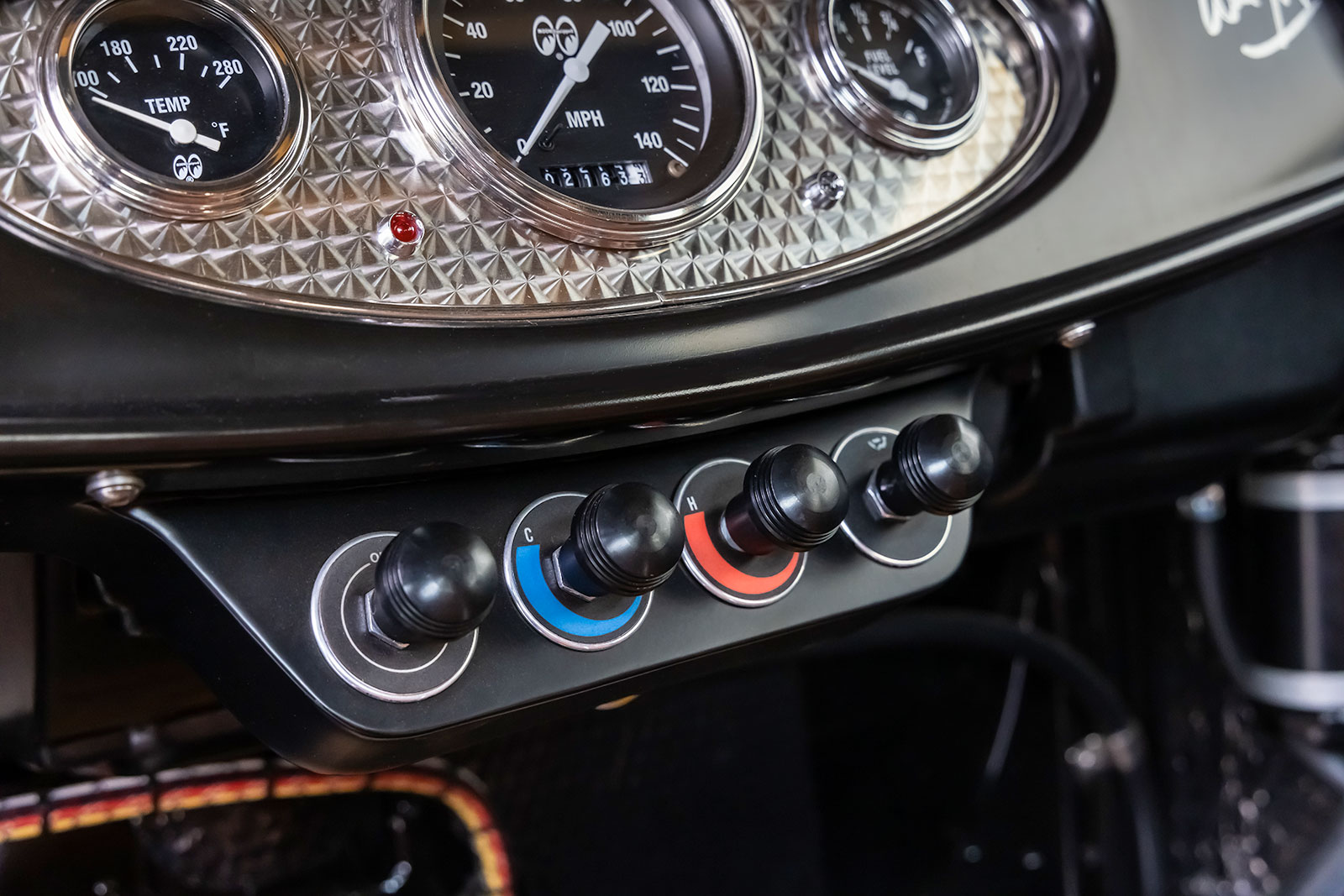 The body is something right out of modern-day rodding as it is fresh sheetmetal from United Pacific. The highboy five-window does feature a 2-inch cop by Joey Angelo of Walden Speed Shop. From here the fit and finish of the body to the frame was completed at Veazie Brothers, which as it turns out is nearby Walden's. The hood comes by way of Rootlieb while the roof insert was done at Sid Chavers (when still in the Bay area). Interestingly John drove the five-window Deuce coupe to Chavers from the Veazie Brothers' shop in Pomona and back. All the body- and paintwork was handled by Scott Veazie. The paint is a single-stage, custom-mix satin black.
The dash is stock '32 closed-car style that features a custom lower dash panel that houses the Vintage Air AC controls. (Take a close look at the autographs that are on this dash: Alex Xydias and Pete Chapouris. A nice touch. —B.B.) The dash itself accommodates a simple gauge pack that includes a speedometer, fuel, and water temperature instruments. The gauges come from the Mooneyes Equipped catalog and are manufactured by Classic Instruments in the traditional Hot Rod look—black face with white lettering/numbers/needles and feature the Mooneyes logo.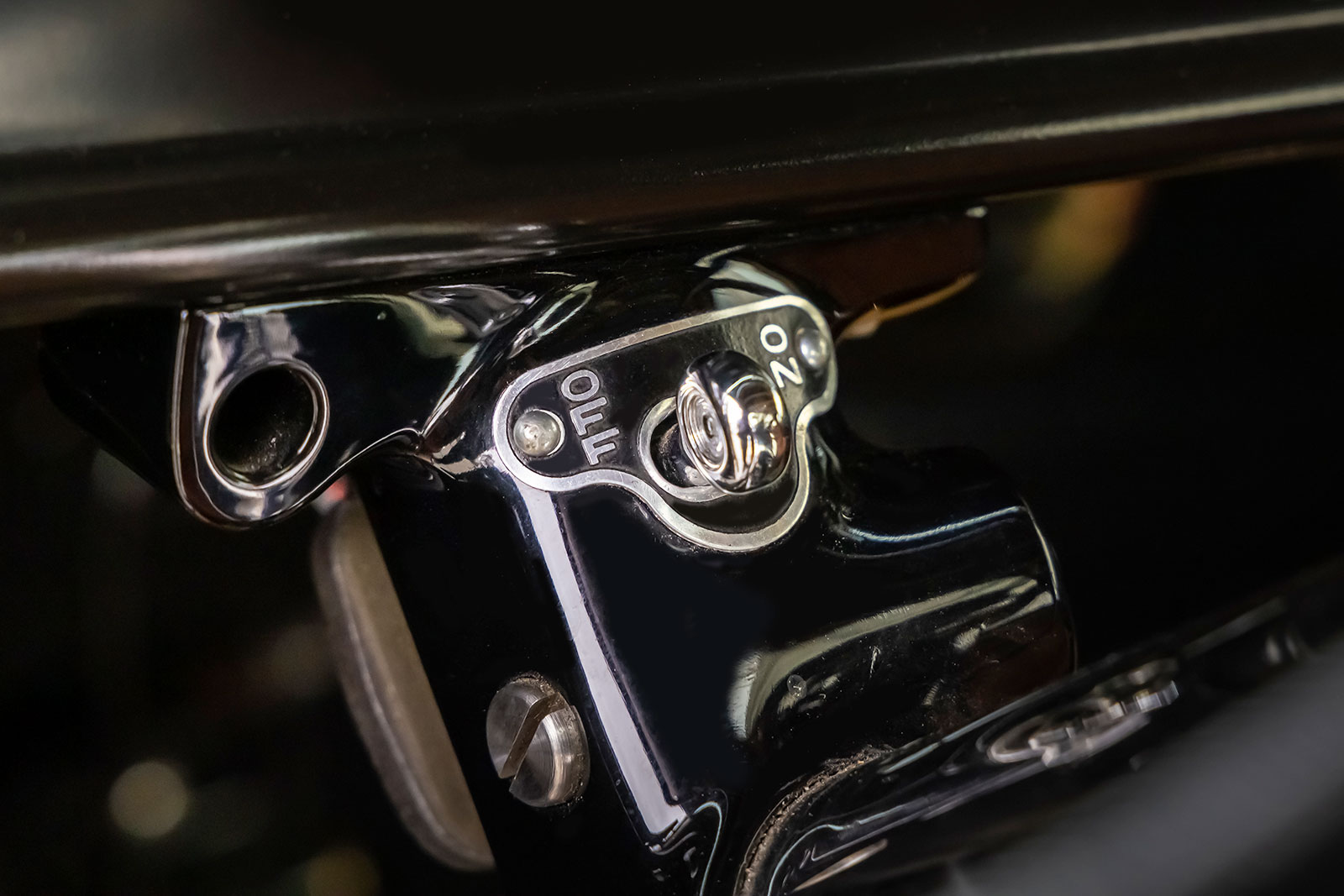 Note the engine turned gauge panel that rests within the stock dashboard and houses the gauges. The panel also is home to four lights that signal such functions as turn signals, bright lights, and so on. A polished LimeWorks Hot Rod Parts steering column that features an early Ford column drop that contains the ignition key, on/off switch, and is topped by a 16-inch '40 Ford steering wheel from Vintique Inc. with standard black cap.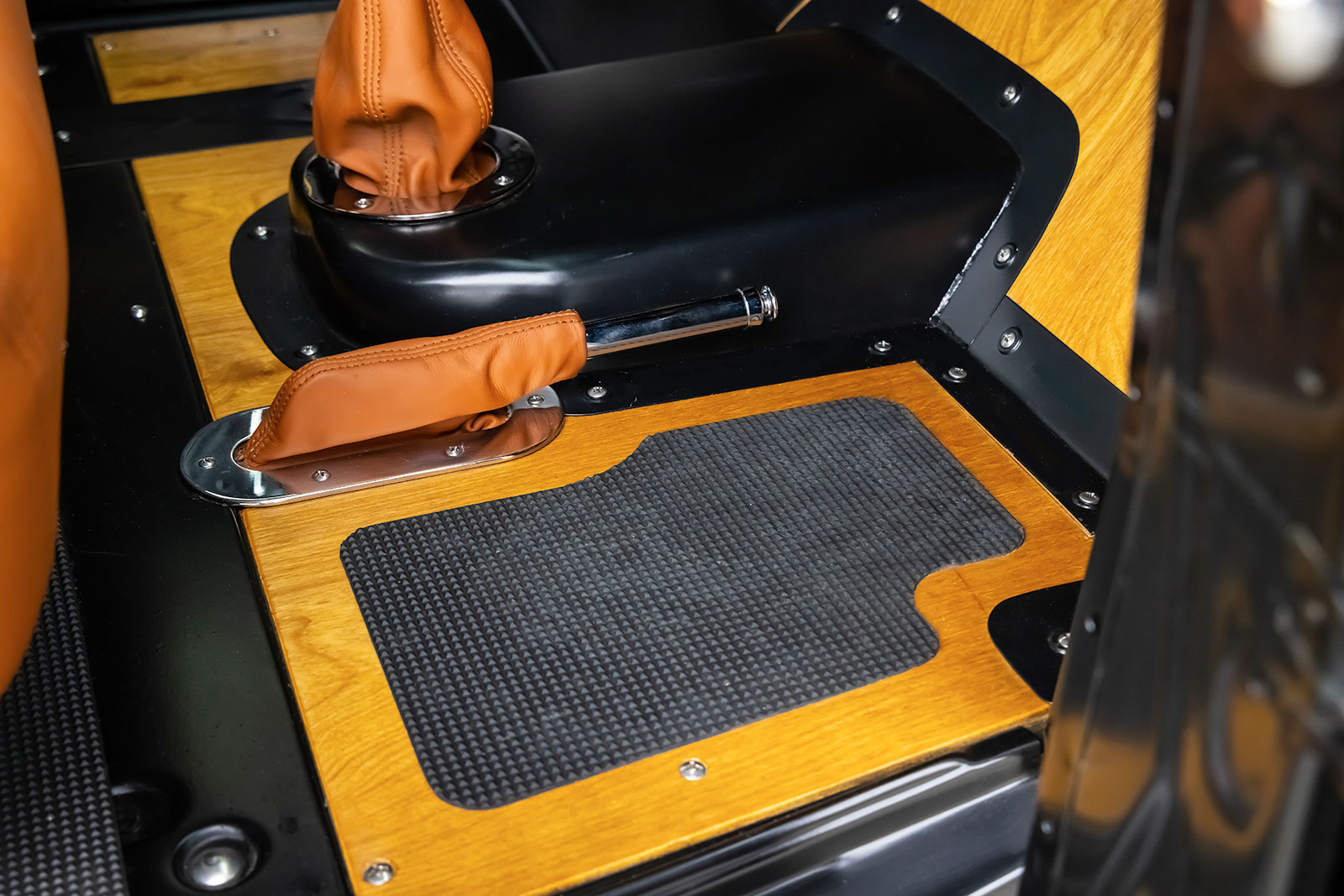 All the wiring is done in a vintage cloth look that was handled by Justin Veazie. The bench seat frame comes by way of Glide Engineering and was then upholstered in tan leather by Gabe's Street Rod Custom Interiors. Of particular interest is how the interior while finished does feature the exposed look with the absence of material on the headliner, door, and kick panels or carpeting. Instead, the finished wood look on the floor and the headliner area was accomplished at the Veazie Brothers.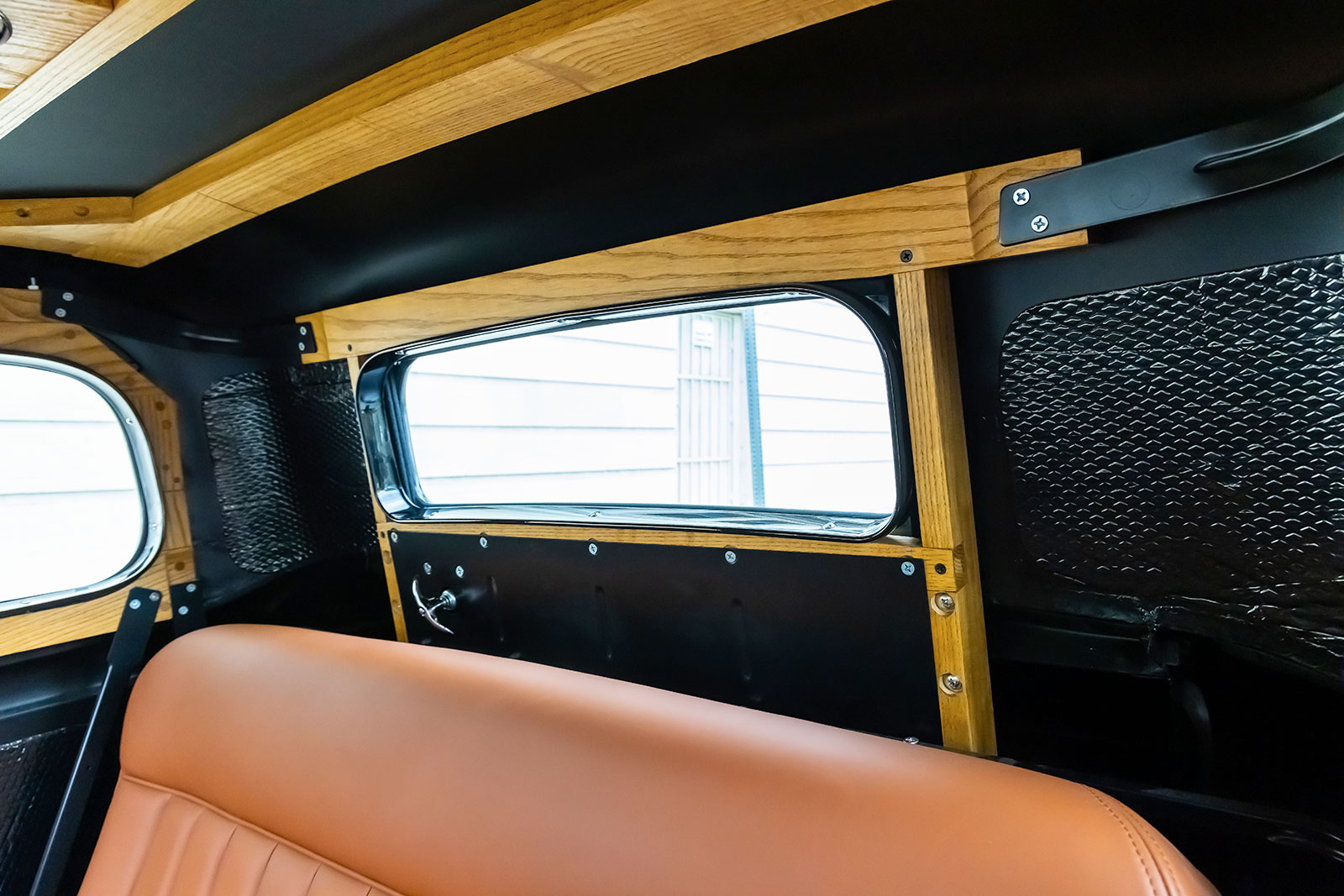 One very nice touch was the addition of rubber floor mats placed with the wooden floor reliefs. This is clearly a case of, "when less is more."
Read More: Auto Shop Tackles Model A Rear End Swap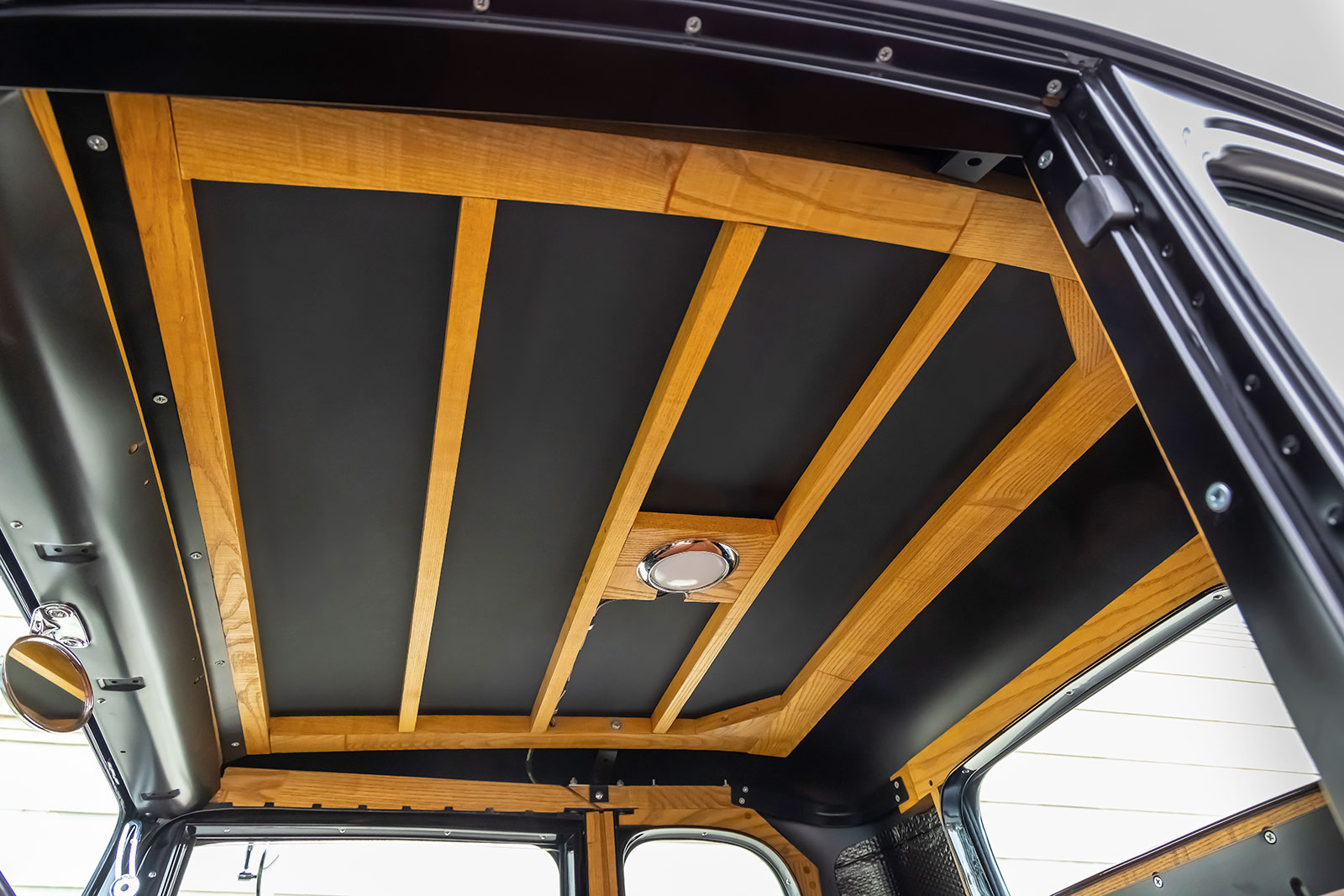 The '32 Ford highboy coupe five-window has the right look and "feel." Maybe a returning GI from World War II would have wanted something like this but I'm pretty sure there are any number of hot rodders who today would want the same. MR
Click on this issue's cover to see the enhanced digital version of Deuce 5 Window Coupe.