Dale Deburger's Plum Crazy Purple 1965 Dodge D100 Stands Proud Amongst the Bowties and Blue Ovals
By Rob Fortier   –   Photography by John Jackson/Not Stock Photography
"… Wanted to build a truck but wanted to do something other than a Chevy or Ford" were builder/owner Dale Deburger's exact words when asked the proverbial "why" he built this gorgeous Dodge Sweptline. To take it one step further, he kept it slant-six powered! Now that's going the extra mile to be different, but at the same time just as cool, if not cooler, than any Bowtie or Blue Oval on the block …. that's for sure!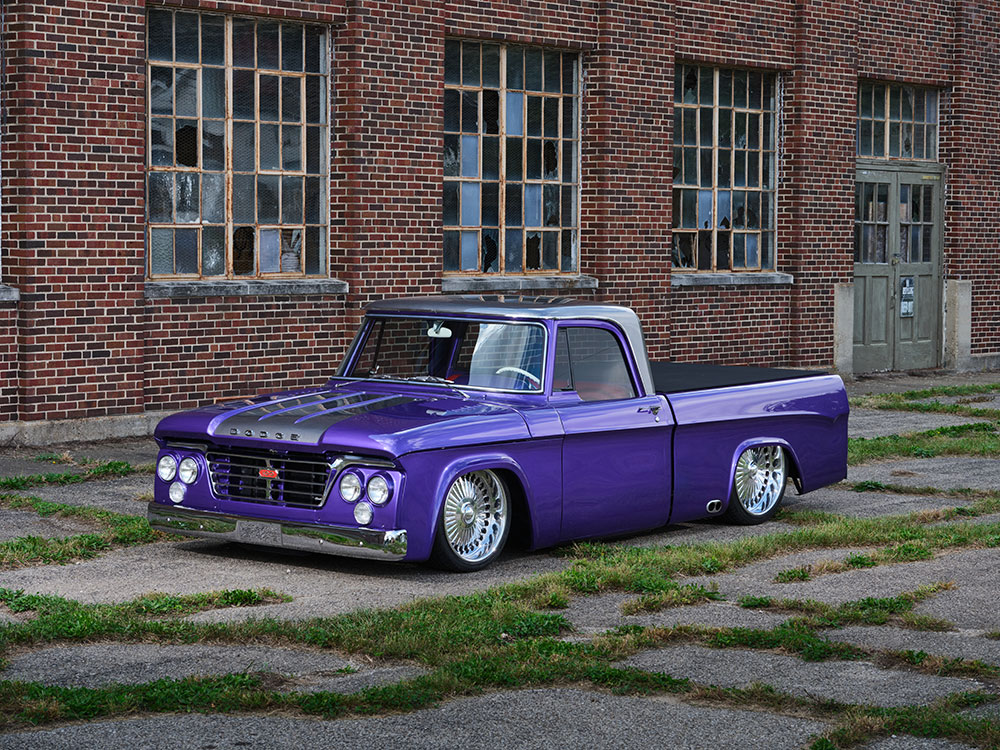 Read More: Gritty 1968 Dodge Power Wagon with Hellcat Hemi Power!
Started back in 2017 by Dale and Indianapolis' Tom Culbertson, the D100's aforementioned powerplant is definitely a topic of conversation in and of itself. Original to the 1965 Dodge, its 225ci slant-6 engine has been machined by Jimmies Motor Machine and equipped with a host of Aussiespeed Street & Racing Products go-fast goodies—from the cam and long-runner (Holley) four-barrel intake to the headers (feeding Flowmaster mufflers) and PerTronix ignition system. The leaning tower of inline-6 engine power is backed by the original 727 TorqueFlite transmission and a semi floating Mopar 8.75 rear end.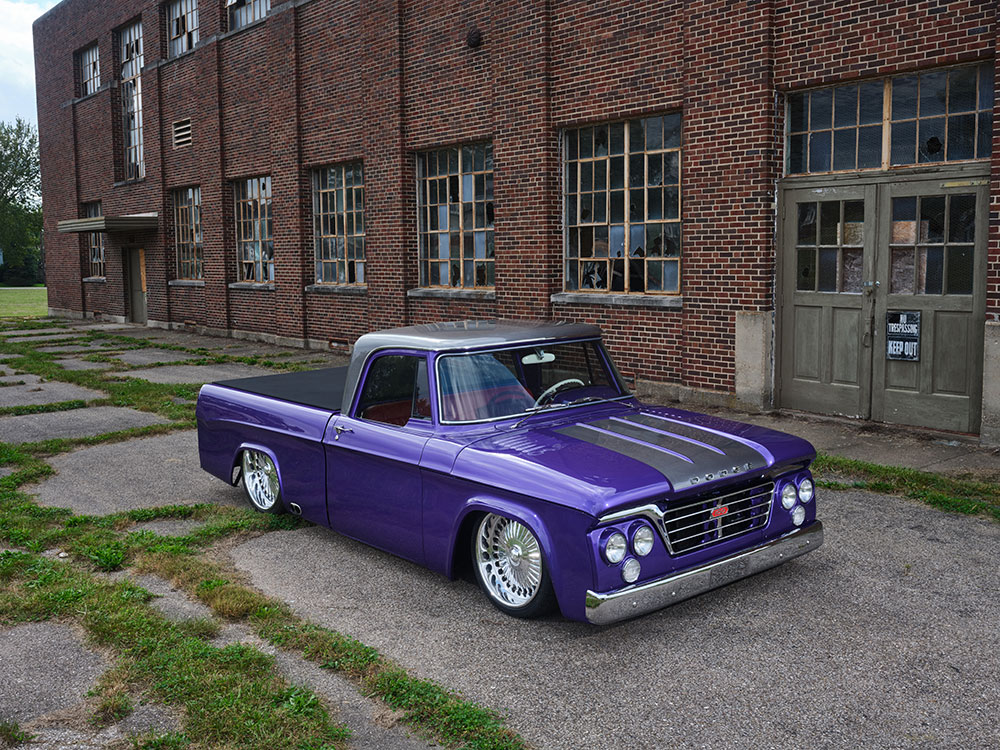 The chassis was appropriately updated with Fatman Fabrications' Ridetech-equipped Independent Front Suspension and four-link suspensions, each outfitted with Wilwood brakes and Billet Specialties 20- and 22-inch GS47 wheels wearing Dunlop 35-series radials (all of which—and more—were obtained by Dale's buddy Andy Camp at A-Plus Rod & Kustom).
Read More: Lunch Wagon: 1964 Dodge Sweptline Dually
Culbertson and Dale performed several subtle body mods before handing the Sweptline over to Dustin Cooper at Cooper's Paint & Body (also in Indianapolis) for final bodywork and that amazing Plum Crazy Purple with two-toned gunmetal gray accents. A Hartz cloth–covered custom tonneau cover and the original Bevis Dodge utility rear bumper add the perfect finishing touches to the exterior.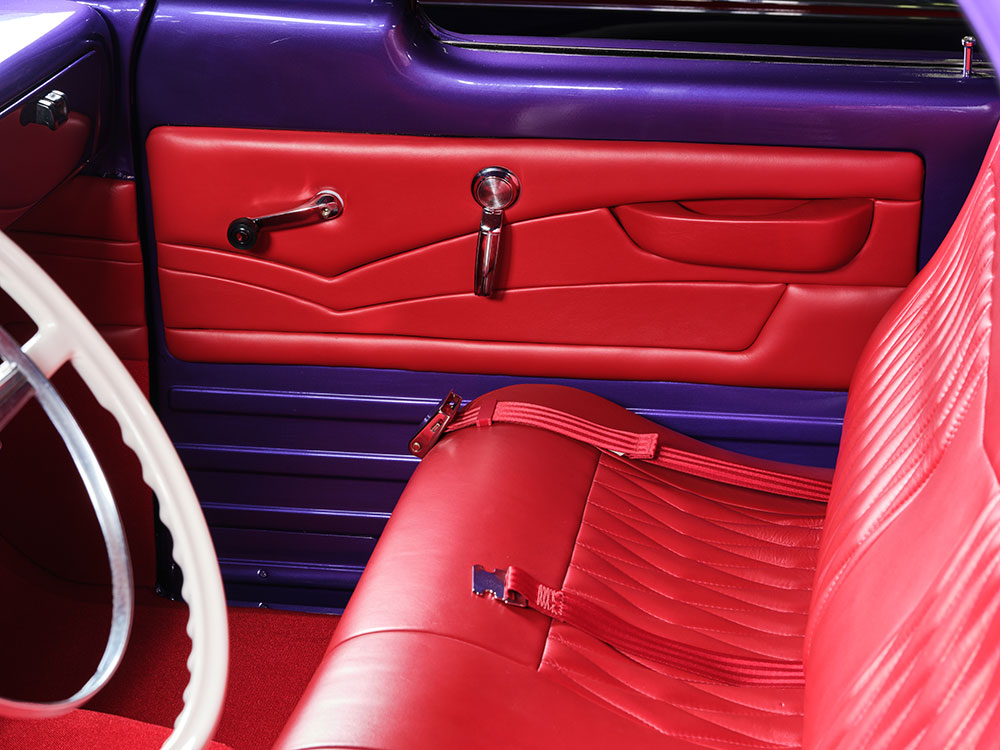 Finally, after Culbertson wired the Dodge with a Painless Performance Products kit, it was once again farmed out, this time to Mikey's Kustom Upholstery in Deputy, Indiana, for the spot-on complementing hot rod red leather interior. The majority of the truck's OE components were left intact, from the steering to the instrumentation to that unmistakable dash-mounted automatic shifter!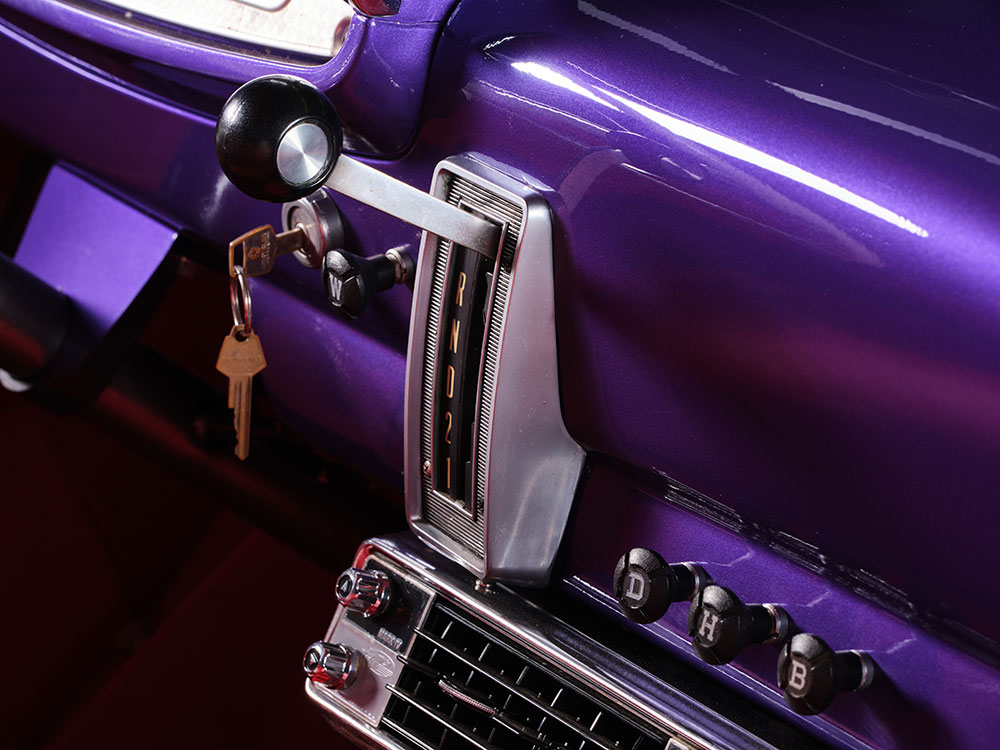 Read More: Hemi Powered 1967 Dodge D100
It goes without saying: it's always a fresh breath of air seeing a variation from the norm … even more so when it's a stunning build such as Dale's beautiful Sweptline Dodge!
Dodge Sweptline With 225 Slant Six Mopar Power