Howard's Big Block Chevy 3100 Street Truck
By Scotty Lachenauer   –   Photography by the Author
Harold Light has always had a thing for Pro Street rides. Recently, the Lebanon, Pennsylvania, native finally decided to do something about this lifelong obsession. "I've owned an all-original 1956 Chevy 3200 for over 20 years. I'm never going to modify that one, so I decided to find a suitable '56 that I could grab up and then fab into my dream Pro Street ride."
It didn't take long before Harold spotted what he needed in his life. "I was looking through the want ads and came upon a nice 1956 Chevy 3100 for sale in Illinois. It was already modified, sporting purple flames and a chop to the cab. My buddy was in the area for work, so he checked it out for me. He liked what he saw so the owner and I negotiated a price. Once that was settled, I headed out there and picked it up."
Read More: 2023 World's Most Beautiful Truck
What Harold got was the perfect starting point for his Pro Street–bedded hot rod. "I already had a bullet list of a lot of the things I wanted in my new ride. Once I received the truck, I got a better idea of what I needed to do to accomplish my goals. I moved it to my friend Dave Yingst's two-car garage and we both got to work on it."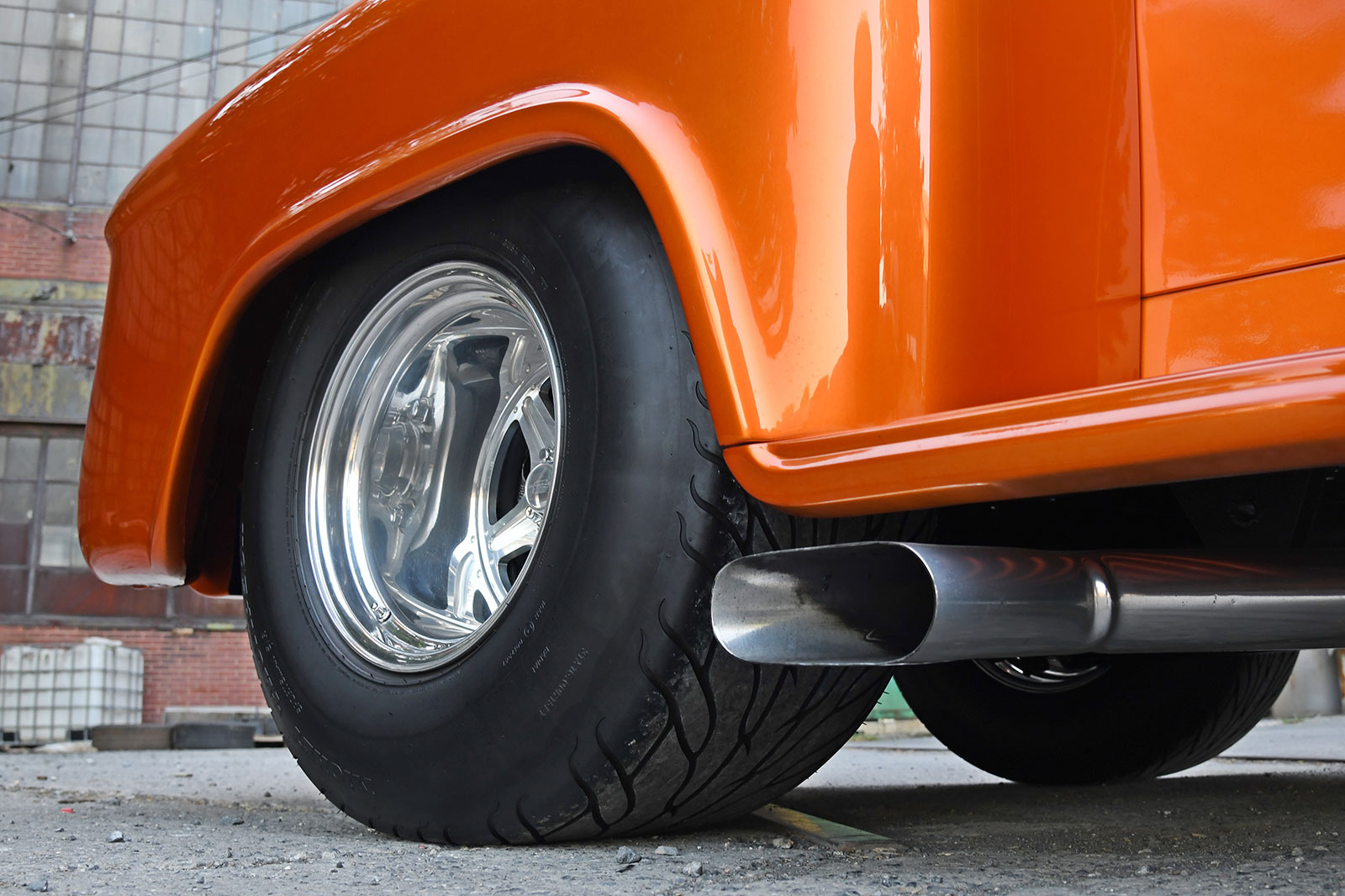 Harold wasted no time tearing into the body. "We knew that the paint scheme was going to change, so we dug into the sheetmetal to make improvements." There is an extensive list of mods here on the skin, including a shaved cowl and firewall, frenched front marker lights and antenna, shaved rain rail and bed pockets, tilt forward hood, and shaved door handles and trim. But there's more. "I installed a rear roll pan out back, shaved the bumper bolts, smoothed the tailgate, shaved all the bed pockets, and installed one-piece door glass, removing the vent windows."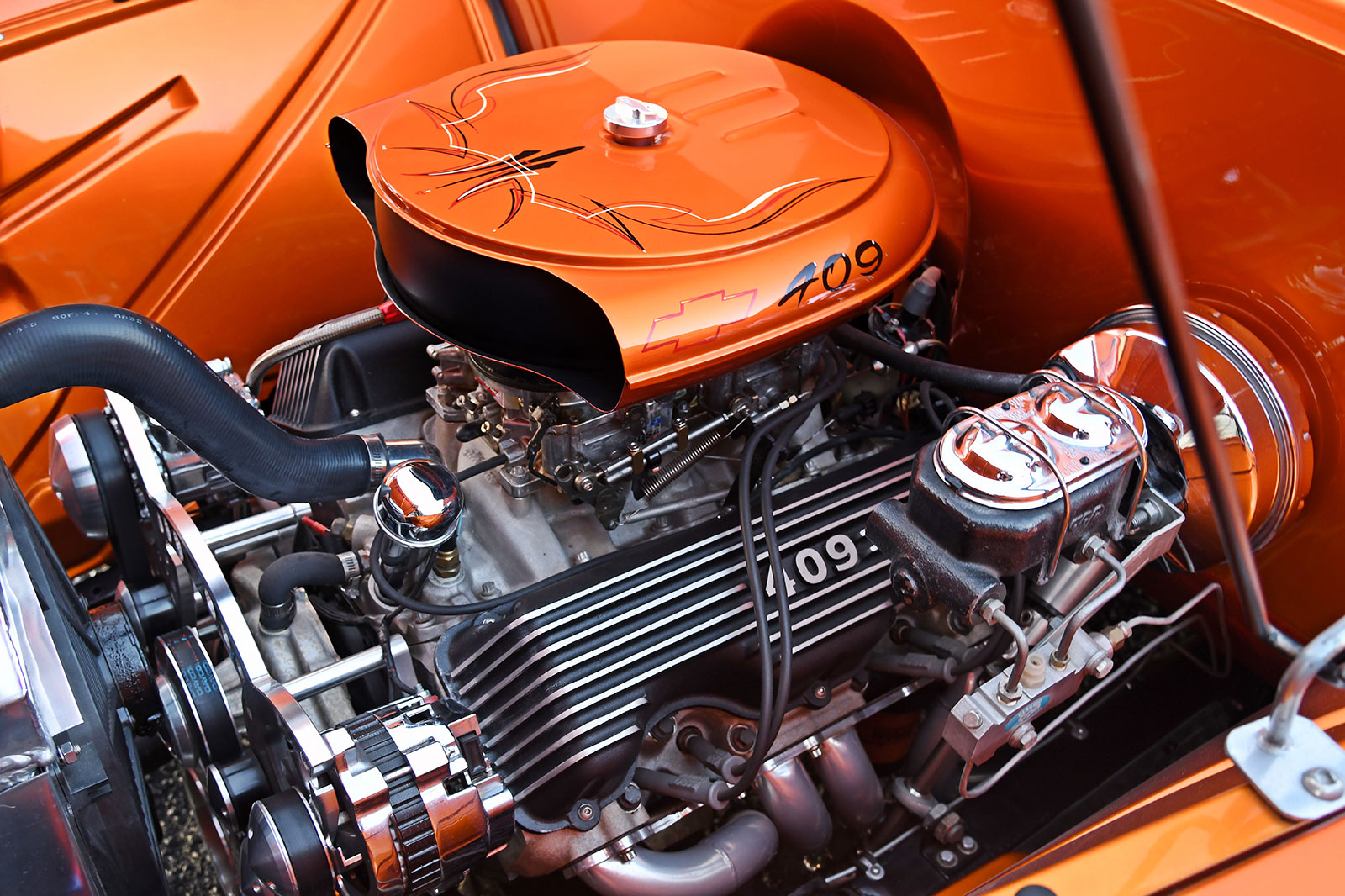 Another interesting add-on was to the cab. "It was originally a three-window. I really wanted a five-window cab, so I went about making my own. Plus, the original chop was done poorly and needed to be redone. We hit several old junkyards and grabbed up a few junk cab pieces to help with the conversion. From there I let Butch's Bodyworks in Myerstown, Pennsylvania, handle the work, widening and lengthening the replacement roof to make the doors fit correctly and adding the rear window panel to the mix. It came out perfect." From there Chris "Butch" Risser finished off the bodywork and laid down a flawless skin of R-M "Tangerine," applied over a silver base.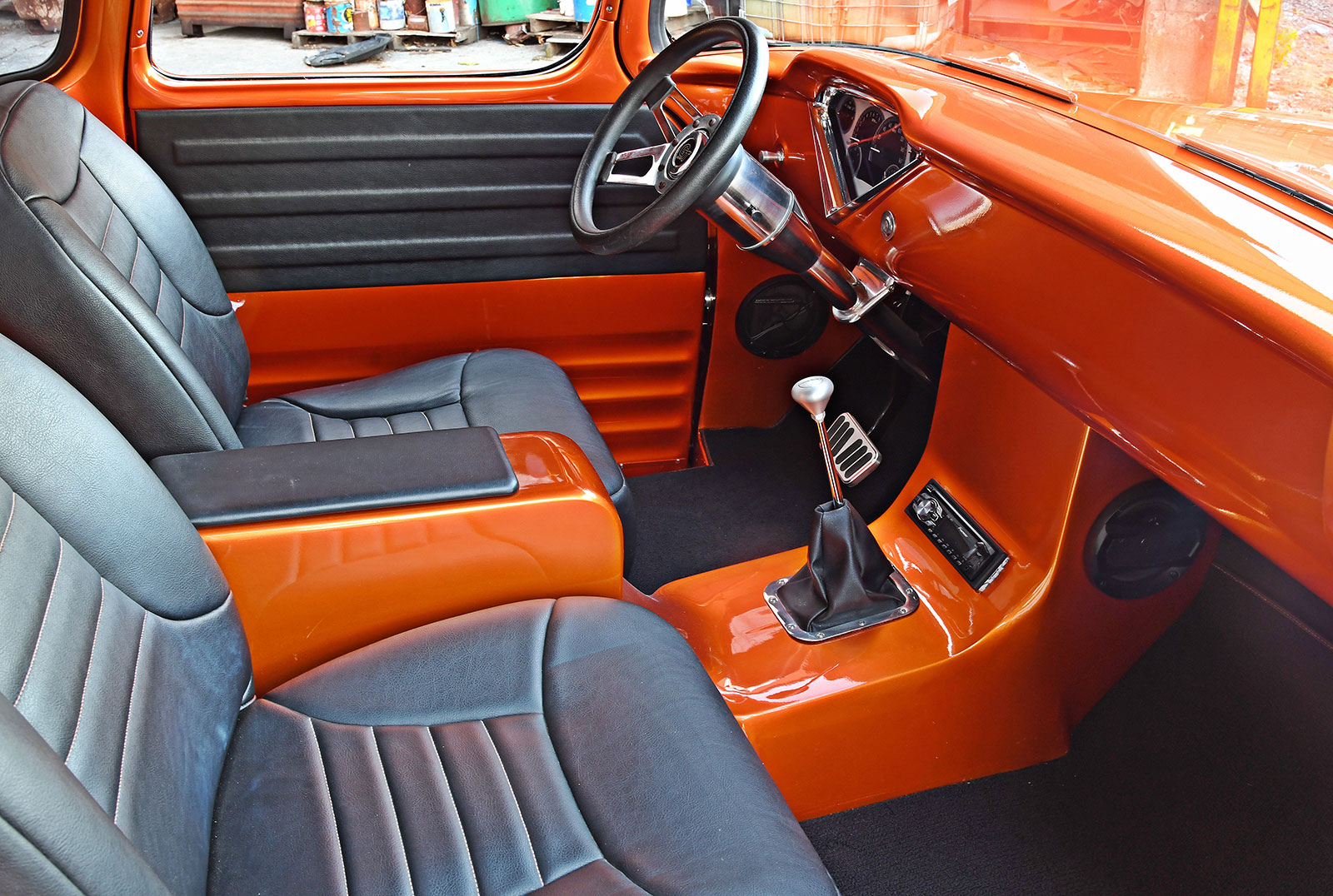 As for the chassis, Harold used the stock frame to his advantage. "I started off by blasting and powder coating the frame. From there I reused a Mustang II frontend suspension that was on the truck when I bought it with its stock shocks. Out back I installed a four-link suspension from Steve's House of Speed with QA1 coilovers to get the stance that I wanted."
Read More: Complementing Body Lines With Custom Running Boards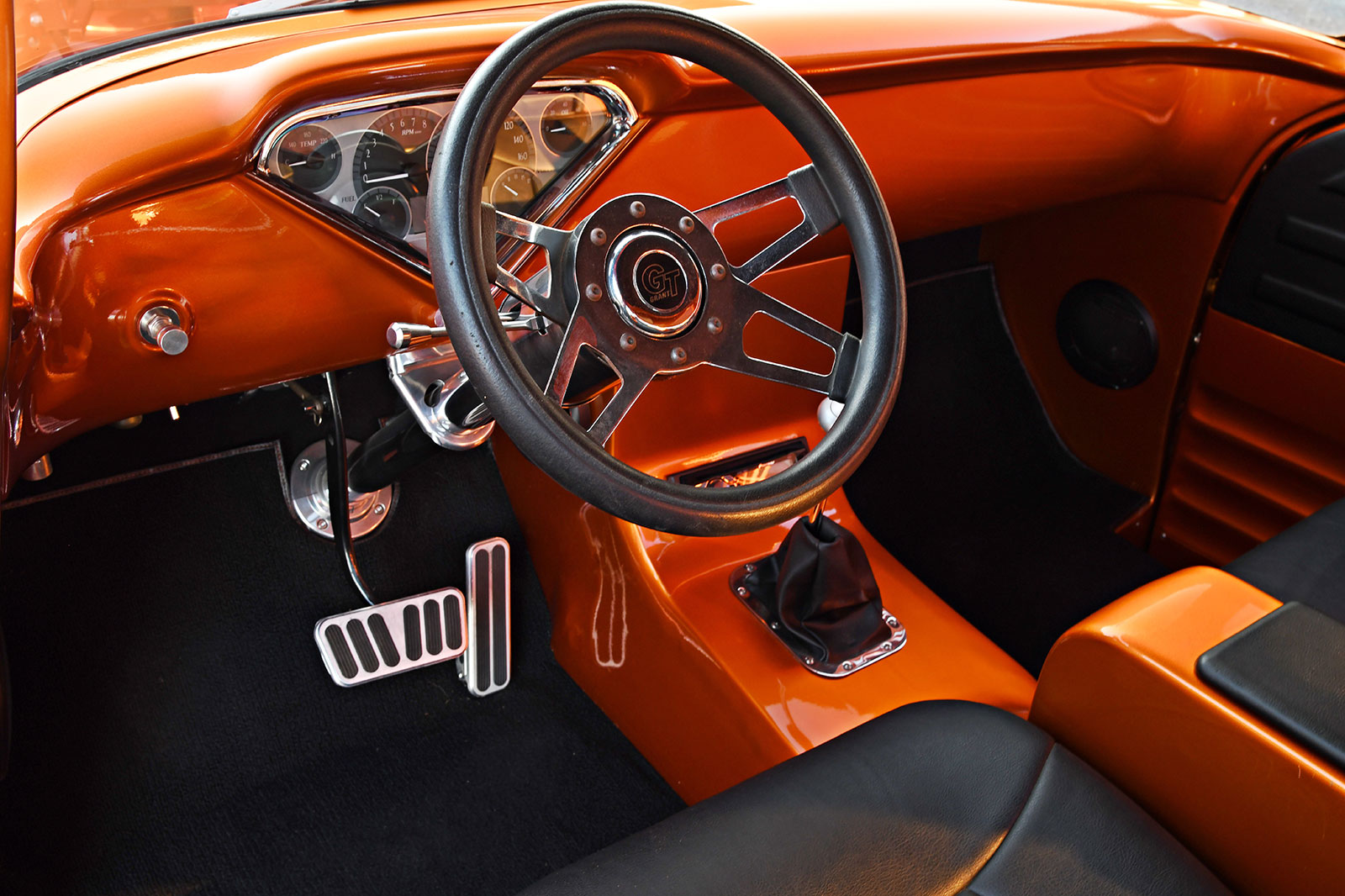 The interior received the same retina-burning hue on the sheetmetal after the dash was shaved of everything except for the gauge cluster. "From there we installed a Dakota Digital instrument panel. We also built a fiberglass custom center console that fits between the seats from the dash all the way around the seats." A Lokar shifter gets it through the gears while a Grant steering wheel, mounted on an ididit steering column, helps keep this ride pointed in the right direction. All the upholstery, including the seats, carpet, door, and roof panels were all done by Chubbs Interior out of Reading, Pennsylvania.
Once most of the aesthetics were figured out, Harold could now set his sights on the powerplant for this here ride. "I wanted something different, not the same old small-block or LS swap. So, I went big with a 409 ci engine and an overdrive transmission." The big block Chevy now sports an aluminum Edelbrock intake and heads, topped with a pair of four-barrel 500-cfm Edelbrock carburetors. All that power is shifted by a 700R4 transmission with overdrive and feeds a healthy, built Ford 9 inch rear end out back. A March serpentine system handles the chores up front.
The custom exhaust system on this Pro Street machine is truly a work of art.  "It's an all stainless steel exhaust. The headers are made with 1.75-inch tube, all bent and hand-formed by me … from scratch! The collectors are 3 inches wide, which go into an X-pipe and feed Flowmaster mufflers. From there they head out back to a drained end. They are jet coated silver for the look I wanted."
Read More: THE INAUGURAL O'REILLY AUTO PARTS GRAND NATIONAL TRUCK SHOW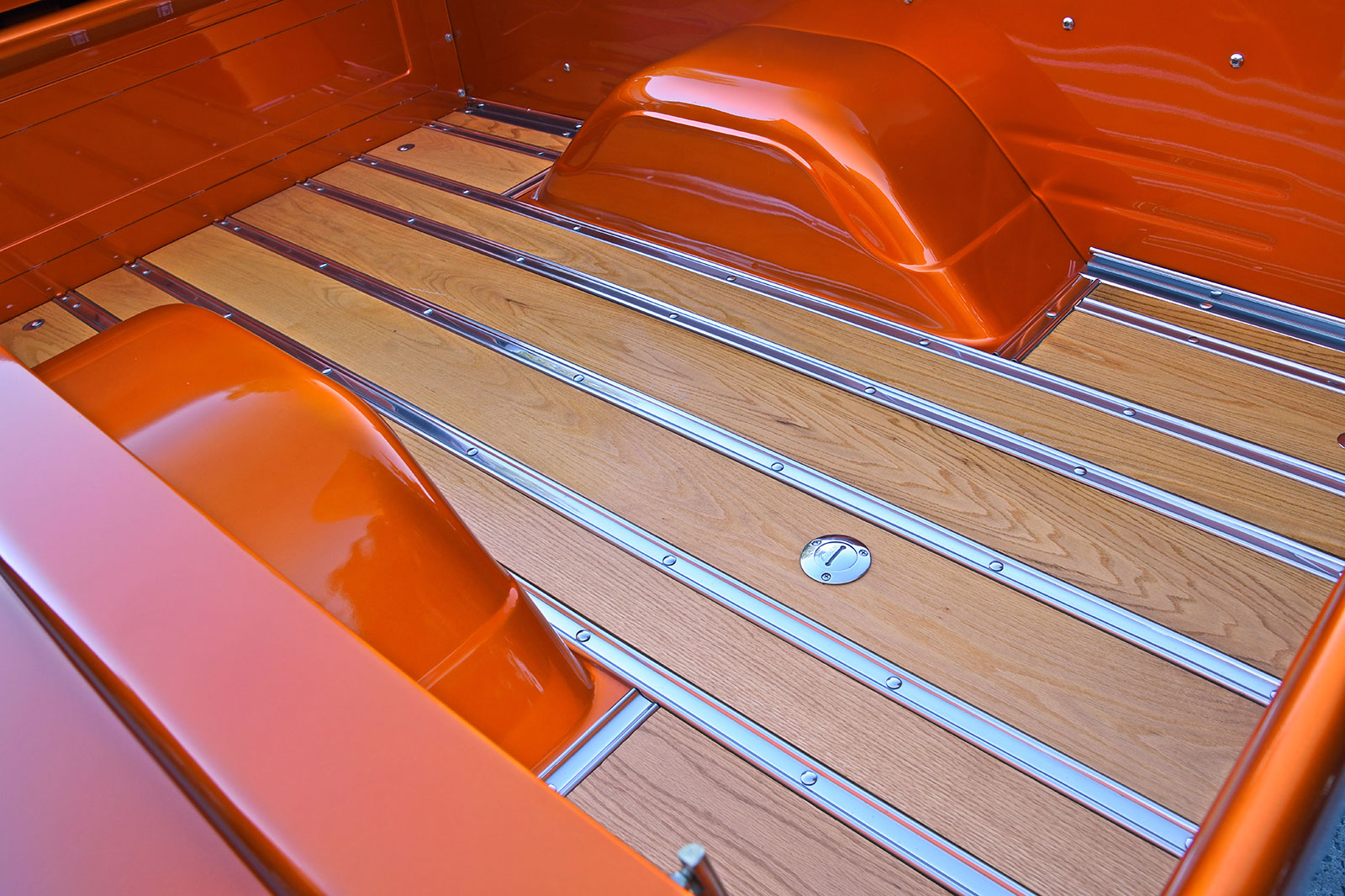 Once completed, Harold had one wild Pro Street truck on his hands. After a day or two of tuning the truck was street ready and on the road. "The truck rides a little on the rough side being lowered but it's always a lot of fun to cruise. I get a thumbs up wherever I go, and I've witnessed people nearly crashing while staring too long at my truck!"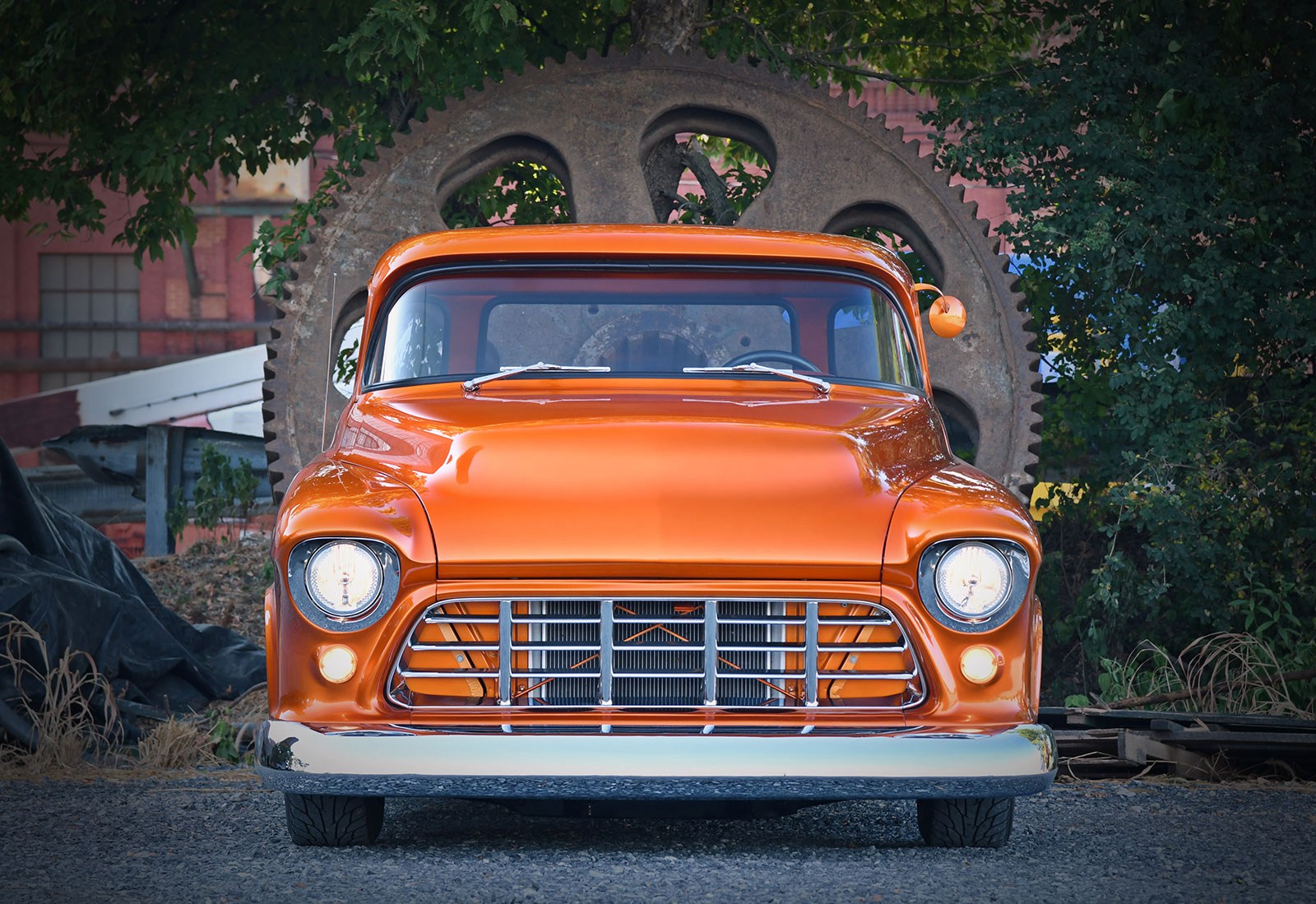 As for the build, Harold is more than happy with the way it came out and loves to chat with other motorheads about the hobby. "One of the best parts of building a new ride is the conversations you have with fellow enthusiasts about your ride and what they are building. I seem to make a new friend at each show I bring the truck to. Of course, everyone wants to know what color it is!"
Click on this issue's cover to see the enhanced digital version of Howard Light's 1956 Chevy 3100.