Mike Slayton's Three-Year Journey to Transform a 1968 Chevy Fleetside
By John Machaqueiro   –   Photography by the Author
The automotive fascination that takes place for many at an early age is usually easier to explain when you've been born into it. Parents are the first shapers and in Mike Slayton's case his immersion into the automotive world came about as a direct influence from  his father, Dale. As the owner of a speed shop, he was instrumental in setting his son on a path that would not only encompass his spare time, but also help shape a career path. Mike recalls, "I started hanging out at the shop when I was 10." Dale was hard-core when it came to the mechanical side of the business and was very savvy at squeezing horsepower from an engine. He was also an avid racer by flogging cars down the quarter-mile on Friday nights and Sprint Car on Saturdays. The other thing that he saw early on in his son was his ability to draw, so as a Christmas present he was given an airbrush. By the time he was 13 Mike was doing airbrush work on Harley-Davidson gas tanks and murals on car hoods, and at the shop Dale had him doing small things like running boards or truck caps to get a feel for laying down car paint. By the time he was 16 he had honed his skill set to the point of doing full paint on cars.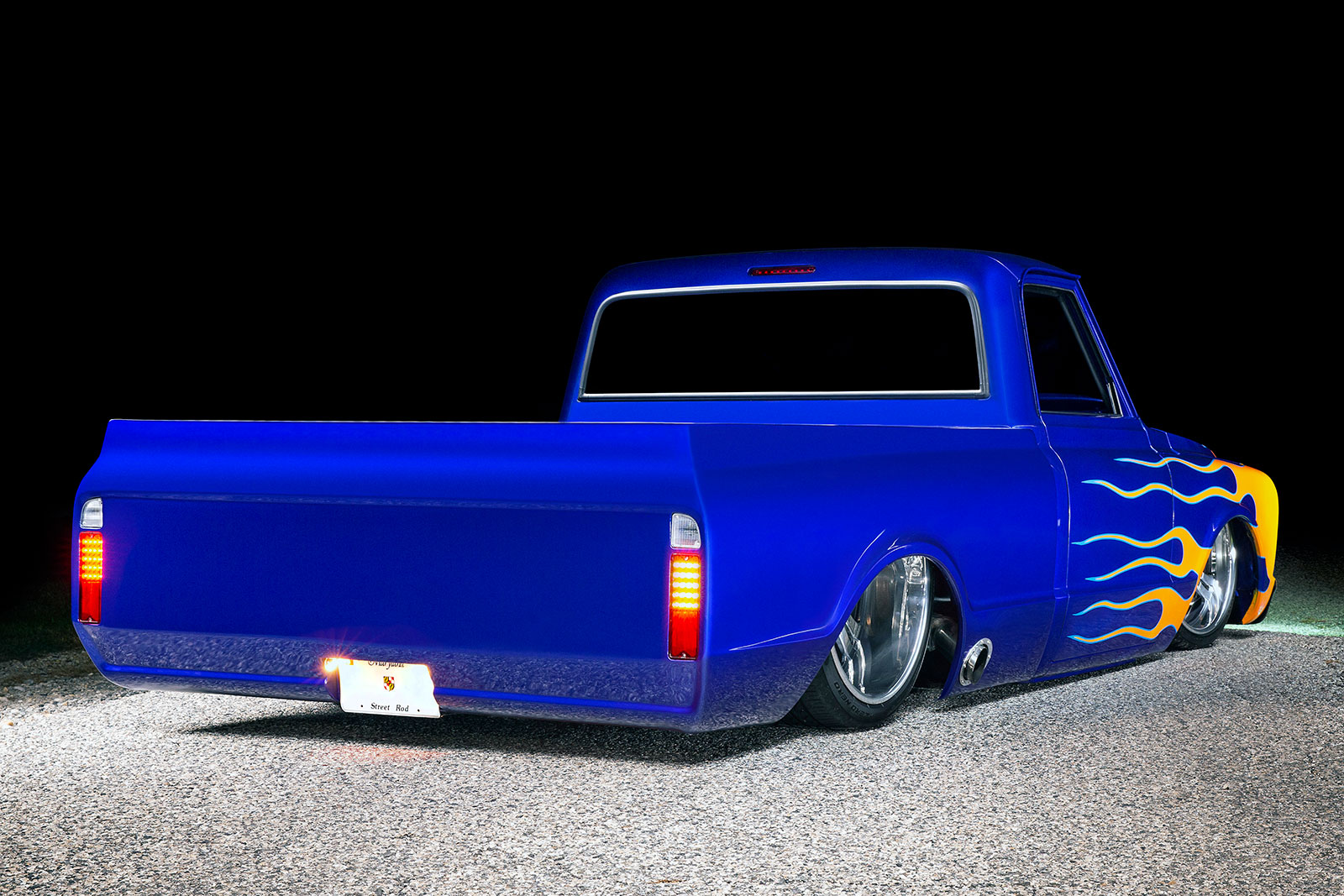 Right around the age of 13 was also when Mike purchased his first car. It was a well-worn 1978 El Camino. "That was my high school car," he explains. "I cut grass and did just about everything I could do to get the money for it. I think I paid $300 for it, but it was a non-running disaster. It had a big-block in it and I eventually painted it. I was young and couldn't afford to pay to have a lot of the work done, so I did it myself. I worked on it until I got my license; by that time it was running and driveable. Unfortunately, it didn't last that long. I used it for maybe three months and it was rear-ended by a tractor-trailer."
Read More: Ross Meyers' Cloaked LS Equipped F100 Flareside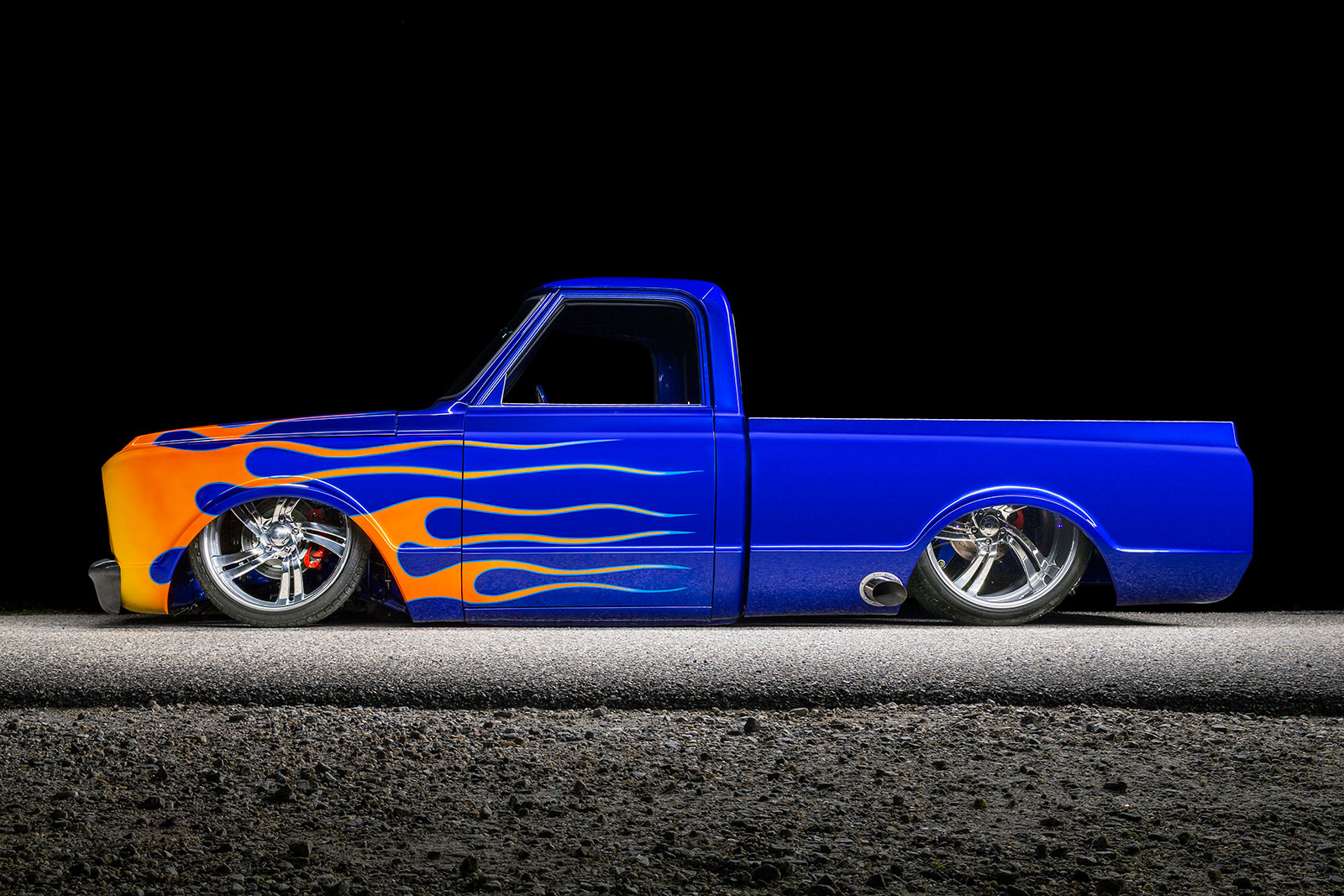 Vehicles were always coming and going at the shop and one day a totaled 1987 Nissan pickup came in that caught his eye, to the point that he bought it. "I was into mini-trucks when I was a kid because that's all I could afford. I couldn't afford street rods," he points out. That purchase set him on a path to redo that truck and he eventually built it up with a complete drivetrain from a twin-turbo Nissan 300ZX donor. That was a two-year project that culminated with features in Mini Truckin' and Tailgate magazines.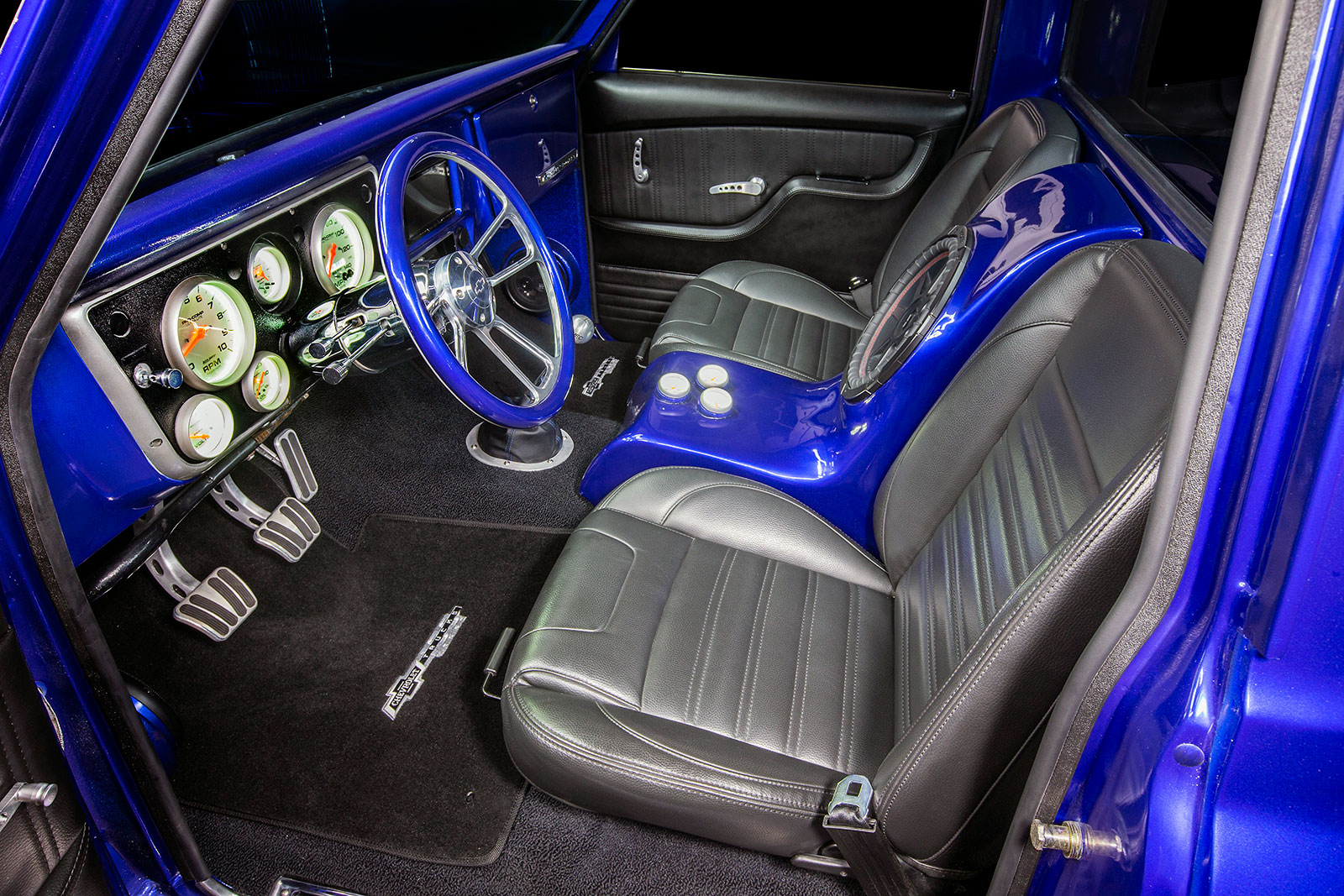 That truck was in his possession for about eight years until it was sold off in 2010 to buy a '55 Ford pickup. A 1972 Chevelle also joined the fold and both stayed with him until 2015 when they were sold off. At that point he was doing a lot of side work for other people and putting in long hours at his day job as a body and paint technician with the Maryland Transit Administration working on damaged buses. Those long hours that turned into long weeks— and months—eventually caught up with him. That fueled the desire to find a new project. By 2019 he was ready to pull the trigger on another vehicle but didn't have a clear idea on what he wanted, which led him to search for the low-hanging fruit online. Surfing on craigslist brought him to this 1968 Chevy C10.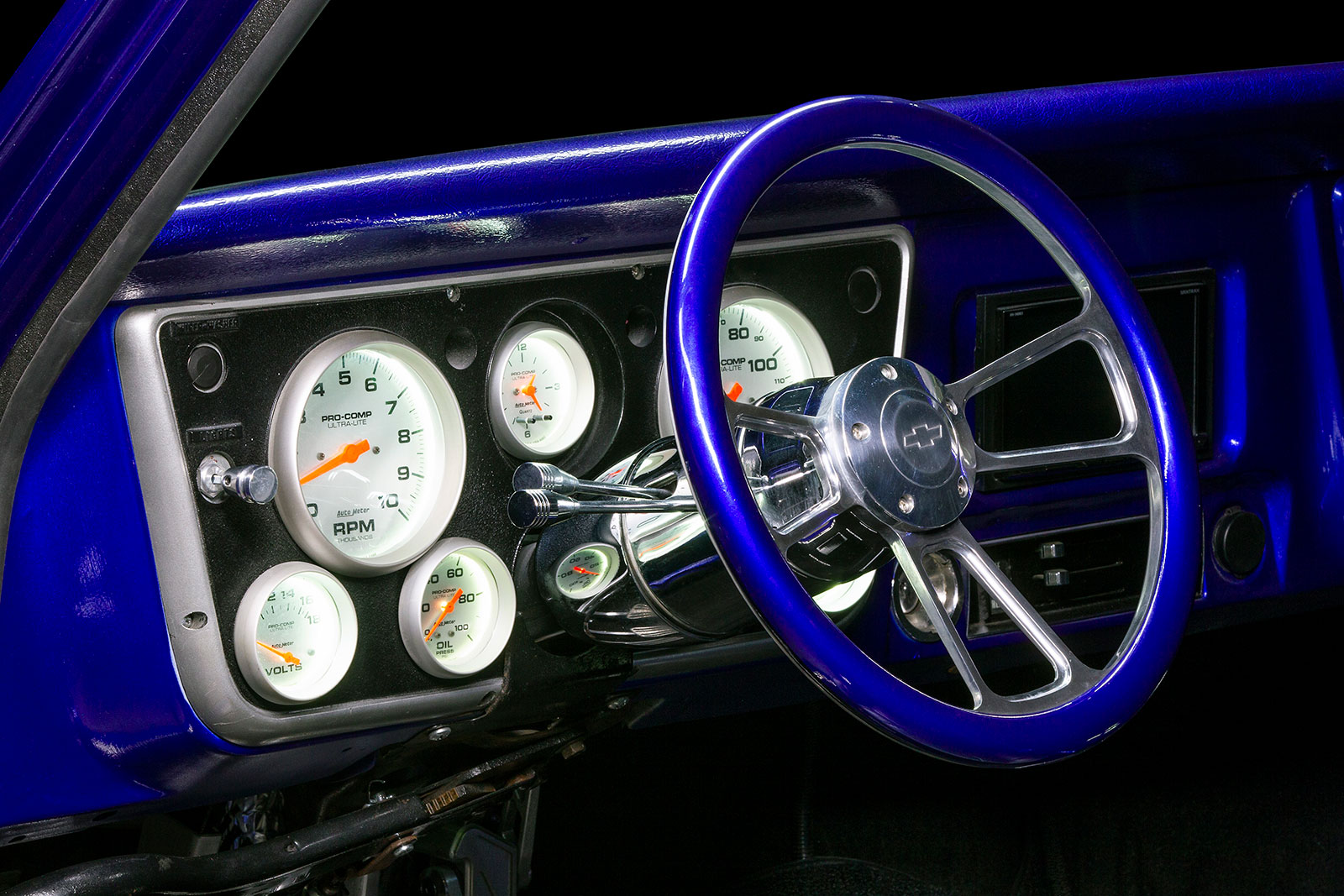 The price on this truck was too good to pass up—and as a perk it was located only a few miles from his house. After money changed hands, he found out that it had previously been used on a farm in West Virginia to haul feed. It was originally a Silver Metallic long bed with a red interior and a 307 small block Chevy underhood mated to a three-speed on the column. At some point it received a coat of white paint, which was what it was wearing when he wheeled it into his home garage. Relying on his drawing skills, he put together a rendering and a well-detailed parts list of what he was after. He notes, "I knew exactly what I wanted." Once Mike started ripping into it, he points out, "It was 10 times worse than what I thought it was, but it didn't look horrible. It had two sets of rockers welded over the rust and the dash had a lot of patching done to it. By the time I had it torn down I had already ordered a lot of parts for it so there was no turning back." When he was done, all that was left was the roof, dash, some of the firewall, and the upper half of the back of the cab, but none of that mattered because the bulk of those parts were fresh replacements from Auto Metal Direct, which included a new shortbed. That change required the frame to be modified and he explains, "I originally cut it in half to shorten it to do the bed conversion, however I wanted to make sure that it was driveable." Loosely translated, that meant a new plug-and-play chassis was the obvious choice. "I was familiar with the Porterbuilt chassis," he states. "They gave me a really decent deal on a short bed chassis where I didn't have to cut anything." What he ended up getting was their Level 3 Supreme chassis equipped with tubular upper and lower control arms, 1973 Chevy pickup spindles, and 2600 airbags up front, while at the back it was fitted with a four-link rear suspension, Watts link, and Firestone F9000 airbags. Part of that package also included a '94 Mustang rack-and-pinion and Classic Performance Products 13-inch cross-drilled and vented rotors and 52mm twin calipers at the front. At the back it came with 12-inch cross-drilled and vented rotors and Cadillac calipers.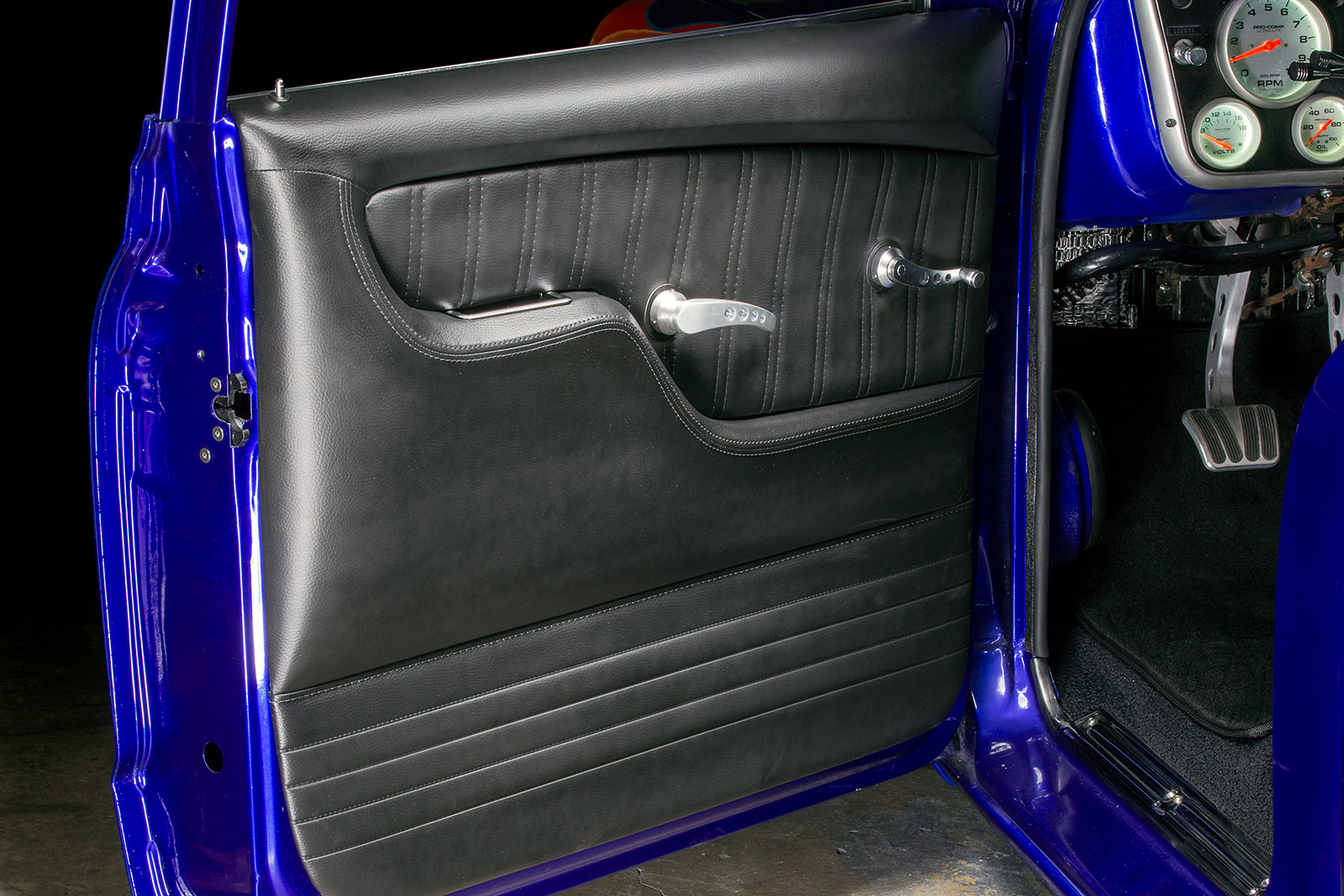 Right as that order was placed for the chassis the COVID-19 lockdowns started to increase and the difficulty in getting parts became a real thing. With no clear delivery date set, he moved onto replacing all the rusty sheetmetal and modifying the bed. He raised it 14 inches and fabricated new tubs and an access door along with a smooth tailgate and roll pan. Other modifications included the relocation of the turn signals from the front grille to the shaved front bumper and the addition of a third brake light. Just as all the bodywork was wrapping up the frame was delivered. It was at that point that the wheel and tire combo also landed. The choice that Mike made was based on a fair amount of time looking online and measuring in the garage. He opted on a set of Charger billet Raceline wheels (22×9 front, 24×15 rear) that he wrapped with Pirelli P Zero tires (245/35ZR22 front, 405/25ZR24 rear).
Read More: 1953 Chevy Truck With Family Ties
With the wheels mounted on the chassis, a test-fitment of the body was performed before the frame was sent off to be powder coated body color. While the frame was out, Mike went ahead and started laying down the paint. His choice of colors came down to Majik Blue and Brandywine Candy from the folks at House of Kolor. "I've used their paints for most of my builds," he explains. "I feel like they have the most unique colors. I was having difficulty getting enough of the Brandywine to do the job. Most of it was backordered, so I ended up laying down the blue basecoat/clearcoat on the body."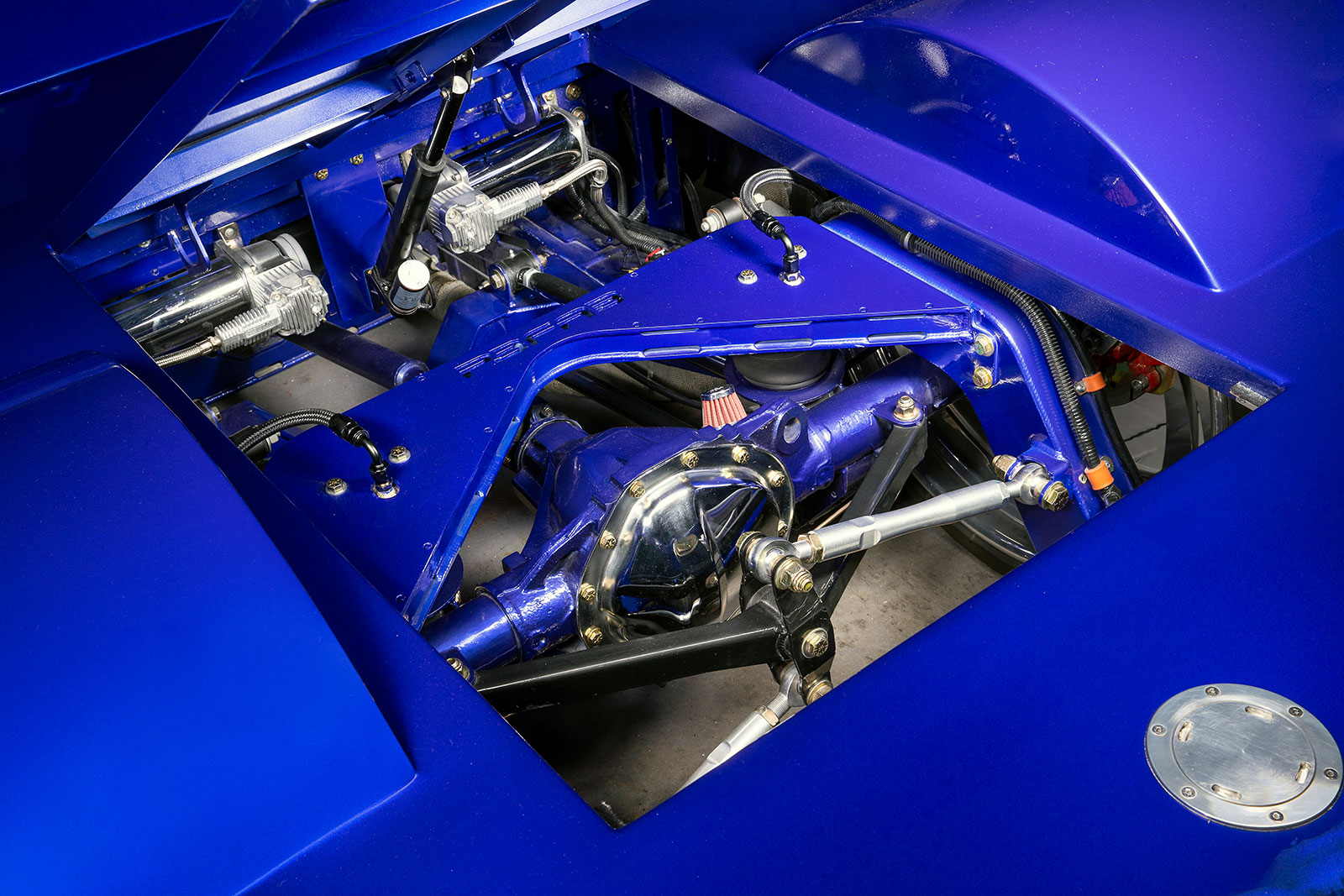 The remainder of the drivetrain was also sorted while the frame was away. Mike's comfort zone was body and paint, so when it came to dealing with the mechanical side he went looking for reputable places. For the engine he contacted Skip White Performance in Kingsport, Tennessee, for one of their 383 stroker stage 2.0 crate motors. The foundation for that package is based on a cast-iron Dart block with a Scat forged crank, Scat connecting rods, Comp Cams roller cam, and 10.5:1 Wiseco forged pistons on the bottom end. On top it wears Enforcer AFR cylinder heads, EPS 2701 Edelbrock Performer intake manifold, Street Fire HEI MSD distributor, and a 750-cfm Holley carburetor. Backing that up is a TREMEC TKO Transmission sourced from Silver Sport Transmissions. It is equipped with their SST Advanced Friction clutch, and a billet RAM True Balance flywheel. Running toward the back is a two-piece custom driveshaft from A-1 Drive Shaft Company in Baltimore, Maryland, which is mated to the original GM 12 bolt rear end that Mike had narrowed 14 inches and then fitted with 3.73:1 gears and shortened Strange Engineering axles. The exhaust system consists of ceramic-coated Hedman headers mated to 3-inch stainless exhaust pipes with cutouts and Borla ProXS mufflers.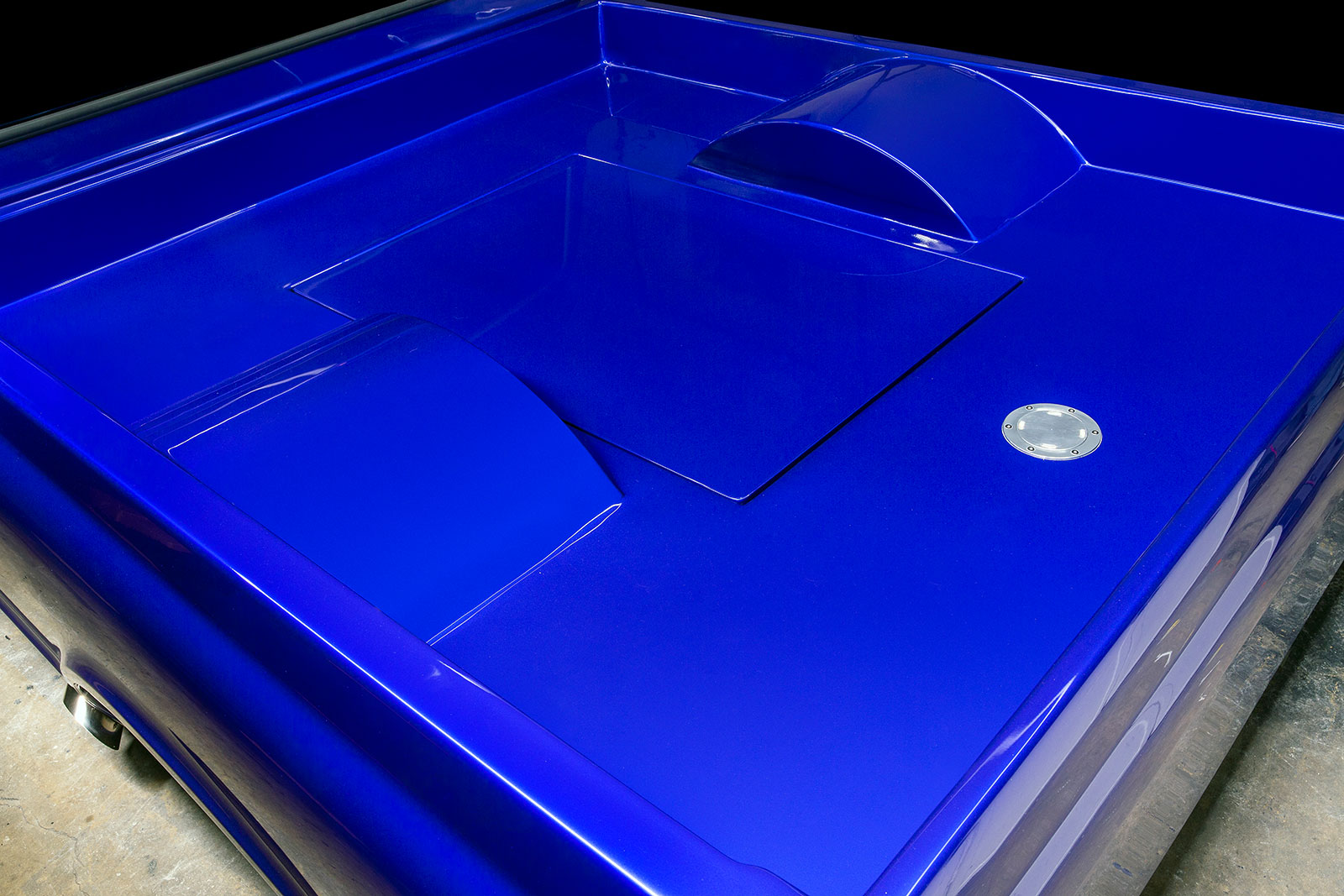 Once the chassis was dropped off from the powdercoaters it was set up in the garage. First on the install list was a 4-gallon tank for the air suspension along with Ridetech fast valves and two ViAir 444C chrome air compressors. After those were installed, the rest of the suspension and wheels were mounted. With the remainder of the components on hand, Mike spent 17 months assembling the truck. The last hurdle he faced as everything came together was installing a new interior. From TMI Products he sourced a set of bucket seats and door panels. Tucked between those seats is a custom-made center console to house a 12-inch Kicker subwoofer and Auto Meter Pro-Comp Ultra Lite gauges, which were also included as part of the dash cluster. Also added was an tilt ididit steering column, Lokar billet shifter, billet Forever Sharp steering wheel, and a Kenwood 10.1-inch head unit with a full complement of Kicker speakers.
Read More: 2023 World's Most Beautiful Truck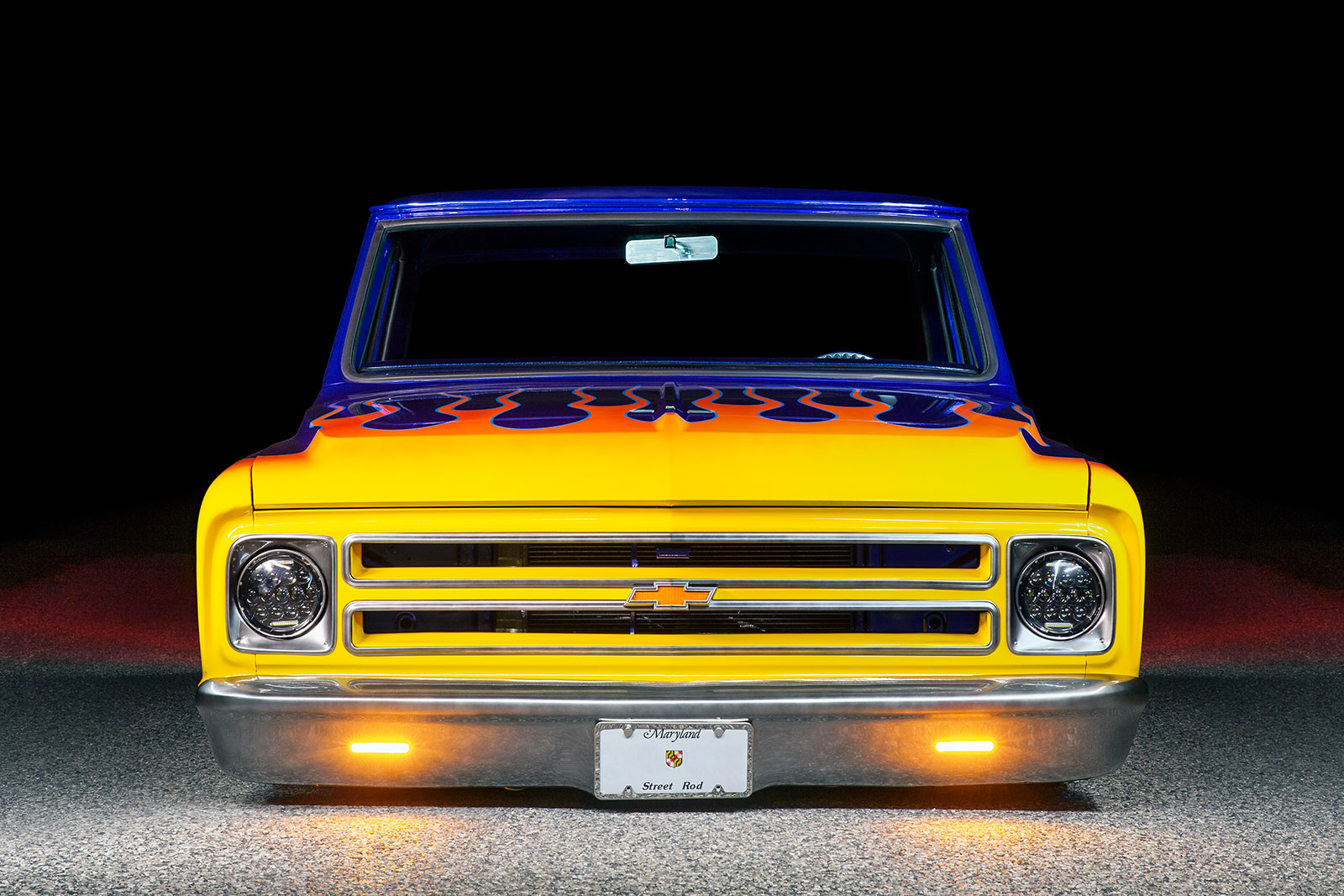 The truck came together like a jigsaw puzzle and Mike thought it was done at that point. Overall he was quite satisfied with the end result, however, a reevaluation of what he had accomplished left him wanting more. While the truck was decked out in blue and looked the part, he explains, "It was one color and it just didn't feel right. I am a custom painter and I didn't have custom paint and I've never owned anything with just one color." He further adds, "I had several ideas to remedy the situation, so when I was ready to add some more paint, I taped off a few two-tone options; nothing really stood out, so I went for flames." Going back into the House of Kolor portfolio, he laid down some flames with their Molly Orange and Chrome Yellow paint and some So-Blue pinstriping.
This was a three-year journey for Mike of late evenings and long weekends spent in the garage. The payoff has all been very positive. He states, "So far its first year out has been really great and it has done really well at every show we have taken it to. One of my other goals was to see if I still had what it took to build something that was magazine worthy. I feel great that goal has been accomplished." He does acknowledge that none of this would have been possible without the help—and patience—of his wife, Kelly, who has been a supportive accomplice all along.
Click on this issue's cover to see the enhanced digital version of Home Built C10 Hot Rod.