By Scotty Lachenauer – Photography by the Author
For lifelong truck lover Tom Patterson, childhood dreams of owning his own hot rod quickly came together when he was lucky enough to meet up with Mike and Brad Swaney of Hayman Creations in Uniontown, Pennsylvania. The result of their partnership was a sleek 1929 Model A Tudor that was everything Tom desired in his own custom hot rod. Down the road, these three town natives would once again join forces and devise a plan to construct the hot rod pickup that Tom had craved since he was knee-high to a chrome bumper. Tom's own 1959 Chevy Apache Pickup.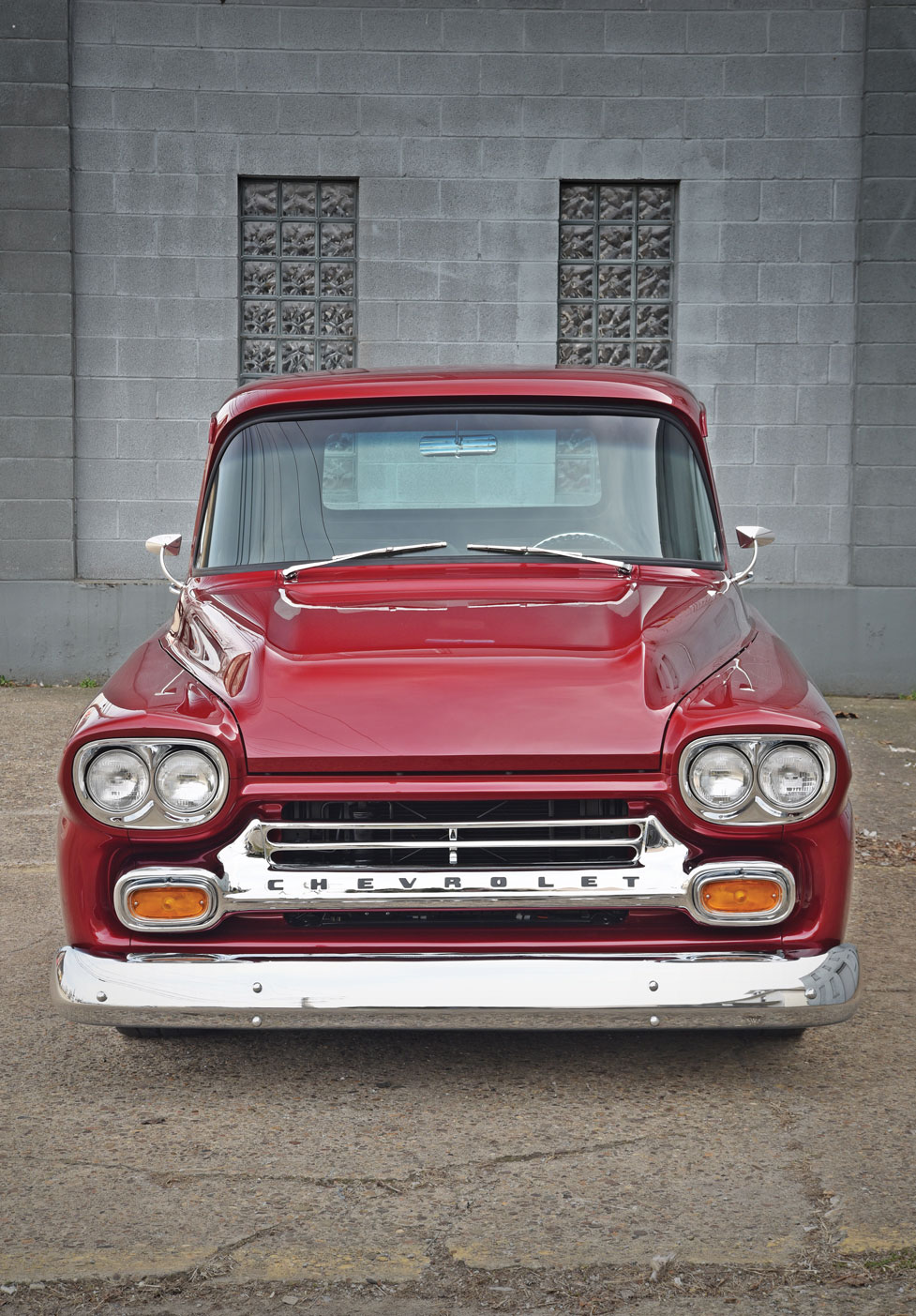 The 1959 Chevy Apache Pickup
This truck tale goes way back to Tom's early years growing up in the countryside surrounding the bustling municipality of Uniontown. "My grandfather owned a 1959 Chevy truck that I took a lot of rides in sitting alongside him. I always remember those days with a smile on my face, as they were always the best of times. That certain year Chevy would always bring back great memories for me whenever I saw one," Tom says.
Since then, Tom has made a career in the construction field, which led him into owning and operating his fair share of work trucks. His love of pickups started with his first ride, a 1970 Ford F-250 4×4 that he used as a daily driver. More pickups followed over the years, as they served as not only as work trucks but also as a key part of the day-to-day family chores.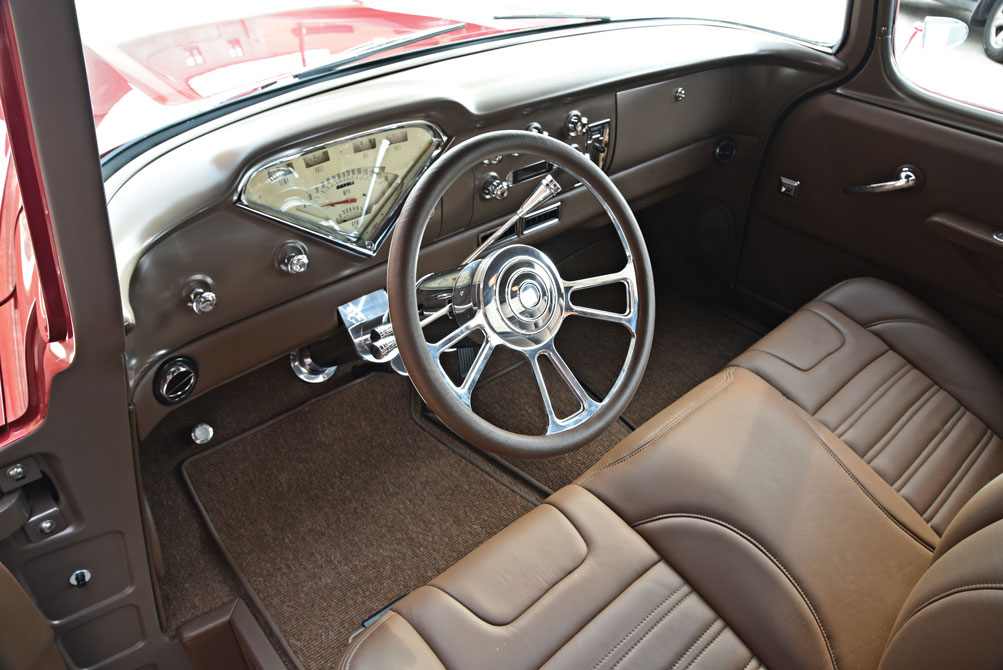 Makin' the Grade
Before Tom decided he needed a pro-touring pickup in his life there was that particular Model A. "A few years back I picked up a 1929 Ford Tudor as a project truck. It was a rust bucket with a bunch of parts along with it. What I really wanted was to turn the car into a period hot rod with some modern amenities in it, so I started looking for someone to help me out," Tom says. After searching, he came upon a garage that sent him in the right direction. "I approached the proprietor with a list of things I wanted to do to the Model A. He looked at me and told me straight out that it was more work than he could possibly handle. Luckily, he knew of a garage that could do it for me, and that shop was Hayman Creations, owned by Mike and Brad Swaney, right here in Uniontown," Tom says.
Check Out: A Simple & Clean 1959 F-100, The "Gold Digger"
Turns out Tom and the Swaneys were family acquaintances, as Tom knew Mike's dad from working in the area over the years. "As soon as I met them and saw their incredible work, I knew these were the guys I wanted to work on my new hot rod," Tom states. From that meeting the guys hatched a plan. Tom handed them a short list of things he wanted in his pickup and the Swaneys rolled up their sleeves and got right to work.
When Tom got his Model A back he couldn't believe the Tudor's major makeover. "They did everything they said they would do and more. It was perfection in my eyes. I could not be happier with the look and ride of the Model A. It was an amazing transformation," he states. From there on the trio of car enthusiasts became fast friends. It didn't take long for Tom to set out on the road, bringing the Tudor to shows all over the Mid-Atlantic states where the hot rod received the bed full of accolades that it so greatly deserved.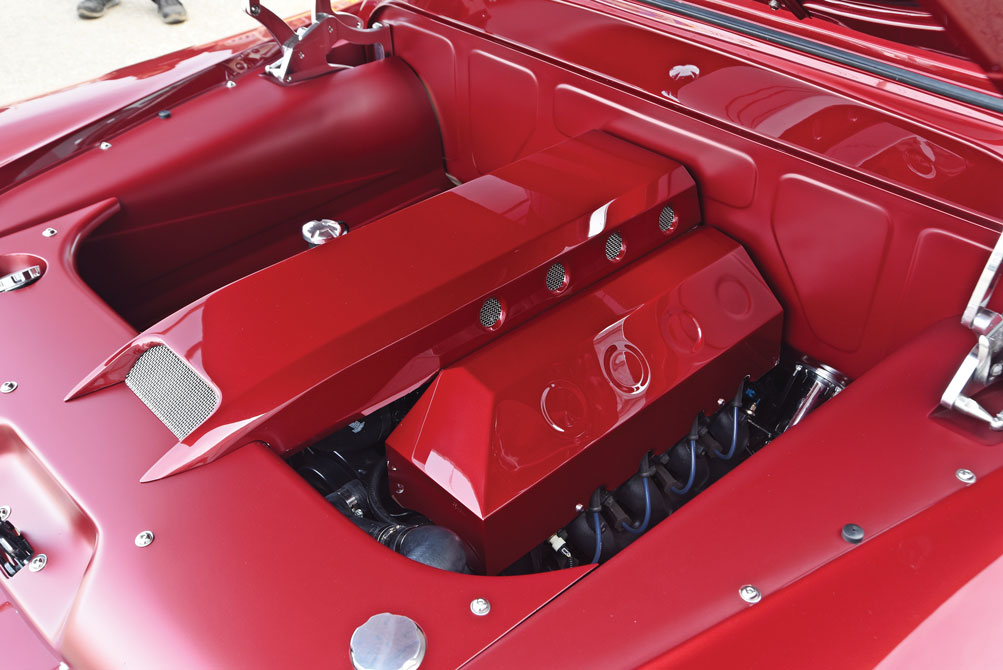 Teacher's Pet
At a certain show in Maryland Tom's eyes started to wander. "I was walking around the show when I came to the car corral. There sitting in front of me was an Apache pickup. Not just any Chevy truck but a 1959. It made my senses tingle and I immediately started reminiscing about the days driving in my grandfather's Chevy. It really pulled on my heart strings," Tom says. Without much of a second thought (or a second look) he approached the owner and made an offer on the pickup. "It happened real fast. I didn't notice half of the issues with the truck. I just knew I needed it in my life," he says. A deal was struck and the needy 1959 Chevy truck was his.
Now the big question: How was Tom getting it home? So, he made an executive decision on the spot. "I called Mike and Brad and asked them if they could come down and pick it up. Since I knew they would be the ones working on it, they might as well just bring it back to their shop and take a good look at her," Tom says. And that they did, and boy were they surprised. "The truck was in pretty bad shape. The doors were zip screwed shut and the cab and bed were pretty much rotted out. But at least it was a start," Brad says.
Class Act
Once the truck was dismantled, a game plan was devised. With 100 percent confidence in the duo's skills and judgment, Tom once again gave them a short list of things he wanted in his hot rod. The rest was up to them. "I just said go wild. I gave them full carte blanche on building the Apache into the pickup I always wanted," Tom states.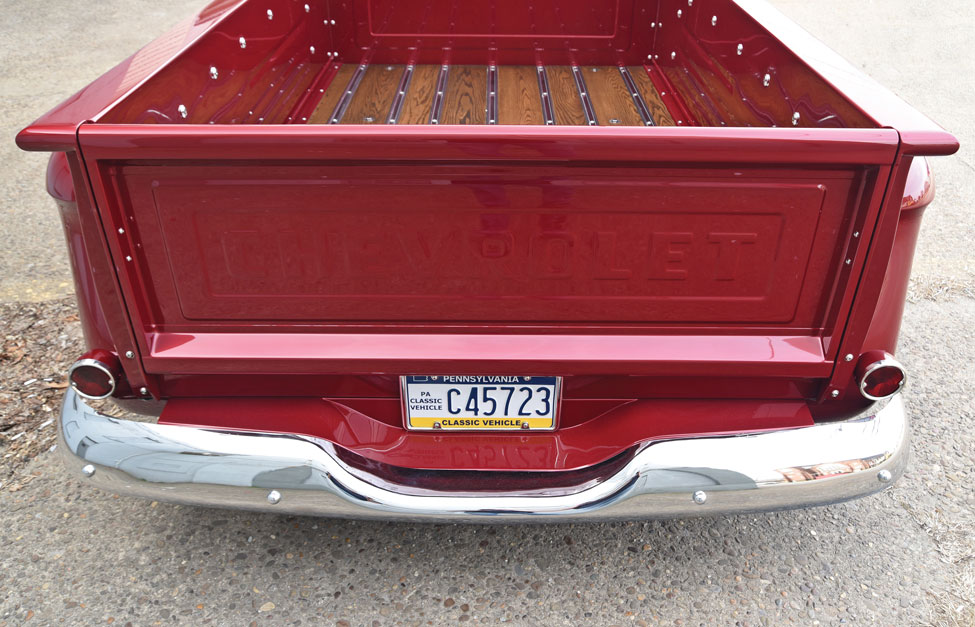 Check Out: Radio Restoration For 1964-1966 Chevy Trucks
So Mike and Brad got right to work designing the truck that would bring it all home for Tom. The first major purchase for the Apache was an LS3 swap consisting of engine, trans, and computer out of a 2010 Chevy Camaro. It was a great start to the build and immediately solved the question of what was going to propel this pickup in the future.
The powerplant was set aside for the meantime, as the boys next set their sights on building the bones of this truck. After some searching, the Swaneys settled on a TCI chassis, deciding that this was the best option to build the truck into a ride that could be driven daily, if needed, and handle like a modern car.
Once the chassis arrived things moved at a faster pace. The unit was built up nicely, with a four-link suspension in the rear, RideTech coilovers, and a Currie 9-inch rear stuffed with 3.55 gears. A quartet of stock-styled GM 12-inch disc brakes with Classic Performance Products large calipers would handle the stopping duties. They are pushed by a complete underfloor power brake kit along with a pedal booster to help keep the engine bay as spartan as possible. Also included in the TCI package was a set of tubular control arms, rack-and-pinion steering, front sway bar, and rear splined sway bar. At the corners, a set of Billet Specialties Speedway wheels, 18×8 fronts and 20×8.5 rears, add some flavor to the setup. They are shod in BFGoodrich G-Force Comp 2 rubber, 235/45R18 and 245/40R20, respectively.
The body of this Apache had seen better days and the Swaneys knew that there would be a need for some new sheetmetal and some extensive massaging on the outer skin just to get this Chevy into shape for paint. "The truck was rough. We only used the back of the cab, half of the floor, and the hood from the original truck. We picked up all-new sheetmetal from Lutty's Chevy Warehouse in Cheswick, Pennsylvania. We replaced the roofskin, inner roof panel, cab corners, the steps in the cab and the outer cowl pieces, along with buying a brand-new bed, doors, and fresh new fenders for the truck," Brad says.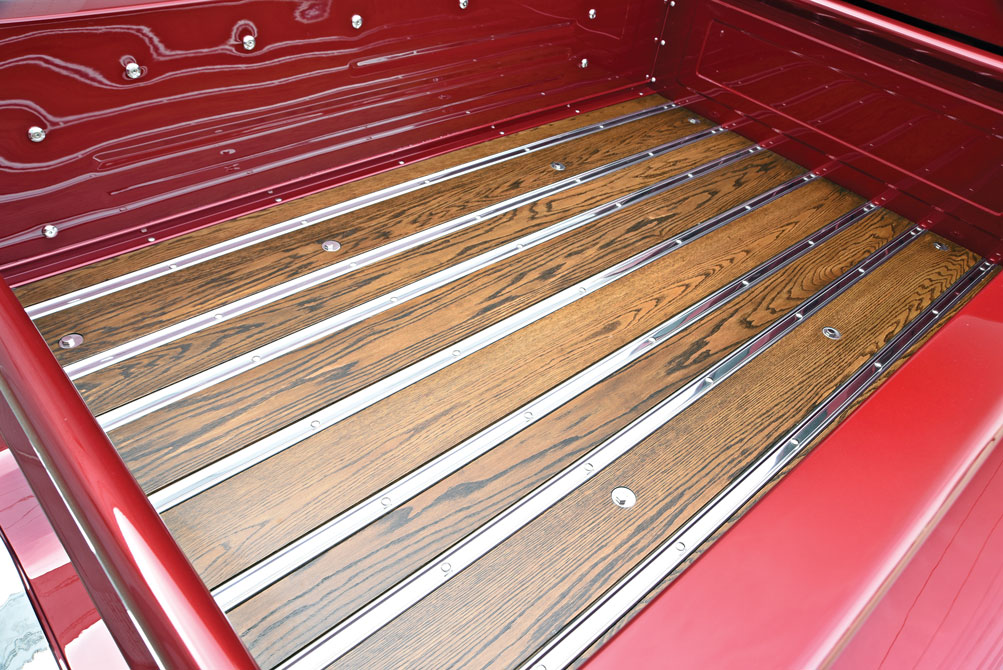 Check Out: Father-and-Son Built Big-Block Chevy C10 The Upper Crust
It didn't stop there. There are custom touches all over the truck, especially in the body panels. "We boxed the bottom of the bedrails, made a custom tailgate and bed rail corners, and boxed the bottom end of the bedside to line up with the tailgate. We also lowered the front sidestep on the bed to match up with the bottom of the cab. Next, we extended the front of the lower stake pocket and built a filler piece between the back of the bed and bumper. Last, but not least, we custom-fabricated the inner fenders, firewall, and the trans tunnel," Brad states.
Once the body came together, Mike basted the body in Axalta Matador Red. It was finished off interestingly enough in a blend of gloss and satin clear. As far as the interior goes, it was new ground for the dynamic duo. "We built all the interior panels and covered everything ourselves except the seat. It is all wrapped in Relicate Kalamata leather. It has a Vintage Air HVAC system, power windows, and is stuffed with a Classic Instruments TFO1 Tach Force instrument package in the dash," Brad says. To finish off the cockpit, a Billet Specialties wheel was mounted on a chrome column shift Flaming River steering column.
When it comes to the motor-vation, the aforementioned LS3 was kept in play. So was the GM six speed automatic that came with the purchase. The engine was kept in stock form as it ran well and had ample power to boot. However, some changes were made to the aesthetics of the Chevy powerhouse. "LS engines are rather ugly in stock form, so we built the engine cover from scratch to add some style underhood. We also built the center bracing to go along with the engine cover and added new inner fenders along with a radiator core cover to bring it all together," Brad says.
Report Card
Once the truck was completed the guys didn't waste any time getting it out on the show circuit to see if their vision locked in with both the spectators and judges. "We first had the truck at World of Wheels in Pittsburgh in 2020 and it won outstanding hand-built full-radical truck. Since then we have driven it quite often and of course Tom has had more than his fair share amount of fun with it. Tom says he's never had something that has that much power and drives so smooth," Brad says.
Well, why not hear it from the owner himself? Tom has some of his own opinions of the truck and the two guys he trusted to bring his truckin' fantasy to life. "I knew these guys were capable of building the truck the way I wanted it. I basically gave them a few ideas that I wanted to incorporate in the truck and an open credit line to purchase the things we needed. They did the rest. From paint, wheels, interior, and custom mods, they made decisions and did an amazing job … and not only do I have an amazing truck worthy of winning at any given show, I also have made two great friends in my life … well make that three (along with Mike's wife, Chris). They are such straight shooters. I could not imagine meeting a family of nicer people. Myself, and Lou Ann, my wife, will continue to enjoy this beautiful piece of automotive artistry for the years to come."