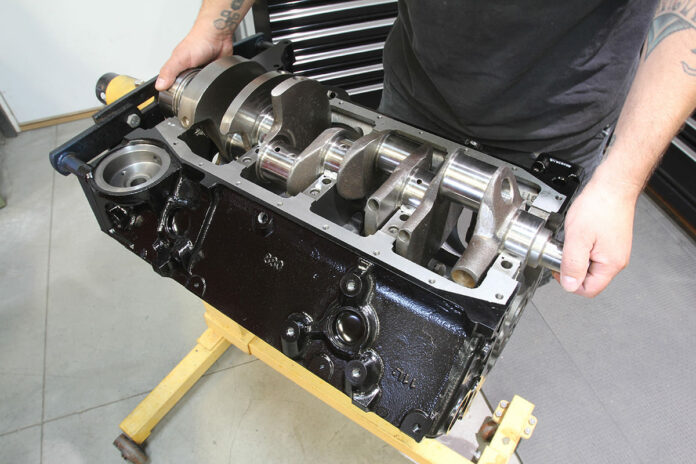 A Good Engine Build Starts at the Bottom
By Ryan Manson – Photography by the Author
With the propagation of crate engines over the last 30 or so years, it's hard to believe that anyone would bother building a mild street engine from the ground up. Yet here we are, doing exactly that. Why, you may ask? Simply put, we find it to be both rewarding and challenging—two traits not typically associated with a crate engine build (unless you count the unboxing portion!). For those of us wealthy in the time department, taking a couple days (OK, weeks) to build an engine might make sense. Those of us with only a couple hours a week to spare on our project might look at the crate option with a little more regard. Either way, there is no wrong or right, just what works for you.
Something that has gained in popularity thanks to suppliers like Summit Racing stocking a myriad of options is to build an engine from the ground up using an aftermarket block, machined and ready to go. We've done a couple builds in the past based around these blocks with great results. Machined to a finished bore, these blocks can be mated with turnkey components without any further machine work.
During a recent conversation with our buddy Zane Cullen at Cotati Speed Shop, the discussion turned to the built-not-bought crate engine topic. We both agreed that in a shop setting, it makes perfect sense to drop a crate engine in a project vehicle when time and labor is such a precious commodity. But given the opportunity, it would be fun to build an engine from the ground up, selecting the components and fitting things together. It was decided to shift gears on one of his current projects, setting aside the GM 350/350 crate engine he'd procured, instead having us build a stroked 350 based on a Chevrolet Performance bare engine block and components from Summit Racing, with the purpose being a budget-friendly, naturally aspirated, mild street engine, in the 400hp neighborhood, similar to that 350/350 combo that Cullen had his eye on originally.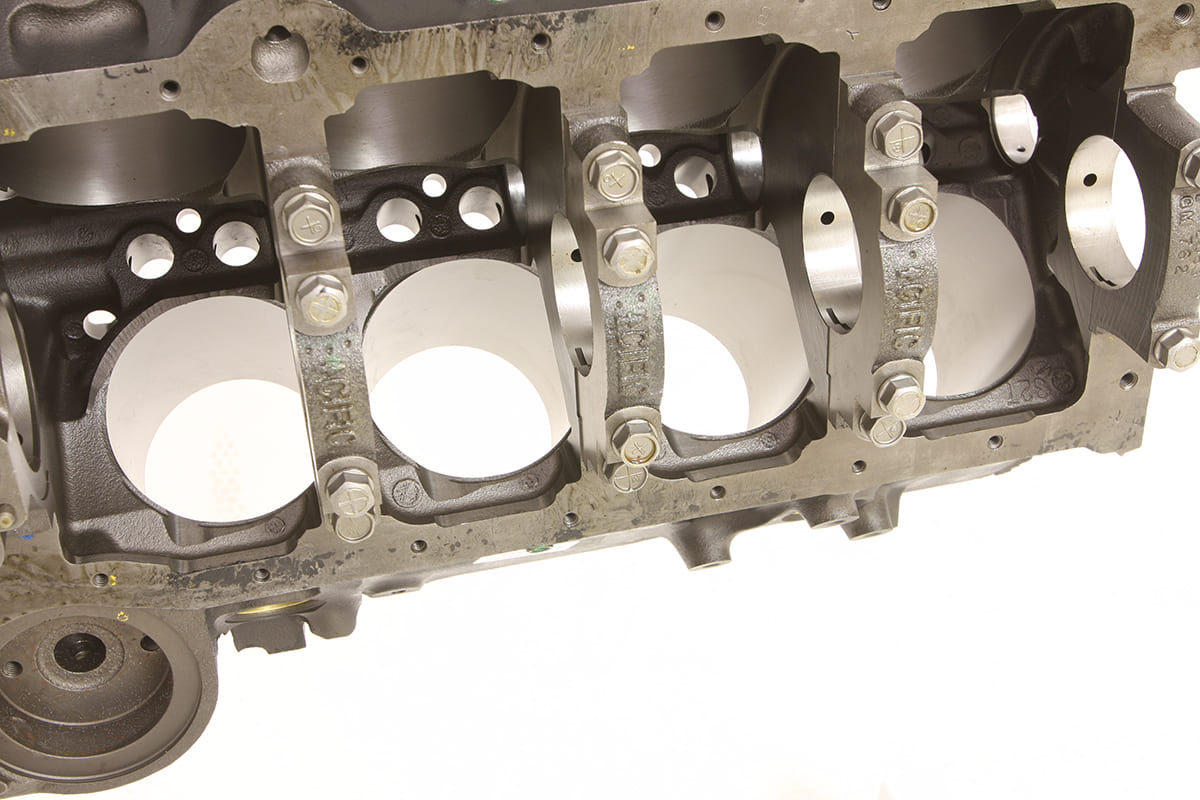 Based around the later 1986-plus architecture, these blocks come equipped with a one-piece rear main seal and provisions for a modern, hydraulic roller camshaft setup. Shipped with a 4-inch finished bore, line-honed mains, and installed cam bearings, these blocks come ready to be filled with your choice of internal components, from mild to wild. To complement the GM block, we'll be using a Summit Racing cast steel crankshaft with Eagle I-beam rods and Speed Pro Hypereutectic pistons along with a set of Summit's Vortec heads and a Summit hydraulic roller cam kit.
This month, we're going to cover prepping the block along with the installation of a Summit cast steel crankshaft, setting the foundation for the rest of the engine build. With a drawer full of hand tools, a handful of measuring tools, and a measure of patience and attention to detail, we'll prove that anyone can build an engine that will be reliable and powerful to boot! ACP
Sources:
Automotive Racing Products (ARP)
(800) 826-3045
arp-bolts.com
Clampdown Competition
clampdowncomp.com
Cotati Speed Shop
(707) 586-8696
cotatispeedshop.com
Summit Racing
(800) 230-3030
summitracing.com
Before we install a single component, there are a handful of measurements that need to be made to double-check the compatibility between all the components we've selected. Before that happens, however, we need to prep the block, and that means a thorough cleaning using dish soap and water to remove any leftover machining or shipping oils from every square inch of the block.