Dakota Digital Magnum Shooters/W.I.D.E. Contacts
Dakota Digital has been a distributor of W.I.D.E. door contacts since its inception in 1995 using the trade name Magnum Shooters, but has since purchased the product line completely.
The W.I.D.E. Contact models are offered in a range of a number of contacts, both with and without pin switches for dome light activation. Dakota Digital was built around the idea of adding modern and convenient features to a custom vehicle.
For more info, check out Dakota Digital by calling (800) 852-3228, or visit dakotadigital.com.
Read More: How To Build An LS Engine: Short Block Assembly
ECI Hot Rod Brakes' 4 in 1 tubing bender
Engineered Components (ECI) offers versatile tubing benders with their 4 in 1 tubing bender, capable of bending 3/16-, ¼-, 5/16-, and 3/8-inch tubing up to 180 degrees at a 1-inch centerline radius. The 2 in 1 tubing bender handles 3/16- and ¼-inch tubing and bends 180 degrees at a 5/8-inch centerline radius. Both units can make "zero lead or off nut" bends. This feature allows you to start bends directly off the tube nut. Offered with an optional three-dimensional back gauge system that allows the user duplicate existing bends, fabricate repetitive production bends, or just aid in holding and positioning for unmatched accuracy. Vise mounted for ease of operation and features a 180-degree scale with indicator for one stoke operation.
For more info, check out Engineered Components by calling (860) 872-7046 or visit ecihotrodbrakes.com.
Speedway Motors' Disc Brake Conversion Kit For '50s Fords
Speedway Motors offers these two 11-inch disc brake kits to improve stopping for '49-53 Fords and Mercurys (PN 91032003) as well as '54-56 Fords (PN 91032000). These kits will greatly improve stopping power as well as work with your 15-inch wheels.
Both kits feature 11-inch cast-iron rotors, loaded metric calipers, slide bolts, brake hoses, crush washers, dust caps, and all seals, bearings, and hardware. Complete instructions are also available. The '54-56 kit will also fit the '54 Ford Crestline; '54-56 Customline and Mainline; '55-56 Fairlane, Victoria, and Crown Victoria; and '55-57 Thunderbird.
For more info, check out Speedway Motors by calling (800) 979-0122 or visit speedwaymotors.com.
Read More: How To Install Variable Angle Gear (VDOG) and Microsteer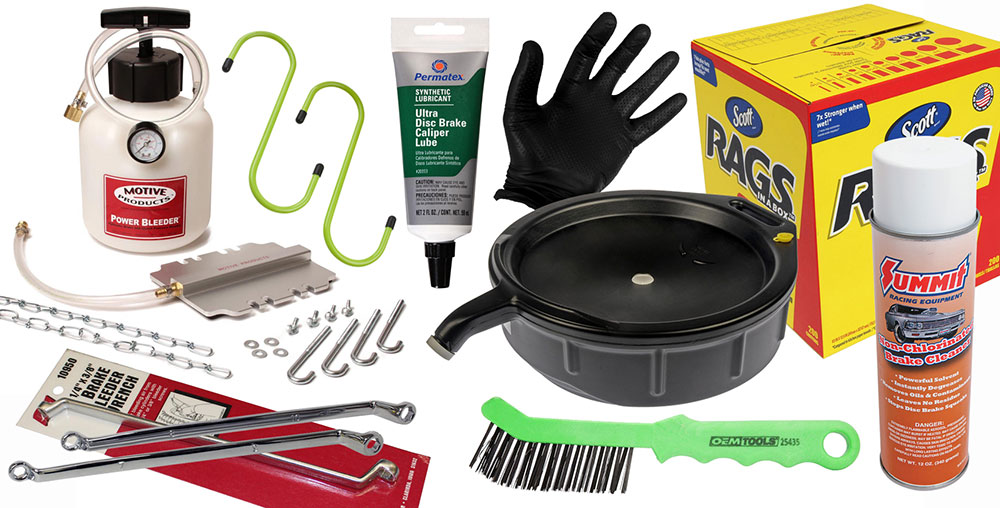 Summit Racing's Brake Job Completion Kit
Servicing disc brakes isn't a difficult job, especially when you have the right tools at hand. Summit Racing Disc Brake Service Parts Combo has the tools you need in one package.
The Motive Products Power Bleeder Kit uses pressurized brake fluid to force air and old fluid out of your brake lines. Then you will need the Lisle Brake Bleeder Wrenches in their combo with an offset design for easy access to screws. It includes wrenches for 1/4- and 3/8-inch, 8- and 10-mm screws. Now for clean up, OEM Automotive Tools Brake Caliper Brush features extra-durable stainless steel angled wire bristles to clean brake calipers, shims, and other areas when doing brake work. Also, Mueller Kueps Uni-Hooks are made from bendable aluminum so you can hang brake calipers safely out of the way. Lastly, having dedicated pans for oil, coolant, and so on, helps prevent contamination—a big deal when you take fluid to the recycler. The Dorman Drain Pan in Summit's combo holds 15 quarts and has a breather vent, center plug, and a handle for easy pouring.
Summit Racing Non-Chlorinated Brake Cleaner cleans and decreases and the Permatex Ultra Disc Brake Caliper Lubricant is formulated to lubricate critical caliper pins, sleeves, bushings, and pistons under the most adverse brake conditions. Rounding out the combo are Summit Racing Textured Nitrile Gloves and Summit Racing Scott Towels in a Box.
For more info, check out Summit Racing Equipment by calling (800) 230-3030, or visit summitracing.com.