Detroit Speed Battery Relocation Kit
Reduce under-hood weight or solve a packaging problem with Detroit Speed's battery relocation kit that comes with (PN 120107DS) or without hardware (PN 120106DS).
Includes stainless steel fasteners and height adjustability to fit your battery. This kit is designed to relocate your battery to the trunk while providing a lateral removal method rather than needing to lift the battery out of a recess. It accommodates Optima, Odyssey, and Group 34/78 batteries. CNC machined out of 6061-T6 billet aluminum, the entire battery mount is a simple, strong, and great-looking way to hold your battery anywhere. Six mounting holes provide added flexibility. The dimensions of the battery mount are 11-½ x 8-½ x 7-½ inches tall.
For more info, check out Detroit Speed and Engineering by calling (704) 662-3272 or visit detroitspeed.com.
FAST Wireless Wideband Air Fuel Ratio
The FAST Wireless Wideband Air Fuel Ratio Kits measure your engine's air/fuel ratio and send that data to your Apple or Android phone via a Bluetooth module installed under the hood that is connected to the oxygen sensor(s). That makes for a superclean installation with a minimum of wiring and no gauges to mount.
The FAST Wireless Wideband Air Fuel Ratio Kits include the module, single or dual Bosch LSU 4.9 oxygen sensors, sensor bung or bungs, and wiring. The kit for dual O2 sensors allows you to monitor each sensor individually or average both together and has a built in data logger that records up to 2 minutes of air/fuel and rpm data. More handy features include preloaded fuel calibrations for gasoline, all popular ethanol blends, methanol, and diesel, 0-5V output for external data loggers and digital gauges, and selectable module output through the use as an rpm-activated window switch, a lean air/fuel ratio safety cutoff, or an antitheft device.
For more info, check out Summit Racing Equipment by calling (800) 230-3030 or visit summitracing.com.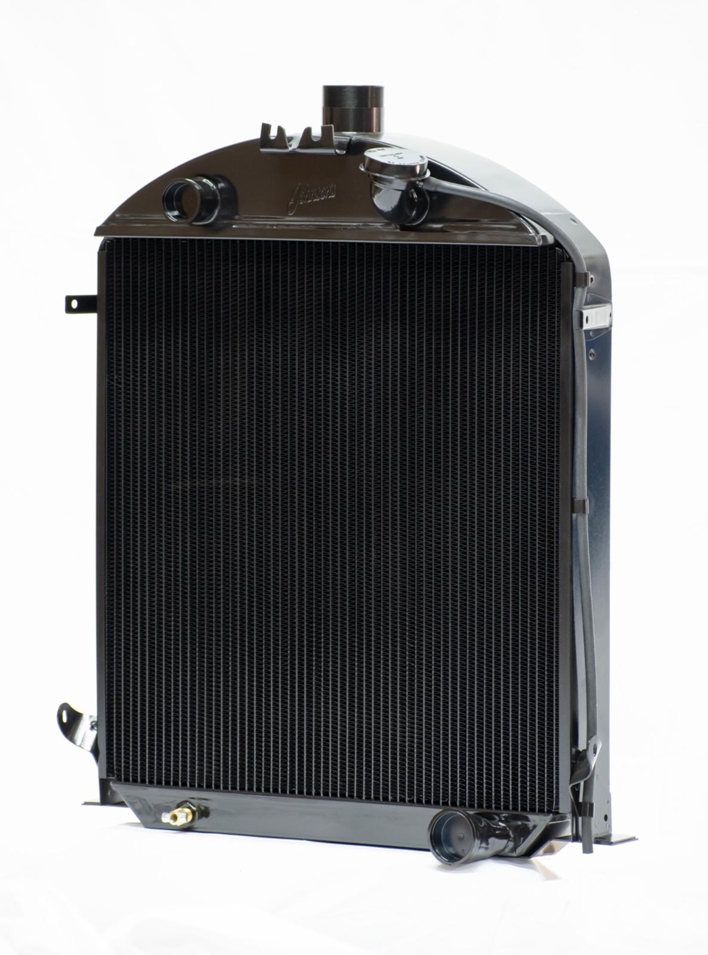 Johnson's Radiator Works Engine Swap Radiator
If you want the OEM look of a copper/brass radiator and maximum cooling try a Johnson's Radiator Works Engine Swap Radiator. It's a great addition and solution to an engine swap in your early Ford hot rod, '60s muscle car, or classic truck. Made in-house at Johnson's Hot Rod Shop, they feature a high-flow copper core with four rows of 0.125-inch by 1/2-inch brass tubes to keep any engine short of a full-on race motor nice and cool. (Summit Racing also carries Johnson's Radiator Works radiators for Flathead-powered early Fords and uses a 7-pound radiator cap.)
The radiators are drop-in replacements for the factory units and are available in configurations to fit small- and big block Chevy, small- and big block Ford, and LS engines.
The Johnson's radiators feature several noteworthy highpoints: Made using original tooling from Walker Radiator (the pioneer in copper/brass hot rod radiators), 12-gauge steel side brackets with pre-stamped mounting holes where needed, one-piece tanks stamped from 0.040-inch brass, brass petcock, designed for use with 15- to 18-pound radiator cap, and many applications available with a built-in transmission cooler.
For more info, check out Summit Racing Equipment by calling (800) 230-3030 or visit summitracing.com/search/brand/johnsons-radiator-works.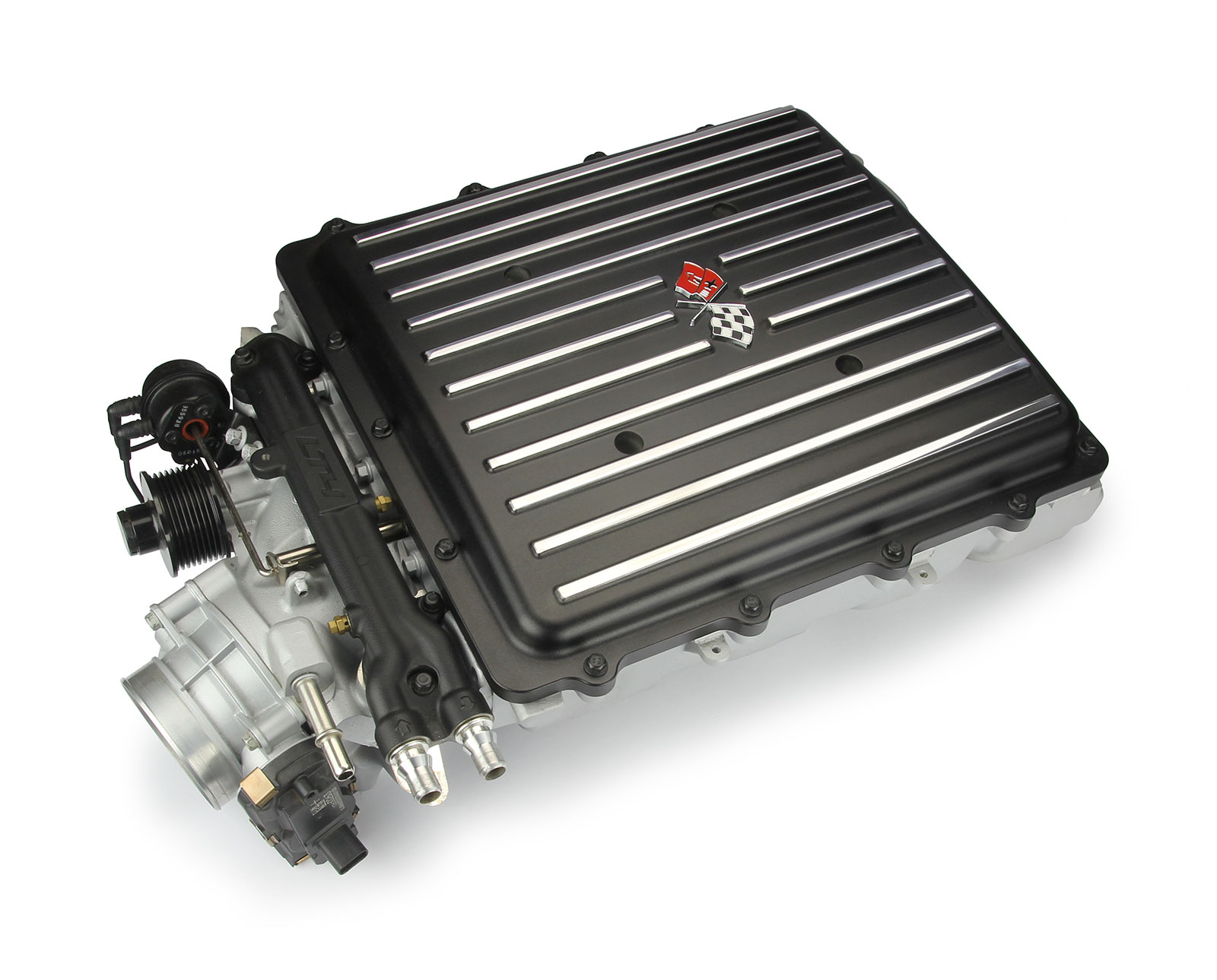 Lokar Performance LT4 Supercharger Lid
Lokar Performance Products has released an addition to their LS Classic Series line with their new GM LT4 Supercharger Lid. With its finned aluminum construction and polished highlights, the supercharger lid provides a slick vintage look for your modern, supercharged LT4 engine. These lids are a direct replacement for the factory supercharger lid, can be installed in as little as 15 minutes, and are made right here in the USA.
For more info, check out Lokar Performance Products by calling (865) 824-9767 or visit lokar.com.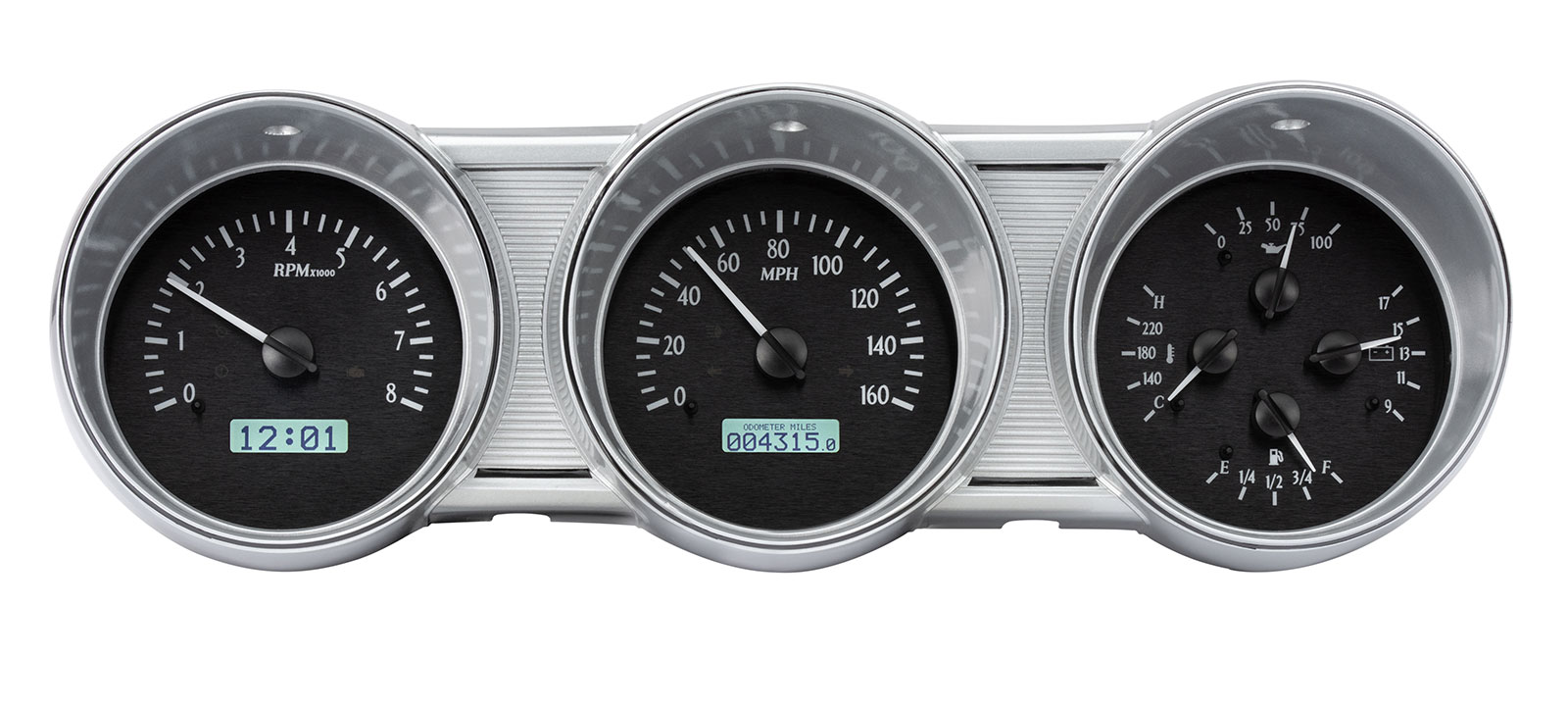 New Dakota Digital VHX For '62-63 Ford Fairlane
Dakota Digital now offers the VHX Series of instrumentation to fit the '62-63 Ford Fairlane. It offers lighted needles, backlit faces, and a full character message center for all displays.
The VHX Series utilizes solid state sensors and precision stepper motors for the ultimate accuracy, coupled with a limited-lifetime warranty for complete support both now and in the future.
The VHX Series utilizes either a stock or aftermarket wiring harness, and either a stock, modified, or late-model drivetrain. Systems are available with a red, white, or blue display color and either a satin silver or black alloy–style face.
For more info, check out Dakota Digital by calling (800) 852-3228 or visit dakotadigital.com.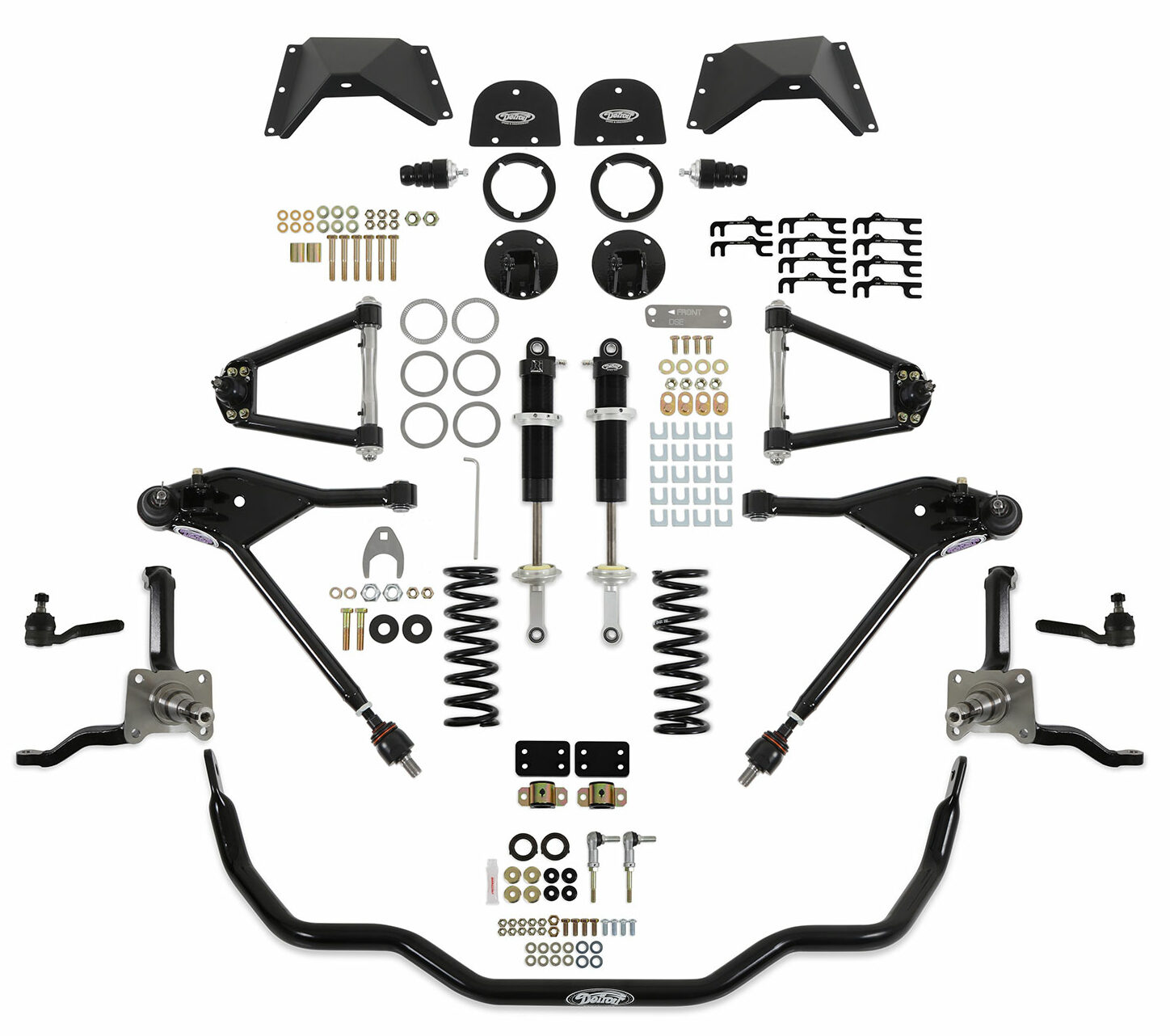 Two '64-70 Mustang Independent Front Suspension Speed Kits
Detroit Speed now offers two Independent Front Suspension kits: Speed Kit 1 for '64-66 Mustangs and Speed Kit 2 for '67-70 Mustangs. Featuring 1-1/2 to 3 inches of ride height adjustability using control arms, "Detroit Tuned" coilover shocks, and shock tower closeouts, you can pair this kit with your Detroit Speed Rear Mini-Tub kit for a full makeover.
Noteworthy points: lowers ride height 1-1/2 to 3 inches; coilover spring/shock relocated to lower control arm for improved ride control; one-piece-style lower control arms include cross-axis bushing and heavy-duty, adjustable strut rod pivot; upper control arms feature Detroit Speed Caster Tuner slugs for improved alignment adjustability; 031377DS (Speed Kit 1) or 031375DS (Speed Kit 2) "Detroit Tuned" non-adjustable coilover shock eliminates any guesswork of adjusting shocks; 031377-SDS (Speed Kit 1) or 031375-SDS (Speed Kit 2) "Detroit Tuned" single-adjustable coilover shock allows customer to dial in their preferred shock settings; upper shock mount relocated under fender apron, making for clean engine compartment; shock tower closeouts improve clearance, allowing for wider front wheel/tire packages; compatible with all '67-70 Mustang spindles (not included); Speed Kit 2, 1-1/4-inch x 0.188 wall tubular sway bar; Speed Kit 2, spindles use larger bearing and tie rod ends first developed for Trans-AM Boss 302 Mustangs.
For more info, check out Detroit Speed by calling (704) 662-3272 or visit detroitspeed.com.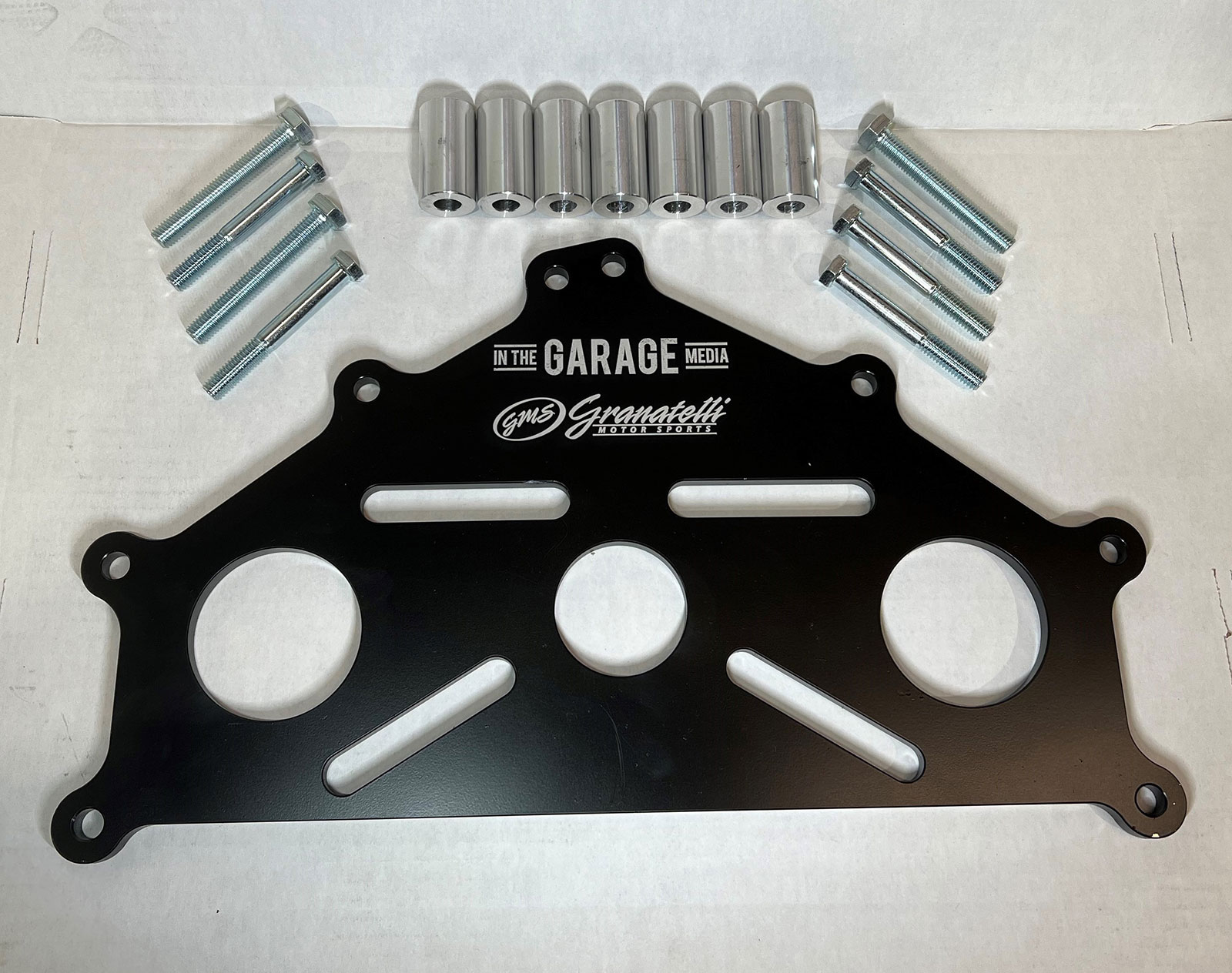 Granatelli Motorsports Engine Stand Mounting Plates
Granatelli Motorsports now offers a heavy-duty Engine Stand Adapter Plate (PN 540106) in a natural aluminum finish. (We just couldn't help ourselves and we had our engine plate customized.) It comes in billet aluminum and will work with small- and big-block Chevys, the LS and LT engines, as well as the Duramax.
Designed to be compatible with the most popular engine stand bolt patterns, this stand eliminates the requirement for the flimsy "traditional four fingers" that span from the engine to the stand. It is made in the USA from 6061-T6 billet aluminum and comes with a mounting plate, spacers, and necessary engine to stand mounting hardware (engine stand not included). The heavy-duty 7/16-inch-thick plate significantly raises the fastening strength of the engine to the stand by directly mounting to seven of the bellhousing boltholes.
For more info, check out Granatelli Motor Sports by calling (805) 486-6644 or visit granatellimotorsports.com.

Duralast Brake Pads & Rotors
Duralast provides consistent, quiet, effective braking performance, with several options ranging from OE-matched replacement with Duralast, to their Gold, Elite, and Severe Duty levels of performance to update your brakes. With advanced pad friction formulas and rotor metallurgy technology that meets or exceeds OE fit, form, and function, it gives your hot rod, personal car, or truck consistent, safe braking action.
For more info, check out Duralast by visiting duralastparts.com.

Design Engineering's Line Of Exhaust Wrap
Design Engineering's proven line of exhaust and pipe wraps are designed to contain heat inside of headers. This assists with increasing exhaust velocity through the exhaust system, while wrapping headers helps reduce underhood temperatures, protecting components while increasing performance.
There are Three Distinct Exhaust Wrap Categories:
Fiberglass Exhaust Wrap: Offered in various-sized rolls for shorter pipes, headers, turbo downpipes and powersports exhausts, the wrap withstands 1,200 degrees F (649 degrees C) direct/2,000 degrees F (1,093 degreees C) radiant heat. Available in both black and tan.
TITANIUM Exhaust Wrap: Made from pulverized lava rock, stranded into a fiber material, and then woven into a proprietary weave is the original and ultimate high heat-rated wrap. Engineered to be stronger and more durable than most wraps, it withstands heat up to 1,800 degrees F (982 degrees C) direct/2,500 degrees F (1,371 degrees C) intermittent heat. Available in original titanium and a black carbon-fiber look.
EXO Series Exhaust & Header Wrap: Designed for extreme environment use, including powersports applications, the EXO Series features a dual-layer design, using a combination of hi-temp glass fiber covered with a 304-grade stainless steel exoskeleton for superior heat, abrasion, and impact protection. Offered in black and tan.
For more info, check out DEI by visiting designengineering.com.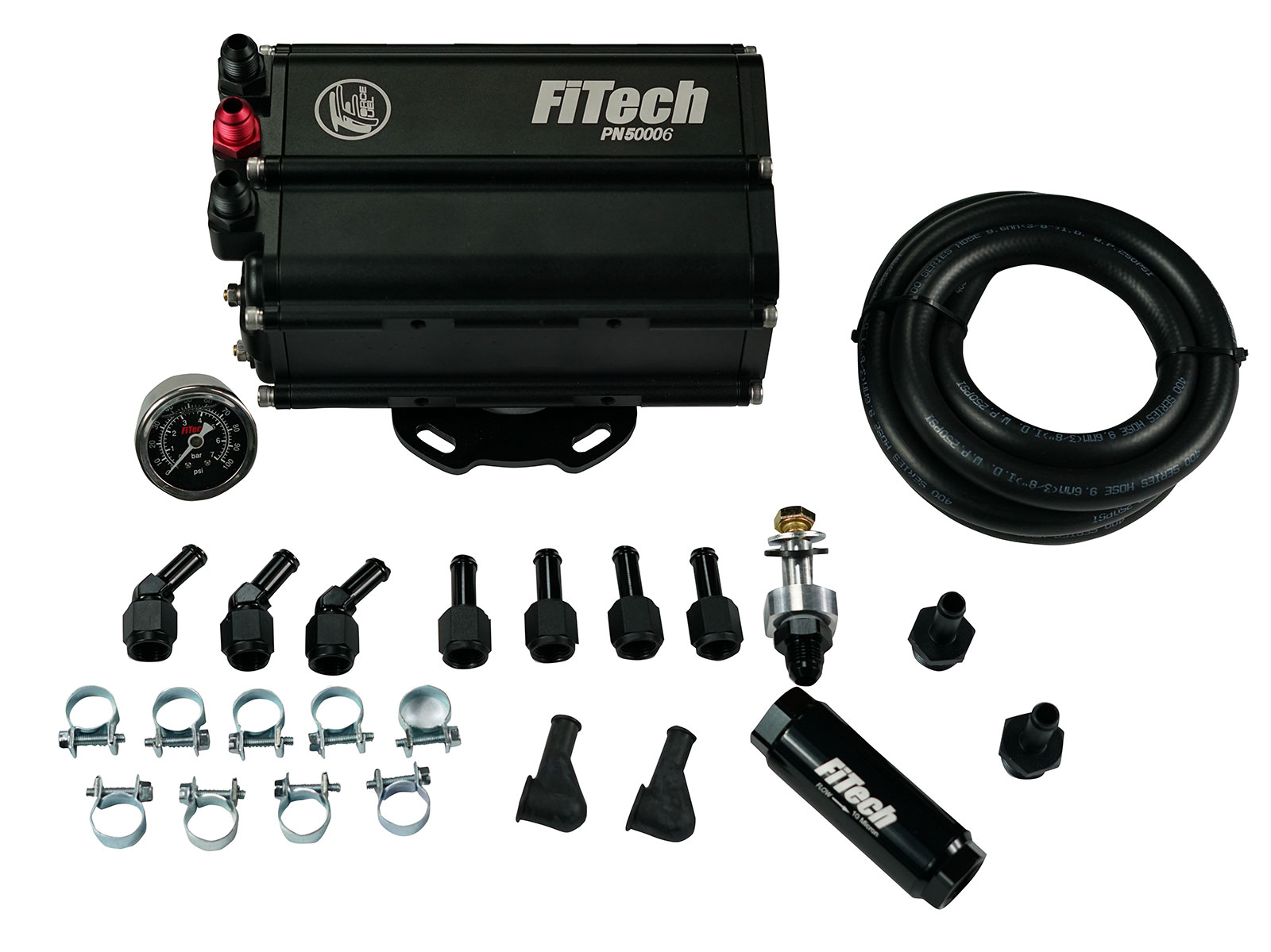 FiTech Mini Force Fuel Surge Tank
FiTech now offers its new Force Fuel Mini Surge Tank to assist with the demand for a more easily packaged underhood Force Fuel Sump System. The Mini is fed through a low-pressure mechanical (or electric) pump, saving the need to modify the entire fuel system. The reservoir of the Mini is equipped with an efficient 255-lph pump and internal regulator to provide a consistent 58 psi of fuel pressure for your EFI system. The Mini Surge Tank can support up to 600hp gasoline motors.
The Force Fuel Mini is supplied with high-pressure fuel hose, AN fittings, a liquid-filled gauge, 10-micron filter, and a return line bung to complete the installation. Available as PN 50006 or included in FiTech's Master EFI kits for a variety of applications.
For more info, check out FiTech by calling (951) 340-2624 or visit fitechefi.com.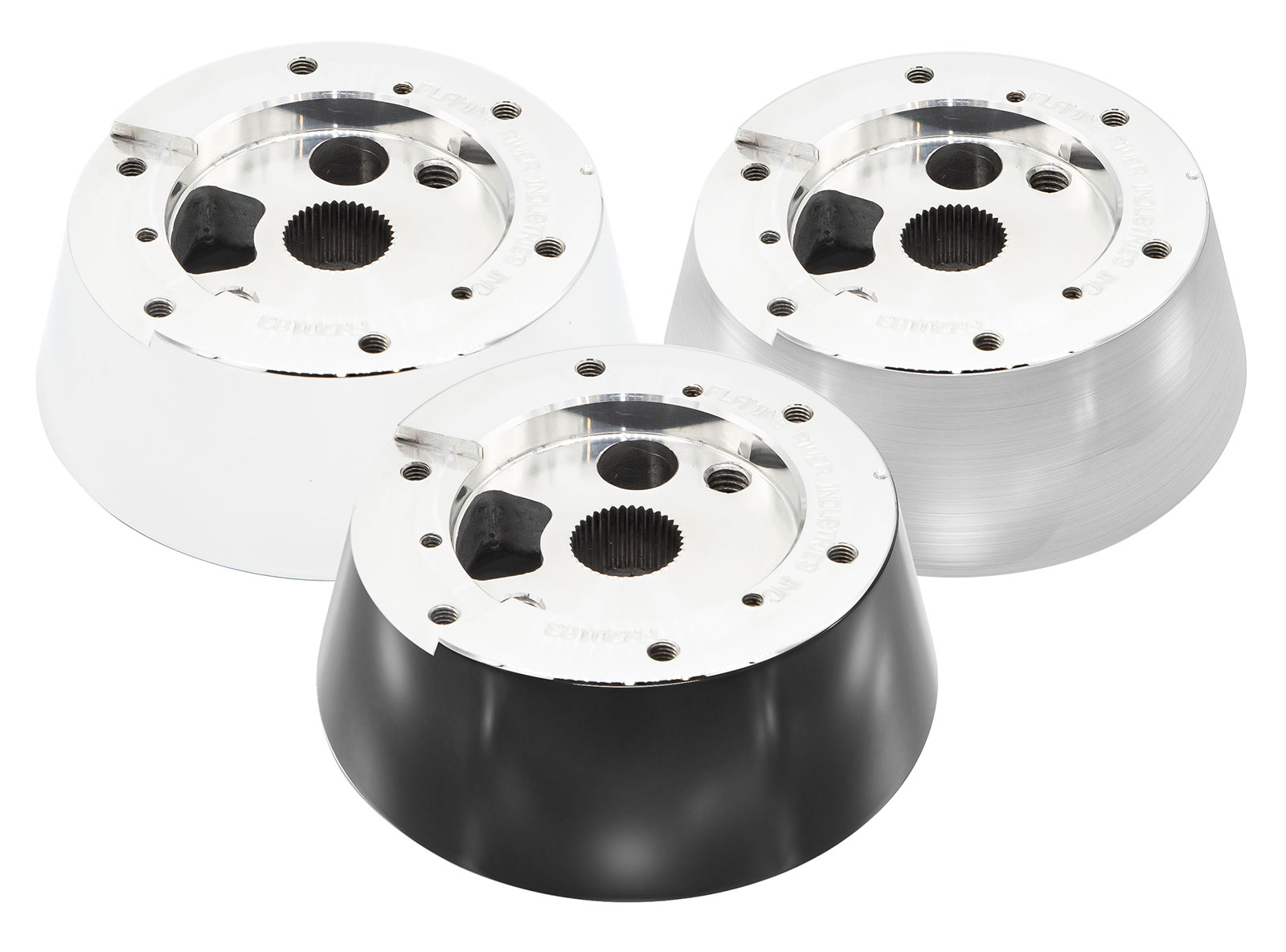 C3 Corvette Steering Wheel Adapter
Flaming River is now offering a billet aluminum six-bolt steering wheel adapter that fits the original steering wheel of the '69-82 C3 Corvette to the FR30005 Series Flaming River steering column ignition key on column for Corvettes. The mounting hole pattern fits this original vintage wheel and provides a convenient hole for horn contact grounding. The adapter is designed to be at only 1-3/4 inches tall for enhanced clearance and fits seamlessly within the C3. Each steering wheel adapter is available in a satin finish, black powdercoat, or polished aluminum finish.
For more info, check out Flaming River by calling (800) 648-8022 or visit flamingriver.com.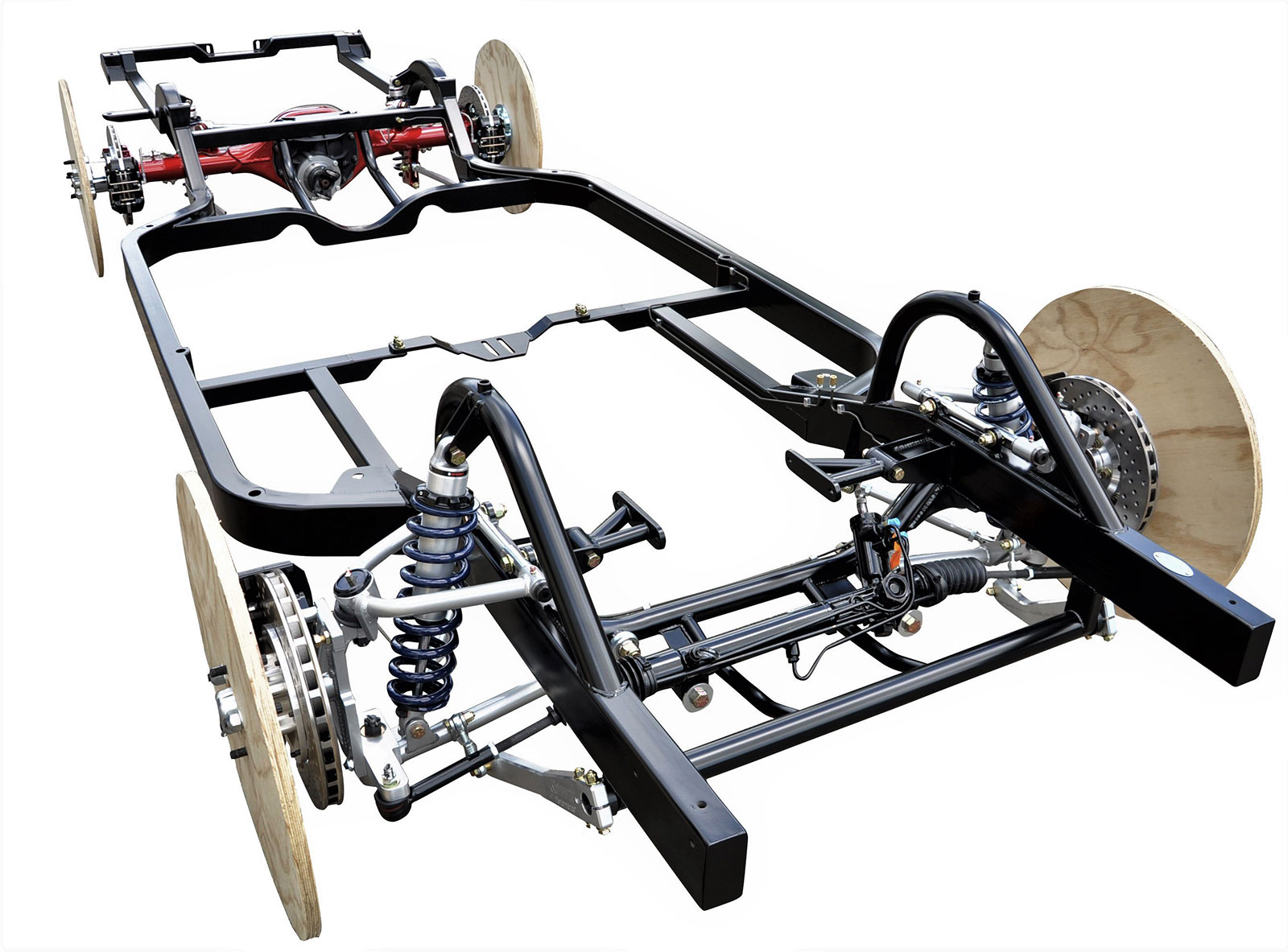 Schwartz Performance '73-77 GM A-body Chassis
Schwartz Performance now offers a G-Machine chassis (heavy-duty mandrel bent rectangular steel main framerails) to update the '73-77 GM A-body, such as the Chevy Laguna, Pontiac Can Am, Buick Skylark, and Olds Cutlass running any of the popular Chevy drivetrains. No major floor modifications are required unless you plan to mini-tub the rear end.
The updated front suspension includes needle bearing supported A-arms for smooth bind-free movement along with separate caster and camber adjustments. Extra-long coilovers have been positioned at each corner to improve the handling while providing modern, luxury ride quality. A power rack and splined sway bars with billet arms are also provided as standard equipment.
The rear suspension consists of a triangulated four-bar system with bind-free, Teflon-lined spherical rod ends coupled to a full-floating Moser 9 inch rear end complete with your choice of gears and a Truetrac. The long list of standard equipment for the G-Machine chassis includes adjustable Ridetech coilovers, a power rack-and-pinion, splined sway bars, and a Baer brake kit (6P/SS4+).
For more info, check out Schwartz Performance by calling (815) 206-2230 or visit schwartzperformance.com.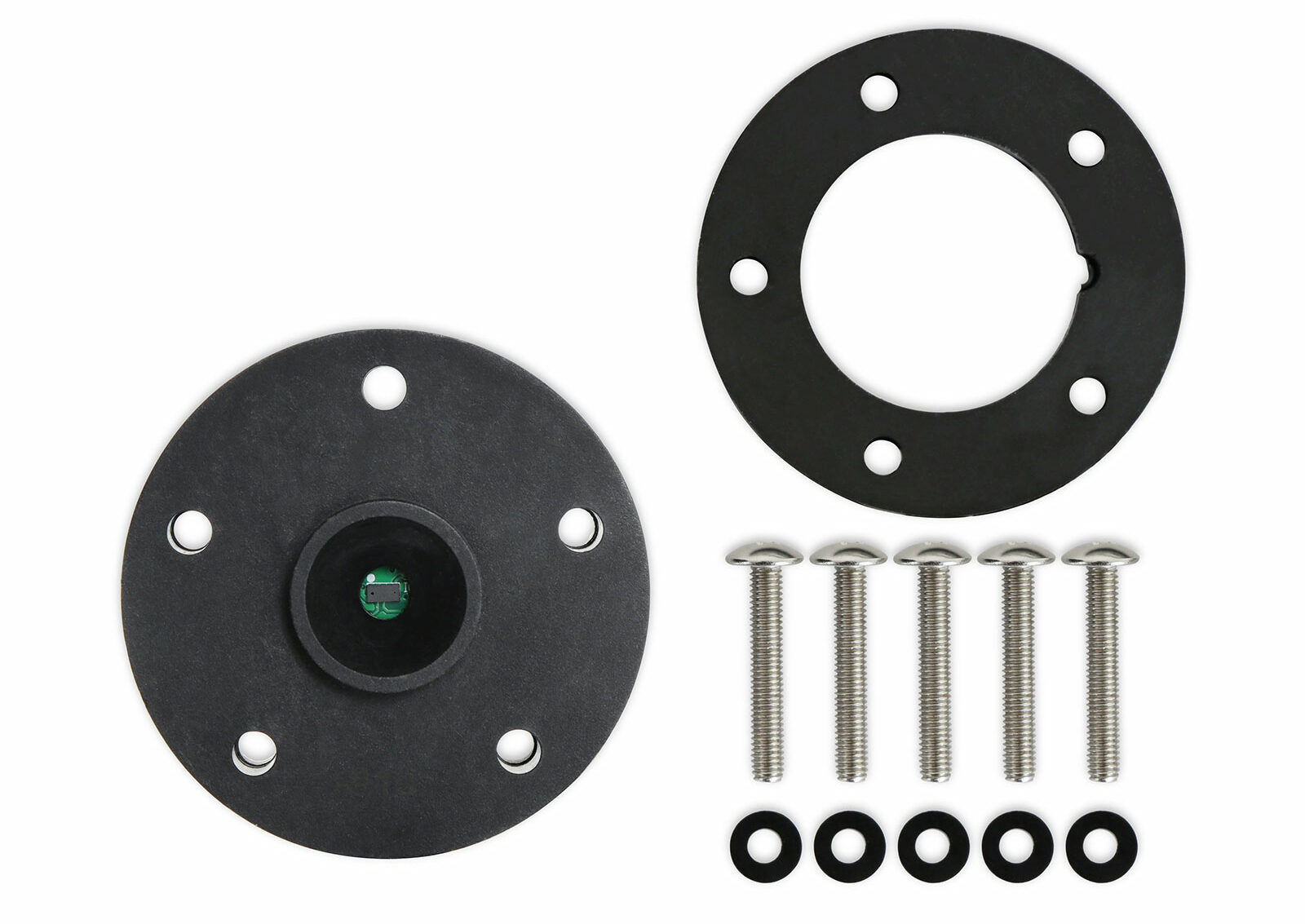 Holley Easy Level Fuel Level Sender
Classic Instruments now offers the ability to upgrade any Classic Instruments fuel sender to the all-new Holley Easy Level Fuel Level Sender. The new fuel sender uses LiDAR technology to precisely measure the depth of fuel remaining in the fuel tank and works with all Classic Instruments' fuel gauges, including their short-sweep, full-sweep, and selectable ohm range fuel gauges.
It also works with many other gauge brands and any liquid. While this model is compatible with tanks ranging from 4 to 39 inches, there are also models available for deeper tanks. Easily set empty, half-tank, and full right on the workbench before installing and leave a reserve. The desired dampening rate is adjusted with dip switches right on the unit, plus the necessary screws and gasket for installation are included. Also watch for a new low-profile design to launch soon. For more info, check out Classic Instruments by calling (800) 575-0461 or visit classicinstruments.com.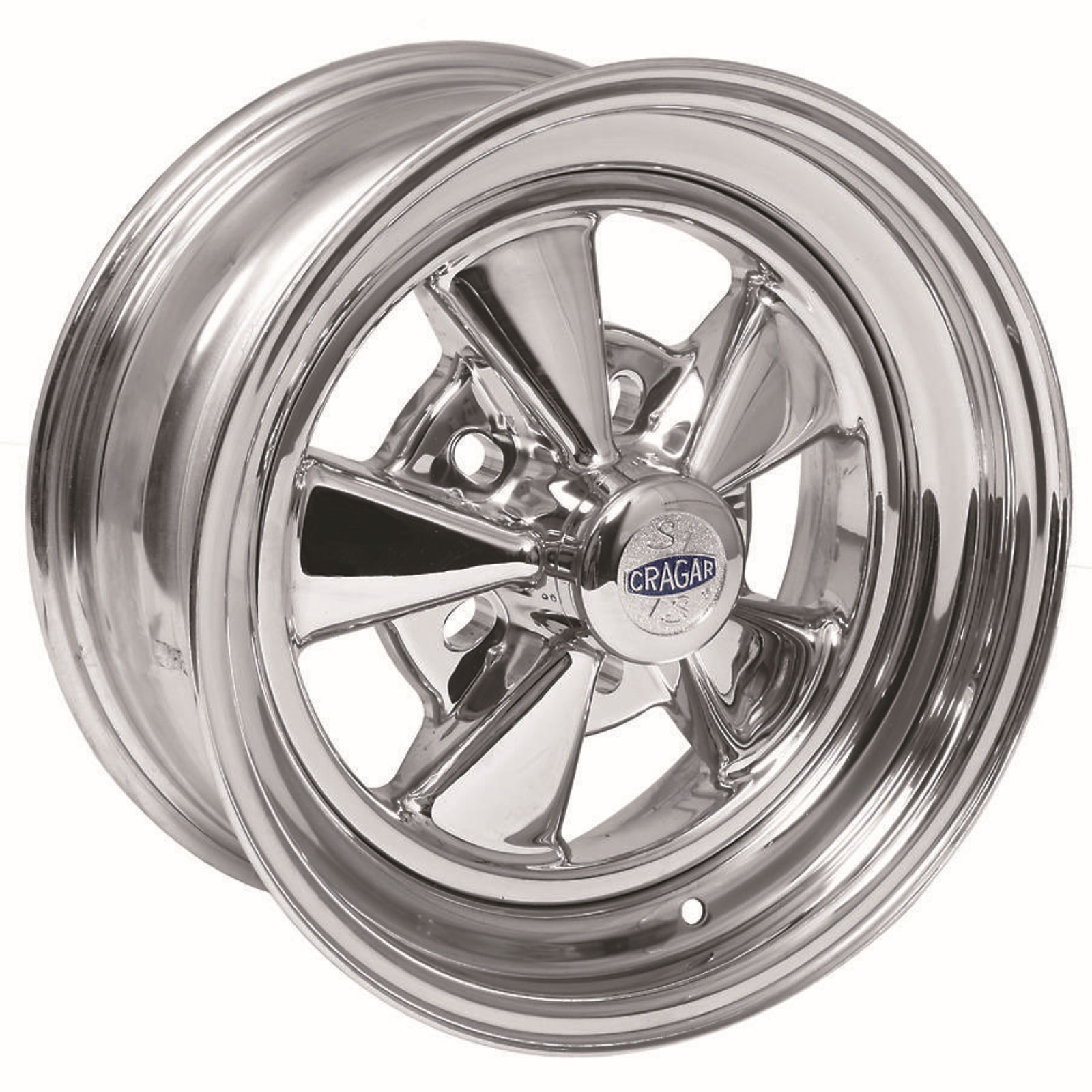 61C Direct Bolt Super Sport Wheels – The classic five-spoke style of Cragar's 08/61 Uni-Lug and 61C Direct Bolt Super Sport wheels have a chrome-plated steel rim mated to an A356 aluminum alloy center to minimize polishing time.
The classic Cragar is in sizes 14×6 to 15×14, and most have a lug design to fit 4×4.5, 4×4.75, and 4×5 bolt patterns. The 61C Direct Bolt Super Sports are available in sizes 15×4.5 to 17×9 and fit specific bolt patterns. The 61Cs are also available in a six-spoke version in 17×7, 17×8, and 17×9 sizes.
For more info, check out Summit Racing Equipment by calling (800) 230-3030 or visit summitracing.com.

Schwartz Performance's G-Machine Chassis – Schwartz Performance now offers an independent rear suspension option for their entire line of G-Machine chassis that was designed and tested by the Schwartz R&D team.
It is based around a Currie 9 inch Ford Rear End housing and 35-spline third member with beefy RCV axles rated to handle up to 1,200 hp. A combination of heavy-duty FK 5/8-inch Heim joints as well as Ridetech's R-Joints provide a secure and quieter assembly. The axles can be fitted with caliper brackets to secure Baer's Pro-Plus or Extreme-Plus six-piston calipers and are available with Ridetech's single- or triple-adjustable coilovers.
For more info, check out Schwartz Performance by calling (815) 206-2230 or visit schwartzperformance.com.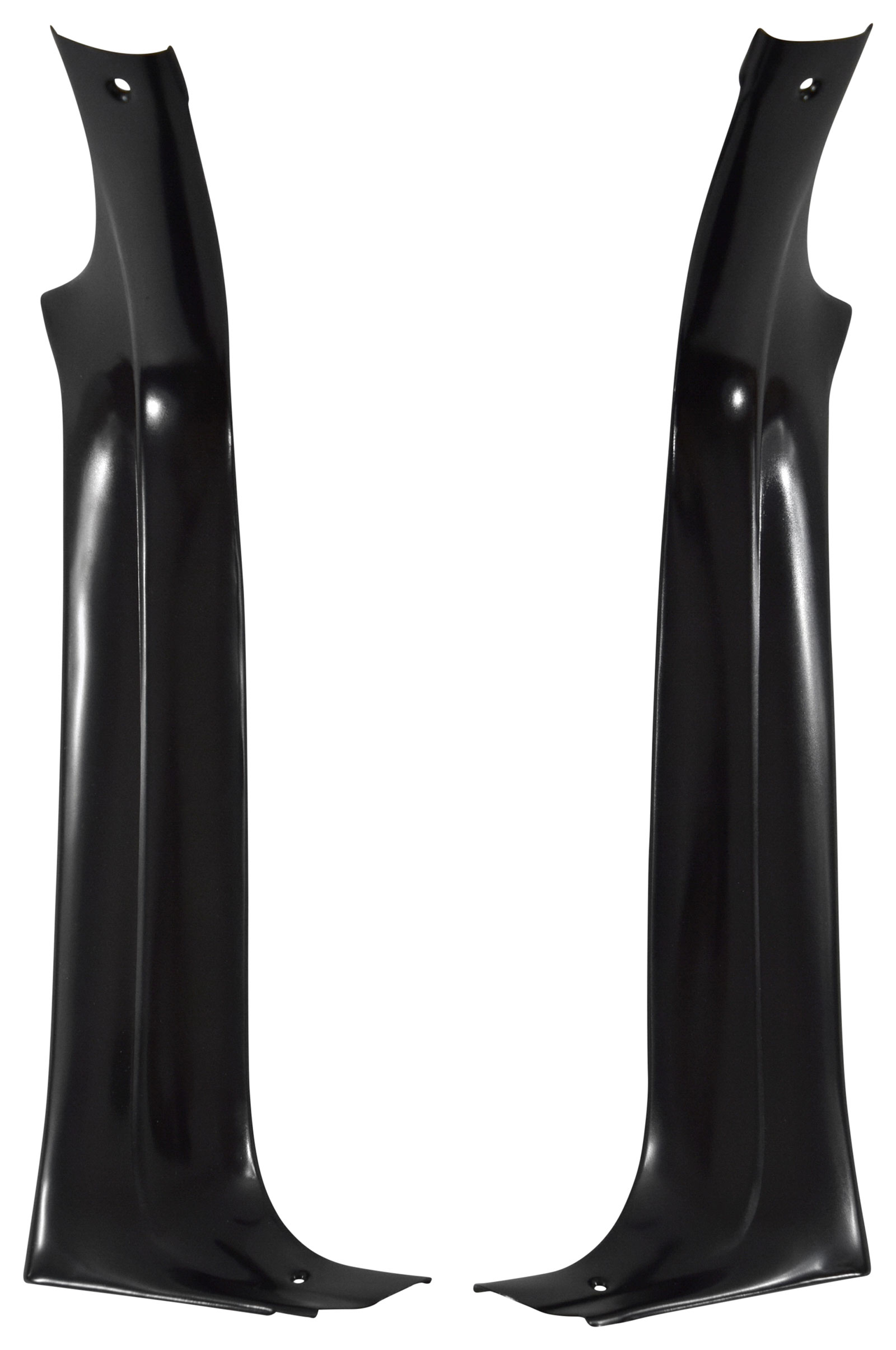 Chevy Tri-Five Windshield Garnish Molding
Should you have a Chevy Tri-Five ('55-57) Bel Air, 210 two-door hardtop, or Nomad and find yourself needing a windshield garnish molding look no further. Golden Star Classic Auto Parts spent several years developing this highly desirable product and now it's here. Offered as a painted pair, the windshield garnish molding (PN WS13-55GP) is also available in chrome.
For more info, check out Golden Star Classic Auto Parts by calling (972) 315-3758 or visit goldenstarauto.com.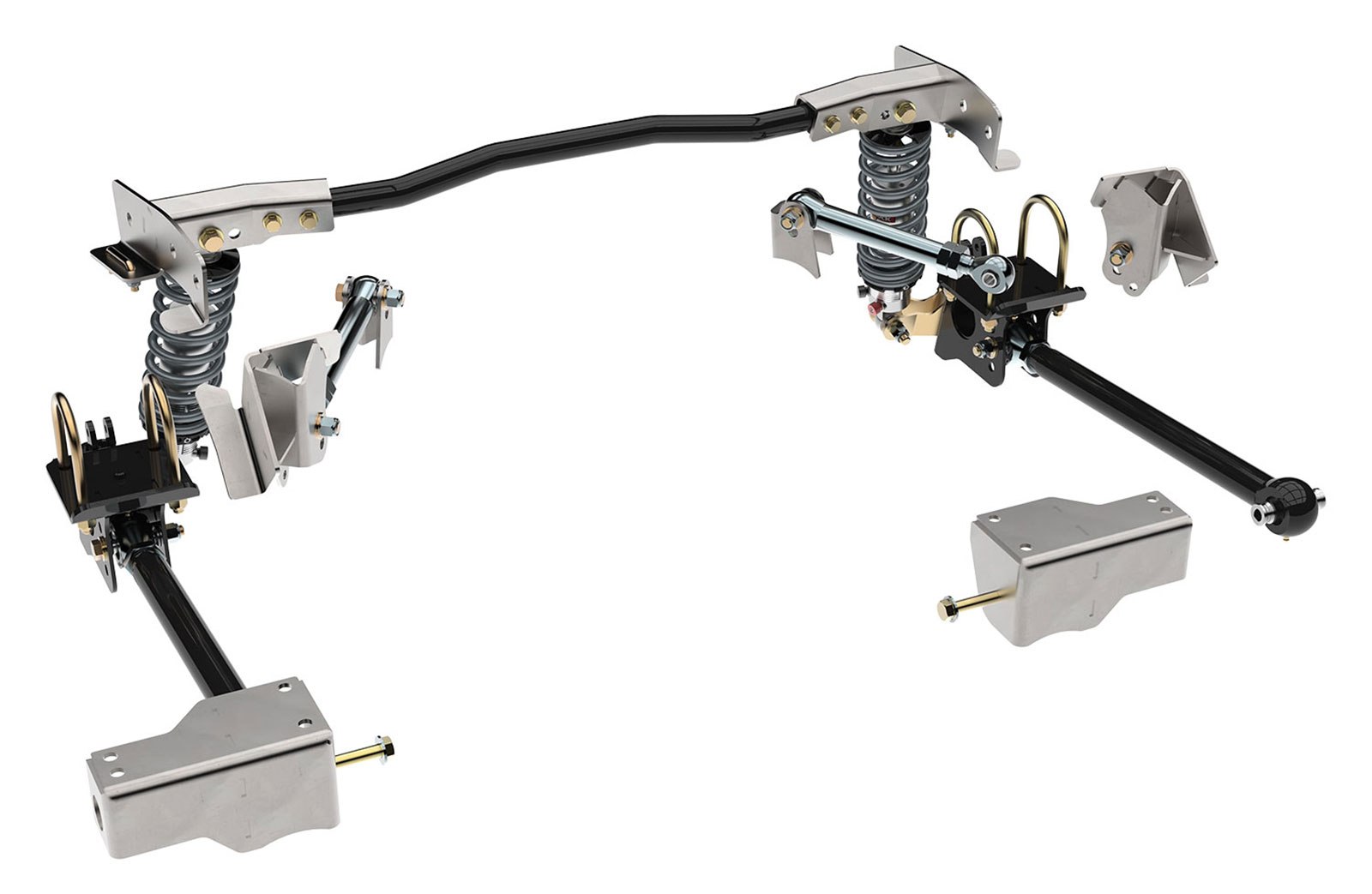 Total Control Products' g-Bar Canted 4-Bar Suspension '60-65 Falcon/Comet
Total Control Products now offers a g-Bar Canted 4-Bar Suspension that is designed specifically for the '60-65 Ford Falcon and Mercury Comet models, providing improved performance and handling when compared to the original leaf spring suspension.
With adjustable suspension geometry and the option to choose between coilover or air-spring shocks, this suspension upgrade offers enhanced control and stability on the road. The triangulated four-link design offers improved traction and handling. The suspension can also be used with either a leaf spring rear end housing or a fabricated Ford 9-inch housing.
For more info, check out Total Control Products (800) 722-2269 or visit totalcontrolproducts.com.
ARP's unique accessory studs with a rounded "nut starter" nose are specially designed studs for securing bellhousings, carburetors, distributors, headers, timing covers, valve covers, and more. An important benefit of using studs is being able to accurately position gaskets and hold them in place during the assembly process.
They are available in polished stainless steel or black oxide finished 8740 chromoly and nominally rated at 180,000-psi tensile strength —fully 20 percent stronger than grade 8 hardware. Kits include a choice of hex or 12-point nuts and washers.
M8 and M10 metric studs are offered in a variety of lengths in a choice of 4-, 8-, 10-, or 16-pack configurations. Being stainless steel, they are virtually impervious to the elements. For more info, check out ARP (800) 825-3045 or visit arp-bolts.com.
Wilwood's 2-Inch Drop ProSpindle & Brake Kits For Tri-Fives
Wilwood introduces their latest ProSpindle engineered to give '55-57 Chevy Bel Air and related cars a 2-inch-lower ride height and simplify performance brake installation. These precision-machined steel ProSpindles provide reinforced brake caliper mounts and an improved stance while being lighter and stronger than original factory parts. The ProSpindles mount to OE ball joints in stock or aftermarket control arms and reuse factory steering arms with no change to steering or suspension geometry.
The ProSpindles and the five new Wilwood brake kits are engineered to work as a system. All the available kit options include performance-proven forged aluminum multi-piston calipers with high-temperature seals, stainless pistons, and fade-resistant pads. Premium-grade iron alloy rotors range from 11.50- to 14.00-inch in diameter and offer the option of a plain, slotted, or drilled-and-slotted faces.
For more info, check out Wilwood Engineering (805) 388-4938 or visit wilwood.com.
Vintage Air Gen 5 SureFit Kit For Early Ford Mustangs
Vintage Air has released its all-new Gen 5 SureFit Kit and a bolt-in replacement billet aluminum control panels for '64-1/2 to '66 first-generation Ford Mustangs. The control panel will also fit Gen IV systems.
Vintage Air's all-new Gen 5 climate-control system features industry-first OEM-quality injection-molded cases, employing an exclusive fully electronic microprocessor control unit that eliminates cables or vacuum connections. The bolt-in replacement Billet Aluminum Control Panels are machined from 6061-T6 billet aluminum and are offered as an upgrade.
These SureFit Kits can utilize the standard OEM in-dash three-lever control panel (PN 551964) or be optioned with their new bolt-in Billet Aluminum Control Panel (PN 551965). Both kits include center louver options for vehicles with or without a factory center console and feature several other upgradeable options, including a factory air-style Under Dash Center Louver (PN 620007 or 620008) to match Ford's original Mustang add-on AC unit.
For more info, check out Vintage Air (800) 862-6658 or visit vintageair.com.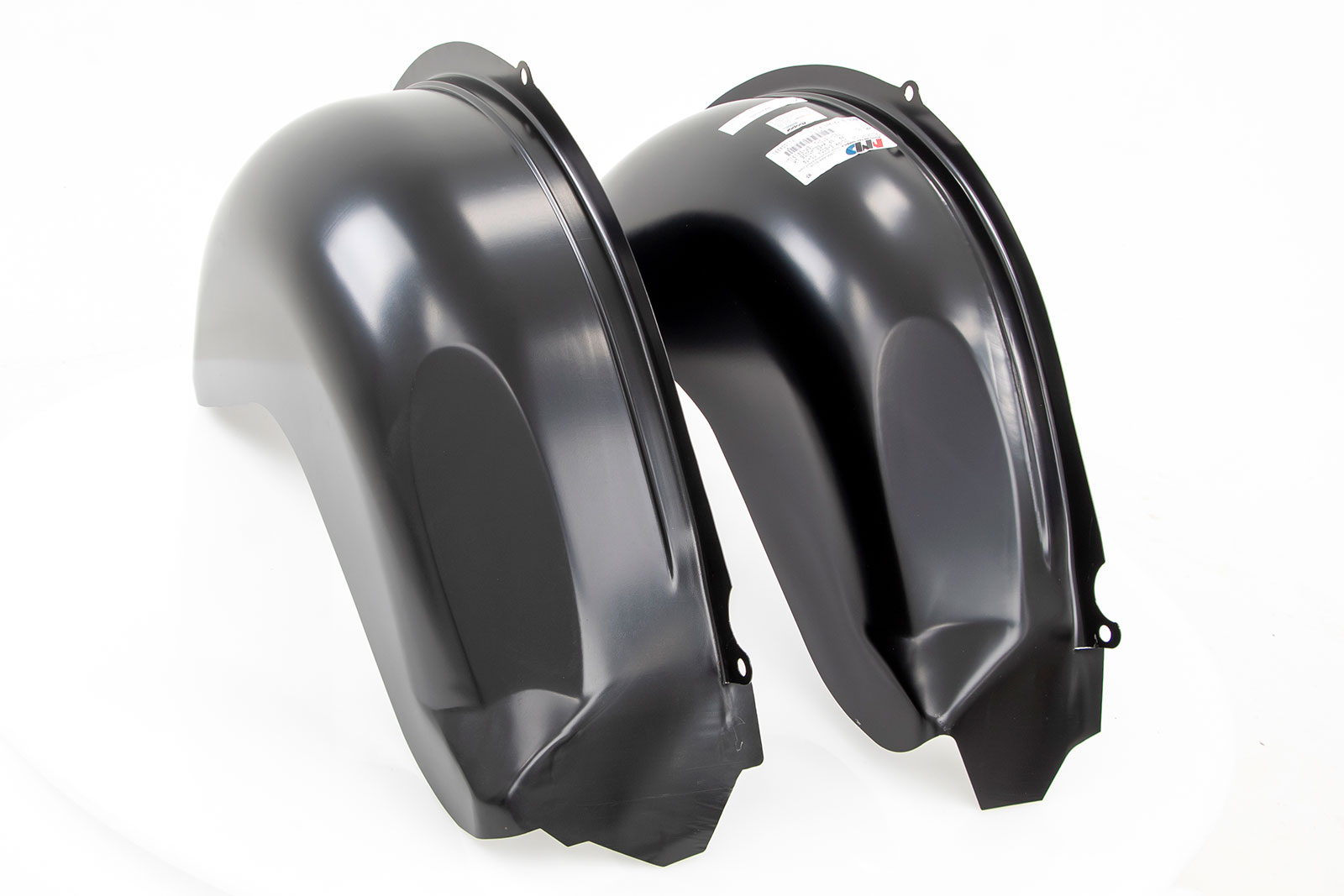 AMD's Wider Inner Fenders For '70-74 Challengers/Barracudas
Auto Metal Direct recently released their new 3-inch-wider inner fenders for '70-74 Dodge Challengers and Plymouth Barracudas.
Inner Fenders Part Numbers:
Specifications:
The 3-inch-wider inner wheelhouse is constructed from high-quality stamped steel and is an exact reproduction of the original equipment with additional room. It is designed to fit seamlessly with the factory outer wheelhouses, ensuring a perfect fit and a straightforward installation. The product is also finished in a durable black E-coat for maximum protection against rust and corrosion prior to installation.
For more info, check out Auto Metal Direct (877) 575-3586 or visit autometaldirect.com.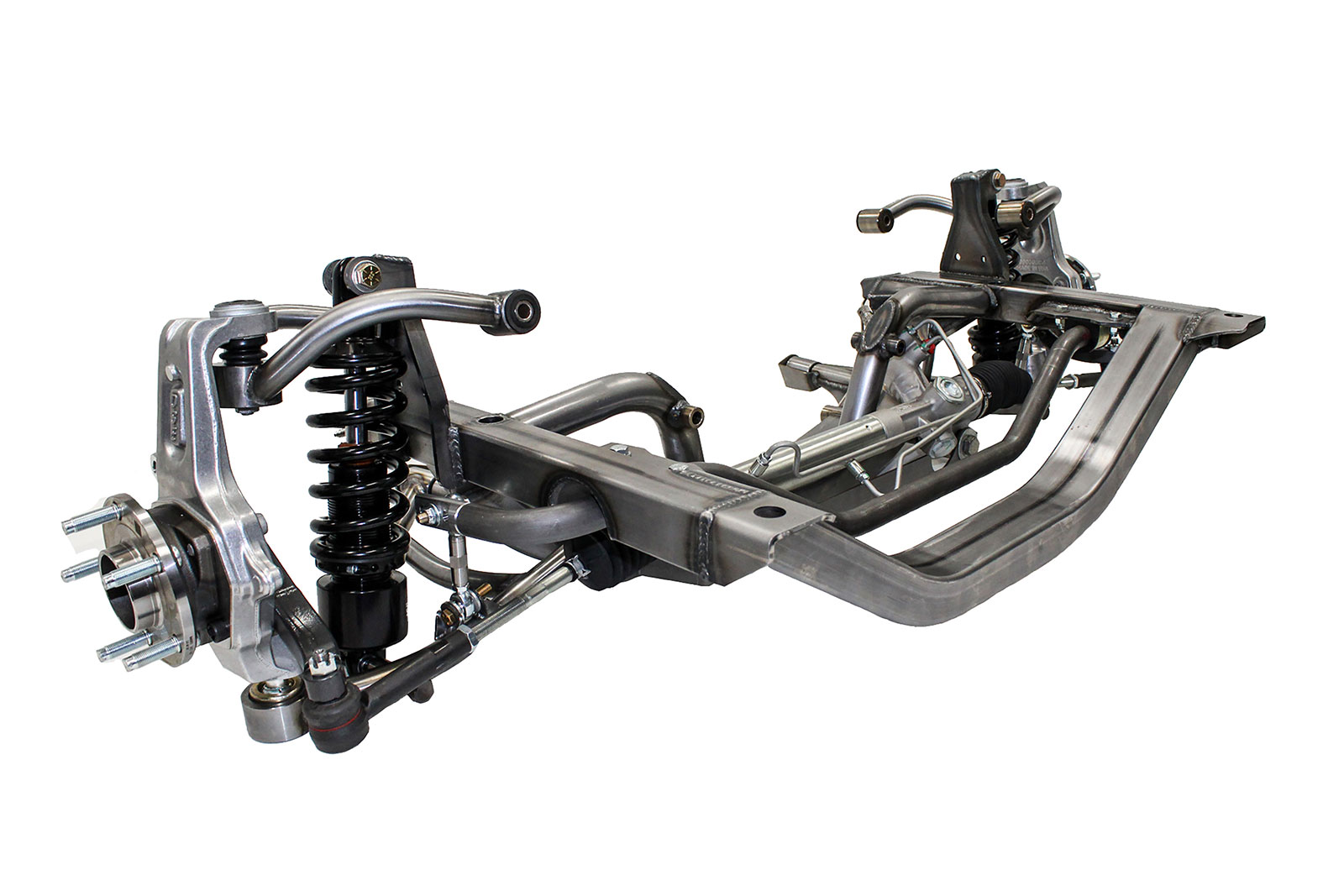 Art Morrison's New Bolt-On K-member For '66-70 B-body Mopar Platform
Art Morrison Enterprises has introduced an impactful upgrade to the '66-70 B-body Mopar platform with the introduction of their new direct bolt-on K-member.
AME's engineering team has developed a true bolt-on K-member for this popular Mopar application. Designed to maintain the car's classic looks while modernizing its performance through no-compromise modern suspension geometry, the new AME K-member results in unparalleled handling, high-speed stability, and ride quality.
Engineered to accommodate late-model Hemi engines while maintaining the stock engine location, this easy-to-install unit is outfitted with a three-position adjustable hollow sway bar with adjustable endlinks to eliminate preload while accommodating high static negative camber angles for low treadwear tires. Other highpoints include contemporary stance, superior handling, and excellent ride comfort. Additional features include tall-forged aluminum steering knuckle with bolt-on unit bearing, allows for superior camber gain, and roll center migration.
Key Features:
Tall-forged aluminum steering knuckle with bolt-on unit bearing
High-strength forged steering arms
Custom-valved 17.5:1 ratio steering rack provides a modern steering feel and responsiveness
TIG welded/CNC machined DOM control arms constructed with high-accuracy CNC machined tooling.
Also available are AME-tuned coilover shocks and stainless steel brake lines.
AME's K-member will be available for preorder in April with the first production units rolling out the door in early June.
For more info, check out Art Morrison Enterprises (800) 929-7188 or visit artmorrison.com.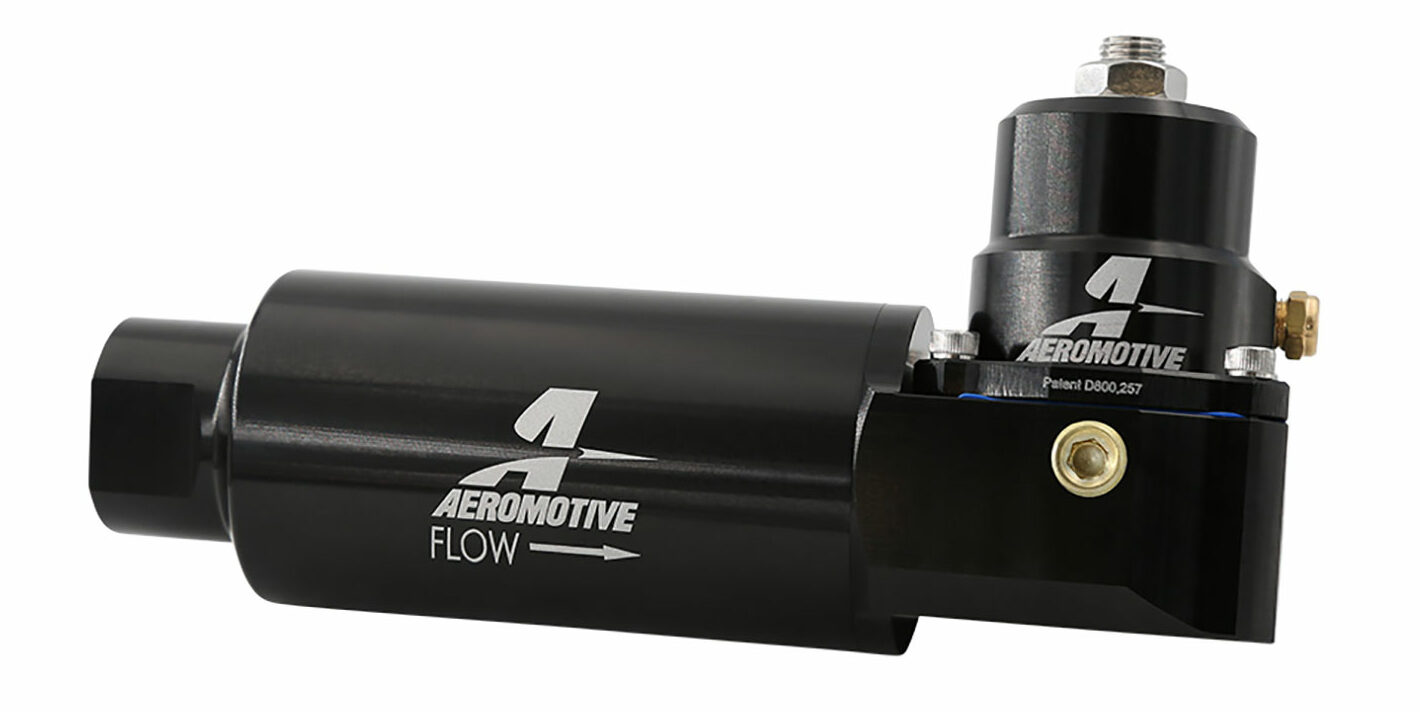 Aeromotive Regulator Fuel Filter Combo
Aeromotive, the leading aftermarket fuel systems and accessories manufacturer, has developed a new fuel filter and regulator combination unit to ease installation and reduce return-line length. The Aeromotive Regulator Fuel Filter Combo is the first ever to feature an adjustable regulator and is available for carbureted or EFI setups.
Two separate combo units are available:
Both feature adjustable regulators to handle varying fuel flow and pressure demands. The EFI version is suitable for Aeromotive A1000 or smaller fuel pumps and is adjustable from 40 to 75 psi. Designed for use with 250-GPH or lower output fuel pumps, the carbureted version can accommodate pressures of 3 to 20 psi.
Features:
10-micron cellulose fuel filter element. It also features standard
-10 AN inlet and outlet ports
-06 AN return port sizes
A separate 1/8-inch NPT port allows for easy fitment of a fuel pressure gauge
Aeromotive's one-year limited warranty backs the Regulator Fuel Filter Combo
For more info, check out Aeromotive (913) 647-7300 or visit aeromotiveinc.com.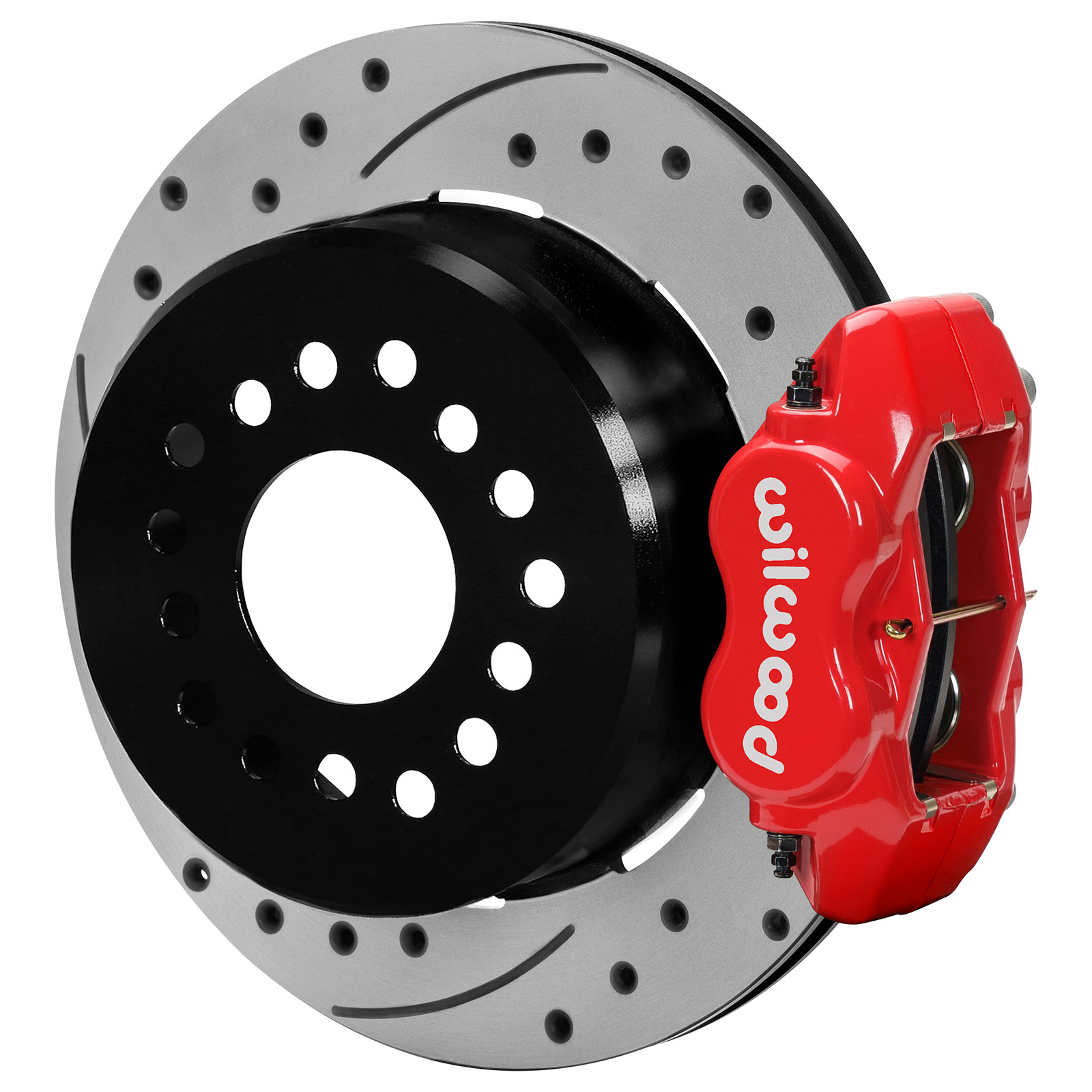 Wilwood's New Rear Brake Kits for GM G-Body
Wilwood has added two all-new disc brake options for GM G-body vehicles equipped with 7-1/2- or 7-5/8-inch rear differentials. GM models include the Chevy Monte Carlo, Malibu, and El Camino.
Parking Brake Kits:
Forged Dynalite Rear Parking Brake Kit – 140-17121-DR
Forged Dynapro Low-Profile Rear Parking Brake Kit – 140-17120
Both Kits Features:
Forged aluminum four-piston calipers
Ultralite HP performance iron alloy rotors with internal drum parking brakes.
Gloss red or black powdercoat finish calipers are standard
22 optional colors available (additional charges may apply)
Wilwood's plain face or SRP drilled and slotted
For more info, check out Wilwood (805) 388-1188, or visit wilwood.com.

Classic Instruments New Cluster For 1964-67 Pontiac GTO
Classic Instruments announces its new '64-67 GTO direct-fit package is an all-electric cluster featuring a speedometer and tachometer with a set of two dual gauges reading fuel/oil and temp/volts. It has green LED turn signal indicator(s) and a blue high beam indicator in the dash housing. Mounting hardware and a wiring harness is included to install with the original bezel, diffuser, and lens and setup is a breeze with push-button speedometer calibration and built-in ECM signal filter switch. All other necessary sending units are included with a Classic Instruments GM sending unit kit (PN SNGMNF) no-fuel sending unit. Fuel gauge is calibrated to 0-90 ohm. Save space with Classic Instruments' Zeus Speedometer Technology built-in, meaning the cluster requires no external control boxes and works directly with ECM or VSS signals. This package is available in seven different design series plus an OE style.
For more info, check out Classic Instruments by calling (800) 575-0461 or visit classicinstruments.com.
FiTech Go-Fuel In-Tank Retrofit Kit
FiTech Go-Fuel In-Tank Retrofit Kit (PN 50014) with 600hp module is designed for almost any fuel tank depending on depth. FiTech's universal pump module can be used on tanks with a depth of 6 to 15 inches. The billet top assembly was designed with the supply and return ports in a parallel position to help route the fuel lines easily and evenly. The vent port is on the other side to make it easier to route the line near the fill tube.
The two fuel ports are threaded to fit -6 AN O-ring boss fittings for a secure and leak-free connection. A 255-LPH pump is included along with terminals, filters, and hardware. It also comes with an OEM-style sock filter. The FiTech in-tank module top has a low-profile design that allows for maximum clearance from the floorpan of the vehicle.
For more info, check out FiTech by calling (951) 340-2624 or visit fitechefi.com.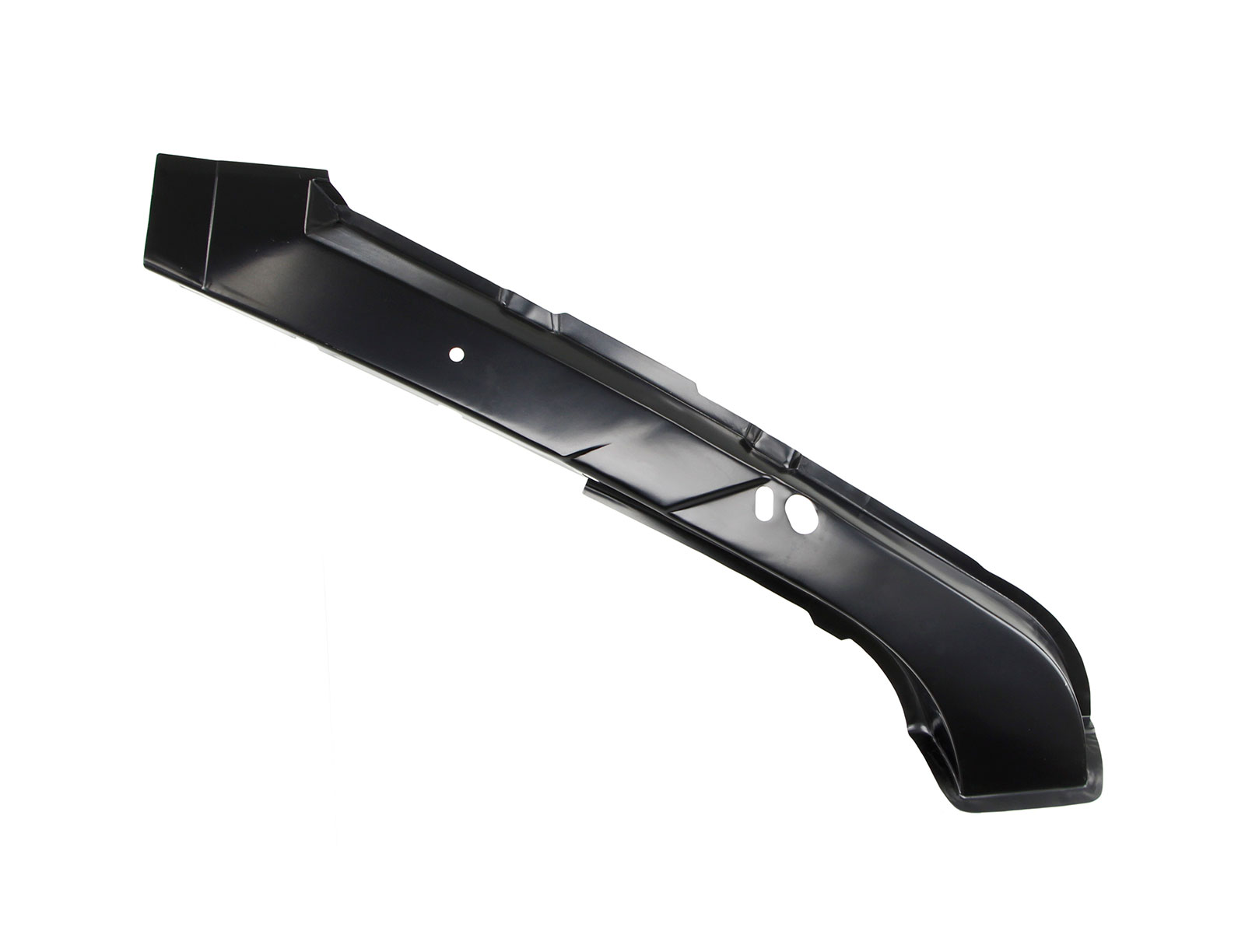 AMD's C-Pillar Replacement For '68-70 Mopars
Auto Metal Direct is excited to announce the release of their new C-Pillar Vertical Posts (PN 610-1468-3L and PN 610-1468-3R) for '68-70 Dodge Charger, Super Bee, and Coronet and Plymouth GTX, Road Runner, Satellite, and Belvedere models.
This high-quality replacement part maintains the structural integrity and the original appearance of your Mopar. The C-Pillar Vertical Post is located between the wheelhouse and rear window frame and plays a crucial role in supporting the roof and rear window. This is a common area for rust and is a needed component on most every restoration.
The AMD C-Pillar Vertical Post is made with durable OE-style automotive grade steel and is designed to fit your car perfectly. Mopar Official Licensed Restoration Part.
For more info, check out Auto Metal Direct by calling (877) 575-3586 or visit autometaldirect.com.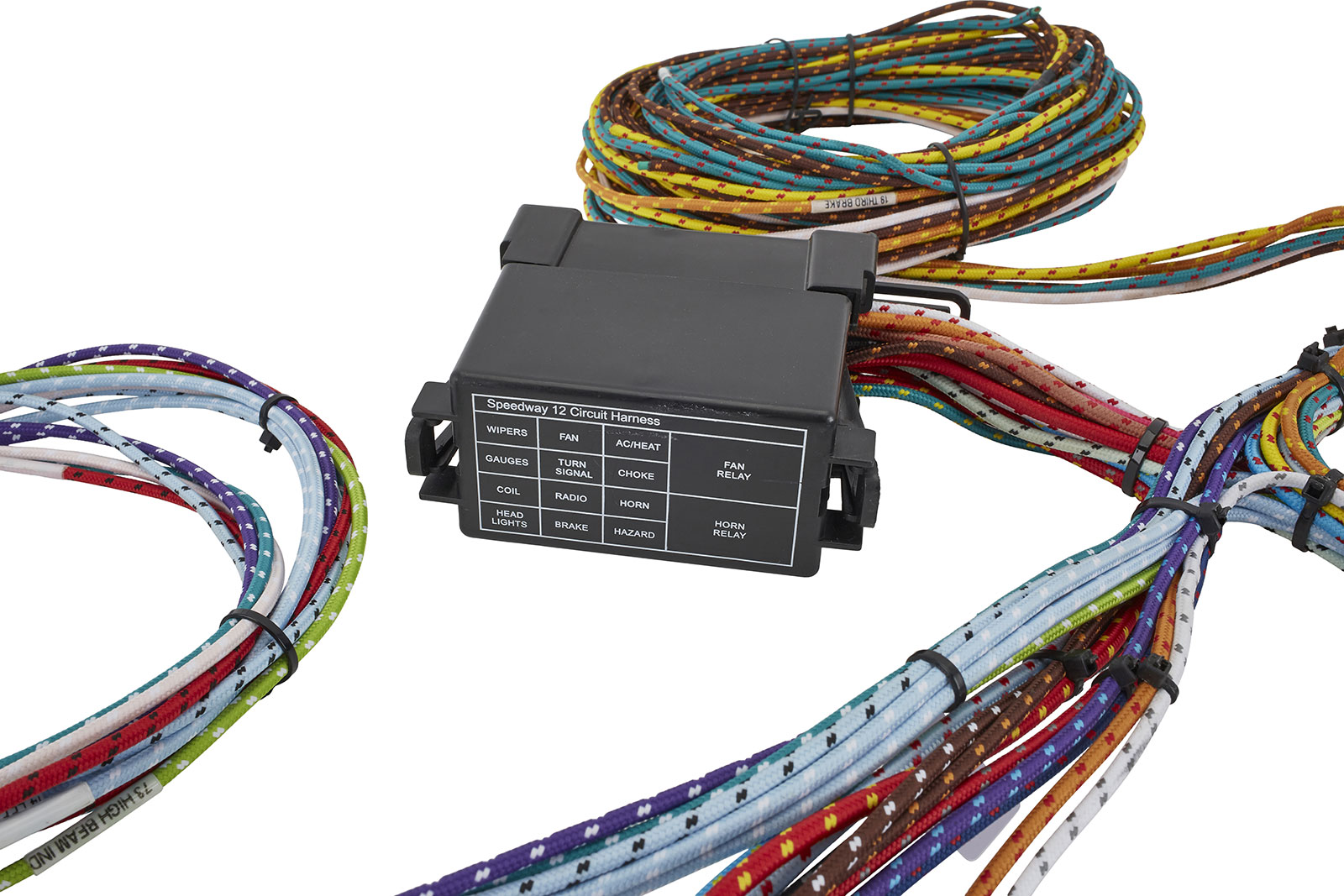 Speedway Motors Universal Wiring Harness
Speedway Motors 12-circuit universal mini-fuse wiring harness is a great option for wiring hot rods of all makes and years. Speedway Motors now offers their popular 12-circuit harness and has added the vintage braided cloth covering to each wire circuit. They have also adjusted the layout to make it easier to install.
Some points of note are the vintage braided cloth covering over modern GXL insulated automotive wiring gives the desired looks and provides for modern safety. It's ideal for restoration projects, custom vehicles, or budget-minded DIY builders. It is a plug-and-play with '68-96 GM tilt steering columns (can be spliced into others). It uses the modern and popular blade-style APM/ATM mini fuses in place of outdated glass fuses. The taillight leads are 12 feet in length.
For more info, check out Speedway Motors by calling (800) 979-0122 or visit speedwaymotors.com.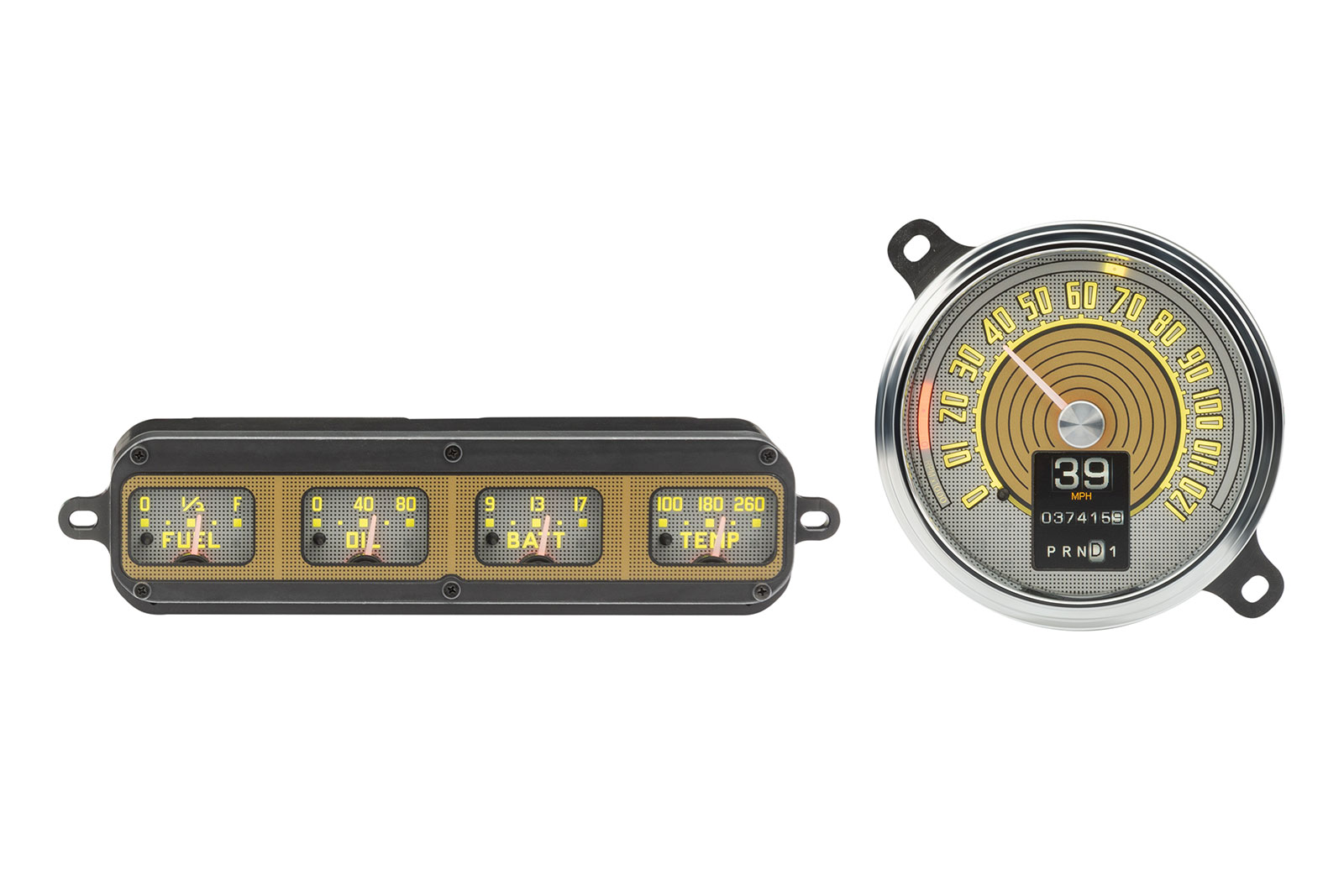 Dakota Digital Dash Cluster For 1942-48 Fords
Achieve a drop-in upgrade for your stock '42-48 Ford car dash with Dakota Digital's Retrotech package. The Dakota Digital RTX series focuses on retaining that stock look without sacrificing the late-model features you value. Dakota Digital has incorporated OEM design elements regarding the layout, face styling, and indicators into their latest offering. At first glance these gauges look like original equipment, but once you hit the switch and the LED backlighting comes on in your favorite color scheme all doubts will be removed.
The CNC machined housings are filled with electronics designed and built in-house, helping Dakota Digital once again raise the bar for aftermarket instrumentation. The high-definition TFT message centers can be fully configured to display just about any piece of information needed. As you've come to expect from Dakota Digital, the RTX series utilizes a central control box to make installation and setup as easy as possible.
For more info, check out Dakota Digital by calling (800) 852-3228, or visit dakotadigital.com/RTX.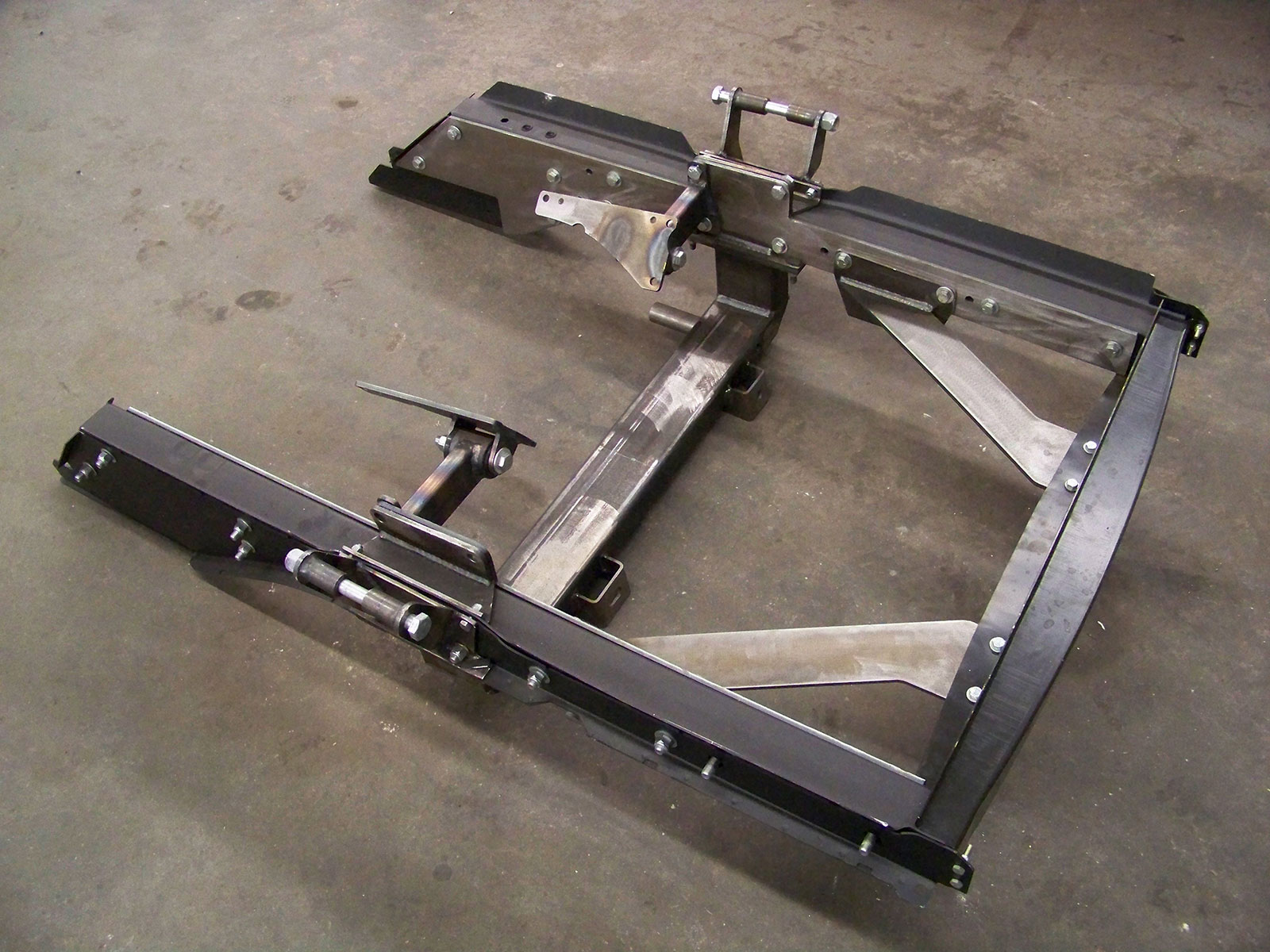 Installing a physically large engine into the '65-70 Mustang unibody structure with its shock towers intruding into the engine bay has always been difficult. Fatman Fabrications now offers a solution.
The Coyote engines are even harder to fit due to the extreme width across the valve covers. After years of study and thought, Fatman Fabrications has designed a totally bolt-in independent front suspension kit that does just that. A ¼-inch steel plate is bolted to the subrails from the radiator back to the floorboards to accomplish the reinforcement. Then Fatman's proven Mustang II–based independent front suspension systems become a bolt-in option. Front diagonal braces and a full suspension crossmember finish the fully braced assembly. Filler plates for the removed shock towers are supplied, along with tubular control arms, Ridetech premium coilovers, disc brakes, power steering, and anti sway bar, with bolt-on engine mounts for the Coyote, Windsor, and FE-series engines available.
For more info, check out Fatman Fabrications (704) 545-0369, or visit fatmanfab.com.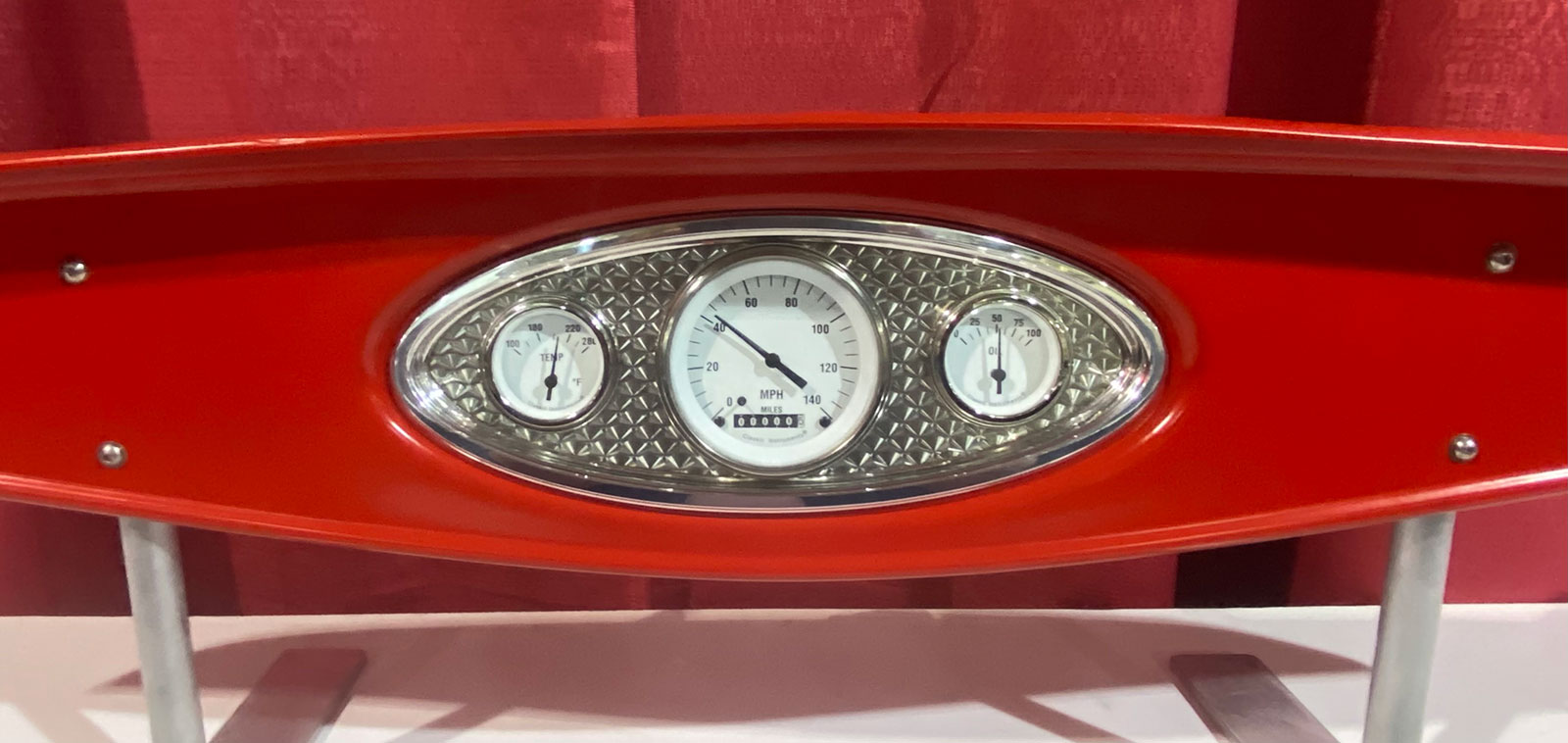 Phoenix Machine's 1932 Ford Coupe Dash Insert – Latest offering from Phoenix Machine is the traditional-appearing (engine turned) dash panel insert for the 1932 Ford. The face of this panel is recessed, which adds depth and enhanced appearance. It will fit in the stock recess of the Ford dashboard.
The Ford Deuce panel is CNC machined from 6061 aluminum stock. The edges are polished to a mirror finish and the engine-turned insert is made from 22-gauge stainless steel for a long-lasting great appearance. The panel comes with pre drilled 3-3/8- and 2-1/16-gauge holes.
For more info, check out Phoenix Machine (920) 841-0500, or visit phoenixmachinellc.com.
Mopar Four-Bolt Wilwood Tandem Master Cylinder
Wilwood manufactures a performance master cylinder with a flange specifically for the rectangular mounting flange for Mopars. The new Mopar Compact Tandem master cylinder matches the B-body, including Chrysler Cordoba, Dodge Charger, and Plymouth Fury; the A-body, including Dart and Valiant; and the E-body Challenger and Barracuda.
Wilwood offers these Mopar-specific master cylinders in 15/16-, 1-, or 1-1/8-inch bore sizes compatible with manual and power, drum, or disc brakes (drum brake residual valve available separately). The die-cast aluminum master cylinders are available with either a chrome powder coat or black E-coat finish to complement any engine bay. Also offered in the kits are Wilwood's Combo Valve with an adjustable proportioning valve, hydraulic brake light switch, plumbing, and bracket.
For more info, contact Wilwood Engineering by visiting wilwood.com.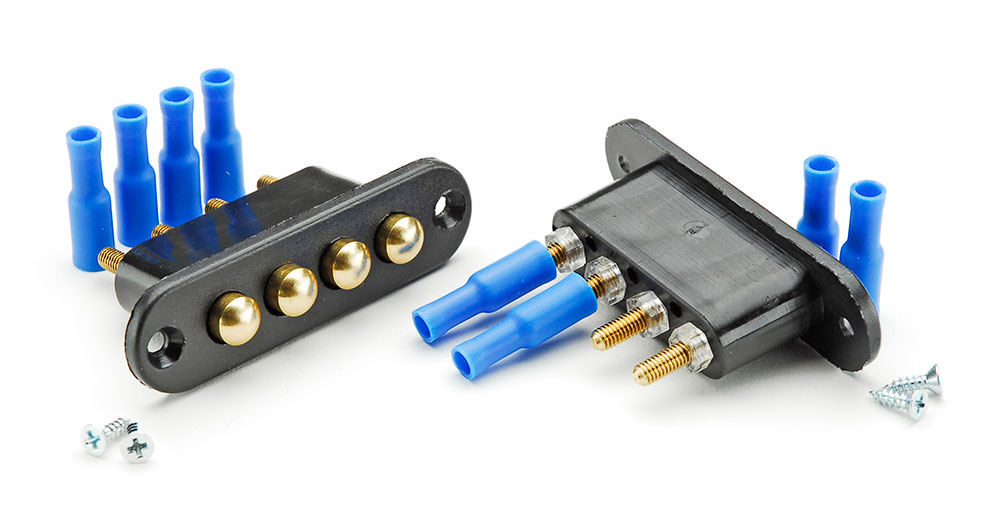 Original: '65-70 Mustangs Can Now Have a Bolt-In IFS System
Dakota Digital Magnum Shooters/W.I.D.E. Contacts
Dakota Digital has been a distributor of W.I.D.E. door contacts since its inception in 1995 using the trade name Magnum Shooters, but has since purchased the product line completely.
The W.I.D.E. Contact models are offered in a range of a number of contacts, both with and without pin switches for dome light activation. Dakota Digital was built around the idea of adding modern and convenient features to a custom vehicle.
For more info, check out Dakota Digital by calling (800) 852-3228, or visit dakotadigital.com.
Read More: How To Build An LS Engine: Short Block Assembly
ECI Hot Rod Brakes' 4 in 1 tubing bender
Engineered Components (ECI) offers versatile tubing benders with their 4 in 1 tubing bender, capable of bending 3/16-, ¼-, 5/16-, and 3/8-inch tubing up to 180 degrees at a 1-inch centerline radius. The 2 in 1 tubing bender handles 3/16- and ¼-inch tubing and bends 180 degrees at a 5/8-inch centerline radius. Both units can make "zero lead or off nut" bends. This feature allows you to start bends directly off the tube nut. Offered with an optional three-dimensional back gauge system that allows the user duplicate existing bends, fabricate repetitive production bends, or just aid in holding and positioning for unmatched accuracy. Vise mounted for ease of operation and features a 180-degree scale with indicator for one stoke operation.
For more info, check out Engineered Components by calling (860) 872-7046 or visit ecihotrodbrakes.com.
Speedway Motors' Disc Brake Conversion Kit For '50s Fords
Speedway Motors offers these two 11-inch disc brake kits to improve stopping for '49-53 Fords and Mercurys (PN 91032003) as well as '54-56 Fords (PN 91032000). These kits will greatly improve stopping power as well as work with your 15-inch wheels.
Both kits feature 11-inch cast-iron rotors, loaded metric calipers, slide bolts, brake hoses, crush washers, dust caps, and all seals, bearings, and hardware. Complete instructions are also available. The '54-56 kit will also fit the '54 Ford Crestline; '54-56 Customline and Mainline; '55-56 Fairlane, Victoria, and Crown Victoria; and '55-57 Thunderbird.
For more info, check out Speedway Motors by calling (800) 979-0122 or visit speedwaymotors.com.
Read More: How To Install Variable Angle Gear (VDOG) and Microsteer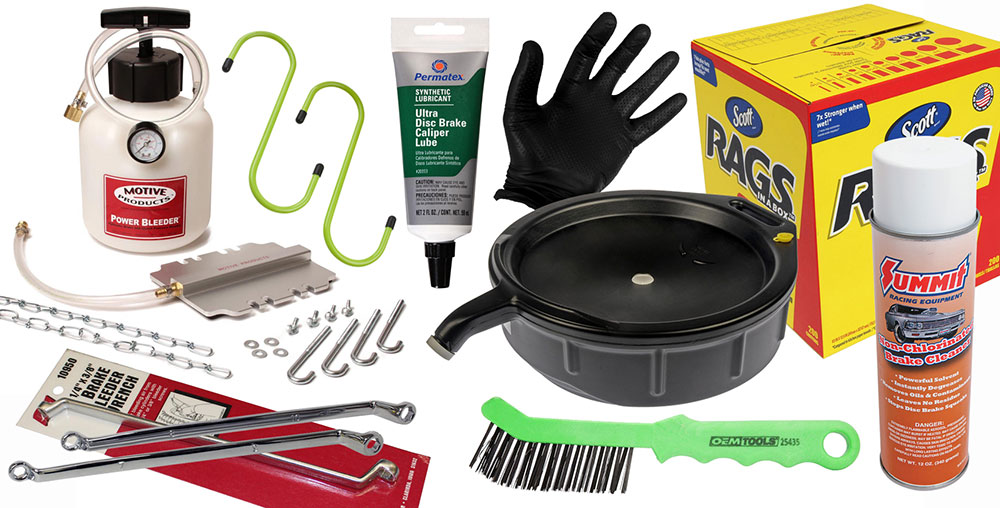 Summit Racing's Brake Job Completion Kit
Servicing disc brakes isn't a difficult job, especially when you have the right tools at hand. Summit Racing Disc Brake Service Parts Combo has the tools you need in one package.
The Motive Products Power Bleeder Kit uses pressurized brake fluid to force air and old fluid out of your brake lines. Then you will need the Lisle Brake Bleeder Wrenches in their combo with an offset design for easy access to screws. It includes wrenches for 1/4- and 3/8-inch, 8- and 10-mm screws. Now for clean up, OEM Automotive Tools Brake Caliper Brush features extra-durable stainless steel angled wire bristles to clean brake calipers, shims, and other areas when doing brake work. Also, Mueller Kueps Uni-Hooks are made from bendable aluminum so you can hang brake calipers safely out of the way. Lastly, having dedicated pans for oil, coolant, and so on, helps prevent contamination—a big deal when you take fluid to the recycler. The Dorman Drain Pan in Summit's combo holds 15 quarts and has a breather vent, center plug, and a handle for easy pouring.
Summit Racing Non-Chlorinated Brake Cleaner cleans and decreases and the Permatex Ultra Disc Brake Caliper Lubricant is formulated to lubricate critical caliper pins, sleeves, bushings, and pistons under the most adverse brake conditions. Rounding out the combo are Summit Racing Textured Nitrile Gloves and Summit Racing Scott Towels in a Box.
For more info, check out Summit Racing Equipment by calling (800) 230-3030, or visit summitracing.com.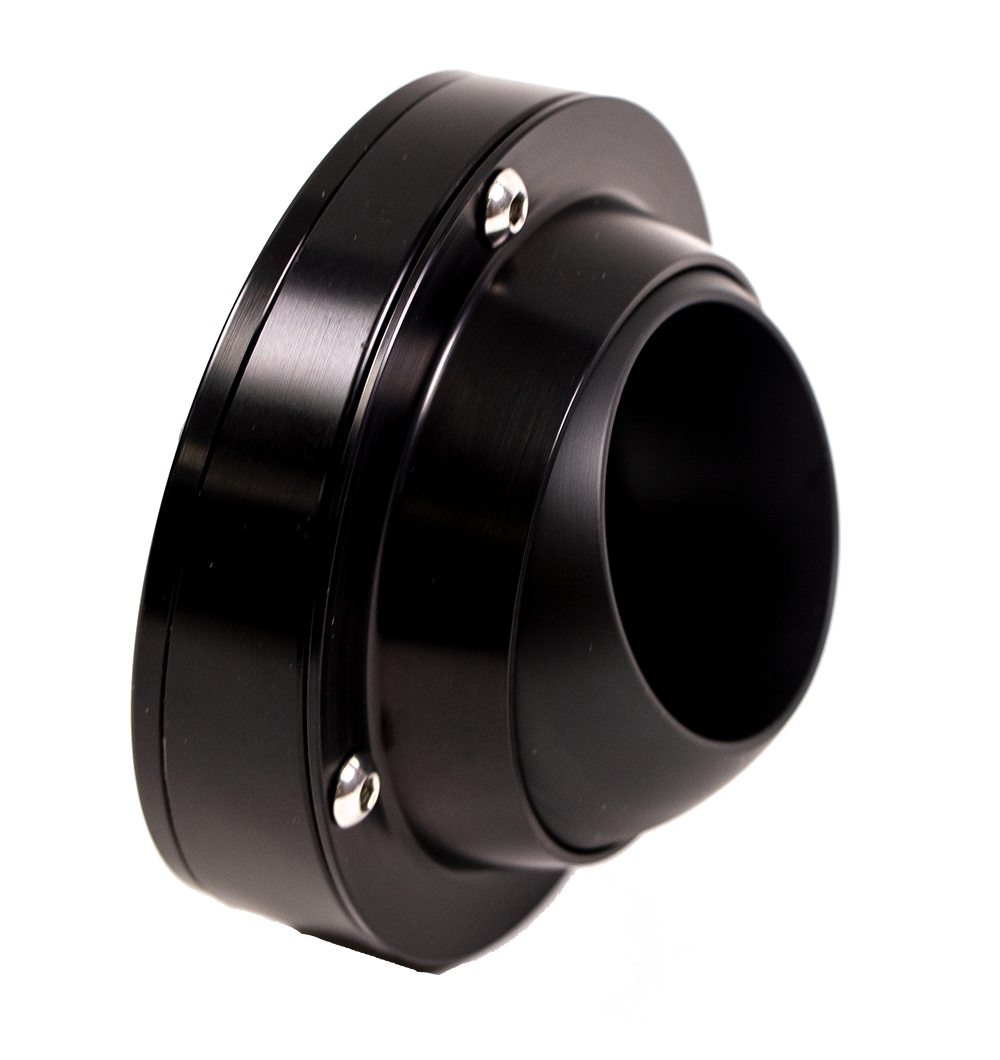 High Angle Swivel Ball Floor Mount
Ididit's High Angle Swivel Ball Floor Mount was designed for more complex, unusual installs that require steeper angles where the column meets the firewall. Ididit's new floor mount provides up to 35 degrees of articulation of the column tube, which is 10 degrees more than other designs. Manufactured from billet aluminum, this floor mount offers a sleek, more-refined appearance and is available in a machined or black anodized finish. This floor mount accommodates 2- and 2-1/4-inch columns.
For more info, check out ididit by calling (517) 424-0577 or visit ididit.com.

Early Mustang Cool Air
Old Air Products now offers a reproduction center vent (PN 20-0023CV-B) for '67-68 Ford Mustangs. This center vent features metal diecast construction with chrome finish and black camera case trim. Original-style knobs move louvers to direct the airflow. This is a direct replacement for the original factory A/C center vent.
This new reproduction center vent can also be combined with an adapter and factory-style side vents to add a factory appearance to Old Air Products' Hurricane A/C, Heat & Defrost systems for '67-68 Mustangs.
For more info, check out Old Air Products by calling (817) 531-2665 or visit oldairproducts.com.
Read More: How to Install Old Air Products' Complete AC System on a 1967 Ford F100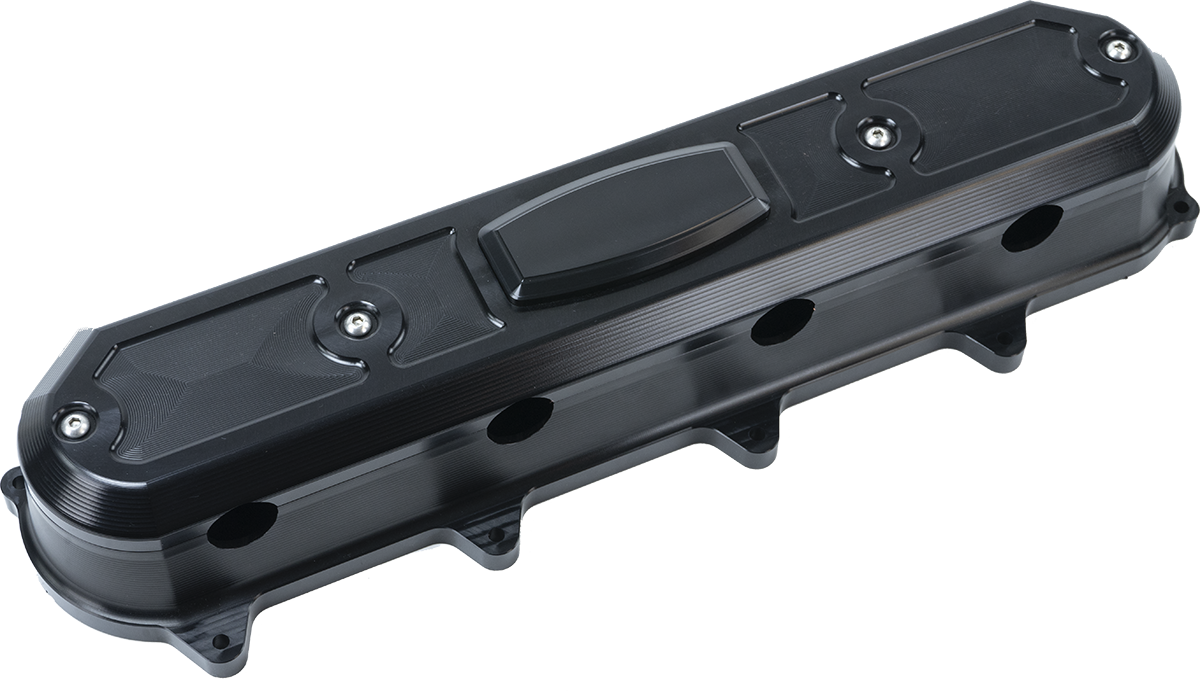 Under Wraps
Dress up your LT with a set of custom valve covers that also hide the stock coils. Scott's Hotrods 'N Customs' billet CNC in-house 6061 billet aluminum-machined LT Valve 'N Coil Covers solve that problem perfectly with its new two-piece design.
Scott's Hotrods designed these covers to work with the stock GM coils. The covers hide all the stock wiring from sight and have ports for the plug's wire to exit. Available in a raw cut billet, polished, or a black anodized finish, Scott's can even custom machine these covers with your personal vehicle name or your company logo for an additional charge!
For more info, check out Scott's Hotrods 'N Customs by calling (865) 951-2081 or visit scottshotrods.com.
Read More: In The Shop Scott's Hotrods 'N Customs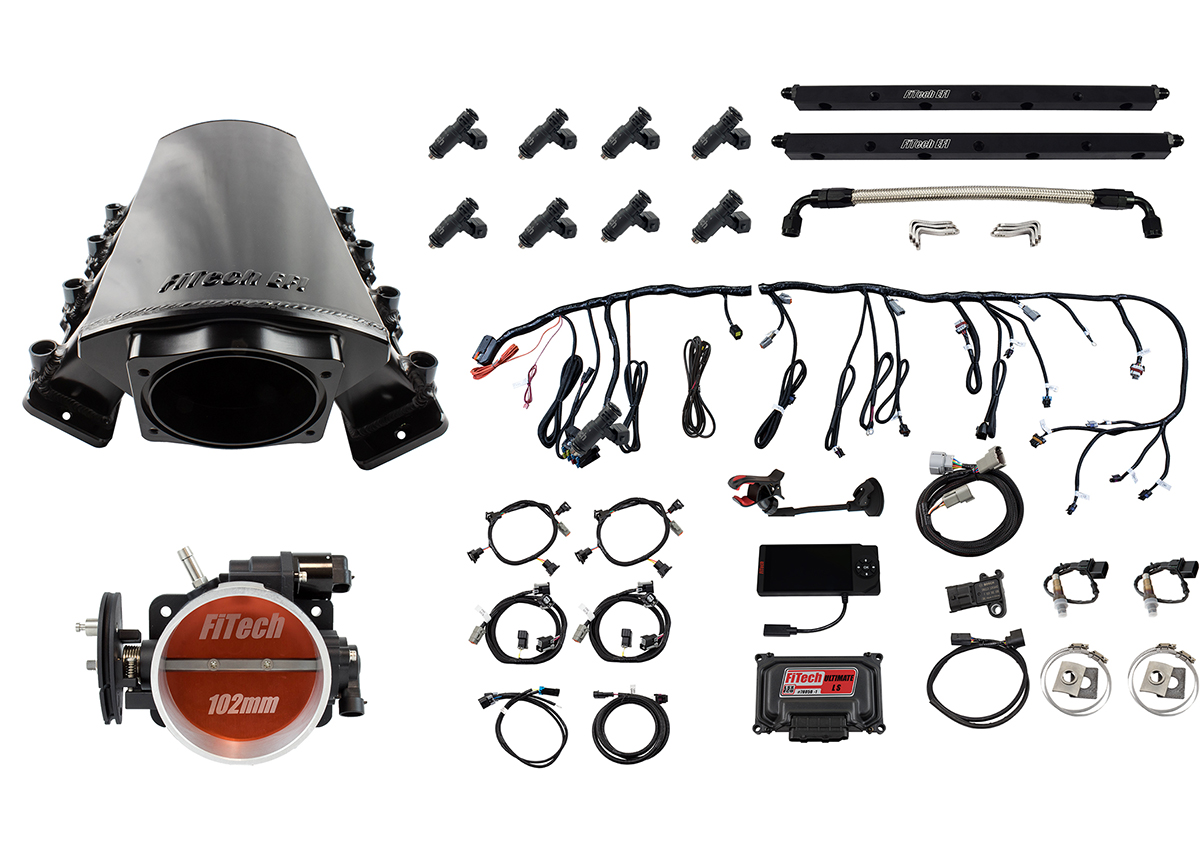 Ultimate LS EFI
The Ultimate LS 1000 HP EFI System LS1, LS2, LS6, LR4, LM4, LM7, LQ4, and LQ9 cylinder heads are here. It covers 70030 short cathedral intake (PN 70031), short cathedral intake and trans control (PN 70032), long runner cathedral intake (PN 70033), and long runner cathedral intake and trans control. The LS3, L92, L76, L99, LSA, and LS9 cylinder heads (PN 70034), short LS3 Port Intake (PN 70035), short LS3 port intake and trans control (PN 70036), short LS7 port intake (PN 70037), and short LS7 port intake and trans control are in stock.
The Ultimate LS systems just got better with 1,000hp support. Available for LS1, LS2, LS3, LS6, LS7, LR4, LM4, LM7, LQ4, LQ9, L92, L76, L99, LSA, and LS9 heads. The trans control feature supports 4L60, 4L65,4L80, and 4L85 transmissions. The kits come ready for boost with a three-bar MAP sensor and can be run with a single or dual oxygen sensor.
The FiTech Fuel Injection Ultimate EFI kits come with a low-profile design and a 102mm inlet throttle body. They are fabricated with 3mm-thick aluminum sheetmetal and TIG-welded intake manifolds. FiTech's intake manifolds support 1,500-6,500 rpm powerband up to 1,000 hp at the flywheel. Kits are supplied with a self-learning ECU, touch-screen handheld controller, 80-pound flow-matched injectors, sequential fuel, spark control with individual cylinder trim, and a custom wiring harness.
For more info, check out FiTech by call (951) 340-2624  or visit fitechefi.com.