Part 1: Prepping, Inspecting, and Assembling the 5.3 Iron Block of Our Summit Racing LS engine package
By Ryan Manson   –   Photography By Brian Brennan   –   Videography by Ryan Foss
When it comes to building a performance LS engine package, there's no better source for not only those internal components but also the tools required to properly measure and inspect those components than Summit Racing. Not only does Summit stock all the usual suspects when it comes to engine parts and speed equipment, their private label line offers a laundry list of products with an eye toward quality and affordability. From the oil pan to the valve covers, we turned to Summit at every corner of our latest LS build, and they had everything we needed.
Read More: Top 10 LS Engines
Speaking of performance LS and LT engine packages, the guys at American Heritage Performance have successfully carved out a niche in a market flooded with performance engine builders and aftermarket manufacturers. From their Archangel LS7 heads that powered the world's fastest naturally aspirated Corvette C6 Z06 (8.895 seconds at 154 mph in the quarter-mile!) to their 700-rwhp 442ci stroker LS7 crate engine package; to say the American Heritage Performance crew know how to make power using the latest small block Chevy would be to put it lightly. That said, it should come as no surprise that when it came time to assemble a powerplant based on a 5.3L iron block, the American Heritage Performance crew were confident they could assemble a reliable engine that would make impressive power to boot.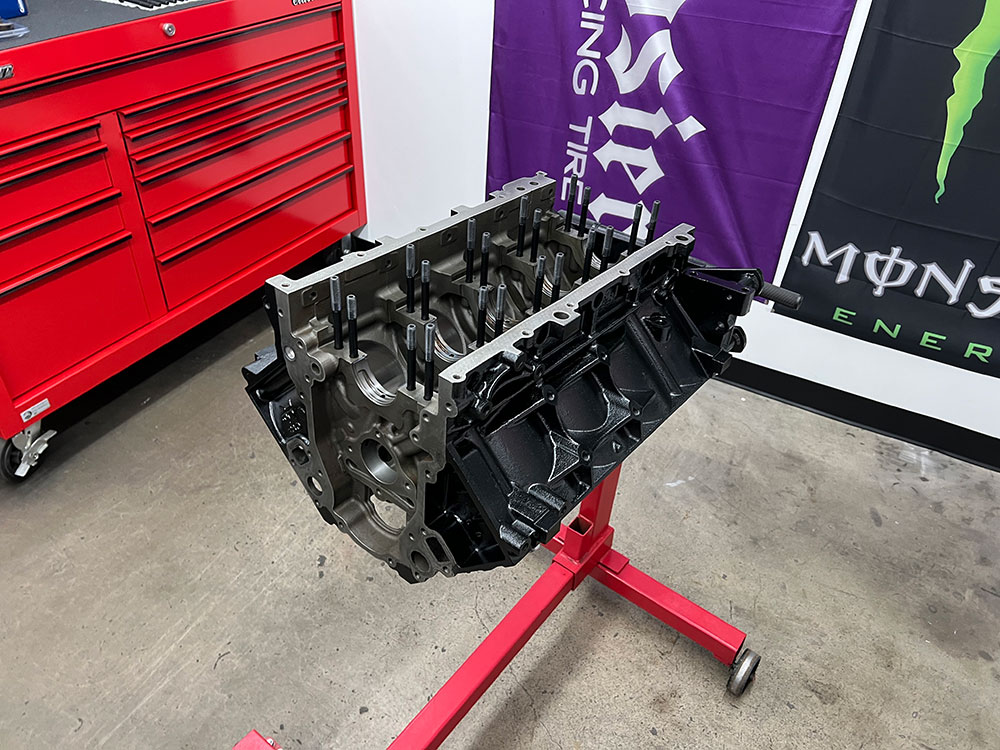 Keeping a tightly wound engine together requires quality hardware and for that end ARP bolts will be used from the main studs to the head bolts. A successful combination to be sure, American Heritage Performance's Kyle Martelli will be bringing in his expertise to carefully inspect and assemble every aspect of the LS engine build.
Read More: LS Swap, 20 Tips and Tricks to Nail it on the First Try
To begin our build, an LS iron block was located, purchased, and disassembled before being delivered to American Heritage Performance. Once there, it was carefully measured and inspected before being deemed acceptable and sent off for machining. Decked, bored, honed, and brought within closer specs than GM could ever imagine, the bare block was then rolled into American Heritage Performance's clean room where the build process could begin.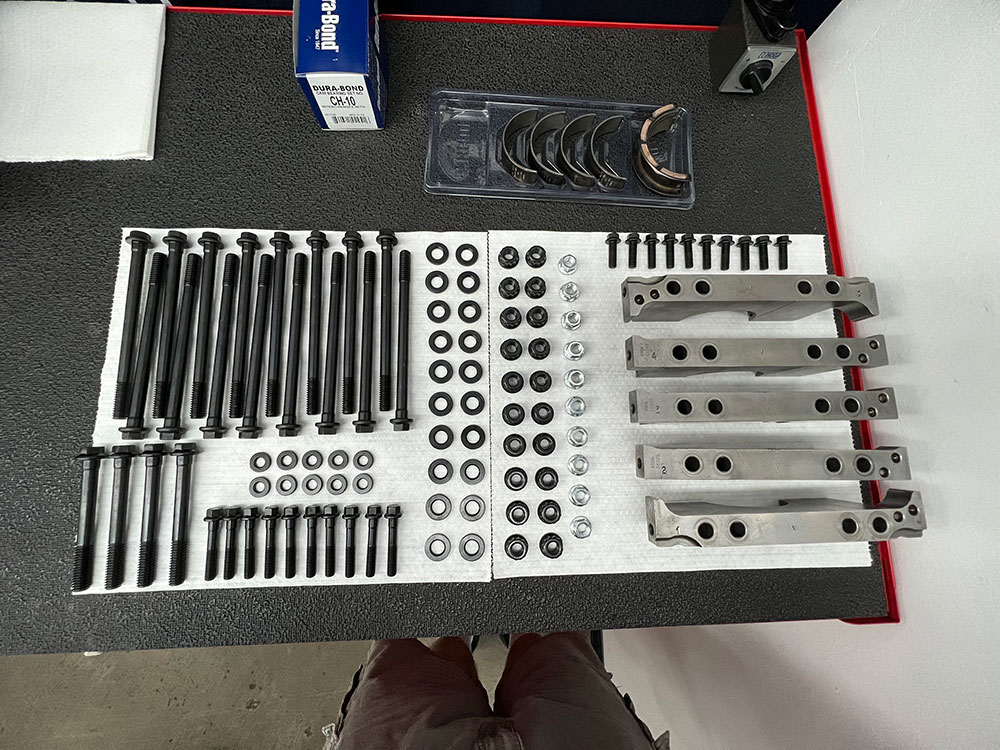 Read More: Engine Wiring for LS Engine Swaps
Martelli will be inspecting the block first, checking crankshaft main bearing clearances before installing the cam bearings. From there, the crankshaft will be ready for installation and a few additional procedures will follow before the bottom end of our Summit Racing LS build is complete. We'll come back next time and cover the rotating assembly, heads, and valvetrain before putting our mighty Summit Racing LS engine on AHP's dyno where it will be broken in and its abilities demonstrated. MR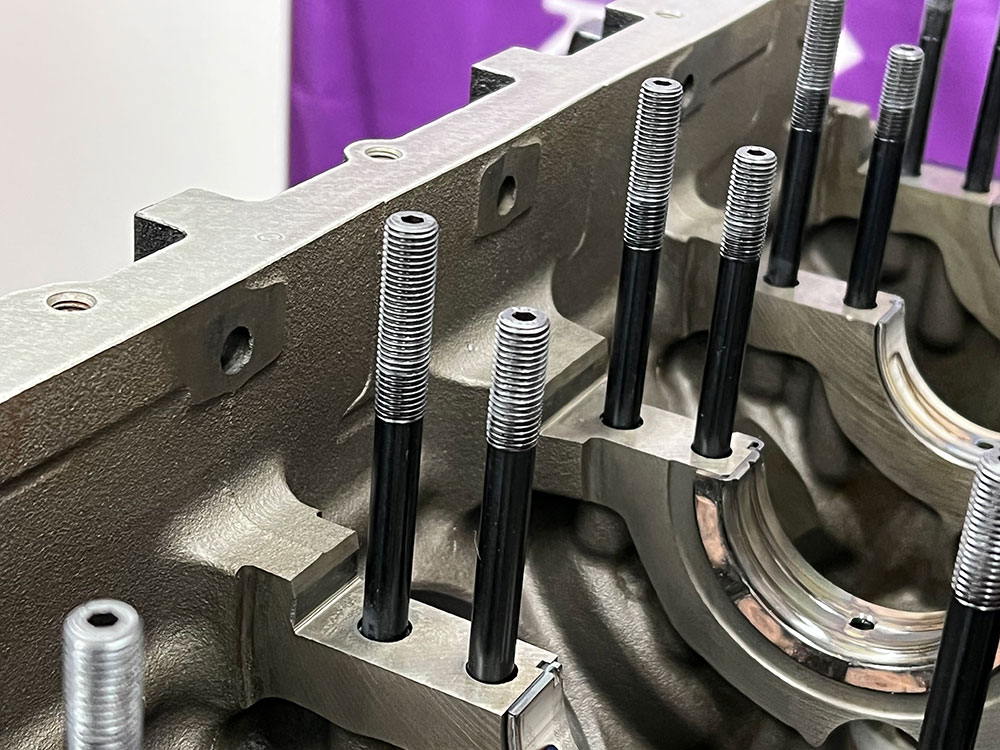 Part 2: Wrapping Up the Rotating Assembly on Our Summit Racing 5.3 Iron Block Engine Package
Thorough block inspection is paramount to a successful performance engine build, and Kyle Martelli and the team at American Heritage Performance's (AHP) attention to detail will no doubt show through when we put our LS engine through its paces on AHP's dyno. But before that can happen, we need to continue with the assembly process, starting with the rotating assembly.
To continue with our Summit build, it should come as no surprise that we chose to use their LS Pro line of products for nearly all the moving parts in our motor. Starting with their 6.125-inch H-beam connecting rods and concluding with a set of their forged 2618 alloy pistons, the top end of our LS is a complete assembly of Summit Racing LS Pro parts. Like the crankshaft installation, Martelli inspected all the components, noted the results, and compared them to the specs provided by Summit and the bearing manufacturer. Pleased with the results, Martelli proceeded to file the ring pack to spec before assembling the piston/rod assembly. From there, using an ARP piston installation tool, Martelli dropped each slug pack into their respective cylinder, torquing every rod cap to spec via ARP 2000 rod bolts.
With the rotating assembly complete, Martelli then turned his attention to the installation of the camshaft. When it came to camshaft selection, we went with recommendations from both the AHP and Summit Racing teams, resulting with another selection from the Summit LS Pro line. Featuring 222 degrees of duration on the intake side and 234 degrees on the exhaust side at 0.050-inch lift, the resulting hydraulic roller tappet camshaft should provide plenty of low-end grunt, a good idle lope, and plenty of top-end power.
Read More: Sensors You Need To Replace On Your Junkyard LS
From there, Martelli installed the timing chain components and the high-volume oil pump. Front and rear covers were then installed, followed by a stock oil pan, effectively sealing up the bottom end of our short-block build.
Part 3: Big Power From a Conservative Package
Wrapping up an engine build and strapping it onto a dyno can be an anxiety-ridden experience. Between the quality of parts we've used from Summit Racing and the experience and expertise from the guys at American Heritage Performance (AHP), we had no worries when it came time to start spinning the motor up and putting some numbers down. But first, AHP's engine builder-in-chief, Kyle Martelli, still has a couple items to install before Kohle Heimlich can slide into the dyno operator's chair.
The first task is to get the AHP-inspected Trick Flow cylinder heads assembled and installed. Once the cylinder heads were in place, Martelli measured for pushrod length before finalizing the valvetrain assembly. New sensors, spark plugs, AHP's base dyno induction setup, along with the necessary wiring harness completes the preparation phase, and the engine is ready to be tested.
Before that, however, Heimlich uses the dyno to control the engine's rpm and load to properly break in the engine. This helps seat the rings against the cylinder walls and ensure the valvetrain components are receiving oil as needed. After the break-in procedure, the fun can begin, starting with a few low-rpm runs, slowly increasing engine speed and adding a little bit of timing as required until the final dyno pass has been made. The resulting dyno numbers speak for themselves and leave us impressed. For a relatively mild LS build, we're happy with the results and it should scoot our project down the road nicely.
Sources
American Heritage Performance
(310) 326-2399
americanheritageperformance.com
Automotive Racing Products (ARP)
(800) 826-3045
arp-bolts.com
Summit Racing
(800) 230-3030
summitracing.com