Solving Steering Issues On This Lexus V8 Swapped 1932 Ford Roadster
By Brian Brennan   –   Photography by Author
Whether you drive an early hot rod or a postwar ride, the fact is you will undoubtedly need to overcome a steering issue or two. Maybe it's an engine compartment fitment issue. Maybe you want power steering but don't want to change the steering box and then add the required accessories to pull it all together. Flaming River offers a solution to both steering fitment and gaining electric power steering. They offer the VDOG Variable Angle Gear and Microsteer as the solution for electric power steering.
VDOG Variable Angle Gear
So, here we are today in an industry that has come up with solutions for many problems. Flaming River back in 2019 won a SEMA Best New Street Rod Product and Best Engineered New Product for their VDOG Variable Angle Gear (PN FR20303, standard finish). Think of it as a means to overcome severe steering angles within your engine compartment. It gives you options you heretofore didn't have when linking up to a rack-and-pinion or traditional steering box.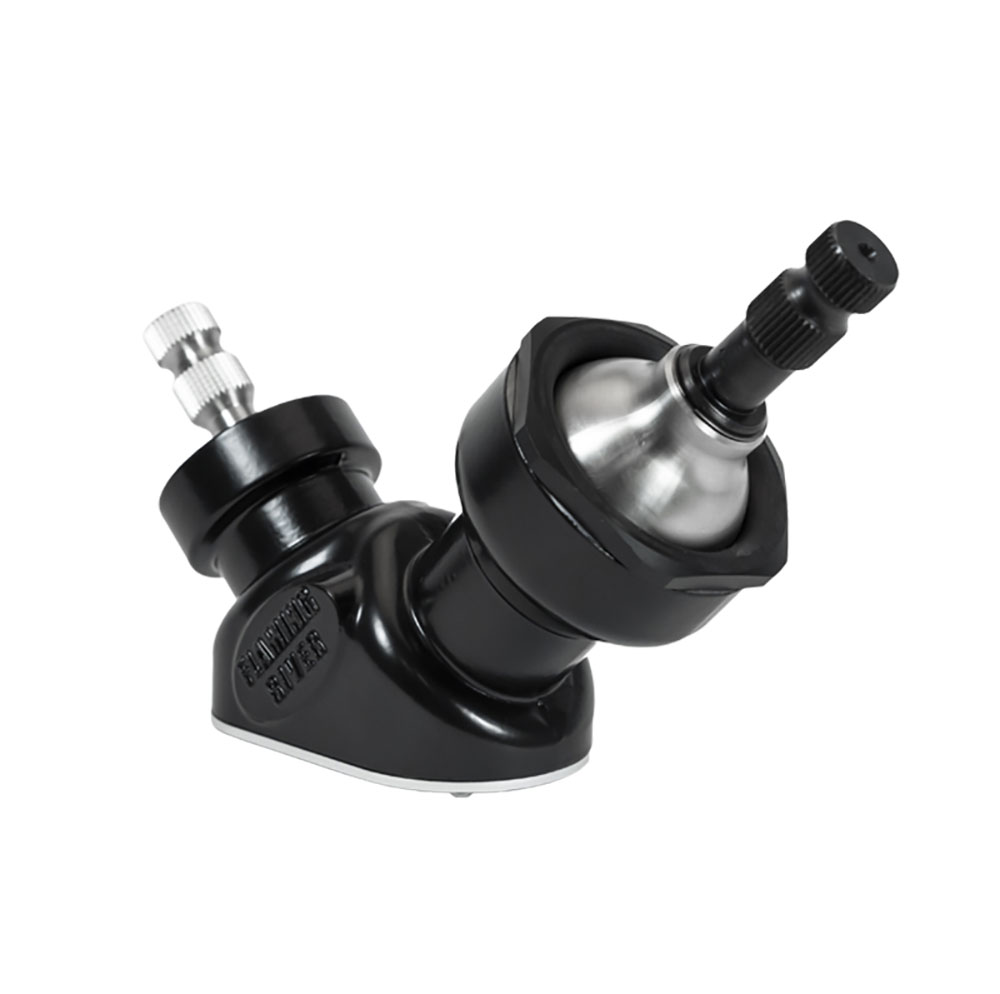 Read More: Chasing Perfection: 1931 Ford Tudor Sedan
The VDOG is capable of a 90-degree angle between input and output. It features a 35-degree variable angle and a 360-degree rotation that features a ¾-inch diameter with 36-spline input and output shafts working with either U-joint or coupler connection.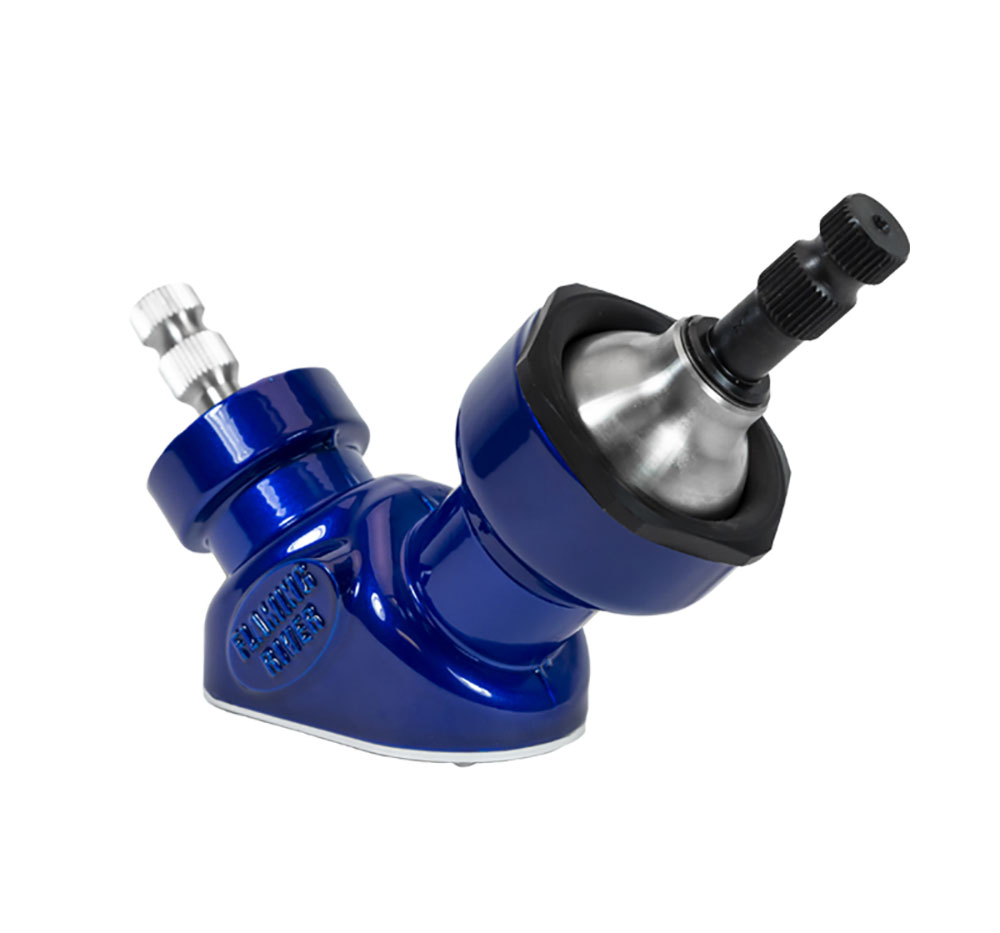 Wherever you have difficult steering solutions to achieve, the VDOG can be mounted in the engine bay, behind the dashboard, or on the firewall. Note it can be mounted at several vertical and/or inverted positions. It's sealed so weather/moisture will not hurt the unit. We also opted to use the VDOG Pillow Block (PN FR20304PBM) as it makes for the perfect way to attach the VDOG to its mounting point.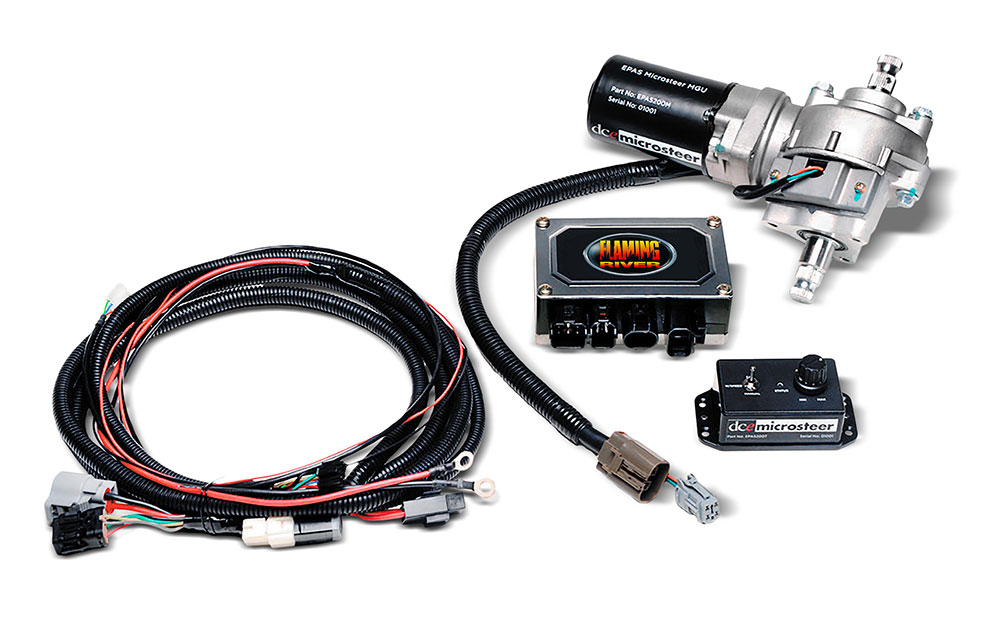 Microsteer
Next up is the Microsteer (PN FR40200), which is comprised of a motor/gearbox (MGU), electronic control unit (ECU), tuning box (potentiometer), wiring harness, and instructions. It offers a solution to retrofit (or install from the very beginning of your build) an electric power assisted steering and it, too, can solve clearance/fitment issues. It can be mounted in the engine compartment or within the passenger compartment in conjunction with the steering column.
Read More: How To French Tail Lights On A Ford Model 48
The motor itself installs inline, either off the column at the rack or box or in between where you mount it; via an optional 11/16-inch -36 spline (PN FR2721) U-joints and a 11/16-inch -36 coupler (PN FR1948). Another option is the VDOG Pillow Block Mount (PN 20304PBM). Being electric makes it an easy plug-and-play system complete with a wiring harness. There is also an ECU that is part of the system, and it is programmable via a potentiometer. It allows you to make the system speed sensitive, which is done by connecting an optional wheel speed signal (PN FR40200S). The unit itself is water resistant, allowing for installation within the engine compartment or within the cockpit. Universal joints are required for installation but are not included in the kit.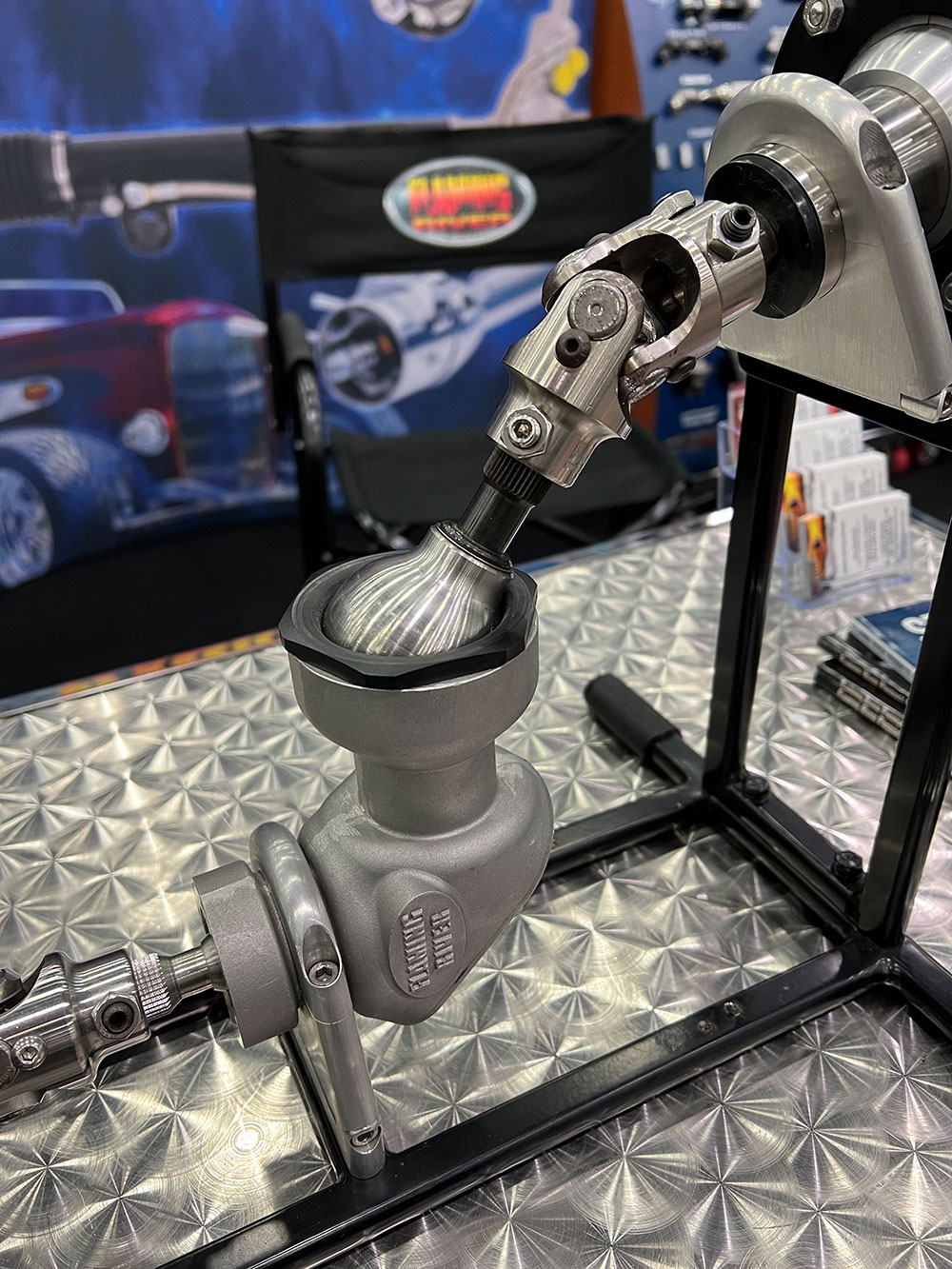 Did it Work?
We watched the installation and then we took the roadster for a drive. Our partner in this effort is longtime SoCal hot rodder Don Prieto. We used his 1932 Ford highboy roadster that has notorious space issues underhood. It is powered by a unique Lexus V8 that provides for excellent driving and performance characteristics but fills the void and then some. Steering is a popular manual rack-and-pinion system that sure could benefit from assisted power steering.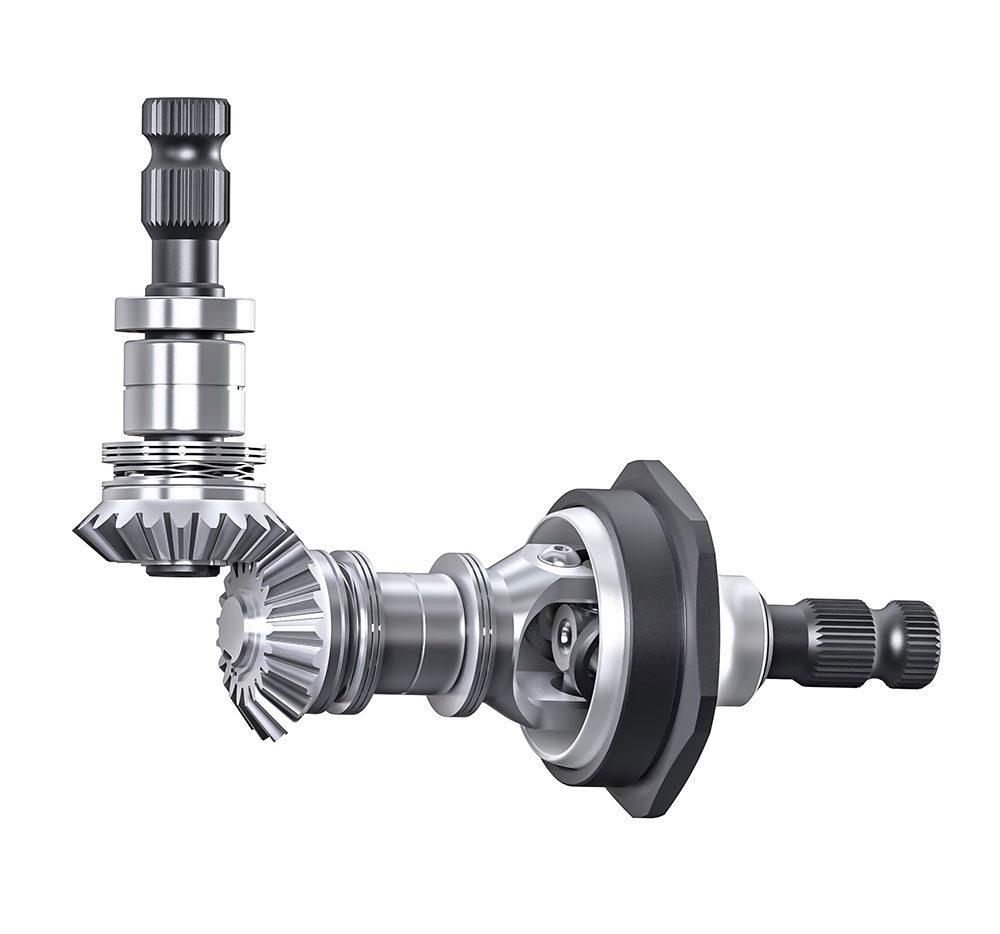 What Prieto Had to Say
"I have desperately tried to park the roadster in a narrow parking spot and the combination of having to watch where I'm going and cranking on the steering wheel is a bit much … fat tires and all. My wife is sitting next to me watching me struggle and says, 'Why don't you get power steering?' I glower at her in frustration and keep struggling. Finally parked, I'm exhausted. 'I'll look into it.'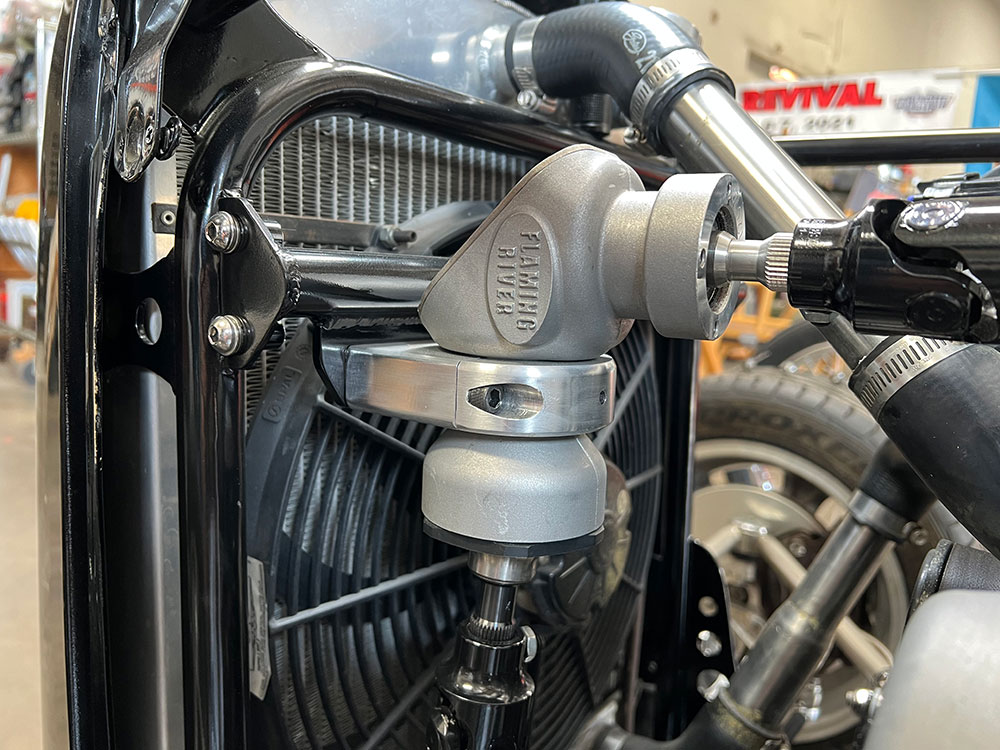 "That evening in the restaurant while having dinner with Jerry Kugel and his wife, my wife mentions my need for a power steering in the roadster. Kugel chimes in and says, 'I have a Flaming River Microsteer electric assisted power steering unit that works great. Bring it over and I'll show you how it works.'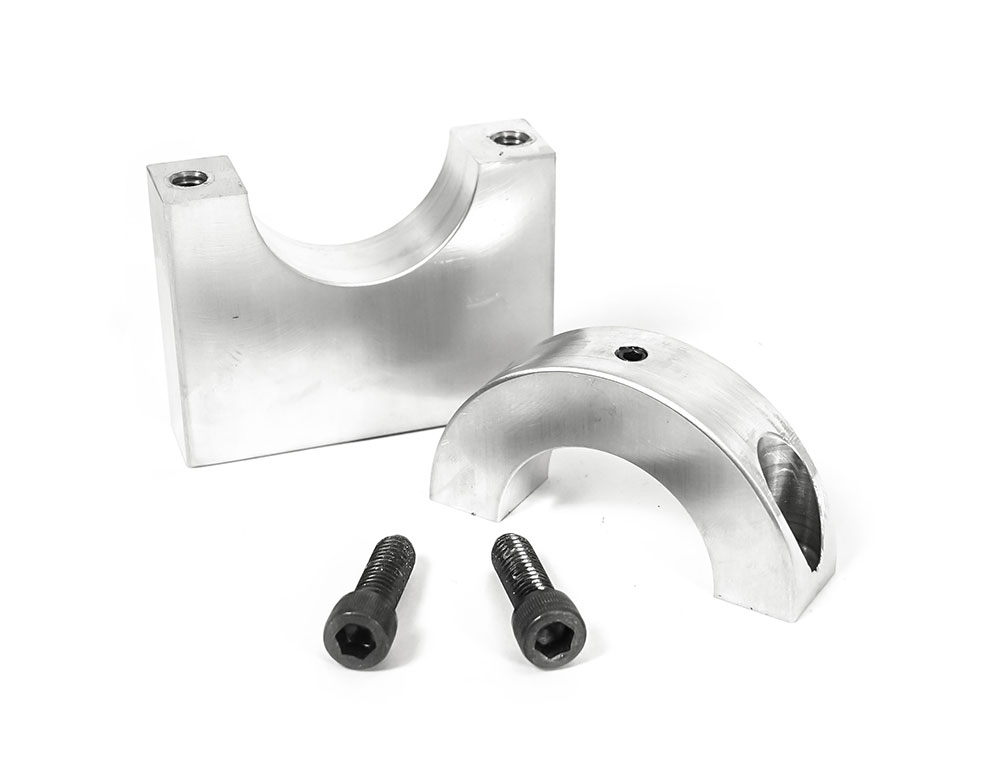 "Fast-forward a couple of weeks and the Microsteer (along with the VDOG because of fitment issues) is installed. I'm ready for a test drive. Kugel shows me how easy it works even without the engine running. I proceed out of the parking lot and onto the boulevard. So far so good. I make haste to the freeway to see how it does at freeway speeds and all the rain groves. It's a bit twitchy at first and I quickly learn that it is me giving too much input. I turn to a lesson learned from the late Dan Gurney … fingertips on the lower part of the wheel and hold steady … wow. Straight as a string. I'm cruising!
Read More: Everything You Need To Know About Quick Change Axles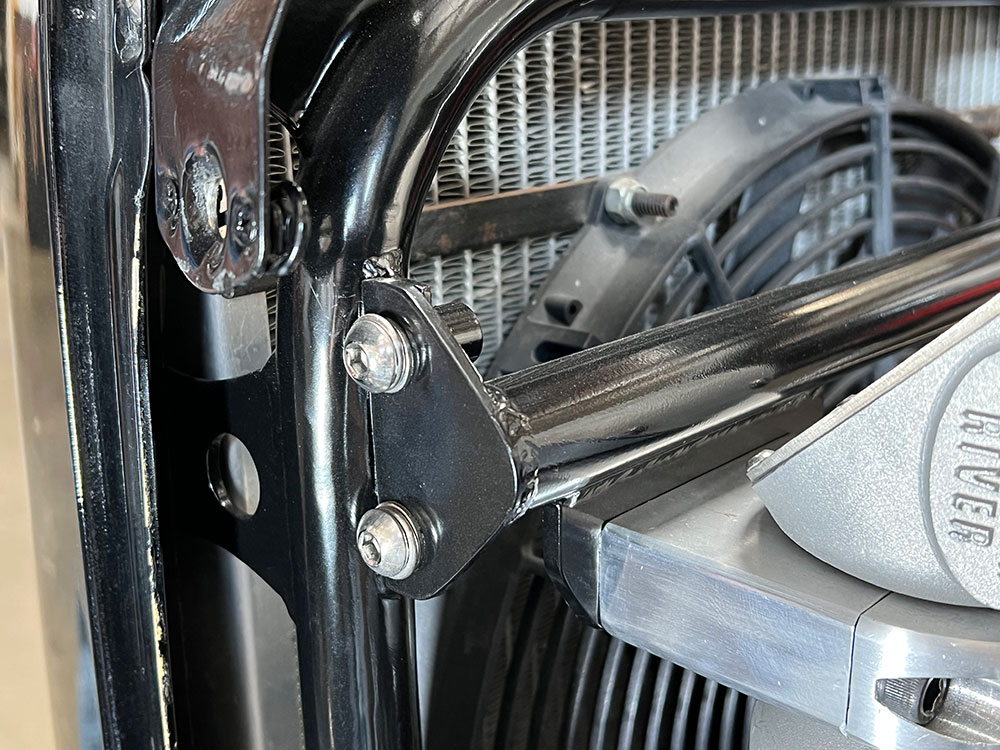 "Back to Kugel Komponents and report in. 'Smooth as glass,' I report, and the effort to park is just like a real car … I'm impressed. Kugel points out the little Microsteer potentiometer under the dash and explains that I can dial in the steering feel that I want from lots of boost to very little or turn it off altogether should I choose. When I get home, I demonstrate the new electric power steering unit and explain to my wife that now she can even drive this vehicle any time she wants. 'I'll leave the driving to you,' she says, 'and I won't have to watch you struggle getting into a parking spot.' She's right again. I hate it when that happens."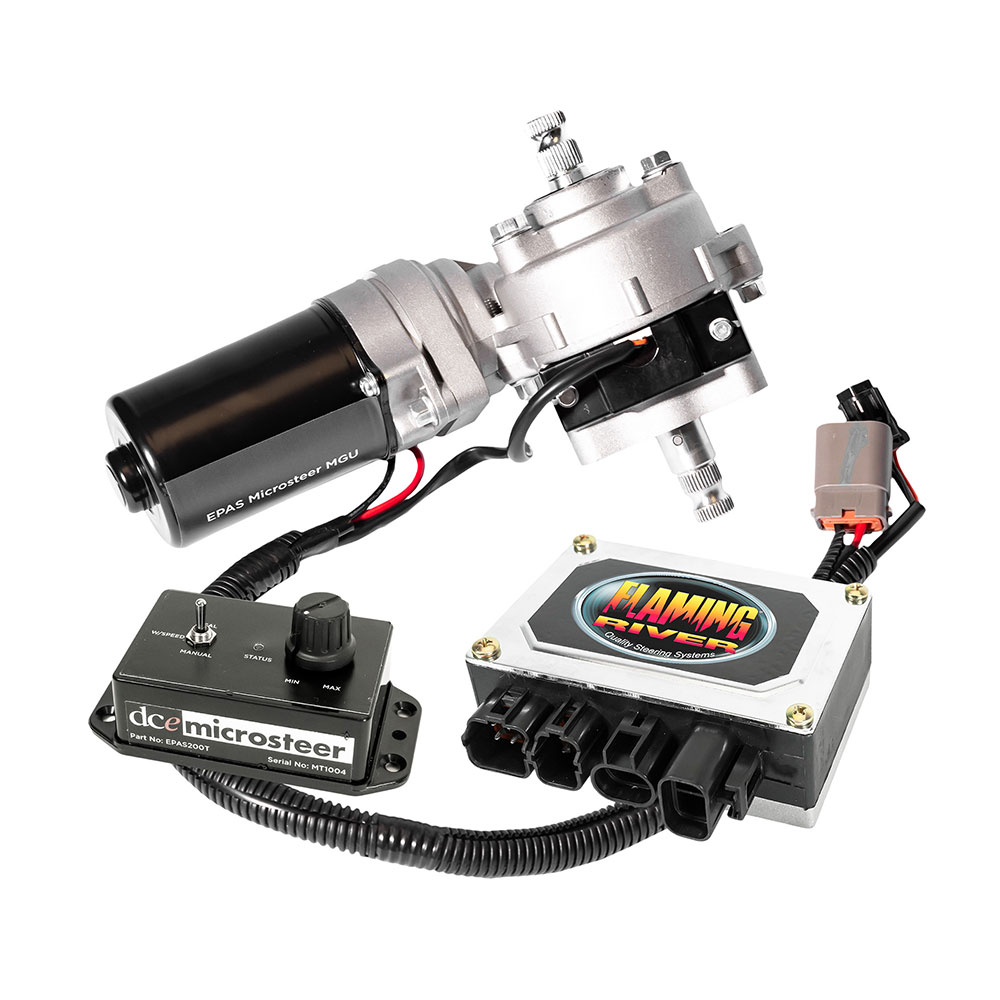 Conclusion
If space is an issue for your hot rod's steering, Flaming River has two great options. The VDOG can provide a viable solution for fitment concerns and the Microsteer offers a great solution to gaining electric power steering through the electric assisted power unit. The fitment is ideal, installation is simple, and the results are just what you are looking for. MR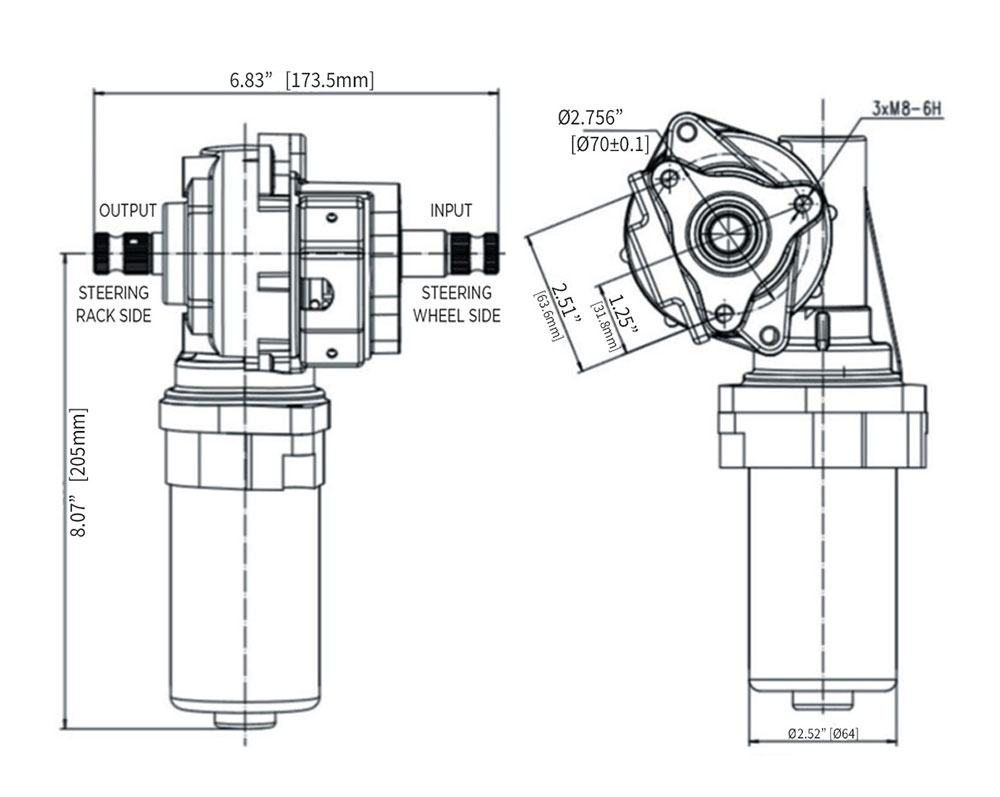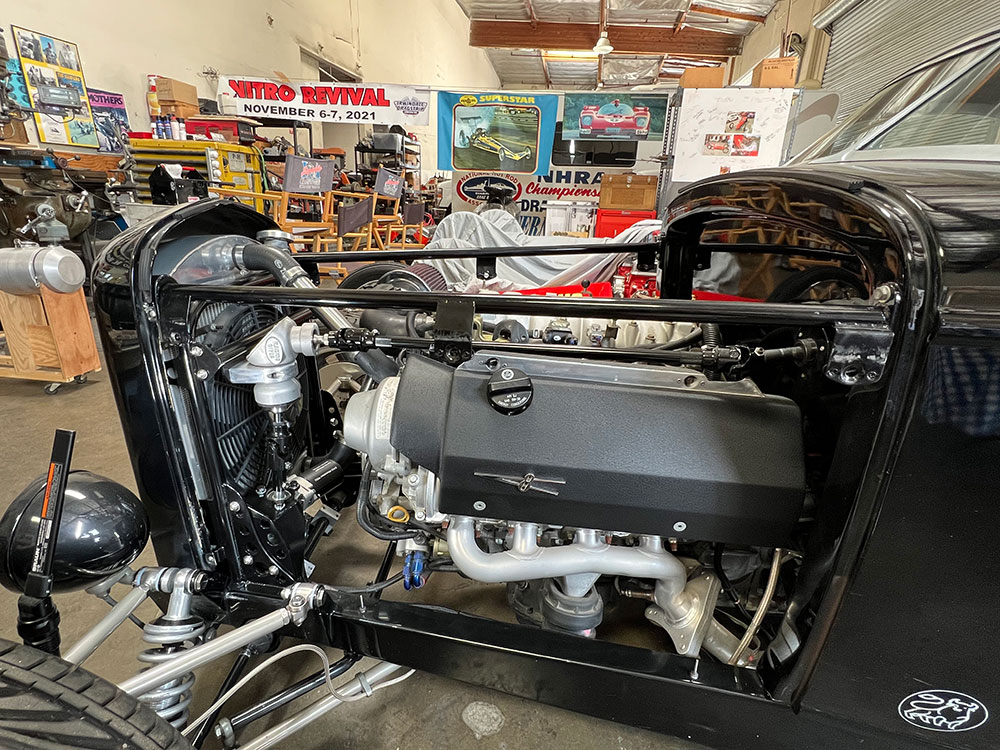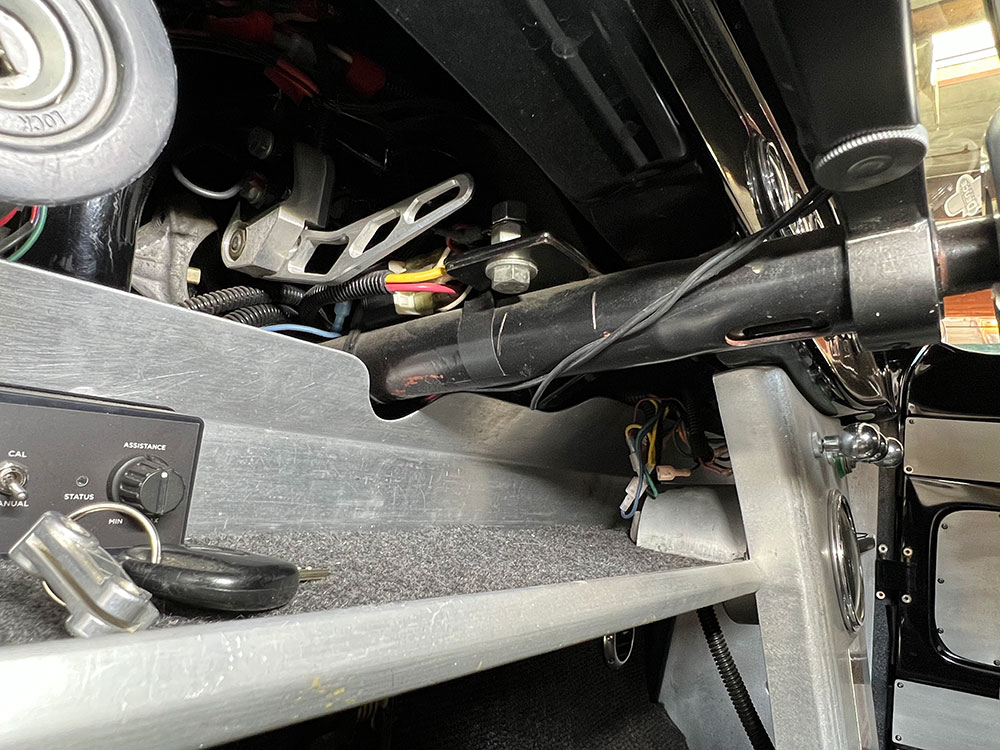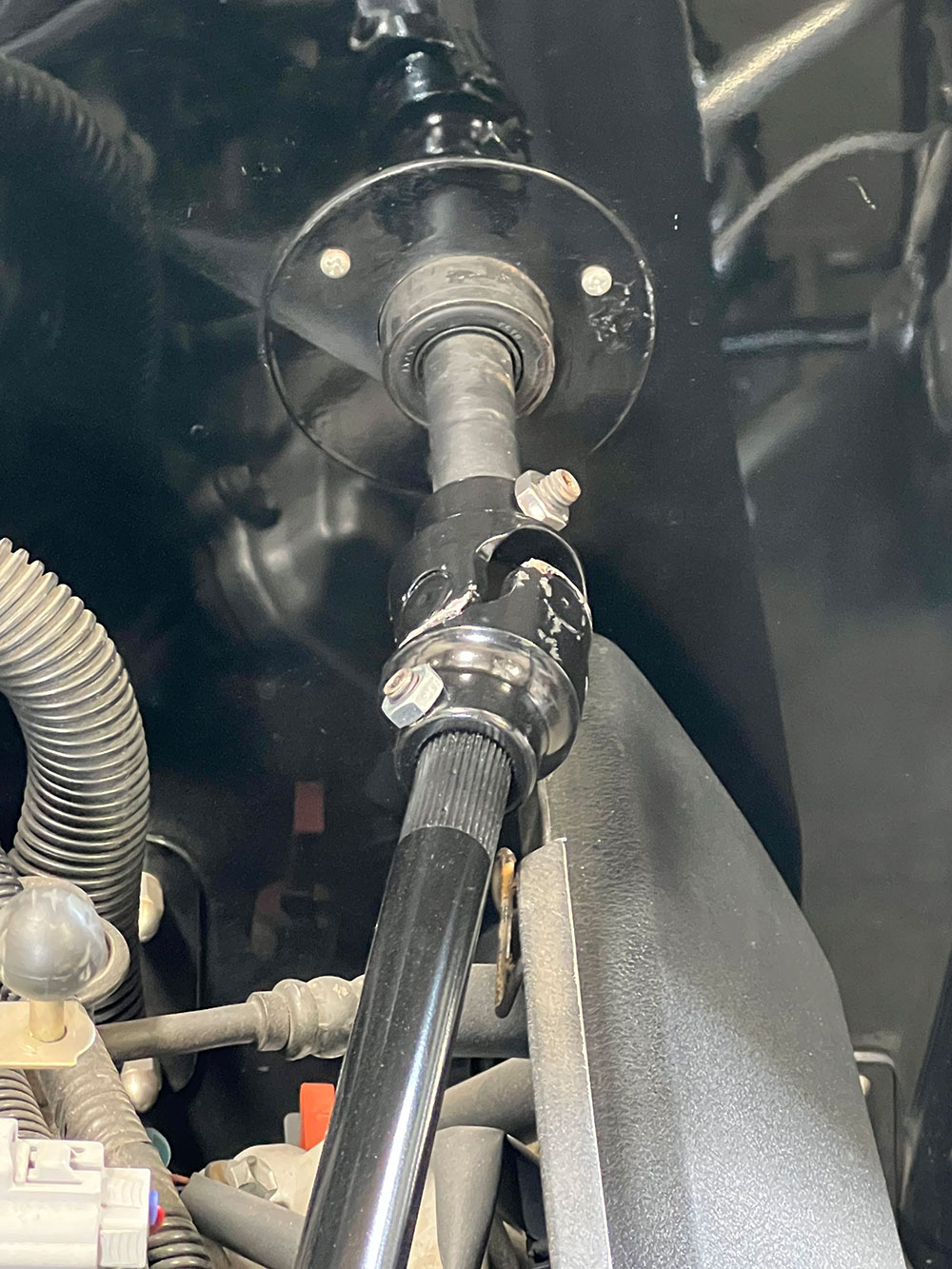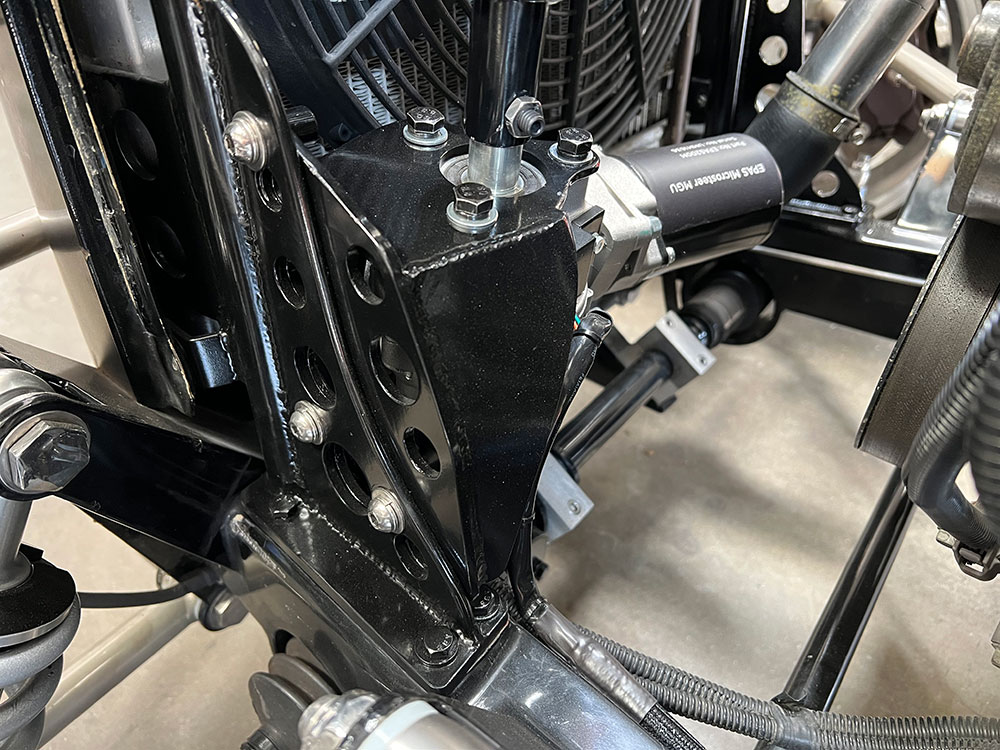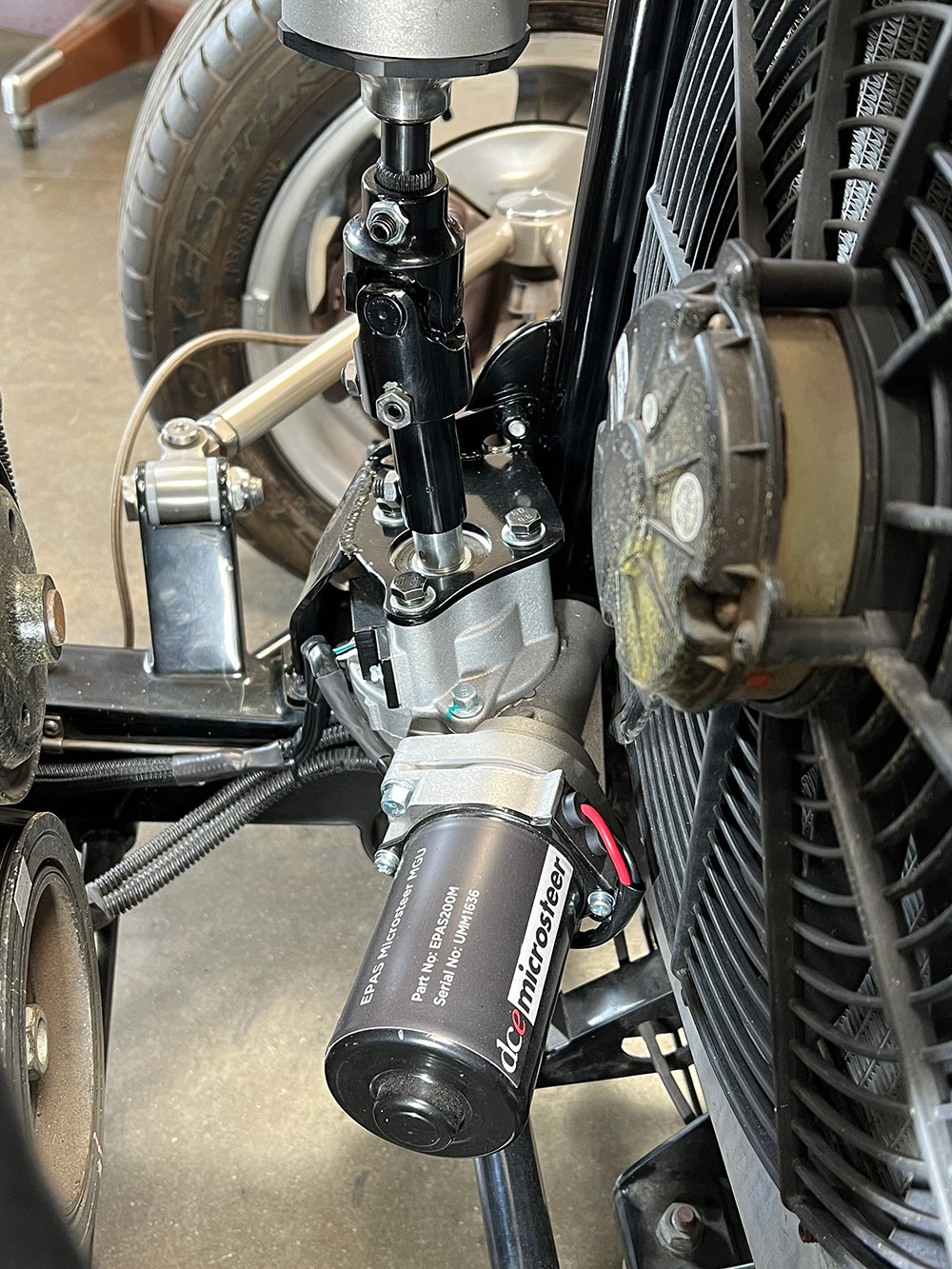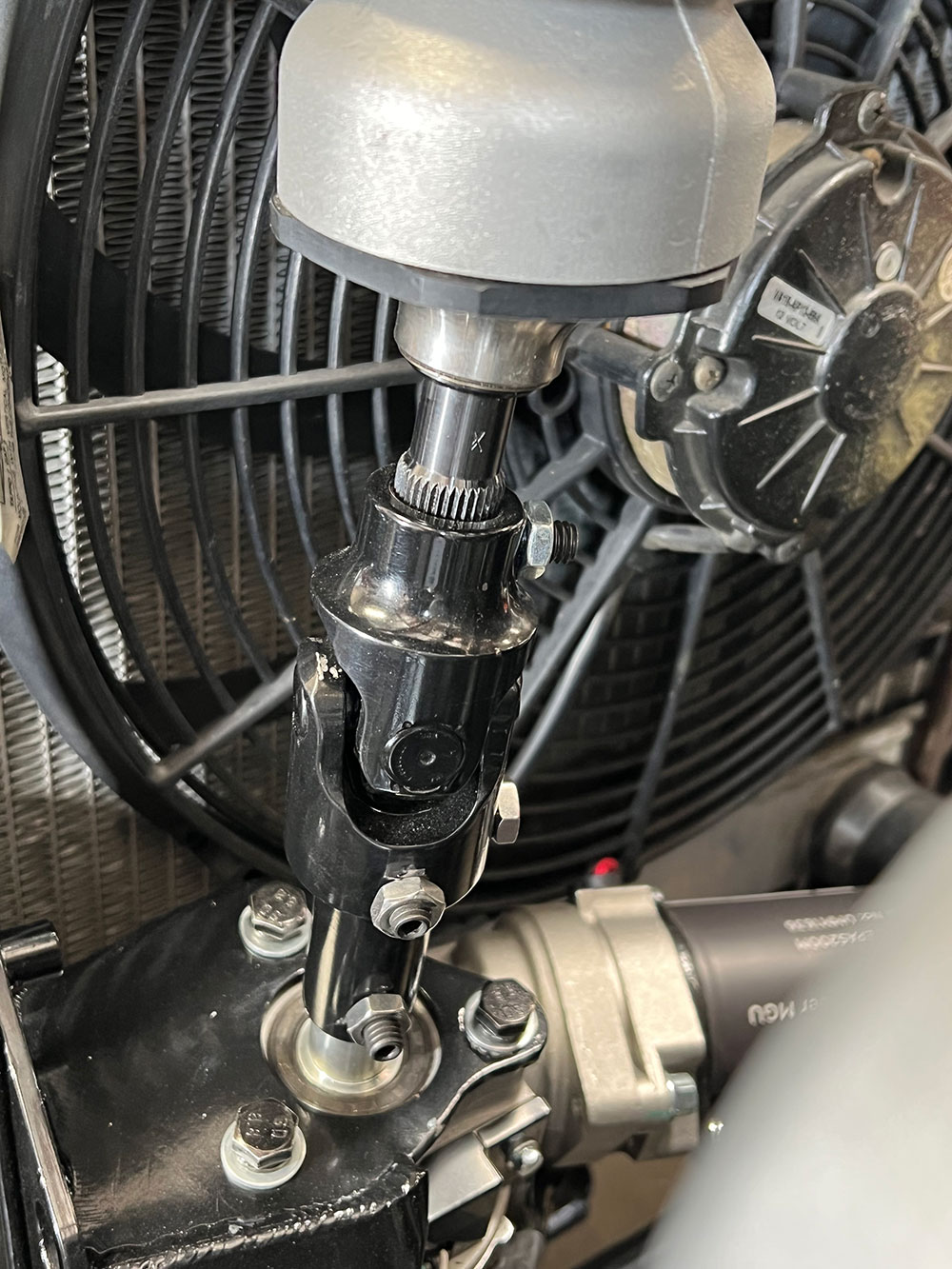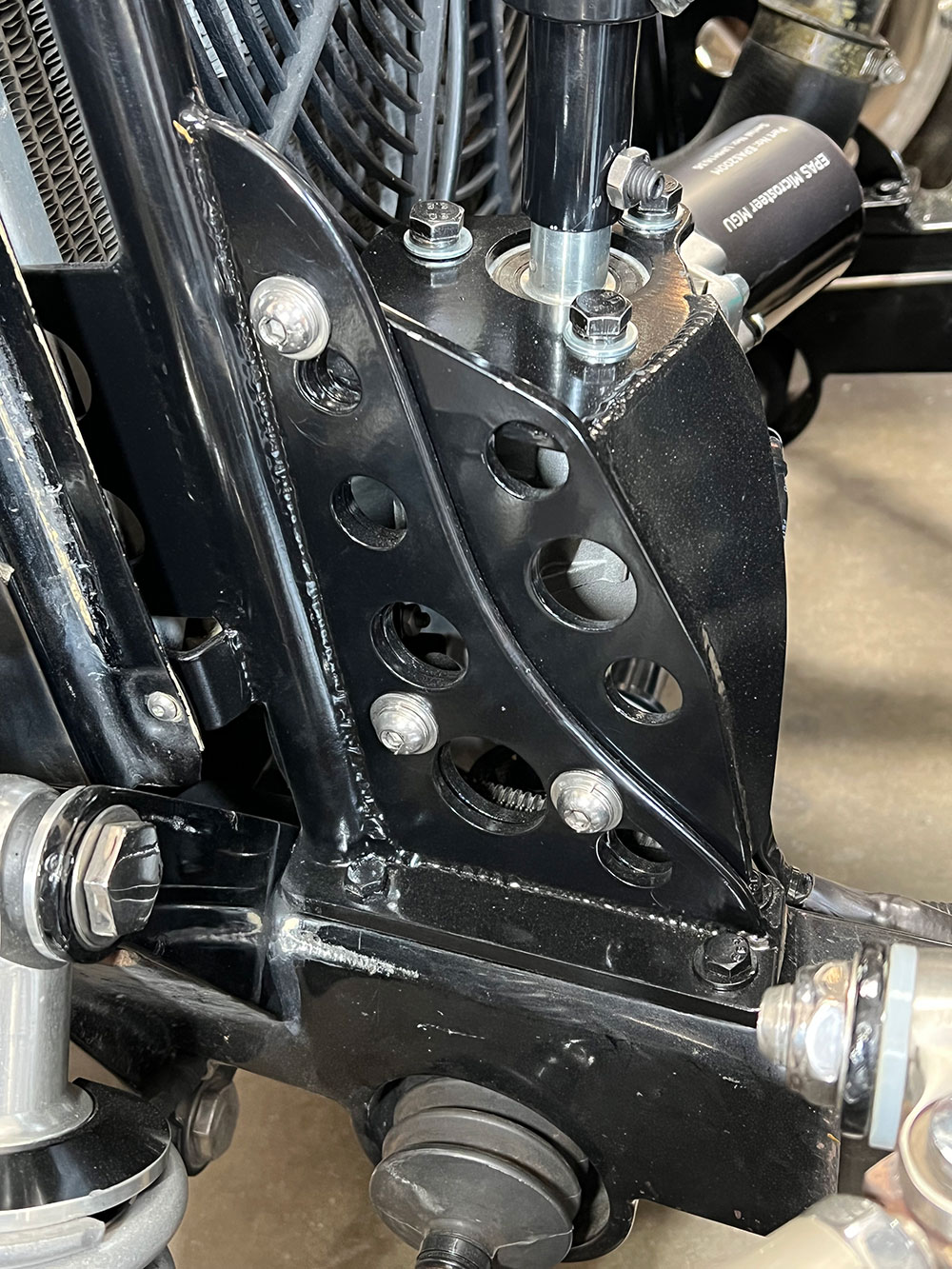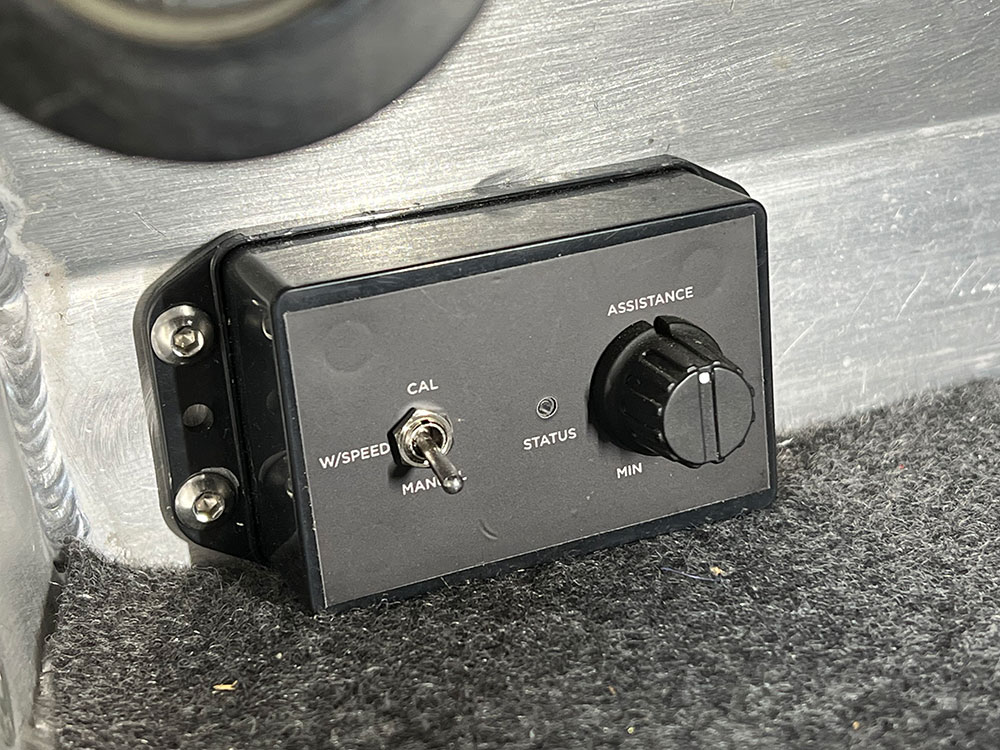 Sources
Flaming River Industries
(800) 648-8022
flamingriver.com
Kugel Komponents
(562) 691-7006
kugelkomponents.com