Custom Looks & Modern LS Performance
By Brian Brennan   –   Photography By John Jackson
There can be no denying that the postwar Chevrolet designers got it right with several of their designs. The Bel Air two-door hardtop, introduced in the '50s, is a favorite with hot rodders everywhere. We believe the second-generation Fleetline, made from 1949-52, is a very close second, with many believing this is the "chosen one." The Fleetline is both a highly collectable car as well as an ideal starting point for a hot rod project.
The second-generation Chevy Fleetline is a full size fastback sedan that comes in either a two- or a four-door configuration. What sets the Fleetline apart is its distinctive sloping rear roofline (1 inch shorter than a full size sedan) and sheet metal design.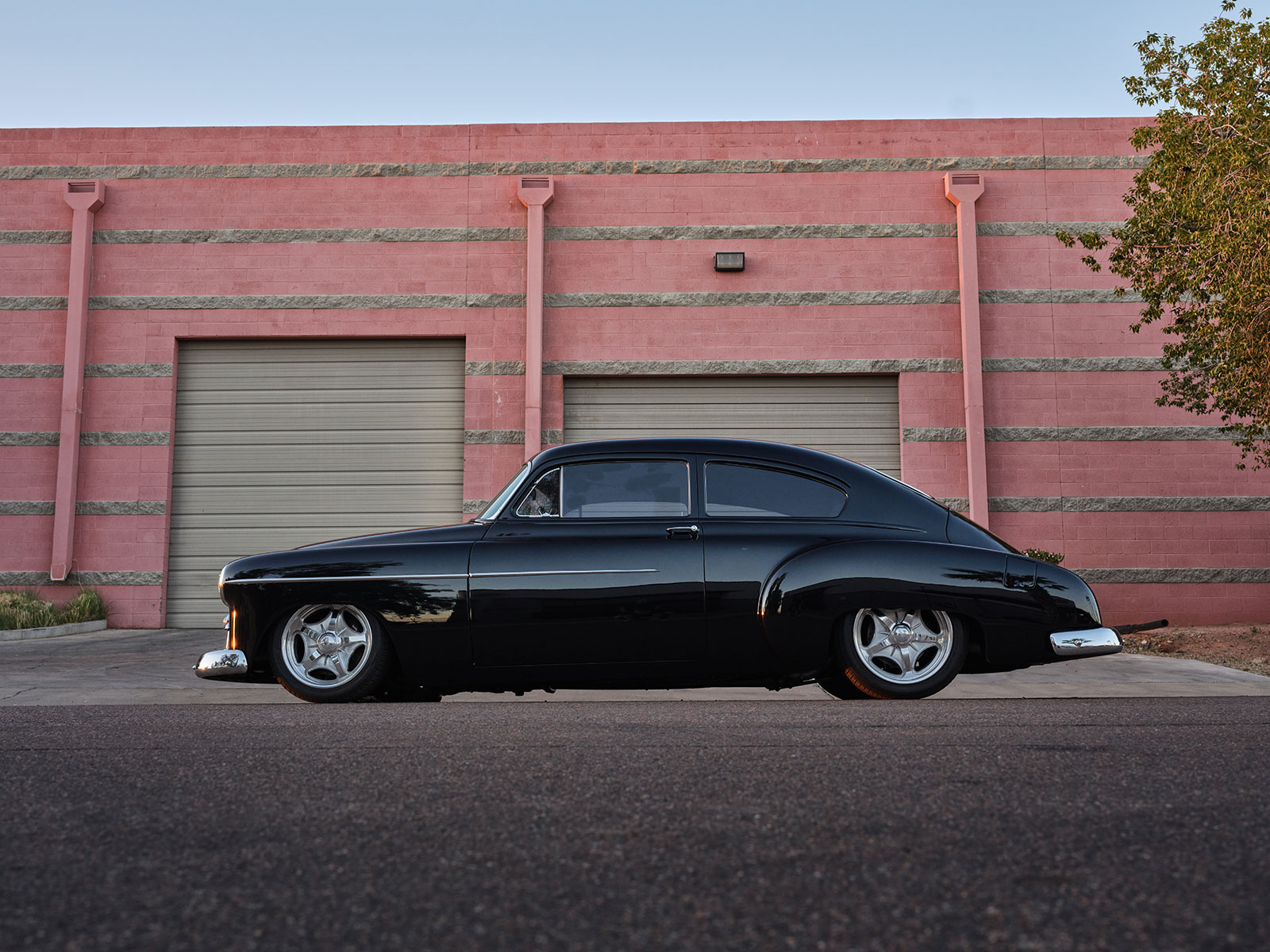 Read More: Tri-Five of the Year: Lange's 1956 Chevy 210
What you are now going to look upon is the '49 Chevy Fleetline belonging to Arizona's Dave Wallace and built under the attentive watch of Dean Livermore of Hot Rods by Dean in Phoenix. Our mildly customized '49 Chevy Fleetline does feature a pancaked hood (removing approximately 2 inches out of the nose) and the rear fenders are now welded on (having been originally bolted on). There are also new Hot Rods by Dean fabricated rear mini-tubs added to accommodate the oversized wheel and tire combo.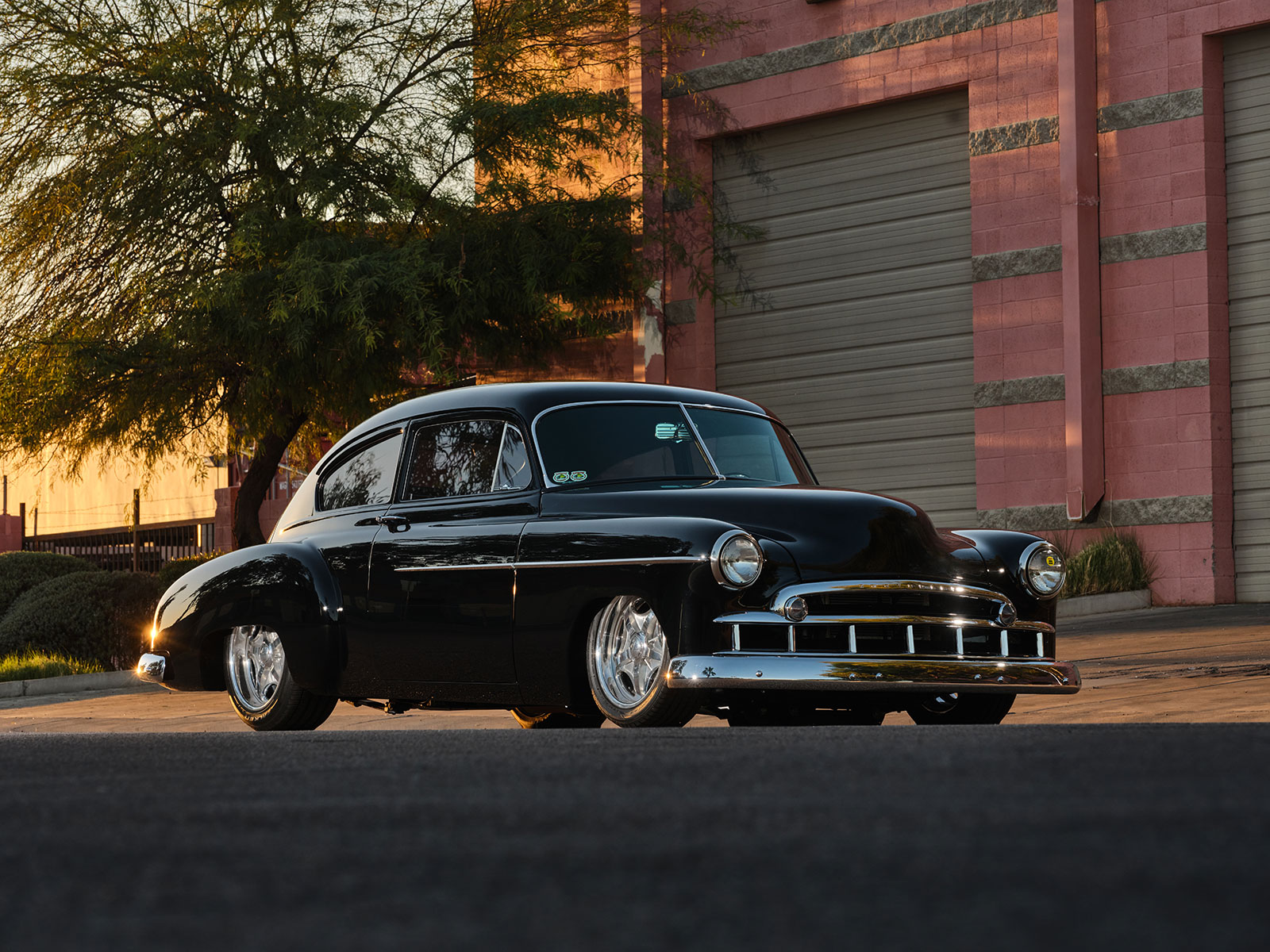 Emblems front and rear are removed while the brightwork along the side has been removed except for this single beltline spear that runs from the headlights rearward to three-quarters of the way through the doors. There is a new floor pan, and while that works with the mini-tubs it was done primarily to address the subject of rust. The grille retains much of its stock appearance but has undergone a diet with the removal of the turn signals, bumperettes, and the license plate bracketry. The rear bumper has also undergone a weight loss with its cleanup with the removal of the license plate bracketry. All the sheetmetal and bodywork was handled at Hot Rods by Dean, with the Fleetline eventually painted in a PPG black at Hot Rods by Dean.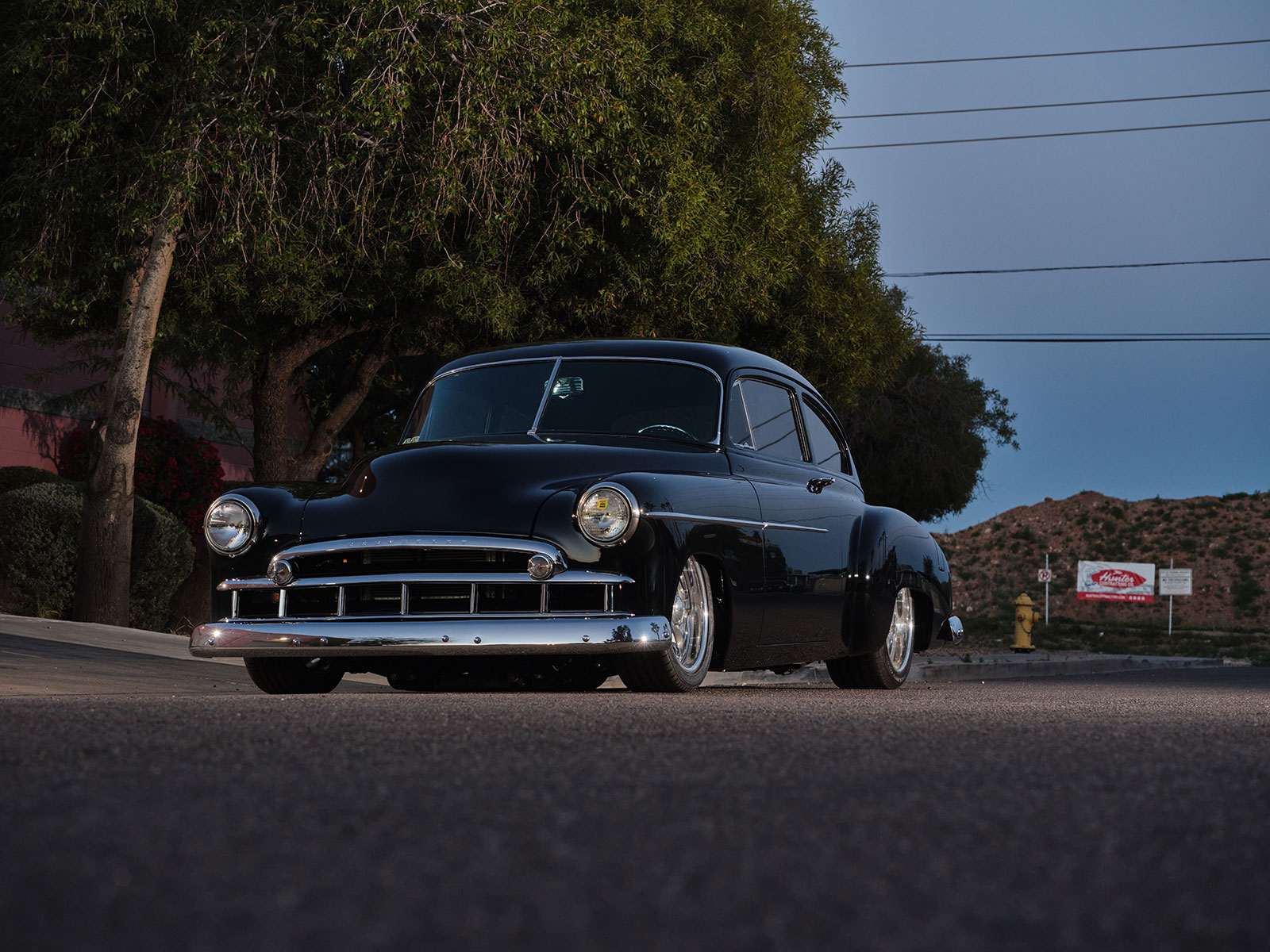 The '49 Chevy Fleetline rests on a highly stock frame that now accepts a Heidts Mustang II Independent Front Suspension with 2-inch drop spindles, a 1-3/4-inch front Panhard bar, and power rack-and-pinion steering. At the corners are Ridetech ShockWave air ride suspension, Wilwood 12-inch rotors with four-piston Dynalite calipers, Velocity Schott wheels, and Falken tires. The wheel and tire combination measures out at 17×7 and 18×10 with 225/45R17 and 275/40R18 rubber.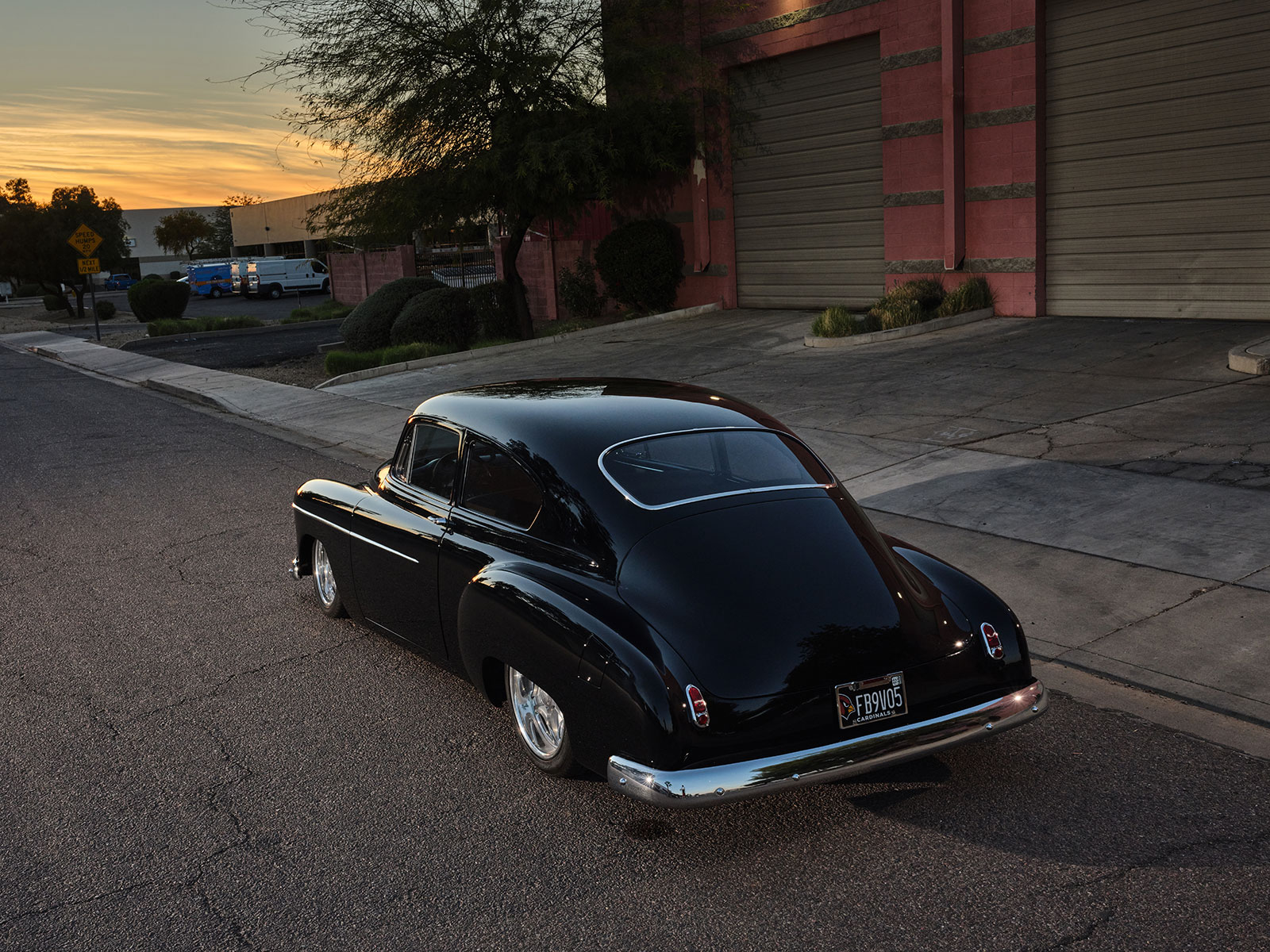 Read More: How Do You Diagnose a Charging System Problem
The big block Chevy is attached to a TREMEC 5 speed manual transmission and through the Chevy flywheel, McLeod disc, and pressure plate; the power is delivered rearward. The rear suspension is based on a Currie 9 inch rear end with limited slip 3.50 gears and 31-spline axles. It also utilizes a pair of leaf springs from Dunbar Spring, a sway bar, and an Inland Empire Driveline driveshaft.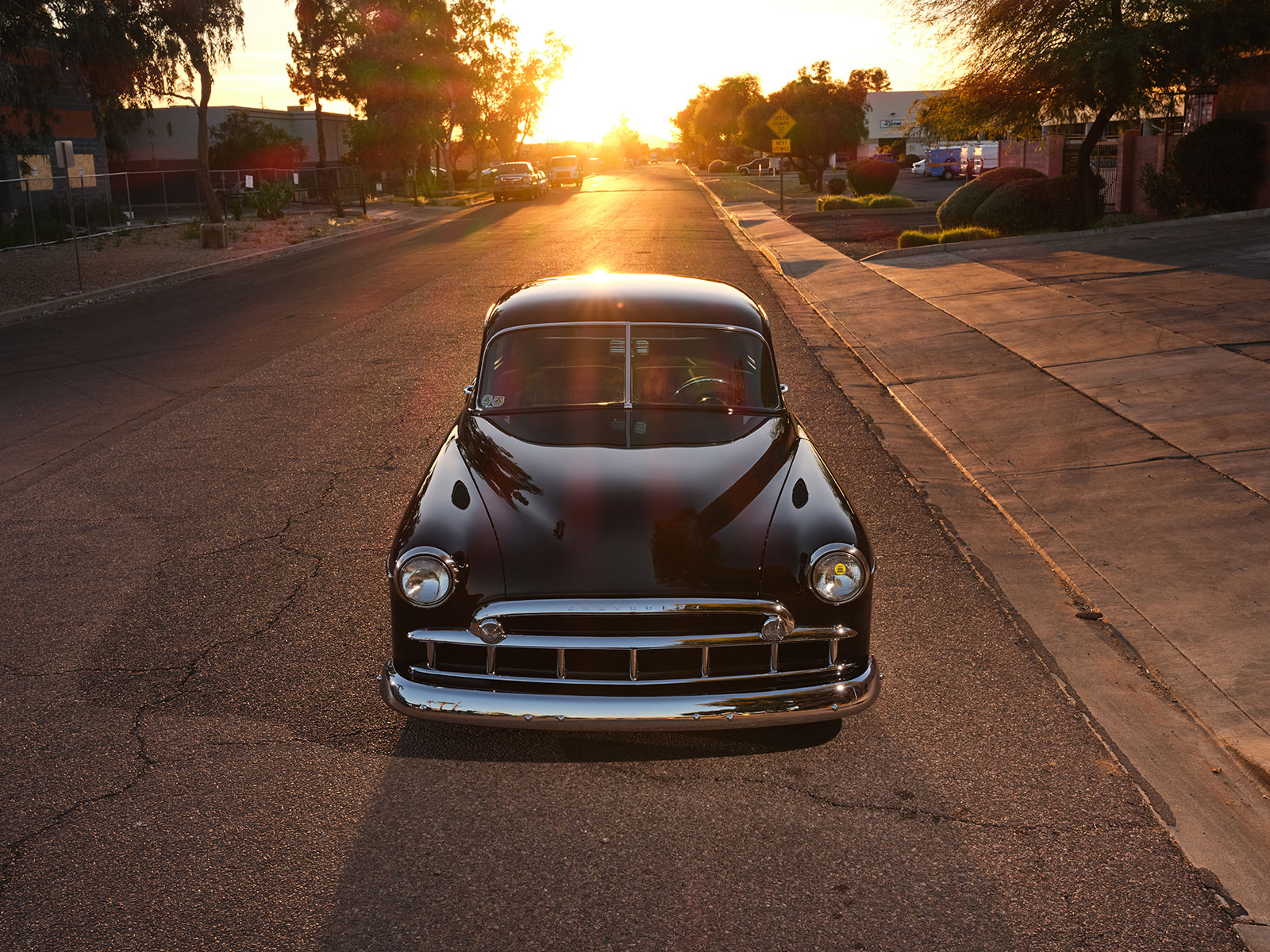 We mentioned performance early on. The use of a Chevrolet Performance 502 crate engine V8 provides plenty of umph. A Chevy aluminum intake is employed and then topped with a four barrel Holley carburetor dressed in a '55 Cadillac air cleaner. The aluminum radiator features a pair of 16-inch electric SPAL fans. From here the cooling combo is mounted to a Hot Rods by Dean core support that maintains the desired operating temp of the all-aluminum V8 engine. An aluminum Chevy big block water pump is used along with a traditional V-belt configuration. Next up is a Vintage Air AC condenser along with a Powermaster starter and Optima battery rounding out a few of the engine accessories. An HEI MSD ignition and wires are used; exiting the fired gasses is a set of 1-7/8-inch primary tube Sanderson headers. The custom exhaust was fabricated at Hot Rods by Dean and the expended gasses run through the custom stainless steel exhaust tubes that divide the load between a pair of 50-series Flowmaster mufflers.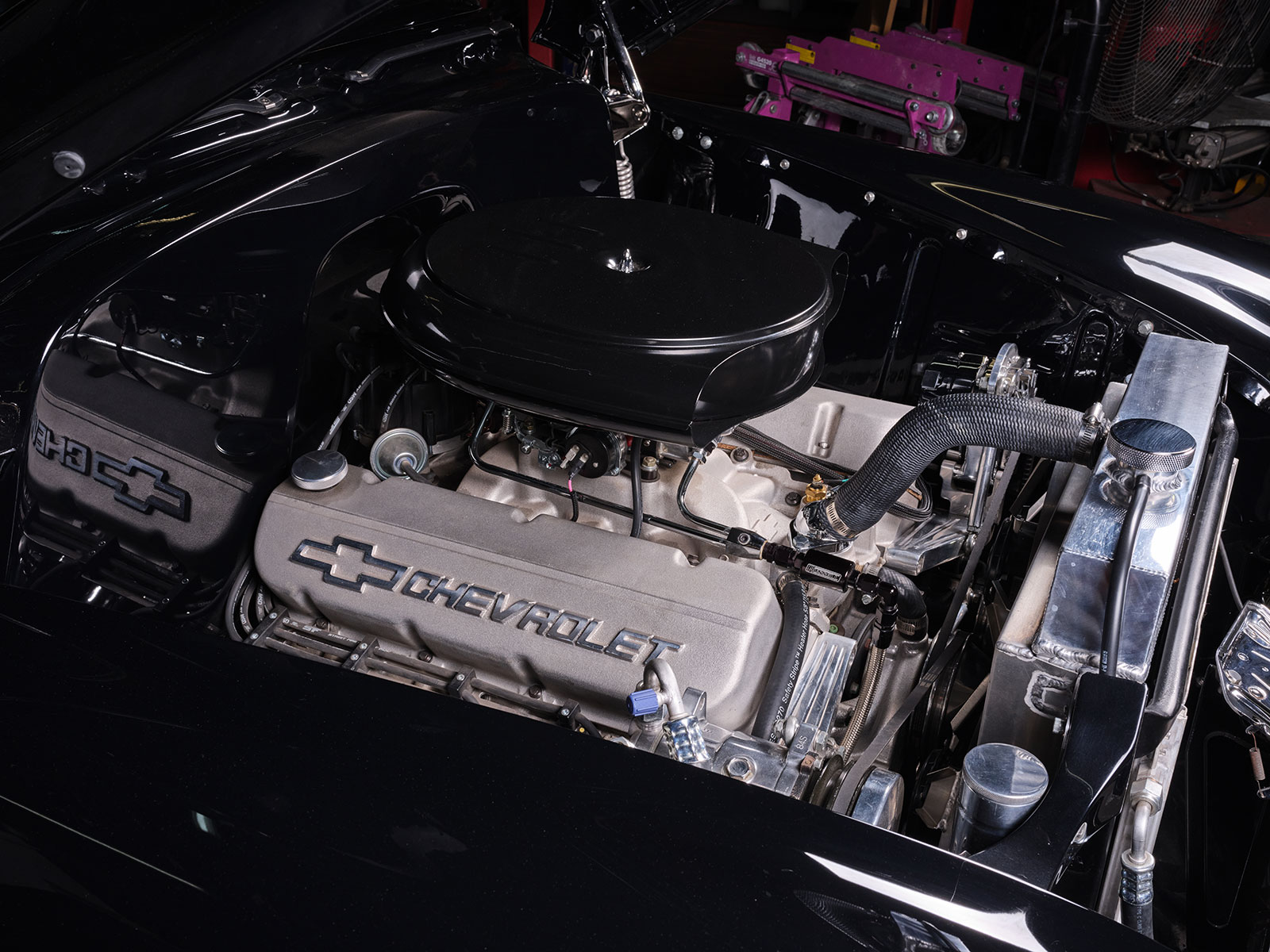 Inside the all-black leather interior is based on modified front and rear bench seats with Bell Auto Upholstery handling the stitchwork. From here the headliner, door and kick panels, and trunk are also the handiwork of Bell Auto Upholstery. The stock '49 Chevy Fleetline dash is equipped with Classic Instruments gauges, Vintage Air AC, an ididit steering column with a Billet Specialties steering wheel, and an upgraded factory radio. One can also see the Lokar pedal package (gas, brake, and clutch) ready for use. Bringing all the electrical needs together is an American Autowire system stationed by Hot Rods by Dean.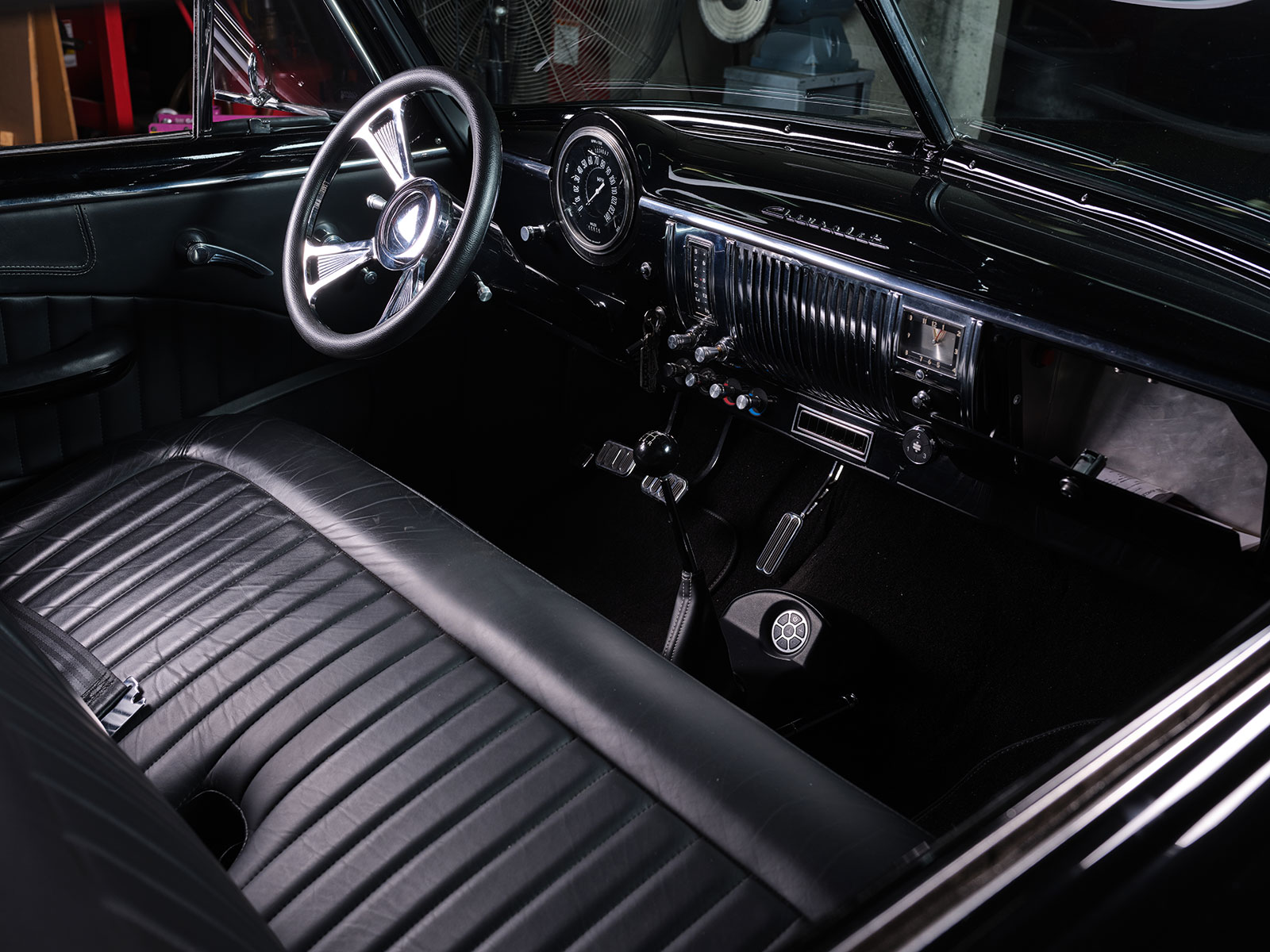 Read More: 1935 Chevy Coupe Chassis Prep
There can be no denying this '49 Chevy Fleetline has the looks of a well-done custom, but it also has the heart of a modern day hot rod. It would be hard to imagine any hot rodder without an ear-to-ear grin when driving this Fleetline down the highway. MR