Classic Lines with a Twist, Defines this Classic C10
By Chuck Vranas – Photography by the Author
Life's full of combinations. Regardless of whether you're rolling through the drive-thru at your favorite burger joint, deciding on just the right balance of colors when repainting your house, or laying out plans for a complete rebuild of your classic truck, the fusion of choices available could fill a small galaxy encompassing everything from a bone-stock rebuild to a mild custom or a hard-core street fighter ready to take on the competition. It's all about choices and finding that perfect grouping of parts and ideas that will set your truck apart from the rest. The wicked 1965 Chevy C10 laid out across our pages, owned by Dave DeLancey of Middleboro, Massachusetts, is a perfect example of when the planets perfectly align between ideas and a visionary builder.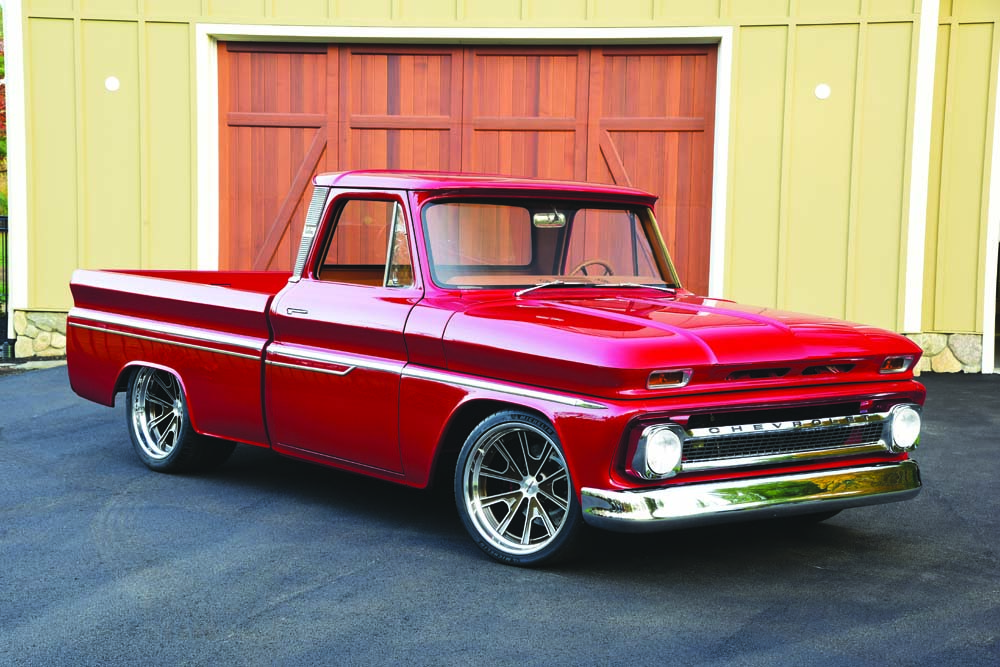 Read More: This 1958 Chevy Impala Blends the Lines Between Cruiser and Performer
For Dave, growing up as the son of an auto mechanic led to plenty of days in the family garage watching his dad work on any number of projects, easily paving his path to turning wrenches as time moved on. It was early on when he was first bitten by classic trucks, fondly recalling his dad's daily driver being a '70s-era International pickup. Its simplicity and functionality drew him in, creating a fascination with it that was further cemented while working on good friend Kevin Connolly's 1955 Chevrolet Task Force Series truck while they were both teenagers. Reflecting back, it was the first generation of Chevy's C10 Fleetside that captured his attention most with its clean lines, spacious cab, and available full-view rear window.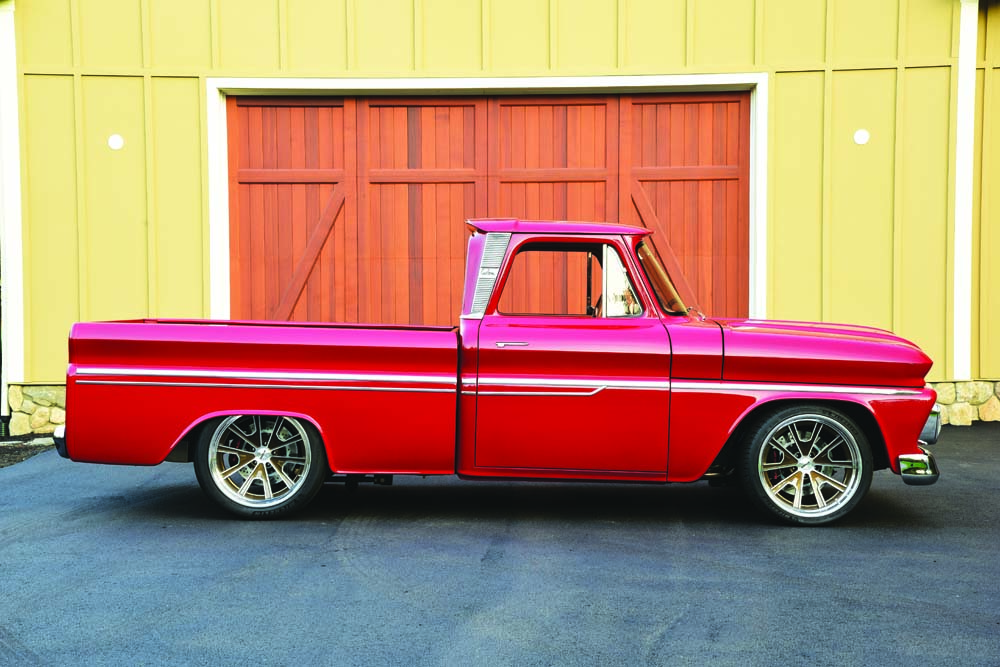 In taking on his latest build, Dave had a simple formula for fusing the original lines of the C10 matched to razor-sharp handling and a potent supercharged LS V8, incorporating the latest technology available. Having worked with Chris Cerce, owner of Chris Cerce Customs (CCC)  in Taunton, Massachusetts, on a number of prior builds, the pair started a quest to locate a first-gen C10 that was solid and close to original. The search eventually led them to a local collector who just so happened to have a number of offerings available, many of which were older restorations. It was fate when Dave came face to face with a clean 1965 Chevrolet C10 Fleetside, packing all the right elements including a big back window, factory tach, and AC. Knowing he'd found a perfect base, a deal was made, swapping cash for keys, and the Fleetside was hauled home for evaluation. Since the truck was a clean runner with a tidy 350ci engine mill between the 'rails, Dave made the decision to drive it as-is for the first season while finalizing a game plan with Chris Cerce Customs for its future.
With fresh artwork from Renderings by Tristan outlining the journey ahead, it was time for the team at Chris Cerce Customs, which included Cerce, Noah Raposo, Eric Camara, and John Saunders, to get started by tearing the C10 down to bare bones. Wanting to make sure it would handle like it was on 'rails meant that the original spine would need to hit the road. A call was placed to Roadster Shop (RS) for one of their perfectly balanced SPEC Series chassis featuring their exclusive CNC laser cut and contoured frame rails, stepped front and rear for an aggressive ride height and tied together with custom crossmembers and bracing. Out back, a Ford 9-inch housing packs 31-spline axles linked to a Strange Engineering Pro-Series nodular iron third member spinning 3.55:1 gears matched to an Eaton Detroit Truetrac differential. It's all suspended in place by a beefy Roadster Shop triangulated four-link combined with Roadster Shop SV single-adjustable coilover shocks by Fox. For razor-sharp handling, the Roadster Shop Independent Front Suspension packs plenty of features, including boxed lower control arms matched to tubular uppers deftly matched to Wilwood ProSpindles, Roadster Shop SV single-adjustable coilover shocks by Fox, power rack-and-pinion steering, and heavy-duty sway bar. When it's time to drop anchor, a Kugel Komponent 90-degree under dash dual master pushes fluid through stainless lines to Baer Pro Plus Big Brake Kit including 14-inch drilled-and-vented two-piece rotors with matching 6-piston calipers mounted at each corner. To link it all to the street with style, a set of Forgeline Grudge-Series wheels accented in bronze metallic, sized 20×10 front and 20×12 rear, wear Pirelli P Zero rubber, sized P265/35-19 front and P345/30-20 rear, respectively.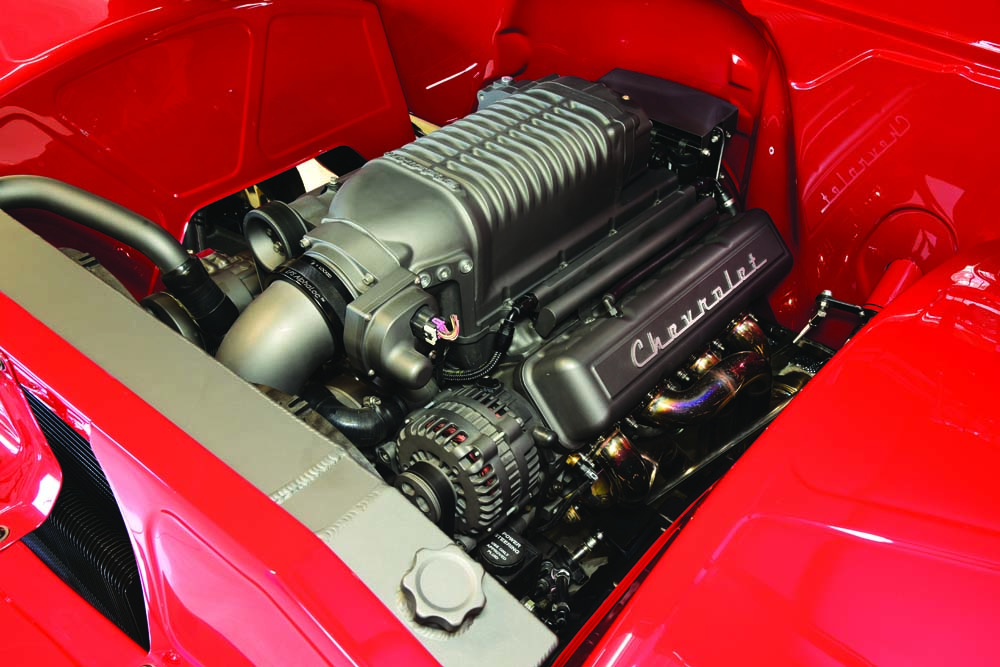 Read More: Corner Carving Chevy 3100
Dave's a fan of big-horsepower so when it came time to jettison the tired small-block he went straight to the head of the class by calling Don Hardy Race Engines (DHRE) of Floydada, Texas, for one of their venomous 416ci supercharged LSA engine. To start, a Chevrolet Performance LSA cast-aluminum block with six-bolt, cross-bolted main caps was massaged and filled with a 4340 forged steel crank linked to matching 4340 H-beam rods wearing Diamond forged pistons getting bumped by a Don Hardy Race Engines stick. Up top, a set of Aluminum Dart PRO1 280cc LS3 heads with 68cc chambers make plenty of seamless power, especially when paired with a Holley Dominator EFI system matched to 85-pound FAST Precision-Flow fuel injectors and a Nick Williams Performance 102mm throttle body. The ultimate punch gets delivered through a 2.9L Whipple twin-screw supercharger (in Cobalt Cerakote) to the tune of  950 hp. LS7 coils light the fire with spent gases flowing through custom headers fashioned from 321 stainless to a matching 3-inch exhaust with MagnaFlow mufflers all by Chris Cerce Customs.  Power transfers through a TCI Automotive Street Fighter GM 4L80E Automatic Transmission with a Circle D Pro-Series billet converter to a custom driveshaft. Other neat features include a stainless steel fuel tank from Rick's Hot Rod Shop with dual Aeromotive 340 Stealth in tank fuel pump, Billet Specialties LSA Tru Trac serpentine system, and custom-mounted classic small-block Chevrolet valve covers in Cobalt Cerakote by Don Hardy Race Engines.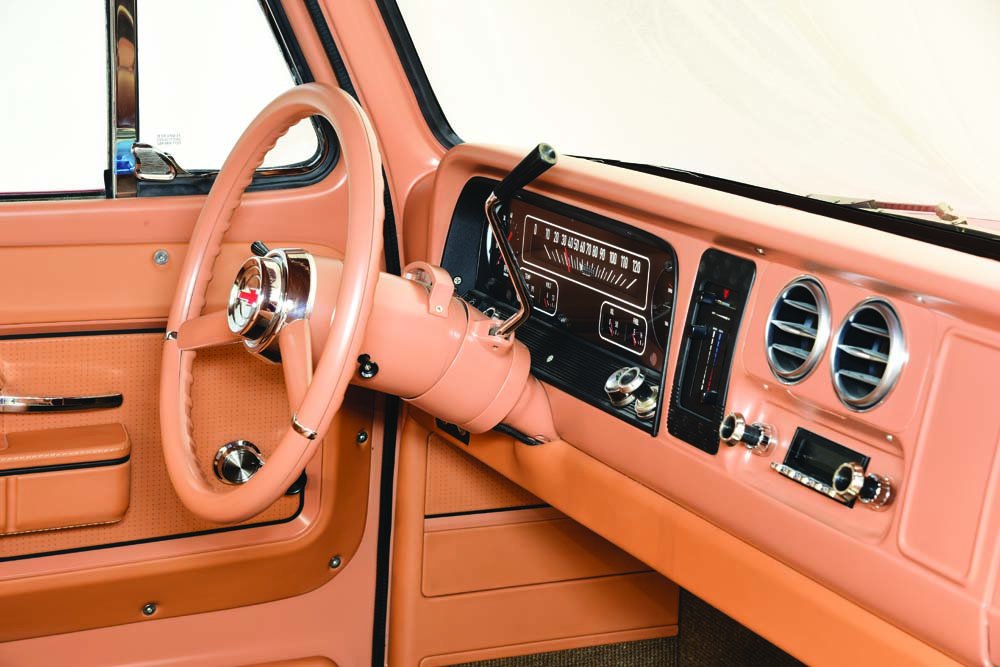 When it was time to address the factory sheet metal, everything was blasted clean to reveal the truth about the C10's past. What came back proved that it had seen plenty of hard use through the decades as evidenced by all of the corrosion damage found to the bottom portions of the cab. The Chris Cerce Customs team got busy fabricating replacement panels, including fresh floors, lower A-pillars, cab corners, fender, and door bottoms.  In wanting to add just the right balance of subtle custom touches to make the truck appear stock until getting a closer look, they followed with a number of enhancements, including flush-mounted glass, a smoothed firewall deleting any visual barbs, custom inner fenders by Hard Fab, and extending the inner cab floor by 4 inches for added interior comfort. They continued by adding door handles from Kindig It Design, custom-mounting the fenders without a need for shims, team-fabbed wheel tubs, filled bed pockets, and followed by flipping, narrowing, and tucking the bumpers with a tidy 3/16-inch body gap. The cab and bed were then laser-leveled, gapped, metal-finished, and prepped for paint. To bring it all to life, Dave selected a seductive hue of Carmine Red from Axalta, which the team laid down flawlessly, bringing it all to life. Added details on reassembly included mile-deep plating from Ogden Chrome, imported Zebra wood bed flooring with polished stainless strips, and fresh trim throughout, including the grille from LMC Truck.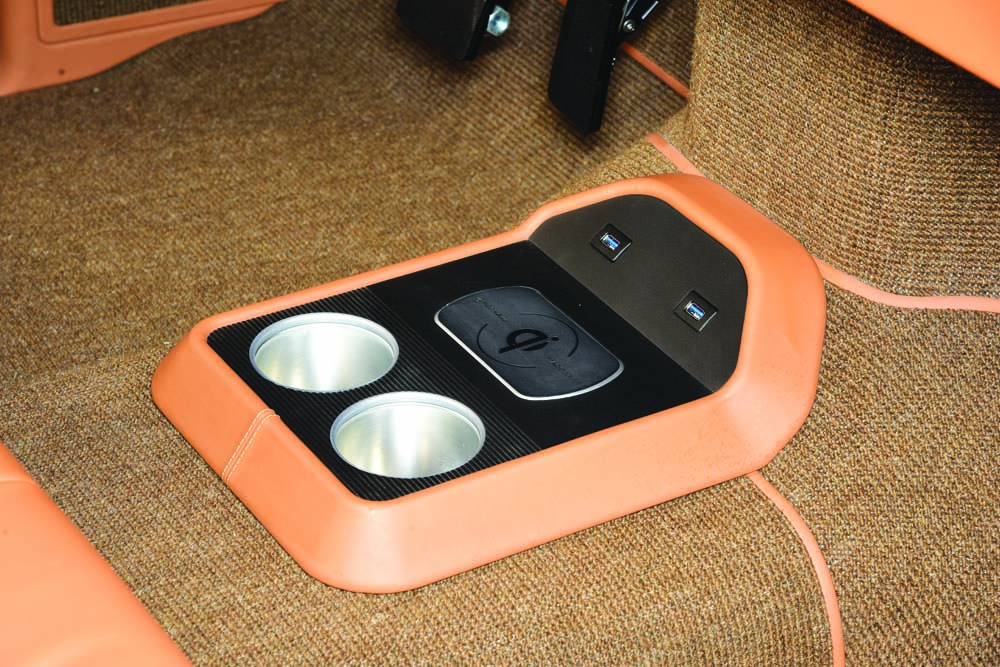 Read More: Door Seals Install on a '59 Chevy Stepside
Wanting to bring an equal amount of allure and refinement to the interior started with the factory dash being filled with dials from Classic Instruments to monitor the vitals. A custom-designed steering wheel from CON2R mounted to a Flaming River tilt column with shifter carves the course while cool breezes are by Vintage Air. The Chris Cerce Customs team then dialed it all in with a wiring kit from Ron Francis. Dave then contacted JK Automotive Designs of Stoneham, Massachusetts, to add a classic OEM style with a twist to the business office. Ben Hermance of Hermance Designs laid out the creative elements and the JK team followed, starting with custom side panels featuring magnetic hidden fasteners, integrated speaker enclosures, crafting the mini-console and headliner. From there they custom-built the bench seat starting with a frame from Glide Engineering, sculpting it to perfection and covered it and all related panels with Hydes saddle leather complemented by square-weave carpeting. This is one C10 that embraces the original factory design with a perfect complement of subtle design changes, making it a standout in any crowd and we dig it!