The Tale of Dreams Realized … a 1932 Ford Highboy Roadster Pickup
By Brian Brennan – Photography by Tim Sutton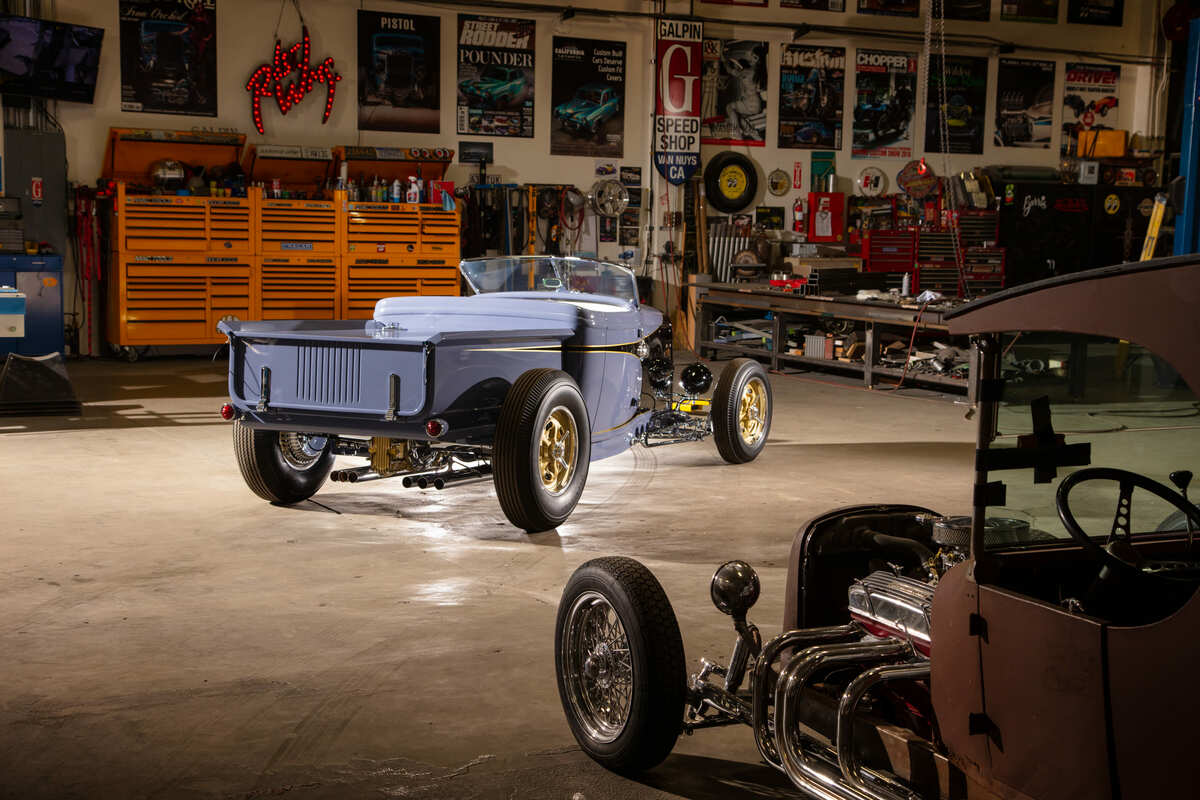 There's a wide chasm between building a "shop truck" and an America's Most Beautiful Roadster contender. We have a vision of what we want to build and how we want to use it. Some are drivers, some are show cars, and some are a combination of weekend driver and local car show competitor. Gary Devine (wanted the AMBR contender) had a chance meeting with Dennis Lesky (wanted a shop truck) and that led to "shop truck turned AMBR contender" in the 1932 Ford highboy roadster pickup splashed on these pages. To pull this off a third piece to the puzzle was needed, which was Dave Shuten.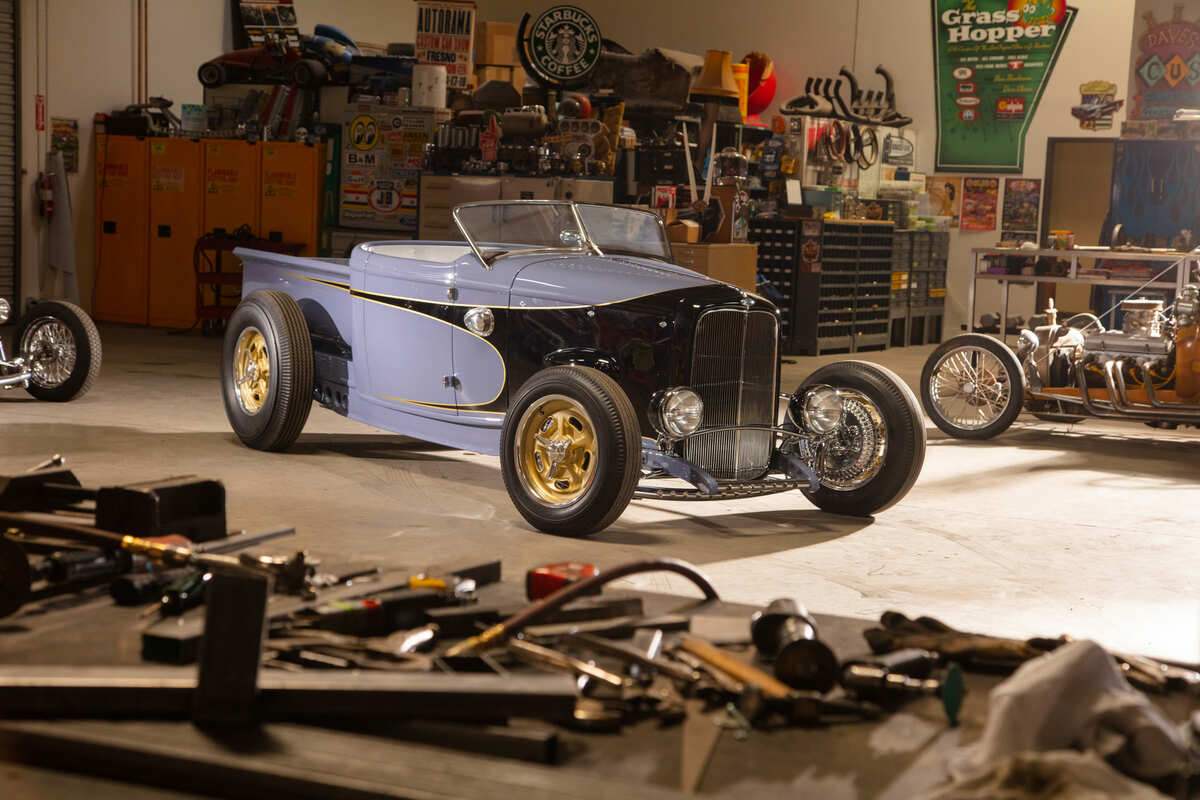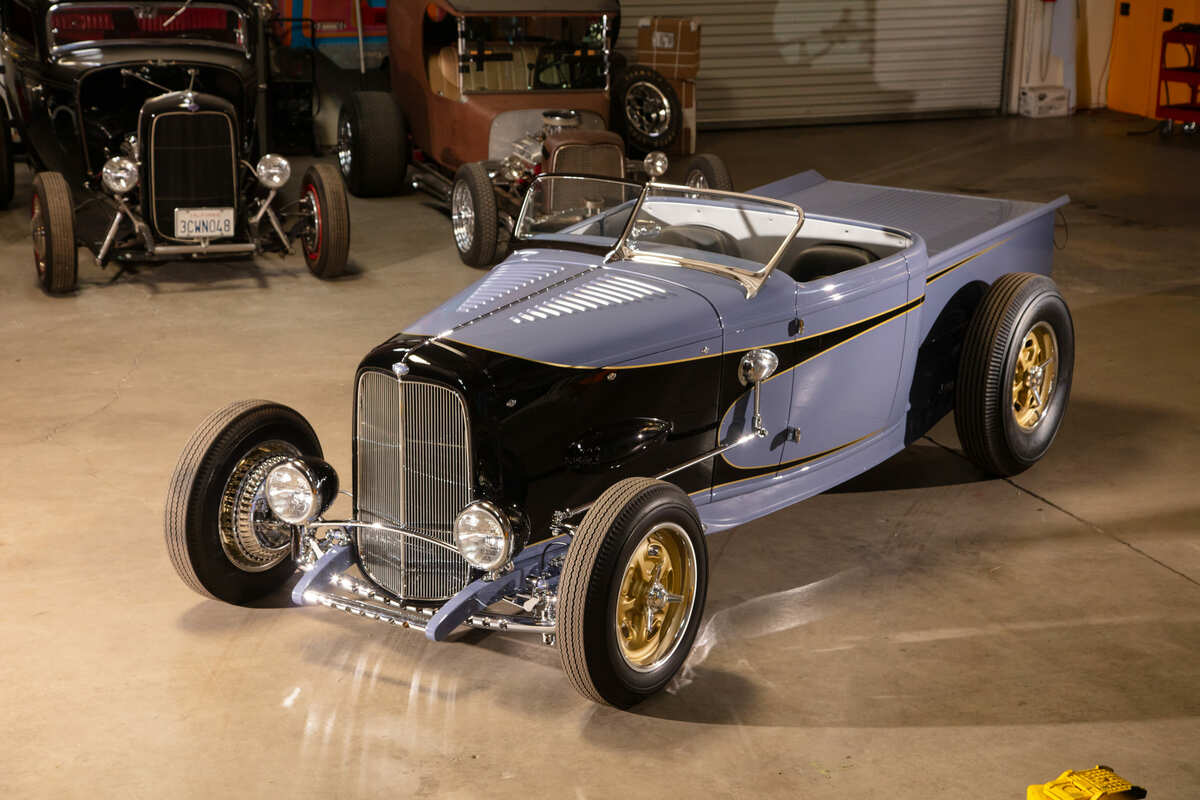 When Lesky began this project back in the '90s he had a vision, but life has a way of giving us new visions and roads traveled. Living in Michigan, and after retiring from General Motors (journeyman welder) in the late '90s, he and his son (Matt) opened one of the coolest hot rod shops in the country, Ionia Hot Rod Shop (IHRS). Meanwhile, Dave Shuten of, at the time, Dave's Customs, another Michigan hot rodder, and Lesky's paths crossed and they fast became friends. In time Shuten moved to SoCal and now produces amazing hot rods under the Galpin Speed Shop (GSS) banner. If there ever were a series of unforeseen dreams that blended into one superior build it's the 1932 Ford highboy roadster pickup owned by Gary with a little additional fine-tuning from Eric Black Design. Others believe this to be an outstanding hot rod as it took home the Best Hot Rod at the 2020 Detroit Autorama and the Barris Award at the 2020 Grand National Roadster Show. It didn't capture the coveted AMBR trophy but it was most definitely one of the eyepopping contenders.
Lesky spent his youth thinking about hot rods. (Haven't we all!) His desire to build was always there, although he was sharp enough to follow the exploits of builders he respected. One particular hot rod builder he appreciated was Jim "Jake" Jacobs. Jacobs proved to be an inspiration both in the world of rod building and welding. (Editor's note: Following along with the exploits of Jake was, is, and will always be an excellent choice for any aspiring or hardened rodder. —B.B.) Lesky knew he wanted a 1932 Ford roadster pickup to serve as a shop truck to let everyone know there was a place in town that could bring their dreams to life. While progress was made over the next 20 years, he and Matt had a great deal of work that consumed their day-to-day hours keeping IHRS moving forward. As reality set in it became apparent to Lesky that the project, his dream, was vanishing in life's "rearview mirror."
While at a hot rod show amidst a group of mutual friends, Gary and Lesky began talking and, they too, became friends, sharing hot rod memories and experiences. During one of these conversations Gary expressed his desire to have his own "… car in Building 4 …" (home to the AMBR contenders each year at the Pomona Fairplex). It wasn't long after this casual mention that a deal was struck and Lesky sold the Deuce to Gary. One of the components of the deal included that Shuten would finish the project and wheel the roadster into the competitor's line at the GNRS. The rest, as they say, is history.
As rodders know, Deuce RPU sheetmetal, before reproduction bodies, was hard to obtain. In place of metal, Lesky used a fiberglass Deuce RPU body coupled with a 2-inch shortened steel Model A bed that Shuten smoothed and reworked the bed sides. The hood, grille, and other pieces were also made from metal. Leo Calero with Pullmax in hand and his own handcrafted dies punched the louvers seen throughout the Deuce, while Dan Hudleson came through with fitting the hood, doors, and body molding. He also made the hood blisters and refreshed the reproduction 1932 Ford grille insert. You will also notice the grille center bar, which he made out of a 1939 Ford interior trim piece.
As for the fiberglass body itself, once Lesky cut it up into four pieces it was Stewart Willard who put it back together. Willard also mounted the hinges, fabricated the metal inner body structure, and raised the seat riser (Lesky's idea). From here the hood was stretched 3 inches while a Past Tech DuVall windshield (a gift from Lesky's dad and brother) was used in the final build. You will also see a bed cover. In and of itself that isn't unusual, but where this cover came from does bear some explanation. A good chunk of a 1962 Mopar station wagon roof complete with its trademark center ribs was used. Other smaller but important details are the 1937 Ford taillights with LimeWorks lenses, early Ford headlights and a dropped headlight bar, a quick-release gas cap found on '60s-era Indycars now employed on the bed-mounted, one-off aluminum gas tank. In the mad dash to get the Deuce ready for the GNRS the bodywork was handled by Manuel Lopez and Aldo Scarfo, all part of the GSS team. Sprayed over the much-massaged 'glass and metalwork is a PPG custom-mix Periwinkle by Pete "Hot Dog" Finlan. From here black scallops with gold-edge striping was added. John Schiess, another member of the GSS team, was with Shuten from start to finish on the mad rush to get the Deuce ready for the GNRS. The project began in earnest of April 2019 and wrapped up as they pulled into Building 4 at the GNRS. (Sound familiar? It does to anyone who has ever entered a car show.)
The frame is the handywork of Boyd Singer, giving all the appearance of a stock set of Deuce 'rails when in reality they are heavily reworked. In front there's a Super Bell 5-inch drop-and-drilled (Jeff Higel broke out his hole saw) tube axle fitted with Walden Speed Shop Kinmont-style faux drum brakes utilizing hidden Wilwood calipers and rotors coupled with 1937-1941 Ford-style (round flange) spindles and Schroeder Sprint Car side steering. Front shocks are MG lever action while in the rear SO-CAL Speed Shop tubes are used along with SO-CAL Speed Shop Halibrand-style wheels, all measuring 16 inches in diameter and wrapped with Firestone-Coker 5.00/5.25×16 and 7.50×16 bias-ply rubber. Giving chase to the drilled front axle is a highly detailed Winters quick-change.
The motor is the rarely used 1976 vintage Pontiac nameplate measuring 400 inches topped with a dual-four Edelbrock intake supplied with a pair of AFB carbs and a custom one-off air cleaner, all put together by Scott Tiemann of Supercar Specialties Automotive Restoration. Other engine perks include a Comp Cams flat tappet 'shaft, roller rockers, stainless valves, and MSD distributer, coil, and wires. Dave reached out to EVOD Industries for the one-off aluminum oil and trans pans, air cleaners, inspection cover, throttle and brake pedals, center-wheel caps, and the trim around the acrylic bed floor. The exhaust system is interesting as it starts out with a Pontiac three-tube header with the outside tubes measuring 1 5/8 inches along with a single-center tube measuring 2 ¼ inches. From here the exhaust moves to 3-inch straight tubes running into the SpinTech mufflers and then three separate tubes per side running out of the SpinTech mufflers underneath the quick-change and out the back. There's lots of brightwork on the motor as well as throughout the entire build and that was all superbly handled by Advanced Plating. Backed up to the Pontiac V-8 is a 200-4R overdrive with a Lokar shifter.
Inside you will find neatly stitched leather interior over a pair of '60s-era Triumph Spitfire buckets from the sewing machine of Mark Lopez of Elegance Auto Interiors. Mike Kleeves of American Metal Shaping built the scratch-built aluminum panels reminiscent of early Porsche Speedsters. Shiess produced the custom wiring that handled the seven-gauge package direct from the custom shop at Classic Instruments. The Schroeder side steering is topped with a four-spoke Sprint Car wheel. Also, look closely at the throttle pedal and you will see the cast Pontiac Indian head (might have to look at the photo enlarged online to fully appreciate the logo.)
The 1932 Ford highboy roadster pickup may have taken 20-plus years to complete but a lifetime of dreams and work took place in the last nine months. The end result was a proud team at the GNRS competing for the coveted America's Most Beautiful Roadster trophy. MR