Jim Dissinger's Street and Strip 1963 Chevy II
By John Machaqueiro   –   Photography by the Author
Going fast comes down to a simple mathematical equation. When translated into automotive lingo, one part of that formula usually means that a reduction in weight will have a comparable reduction in the force required to accelerate or decelerate. For acceleration you add in additional horsepower, however, the way to get that balance usually means that at some point you need to introduce some weight reduction and start hacking away on a car.
What happens when you have a car that you don't want to cut up? In Jim Dissenger's case, you buy one that is very similar. He explains, "In 1968, while serving in the Air Force, I bought a nice '63 Chevy II SS with the hopes of installing a V-8 in the future. A couple of years after my discharge, I built a 327 and got a Muncie four-speed and installed them in the car. It was pretty fast on the street, and I soon started to drag race it." He further adds, "By 1975 I was dipping into the 11s with it and at that point it was time for a rollbar, subframe connectors, and bigger tires than the stock wheelwells would accommodate."
More Nova Love: 754 HP Supercharged LS3 Pro Touring 1971 Chevy Nova
As is often the case, the faster you go, the more that needs to be changed, and in Jim's case that was a threshold he wasn't willing to cross. "I didn't want to cut up and modify the SS," he points out. "I found this Chevy II sedan body for $300 and did the modifications to it instead." With the help of his buddy John Lutchkus, they straightened the body to the primer stage and then had a local shop lay down a coat of Ascot Blue and white paint. They also added mini-tubs and moved the leaf springs 3 inches inward to install a 12-bolt rearend from a '69 Nova. It was fitted with Mark Williams axles, C-clip eliminators, and 4.88:1 gears, while the engine and transmission were brought over from the SS and fenderwell headers installed.
With the SS officially retired, Jim started campaigning his new ride and bracket raced it at places like Maple Grove Raceway, York US30, and Cecil County Dragway. During those years he collected a number of titles—a successful run that lasted 13 years. As that came to an end, a new chapter for the car and his personal life were about to be written. "In 1988 the engine expired and we were building a new house, so the car was parked with the hopes of reviving it later," he recalls. "Life happened and the car sat for the next 20-plus years."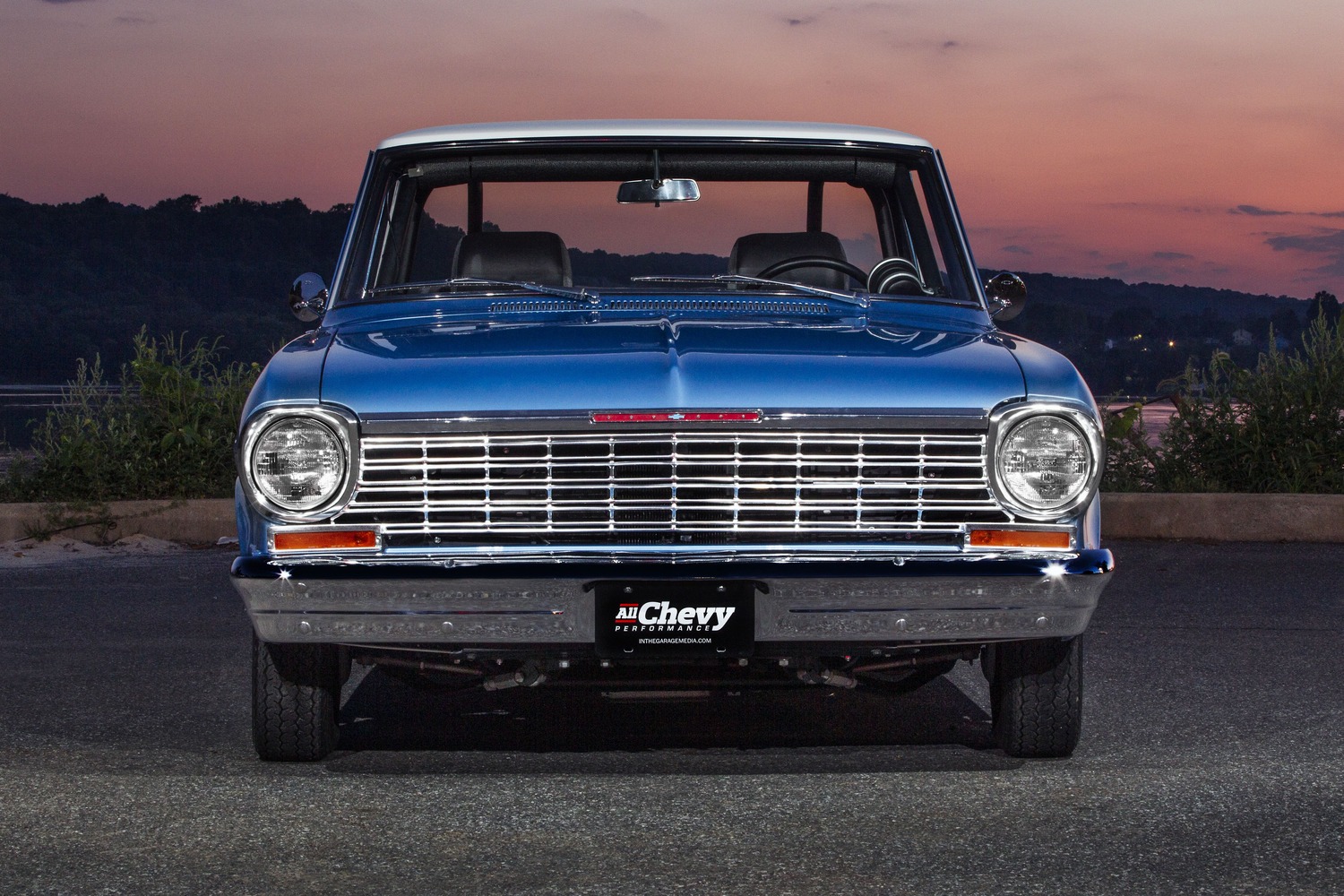 After sitting dormant for over two decades, the desire to bring the car back to life steadily grew, however, he points out, "by then everything on it was outdated and the paint and body were showing the ravages of time and racing." With some of the work on the car already in place, the endgame moving forward was to once again have some fresh paint laid down. Getting to that point meant taking a step back and diving into the body again with some new sheetmetal.
As in decades past, John joined him in the car's makeover, and after they were done cutting things up, the only exterior panels left were the roof, cowl, hood, doors, and trunk. However, their starting point was a repaint of the top and bottom of the floorpans, which they then lined with Dynamat. A 10-point rollcage was also fitted before moving onto the exterior. Up front they hung a new set of N.O.S. fenders, while at the rear repro quarters were added.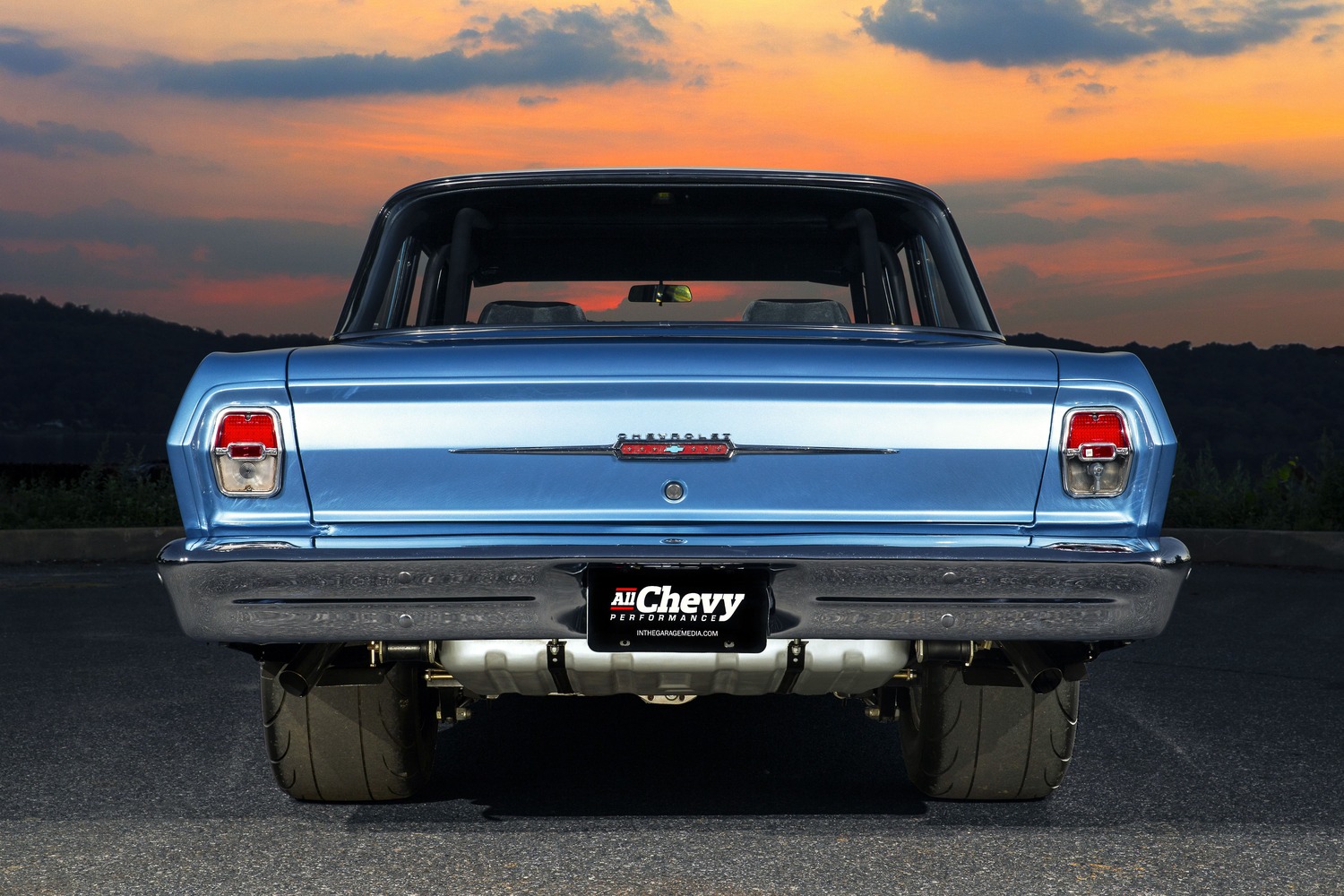 They spent 12 months getting the car to the primer stage, at which point it was handed over to the crew at Ken Brandt Body Shop in Lancaster, Pennsylvania, for some PPG Light Stellar Blue Metallic and white basecoat/clearcoat paint.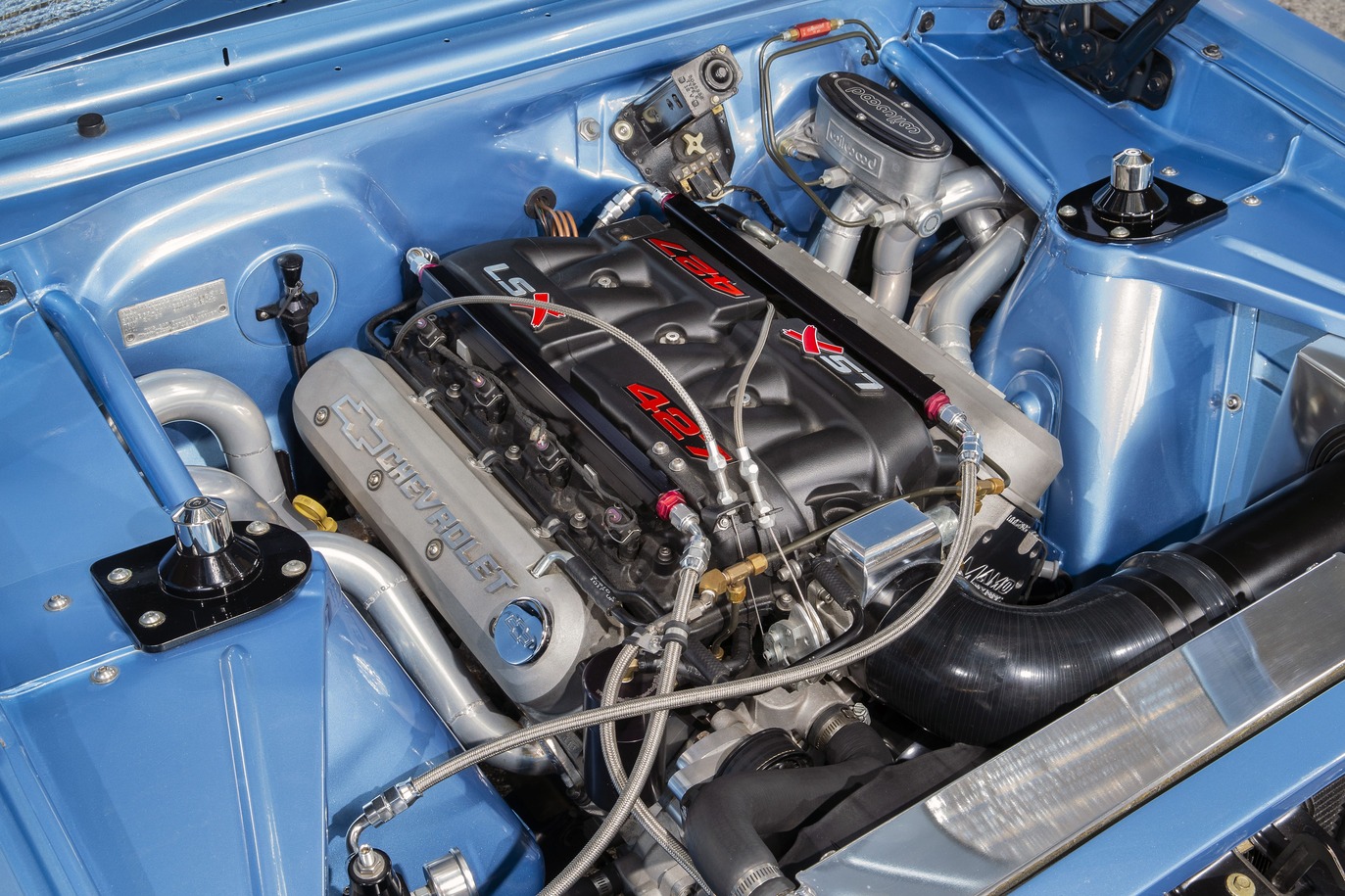 900hp N/A SUPER STOCK NOVA: 1966 Nova Reborn for Gear Jammer Racing
On the propulsion side, Jim didn't want to take a step back in time. More than anything else on the car, the 327ci mill and Muncie four-speed were old school, and his plans were forward-thinking with some LS motivation. He notes, "I started with an aluminum 5.3L truck block that I had ERL Performance install 4.125-inch bore Darton sleeves. After balancing, I installed a Callies 4-inch stroke steel crank for a displacement of 427 ci." Other bottom-end components included 11.8:1 Wiseco forged pistons fitted on Callies Compstar H-beam rods, and a Melling high-volume oil pump, while the top-end was treated to a set of Trick Flow aluminum heads that were ported by Tony Mamo Motorsports. They also ported the MSD Air Force intake manifold that was fitted with a 102mm Nick Williams throttle body.
Backing that all up is a 200-4R automatic transmission from CK Performance Transmissions in Holbrook, New York, and a Yank Performance SS3600 3,600 stall-speed torque converter. Out back, Jim points out, "The rearend housing and axles were the only things reused from the racing days. I installed an Eaton posi and fitted 3.90:1 gears in place of the old 4.88:1 set, and then laid it all on new 1-inch lowering Calvert Racing split monoleaf springs and Gabriel Pro-Shocker shocks."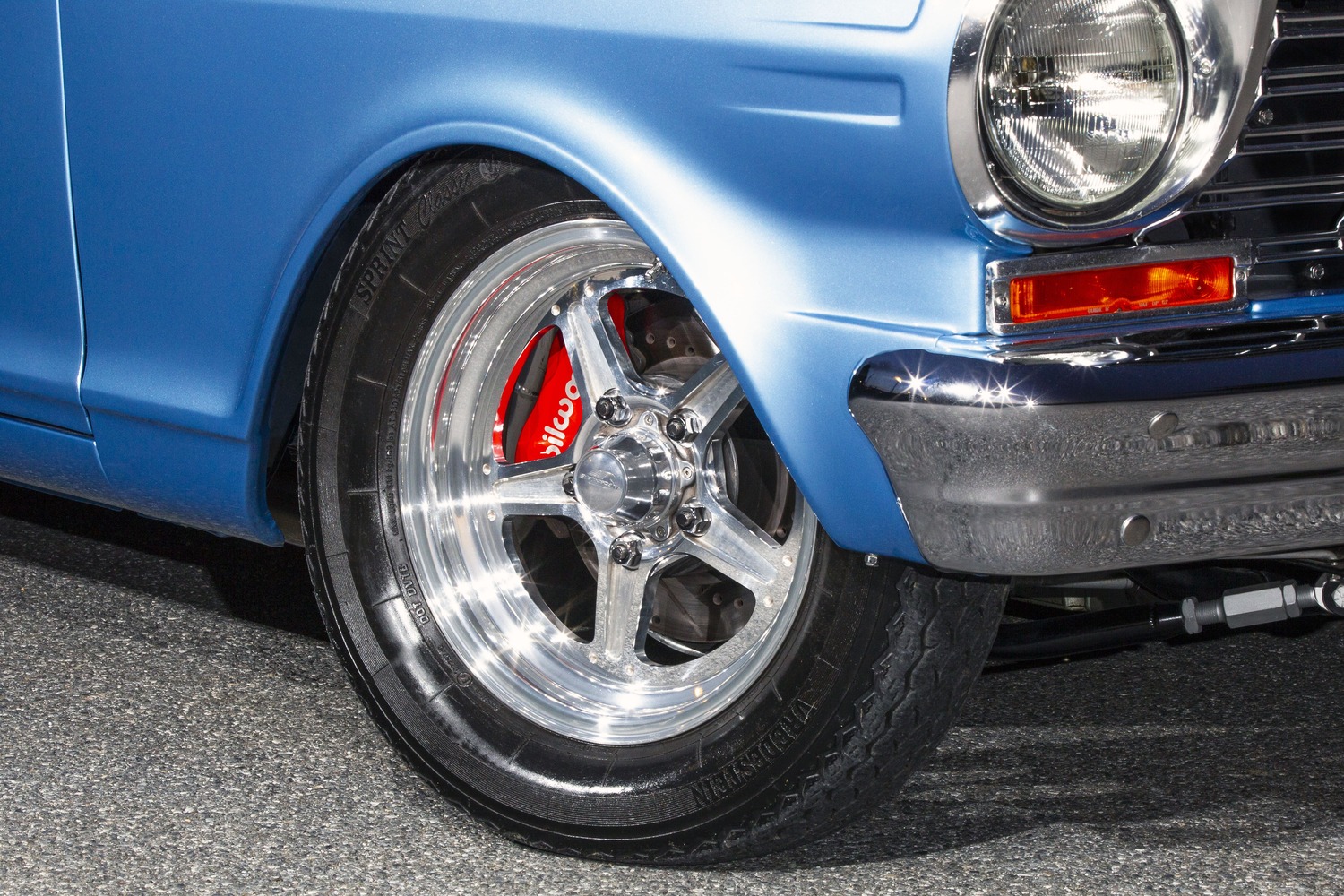 Up front Jim started with a clean sheet of paper. From the Church Boys Racing catalog, he installed a manual rack-and-pinion along with their tubular upper and lower control arms, while Chris Alston's Chassisworks VariShock shocks, and ididit tilt column completed that package. Clamping rejuvenation up front comes from the folks at Wilwood with their front disc brake package and master cylinder.
The last exterior stone to turn was the rolling stock. Jim purchased a set of Billet Specialties Street Lite wheels (15×4 front, 15×10 rear) wrapped in Vredestein Sprint Classic 165/80R15 at the front, while the rear wears Mickey Thompson ET Street 325/50R15 skins.
As with the rest of the car, the interior was also in desperate need of a refresh. During its racing days it was spartan with only carpet and a fiberglass racing seat, so Jim sent it off to Stump's Upholstery Design in Leola, Pennsylvania, for its makeover.
Starting with a pair of Toyota pickup front bucket seats, they restitched them in a gray and charcoal mix of cloth and vinyl, while a one-off custom rear seat was given the same treatment. That combination carried over to the custom front and rear interior panels and the PVC foam board center console that Jim fabricated. Other additions included Auto Meter gauges, B&M MegaShifter, and a Grant steering wheel.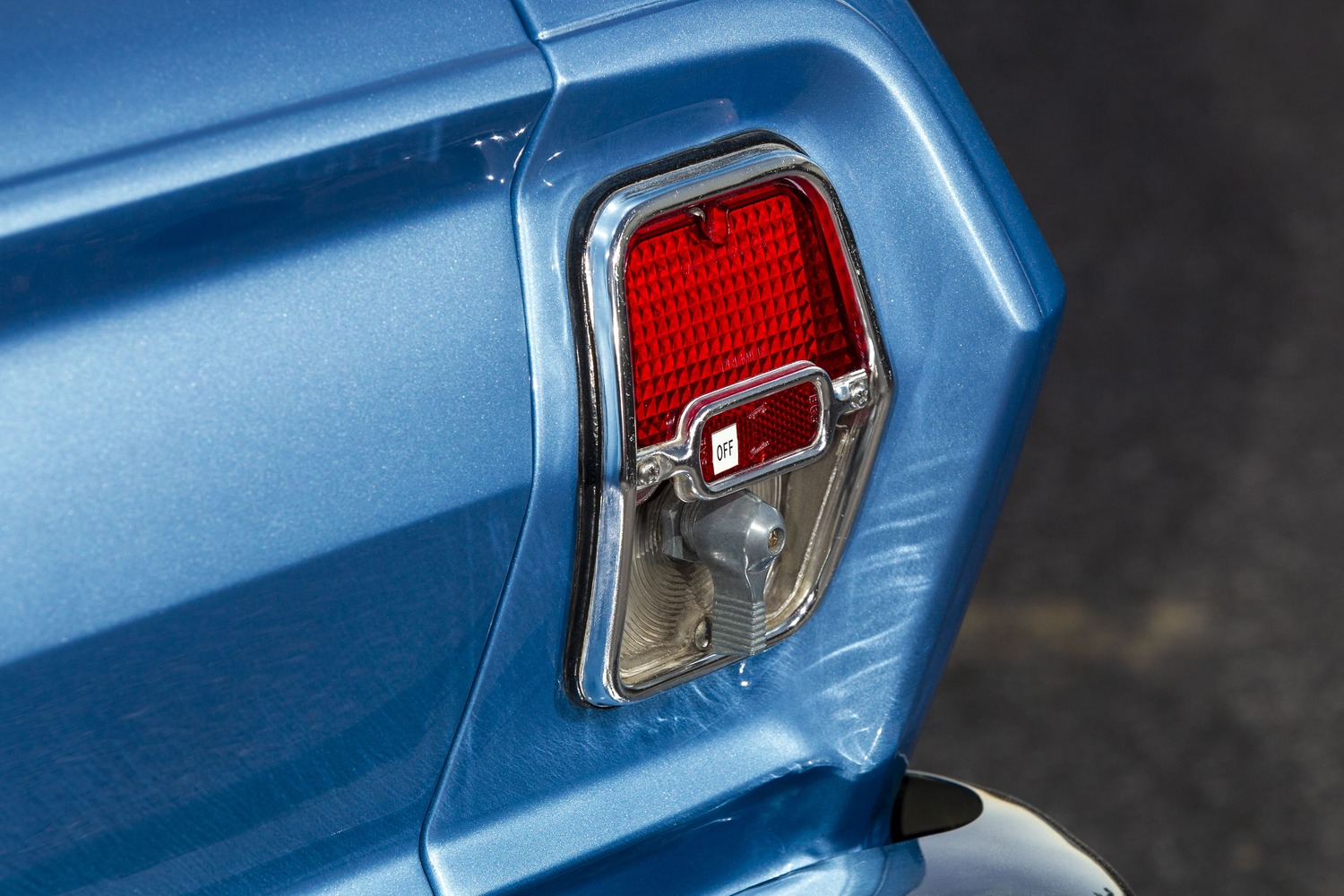 Jim wrapped up work on the car in 2013, and when asked he willingly states, "It has been a blast to drive and has won many show awards. I can drive it an hour to the track, run low 10s, and drive it home averaging 20 mpg." His best performance to date has been a 10.29 at 130 mph—all motor—the only modification from street driving being lowering the air pressure in the rear tires.
The one hanging question might be what happened to the SS? Jim notes, "I am now restoring it. Bodywork and paint are complete and reassembly has begun."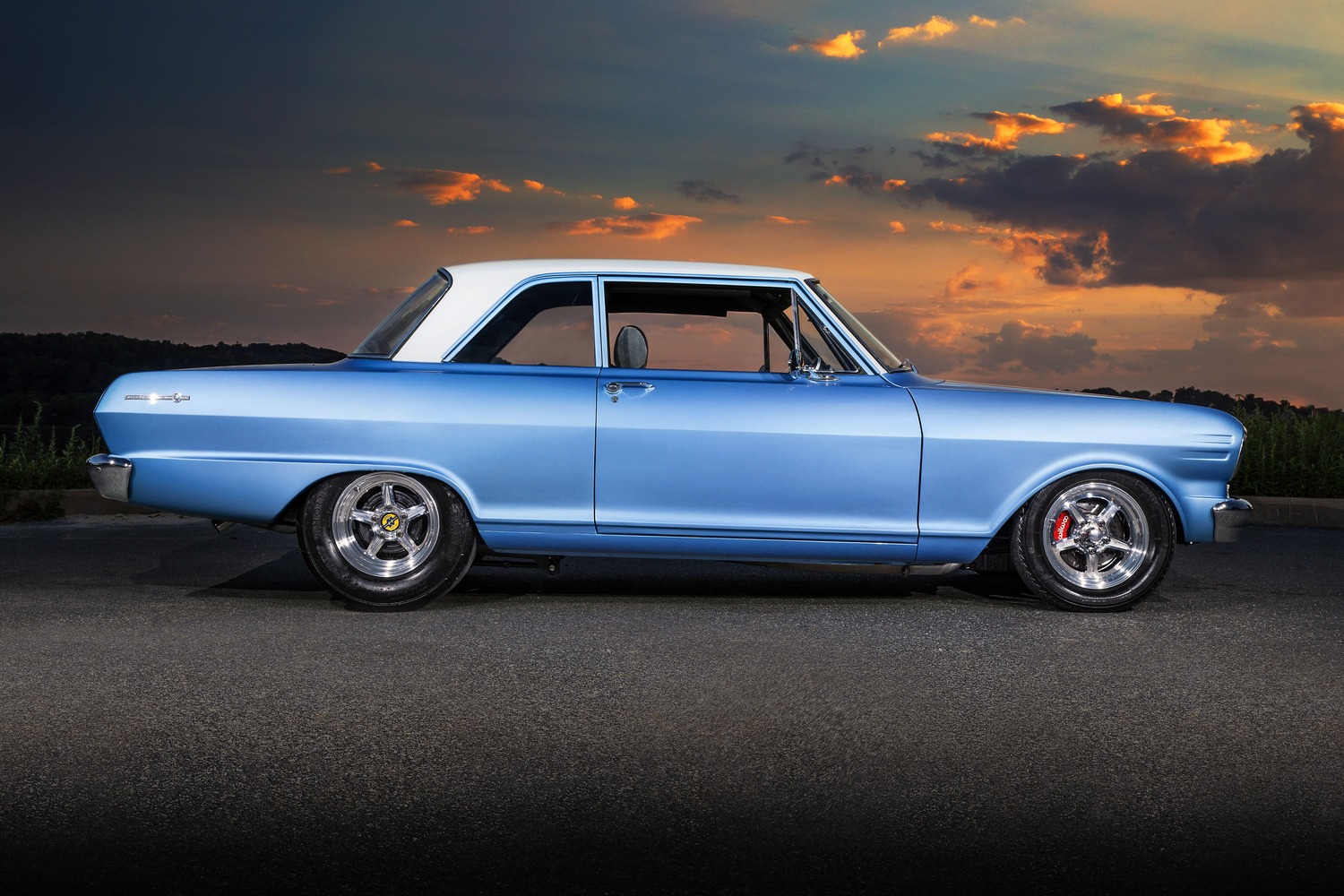 Tech Check
Owner: Jim Dissinger, Leola, Pennsylvania
Vehicle: '63 Chevy II
Engine
Type: Chevrolet LS7
Displacement: 427 ci
Compression Ratio: 11.8:1
Bore: 4.125 inches
Stroke: 4.00 inches
Cylinder Heads: Mamo Motorsports Trick Flow 265cc LS7
Rotating Assembly: Callies Compstar forged crank and H-beam rods, Wiseco forged pistons
Valvetrain: ARP bolts and studs, Johnson hydraulic lifters, PAC Racing springs with titanium retainers
Camshaft: Comp Cams Hydraulic roller
Ignition: GM coil packs with GM PCM
Induction: MSD Atomic AirForce intake, Nick Williams 102mm throttle body
Exhaust: Hand-fabricated fenderwell headers, 3-inch stainless exhaust, Flowmaster Super 40 mufflers
Ancillaries: Entropy double-pass aluminum radiator, Melling high-volume oil pump, stock 16-gallon fuel tank modified for an Aeromotive 340-lph in-tank fuel pump, K&N air filter
Output: 540 hp at 6,240 rpm, 490 lb-ft of torque at 5,080 rpm at rear wheels
Machinework: ERL Performance (New Albany, IN)
Assembly: Jim Dissinger
Drivetrain
Transmission: 200-4R four-speed automatic, Yank Performance SS3600 3,600 stall-speed torque converter
Assembly: CK Performance Transmissions (Holbrook, NY)
Rear Axle: GM 12-bolt narrowed 6 inches, 3.90 gear ratio, Mark Williams 30-spline axles, Eaton posi
Chassis
Front Suspension: Church Boys Racing tubular upper and lower control arms,
stock spindles, Chris Alston's VariShock shocks, manual rack-and-pinion
Rear Suspension: Calvert split monoleaf springs, Gabriel Pro-Shocker shocks
Brakes: Wilwood 11-inch rotors with four-piston calipers (front), drum brakes (rear), Wilwood master cylinder
Wheels & Tires
Wheels: Billet Specialties Street Lite 15×4 (front), Billet Specialties Street Lite 15×10 (rear)
Tires: Vredestein Sprint Classic 165/80R15 (front), Mickey Thompson ET Street 325/50R15 (rear)
Interior
Carpet: Auto Custom Carpet Essex
Seats: Toyota seats (front), one-off custom (rear), Simpson harness
Door Panels: Custom, Electric-Life power windows
Upholstery: Stump's Upholstery Design (Leola, PA)
Steering: Ididit column, Grant steering wheel
Shifter: B&M MegaShifter
Dash: GM stock, custom console
Instrumentation: Auto Meter gauges
Tunes: Pioneer head unit, Eclipse EA4000 amplifier, Alpine SPR 60C speakers (front), Alpine SPR 69 speakers (rear)
Rollbar: 10-point mild steel, Jerry Thompson Race Cars (Marietta, PA)
Exterior
Bodywork: John Lutchkus
Paint: PPG Light Stellar Blue Metallic/white basecoat/clearcoat
Paintwork: Ken Brandt Body Shop (Lancaster, PA)
Hood: Stock steel
Grille: Stock
Bumpers: Stock
Glass: Stock