The First Effort was a No-Go, Then Came This 1950 Ford Woodie
By Brian Brennan   –   Photography By Tim Sutton
One of the most frustrating experiences for any of us trying to build our next hot rod is to put the time, effort, and money into a project only to find out that it isn't what we thought. In fact, if it is worse than we could have imagined it's now back to square one. Such was the case of Greg Tidwell of Northern California and his current project. The '50 Ford woodie that you see before you is the result of overcoming adversity and it's as fine a result as one could wish. What came before, not so much.
Greg's first effort was the purchase of a '51 Ford woodie some time ago that turned out to be a combination of "rust bucket" and "terminate wagon"—neither spawning ideas of a great family cruiser. After rounding up this '50 Ford woodie things were looking up, until they weren't. The woodie finally found its way to Bill Ganahl of South City Rod & Custom  and Darryl Hollenbeck at Vintage Color Studio. It was at this point that things really began to look up.
Read More: Jimmy Summers' Timeless Ford Custom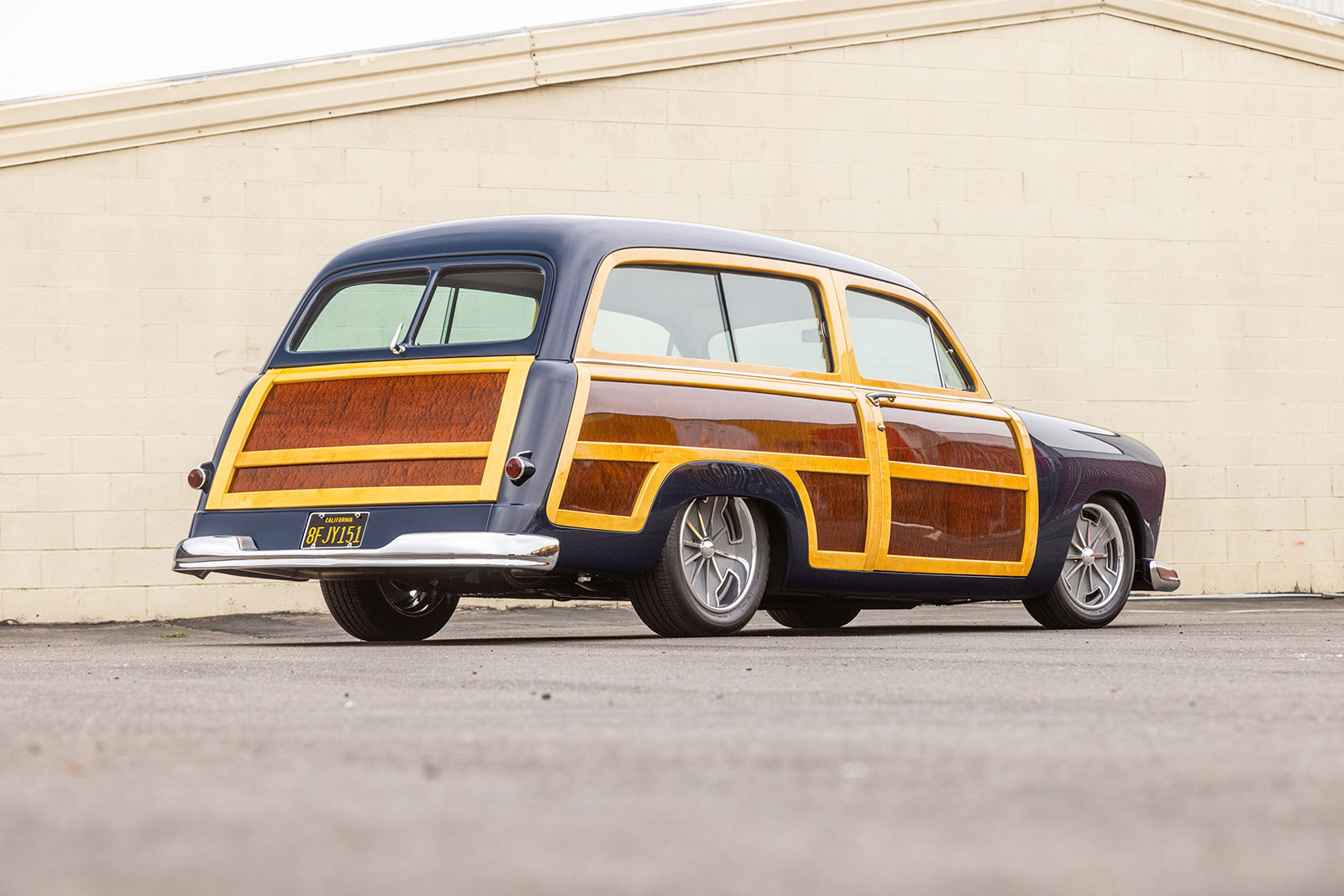 The body (which means sheet metal and woodwork) on this '50 woodie is by all accounts "mostly" stock but there are a handful of tasteful modifications. (Remember, just because you can change something doesn't mean you should.) Starting at the front you will notice right away that the frenched headlights and the shaved hood result through the efforts of Hollenbeck of Vintage Color Studio. While at South City Rod & Custom, the addition of custom tail lights and tucked '51 Ford bumpers were installed. The taillights began life as '37 Ford buckets that were shaped to fit the woodie body by South City Rod & Custom. From here South City Rod & Custom made the brass fins topped with the chrome trim mimicking the stock woodie taillights. To this package, the addition of a '49 Ford grille and a modified tailgate with rear pan and license plate mount were additional touches. Remember there's lots of wood on a woodie. The wooden door panels and quarters feature Pommele Sapele (an exotic African hardwood), which is a relative to Mahogany wood. The required woodworking expertise was left to Rick Mack. (Since we are talking about woodies, they are often called "termite wagons;" one must appreciate the fact that Pommele Sapele is "termite resistant.") Next up came the clear coat and color sanding of the fresh woodwork, which was handled at Compani Color while Ganahl and the crew at South City Rod & Custom oversaw the final fit and gaps. The concluding bodywork and the application of the custom-mix PPG Washington Blue was more hands-on efforts from Hollenbeck of Vintage Color Studio.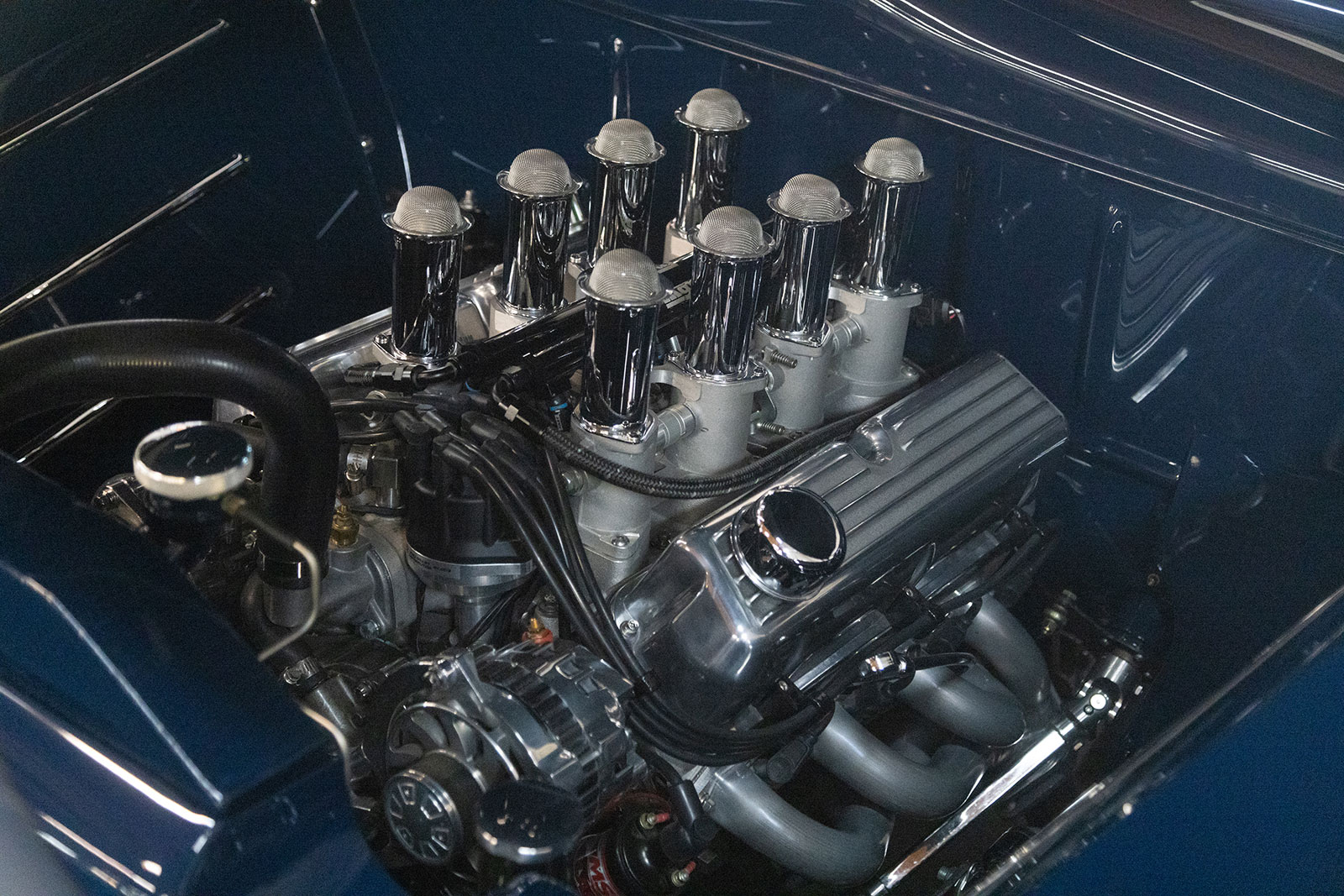 The subtle and tasteful body efforts now rest on the modified stock frame that was fitted with a Fatman Fabrications front clip that features Fatman spindles and sway bar, Ridetech coilovers, a Mustang R&P for steering that was all in position before arriving at South City Rod & Custom. In back, a Ford 9 inch rear end with a limited-slip differential and 31-spline Strange axles are used. Working in conjunction with the rear end are more hot rod touches that include a pair of custom leaf springs and Ridetech shocks.
Read More: Nostalgic 1955 Chevy Delray
Corner appointments comprise the use of Baer brakes that feature 13-inch rotors and six-piston calipers in front with 12-inch rotors and four-piston calipers in the back. The combination is operated by a modern-day passenger car twin reservoir master cylinder with electric assist. Rounding out the corners is the use of special-order Knutkace 113 Series Circle Racing wheels that measure 17s in the front and 19s in back. Bridgestone Ecopia tires coming in at 215/55R17 are found in the front and 235/55R18 are found in the back. (The Ecopia tire is made from recycled rubber and is known for being long lasting and having enhanced fuel efficiency.)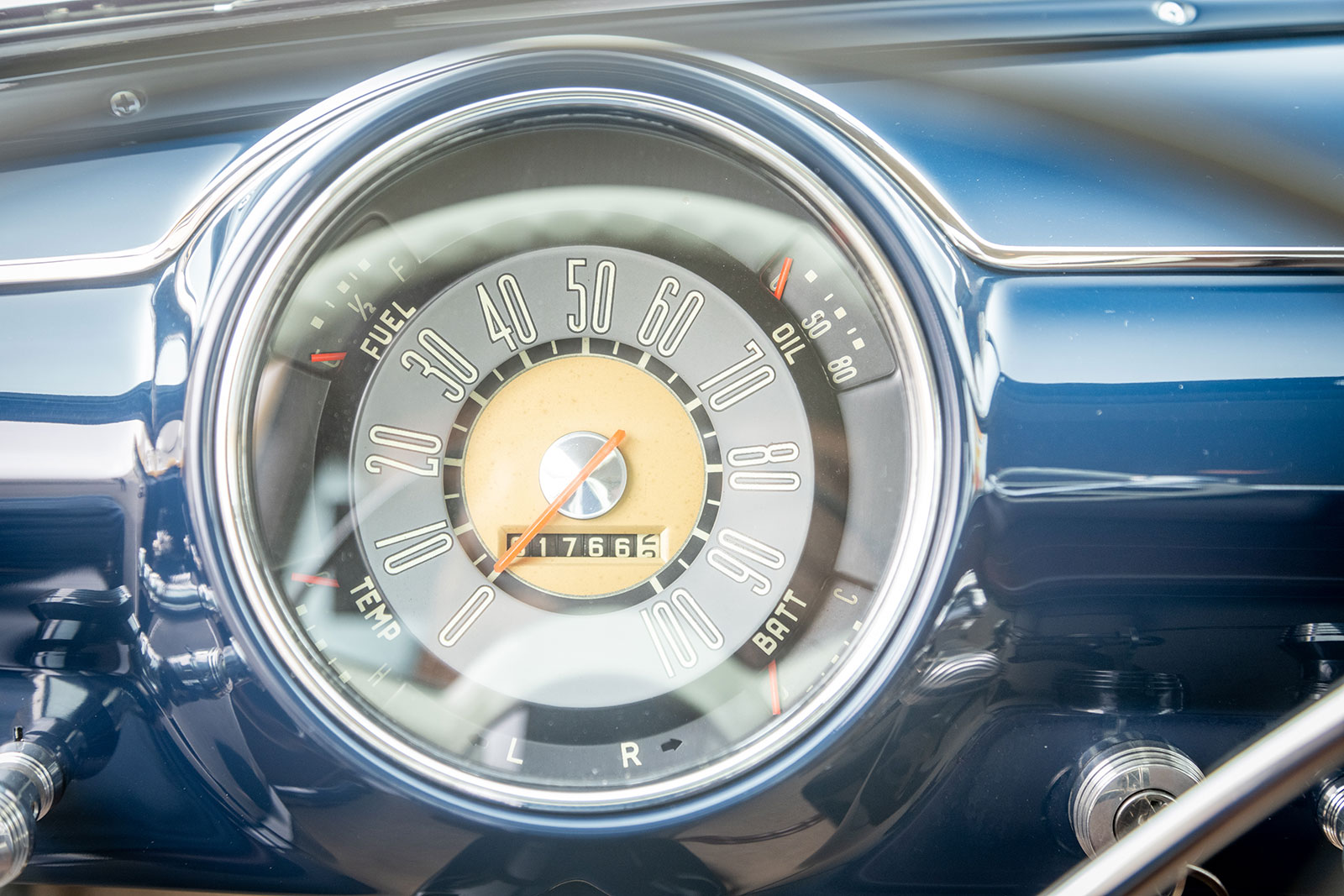 What good is a fine-looking woodie for cruising if you don't have the proper power team? A Ford 5.0 (302 inches) V8 was selected from the Ford Motorsport SVO catalog that showcases an iron block with aluminum heads held in place by a complement of ARP studs. The real "eye candy" and performance boost comes by way of an Inglese 8 stack EFI that runs through the Holley Dominator EFI management system that is in turn tuned by Autotrend EFI. Other engine accessories include the MSD distributor and coil along with Taylor spark plug wires, a Powermaster starter and alternator, and a YellowTop Optima battery that is mounted in back. The Billet Specialties Tru Trac serpentine belt system spins along with the electric fans from Cooling Components and the Edelbrock water pump. The headers originated from Ford Performance while the exhaust system was made at South City Rod & Custom that works in conjunction with a pair of MagnaFlow mufflers.
Read More: From Gasser To Show Car: A Candy Apple Red '41 Willys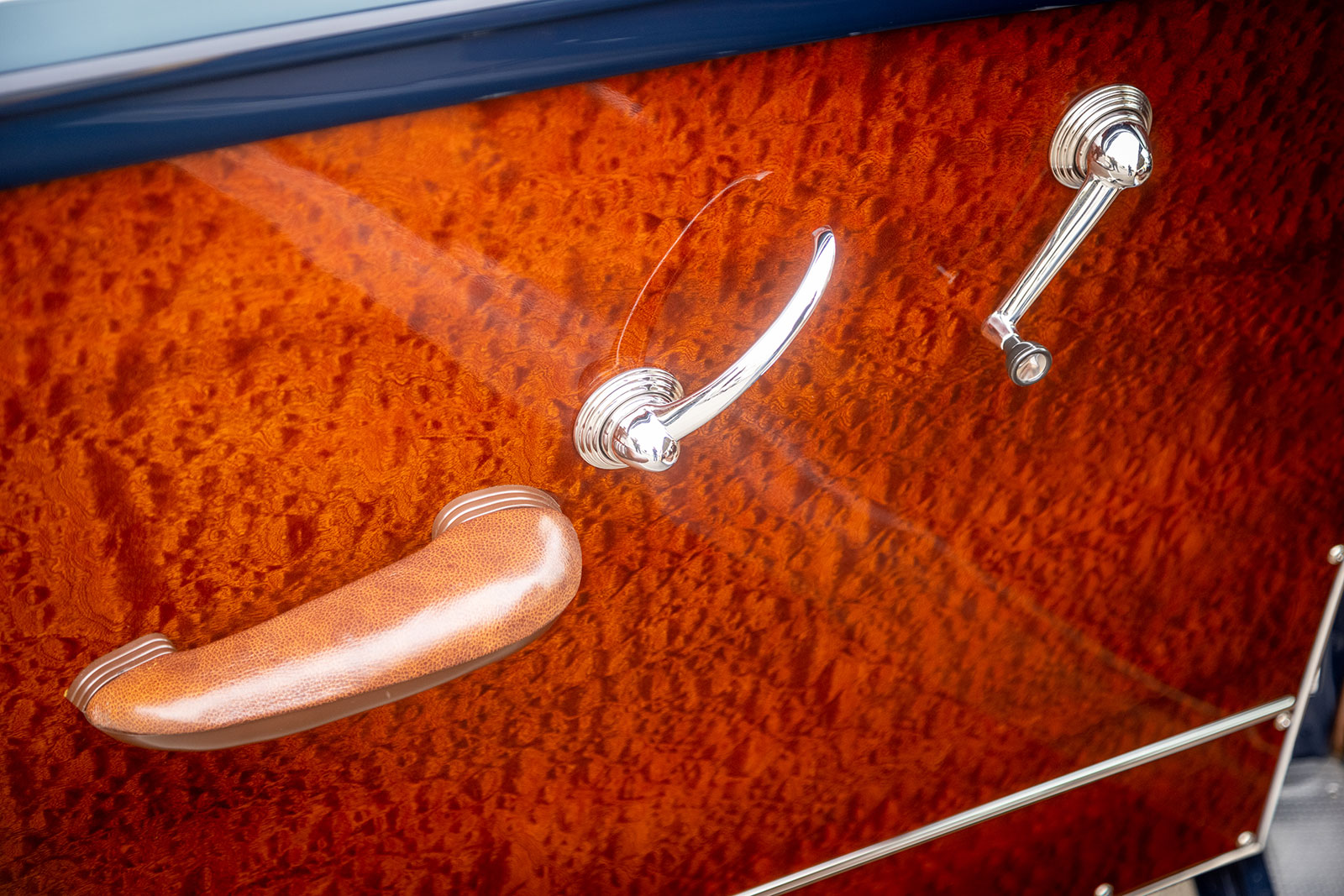 The steel '50 Ford woodie dash was retained but reworked with a stock '50 Ford cluster of gauges. Mounted to the bottom of the stock dash via custom column drop is a tilt ididit steering column topped with a Ford Crestline wheel. Allowing the car's electric accessories, such as the Vintage Air Gen IV Magnum AC system, to come to life occurs through the use of an American Autowire kit installed at South City Rod & Custom. With regard to the upholstery, you will note a tan Mohair headliner and tan German square-weave carpeting. Chris Plante of Interior By Plante accomplished the head-to-toe stitchwork complemented by the Glide front bench and the custom rear bench covered in a distressed brown leather.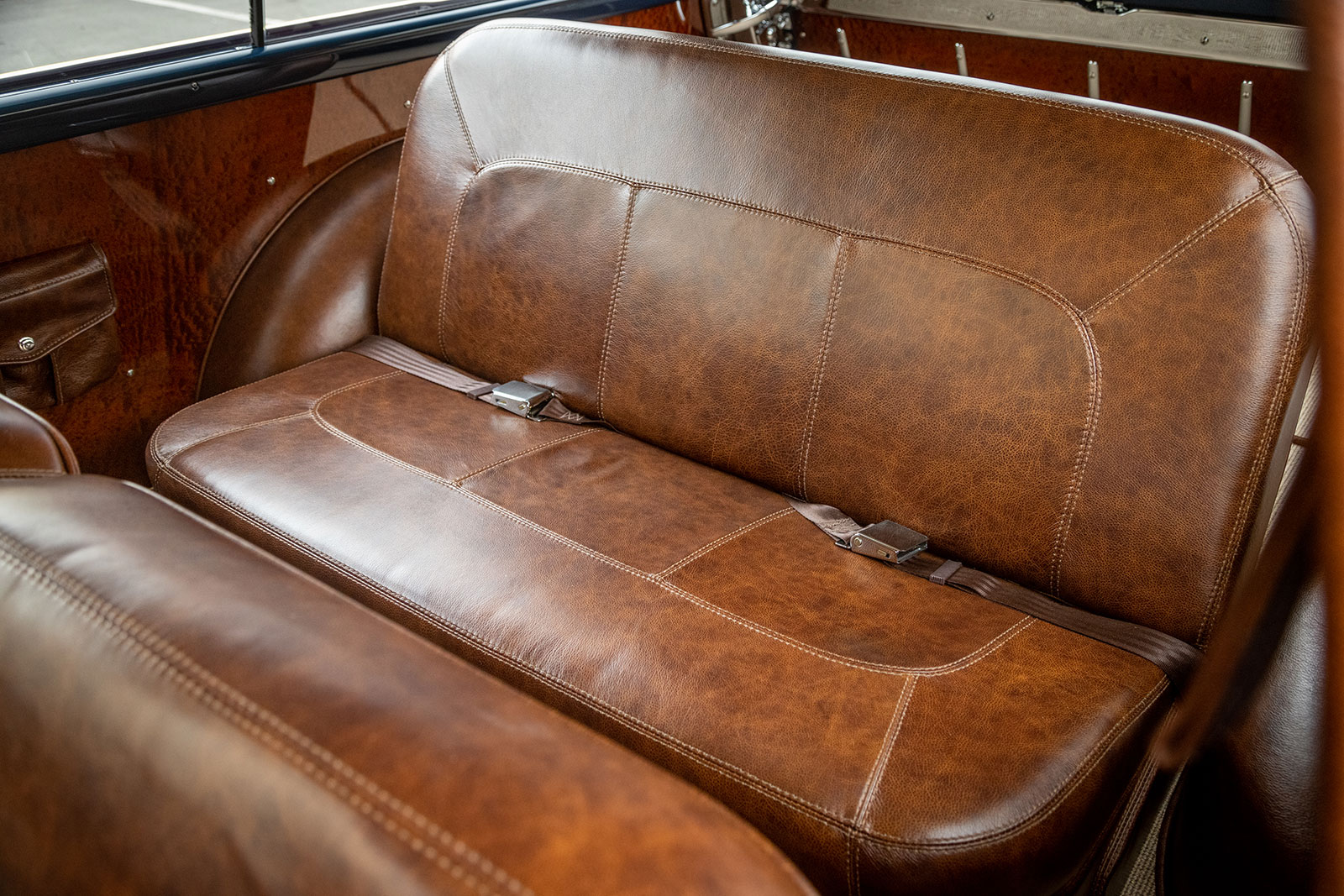 An interesting side note. Greg is a member of the Faros Car Club out of Modesto, California. If that has a familiar ring to it, it should. The early "Pharoahs" Car Club was made up of veterans from World War II and the Korean War. Along comes the movie American Graffiti that was based on the emerging hot rod and rock 'n' roll cultures crossing paths. While the movie was intended to be in Modesto the fact is it was filmed in several locations, but the following cities received the bulk of the camera time: Petaluma, Sonoma, San Francisco, and San Rafael. I have yet to find the "car guy or gal" who hasn't seen or been influenced by American Graffiti. Now you have "almost" the rest of the story. MR