By Rob Fortier   –   Photography by the Author
I often wonder why the First-Gen (1961-1965) Dodge D-Series pickups have never quite garnered the same following as similar-era C10s and F-100s. Besides the fact that both the Sweptline (Chrysler Corp's version of a Fleetside) and Utiline (Stepside, of course) models were/are attractive looking trucks, this was truly one of the first attempts at creating a production "muscle truck", as the 1964 Custom Sports Special (CSS) truly reflected: 426ci Wedge with a LoadFlite automatic, dual exhaust, and factory traction bars. The competition was more concerned with towing, camping, and the like, so it seemed. Dodge would follow in the years to come with memorable models such as the Dude, Li'l Red Express (and its cousin, the Midnight Express, which was produced for the "whiny" states), and the limited-production Warlock.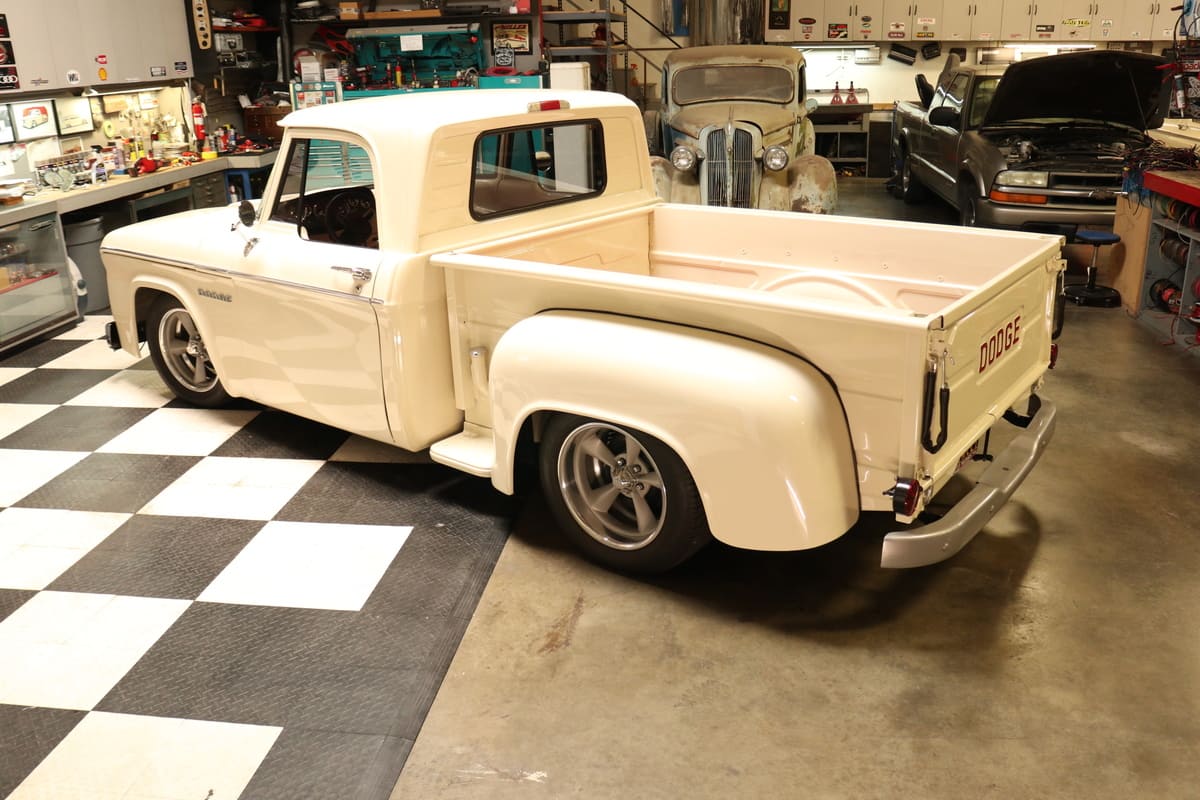 Sure, Chevy and Ford had some cute names given to various C10 and F-100 models, but none really came close to what Chrysler's design team mustered up in the mid-1960s. As far as the D-100s themselves, they definitely held their own as far as consumers were concerned—in both function and form perspectives. Alan Hickman, a MoPar connoisseur and owner/proprietor of the Audio Shoppe in Riverside, CA, proved all of the above true when he took an ex US Forestry truck and created his version of a classic D-100 Utiline—aka, his 1964 Dodge Stepside.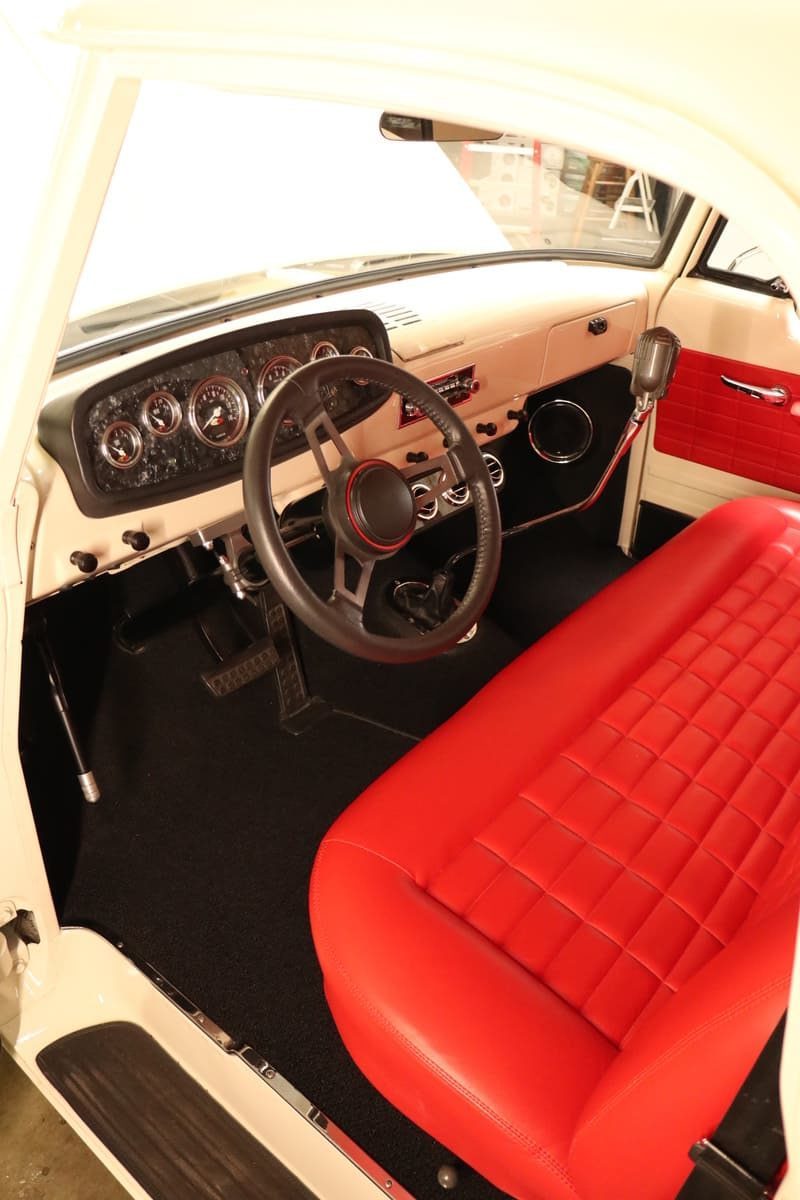 As stated, Alan started out with a true work horse with his retired forest service truck—and in his spare time over the course of a decade, was able to turn that utilitarian Stepside into a milder example of the same-year CSS Sweptline…but it was no easy task by any means. Along with the enormous task of getting each and every body panel to fit and function better than factory specs, one of the most daunting tasks was getting the chassis "just right"…so much so, in fact, that it took two separate attempts to achieve.
Initially, Alan had intended on keeping the solid front axle by means of lowered springs, drop spindles, etc. But no matter what, he just couldn't get the desired stance. So…out came the I-beam and in came Jimenez Bros. Customs with a custom-tailored IFS that, along with adjustable coil-overs, not only gave Alan the desired ride height, but the additional ride quality aspects no cast-iron axle could afford. A rear flip kit with AirLift air shocks helps set the Dodge just right, statically speaking, over 17-inch US Mags five-spokes wrapped in Nitto radials.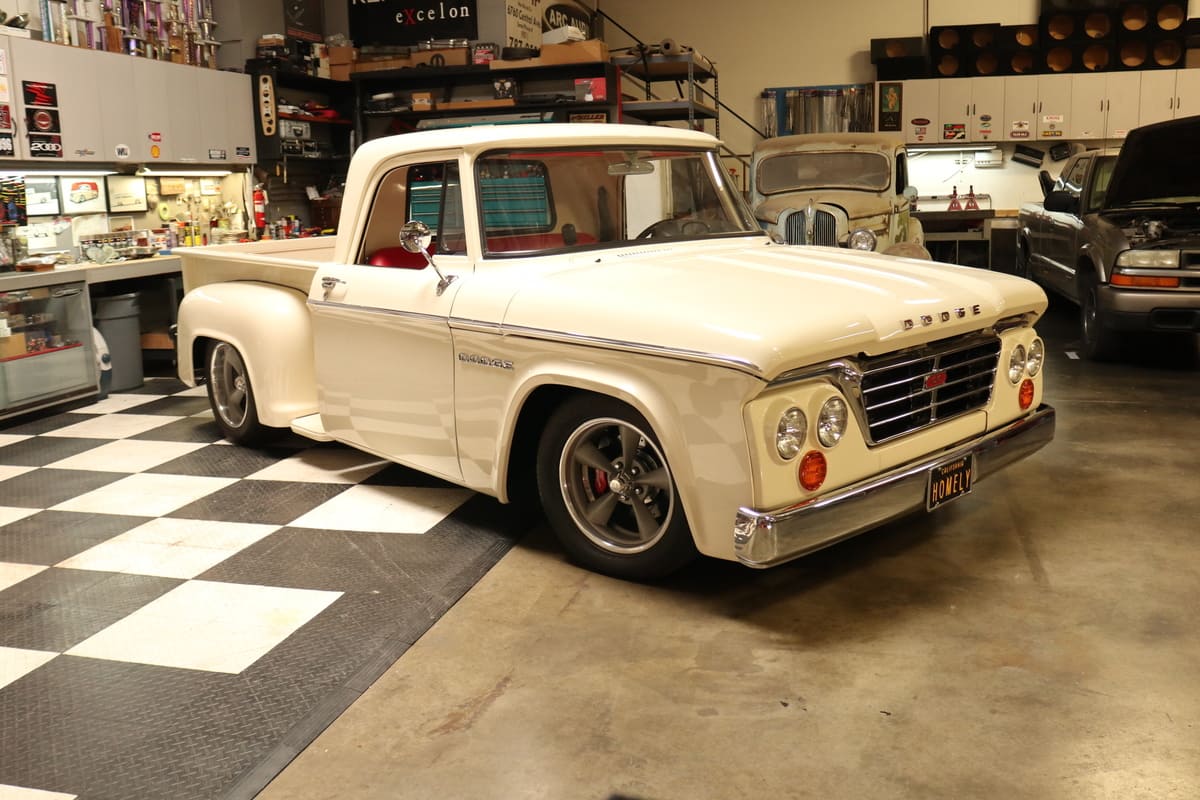 The engine, albeit of OE 318 nature, is not OE to Alan's truck—it originally came equipped with a Slant-6 and three-speed manual trans, neither of which sufficed for what he had in mind for his future Stepside. Instead, Alan decided to have the correct-era LA 318 (successor to the Chrysler A 318) machined 0.30-over, balanced, and blueprinted by Dougan's Racing Engines. With its Air Flow Research massaged iron heads, COMP 340 clone cam, Doug's block-hugger headers and Flowmaster dual-chamber mufflers, 1960s survivor Carter 650 AFB, and a Lokar-shifted 727 TorqueFlite trans turning the 8-3/4" rear's 3.23 gears, the D-100 has a bit more get up and go underneath all that custom-mix Mopar beige paint now than it did in its former forestry days, that's for sure.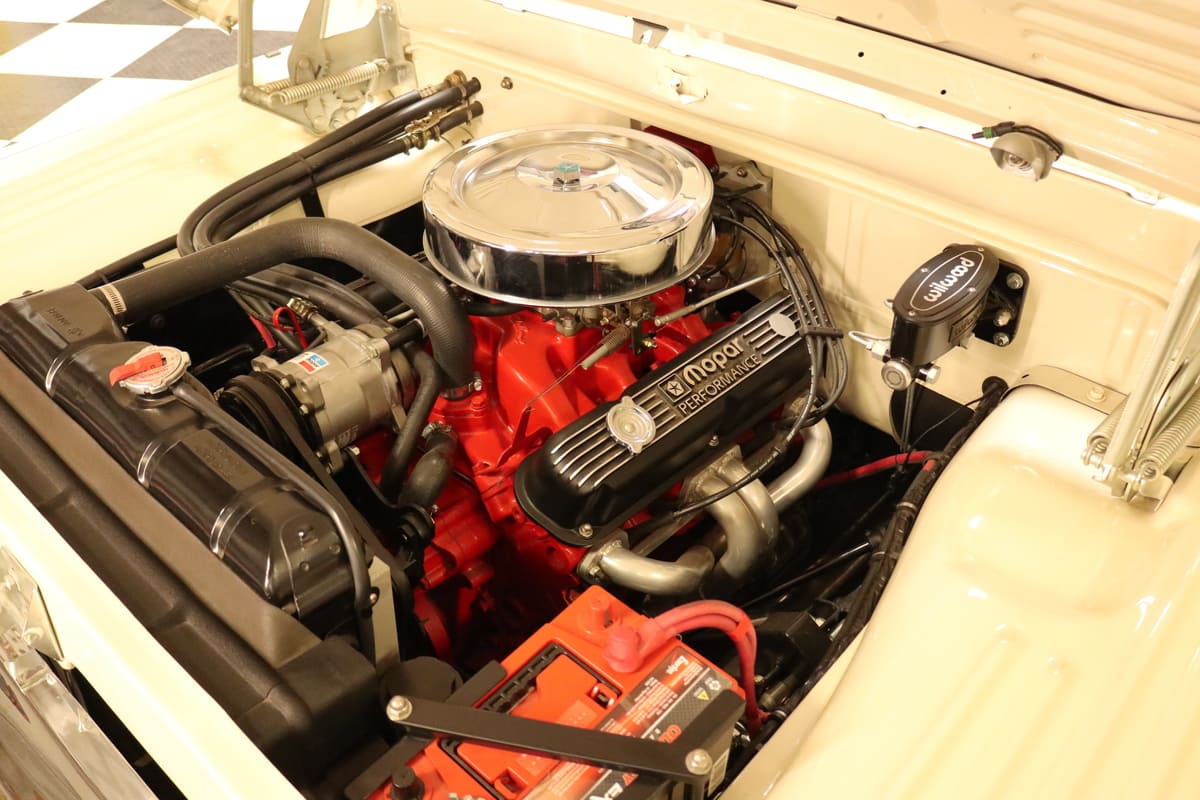 With help from the late Dave McEniry, Alan brought new life to his Dodge's exterior sheetmetal—and along the way, added some clever custom touches as well. Along with one-off trim and interior sill plates by local pinstriper extraordinaire Li'l Louie (who also color-lettered the tailgate), the D-100 features a myriad of subtle non-stock (some Dodge; some not) exterior integrations from head to tail (gate); however the red-stained solid oak bed floor is not one of those subtle accents!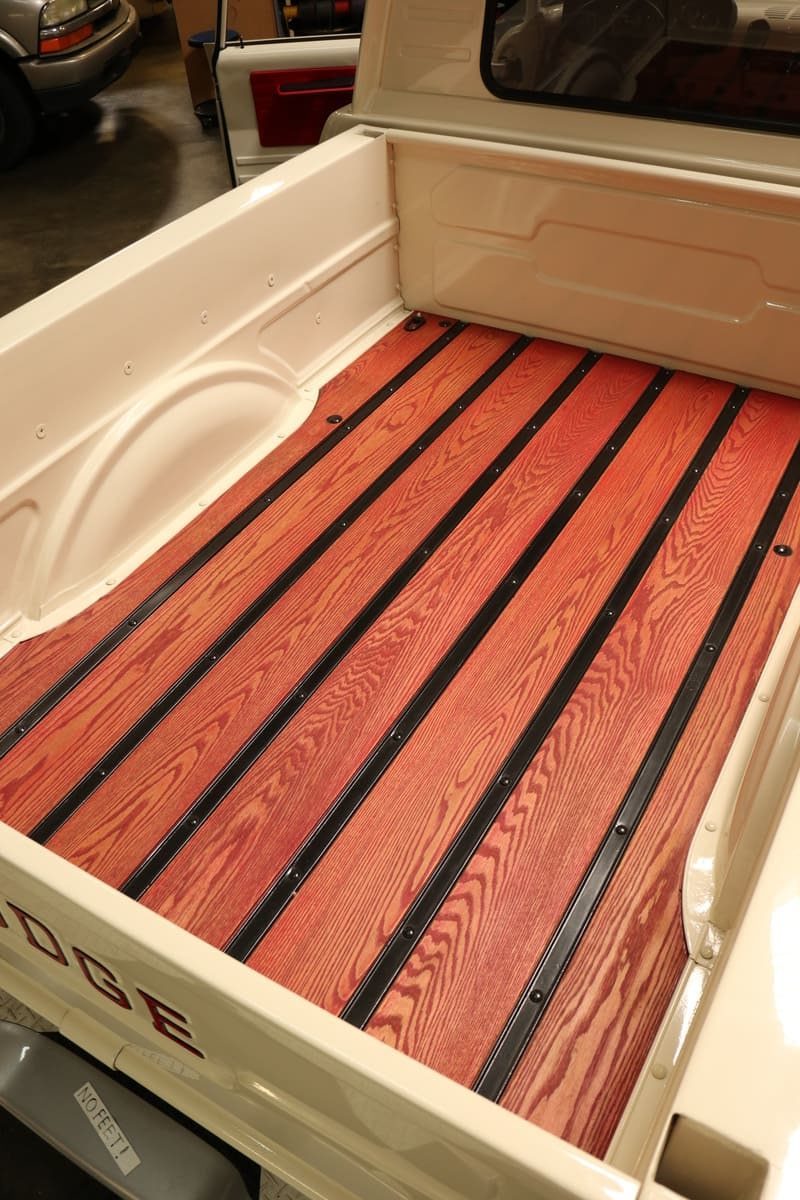 Inside is more of the same—but more on the custom-modified or simply custom side than stock, as you may have already noticed. A gift from the late Pete Chapouris, the So-Cal Speed Shop gauges with the Fender Custom mother of pearl (pic guard) inset rests in a leather-wrapped bezel, and is perfectly complemented by an Old Aire Products A/C unit adorned with the same pearl accent trim, black anodized So-Cal dash knobs, and a repurposed vintage microphone atop the Lokar Swan Neck shifter. The door windows have been updated with Nu-Relics power mechanisms, while the stock 8-track in-dash stereo is a decoy, as no vehicle of Alan's is complete without a proper high-end sound system—this one comprised of Arc Audio components cleverly integrated behind the Ron Mangus-upholstered bench seat. (Mangus is responsible for the entire hot rod red interior, including the patterned headliner!)
The license plate may say "HOMELY", but Alan Hickman's 1964 Dodge D-100 Utiline is anything but—and you don't have to be a MoPar fan to admit that!+
The Dodge Difference: Alan Hickman's 1964 D-100 Utiline