This 1932 Ford Highboy Sedan Delivery With Ol' Hot Rod Style
By Brian Brennan   –   Photography By Wes Allison
Those who have been around the hot rod world for some time should know Southern California's Richard Graves, or possibly his shop's name, Richard's Wheel & Chassis, will ring true. Richard has built a number of hot rods for customers and himself over the past 60-plus years, and that includes his current ride. Richard's '32 Ford Sedan Delivery has been seen on the road for years.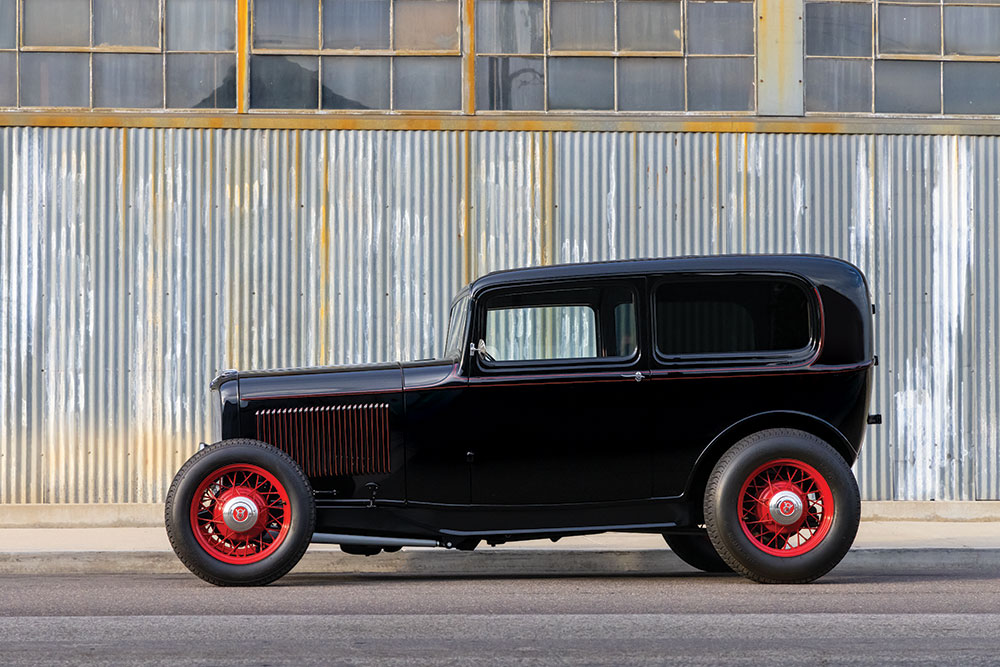 As a member of the Early Times Car Club (founded in 1965) he joined (1969) and continues to participate some 50-plus years later. (There's a great story behind the Early Times Car Club and many of its members—but that's a story for a later date.) Richard consistently shows up with his 1932 Highboy Ford sedan delivery at local events time and again. In fact, his garage served as the beginning for the Early Times Mid-Winter Rod Run & Garage Tour. This event has a long history, some 41 years and growing in the SoCal hot rodding scene. His familiar bearded presence is a welcomed sight as he brings a wide breadth of hot rod knowledge and experience to the car scene.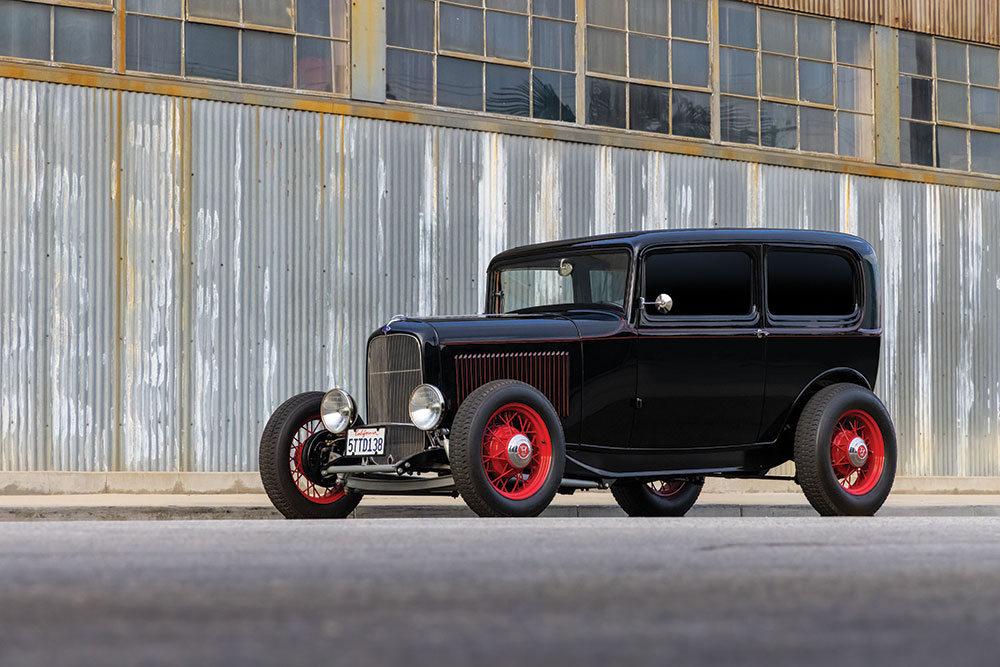 Read More: Speak Easy Green 1932 Ford Phaeton
One look at Richard's 1932 Ford Highboy sedan delivery and there is no mistaking the old-time vibe. Oftentimes a highboy is common when building a roadster, or a coupe, and, as we have seen recently on the pages of Modern Rodding, phaetons. (A "highboy" is a car where the body sits on top of the frame with the fenders and running boards removed.)   Interestingly, while many of today's hot rodders would look at this as a recreation of a traditional hot rod, the fact is Richard builds his cars to look like this because he likes it. He has built classic cars of this ilk for decades. It's the old saying, "Continue to do what works for you."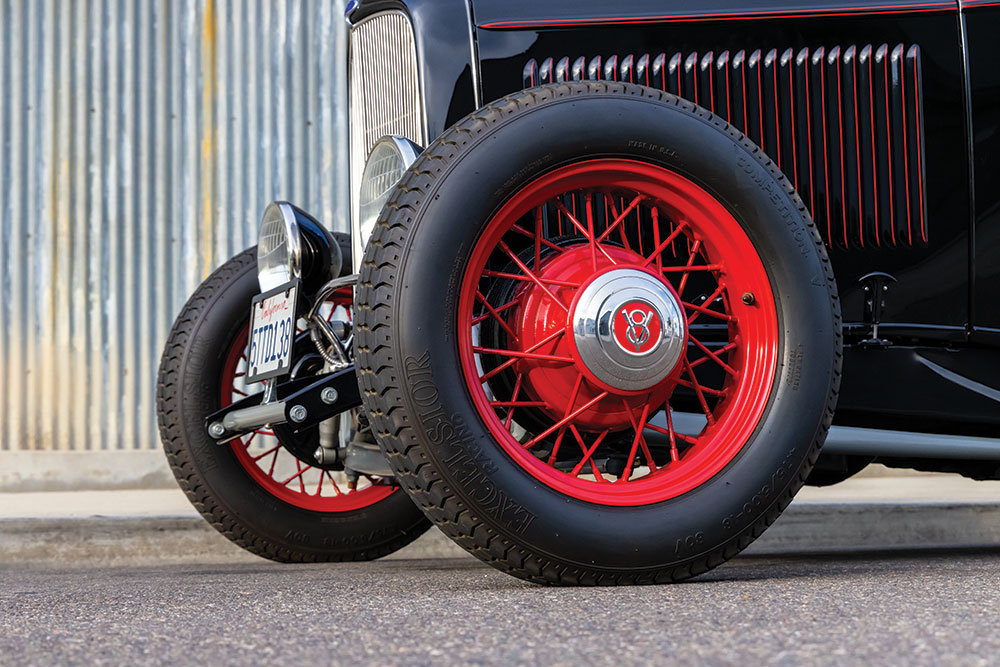 Richard has stayed with a proven formula of using a Deuce frame with traditional hot rod mods and a vintage small block Chevy V8. His concession to "modern rodding" is the use of a T10 4 speed manual transmission, 10-inch Chevy clutch kit and flywheel, with a Ford pressure plate. It's a T10 transmission with the obligatory S10 tailshaft housing to move the shifter position forward.
The perimeter frame is a Squeak's Place (Squeak Bell is a Kiwi hot rodder who is fully immersed in the California rodding scene) perimeter Deuce frame. It features the factory 106-inch (give or take a 1/2 inch) wheelbase. From here the frame was then outfitted with a Model A front crossmember (gain an inch of drop over a Deuce crossmember), Chevy motor mounts, a Vega steering box kit, a tubular transmission crossmember, and a buggy spring mount in the rear crossmember at Richard's Wheel & Chassis shop. His shop is still located in the same building in Long Beach that it has been for decades. Many a hot rodder knows where to wander when in the town.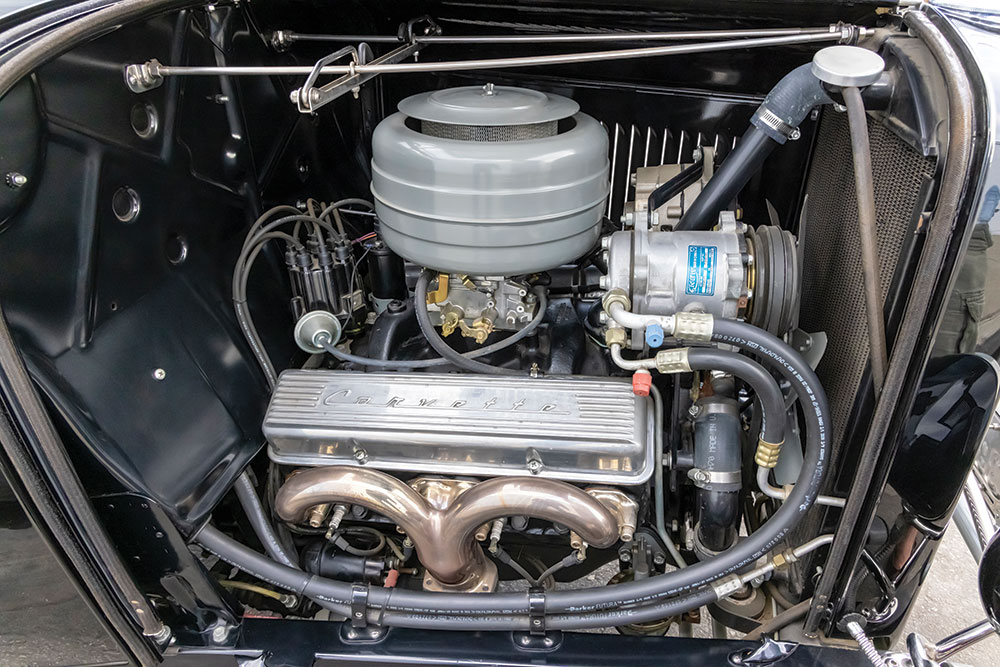 The front I-beam axle is based on a 1932 Ford "heavy" stretched to a 3-inch drop. (The '32 Ford axle was the first to be manufactured with a slight drop. There is more metal—i.e., meat—on the axle leading to the term "heavy." The overall height of the axle is as tall as the perch bosses.) From here the axle is coupled with 1932 Ford wishbones, '40 Ford spindles, 12 inch brake drums, reversed-eye leaf spring, and Pete & Jakes shocks. Note that the lower shock mounts are drilled and positioned within the center of the I-beam axle just in front of the adjustable perches. All of this was controlled with the popular Vega steering box. In back a Ford 9 inch rear end is fitted with 3.0 gears and cut down Ford axles, 11 inch brake drums, and Pete & Jakes shocks. It's linked to the five-speed via a shortened 19'55 Chevy driveshaft. A '40 Ford transverse buggy spring is used with a combination of several leaves removed and several shortened. Take a close look at the wire wheels—an interesting touch. The custom wheels, accented in red, are based on 16-inch Kelsey Hayes wheels and then Richard had Buchannan's make the spokes followed by the dimpling and lacing of the wheels. In the end Richard had two sets made (never know when you will need spares) of the 18-inch-overall-diameter wires with the fronts 4.5 inches wide and the rears 5 inches wide. Excelsior/Coker radial rubber measuring 4.50-18 and 5.50-18 wrap the one-off wires.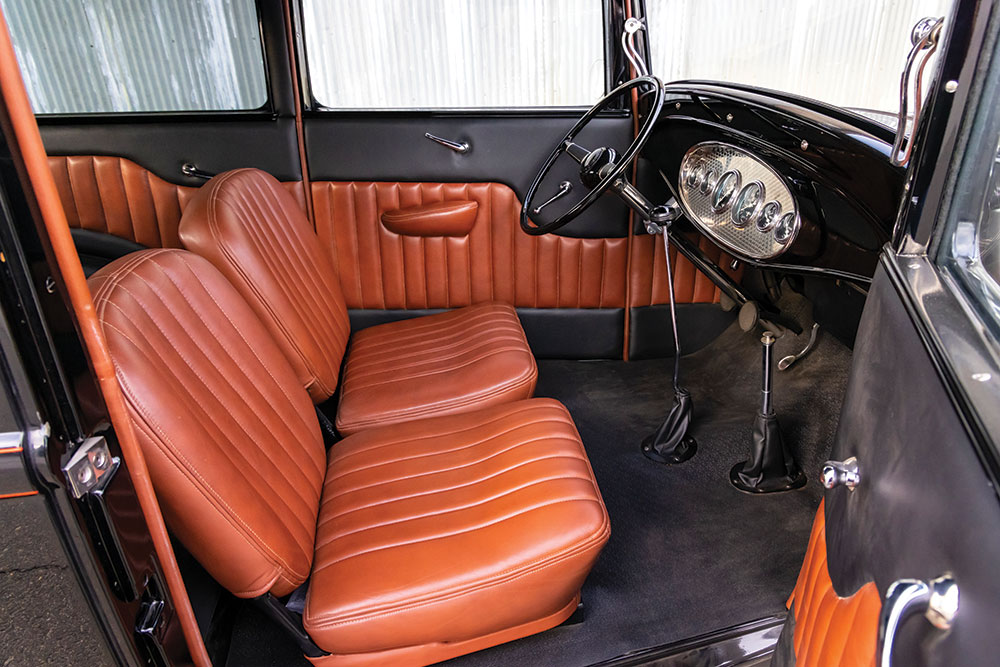 Read More: 1932 Ford 5-Window Coupe With a Vintage Look
For the longest time Richard has been a fan of the venerable small block Chevy, particularly the early versions like the 265-inch V8 engine used in this '32 Ford highboy sedan delivery. In taking the original '56-era 265 he had Vellios Machine Shop go through it and balance it for good measure. From here a Chevy six-cylinder water pump and repositioning bracket is used. It positions the water pump in a more ideal location behind the radiator, assisting with cooling and engine packaging. In looking at the V8 engine you will see what appears to be a load of vintage speed parts, but there is the obligatory concession to modern technology for the sake of "bulletproof" operation. Especially the use of Old Air AC—even the most hardened of hot rodders do like their Air Conditioning.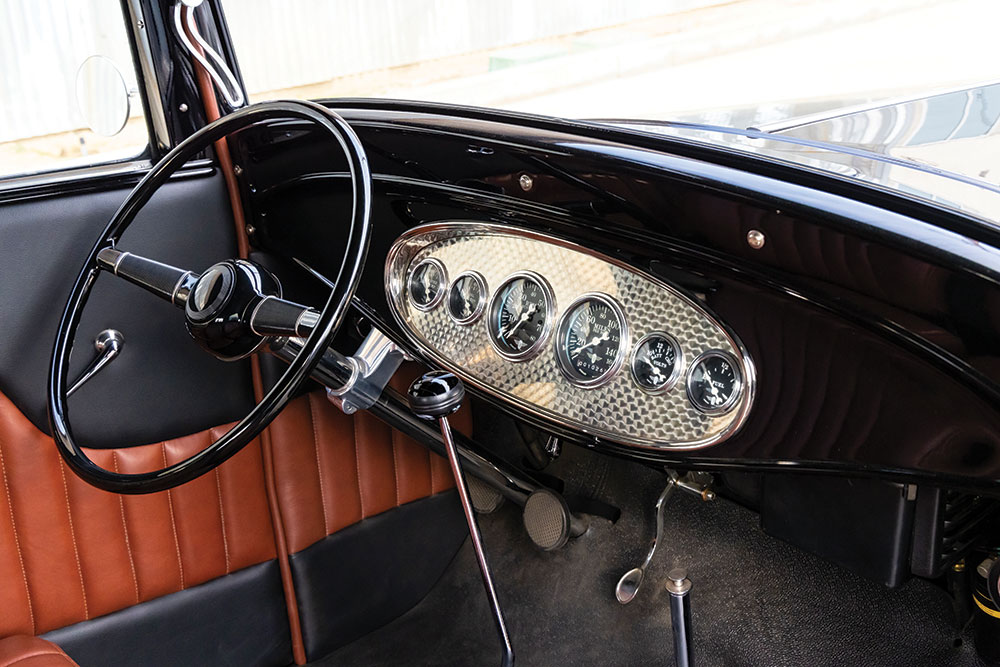 Look closely and you will see an alternator (replace generator) neatly tucked into the engine valley area. This necessitated the reconfiguring of the forward oil breather/filler common on pre-smog motors. The ignition looks vintage, and it is. It is a Corvette dual-point distributor (introduced in 1956) with a Delco Remy distributor coil and 7mm solid core spark plug wires. (When was the last time you set the dwell? I'm thinking 28-32 degrees. Start with a feeler gauge, get it running, and then hook up your dwell meter—still have mine in the ol' toolbox.)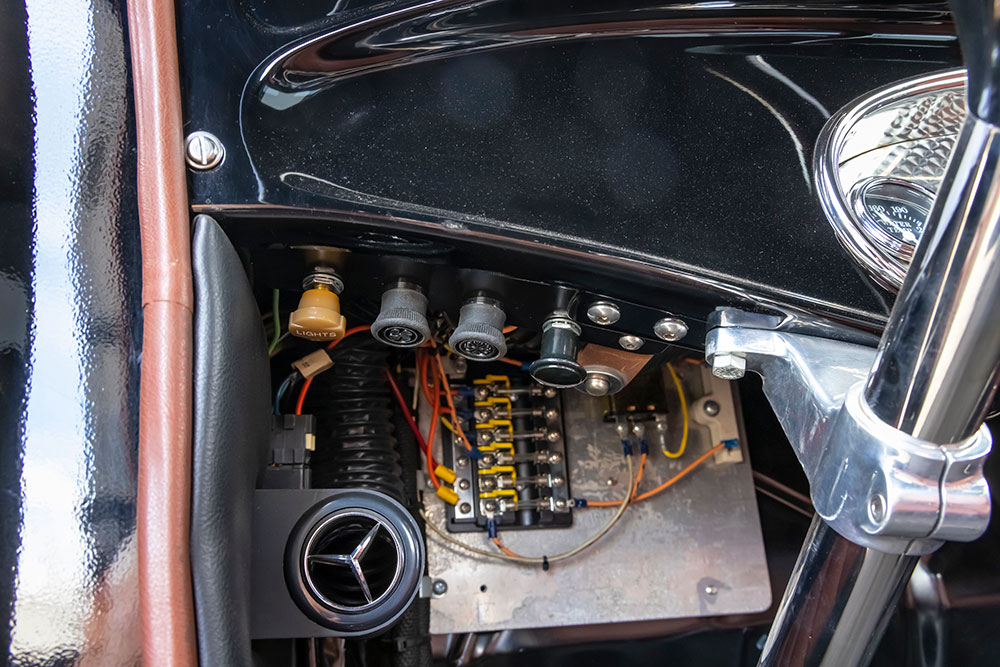 The '56 Chevy oil bath air cleaner was modified by Richard to accept a modern-day replaceable filter. To this a 390-cfm Holley 2-barrel carburetor rests beneath while sitting on an early Edelbrock intake manifold. Those old 390-cfm 2-barrel carburetors were found on Ford products back in the day. The gas is pumped through a stock Chevy mechanical fuel pump that's fed from a custom-built 18-gallon saddle tank. A Ram horn exhaust would be another early Chevy performance item but this time it is a pair of Speedway Motors stainless exhaust manifolds with 2-inch steel tubing that runs back to a pair of Glasspack mufflers.
Now, for the pièce de résistance, how about the Corvette sbc finned valve covers? All of us have seen these and many of us have them, but look closely. These are the very rare nine-fin cast sbc aluminum valve covers that came from the factory on optional engine-equipped Corvettes in 1956 and early 1957. They also featured staggered boltholes and were held in place with Phillips head screws. Look closely at the photo of the valve cover on Richard's 265—the correct Phillips head screws are there. Later the covers dropped to the seven-fin count we see most common today.
Read  More: Brownstone Roadster: '32 Ford Roadster With SoCal Style
As for the body on this 1932 Ford highboy sedan delivery it's stock sans the fenders and running boards with the addition of a steel Rootlieb hood. The factory gas tank and cover were replaced in favor of a saddle tank. From here Gerado Martinez of Richard's Wheel & Chassis handled the bodywork and sprayed on the PPG black acrylic enamel paint. The headlights are 1932 Ford highboy commercial mounted to a dropped headlight bar while the taillights are again Ford, but this time 1937 passenger car.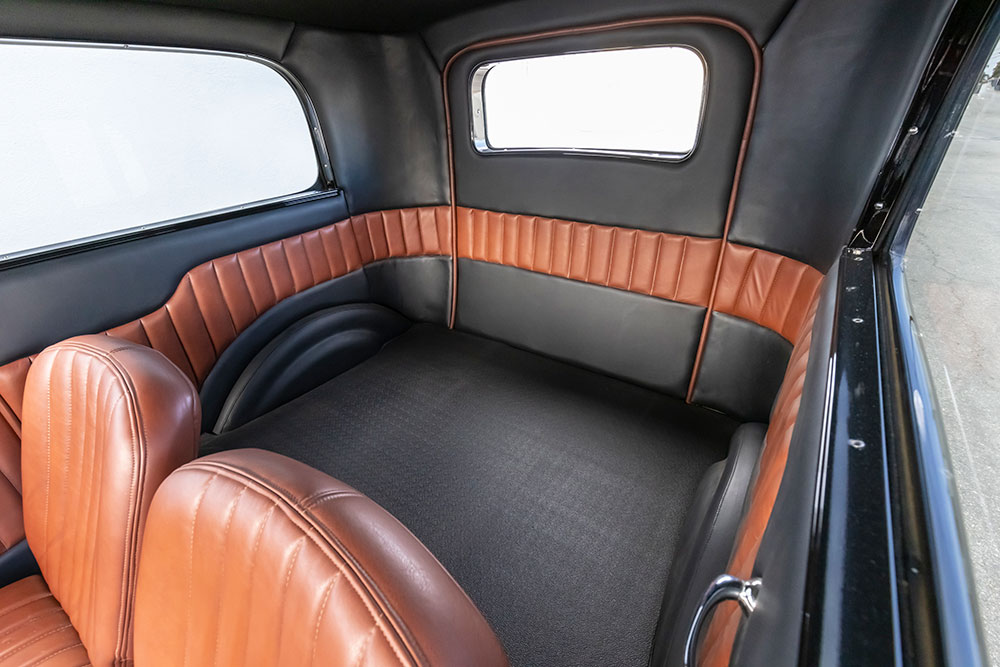 Inside the sedan delivery there is plenty of space to spread out and enjoy the drive and haul all the goodies you need or want. The Deuce dashboard is outfitted with a 1932 Cadillac gauge cluster with an engine-turned panel. The gauges themselves are modern Stewart-Warner "winged" six-pack featuring (left to right) water temp, oil pressure, tachometer, speedometer, volt, and fuel. The wiring harness that links the Old Air AC, instruments, headlights, and the operating electrics is another in-the-shop accomplishment by Richard. Operating the brake and clutch is a Chevy truck pedal assembly while the shifter is reminiscent of a factory-era shifter. The steering column comes by way of a 1-1/2-inch piece of stainless steel tubing that Richard fabricated, and it is topped off with a stock 1940 Ford steering wheel. JC's Upholstery stitched the 1932 Ford two-door sedan seats and the remainder of the panel's interior in black and saddle leather. It also features a black cloth headliner and rubber floor mats throughout.
Yes, it's a traditional-looking build, it just so happens that's what Richard builds—today and back in the day. MR
Traditionally Built 1932 Highboy Sedan