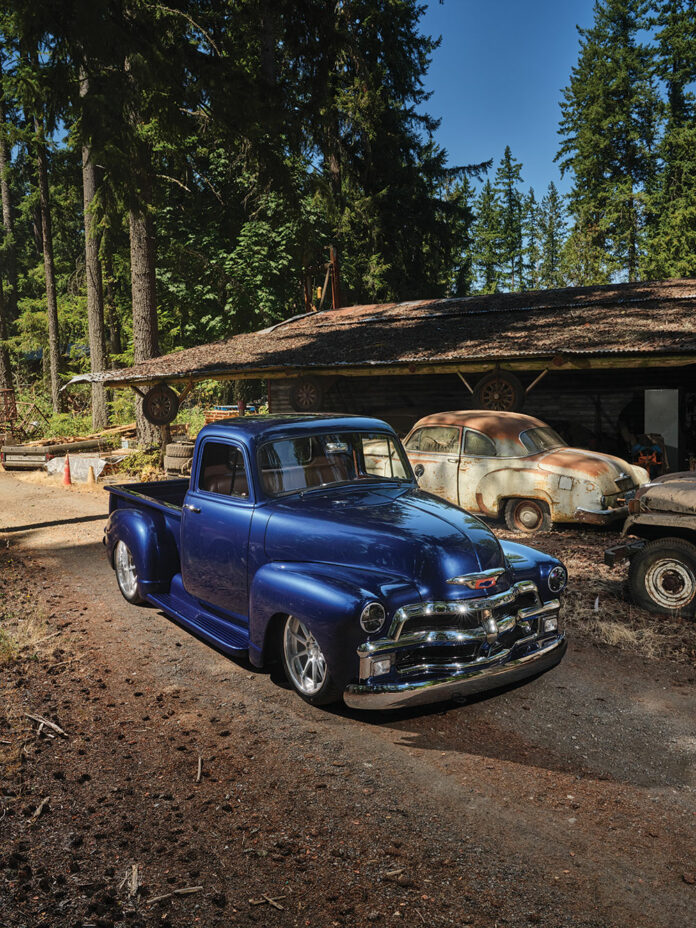 Micheal Petramalo's '54 Chevy 3100 Sit, Look, and Performs Just-Right
By Rob Fortier – Photography by John Jackson
Without going as far as saying there's an actual "blueprint" when it comes to building the quintessential classic truck, as we have so many different options and avenues in which to choose from these days, there are the basics when it comes to making a classic truck sit, look, and, most importantly, perform just right.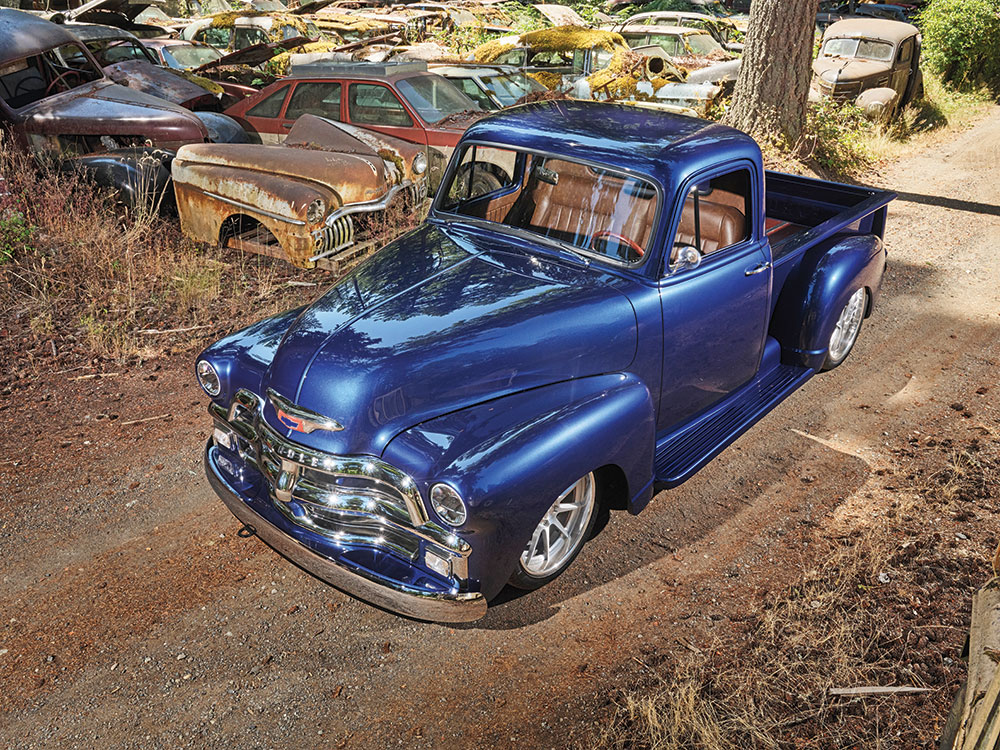 Read More: Purpose Built Sport Truck: 1958 Chevy Cameo
Unlike 20 years ago, today we have a multitude of companies that offer practically everything under the sun to restore or modify most popular models of Ford and Chevy trucks—and when it comes to the venerable Chevy Advance Design and Task Force series, you can build a complete truck from scratch using all-new components! Regardless of what direction you go, there are some key fundamentals when it comes to making that classic "just right."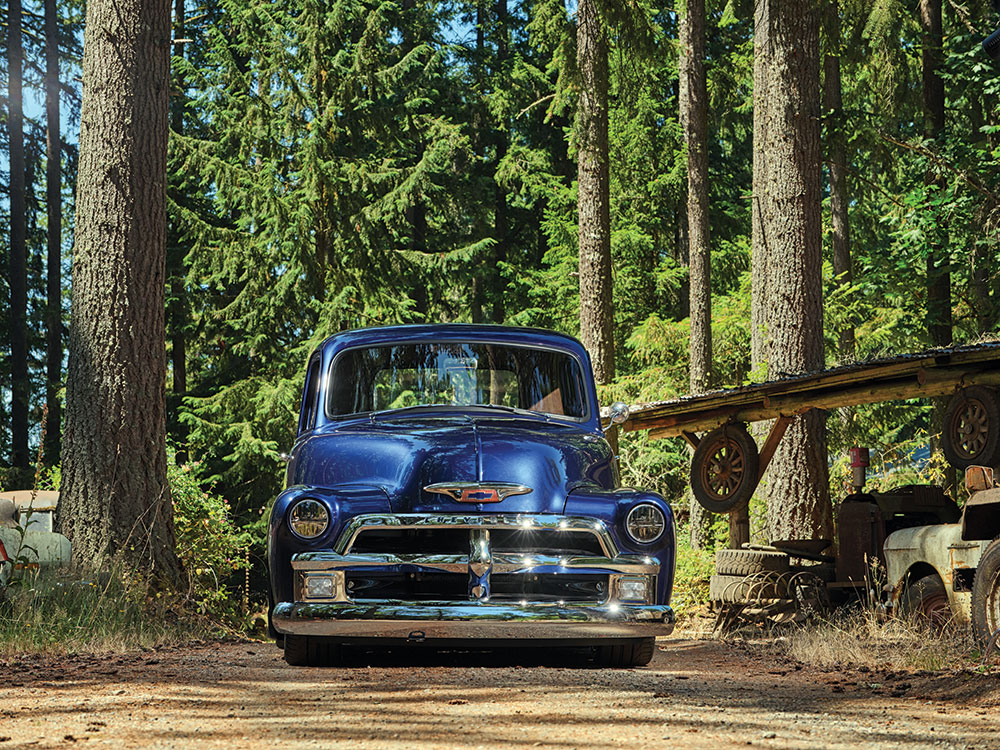 For Jared Hancock, who's been building cars for the past two decades (J-Rod & Custom in Black Diamond, Washington), he's learned a thing or two when it comes to choosing those fundamental components. With Micheal Petramalo's '54 Chevy, the foundation of choice was quite simple: forego the stock chassis and replace it with a complete roller from Art Morrison Enterprises. Why Art Morrison Enterprises, you might ask? Well, beyond the fact that they're local to J-Rod & Custom geographically, Art Morrison Enterprises has gone through all the trouble and done their homework when it comes to each and every chassis they manufacture, including the popular '47-'54 Chevy/GMC platform—from the road-tested and proven geometry to having all the necessary body/sheetmetal mounts pre-configured, there's no going wrong with an Art Morrison chassis, period. Combine that with a bulletproof LS3 paired to a 4L65E transmission and a 9-inch rear end (not to mention a set of Forgeline wheels with a quartet of Baer brakes), as Hancock has done with the '54 Chevy and, suffice it to say, this truck's going to spend more time on the road than in the garage that's for damn sure.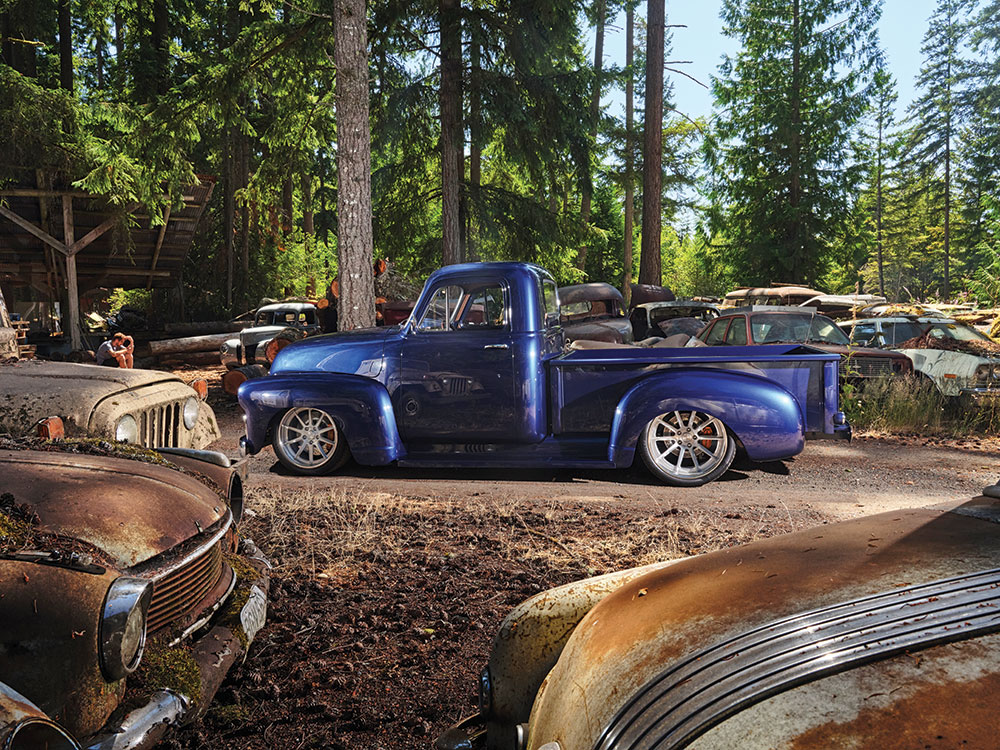 When it came to the body, though it may appear mostly stock at first glance, Hancock put in a fair share of labor, doing a handful of non-stock modifications. First and foremost, he not only tucked the bumpers in, but he also fabbed custom gravel panels as well as flipped the rear in order to house the exhaust tips and license plate in unison; the cab vents have been shaved, custom running boards made, and the LED headlights have been frenched-in nicely. Following that, Hancock concealed all his handiwork with a special mix of PPG called "Tour de France Blue."
Read More: Vintage Vibes and Wild Paint: 1963 C10
The final anatomical portion of Michael's '54 Chevy was an internal job, so to speak—that being the interior, of course. Prior to the old Chevy pickup heading off to Mcfarland Custom Upholstery in nearby Puyallup for a full tan leather trim job, J-Rod retrofit the truck with custom gauge faces from Classic Instruments, updated the steering with an ididit steering column and three-spoke wood grain steering wheel, and swapped the old spring-framed bench seat for a new, cushy foam–based Snowden foundation.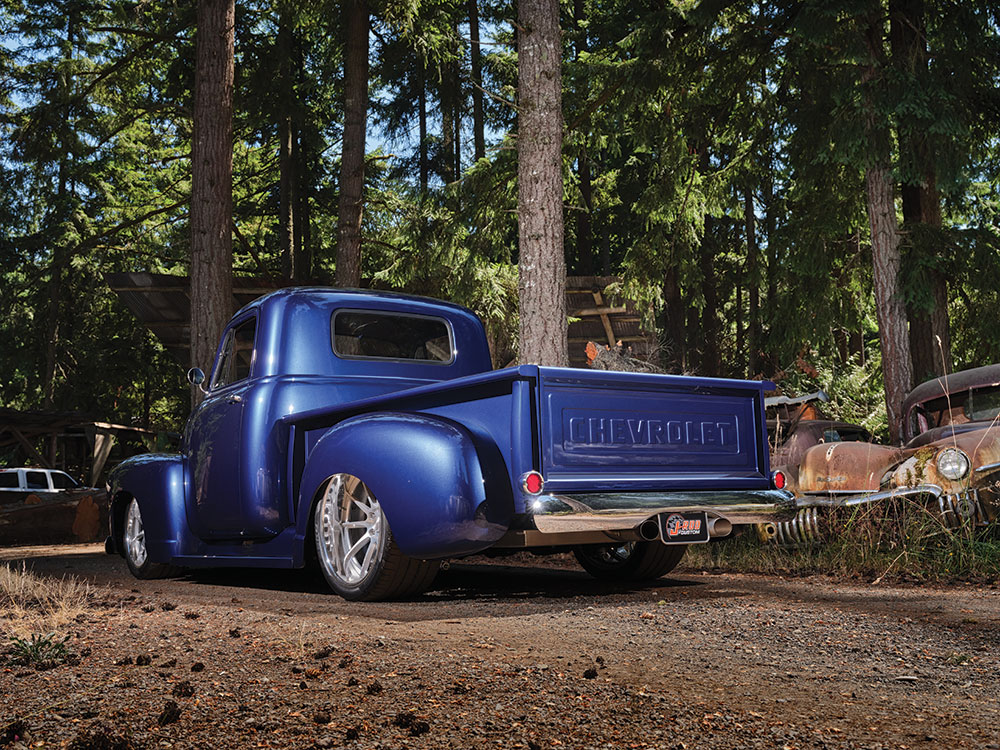 From the stance to the build's execution and the way it handles and performs on the road, Michael Petramalo's classic truck is about as anatomically correct as they come!