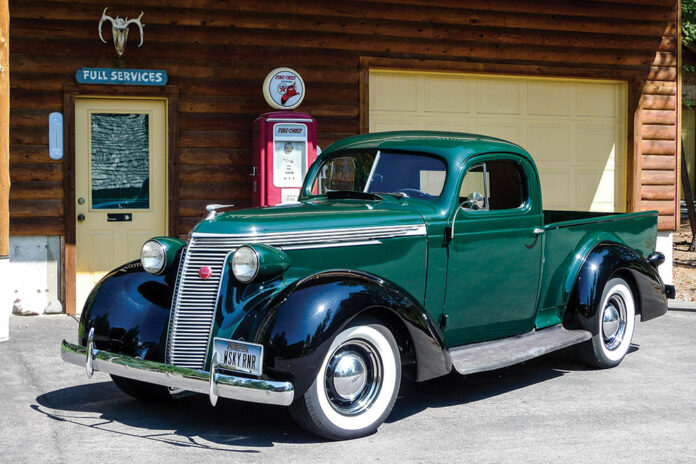 It's not a Custom—it's a Coupe Express
By "Rotten" Rodney Bauman – Photography by the Author
Lately there have been sightings of a "customized" Studebaker truck on the streets surrounding Somers, Montana. As rumor has it, the custom hot rod may have been created by grafting a pickup bed to a passenger car, and reportedly the heavy body mods are tastefully well done. Although they're no longer so abundant, we still see Studebaker trucks here and there. This, however, is different.
Back in the later part of the '30s, just barely preceding the utilitarian M-series Studebaker trucks, the company's light truck offering was actually based on their passenger car chassis. Known as the "Coupe Express," it shared a good deal of body sheet metal with the passenger car as well. Today these are rare. If you weren't already familiar you might also assume it's a custom, just as folks have out here.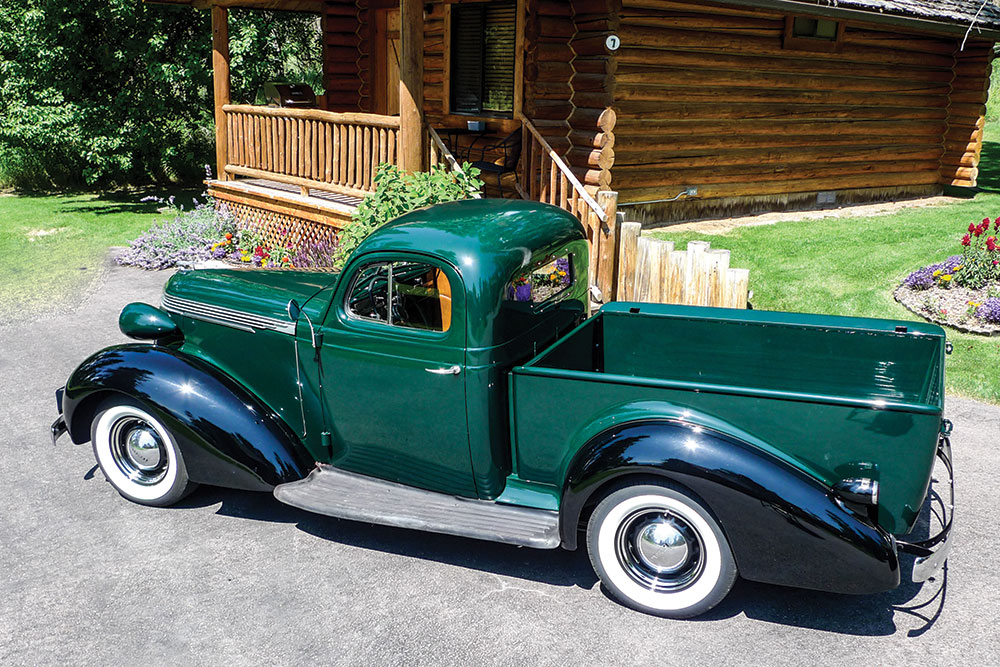 Read More: Bumpside Ford Evolution
Tom Vitek of Somers has an affinity for old trucks, but he was also raised around Studebakers. When a tip led Tom to Lolo, Montana, he sure enough found the rough remains of a '37 Studebaker Coupe Express. "There it was, very rough with bullet holes and broken glass. It even had grass growing through open spark plug holes," Tom tells us.
During negotiations the buyer and seller clicked, and without excessive bargaining they struck a deal. Being a home builder by trade, Tom is quite familiar with general contracting—and that's pretty much the way his resto-rodded whisky runner came to be the beauty we see right here today.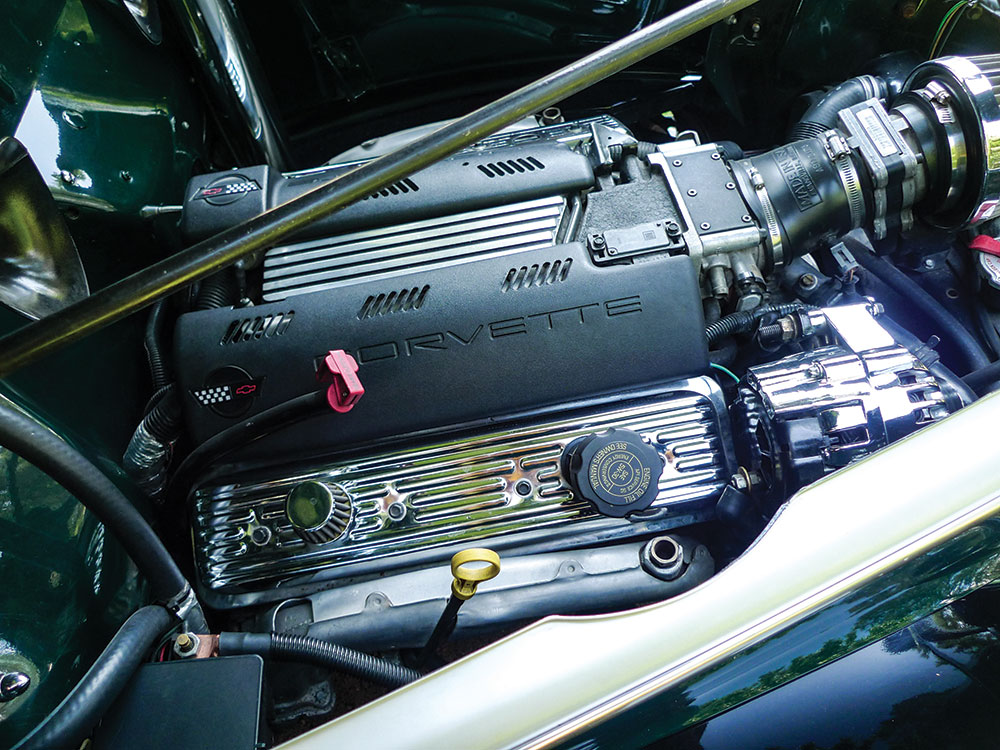 With the project in need of serious cosmetic surgery, Tom's first stop was Kelly's Auto Body, close to home in Kalispell, Montana. Shop proprietor LeRoy Kelly is part hot rodder, part restorer, and he happens to drive a customized Studebaker of his own. With that combination of qualifications, Kelly was just the man for the job.
At Kelly's Auto Body the Coupe Express received a rustectomy, as the roughest areas were the right front fender's spare tirewell and the inner panels of the bed. Back in 1937 Studebaker colors were few. Although matching Glacier Park Gray makes sense geographically, the color isn't dazzling. None of them were, so Kelly put the twist on Miami Green with a splash of Tally Lake Black as the second-tone accent color. From bare steel to buffed clear, it's all Sherwin-Williams—start to finish.
Read More: WOLF IN SHEEP'S CLOTHING: 1956 FORD F-100
For driveability the heavyweight L-head six was excused in favor of a low-mileage GM LT1 engine. It's backed by a 4L60E transmission. Making good use of a '95 Buick Roadmaster and a similar-vintage Chevy S10 for its rear end, Tom's engine swap and drivetrain upgrades were handled in Arlington, Washington, by Duane Scollard. Having done this type of work on this type of Stude before, Scollard was—you know—just the man for the job.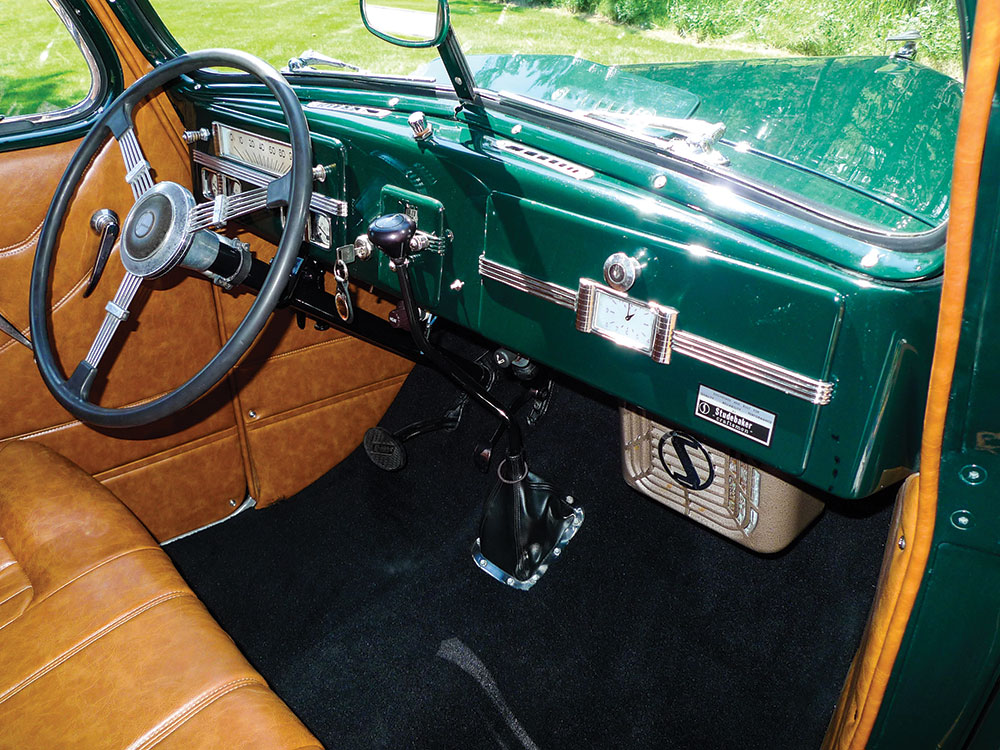 At Scollard's barn-based shop the freshly painted project received a good deal of attention, from necessary fabrication to all things mechanical as well as electrical. The instrument cluster is a particularly clever touch. It's discretely retrofitted with Dolphin gauges, and in whisky runner fashion there's a moonshiner tail lamp kill switch to boot. By the end of its stay the Coupe Express had gained up-to-date Independent Front Suspension, rack-and-pinion steering, four-wheel power-disc brakes—all with zero damage done to existing paint.
From the South Bend assembly line most '37 Studebakers rolled away with solid-centered 16-inch wheels, but artillery-style wheels were an option. As part of the subtle stance enhancement Tom's Coupe Express rolls with 15-inch artillery-style wheels, made to accept original '37 Studebaker hubcaps by Wheelsmith. DiamondBack Michelin X whitewall radials add to the illusion, as their first-glance appearance is almost believably stock.
Inside the cab Tom kept things clean and simple. When painted black, a Lokar shifter is a little less recognizable, and in this instance a very tasteful touch. The original banjo style steering wheel's rim is almost unbelievably unrestored. Interior trim is authentic mock leather by Craig Smith of Kalispell. Equipped with area-appropriate climate-control there's heat on tap with defrosting capability. Around these parts, that's all that's really needed anyway.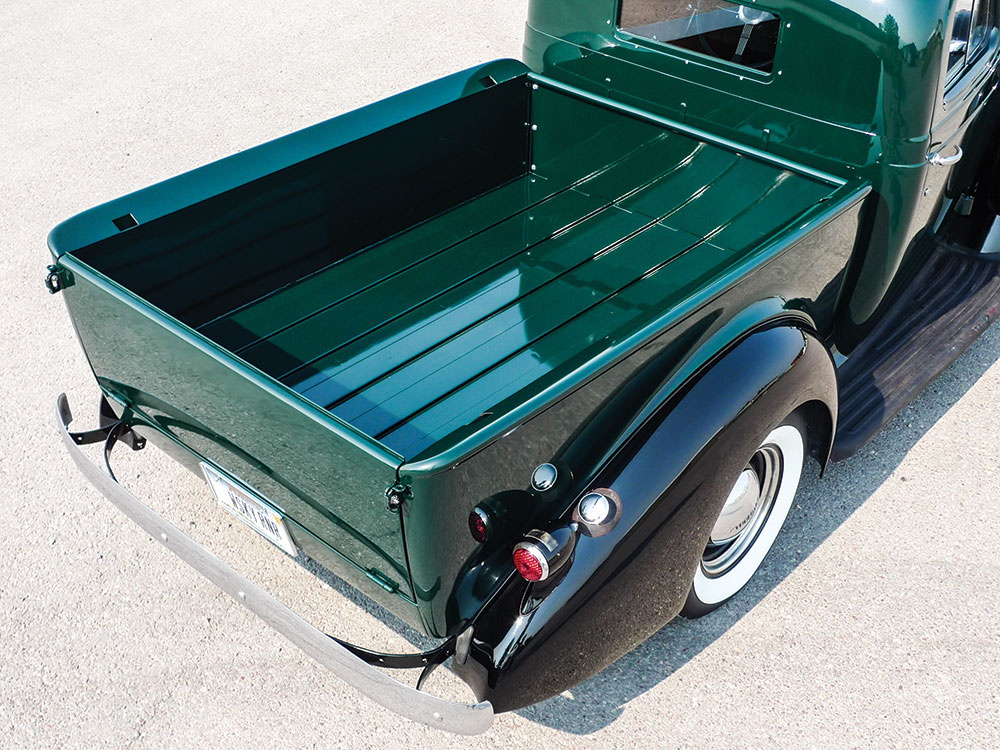 Read More: Triple Threat: '54 Chevy 3100
At the end of the seven-year build, Tom and his subcontractors are friends. Today the Studebaker Coupe Express whisky runner is the Vitek family grocery-getter as well. In fact, Tom and his wife, Jane, enjoy those runs. As Tom might add, "I'll run for a dozen eggs—one egg at a time."