'32 Ford Tudor Highboy Sedan, A Dream From Decades Past Comes True… and it's a Good Thing
By Brian Brennan   –   Photography By John Jackson
For Johnny Hall, of Lizella, Georgia, it's been a longtime coming but worth the wait … every minute. Having spent a lifetime as a hot rodder building and owning any number of different cars and trucks it was time for an age-old dream to come true. He always wanted a '32 Ford Tudor highboy sedan. And what a Deuce Tudor sedan it is.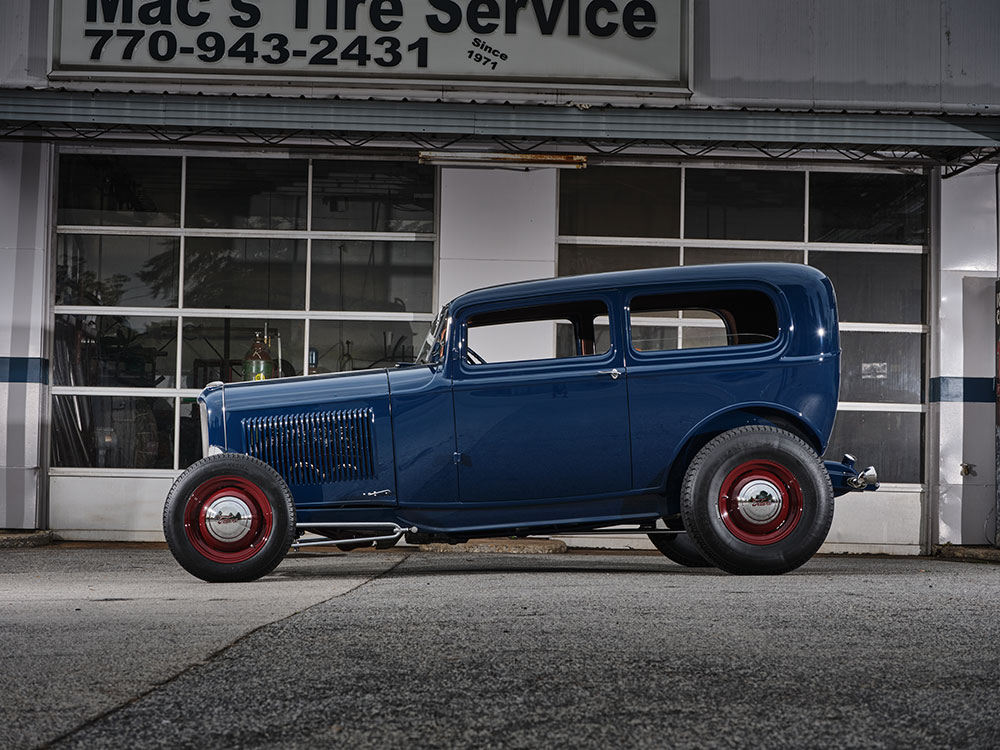 For those who attended a past NSRA Street Rod Nationals in Louisville this car may not come as a complete surprise. Odds are you saw it in the Builder's Showcase. (In fact, that's where we first saw it and knew we had to track it down for a feature to appear in Modern Rodding.)
The body is based on an original '32 Ford Tudor sedan that is chopped 2 inches and the rear window lowered 1 inch. From here the Rootlieb hood was stretched 2 inches and '36 Ford hood latches are used. Other accessory mods include the tail light stands that were shortened and chromed, the factory headlight bar was removed, and SO-CAL Speed Shop Swan Neck light stands (also serve as upper shock mounts) were used with commercial headlights. The original roof tack strip with original-style vinyl roof insert was repurposed and if you look closely note the original Georgia tags, circa 1932, are restored.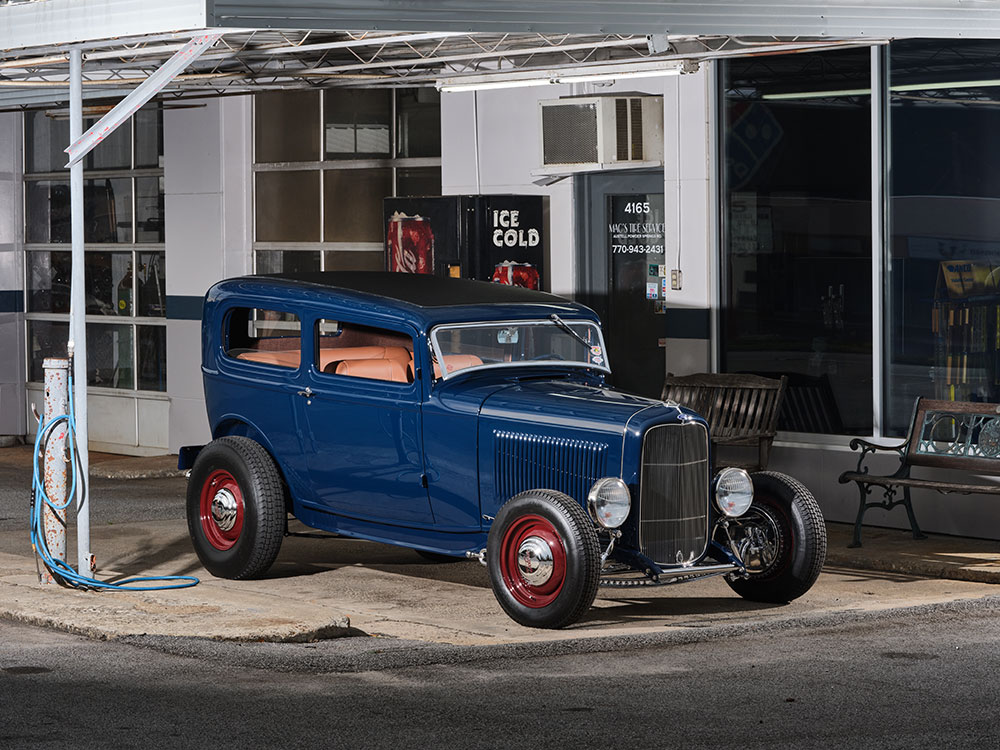 Read More: Father-Son Built Pair Of Early Fords
Although we can't show you in the photos (you will have to take our word on this one), the bottom of the car and backsides of all the panels, including the wheels, are color sanded or polished. Jon Wright of CustomChrome Plating handled the brightwork. From here the bodywork and paint was massaged and sprayed by Josh Deavers of Customs and Color. If the blue looks familiar it should. It is Washington Blue, a Ford factory color from 1932 now mixed by PPG in a Concept single stage. The period correct wheels are painted in a Moselle Maroon (sometimes referred to as a medium/dark shade of red/pink) that first appeared on Ford vehicles back in 1942. The steelies are capped with original "DeLuxe" script Ford hubcaps.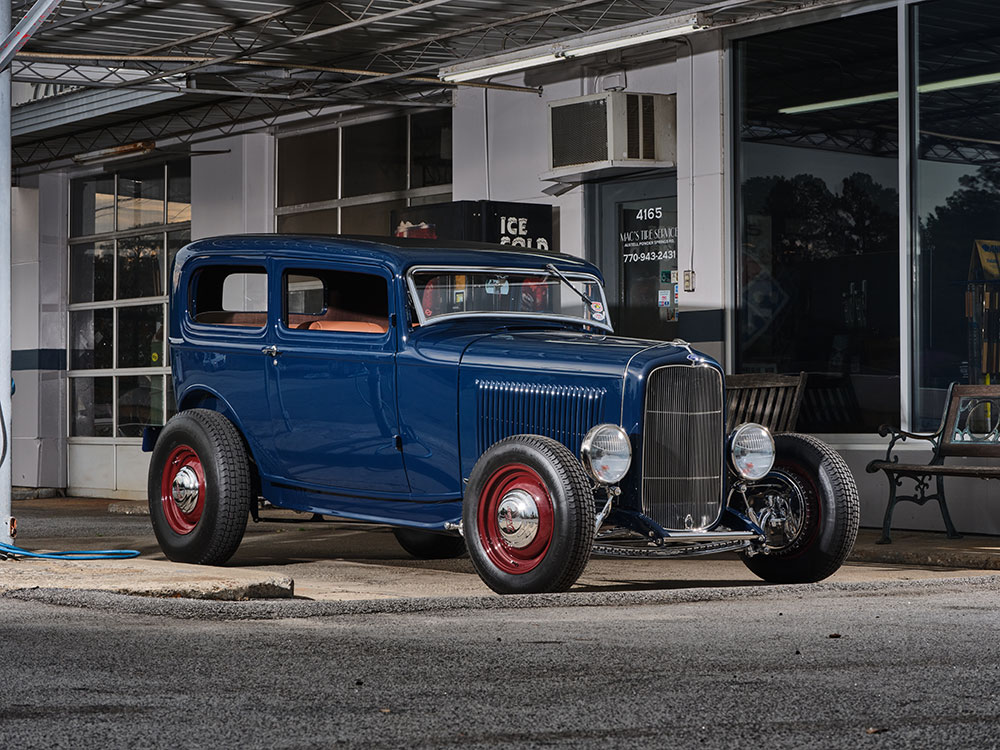 Speaking of wheels and tires, the 16-inch steelies are used in the front and the rear and wrapped with Coker Excelsior 5.50-16 and 7.50-16 rubber. The Pete and Jakes Hot Rod Parts chassis (ordered through Honest Charley's) was stretched 2 inches over the stock 106 inches now yielding a 108-inch wheelbase. In front the chrome-and-drilled 4-inch drop I-beam Super Bell axle while the shocks, perch bolts, hairpins, Panhard bar, and Vega-style steering are all part of the Pete and Jakes normal appointments. In front the braking gives the appearance of vintage chrome and Buick finned brake drums with air scoops (a very interesting story for another time on the air scoops). But the finned drums serve as covers for the hidden Wilwood Dynalite calipers and rotors making up the modern stoppers. In back the drum brakes really are part of the finned Buick covers. The braking is operated by a Pete and Jakes master cylinder mounted under the floorboards. Also, in the rear we can see a Winters V8 quick change rear end that's held in position with Pete and Jakes ladder bars and coilover shocks.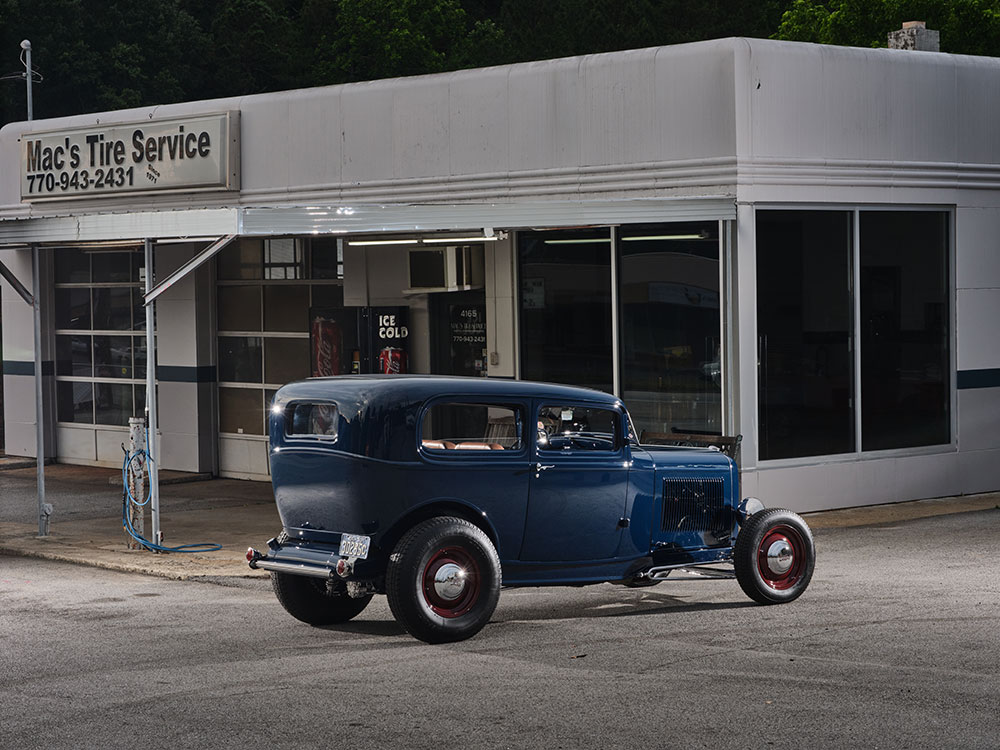 Read More: How To Make a Custom Dash For An Early Ford
As the saying goes, "The heartbeat of any hot rod starts under the hood." In Johnny's case it is a 350 small block Chevy that's been thoroughly smooth over and painted in the same Ford Moselle Maroon. Accessorizing the V8 is a pair of late-model camel hump heads topped with PML cast aluminum valve covers. They too have been smoothed over and painted to match the engine block with the "Chevrolet" script painted in an accent color. More of that old-timey feel comes by way of the Tri-power setup that features Rochester 2g carburetor on the ends and a 2GC in the middle. A set of custom air cleaners from Grace & Co. accent the carbs. The triple carbs rest on a chromed Weiand intake manifold that is also home for a Mallory Unilite distributor with cap painted to match the engine while a remote Mallory ignition coil is attached to the firewall. The distributor uses a set of vintage cloth-appearing primary wires from Lokar. The polished stainless steel Tru-Ram exhaust manifolds come from Speedway Motors and match up to 2-1/2-inch stainless and mandrel bent smoothed and polished exhaust pipe that runs through a pair of Flowmaster Pro Series Shorty Hushpower mufflers. Other engine accessories include the chrome four-blade fan with V-belt drive, a water pump riser, and a Powermaster starter and alternator. Getting the power back to the rear is a TREMEC TKO 500 5-Speed transmission using the modified factory shifter.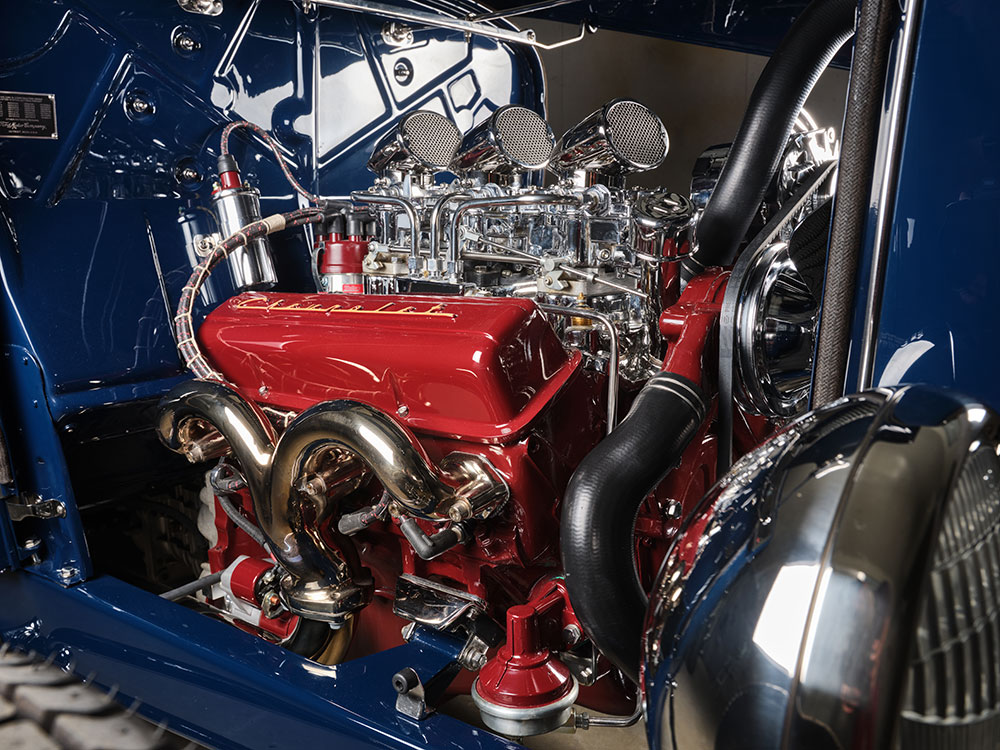 The interior is always spacious in a sedan and there is plenty of room in this '32 Ford Tudor. The factory dash was smoothed over and utilizes an engine-turned insert outfitted with a five-pack set of Classic Instrument gauges made up of a dash-centered speedo; to the left a fuel and temp gauge and to the right oil and volt. The steering is handled by a '40 Ford wheel mounted to a LimeWorks steering column that utilizes the original drop that houses the ignition key and start switch. All the other required switches are mounted to a panel that is hidden under the dash. The turn signal switch is a vintage Yankee Turnflex 730/6 model. All the wiring is handled by an American Autowire cloth kit installed by Customs & Color with an Optima battery supplying the juice. It is mounted behind the right rear seat and has a remote cutoff switch. The pedal assembly is a Pete and Jake unit with their pads, an original Ford shifter with custom bracket to attach to the TREMEC transmission, and a Lokar e-brake. As for comfort the front buckets come by way of Glide Engineering and the back bench is custom built by Steve Holcomb of Pro Auto Custom Interiors. From here he stitched the seating, all panels, and headliner in a tan leather. The carpeting is a Chocolate Brown Daytona weave with the mats also stitched in the Daytona weave and then trimmed in a tan leather pipping.
Read More: East Coast-Styled 1932 Deuce Coupe
Aside from appearing at the NSRA Nats the Tudor sedan has also captured the Goodguys Meguiar's Magnificent Masterpiece. There can be no denying that this is about as fine of an example of a '32 Ford Tudor highboy sedan as there is to be seen. Job well done. MR