There's Something Special About a Chopped-and-Channeled 32 Ford Deuce Coupe … Sans Fenders
By Brian Brennan   –   Photography By Wes Allison
In the world of hot rods there is something special about the '32 Ford. Whether it be the roadster, phaeton, coupe, sedan, or truck, each has its fans. While the roadster will always rank at or near the top, the coupe, especially the three-window coupes, are special, too. But the five-window coupe has a look all its own, and when done properly it truly is an exceptional-looking "hot rod" in every sense. We think Simon Gluckman of Los Angeles has all the boxes checked with his 1932 Ford five-window coupe that is chopped, channeled, and sans fenders.
The idea for this hot rod began as a tribute to Eve, his late mom. Simon thought he would do something that she would "get a kick out of." Well, the next step was to build an "old time, East Coast hot rod" that would meet his dreams and make his mom smile. The 1932 Ford coupe began life under Brit Jay Dean of the Nostalgia Ranch (home of the RPM Drags). From here Simon brought the car closer to home and partnered up with a good friend and builder who he has worked with on several occasions—Troy Ladd of Hollywood Hot Rods in Burbank.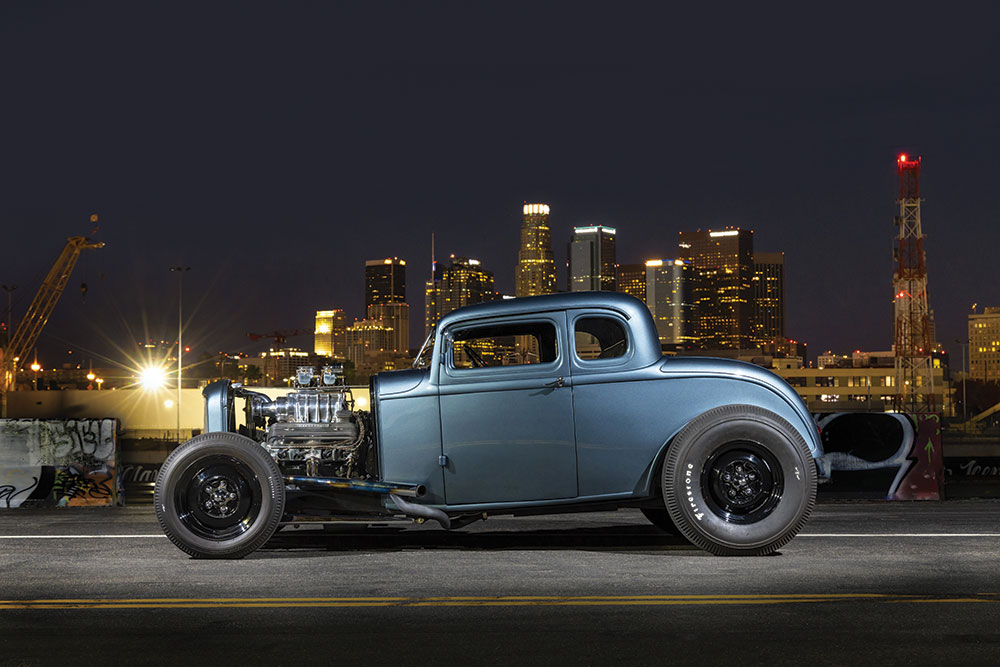 Read More: Bobby Hilton Chopped-and-Channeled This Badass Deuce Coupe
Simon began with a Deuce coupe body that needed a great deal of metalwork. The most severely damaged sheet metal ran along the bottom of the body; typical. Since he wanted a channeled car the bad metal along the bottom wasn't as big an issue as it might have been. This would be cut off in prepping for the channeling portion of the build. All this fit his narrative of a '50s-'60s East Coast-style hot rod. These dreams were "kicked back and forth" between himself and Ladd. And what you see are the results of those "brain drain" sessions.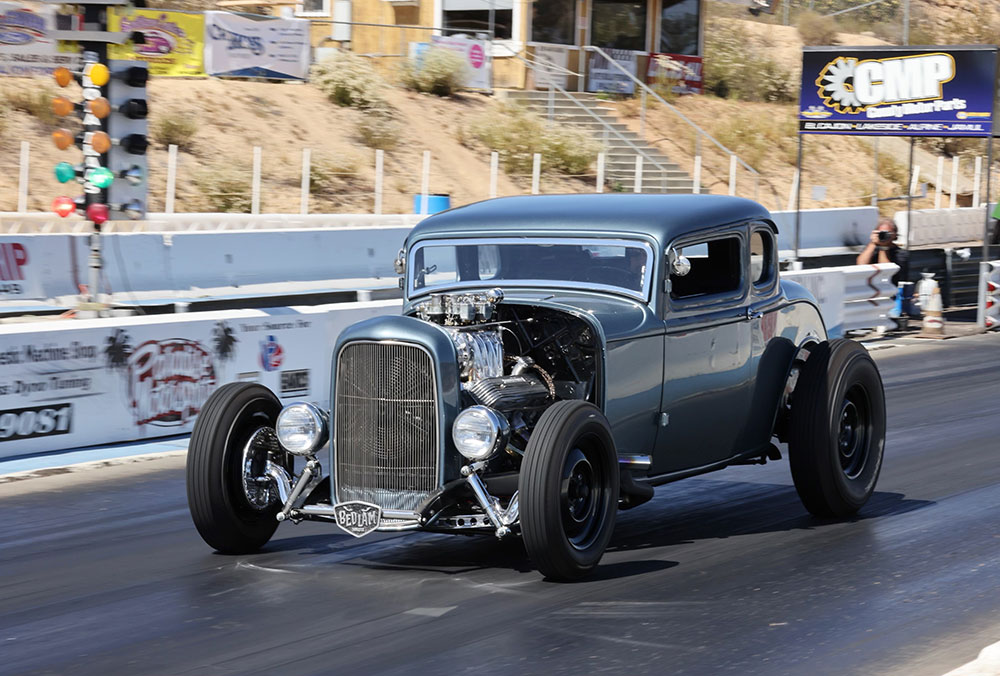 Another friend to the rescue; Jim Aust (longtime hot rodder, magazine guy, and now show owner) of Sussex County Customs in Delaware, stepped up for the body- and paintwork. Simon was able to get the 1932 Ford coupe back to Aust where he handled his part of the process with a custom mix coming up with flat ice blue hue. As Simon is apt to say, "Aust and his team did an incredible job turning this ugly duckling into a swan." The custom sheet metal work was handled at Hollywood Hot Rods. The all-steel Deuce was chopped 5 inches and channeled 6 inches over the frame. From here the roof was filled and a roll cage was added. (Turns out Simon likes to race the car at such events like the RPM Drags.) A Deuce grille shell minus hood and Guide 682 C headlights and '50 Pontiac tail lights are used.
Read More: Coachbuilt 1932 Ford 3-window coupe is a Real Class Act
The chassis is based on a set of custom-built '32 reproduction 'rails that feature a Model A front crossmember (drops the frontend an additional inch) and rear crossmember to accommodate the Speedway Engineering quick change rear end running a combo 3.78/4.34 gears. In back the quickie is held in position with a transverse Model A spring, Pete and Jakes shocks, a pair of ladder bars, and Ford drum brakes are used. The undercarriage continues the "hot rod" theme with flat black paint and raw metal quick-change housing. The aluminum driveshaft does link the quick-change and the four-speed Muncie transmission, a nod to old school hot rod parts. The flywheel is an Olds with a Performance Racing clutch. In front the chrome and drilled I-beam axle comes by way of SO CAL Speed Shop with a pair of SO-CAL chrome tube shocks, a Model A transverse leaf spring, and chrome split '32 Ford wishbones. A Vega-style steering box directs the early Ford spindles, which center up the Ford drum brakes outfitted with Ford drilled backing plates. The Deuce rolls on Wheelsmith Ford 16-inch steelies in gloss black with Spider caps at the corners wrapped with Firestone/Coker bias-ply 5.00-5.25×16 rubber in front and 7.50×16 rubber in back.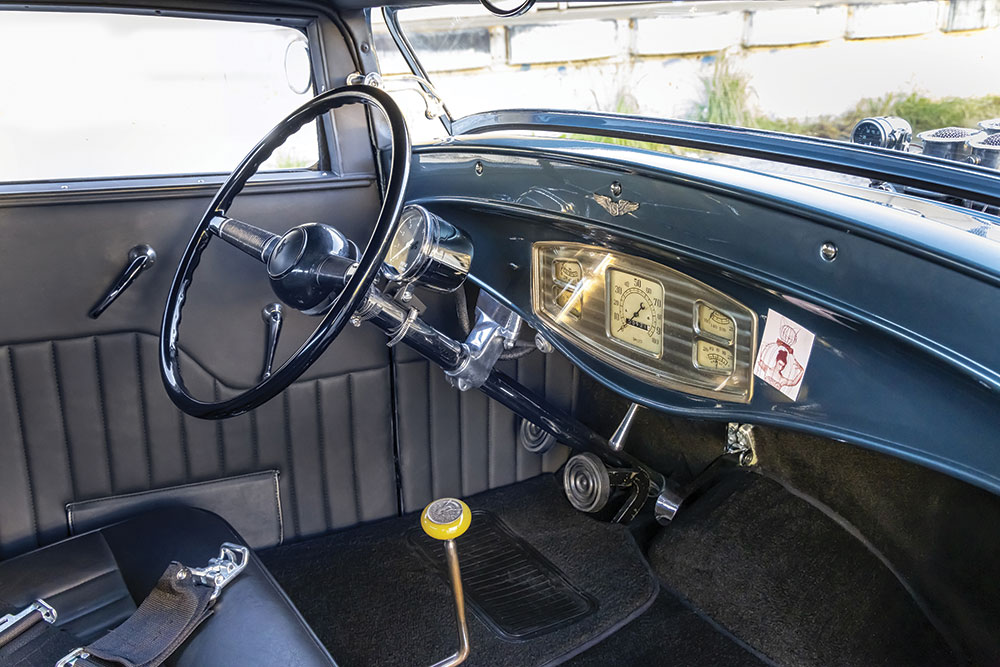 Keeping the vintage look alive and a stout performer is the use of a 1956 Olds 324 engine that Simon picked up in pieces while the blower components came from Ross Racing. Unfortunately, it turned out that the motor was not as it should have been. It had to be taken back out and rebuilt. Ladd stepped up and helped his friend by redoing the V8 engine on his own "ticket." (Pays to have friends.) The Olds sports 9.5:1 compression with a Ross Racing polished 4.71 roots-style supercharger. An Olds recurved distributor by Kent Weaver (using cloth-wrapped wires) is used along with four Stromberg 97 carburetors resting on an intake drawn up by Hollywood Hot Rods. Hollywood Hot Rods also fabricated the custom exhaust running from the headers to the cutouts to the tubing that flows back to a pair of mufflers and then dumps near the rear end. Vintage Offenhauser valve covers and breathers are also used to add a bit of distinction.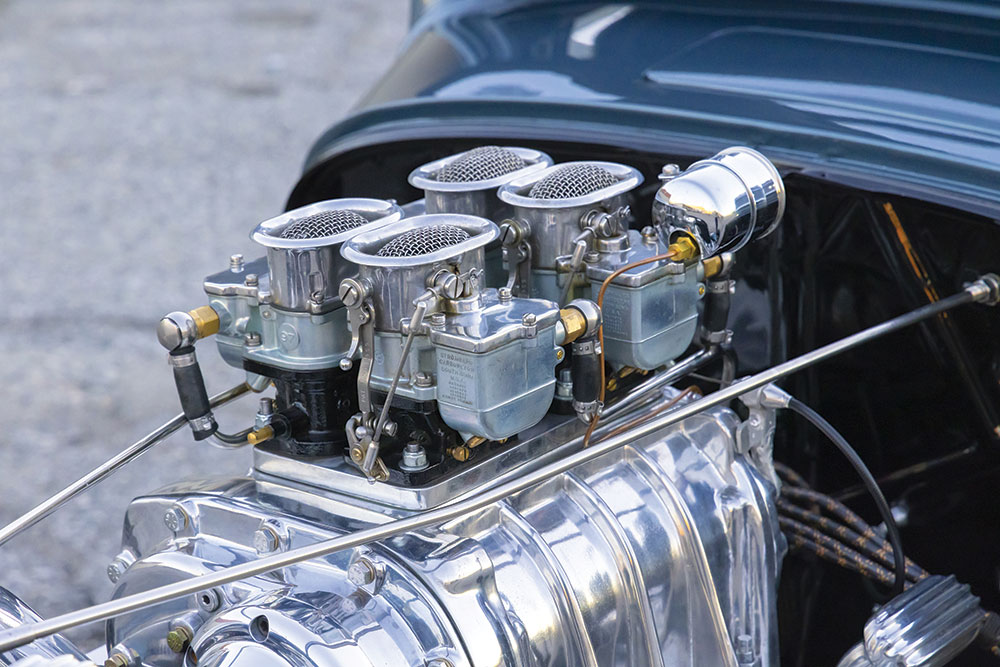 Read More: Ice Blue Full Custom '31 Model A
Beneath the chopped top you will find a 1932 Ford dash, but it is now dressed in a 1933 Dodge gauge panel and instruments plus a "knee-knocker" 8-grand tach. The Centech wiring harness was positioned through the efforts of Hollywood Hot Rods who handled all the wiring. The straight tube steering column highlights a '40 Ford steering wheel and column-mounted turn signal. The custom bench seat showcases pleated black leather upholstery stitched by J.C.'s Fine Upholstery along with racing-style lap belts.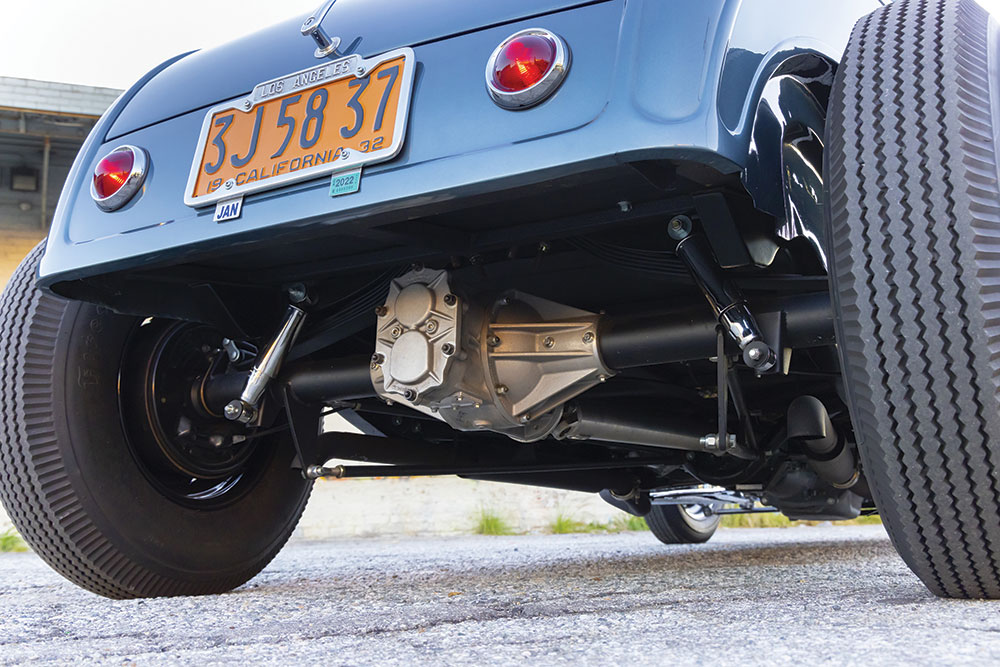 Well, there you have it; a current recreation of the always-popular vintage looks in this 1932 Ford five-window chopped-and-channeled fenderless Deuce coupe. This coupe is destined for lots of road miles and the occasional appearance at the vintage drags. MR