Ross & Aaron Myers Produce Their Own Father-Son Builds
By Brian Brennan   –   Photography by Michael Christensen
When we hear of a father and son team building a hot rod, we can conjure up all sorts of builds. In this case we have Ross Myers (dad) and Aaron Myers (son) who each have their own ideas on what a hot rod should be. Ross has the '36 Ford roadster that is built in a restomod look with a hint of its rodding heritage in the five-spoke Americans and Firestone rubber with plenty of sidewall showing. Aaron, on the other hand, shows off his '32 Ford Tudor sedan with more of a hot rod appearance seen through the chopped top, plenty of louvers on the hood and rear pan, and the slotted mag-style wheels also from American. But the secret to both hot rods lies under the sheet metal. There is plenty of modern-day hot rod hardware to be seen. And it is here that we see the "family" influence; but, as the old saying goes, "To each his own" comes into play.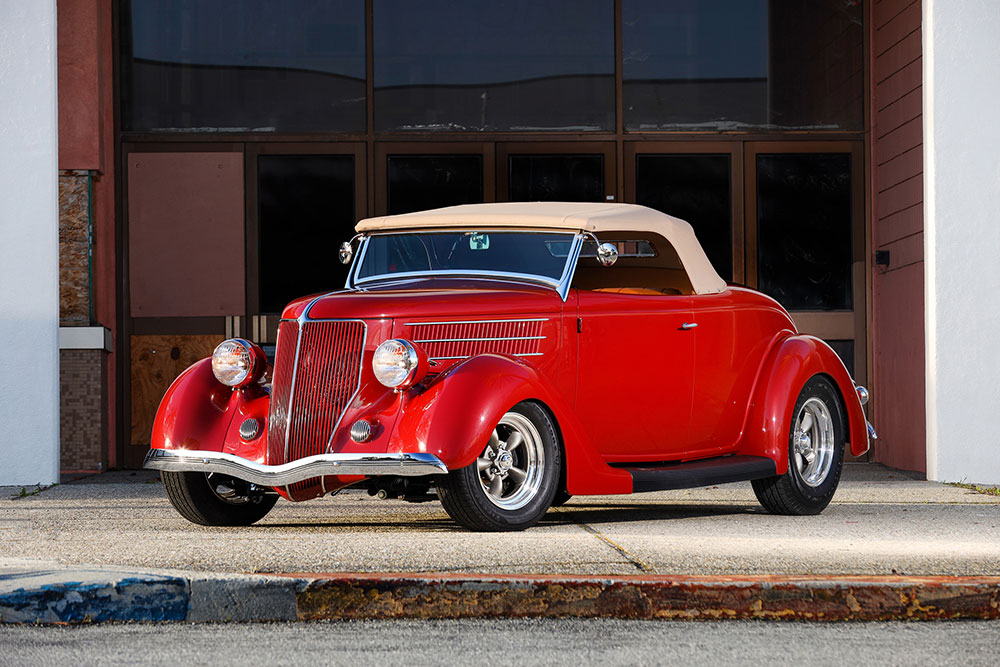 Father's 1936 Ford Roadster
The foundation for Ross' 1936 Ford roadster is based on a Total Cost Involved set of frame rails and from here it was altered to fit custom specifications by Jack Stratton of Roy Brizio Street Rods. The front suspension is based on one from Kugel Komponents that feature mild steel tubular A-arms (57-inch hub-to-hub width) in a powder coated satin black, front-mounted rack-and-pinion, sway bar, QA1 shocks with 11-inch 250-pound Eibach coilover springs, and dual-piston Wilwood brake kits. Other brake components include a Wilwood master cylinder and Brizio pedal assembly.
The rear suspension is based on a Kugel Komponents Independent Rear Suspension that is centered around a John's Industries 9-inch rear end with a limited slip differential and 3.70 gears, Kugel axles, and a 57-inch hub-to-hub width. It also has a 4.5-bolt pattern with ½-20 studs. It too utilizes dual-per-side QA1 shocks with 10-inch Eibach springs rated at 175 pounds and inboard dual-piston Wilwood brake kit. The chassis rides around on a set of American Racing five-spoke mag wheels that measure 15×6 and 16×7 with Firestone 205/65R15 and 235/75R16 rubber.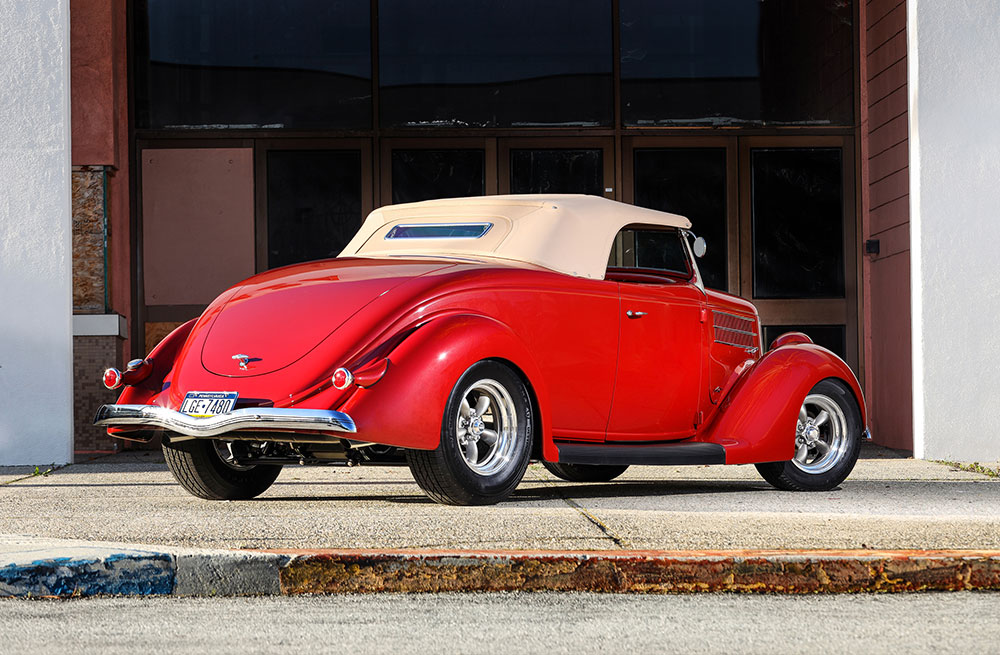 Read More: Father-Son 1957 Chevy 210 with 427 Big-Block Chevy Power
Resting on this Roy Brizio Street Rods custom chassis is factory steel 1936 Ford roadster that has a 3-inch chopped windshield and top/irons with a stock hood. The body- and paintwork was all handled by Darryl Hollenbeck of Vintage Color using an Envirobase waterborne PPG Honduras Maroon paint. This was followed up with pinstriping by Real Ralph.
Inside the original 1936 Ford roadster dash was used. From here it was modified by Roy Brizio Street Rods to accept the Classic Instruments gauges (with Brizio logo inscribed). Next up the dash was fitted with a Juliano's steering column with a Juliano's banjo-style steering wheel. All the prerequisite wiring was handled by Jim Vickery of Roy Brizio Street Rods. Other interior appointments include the Lokar shifter and brake pedal along with the "spoon" throttle. Seating comes by way of Glide Engineering and is covered in tan leather and stitched by Sid Chavers Co. Chavers also handled the carpeting and mats in a German square-weave material.
A good-looking hot rod isn't any fun if there isn't the prerequisite response to follow one's "mashing" of the throttle. Resting under the stock hood is a 400-plus horsepower Roush Performance V8 engine based on a Dart block (402 inches) and then filled with an assortment of performance items. The aluminum heads are topped with "Cobra Powered By Ford" valve covers that are polished and detailed with body-matching paint. Other "go-fast" goodies include the Edelbrock intake with a "Born-Again AFB" (as it is referred to from its Carter heritage) in the AVS 2 Series four-barrel carb. It's fed its fuel through a Carter fuel pump and covered with a Mooneyes air cleaner. It too is polished and trimmed in matching body color. The V8's electrics fall to the MSD ignition system in the form of the electronic distributor, coil, and plug wires. Other electrical accessories include the Optima battery and a polished Powermaster starter and alternator. More appointments include a polished Edelbrock water pump and a Vintage Air electric fan. The Ford V8 backs up to a GM 700R4 transmission with the Lokar shifter and a B&M transmission cooler.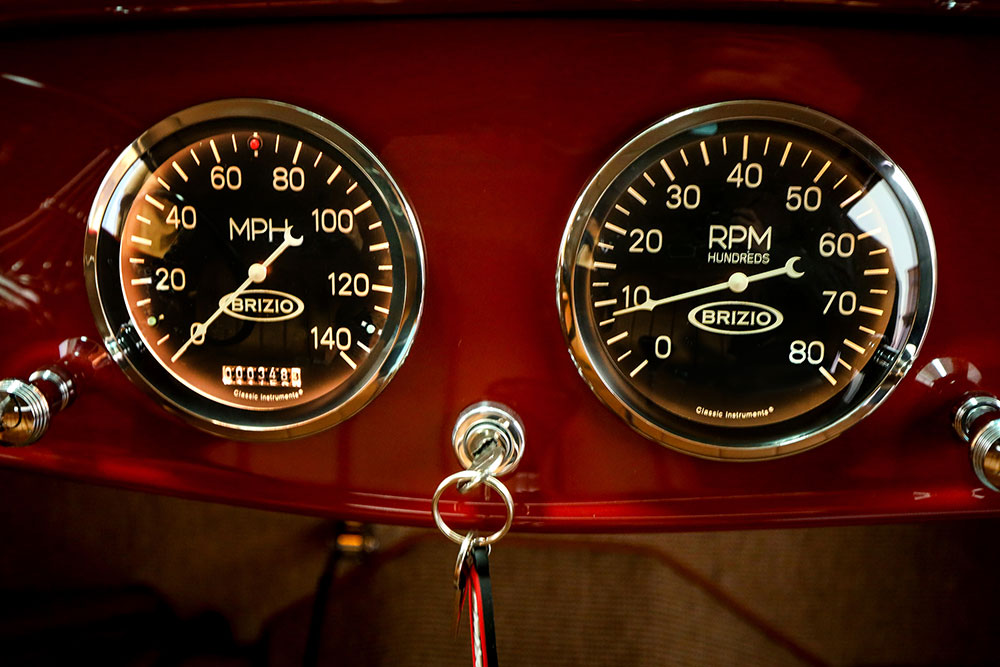 Exiting the spent gasses are a set of 1-5/8-inch Sanderson headers and from here Stratton of Roy Brizio Street Rods built the remainder of the stainless steel exhaust system that runs through a pair of stainless mufflers.
Well, that wraps up dad's hot rod, now let's move onto the son's ride.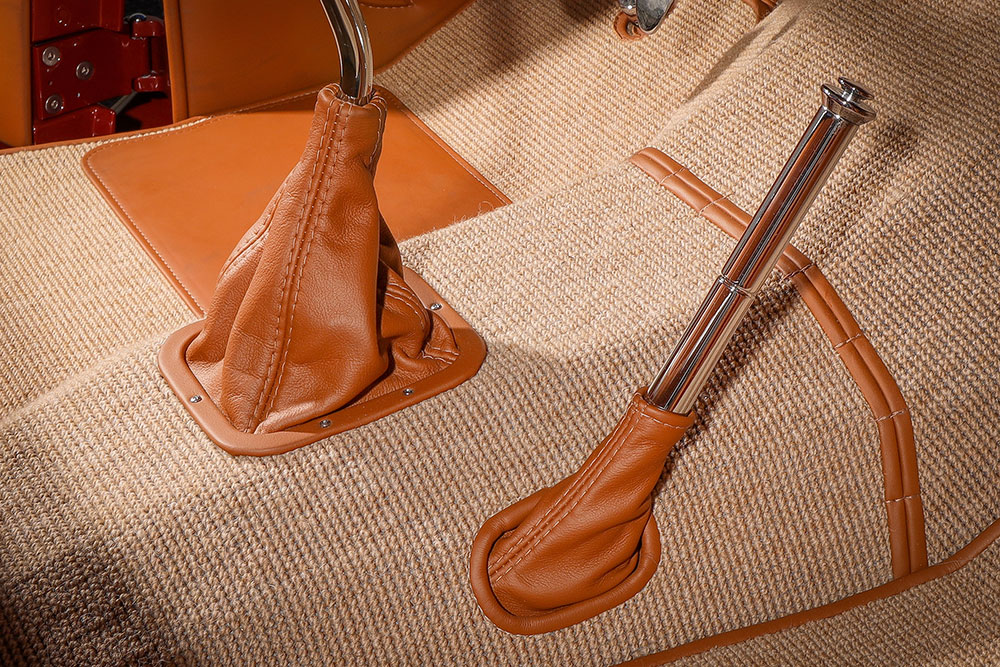 Son's 19'32 Ford Tudor Sedan
Aaron opted to go the more-traditional hot rod route with his choice of a 1932 Ford. To be specific, a 1932 Ford Tudor sedan that is painted in a true hot rod color–orange.
Once again, the Myers influence can be seen in their choice of chassis. Here, Aaron selected a pair of Total Cost Involved frame rails, which was then shipped over to Roy Brizio Street Rods to make the necessary changes. It was Jack Stratton who massaged the 'rails and then fit the front and read Kugel Komponents independent suspension.
The Independent Front Suspension is based on a Kugel system with Kugel front spindles and sway bar, rack-and-pinion steering, QA1 shocks, and Wilwood brake system based on polished dual pistons Dynalite calipers. Should be noted that Aaron likes his brightwork as there is plenty of chrome and polished metal spread throughout this build.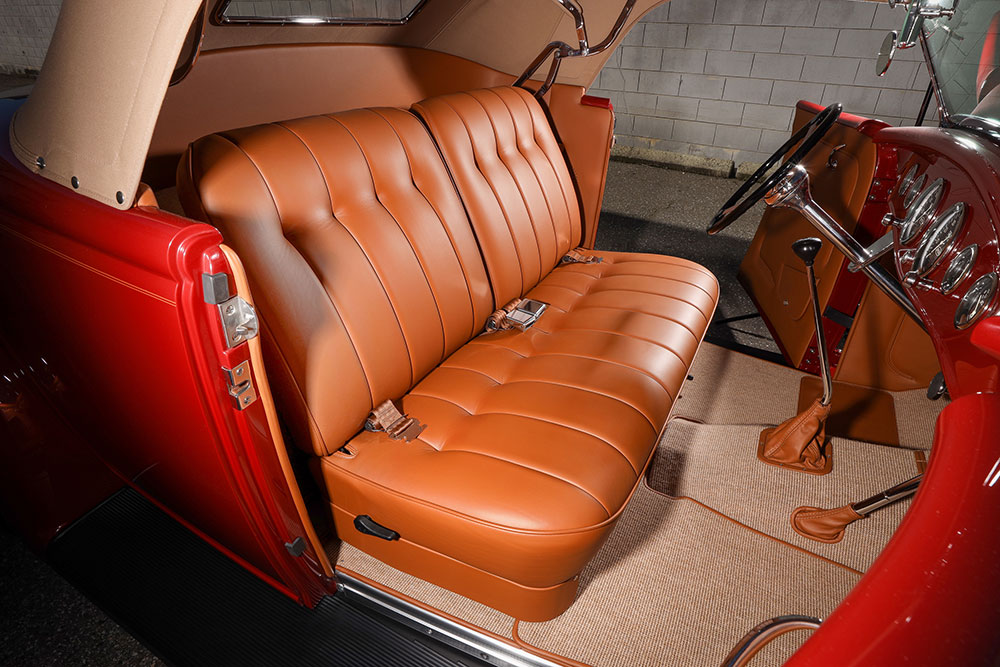 Read More: 1931 Ford Model A Deluxe Tudor Phaeton With '60s Vibes
The Independent Rear Suspension is more Kugel goodies but this time the centersection is based on a Winters quick change rear end. It too is loaded with plenty of polish and chrome but this time it features dual QA1 shocks and springs per side and more dual piston Wilwood Dynalite calipers/rotors assembly. Note the brakes are set up as inboard à la the old Jag Independent Rear Suspension setups.
Rolling stock consists of polished American Rebel slotted wheels, reminiscent of the old Halibrands, and then outfitted with Diamond Back tires. The wheels measure 15×5 and 16×8 while the rubber is 165R15 in front and 255/70R16 in back.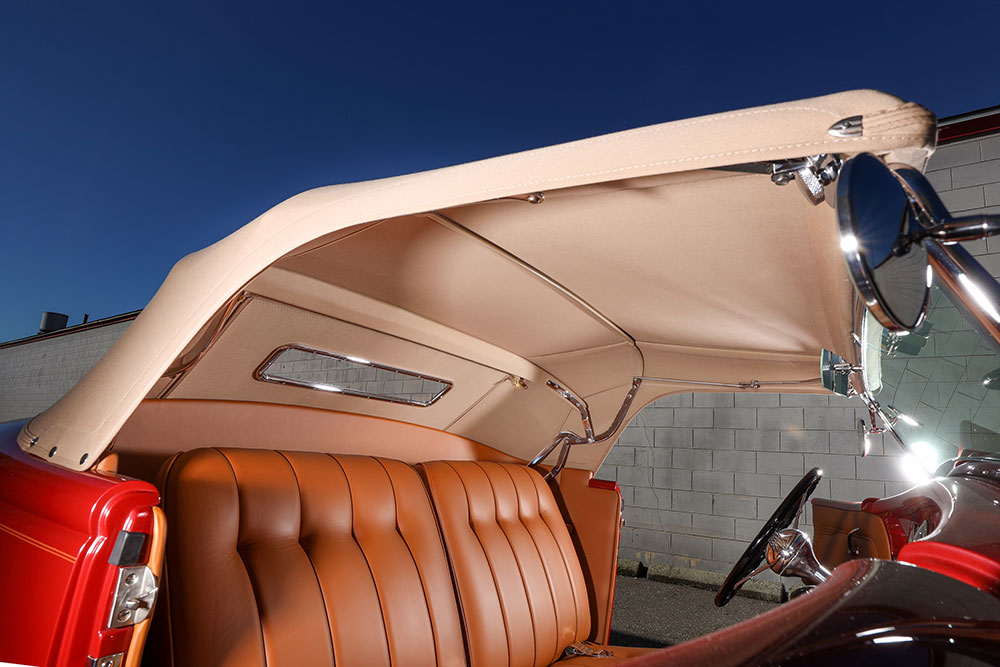 Probably the single biggest difference between dad's approach and son's approach on their hot rods is the choice of power plant. Aaron went for the current-day V8 of choice: the Chevy LS engine—although we must say that this is one LS that has all the earmarks of a vintage small block Chevy, right down to the Corvette finned valve covers. Aaron's choice of motorvation is a 600-plus horsepower 6.2L LS with aluminum block and heads. The Don Hardy–prepped LS features several internal mods to enhance horsepower, but the single eye-grabbing accessory is the Kinsler electronic fuel injection. The stack injection has a vintage Chevy appearance and is fed its fuel demands through an Aeromotive fuel pump. The engine control management system is a combination of Hardy and Autotrend EFI custom wiring harnesses. The coils are GM (hidden beneath the valve covers) while the plug wires are from Hardy. The exhaust is, once again, based on 1-5/8-inch primary tube Sanderson headers with the remainder of the exhaust system based on 2-1/4-inch stainless tubing all fabricated by Roy Brizio Street Rods's own Stratton. Other engine appointments include the polished Powermaster starter and alternator, an Edelbrock water pump, Optima battery, and Cooling Components electric fan. Transferring the power rearward is a five speed TREMEC transmission that utilizes a Modern Driveline flywheel, clutch, and pressure plate with a Lokar shifter.
The '32 Ford Tudor sedan had its roof wacked 3 inches by Andrik Albor of Roy Brizio Street Rods while the much-louvered aluminum hood was handled by Jack Hageman who also punched the rear pan. As for the bodywork it was handled along with the paint by Joe Compani of Compani Color. (If this name sounds familiar it's because Compani spent 18 years as the in-house painter at Roy Brizio Street Rods.) Compani mixed a custom orange using Glasurit, which included the primers, basecoat color, and clear materials. As with Dad's hot rod, the pinstriping was applied by Real Ralph.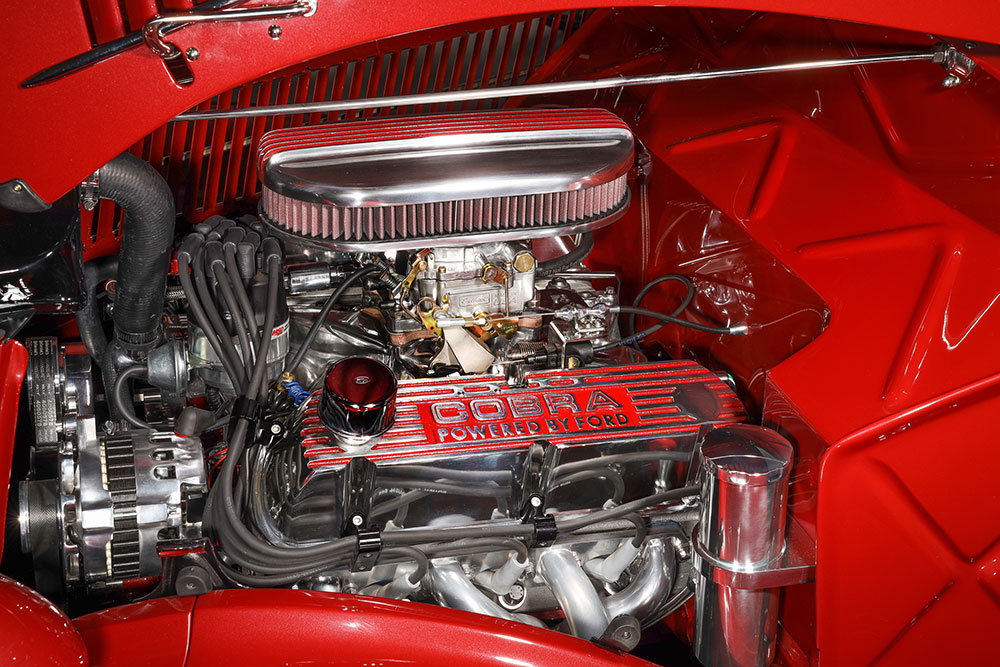 Read More: Brownstone Roadster: '32 Ford Roadster With SoCal Style
Inside the factory Deuce dash was modified to accept a SO-CAL Speed Shop Auburn-style panel with an engine-turned insert. From here the Classic Instruments Hot Rod-style gauges, with the Brizio logo, are present. The Classic Instruments Rocket Tach is affixed to the LimeWorks steering column. Controlling the steering chores is a four-spoke Sprint Car–style Mooneyes steering wheel. All the necessary wiring was handled at Roy Brizio Street Rods by Jim Vickery, which includes getting the Vintage Air system up to cooling capacity. The front buckets come by way of Glide Engineering while the rear bench seat is custom. All were upholstered in black leather by Sid Chavers Co., and then accompanied by German square-weave carpeting along with a charcoal mohair headliner.
Well, there you have it. Your basic father and son build—except each has his own car reflecting his own ideas and wants. Two jobs well done. MR