Restore Rusted-Out 1934 Ford Coupe Door Shells the Right Way
By John Gilbert
There are a lot of different projects a first-time DIY guy can do without needing tons of equipment or expertise to make desired repairs or upgrades to his project hot rod— but returning large, rusted-out areas into good-as-new sheet metal isn't one of them.
It's always a chuckle when a non-car guy walks up to the owner of a recently restored or freshly built hot rod and remarks, "I didn't know you could still buy one of those cars brand new." Where does one start? Do you tell the guy he's looking at five old cars cut apart and welded back together to create the car he's admiring, or just smile and say thanks?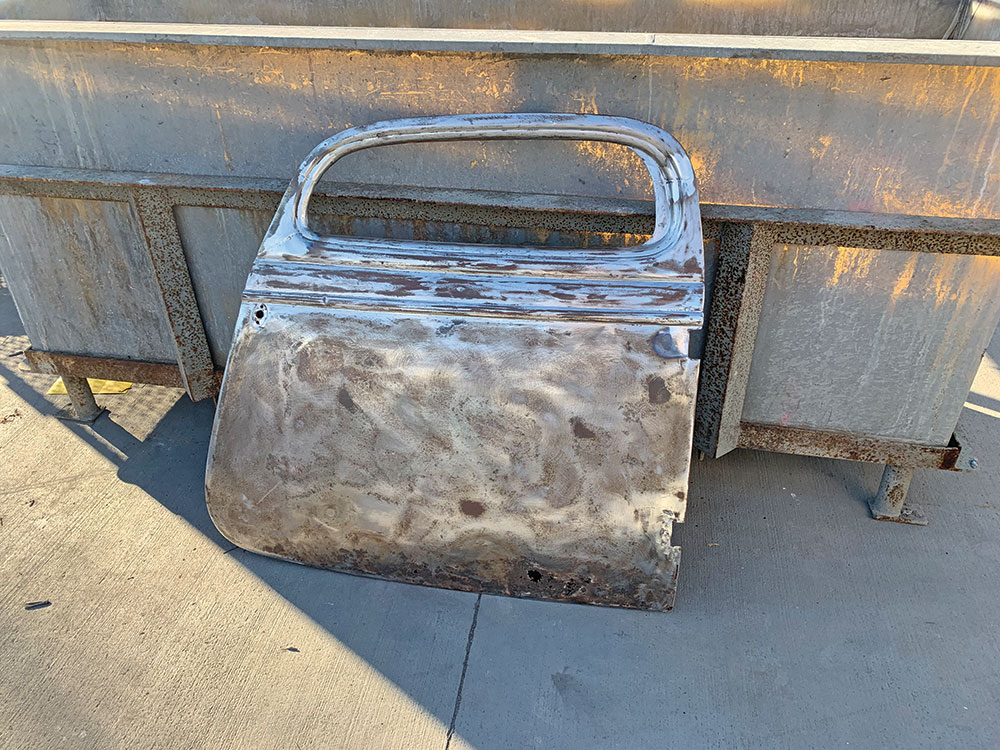 Read More: This Ford Phaeton Gets Some European Flair
That said, this doesn't mean a DIY guy can't stand half a chance taking a shot at doing his own sheet metal repair if he doesn't mind making a serious investment in the right equipment and learning how it's done. Or for that matter the hot rod shop that wants to expand the services they're doing in-house.
To illustrate how large sections of badly rusted sheet metal body parts are repaired properly we enlisted our friends at Precision Hot Rods and Fabrication in Macedonia, Ohio, to bring Modern Rodding readers from start to finish on a pair of heavily rusted '34 Ford coupe doors.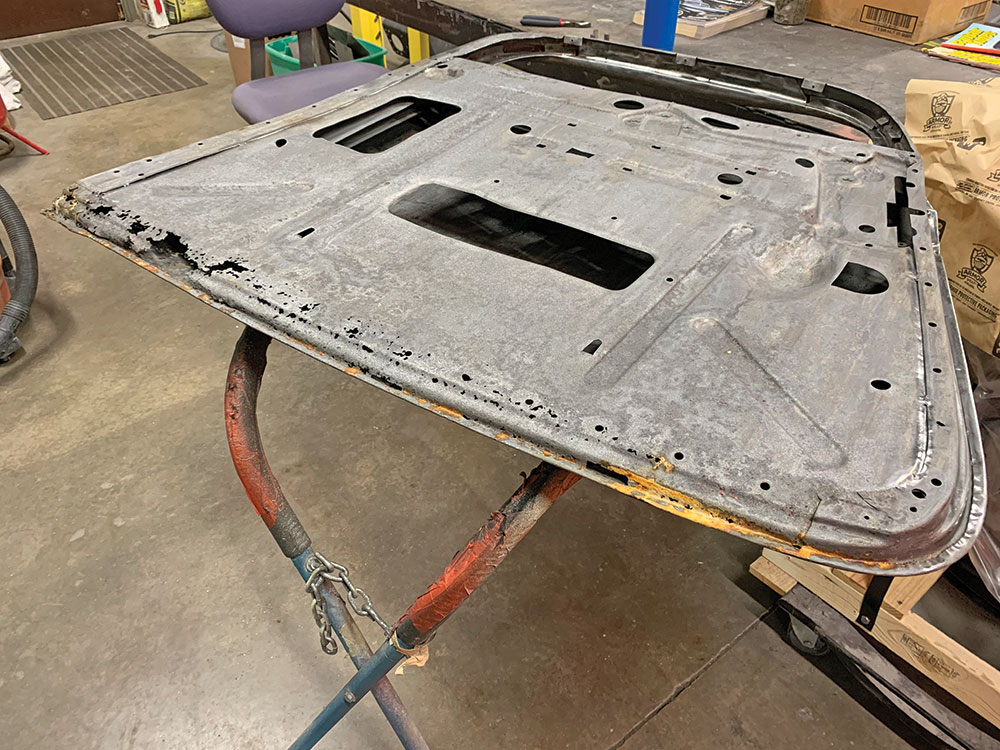 Chris Campbell at Precision Hot Rods' first step was to confirm the door shells were worth investing the tremendous amount of metalwork required to restore both doors to a rust-free state. This meant checking the door shells weren't too tweaked or twisted beyond being able to return to their factory original shape.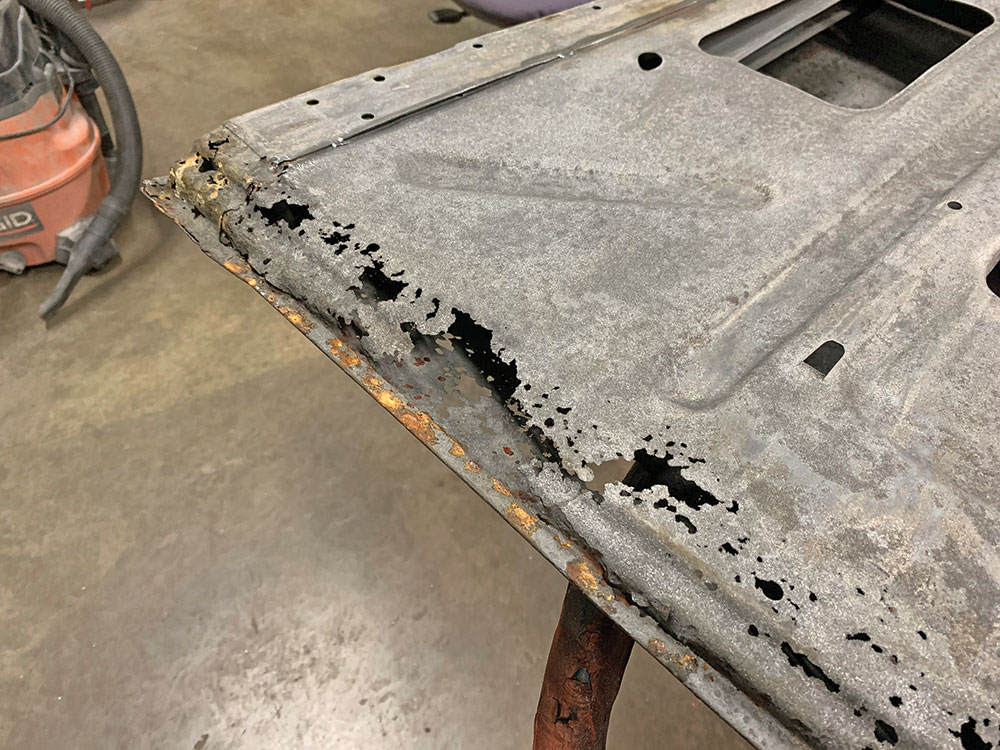 Next Campbell buzzed the exterior of the doors with a coarse flexible disc on a body grinder to strip old paint down to the bare metal to look for surprises—surprises meaning crappy previous patches or deep dents or rust holes packed with Bondo.
Both doors passed inspection, so Phase 3 was to send the pair to American Quality Stripping in Sandusky, Ohio, to be dipped in a bubbling chemical goo that stripped every molecule of rust and old paint down to bare silvery steel.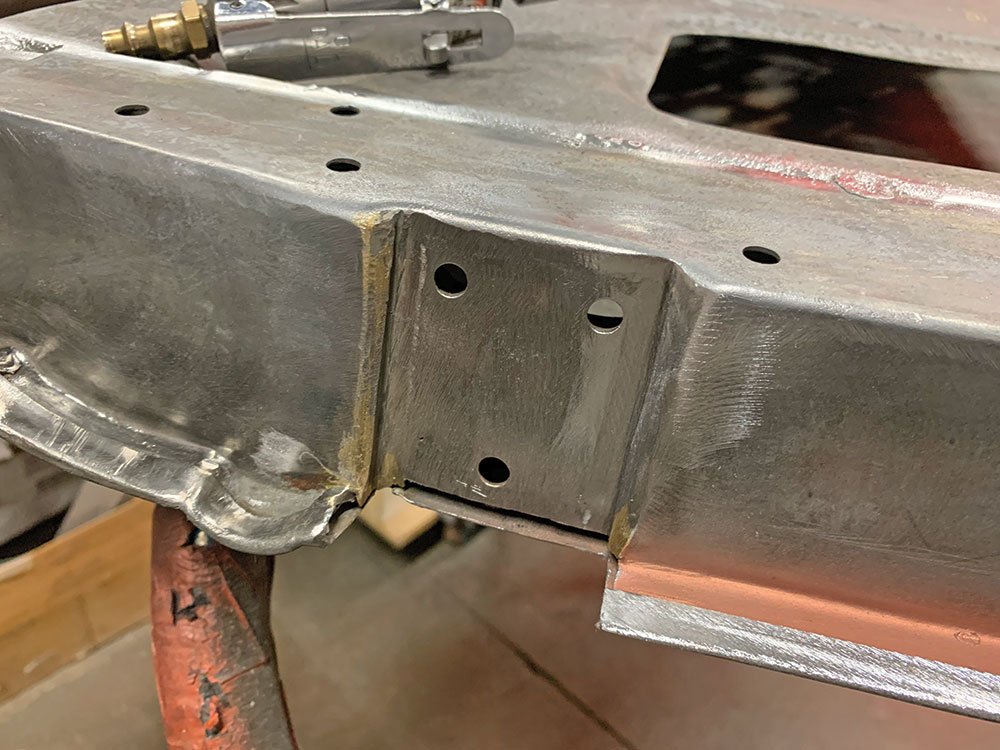 Preparation of the bare steel surface before direct to metal primer can be sprayed must be meticulous otherwise paint blemishes in the final finish will appear immediately or later in the life of the paint job; paint blemishes can appear as crow's feet, cracks, or bubbling blisters.
Read More: Built From The Ground Up: Bill's '34 Ford Highboy Coupe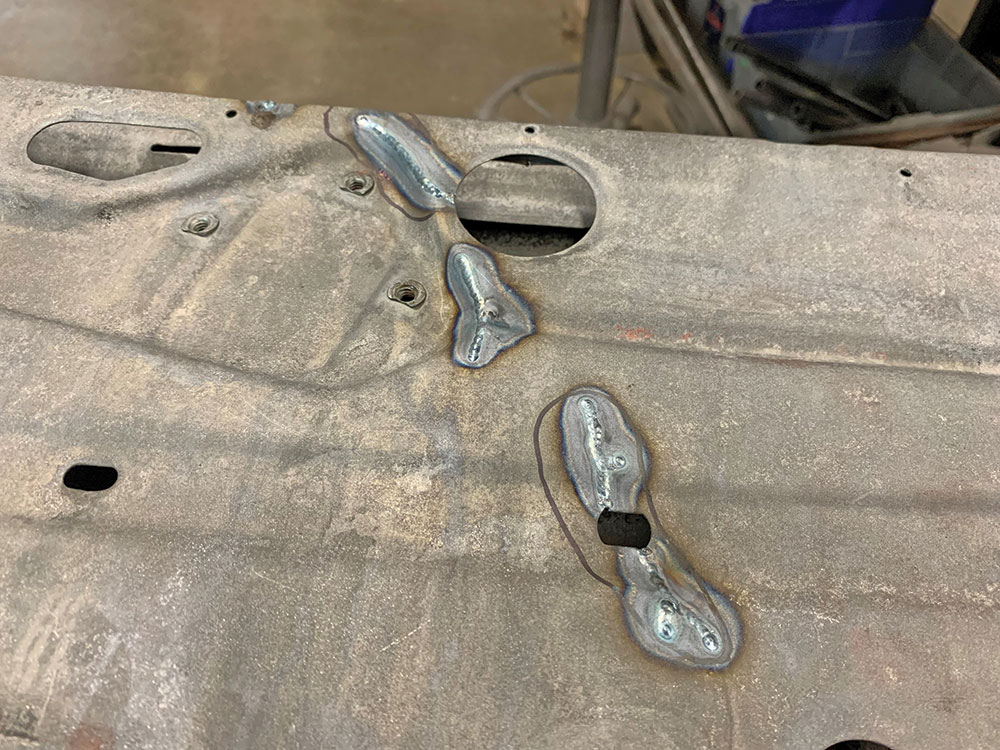 The doors when American Quality Stripping returned to Precision Hot Rods came sprayed with a light protective coating to hold off rust until a permanent solution was undertaken. After steel body parts, such as the doors, are chemically dipped and stripped, the liquid chemicals will remain trapped in the steel seams and cause paint blemishes to appear in the future.
Precision Hot Rods uses a BernzOmatic propane torch to boil out and burn the chemical solution from the seams, followed by flushing (washing) the steel parts with economy-grade lacquer thinner and force drying with compressed air.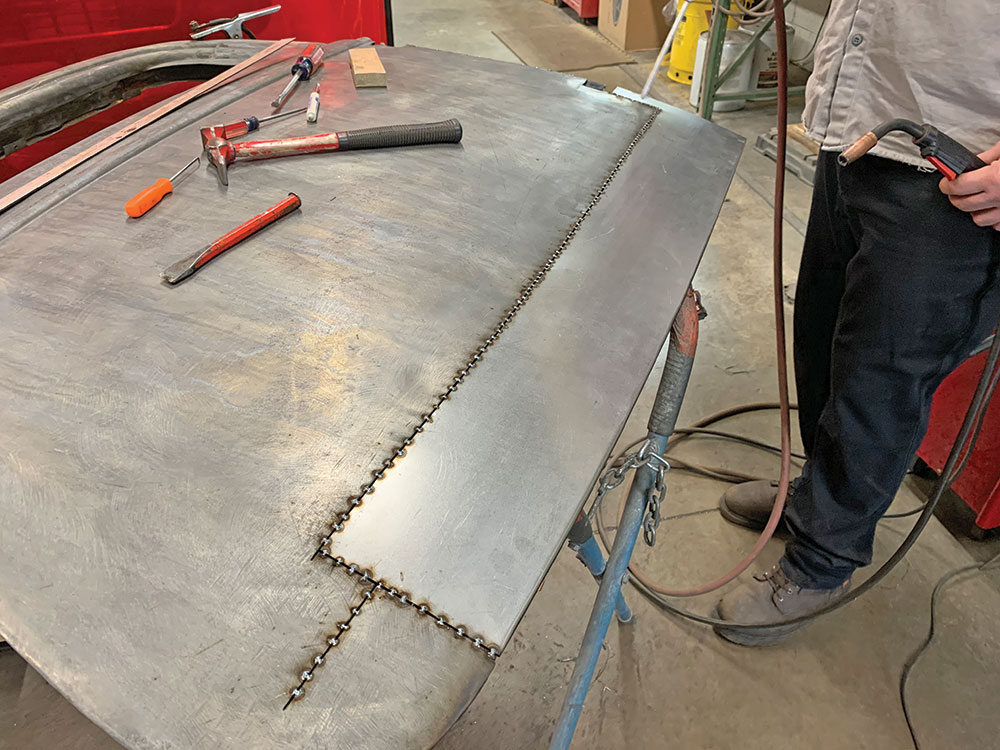 Next Campbell assessed what steel he had left to work with; chemical stripping removes gobs of rust scale and it's always a shock how much material (steel) on a body panel is gone when it comes back from stripping. Even on a completely rust-free '34 Ford door there's going to be areas where years of repeated opening and closing (slamming) the door will crack open tears in the sheetmetal. Campbell identified the tears and TIG welded it closed, followed by grinding and metal finishing to an undetectable repair.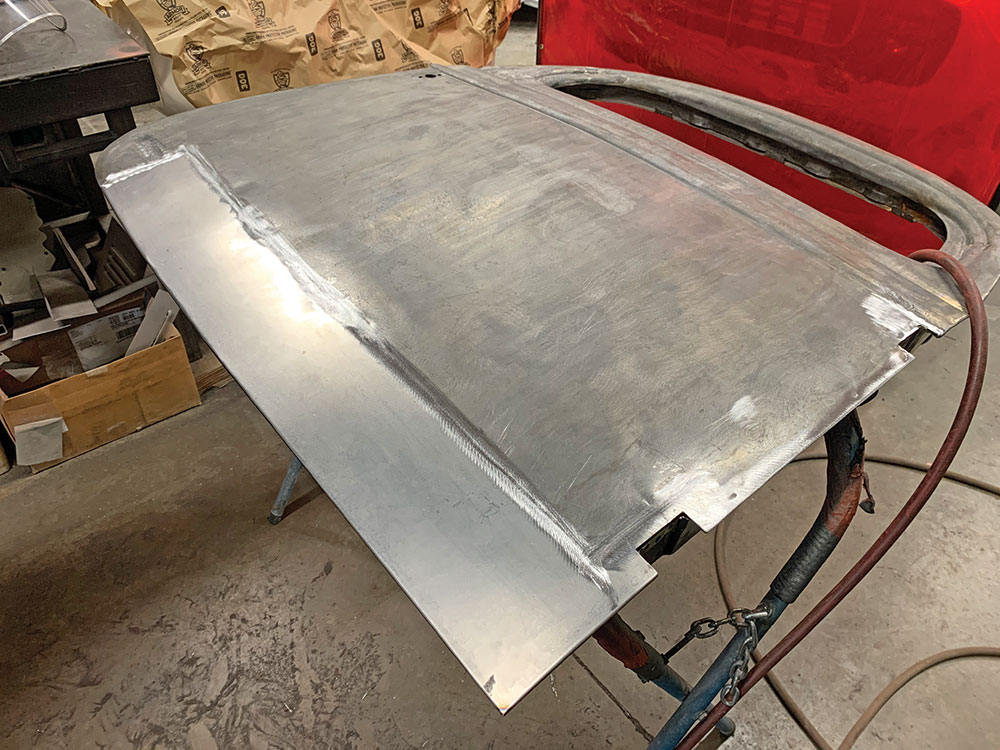 Repairing the large, rusted-out areas at the bottom of the doors was a process of custom-fabricating sections of 18-gauge sheet metal cut from a 4×8-foot sheet combined with locating aftermarket panels stamped out to perfectly match the interior details of the door.
Collecting years of water trapped between the plinth seal and the door card, the stamped plinth for the exterior door handles are subject to rust. Additionally, countless cycles of the doors opening and closing flexes the door card and cracks the steel beneath the door handle, allowing a rich environment for rust damage to occur.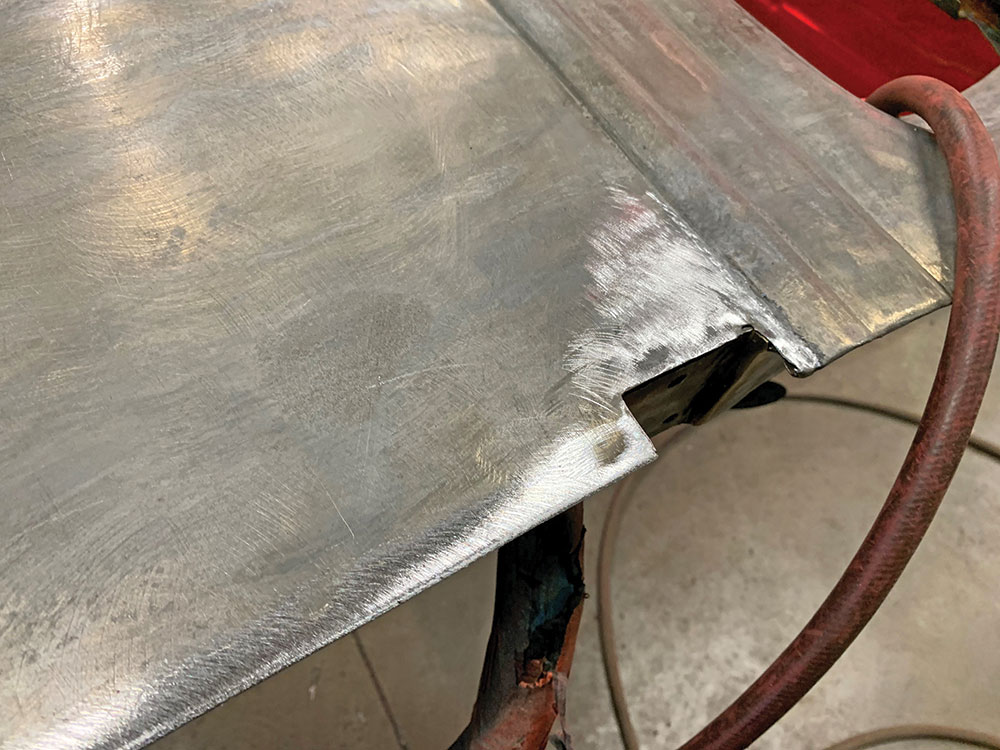 Read More: Coachbuilt 1932 Ford 3-window coupe is a Real Class Act
Precision Hot Rods and Fabrication invested 40 hours of labor into restoring each door. Not everyone can do work like this. It takes a generous amount of skill, acquired expertise, and specialized equipment to undertake extensive rust repairs. That said, we understand if a DIY guy might tend to shy away; the plus side of reading a tech article is it illustrates what a person should know before they commission a shop to do the work. MR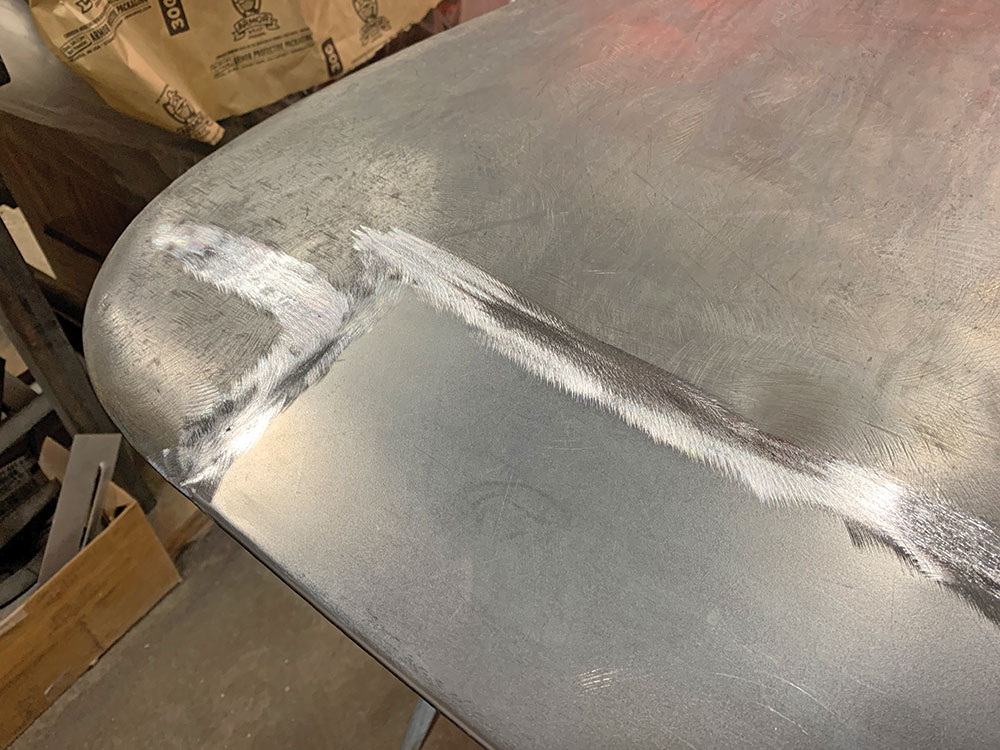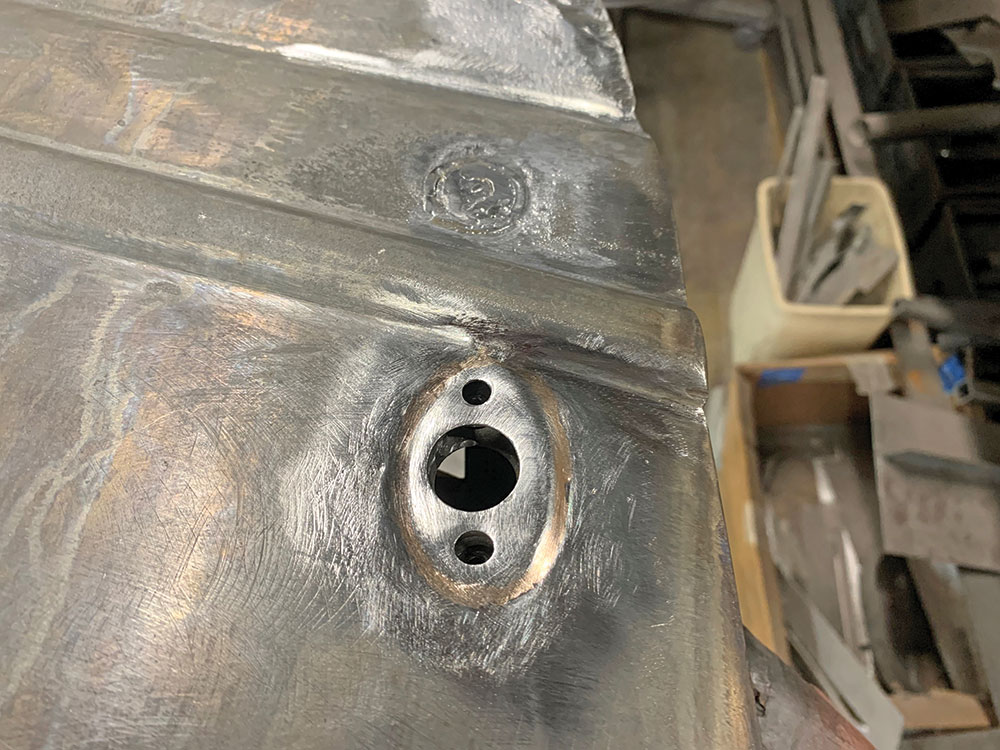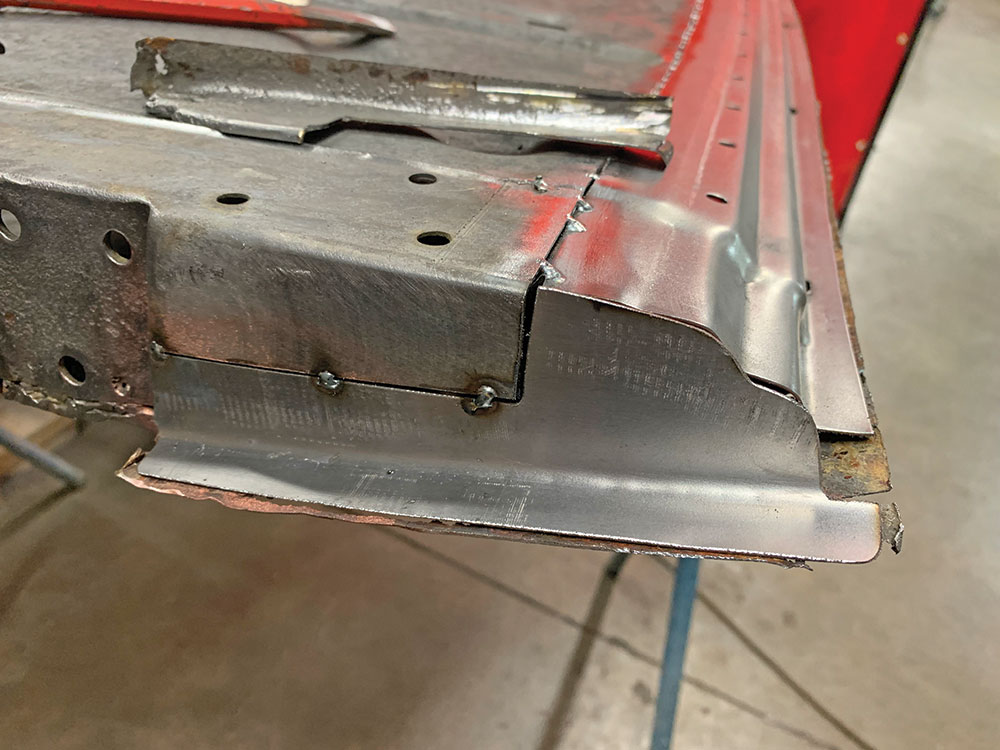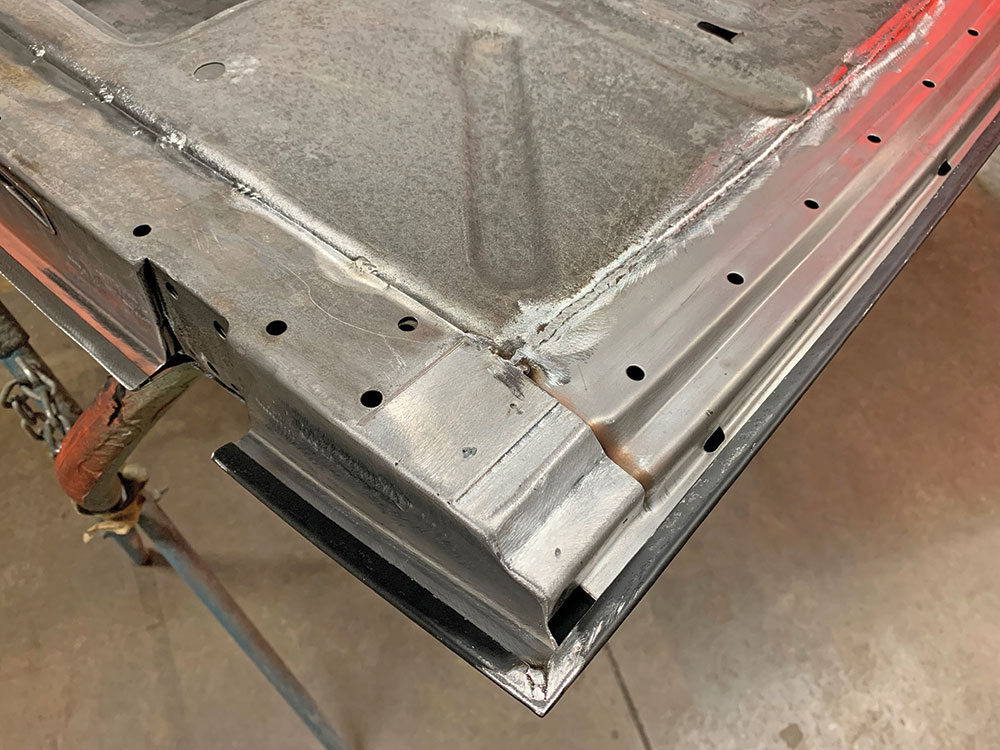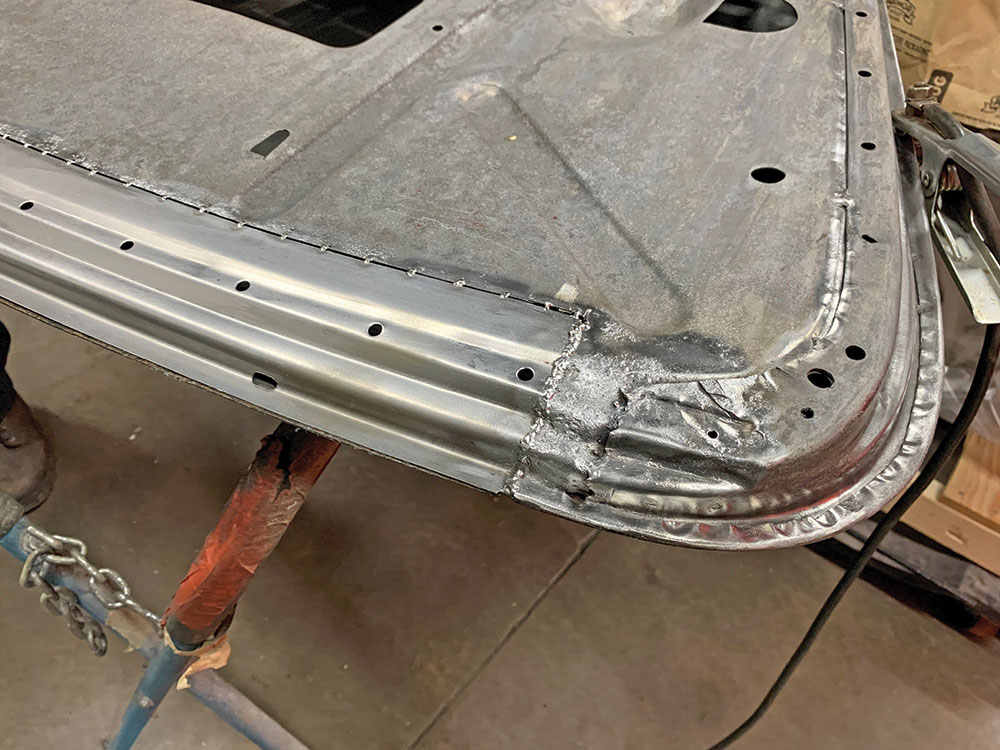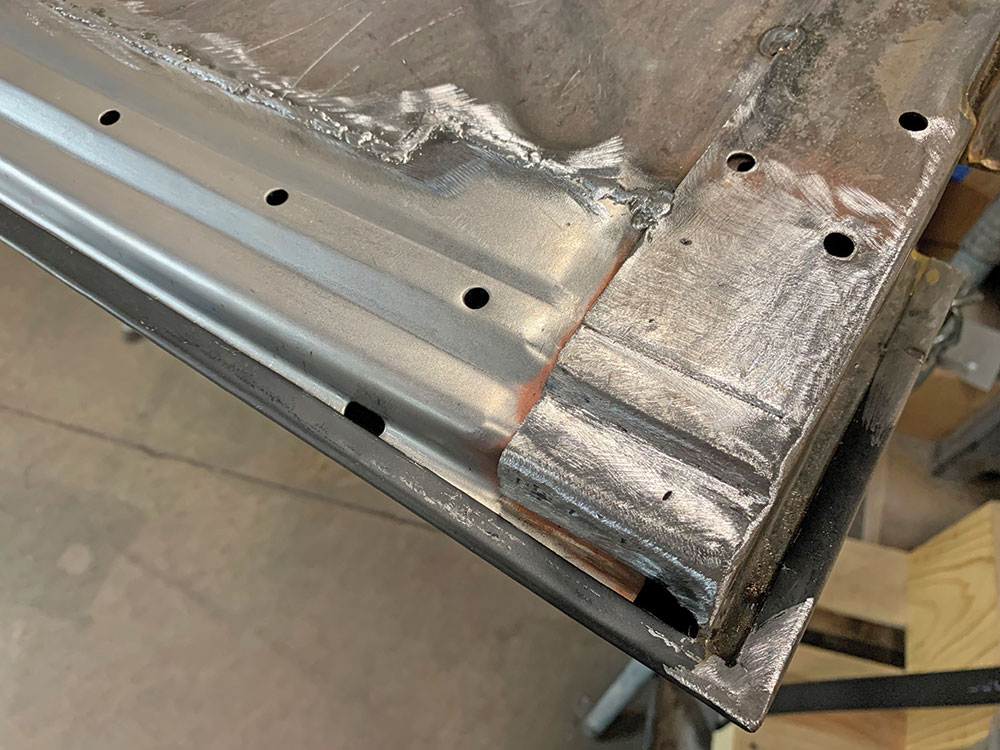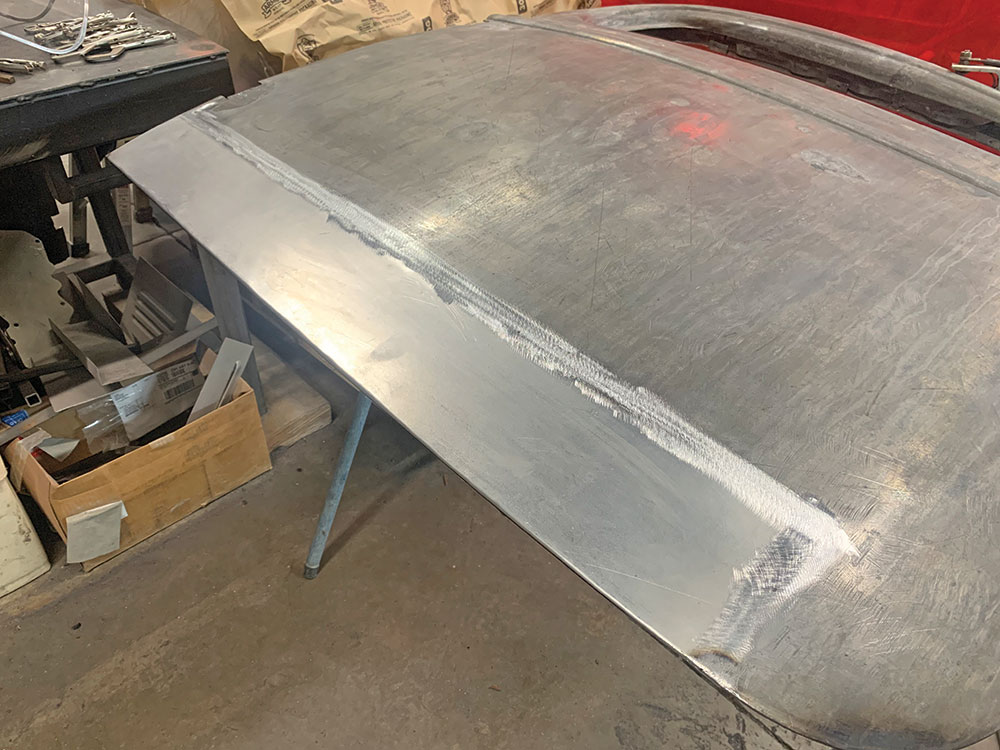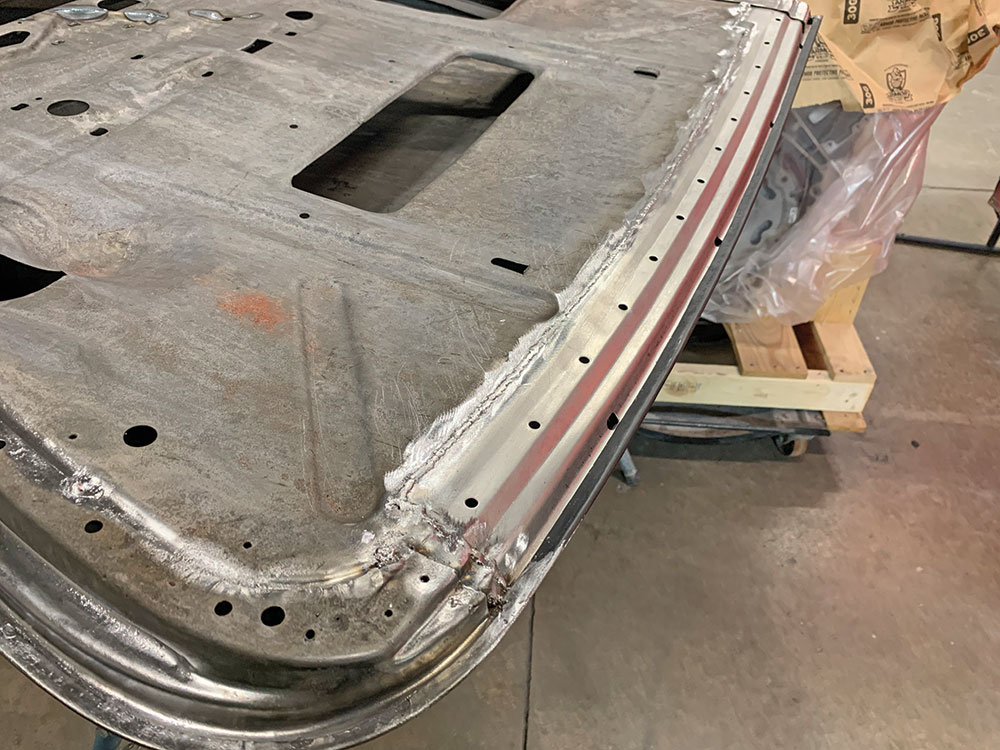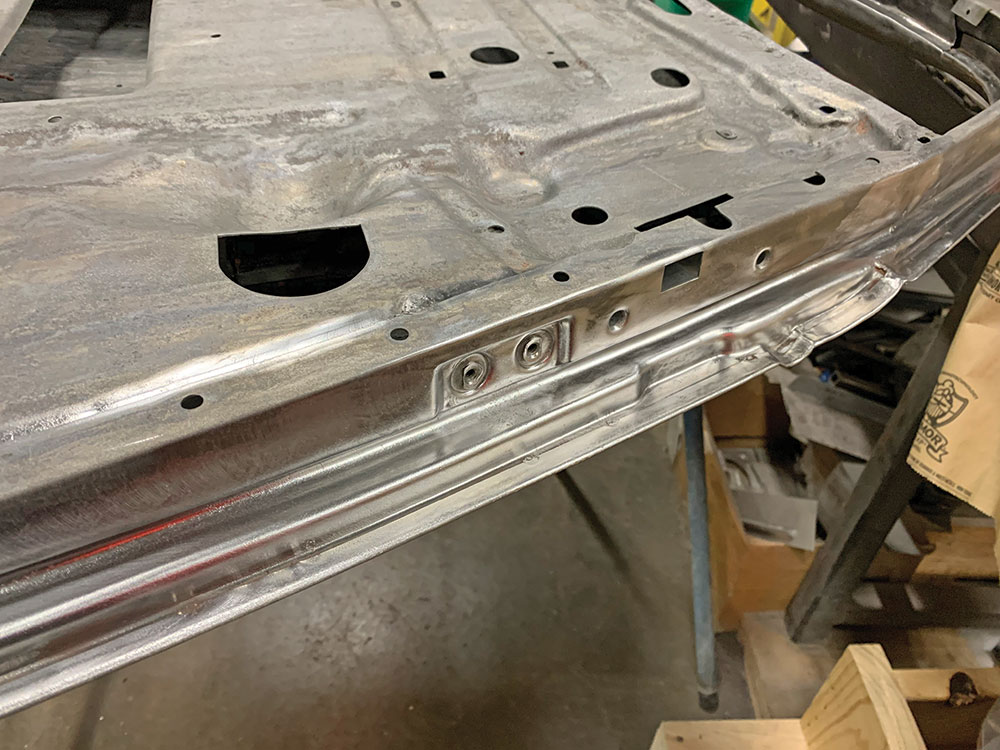 Source
Precision Hot Rods & Fabrication
(330) 908-0234
precisionhotrodsandfab.com