This LS Swapped '37 Chevy Pickup Has Plenty Of Hot Rod Attitude
By Brian Brennan   –   Photography By John Jackson
Pickup trucks in today's world tend to be utilitarian most of the time. However, we have started treating out trucks with more and more attention. So, it shouldn't come as any surprise about the '37 Chevy pickup in front of us. And while the '37 Chevy pickup belonging to Chris and Christin Hubble of Anchorage, Alaska, is "dressed to the nines" the fact is it's a hot rod with plenty of Bowtie "Heartbeat."
Read More: 1966 Ford Mustang DSR350
It should be noted that Chris and A.J. Schwichtenberg, of GoodFellows Classic Cars out of Phoenix, got together and decided what the '37 Chevy pickup needed to come to life. The '37 Chevy truck had spent some 20 years locked up in a Conex shipping container before the two did some idea swapping. Chris and Schwichtenberg were talking, as he had already worked on one of Chris' other cars, when the idea was hatched to ship the Chevy pickup to Phoenix and have it put together once and for all. Now Chris was going to have the hot rod truck he had always wanted. (I, too, was wondering how a hot rodder who lives in Alaska gets hooked up with a builder in Arizona. Now I know.)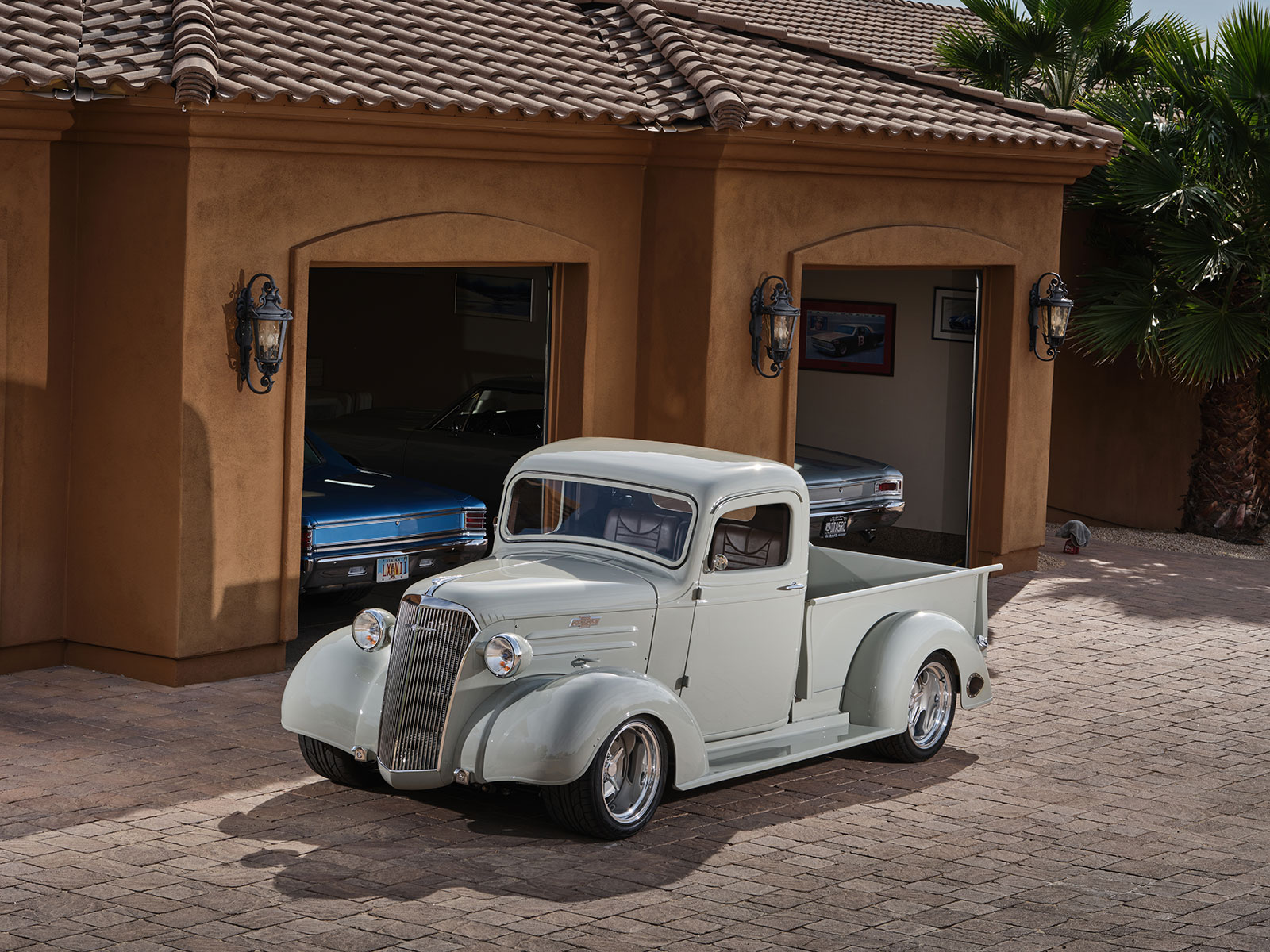 Let's start off under the hood and prove our point. Resting between the 'rails and beneath the hood is a Chevrolet Performance LS3 crate engine. The V8 engine boasts the use of an ASA camshaft (0.525 lift) and a 10.7:1 compression that yields a 6.2L LS that pumps out 525 hp. The air intake is a custom piece built at Schwichtenberg's shop. Other engine appointments are Chevy Performance along with the custom spark plug wires from Schwichtenberg. To complete the list of engine accessories take note of the Lokar dipstick, an Aeromotive fuel pump, All American Billet pulleys, and a Fluidampr harmonic balancer. Maintaining the V8's cool is a Wizard radiator and a pair of electric fans. The headers are based on stainless steel 1-3/4-inch primary tubes that dump into a full stainless steel 3-inch exhaust pipe that runs back to a pair of SpinTech mufflers. Backed up to the LS3 engine is a 4L75E transmission. Rated for 650 lb-ft torque capacity, it's a great alternative to the 4L80E transmission when engine swap space is at a premium. In other words, a great choice for a hot rod engine bay. The 4L75E transmission is outfitted with a Ground Zero 3,000-rpm stall speed converter with the internal mods handled at GoodFellows. A Chevy Performance engine and transmission computer are used. All this horsepower and torque is delivered back to a Ford 9 inch rear end that is equipped with a Strange Engineering pumpkin fitted with 3.50 gears and Strange axles.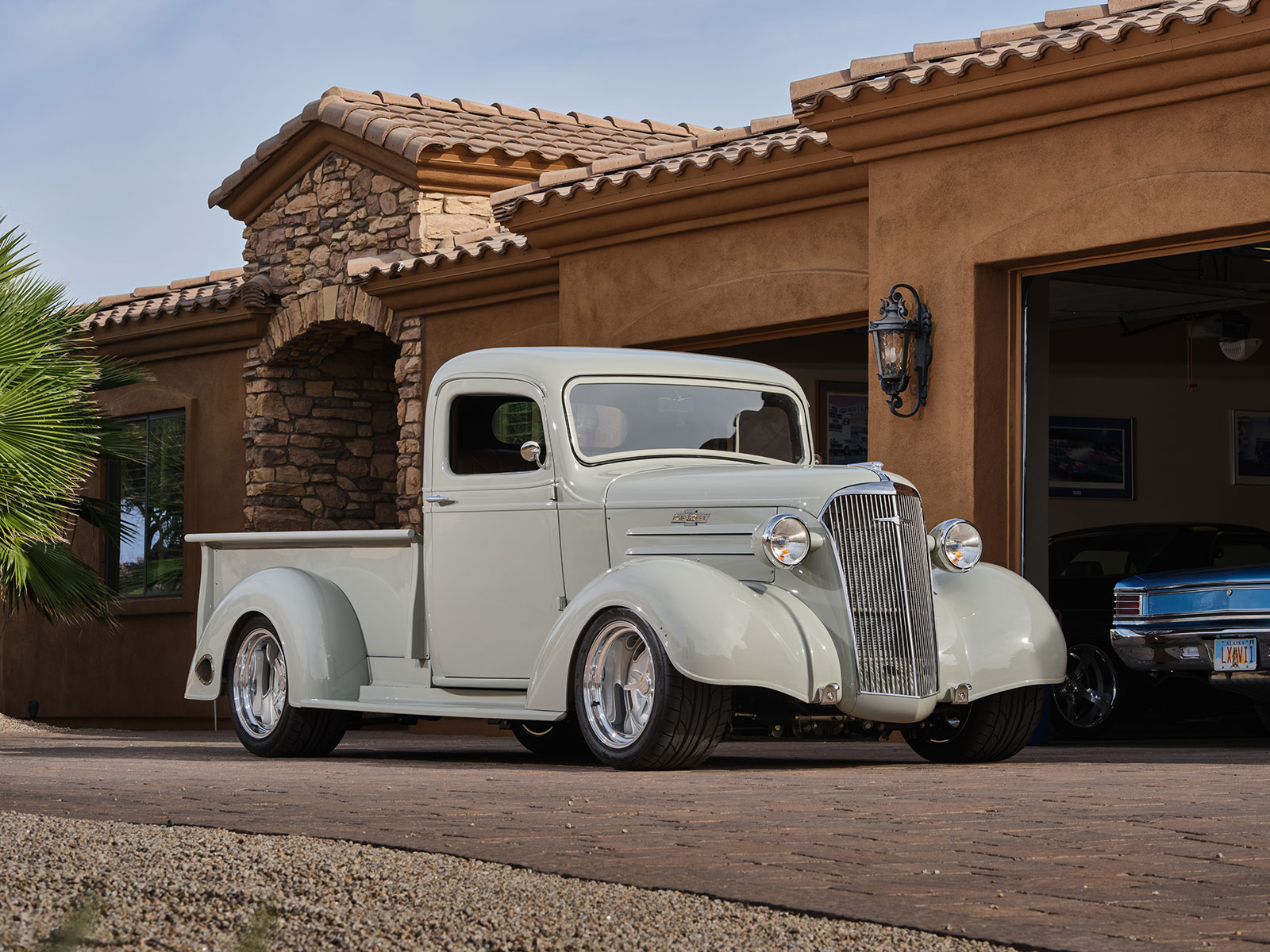 Read More: Daily Driven 1955 Chevy Delray
What's very cool about this truck and truly makes the entire package come together is the use of Roadster Shop frame rails. Here we can see Afco coilovers at the corners, Wilwood brake kit all the way around, and Flaming River rack and pinion, rolling on rubber supplied by Nitto in the shape of NT555 G2 315/35R17 tires wrapped around American Racing Salt Flat wheels.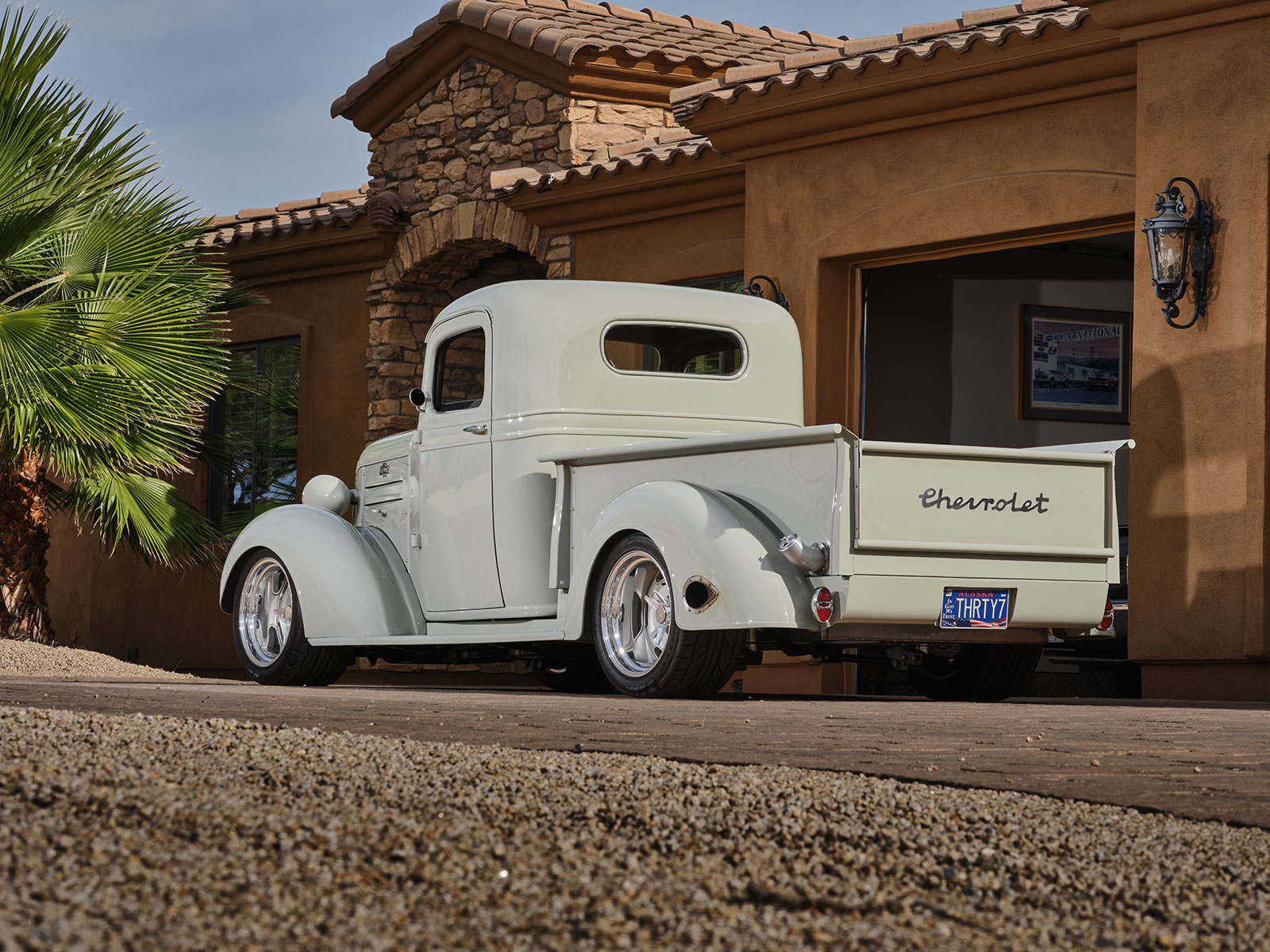 We mentioned that the Chevy pickup is good looking and while it may look stock there are a few alterations to enhance the overall appearance. Giving a fresh, crisp appearance is the grille and trim treatment from Chevs of the 40's. Before the paintwork, plenty of Steele Rubber Products were used on the doors and glass areas of the cab. Once all the GoodFellows bodywork was handled, a PPG custom color called Desert Storm was sprayed on. Back to the bodywork scene, note the widened front fenders, a custom gas filler door, the rear fender exhaust ports located right behind the rear tires, a roll pan with a frenched license plate mount, and the nifty script on the "Chevrolet" treatment on the tailgate.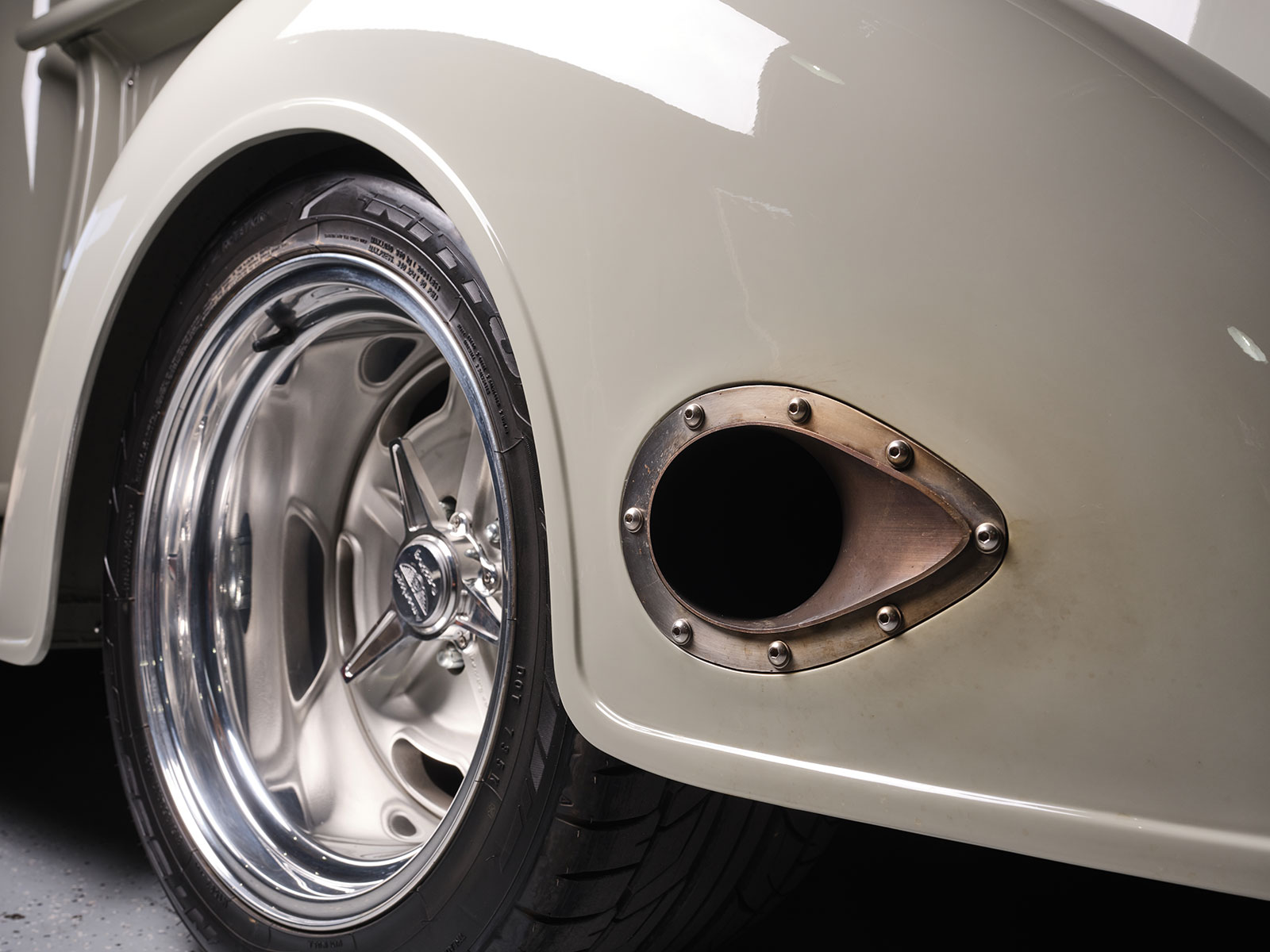 Inside the interior features more handiwork from GoodFellows as well as some very nifty stitchwork from Unique Upholstery. The bench seat is custom as is the center console and both are wrapped in brown leather. The steering column is more Flaming River fare with a Billet Specialties steering wheel, while a B&M shifter is used along with Vintage Air AC system, and Classic Instruments gauge package. Making sure the pickup comes to life is an American Autowire system that was installed while at GoodFellows and runs through an Odyssey battery and a Powermaster starter.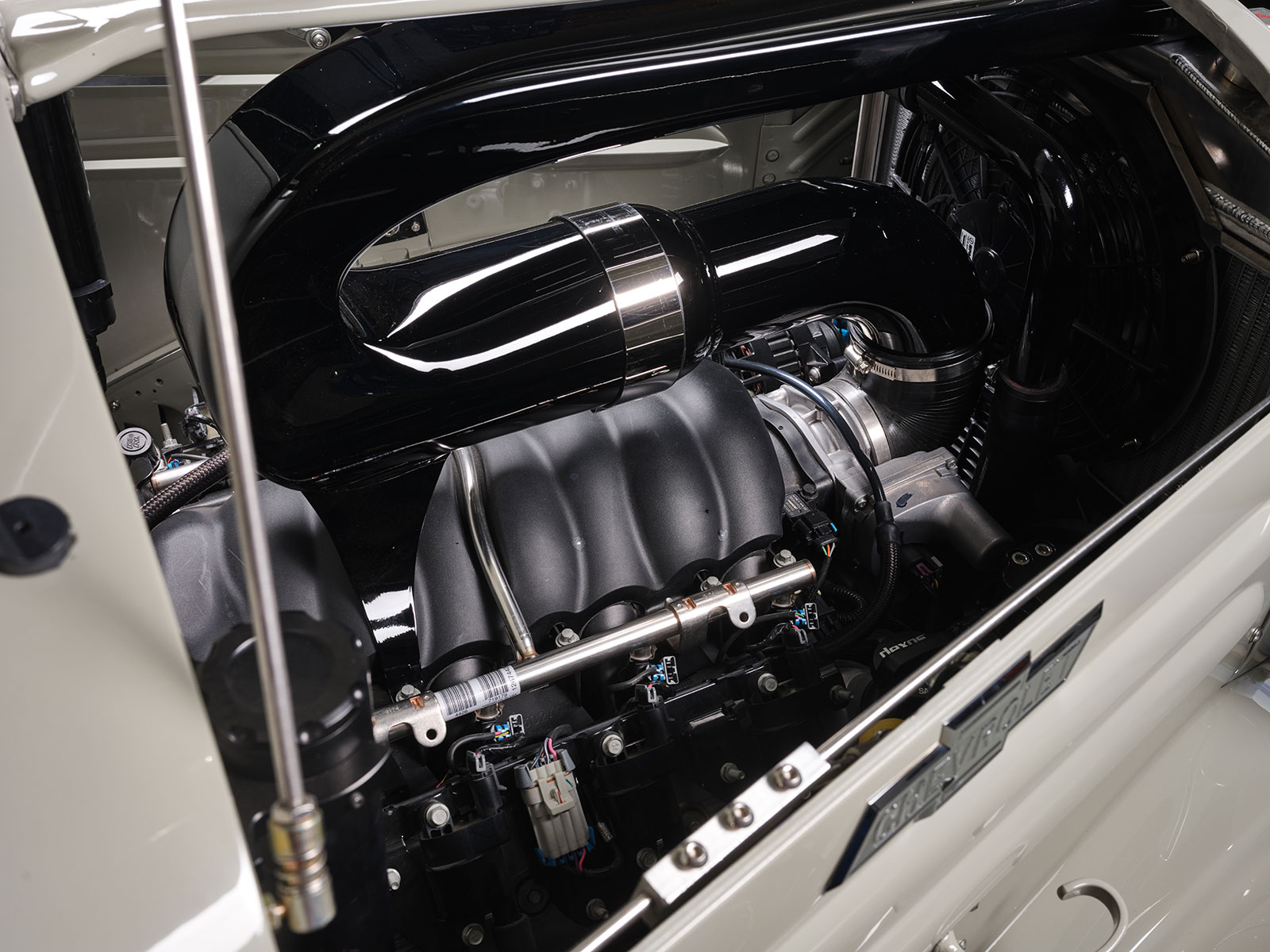 Read More: Boss 429 Powered 1963 Ford Fairlane
When it comes to trucks you have to like the way this '37 Chevy looks. We can tell you, it runs like a hot rod should.