The Road Trip of a Lifetime, You Think We're Kidding; Read On.
By Brian Brennan – Photography By Michael Christensen
While this story is about a '39 Mercury mild custom, it's also as much about the owner Dennis Varni. Dennis is no stranger to hot rodding, swap meets, Bonneville, or the Bay Area Roadsters. He's been part of all aspects of the rodding life for most of his "many" years on this planet. Nonetheless, if there ever were a hot rodder who all of us should meet it's Dennis. To say "he's done it all" may be hyperbole but it isn't too far from the truth. And we aren't kidding about the North Pole–really.
Dennis is proud of his '39 Mercury mild custom, but why shouldn't he be?, It's one of many that are neatly tucked away in his shop full of cars of varying years, makes, and models, which includes his '29 Ford highboy roadster that won the coveted America's Most Beautiful Roadster trophy in 1992. Over the years this roadster has seen more bugs pass through its grille shell than many a stocker! And that isn't a hyperbole.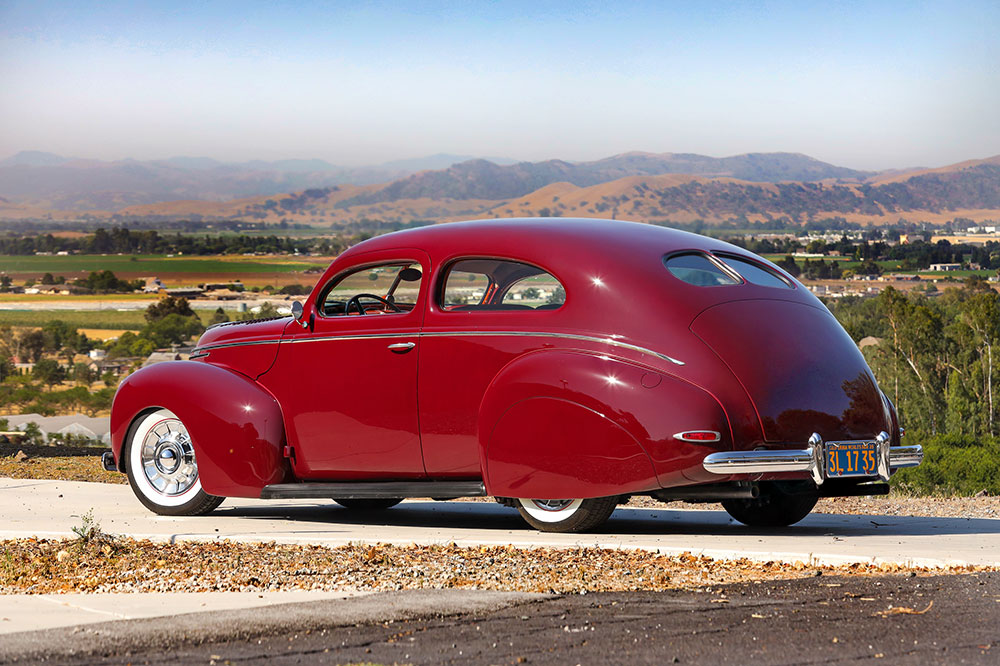 But let's touch on the storied life this Mercury Mild Custom has lived. Dennis acquired the car in the traditional hot rod fashion: "I'll trade you a few of these and a few of those and you give me the car." And so, Dennis ended up with a '39 Mercury.
Read More: Speak Easy Green 1932 Ford Phaeton
Edsel Ford designed the Mercury back in 1938. In 1939 Ford came out with the '39 Mercury that resided between the everyman's Ford and the upscale Lincoln. It was 1939 when the Mercury 8 was released to the public, selling some 65,000 units in its first year. There was a two- and four-door sedan, a sports convertible, and a town sedan. Hot rodders are used to seeing the coupe but Dennis wanted something different, so he went with the two-door sedan to see if he could make it into desirable hot rodding material. (We believe he has done so with his mild custom version of the venerable Merc.)
From here the Merc went through the usual transformation from tired and a bit worn into a beautiful example of what a hot rodder can do with something not on the normal hot rodder's menu.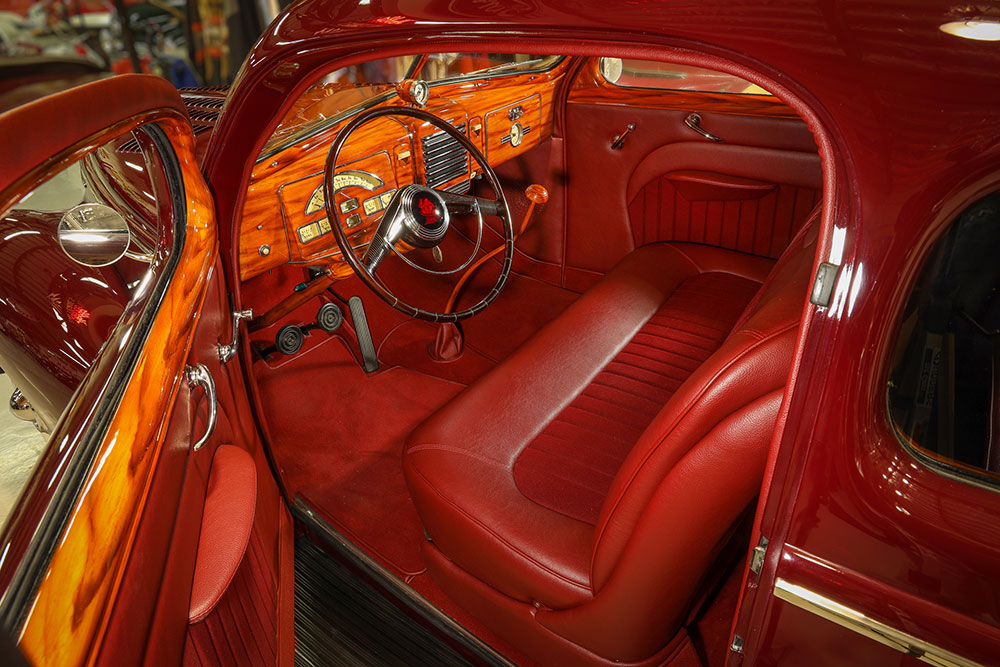 Dennis has owned the Merc for some time (20-plus years) but early under its new ownership he had an idea to drive the car to the North Pole. Yes, that North Pole! The drive did occur but it was before the body and paint mods were accomplished. However, the chassis and powertrain were modified before his North Pole expedition. Since you can't make this stuff up, the next portion of the story is best told in Dennis' own words:
"I wanted to drive to the North Pole. I needed to ship the car to Amsterdam and then put it on a ferry and go to Germany and drive to Amsterdam, and then put it on another ferry to Oslo, Norway. From here we drove to Bergen, Norway. It was from here that one travels on a singular road that will take you to the North Cape. Once here you can't go any further by car."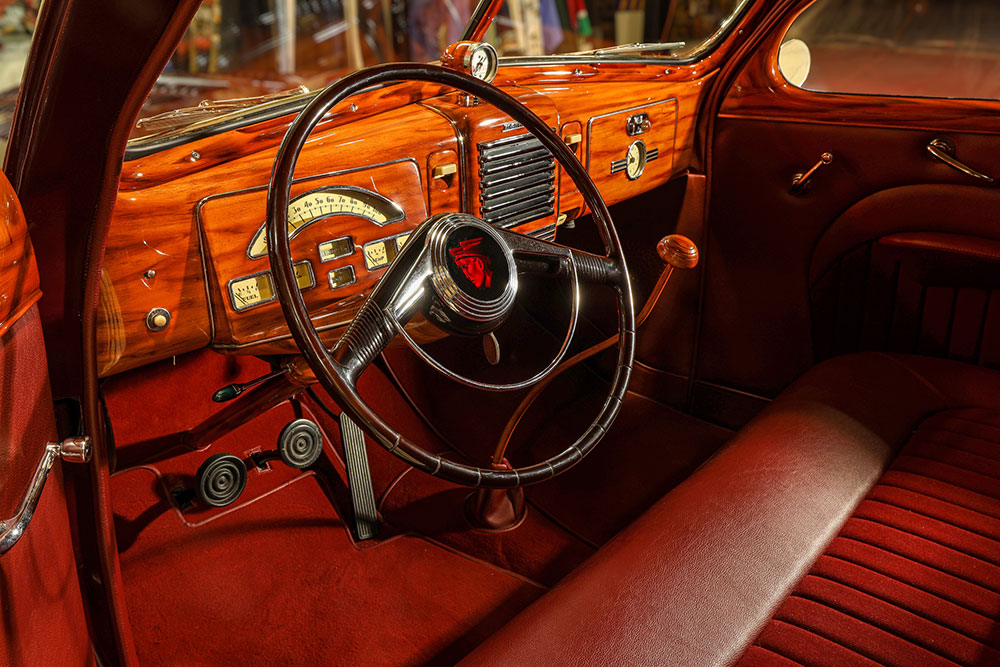 (Editor's Note: Nordkapp–the North Cape–in Western Finnmark, Northern Norway. At this point the only dry land between you and the North Pole is the Svalbard archipelago. Here the summer sun doesn't set between the middle of May and the end of July. The steep cliff of the North Cape is located about 1,306 miles from the North Pole. It should be noted that the North Pole itself is near the geographic center of the Arctic Ocean, so you physically cannot drive there over land–at least not in a hot rod. —B.B.)
"Off we go on our drive (my wife, Kathy, and another couple with their Alpha), zooming down the road, when all of a sudden I hear this noise and I think to myself, 'Something must have broken, the fan or something.' I then ran into my new best friend, as it would turn out, at a gas station. We are in the middle of Norway and my new friend dressed in a blue suit begins to talk to us. In the meantime, we leave the ladies sitting by the side of the road having a picnic lunch as we begin to figure things out.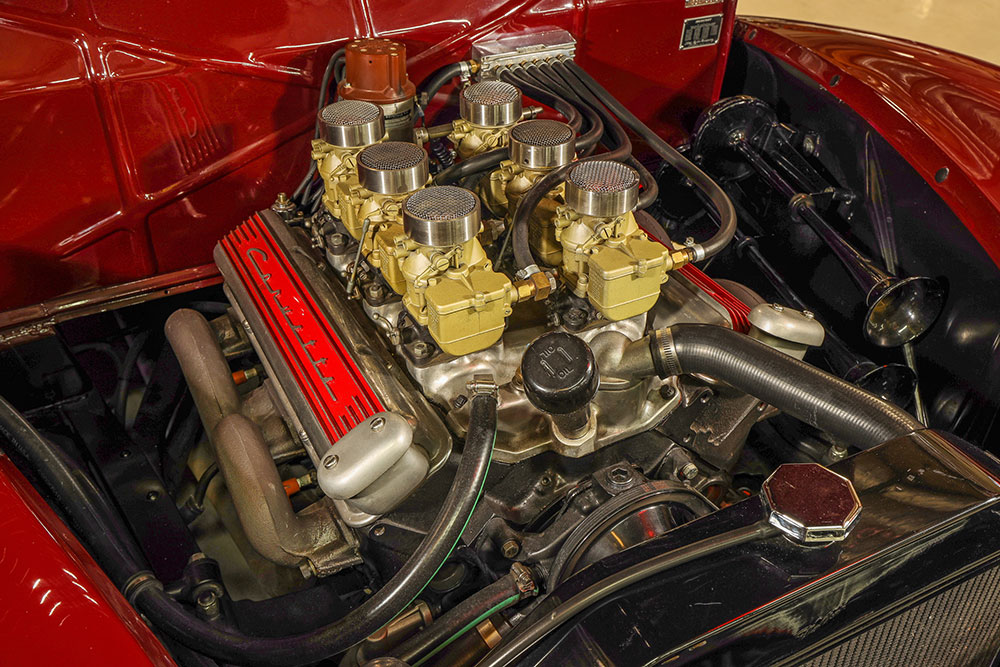 "He asks, 'You guys from California?'
"I was nervous because everybody drives Volvos over there. There are no other cars there. 'Yeah.' He says, 'I have a Cadillac.' And I went, 'Oh, yeah?' Turns out he's a school bus driver and he says, 'We go to California to buy custom cars.'
"A sigh of relief. So, my traveling partner and I tell him we have a problem. I proceed to explain that my Mercury has a broken lifter and valve. As it turns out he has a friend, on speed dial no less, who has a shop about 60 miles away. I wired up the valve so it wouldn't fall down inside, and I drove to his friend's shop. The town he's located in is where we wanted to leave the cars at anyway because we're going to get on a plane and fly to a little island on Svalbard archipelago to visit the Global Seed Vault. So I left the car with him."
(Editor's note: Deep inside a mountain on a remote island in the Svalbard archipelago, halfway between mainland Norway and the North Pole, lies the Global Seed Vault. It's a long-term seed storage facility, built to withstand just about anything. By so doing it guarantees that current food crops can be recreated should something catastrophic occur. —B.B.)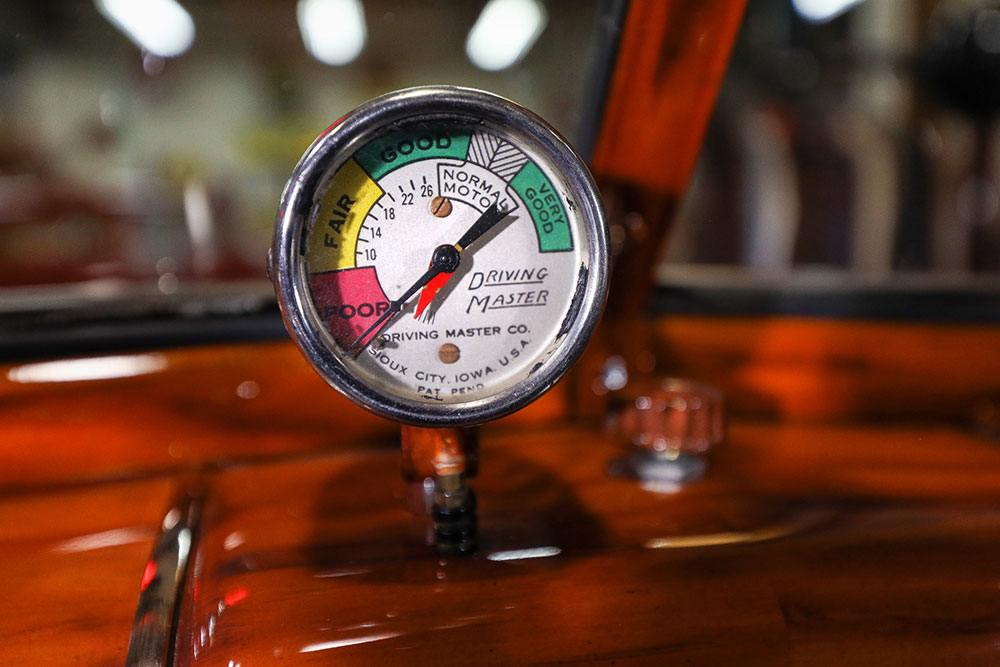 "I told my buddy that he knew what was broken and he had the parts, so let him have at it. In the three days that we were gone he took off the intake manifold, one cylinder head, and made the repairs and had the car running. And it's still running to this day and I have not changed a thing. From this point we finished our overseas travel adventure, all 6,500 miles, and headed home. Once home I then settled in and finished the '39 Mercury by handling all of the sheetmetal mods and painting the car."
Read More: Triple Threat: '54 Chevy 3100
We should give a little mechanical history on the '39 Mercury. It is based on a stock frame that Roy Brizio of Roy Brizio Street Rods assembled many years ago. It features a Fatman Independent Front Suspension with 2-inch drop spindles and a Ford 9-inch rear end with 3.70 gears. In between the rear and the small-block Chevy is an S10 5-speed manual transmission that allows the Mercury Custom to cruise on down the highway (no matter what country) at a respectable rpm while floating along. As with any custom worth its low and handsome look, the wide whites come from Coker Tires and the hubcaps are Caddy with Winfield center cones.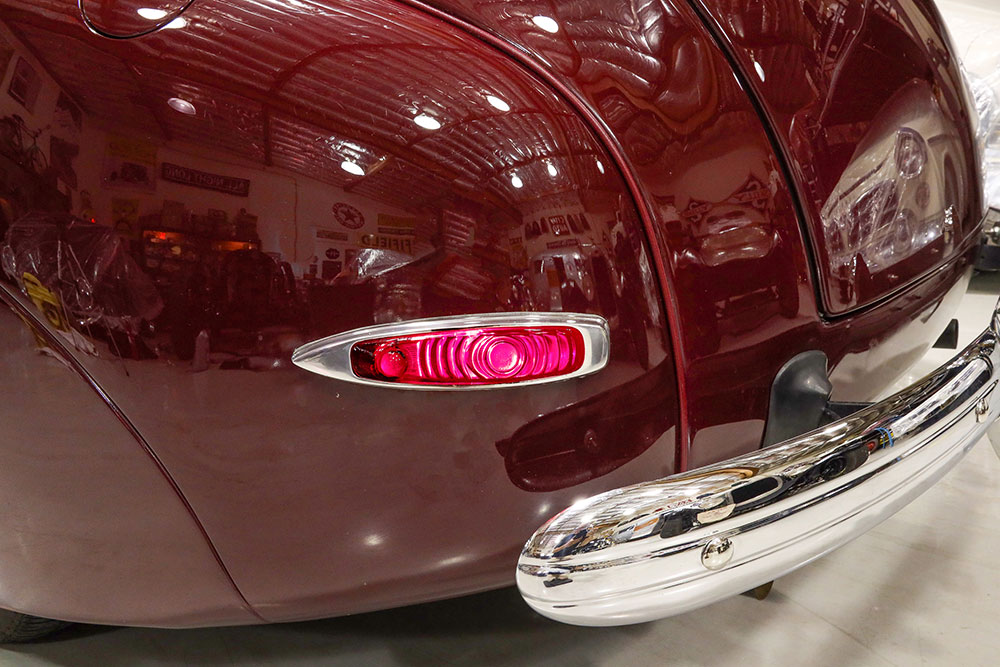 Speaking of the small-block Chevy, it is a 350 engine that Dennis had longtime friend Cub Barnett build. Clearly the eye candy on this small block is the six-carb intake rescued from a swap meet many years back. It's now dressed with six Stromberg 97 carbs and snuggled between a pair of vintage Corvette sbc finned valve covers. It should be noted that only the middle two carbs function and the outers are for dress. Same goes for the six fuel lines, the inner two function and the outers are blocked off. Look closely and you will see a genuine old-timey hot rod speed part in the Vertex magneto. Dennis obtained the Scintilla S.A. (Switzerland) Vertex magneto from a former Bay Area Club member who has since died. According to Dennis, "It has worked perfectly since the day we put it in until today."
The body does have some mods that we've come to expect with any mild custom build, such as a roof chop, shaved trunk handle, some reworking around the door edges, louvered hood (punched by Bob Munroe of Moal Coachbuilders), fender skirts, and reproduction Studebaker taillights that are now mounted horizontally as opposed to the vertical as they would have appeared when stock. On the subject of the rounded door corners. Note that they are rounded to follow the flow of the rear quarter windows. This was done when the top went through an extensive chop with 2-1/2 inches cut out of the front and 4-1/2 inches from the rear.
Dennis wanted this extreme effort so that the factory "hump" on the roof would disappear, leaving a profile and roofline that is much more appealing. The fender skirts were made from scratch and finish off the styling and clearly give the '39 Mercury a distinctive appearance. To the sheetmetal is a '60s-era Ford station wagon maroon that underwent a custom mix treatment from the local PPG supplier.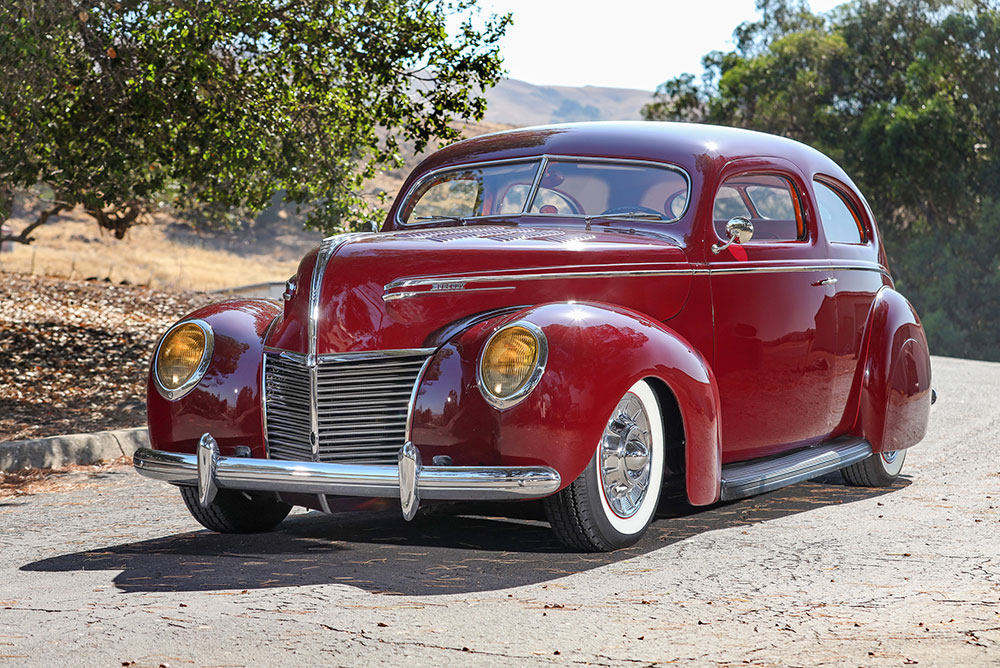 The body- and paintwork (basecoat/clearcoat) was aptly handled by Henry Rossi, another local hot rodder and longtime friend of Dennis'. A nice touch is the '39 California plate that pays homage to the World's Fair held that year in New York.
Read More: Patina Paint Job; Moal Coachbuilder's '32 Ford Pickup
Inside the custom sedan you will see stock front and rear seating but this time covered in a maroon leather by Kirby Kindle Interior; another longtime friend and fellow hot rodder. The steering column and wheel are both '39 Mercury Custom with the wheel undergoing a refurbishing as did the stock instrumentation. Even the starter button is "pressed" to be in service as there are no keys required to operate the Mercury.
Jump in and switch the mag on and push the button to start. (And, if you don't follow the starting procedure correctly you can blow out your mufflers, but that's a story for another time.) Notice the vacuum gauge that's centered mounted on the dash. It was a $5 swap meet item Dennis purchased at the L.A. Roadsters Swap Meet many years back. He thought it looked cool then and it makes a great accent item now—and it works. You will also notice the liberal use of wood graining throughout the interior. This too was handled by Rossi and makes for a vivid and stylish interior detail.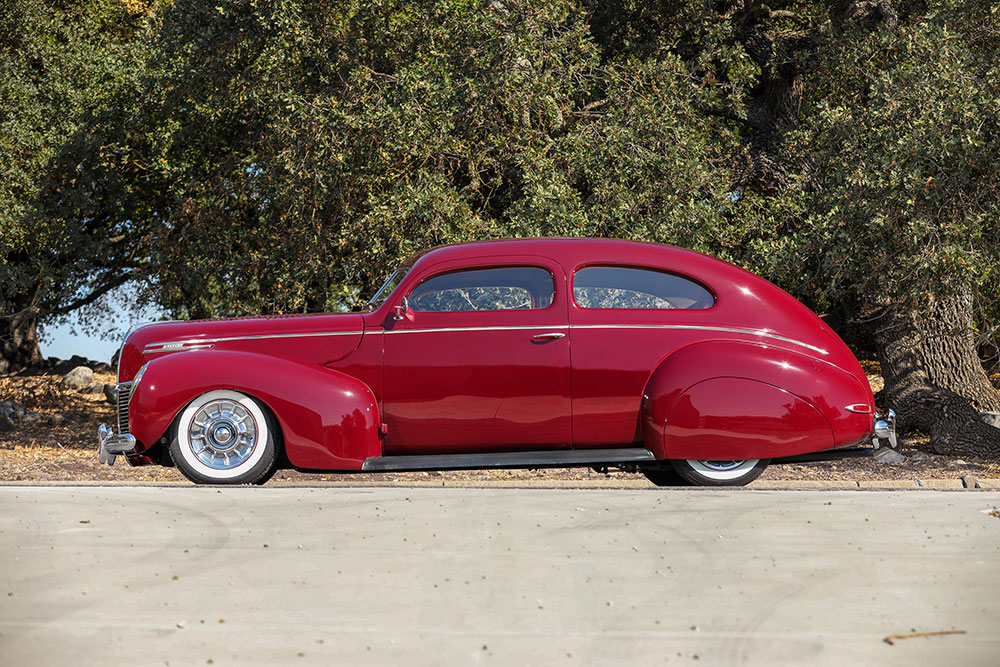 There can be no doubt that Dennis gets the most out of driving his hot rods, whether it be across country to a local hot rod run, a morning doughnut cruise, or even the North Pole. In his mind hot rods were meant to be driven, and we couldn't agree more. MR