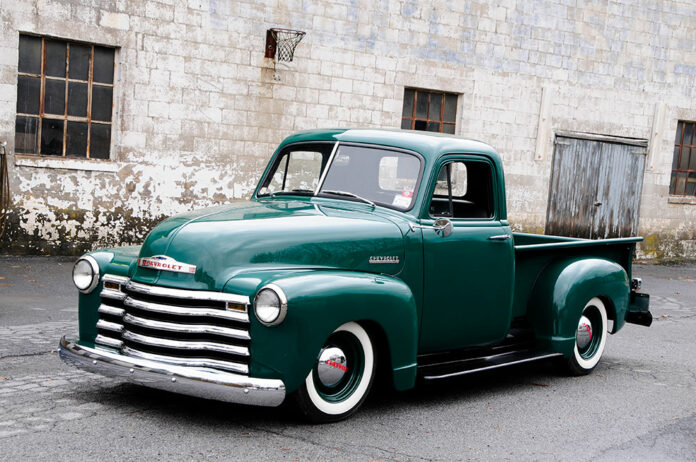 Lenny Giambalvo's Subtle '52 Chevy
By Chuck Vranas – Photography by the Author
There are always plenty of great reasons to take on the build of a classic truck. Regardless of whether your influences come from youthful memories of seeing farm trucks hard at work, haulers pushing race cars at the drags, or even visiting local cruise nights, one thing for sure is that the journey at hand would be an exciting one. For Lenny Giambalvo of Huntington, New York, taking on the build of our featured '52 Chevy in his home garage alongside his son, Mark, was a perfect opportunity to share his automotive enthusiasm. Little did he know that this experience would be a launching pad for Mark to later open one of the East Coast's premier hot rod shops, Creative Rod and Kustom located in Womelsdorf, Pennsylvania.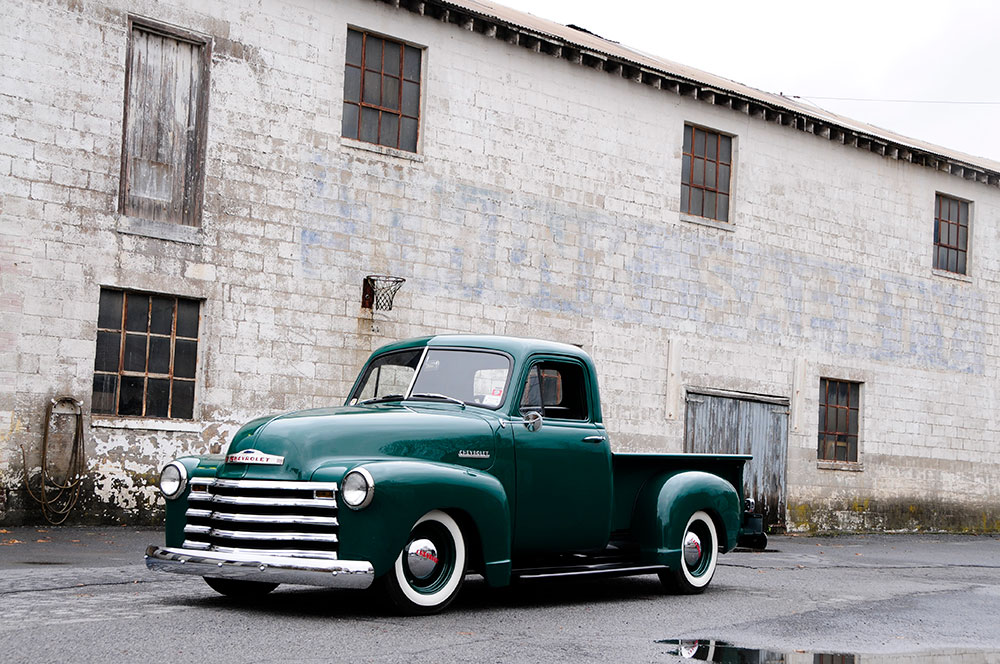 Read More: Carlisle Truck Nationals 2021
Lenny's personal inspiration started back in his youth when he became captivated by SCCA racing thanks to endless visits to Watkins Glenn, Bridge Hampton, Lime Rock, and National Speedway. It was there that he'd watch sports cars set the track ablaze during adrenalin-fused competition. This eventually led to him owning a string of cars, including a pair of Triumph GT6s, Porsches, and a Willy's pickup. By the time he settled down and started a family it was easy to see that his passions would eventually be passed onto Mark. The pair became frequent visitors to Maple Grove Raceway in Pennsylvania to see their hot rod heroes battle it out on the quarter-mile on a regular basis. Add in visiting an endless stream of regional custom car shows and it was easy to see Mark was gaining a personal interest in classic Chevy trucks.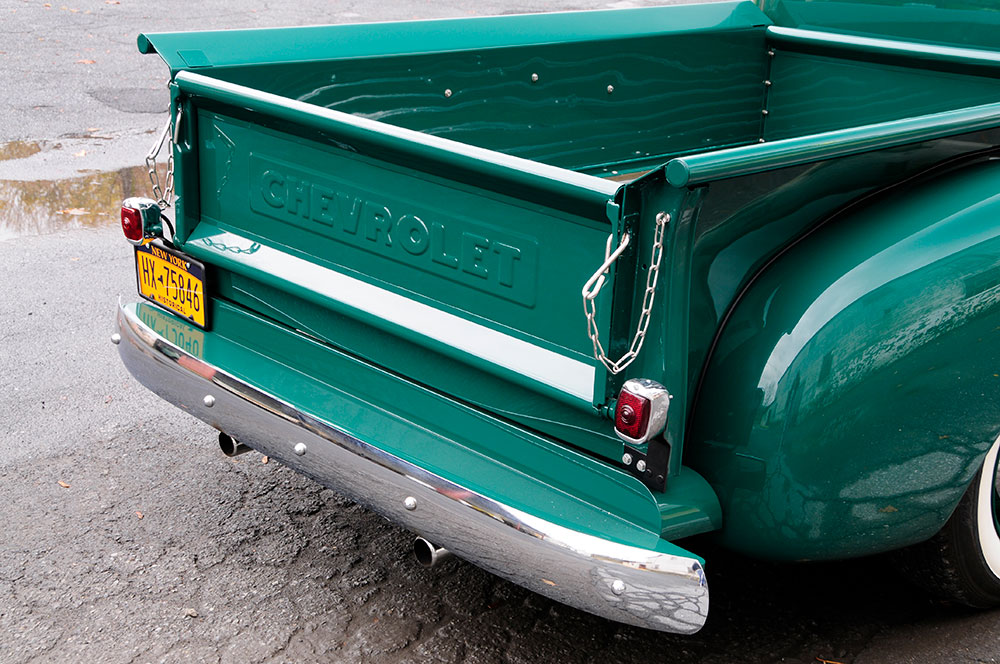 This eventually led to each of them sourcing a '52 Chevy truck to start individual builds alongside each other in the family shop. While Mark chose the path of bringing a thrashed hauler back to life with a contemporary vibe, Lenny chose to follow a more traditional route, wanting to retain a factory look with a slammed stance. In locating his hot rod project, Lenny found it through a local ad after a thorough search. The truck, originally from New Jersey, had served out its years as a delivery vehicle for an appliance company. Coated in a perfect patina, it still wore its original company advertising on the cab and was a perfect candidate for his build. A deal was made swapping greenbacks for the title and the truck was now ready for plenty of attention.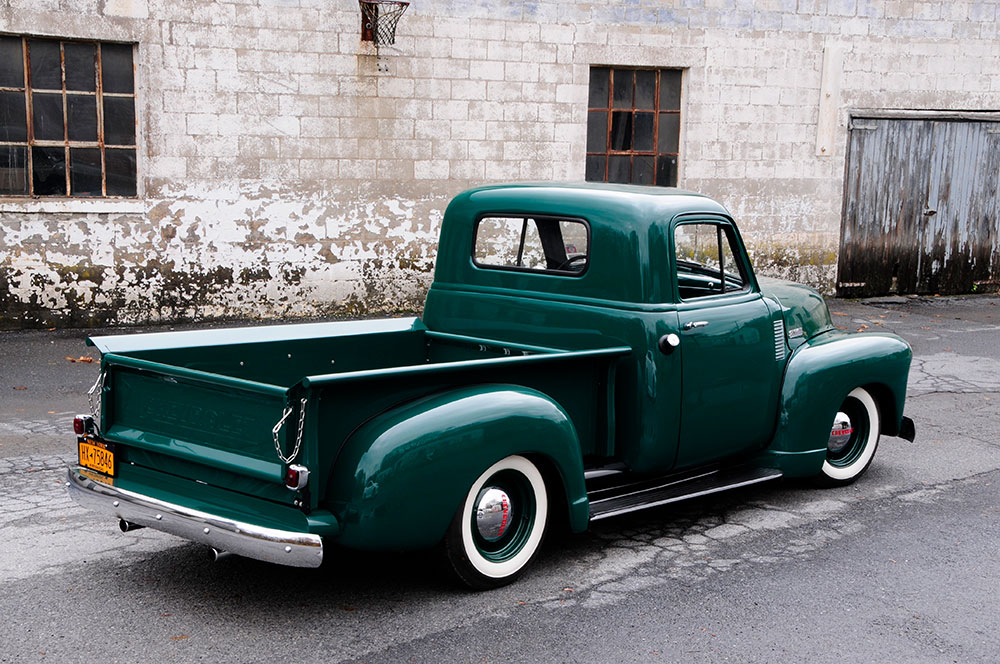 Read More: Whisky Runner & Grocery Getter: 1937 Studebaker Coupe Express
To get started it was torn down; seeing the original spine was solid it was blasted clean and treated to a custom transmission crossmember. Out back a '66 Pontiac rear was refreshed, filled with 3.73 gears, and suspended in place by 3-inch lowered leaf springs from LMC Truck matched to Monroe tube shocks. To drop the nose to the pavement and add razor-sharp handling, a TCI Engineering coil spring Independent Front Suspension was added, complete with their exclusive upper and lower control arms, 2-inch drop spindles, tube shocks, and 7/8-inch antiroll bar. When it's time to hit the brakes, a TCI Engineering under-floor dual power master pushes juice through stainless lines to '66 Pontiac drums out back and 11-inch GM discs and calipers in front. It all rolls on a nostalgic combination of 15-inch Wheel Vintiques 17-Series Artillery wheels capped with Coker Classic tires.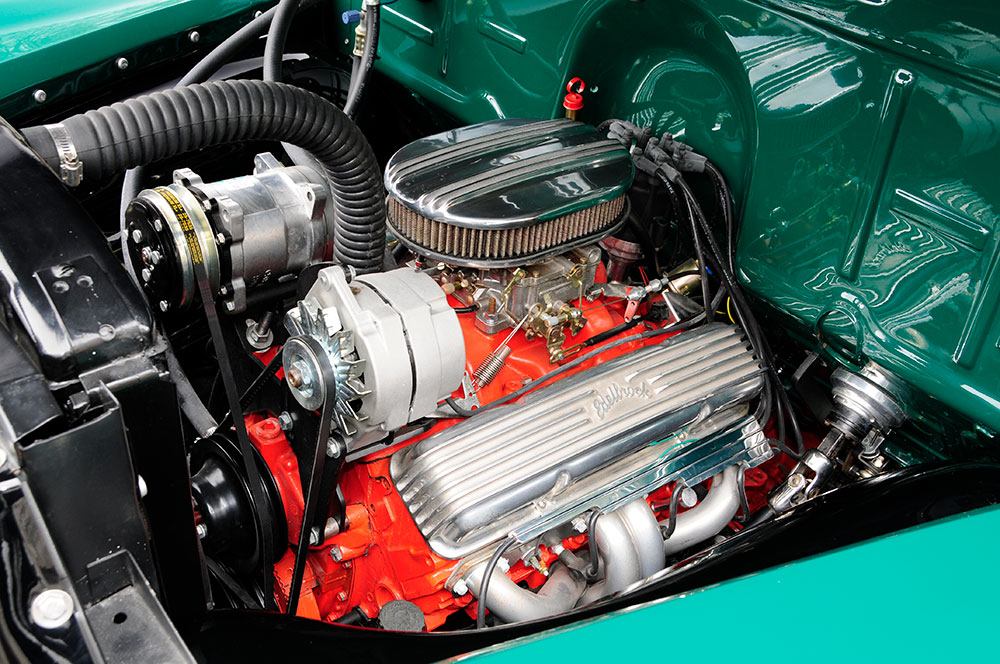 When selecting an engine for the project it was important to balance both horsepower and dependability. Lenny went direct to Chevrolet Performance for one of their iconic 350ci V8s, packing 290 hp straight from the crate. To start, a cast-iron block with four-bolt mains was filled with a nodular iron crank linked to powdered metal steel rods topped with cast aluminum pistons getting bumped by a flat-tappet cam. Iron heads with 76cc chambers generate seamless power while an Edelbrock Performer intake inhales the goods through an Edelbrock Thunder Series AVS 650-cfm carb. A GM HEI lights the fire with spent gases dumping through ceramic-coated Hooker headers to a 2 1/4-inch steel exhaust with Thrush mufflers. Cool bits include Edelbrock Classic Series valve covers and air cleaner. The power moves through a tweaked GM TH350 transmission to a custom driveshaft.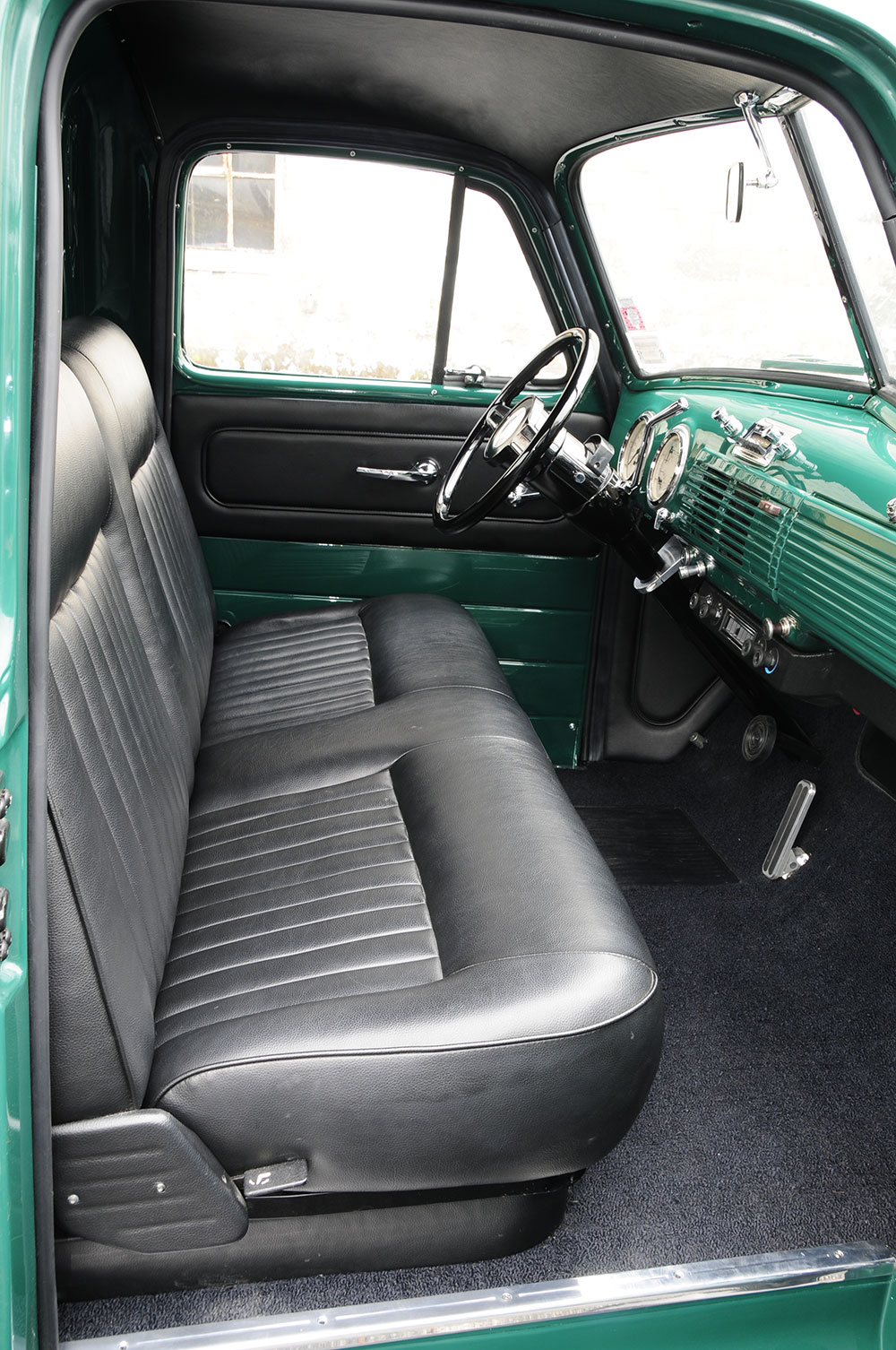 It's always a challenge breathing new life into vintage steel. Lenny got together with Mark and his team at Creative Rod and Kustom to dial everything in, starting with areas in need of repair using panels from LMC Truck to replace the cab corners, door bottoms, and floors. The cab and bed were then metal finished while also setting all the gaps. For a truly subtle feel Mark laid down a flawless coating of PPG Orchard Green to bring the project to life. LMC truck then supplied plenty of fresh brightwork for the exterior, including bumpers, grille, taillights, and other assorted parts.
Read More: Chicken Coop Turned Showstopper: Tim Sharp's 327-Powered 1957 Chevy 3100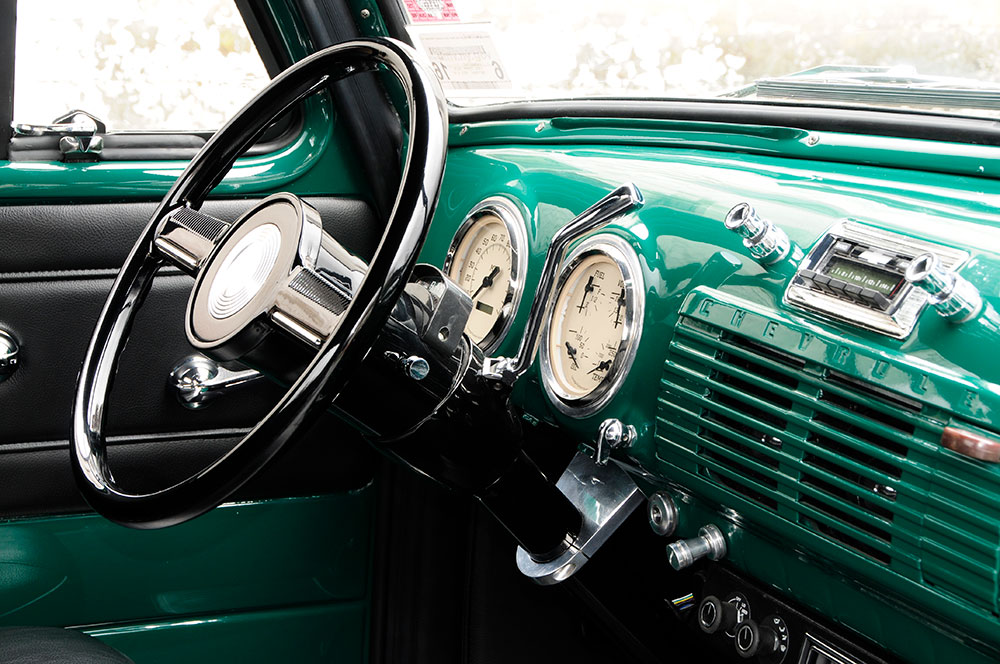 Inside, the stock dash packs gauges from Omega Kustom to track the vitals while a Classic Lecarra Mark 10 steering wheel mounts to an ididit tilt column with column shift complemented by cool breezes from Vintage Air. For comfort, a Glide Engineering bench wears black Ultraleather in a traditional pleated pattern by RP Interiors of Horseheads, New York, who also handled the side panels and headliner. A black pile loop carpet from Auto Custom Carpet completes the look with an American Autowire wiring harness making it all come together. This is one classic Chevy with a wicked stance putting down plenty of miles, and we dig it!