A Chevy Powertrain & Suspension Motivate This Classic Ford
By Scotty Lachenauer – Photography by the Author
Inserting a hot GM-branded mill into a classic Blue Oval is nothing new, as these kind of engine swaps have been going on since the beginning of hot rodding as we know it. So, when Tim Shutters was whipping up his new-to-him 1960 Ford F100 Fleetside, the thought never crossed his mind not to use the parts and pieces he had on hand in his garage back in Fishers, Indiana.
"I'm a GM guy at heart, but I have always thought that Ford got it right when they designed this era of trucks. When the opportunity presented itself during the build, I decided to go with what I know and rebuild my Ford project truck with the Chevy performance components I have had experience with," Shutters states.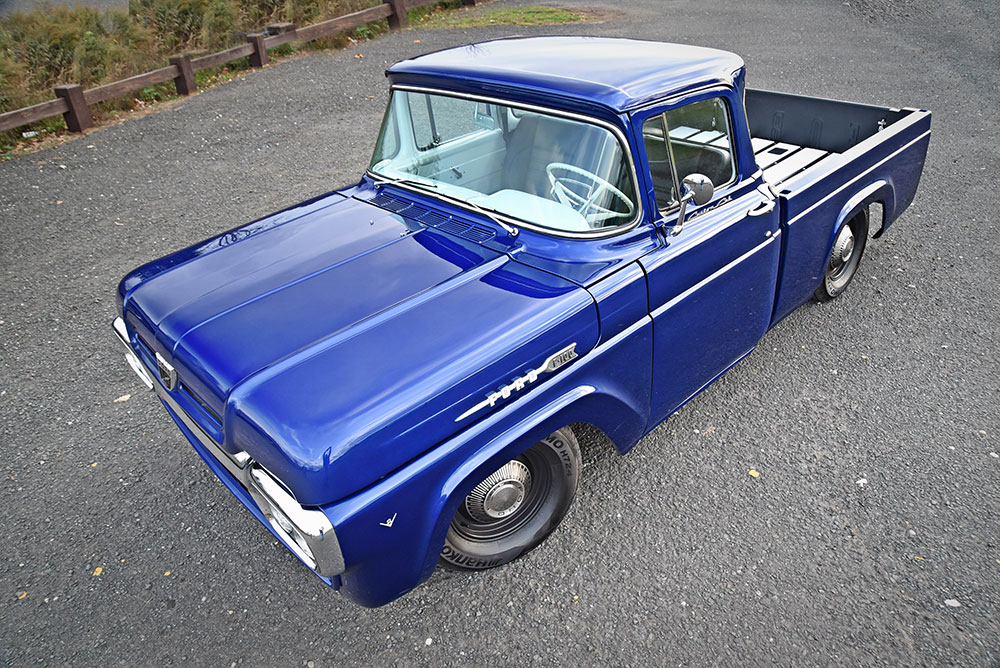 Backflash
Like all great builds, this one has an interesting story to tell. Strangely enough, it all started with Shutters' '51 Ford coupe project car. It was a ride he had in his possession and had wrenched on for several years. "I like to build my own cars because I can do most of the work myself. The one thing I am NOT good at is bodywork. I had gotten to the point with the Ford that the next step was body and paint. I usually tend to get rid of them at this point," Shutters says.
Read More:  1967 C10 With Hot Rod Heritage
During this time, his good friend, Brian McCutcheon, was working on a pretty cool project himself: a sweet '60 Ford F100 pickup. "[McCutcheon] is really good at aesthetics, and luckily for him his truck needed very little metalwork and massaging to get it into a fresh coat of Ford 'Intense Blue' paint. He did this first before he worked through the mechanicals on the truck," Shutters states.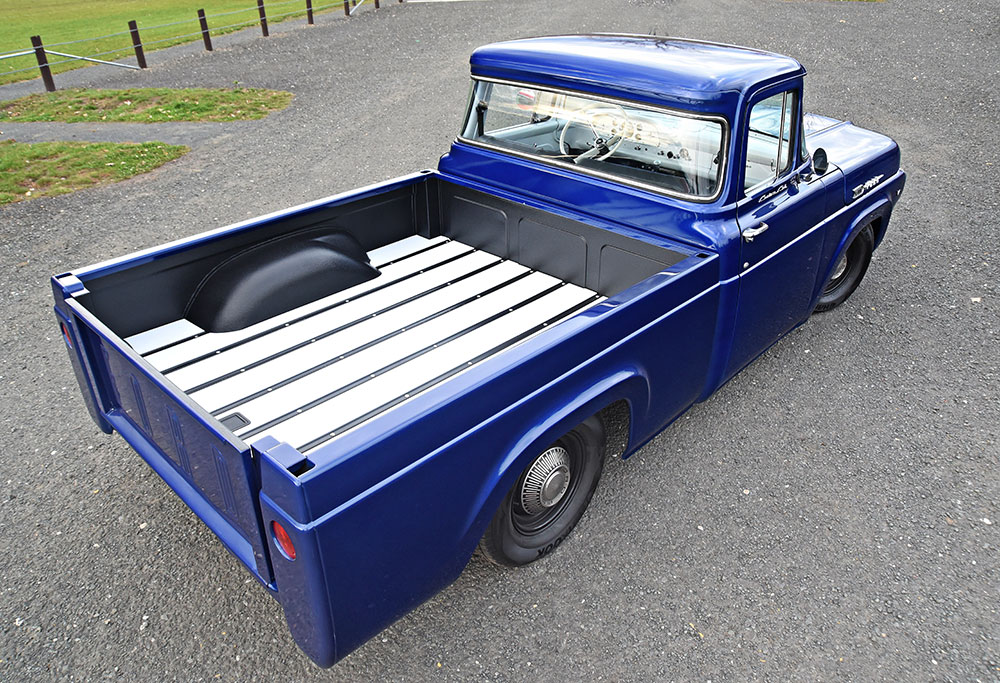 Then one night something unexpected happened. The two friends came to the realization that they both coveted each other's rides. After some conversation about their current situations they decided to help each other out. "He liked my coupe and I liked his truck, so we decided to swap rides. This was great for me as it fast-forwarded me through the paint stage. It also helped [McCutcheon] out because he could concentrate on the body and paint on the '51 Ford," Shutters says. This was a game changer, as it now freed Shutters up to do what he really loves: a full mechanical makeover of the newly skinned Ford."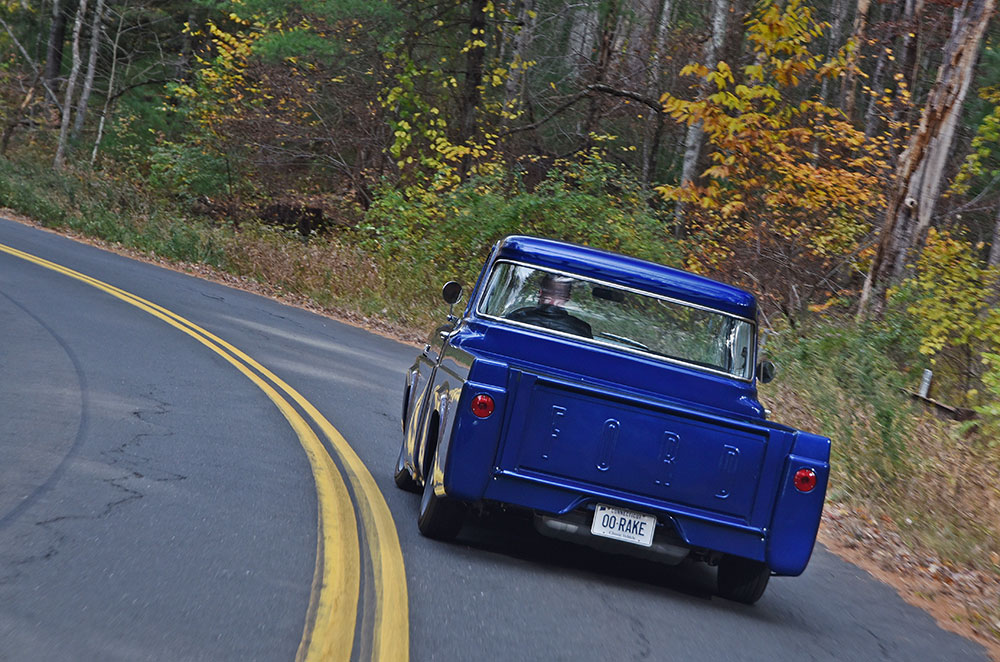 Kid Gloves
After getting to work on the old truck, Shutters quickly realized that working on a freshly painted project can be a harrowing experience. "I don't recommend doing a full vehicle rebuild after it's been painted, as it's quite stressful. I prayed a lot while working on it and tried my best not to damage the paint in any way." The frame was the first thing that he worked on, throwing in a 3-inch notch to help get the stance he wanted.
As far as the suspension, Shutters looked no further than Chevy's high-performance juggernaut. "The suspension is all 1986 Corvette, front and rear, with a conversion kit made by Flat Out Engineering of Orange, California, to tie it all together," Shutters says. One deviation was the use of Aldan coilovers on all four corners, instead of the stock transverse leaf springs from the donor car. "The Flat Out Engineering kit requires the use of coilovers. The ability to adjust preload and compression in addition to making minor ride height changes make coilovers a great addition to the suspension package," Shutters states.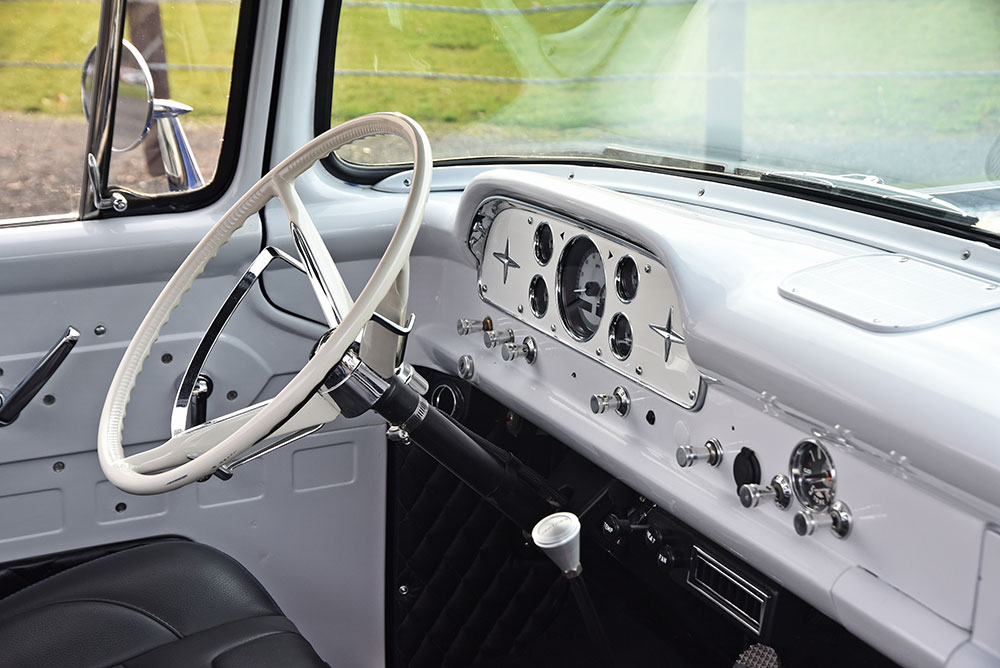 Motorvation for this truck is handled by a stout 5.3 LS engine built by ATK High Performance Engines out of La Prairie, Texas, though getting to this point took some trial and error. "I learned a few lessons along the way, and the most important was buying the engine. Initially, I purchased a junkyard LS and cleaned it up and dropped it into the truck. Upon getting it fired, I found there was an oiling system failure and had to ditch this 'money-saving' 5.3 engine and pony up for a rebuilt motor. I won't buy another used engine again unless I know the history behind it," he says.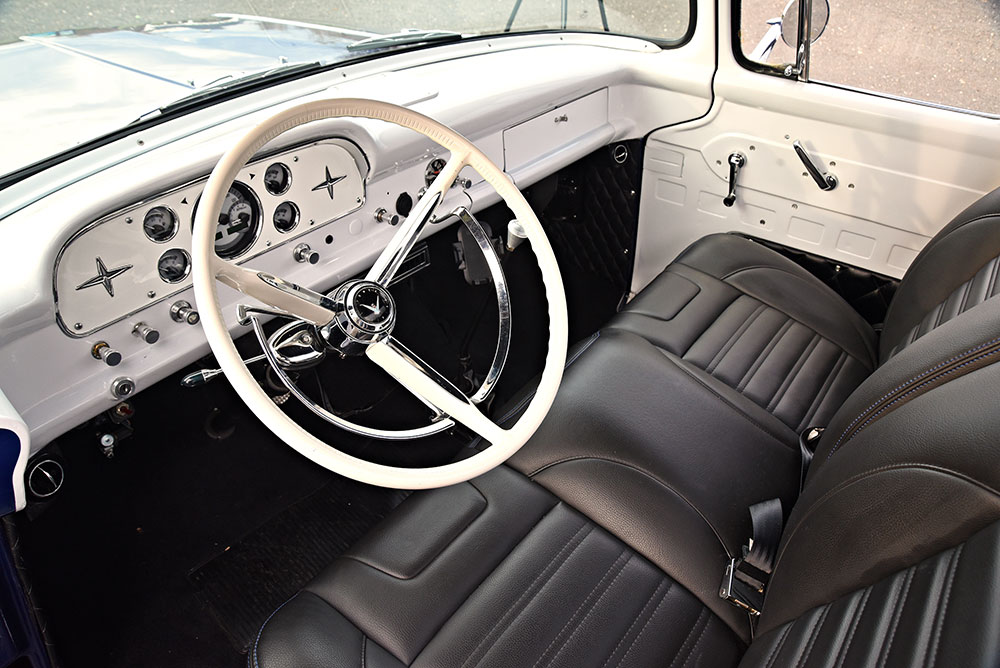 Read More: Farm Fresh Chevy 3100
The fresh LS from ATK engines was built up right, featuring a Comp Cams camshaft, Holley accessory drive, and running on an Edelbrock ProFlo4 EFI system. "I went with the ProFlo4 for the ability to tune the engine myself. It comes with a tablet that allows you to make any changes," Shutters says. All this Chevy power feeds a stock rebuilt 4L60E transmission controlled by an HGM Electronics unit. The donor car's original Dana 36 rear end handles the power out back.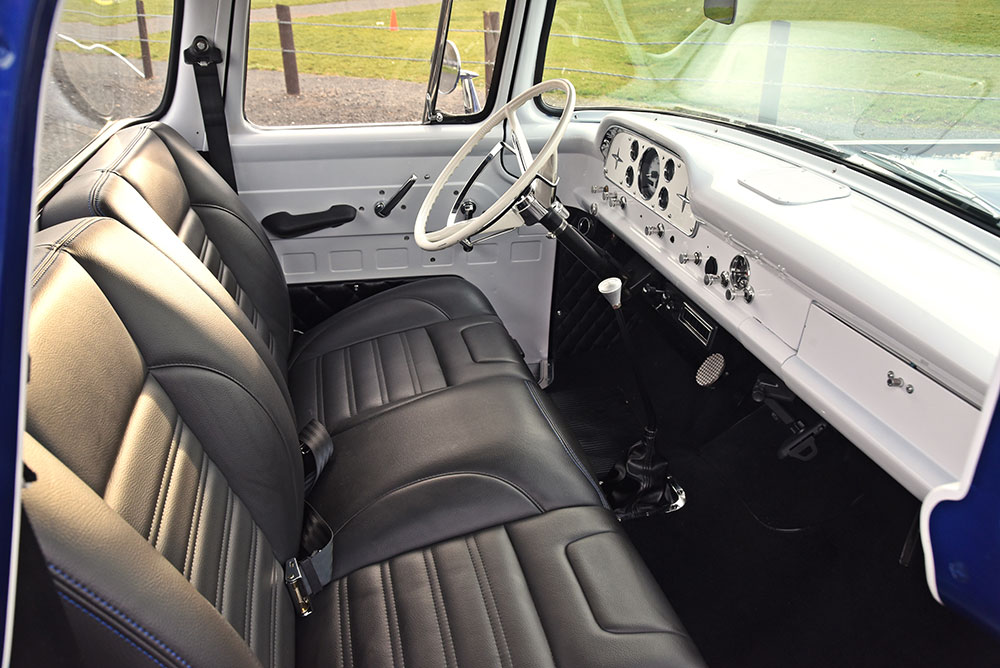 Change is Good
Shutters kept the interior looking stock with some well-planned upgrades. "The bench seat is from TMI. I restored the original dash and then stocked it with a set of Dakota Digital gauges. The air conditioner/heater/defroster setup is a Classic Auto Air Perfect Fit in-dash kit. The tunes are handled by an Aurora Design Bluetooth radio and the wiring is a Painless Performance Products 21-circuit wiring harness," Shutters states. A '61 Thunderbird steering wheel finishes off the look he was after.
Sitting at the corners are an original set of stock 15×7 steel wheels from the '80s, retrofitted with a quartet of period-correct Ford dog dish hub caps. These rims are shod in Hankook Optimo H724 tires, 215/75-15 on both front and rear. This wheel/tire combo adds an old-school sleeper look to the beefed-up and modernized Ford.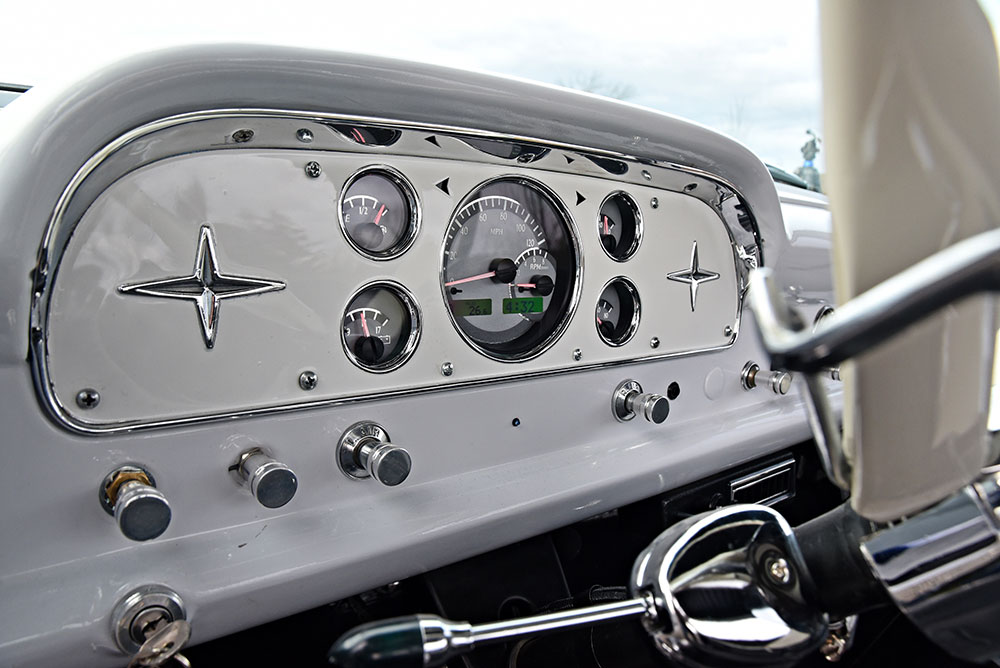 Once finished, Shutters was quite pleased with what he had built. "The build took me roughly one year to complete, mostly out of my garage. It was fun to build this truck, and I had a lot of help from friends throughout." However, being someone who enjoys creating, the truck didn't stick around Shutters' garage for long. It soon found a new owner in New England. Enter Carl Murawski.
Owner Exchange
Carl is a guy who had a true yearning for a third-generation F100 "Fridge" for years. "They seem to be the forgotten generation, with everyone going after the second generation or bumpside trucks. Something about the forward angle of the A-pillar really speaks to me," Carl states. Though he was revved to pick up a truck of his very own, he had a few qualifications that had to be met first. "It had to be a big rear window truck, it had to be a Fleetside, and it had to have quad-headlights. I was prepared to buy a shell and just do a Coyote swap in my garage. Luckily it didn't come to that."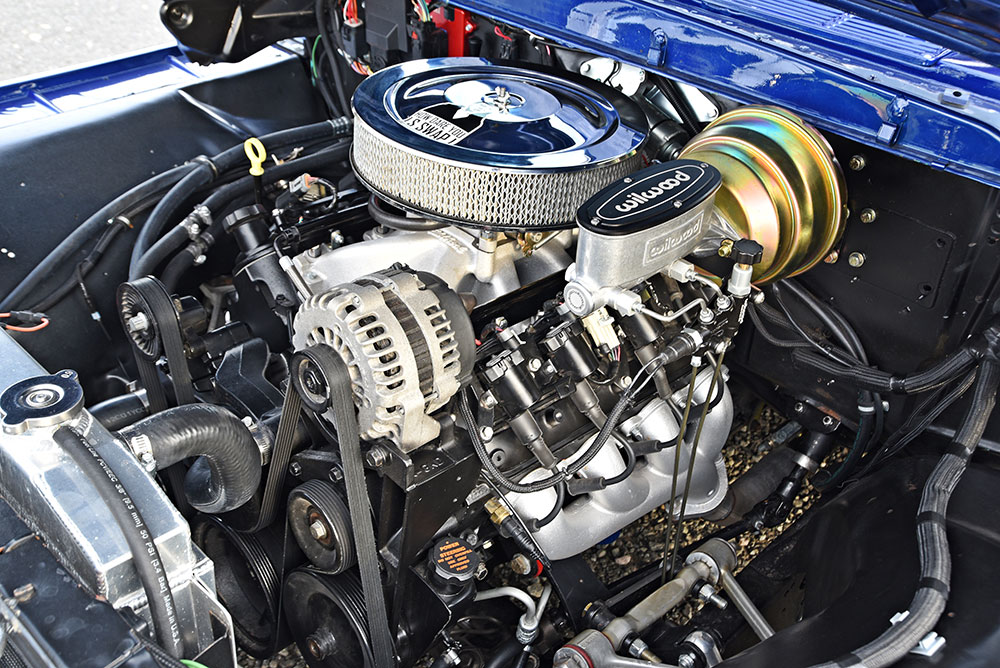 Carl was lucky enough to spot the car for sale online. It was being offered up by Street Machinery out of Cleveland, Ohio. "Once I saw it, within minutes I put a deposit on it," Carl says. It was built up the way he wanted it with a modern drivetrain and suspension. "The original Y-block is a great motor, but I like the modern drivetrain with the added air conditioning. The updated suspension drives like a modern car. It's not too low where I cringe every time I drive over a speed bump. Most importantly I can just get in it and drive without fussing."
Read More: Duramax Powered Chevy K2500
Though he enjoys building his own stuff, he's appreciating the time he's saved buying a completed ride. "I now have extra time to spend with my family. My wife already has plans for Christmas photos with the kids in the new truck. "For weeks after the delivery my 3-year-old son would want to go in 'the blue twuck' every day when we got home. I've found that the most important thing is enjoying time with those you love, and this is a great way to spend an afternoon. Hopefully someday my kids will have fond memories of Dad's cool truck."
Sadly, Carl's dad died before the truck was delivered. "His prayer card is clipped to my visor though, so in a way I like to think he's on every ride with me. Plus, I'm restoring his 64-1/2 Mustang now, so I suppose he'll live on in a way."