1963 Ford F100 With a Ford Big Block And Tuned Suspension
By Fuelish Media
It's sometimes difficult to stand out in the large pool of custom trucks, but when that one certain pickup comes along that makes as many waves as this 1963 Ford F100 has, it's difficult not to just stand and stare. Known affectionately to those in the know as "Numero Uno" or "Uno" for short, this clean-as-a-whistle classic Ford truck Unibody boasts one of the most sanitary of exterior façades to date on any truck anywhere, but what's underneath the hood is as dirty as it gets.
Built specifically for car enthusiast and Barrett-Jackson VIP Walt Brown Jr., it was a must that this F100 had to break some boundaries. To make the big breakthrough, Roush Yates Engines, a name synonymous with NASCAR-level engine performance, whipped up a monster of a Sniper fuel-injected 547ci big block V8 that throws down 515 hp and 645 lb-ft of torque on a very mild tune. Linked to a TCI six-speed 6Sixty automatic transmission and upgraded with a custom carbon-fiber driveshaft and positraction Strange rear end with 3.89 gears, slamming on the gas pedal must recreate the feeling of barreling down the runway for liftoff!
Read More: Dodge Sweptline With 225 Slant Six Mopar Power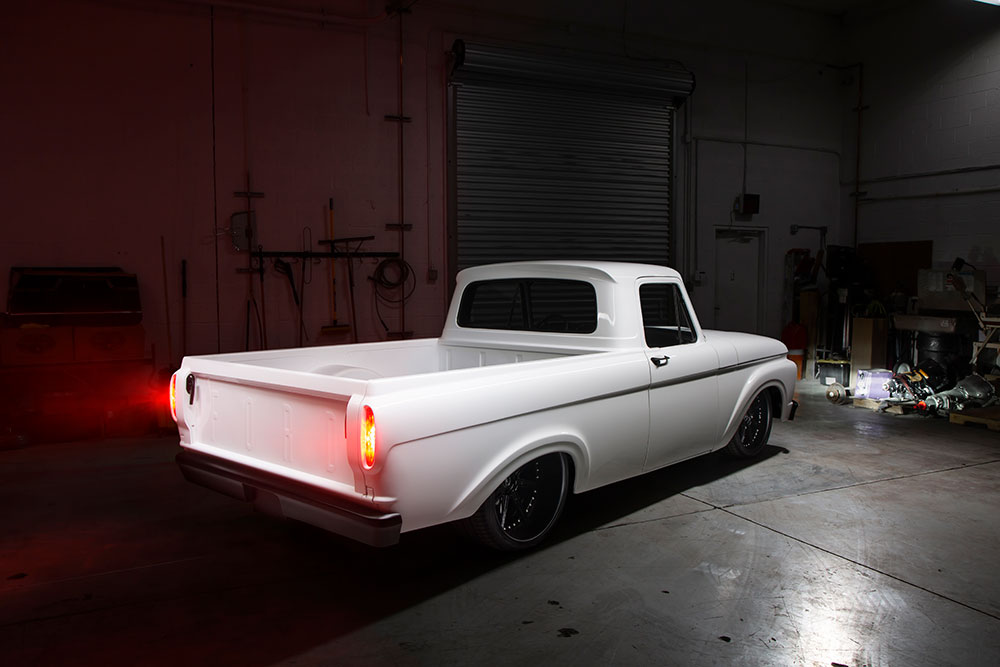 The beast of a power plant under this F100's hood not only performs sharply, but it has also been dressed to impress. Many powder coated parts and accessories, as well as AN lines and fittings, make for a uniform appearance, while a Billet Specialties Tru Trac Front Runner system boosts performance as well as adds an elevated sense of style. While the custom headers, 3-inch exhaust system, and MagnaFlow mufflers aren't readily in plain sight, they do make for a tasty treat for even the most discerning ears.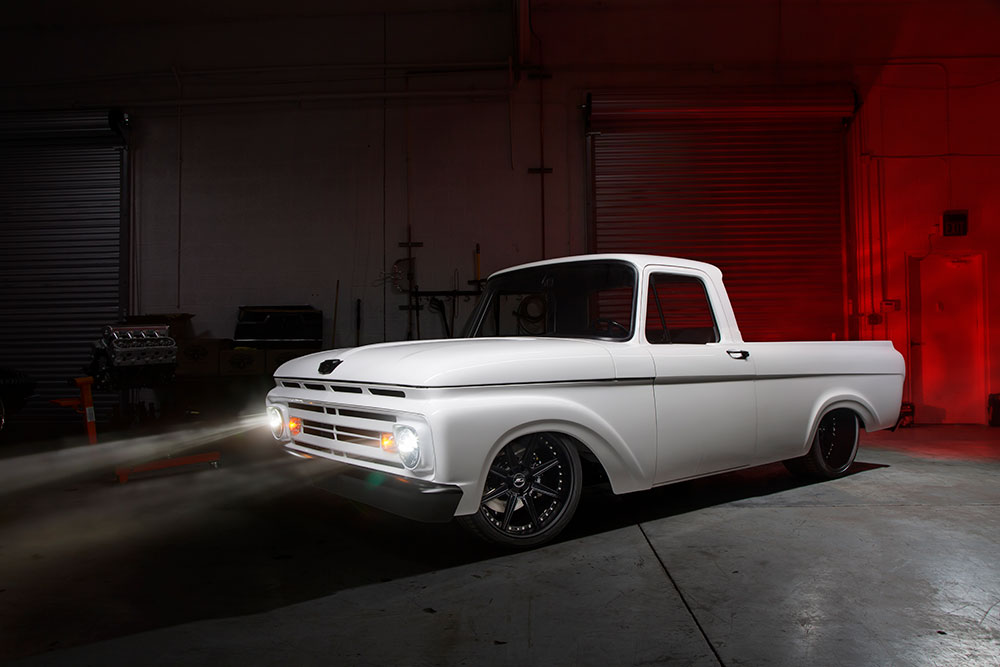 To pick up where the talented Roush Yates team left off with the power portion of the build, Charles "Sleeves" Cimino, formerly of Gas Monkey Garage and Fast and Loud television series fame, and Ceballos Customs in Tempe, Arizona, teamed up to carry the old Ford across the finish line. This truck received the all-star treatment, that's for sure, and there was no expense spared when erecting a solid foundation to sit underneath it. A custom chassis has been completely reinforced and built to conquer both road and track scenarios, and a Roadster Shop front crossmember and Ridetech coilovers at each corner allow for tremendous ride quality at an aggressively lowered stance.
Read More: Wicked Cool '60s -Styled Chevy C10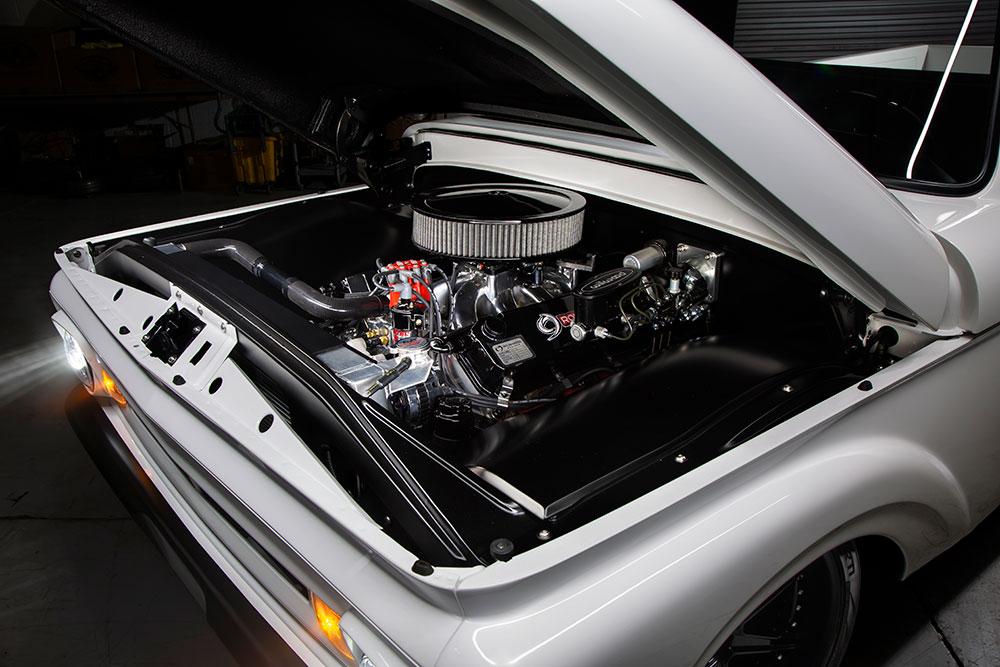 Billet Specialties once again stepped up and delivered a set of staggered 20- and 22-inch wheels covered with 275/30-20 and 335/25-22 Vredestein tires. Behind the spokes lies a hydroboost-powered six-piston front and four-piston rear Wilwood brake kit to bring the Ford to a smooth and well-controlled halt.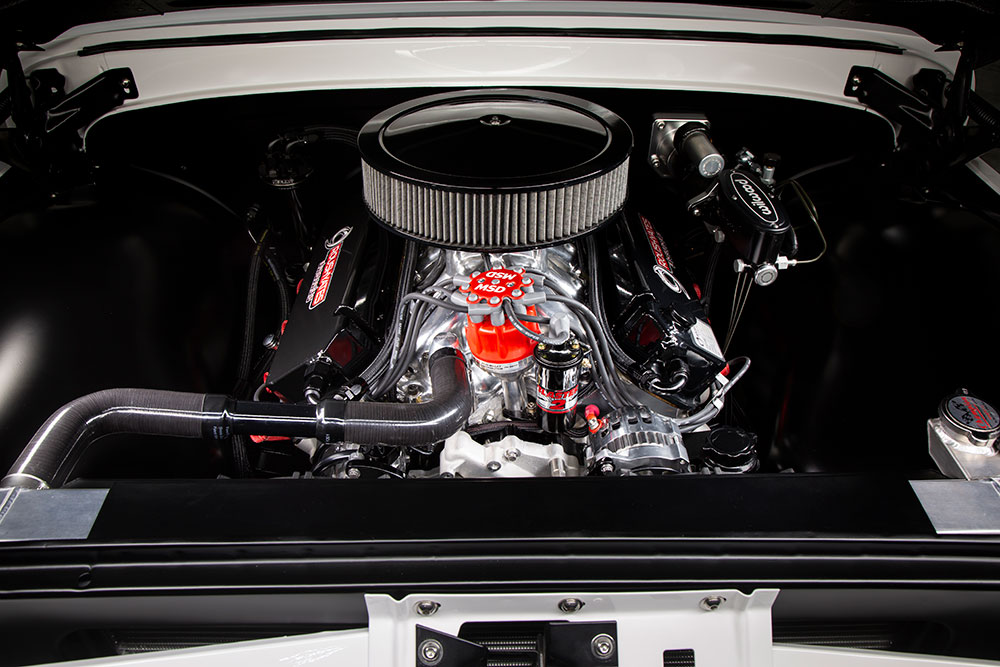 With the custom chassis finished off nicely, the time for the crew to tackle all the necessary bodywork began. The Ford's surface was taken down to bare metal so even the tiniest imperfections could be identified and wiped clean from existence. When the F100's sheet metal was as straightened and smoothed as humanly possible, Ceballos Customs commenced to spray the truck a sterile white paint that has been perfectly contrasted with both satin and gloss trim for just the right effect. The bed was outfitted with a one-off floor, but not just any wood planks would do for this old truck. Instead, aluminum slats airbrushed to mimic an ebony wood grain add yet another unique quality to the F100's growing list of highlights. Less is definitely more here, as the remainder of the exterior was left streamlined for a purpose. The organic styling of quality bodywork was left to shine front and center, which proved to be a winning approach.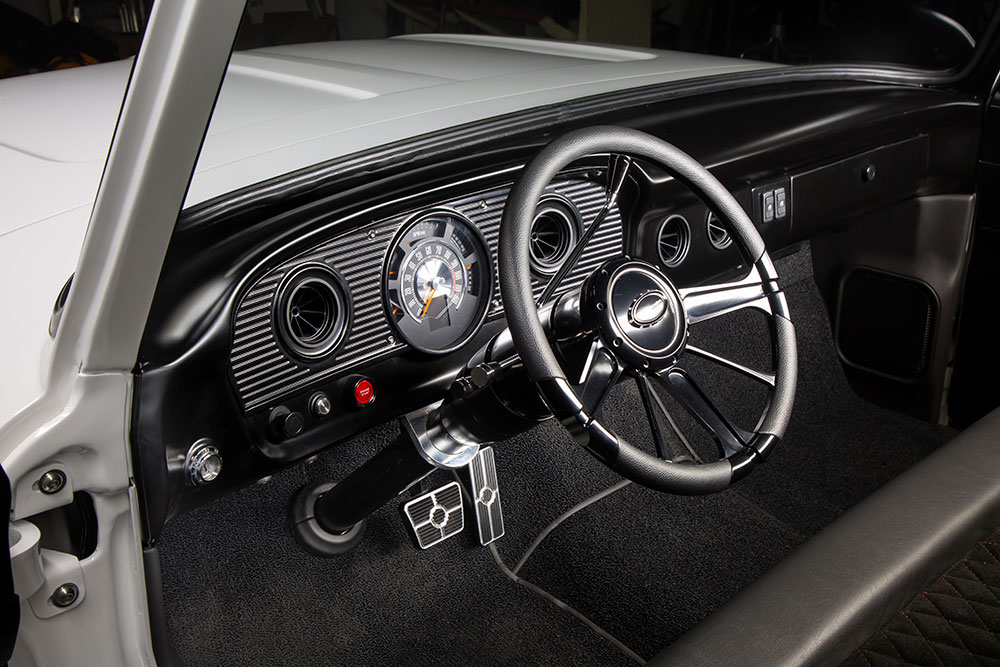 The cab was next to be addressed, and for the sake of consistency the Ceballos crew aimed to keep the atmosphere plush yet understated. To start, the dash and door panels were dipped in a satin black finish with just the right amount of gloss black touches peppered in for adequate balance. The flat coloring helps to further accentuate the Dakota Digital gauges, Restomod Air control panel and custom vents, as well as the ididit steering column and Billet Specialties steering wheel. Moore and Giles black leather and Alcantara were paired and finished off with red diamond stitching to cover the bench seat and lower door panel sections. Along with fresh black carpeting, power windows, and push-start functions, as well as the soothing, rich sounds provided by Morel hi-fi audio components, there is a certain degree of luxury that has been captured within the confines of this Ford's cab space.
Read More: Coilover Buyer's Guide For Classic Trucks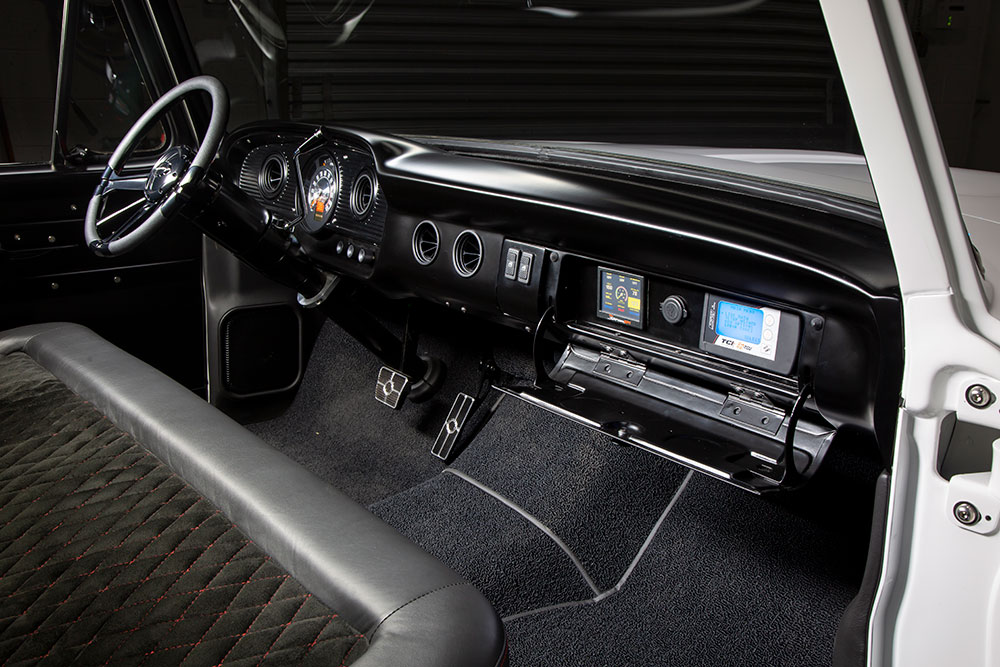 The end game goal with this five-year project was to create a true art piece of a classic truck. It's safe to say that the goal was not only met, but also exceeded beyond measure. The many talented hands and minds behind this very special build have formed a Ford unibody unlike many out there.
While the attitude fueling this fire was to break the mold of many expected norms within the custom truck industry, this particular F100 has literally erupted. For those who pay attention to the high-end auction scene, this truck recently sold through Barrett-Jackson for well within the six-figure mark. Chalk it up as a big "W" considering this economy's current weird climate. The sale just goes to show that innovative style is always high atop the list of demands for today's big players in the custom auto market.