Dave Simard's Old School Custom Cab 1966 Chevy C10
By Chuck Vranas   –   Photography by the Author
There's nothing better than laying down plans to dial in the build of your latest classic truck starting with the era of styling you'd like its personality to reflect. Regardless of whether you're chasing a '50s vibe with mild custom updates rolling on big 'n' little wide whites, an edgy '60s look with a hardcore V8 and vintage mag wheels, or a current-day cutting-edge look on a modern chassis with twin-turbo power, one thing for sure is that properly executed creativity makes for a truly memorable truck.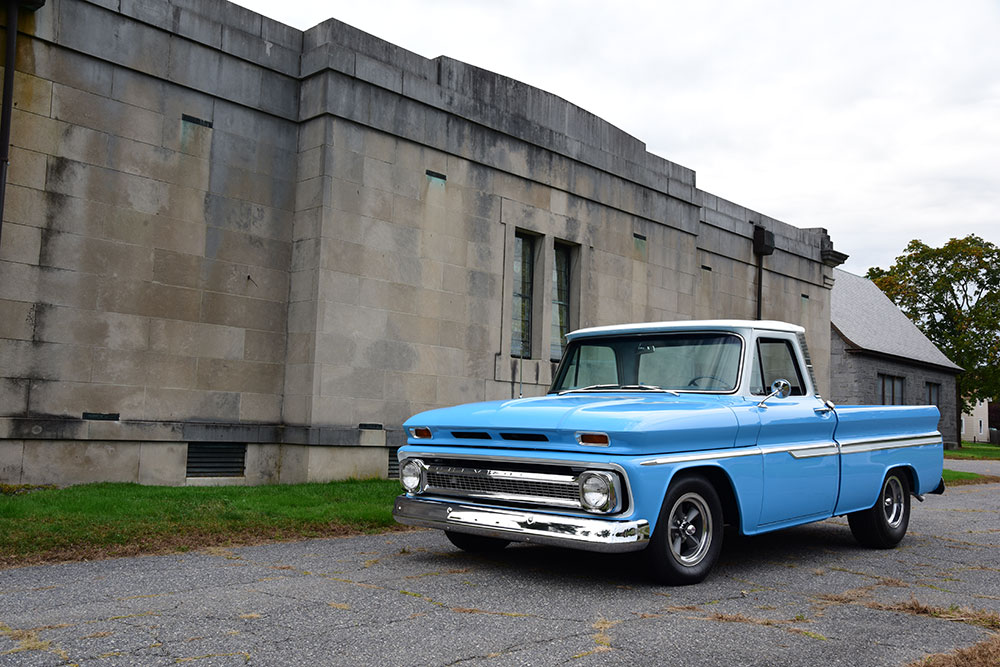 Sometimes the journey to completion can be accomplished in a short amount of time while others seem to take a bit longer, never losing focus just depending on the time and parts available to reach your goal. The Custom Cab '66 Chevy C10 laid out across our pages, owned by Dave Simard of Leominster, Massachusetts, is the result of 25 years of passion fused in creating what can be considered the ultimate '60s-styled muscle truck if it were offered from the factory back in the day. As owner of East Coast Custom, Dave has had the opportunity to craft some of the most well-respected traditional hot rods on the scene today as well as uncovering many of our hobby's most revered vintage race cars and historical hot rods while restoring them to new found glory.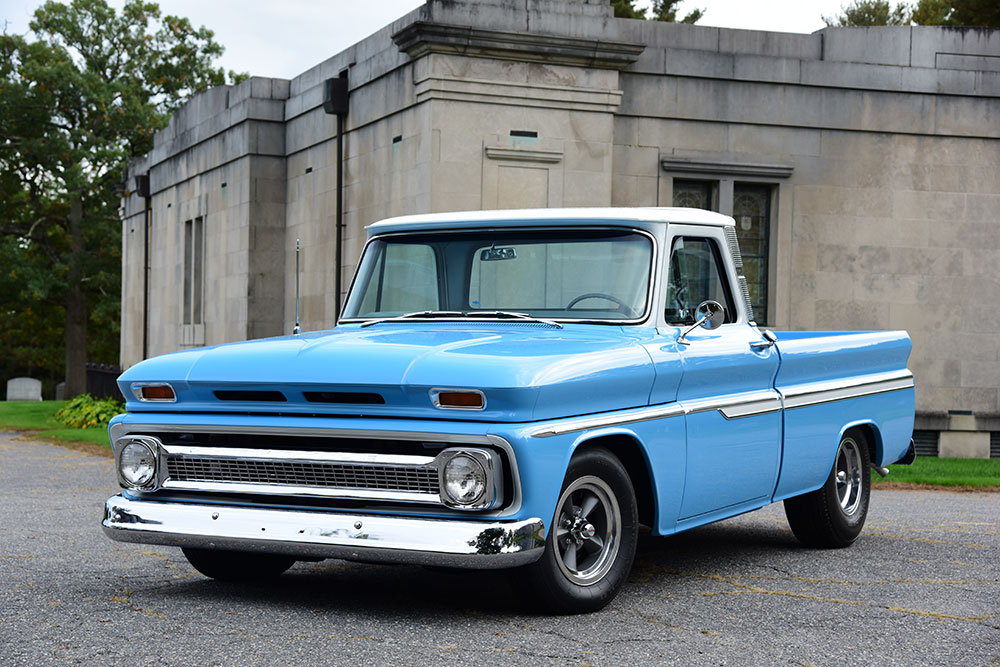 Read More: Masterful Metalwork With Scott's Hotrods N Customs
The story surrounding the '66 C10 dates back to the '80s where Dave would frequent a spring swap meet held at the Charlotte Motor Speedway in North Carolina. Known as the Charlotte Auto Fair, the event encompassed the entirety of the massive speedway with the infield reserved for vendors and the track reserved to showcase vehicles for sale. It was there that he would be able to find plenty of desirable vintage parts for his builds as well as complete rust-free muscle cars and Corvettes for a number of clients back in New England. In 1987 he and a number of friends flew in for the event with the intent of each of them buying a vehicle and all driving back home for the excitement the road trip would create. It was there that Dave came across a mint original '66 Chevy C10 that stopped him in his tracks. Having always been a fan of the 1st gen C10s, he was awestruck that the Fleetside short bed was not only a Custom Cab but that it also featured factory air conditioning, a big back window, and the venerable 283ci V8 engine linked to a 3 speed transmission. With an asking price of only $1,200, it was a bargain and one that Dave couldn't pass up. He immediately swapped cash for keys and made the trek back home (800 miles) without an issue.
Once home, the C10 initially served a number of years as a shop truck and parts hauler for the business until a decision was made to start looking into sourcing restoration parts in thinking about its future. Remember, it was the '80s and N.O.S. (new old stock) parts were still relatively cheap when being sourced at the dealerships. Dave stopped into Matthews Chevrolet in nearby Fitchburg and ordered every conceivable trim part as well as bumpers, handles, and weatherstrips to put them in stock for future use. It was at that point the truck was decommissioned and torn down to bare bones to begin its resurrection. A fascination began to evolve when Dave studied the truck, imagining what it would have looked like if the factory had offered a big block Chevy truck straight off the production line back in 1966.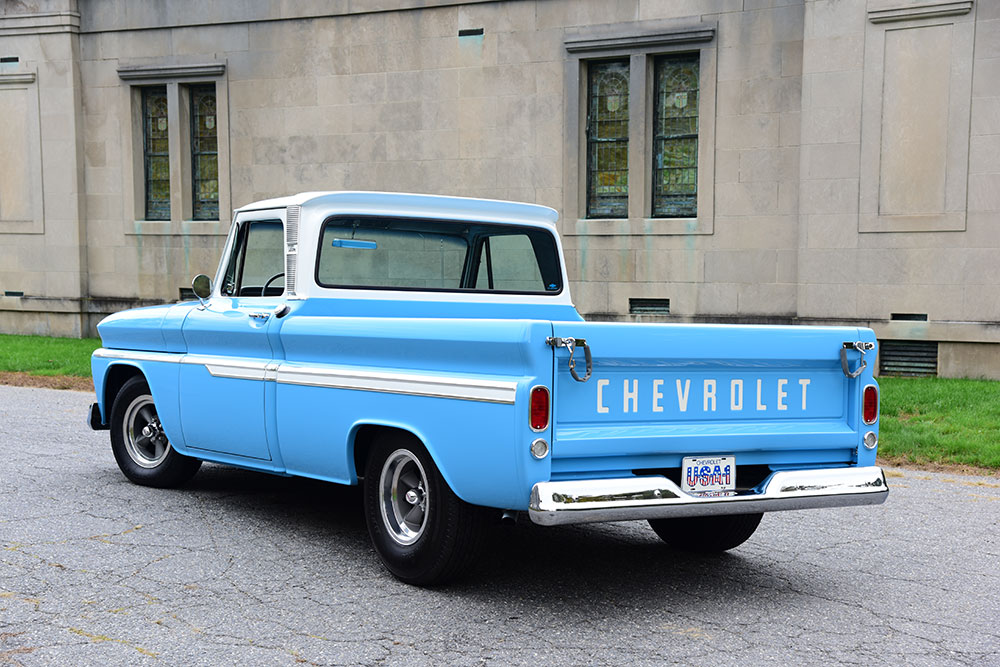 Read More: Dino's "Black Widow" 1973 Chevy C10 Stepside
Now with a distinct plan in mind, he got started focusing first on the chassis. Once the frame was blasted clean it proved to be mint, so Dave gave it a coating of semi gloss black and began reassembly with a few key updates. Out back he sourced a posi 12-bolt rear end with 3.73:1 gears from a wrecked '68 Camaro big-block Chevy owned by good friend Don Olson. He rebuilt it with N.O.S. parts and set it in place linked to the original C10 trailing arms combined with a set of Belltech 2-inch lowering spring, Monroe shocks, custom sway bar, and Panhard bar. Up front the stock Independent Front Suspension was restored, complete with factory spindles, new coil springs with one coil removed, Monroe shocks, '72 C10 1-1/4-inch sway bar, and matching power steering box adapted to the factory frame. When it's time to drop speed, a '67 C10 dual master cylinder moves fluid through steel lines to '68 Camaro rear drums and original front drums, re-drilled from six-lug to five-lug. To give the truck a classic era–correct look and stance, a set of original aluminum five-spoke Ansen Top Eliminator wheels, sized 15×6 front and 15×8.5 rear, wear Cooper Trendsetter SE P215/75R15 front and BFGoodrich Sport Truck T/A LT31/10.50R15 rear tires, respectively.
Imagine walking into your local Chevy dealer's parts department back in the day to check out the factory's latest high-performance offerings to boost your power. It's exactly what Dave did in 1988 when he stopped into Dobles Chevrolet in Manchester, New Hampshire, and came across a dust-covered remnant from the '70s. It was there he found a still-new-in-the-crate '70 Chevelle 454ci LS6 engine replacement big-block V8. The GM PN 366250 was packed with the best high-performance bits offered in the day to produce a tire-searing 450 hp on pump gas. The asking price was $2,800 and it was a matter of seconds till Dave paid the price, hauling home the sacred prize. Straight from the factory, the high-performance 4-bolt main iron block was packed with a steel forged crankshaft linked to matching 4340 steel forged connecting rods wearing domed aluminum forged pistons getting bumped by a mechanical lifter cam. A set of open chamber square-port cast-iron heads generate seamless power, especially when matched to an aluminum high-rise intake manifold breathing deep through a 850-cfm Holley carb capped by a 14-inch open-element chrome GM air cleaner. It sparks to life through a factory distributor with hot exhaust exiting through a set of factory 427ci Corvette exhaust manifolds to a 2-1/4-inch steel exhaust with Corvair turbo-style mufflers. In detailing the engine bay Dave went to extreme measures to make everything look factory, including the restored air conditioning system, electrical components, mounts, and even the 427ci decals on the air cleaner emulating a period-correct big-block in 1966. To move the goods, a '66 Muncie M22 4-speed transmission with Centerforce clutch kit onto a modified '68 Camaro driveshaft.
Read More: The Perfect Hot Rod Recipe? Lenhart's 1947 Ford Truck
When it came time to focus on the sheet metal, Dave stripped the cab and bed bare to get started. Overwhelmed at how clean everything was, he only had to focus on finessing the original panels while also dialing perfection into the gaps. Once prepped for paint, he laid down a coating of DuPont Centari in the original factory light blue and white color combination, bringing it all back to life. Reassembly followed with the real treat by being able to unwrap all of the fresh N.O.S. parts he purchased and stored well over 20 years ago, including trim, handles, grille, bumpers, lights, and gaskets. Inside, the original dash was repainted and filled with restored factory dials, including a rare tachometer to monitor the vitals while steering moves through a '62 Corvette steering wheel mounted to a '72 C10 tilt column. Gears pull through a Hurst Competition-Plus shifter wearing a '63 Chevy Impala arm while cool breezes are compliments of the factory. For comfort, the stock seat frame was treated to yards of soft gray leather by Nick Lupien of Running with Scissors in Sterling who also installed the complementing gray loop carpeting. This is one C10 that personifies '60s-era Chevy muscle with a nod to the factory on what could have been, and to us that's just wicked cool.
Wick Cool '60s -Styled Chevy C10