By Definition a Loner, but This 1972 Ford is at Home in any Crowd
By Brian Brennan – Photography by John Jackson
What first grabbed our attention about this 1972 Ford Maverick was the "electric" blue paint. There's no missing this hot rod when making the rounds at any car show or rod run. Glenn Sinon of West Suffield, Connecticut, began this project with the idea that it would be a "low-dollar" driver for Hannah, his teenage daughter. We are guessing Glenn will back us up when we say that he "overshot the runway" on this project.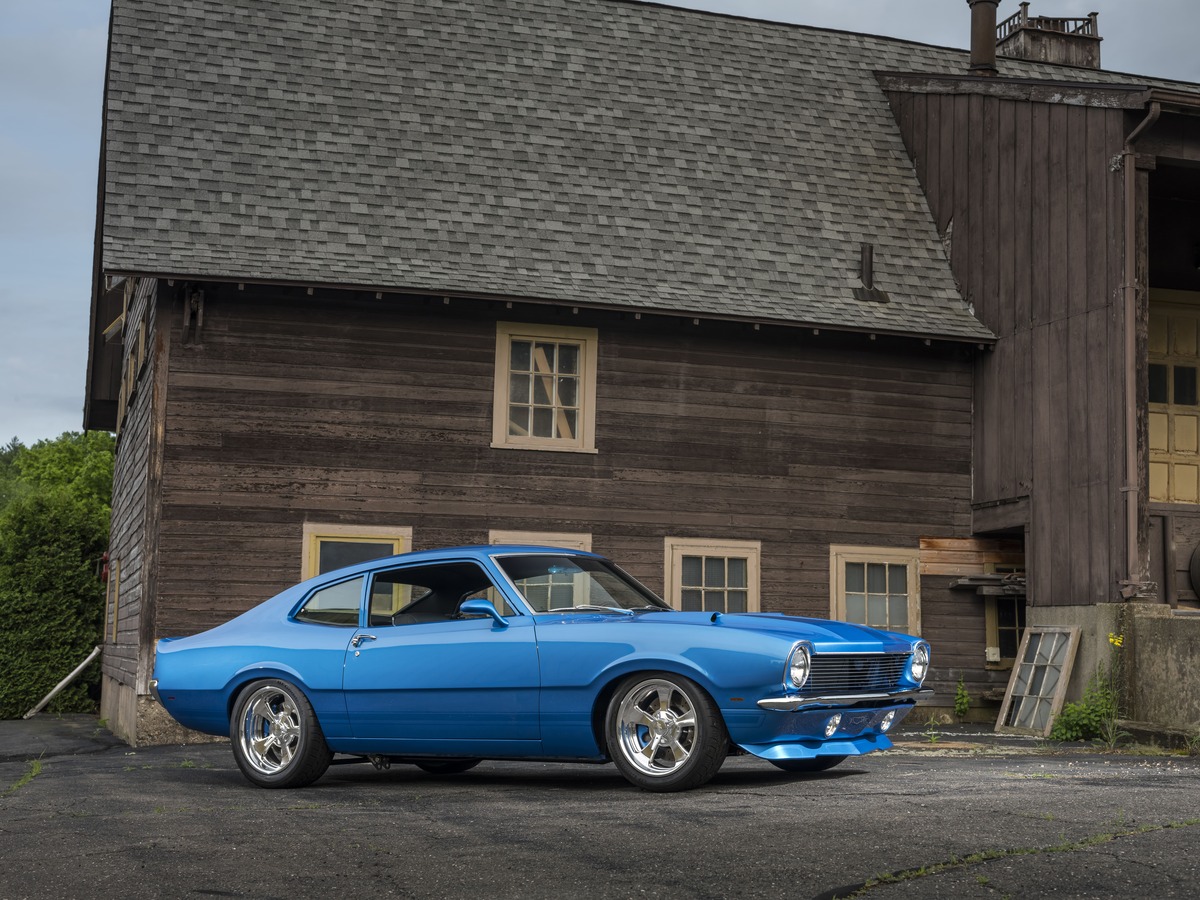 He comes by his love of building cars genetically, as he followed his dad (Jeff) from a very young age attending car shows and "crewing" for him while drag racing an E/MP 1966 Chevelle. When you ask Glenn to go over the many cars he has built he will readily admit to "far too many to count".
As you go over the photos you will see a first-rate build that was an "at-home" project—all 2,000 hours! The original plan called for a $5,000 budget, a recycled engine and trans, and a quickie paintjob. All this so that his then 5-year-old daughter would have a cool first car when the time came.
Not one to rush into any build, the car was brought home from a buddy's house where it had sat for 19 years. (Originally it was an Alabama Green Maverick that found its way to Connecticut.) It was now 2009 and Glenn parked it until 2011 when he began and wrapped it up in 2018. Glenn tells us he spent countless hours while tucked away in his garage. He did turn over the transmission build, exhaust fabrication, and interior to outsiders. Impressive, yet we keep coming back to the color. Now is a good time to reveal Glenn's special inside track on paint and painting. He's a professed bodyman and is a training instructor for PPG Automotive Refinish. It's now becoming clear how this color came about. The Venom Blue was self-named and mixed by Glenn utilizing PPG Envirobase Plus Waterborne paint along with D8152 Glamour Clear from PPG's Global line.
Now comes the "look". He sprayed on a rocker stripe that starts on the front valance and extends back to the quarter-panels. He says, "… in what's reminiscent of a Shelby G.T. 350 stripe, but it has my take on it." From here Glenn sprayed the engine compartment and interior pieces in body color and then covered with D8115 matte clear. It should also be noted that all of the hardware is either Grade 8 or polished stainless throughout the car while the brightwork was handled by Advanced Plating.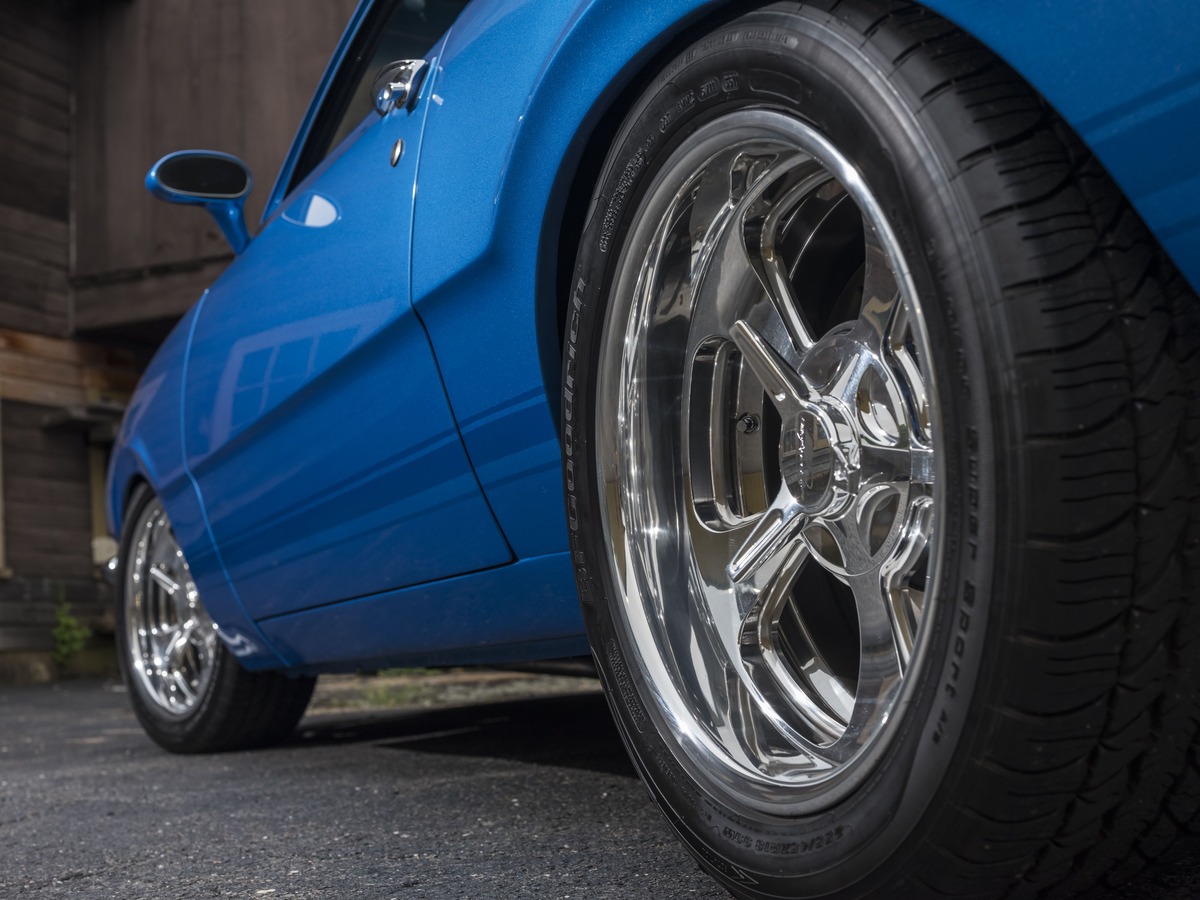 When pushing Glenn to let us in more deeply, he revealed an obsession-based paint effort. He sprayed the car in individual pieces over the course of several months. Next, he sanded and placed the pieces back in the spray booth as a rolling shell. Masking alone consumed 10 hours and the liberal use of tape and paper to cover the inside, outside, and underneath. He then laid out the stripes and applied paint. The lower body G.T. 350–style stripes, and a single stripe that runs up the hood and across the cowl and continues onto the dash, was a chore unto itself. The stripes are a slightly darker version of the main body color. Next up he removed the doors, fenders, and trunk. Moving forward he then cleared the body shell and hood after the stripes were painted. A day later he set up the doors, trunk, and fenders and sprayed clear over them. Being one who doesn't appreciate tape lines, Glenn spent the time to do it right even if it meant spending hours on something no one will see. How much time did he spend for something you and I might not see … how about 68 hours to add stripes? Now that's dedication.
Glenn will tell you that he's a bodyman by trade and he wanted to refine but not remove the original car that Ford had designed. He didn't want to overdo it but he did want to give the car an updated look. Our 1972 Maverick is the year that the Grabber trim package was introduced, which included larger tire fitment, graphics, a spoiler, and a special dual-dome hood. And that brings us to the Grabber hood on our 1972. It's a carbon-fiber Ford Grabber-style reproduction hood made by the Maverick Man Carbon. They also received the nod for the decklid that features an extended and integrated spoiler. While all this is going on don't miss out on the Ring Brothers door handles, adding one more subtle and unique touch to a hot rod that's filled with "unique touches".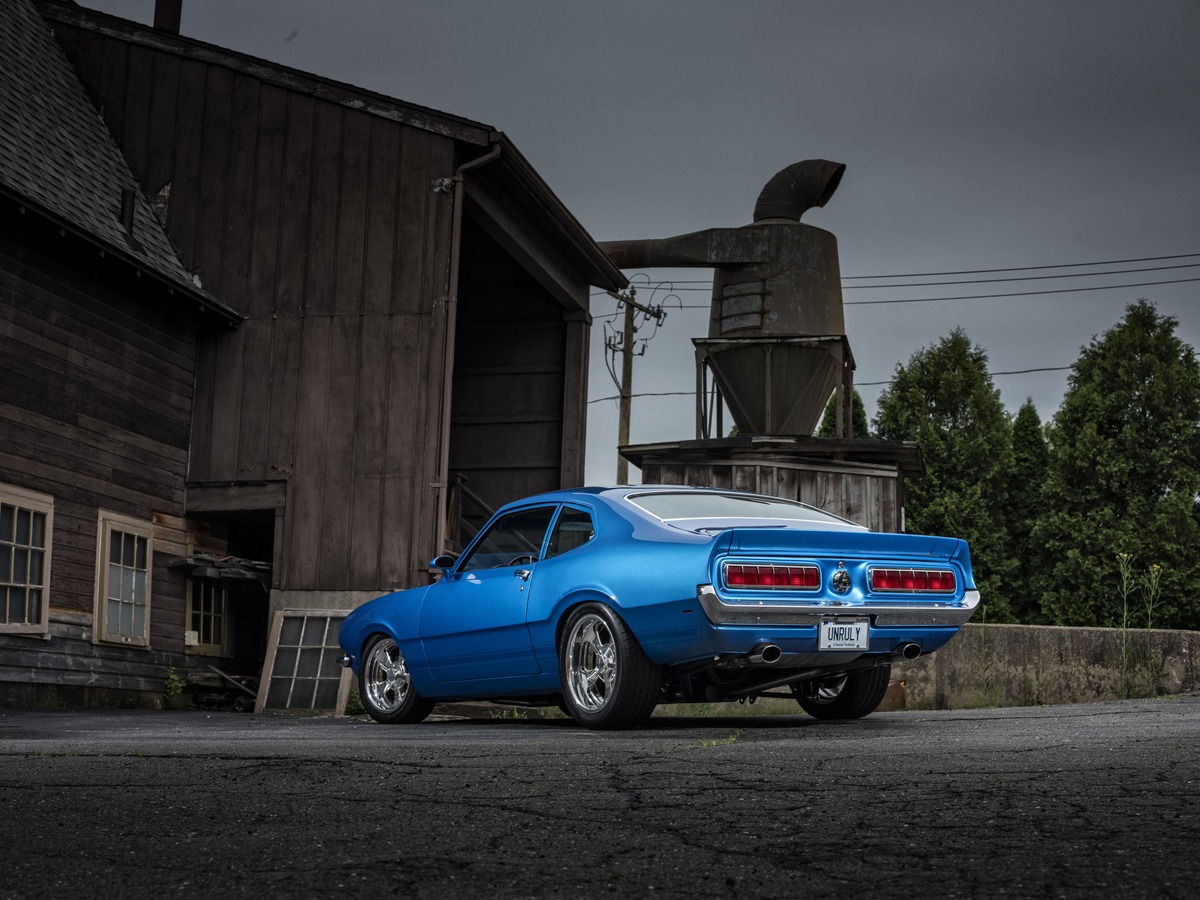 Glenn started at the front, beginning by turning the valance upside down and attaching it to a piece of wood and then began cutting away everything but where it mounted. He then incorporated a 1969 Camaro three-piece valance and welded it into one piece and then cut, sectioned, and shaved it to match what was left of the Maverick valance. He was left with what he felt was a more-appealing "look," and as a bonus it had the required light holes, which are Fesler driving lights. Another 1969 Camaro touch is the steel front spoiler that he obtained from Spoilers by Randy. On the front fenders he cut out the area where the running lights/turn signals resided and then welded in new 1/2×3-inch flush-mounted lights from Hagan Street Rod Necessities, yielding a much more subdued look.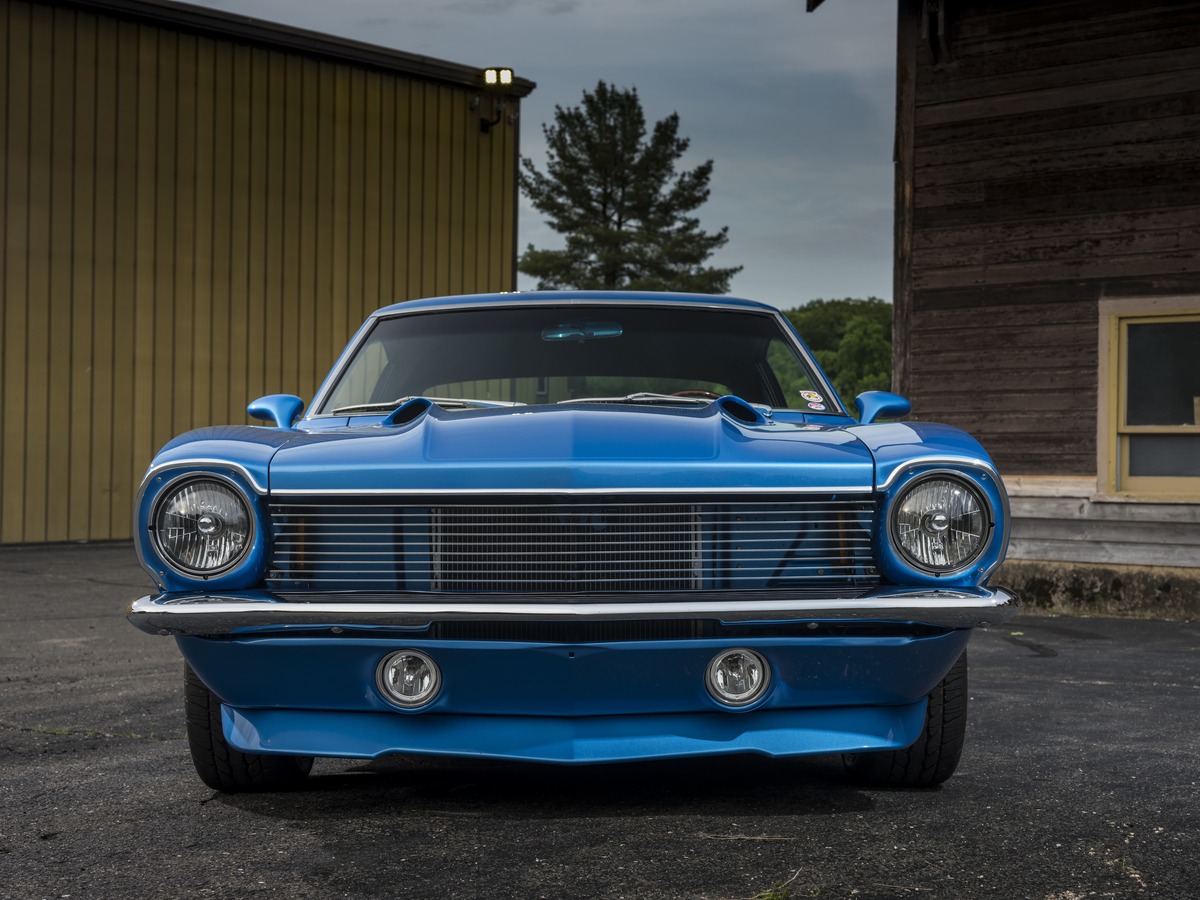 Next up the stock glass, showing its age, was removed and, fortunately for Glenn, he found new tinted N.O.S. glass to replace the tired and worn glass. From here he removed the rain gutters while extending the reveal down the A-pillar and also around the quarter glass where it then fades away as it wraps around. Next up he molded in the rear valance and added a lower bead line to give it some definition. Moving to the stock tail panel he cut it out and grafted in a replacement steel unit from Dynacorn that uses 1968 Shelby taillights. The fuel filler is a stainless steel component from Johnson's Hot Rod Shop.
Glenn considers himself a "minimalist" and as such he wanted a minimal number of wires running through the engine compartment and those present to run through a billet port behind the engine. The Edelbrock Air-Gap intake manifold also provides a "natural" area for wires and while using the natural surroundings the wiring to the front of the car was run under the fenderwell hidden out of site. The heater hoses run to their ports over the Prior Brothers Fabrication bead rolled custom-made fender aprons prepared from patterns supplied by Glenn. He also bent the closeout panels up front that cover between the grille and the radiator support.
Turns out the suspension and powertrain were also more "overshooting the runway" projects but Glenn tells it so well in his words we just had to put them into print:
"I started to research front suspension rebuild kits, disc brakes, and all those other safety items. One thing led to another and within weeks of acquiring the car I spent just over half my original budget on an all-new Mustang II–style frontend kit from Rod & Custom Motorsports. This allowed me to eliminate the big strut towers that take up so much of the engine bay. It also allowed me to have dropped spindles, a Unisteer rack, coilover shocks/springs, tubular upper and lower control arms that lead to a much better handling hot rod. For brakes I went with Engineered Components Inc. 13-inch drilled-and-slotted rotors. I stayed with a stock Maverick 8-inch rearend but upgraded to 3.80 limited-slip ring-and-pinion. I also installed new KYB shocks and CalTracs traction bars and 2-inch lowered springs from ESPO Springs 'n Things. Being detail-oriented, I spent about 2-½ hours grinding and smoothing each brake caliper before disassembling them and painting them to match the car. In all I have roughly 16 hours in prepping the brake calipers. Clearly, I have some sanity issues! (Editor's Note: Hey, he said it but we are glad he does!) For a timeless look I chose a set of Billet Specialties Vintec Dish rims in 17×7 and 18×8 then shod with BFGoodrich 225/45R17 and 255/45R18 rubber.
"With the suspension figured out it was time for a drivetrain. I reached out to my friend Rich Pierce who had a Mustang GT that had a great-running HO 302 and an AOD transmission. It had been taken care of with only the cylinders needing to be honed and the crank turned. Having never built an engine, I wanted to learn. With Rich standing by and guiding me I put the engine together. We stayed with the stock HO pistons, installed a Ford Motorsport E cam, an Edelbrock RPM Air-Gap intake along with an Edelbrock AVS 650 carb, and a PowerMaster alternator. I picked up a serpentine belt kit from March Performance. The ignition system is where I got stuck. The one big drawback to me was the nest of plug wires on the front of a Ford engine. I found Compu-Tronix and their distributorless ignition system. It uses two cables that run from the intake to a pair of coil packs that are paint matched and mounted on the firewall. Spark plug wires run from them to their individual spark plugs. I was beyond thrilled when the very first engine I ever built ran on the dyno and produced 340 hp with 365 lb-ft of torque. From the engine, power goes through that AOD that was perfectly rebuilt by friend Loyd Wig at Master Tech Automotive while an aluminum Ford Motorsports driveshaft connects that to the rearend."
One last "big deal" was the interior. Glenn had given the interior years of consideration and turned to Ken Nadeau who owns Ken's Upholstery to implement Glenn's ideas. Black leatherette along with a black and white houndstooth achieved the look that Glenn desired. Front seating came from the same 1989 Mustang GT that supplied the engine and trans. Nadeau began by removing the headrests and then stitched a simple and timeless design. Taking a second set of front seat foam, Nadeau made the two-piece bench rear seating that followed the same contours as the front buckets.
Next up the dash required some gentle massaging that Glenn performed by removing unused holes and then moving the headlight, wiper, and ignition switch to a lower dash panel that also serves as home for the stereo. The end result was a much-cleaner dash housing the New Vintage 69 Series of gauges all wired together by a EZ Wiring system. Steering chores are handed by an ididit tilt column that's topped with a woodgrain pattern, Juliano's Hot Rod Parts billet three-spoke wheel. From here Nu-Relics power windows are added while the Ford script logo is stamped into the door metal just above the panels.
Many may believe the Maverick wasn't as popular as the Mustang, and while that's true based on sales numbers, the reality is 579,000 Mavericks were produced in the first year, nearly catching the record-setting Mustang with its sales at nearly 619,000.
This Venom Blue Maverick is no slouch when it comes to knocking down the awards, having taken First in Class and Best Paint at the Detroit Autorama, a pair of Goodguys Builders' Choice Awards, and many First in Class and Best in Show awards through its lifetime. MR