Don Richards' '72 Ford F100 Styleside With A Blown Big Block
By Rob Fortier   –   Photography by Tim Sutton
If you hadn't already gathered based on the dual 10-inch, gold-anodized velocity stacks protruding from the hood, Don Richards nicknamed his '72 F100 "Bad Bump" for one not-so-simple reason: the long-stroke, 671 blower, 545 big block Ford Lima Engine horsepower not-so quietly nestled beneath.
Read More: Sepulveda's Snow White 1957 Chevy 3100
But it's not just the healthy "motorvation" powering Don's Bumpside Ford that contributes to that appropriate moniker—it's a package deal, as it were, and one that transpired over time to become its current bad self.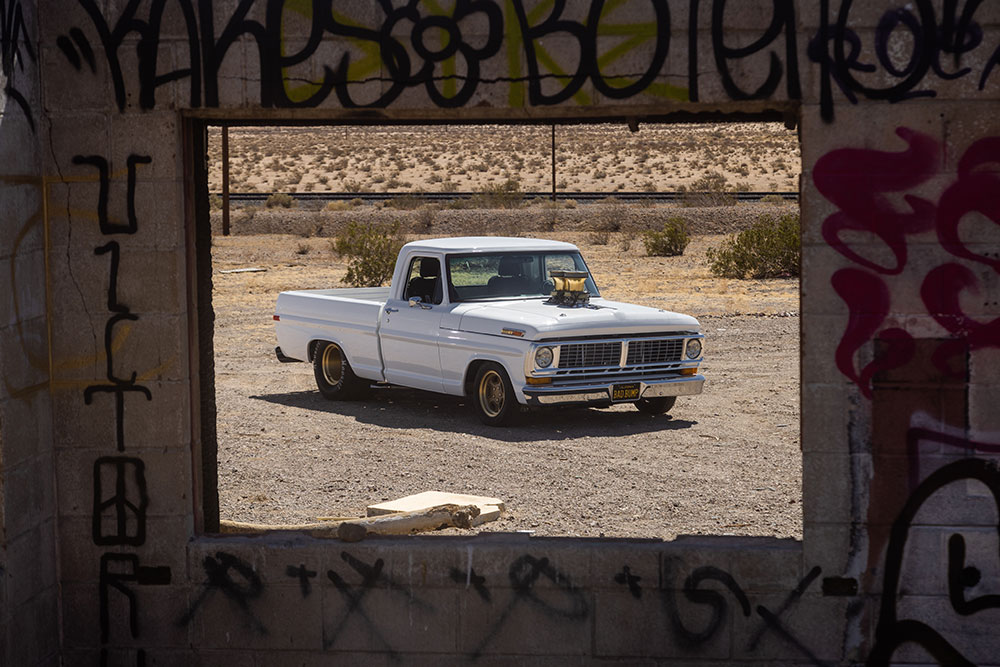 "I was given the truck by a guy who didn't want to store it for his dad," Don told us. "I initially installed a 390, lowered it, and drove it till I hit a plate in the road, destroying the stock crossmember." Obviously this is where the real Bad Bump transformation began.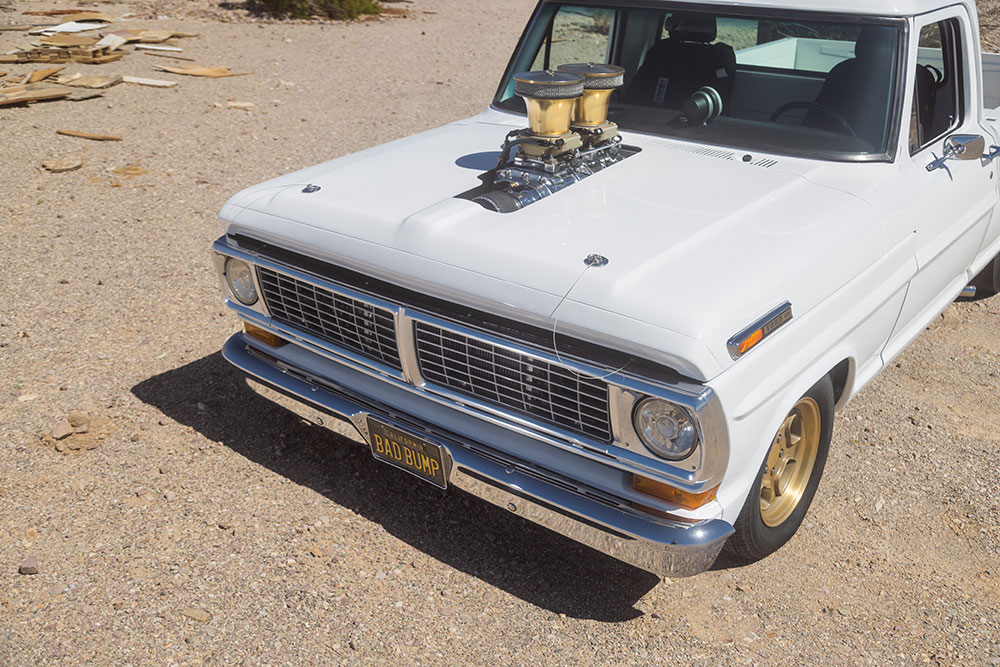 To address the wrecked frontend, Don opted to forgo repairing and/or replacing the stock crossmember, instead fitting the F-100 with an '05 Crown Vic Independent Front Suspension, while the rear was updated with a ladder bar–located, Aldan American coilovers suspend the Versailles 9 inch rear end with a 4.56 billet locker.
Read More: Pate's Passion: Ice Blue 1961 Ford F100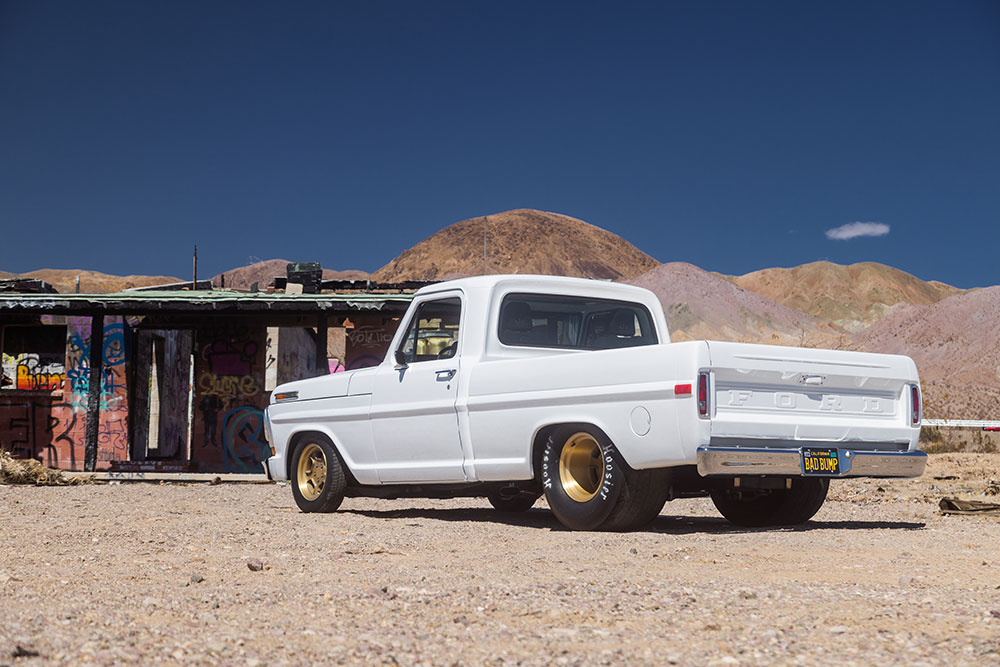 The once-460 big-block that replaced Don's previous powerplant of choice features a dual-keyed, forged Scat crankshaft with forged rods, 8.1 CP pistons, custom grind cam, and Pro Comp cylinder heads. Using a Don Hampton intake (only one of two ever produced in the '80s, according to Don), a Mooneyham 671 supercharger utilizing a pair of Holley Sniper EFI's Super Sniper throttle bodies (zinc coated, appropriately) helps force-feed well over 900 hp out of the Bad Bump though a Street Fighter C6 TCI transmission. A Holley HyperSpark ignition and Hedman/Flowmaster 70 Series exhaust help produce that power output.
The mostly stock exterior (hood is fiberglass; bed floor is dimple-die/anodized aluminum) was given new life with a fresh coat of '05 Acura NSX white by Osmar Mata/Cambra Speed Shop. Curtis Speed provided the perfect finishing touch by custom machining a set of 15-inch Halibrand-esque wheels now wearing skinny Nexen 165R radials on the 4-inch-wide fronts, with beefy Quick Time Pro 31×18.50 Hoosier slicks stuffed in the tubbed rear wheel wells.
Read More: South City Rod and Custom: Jurado's '56 F100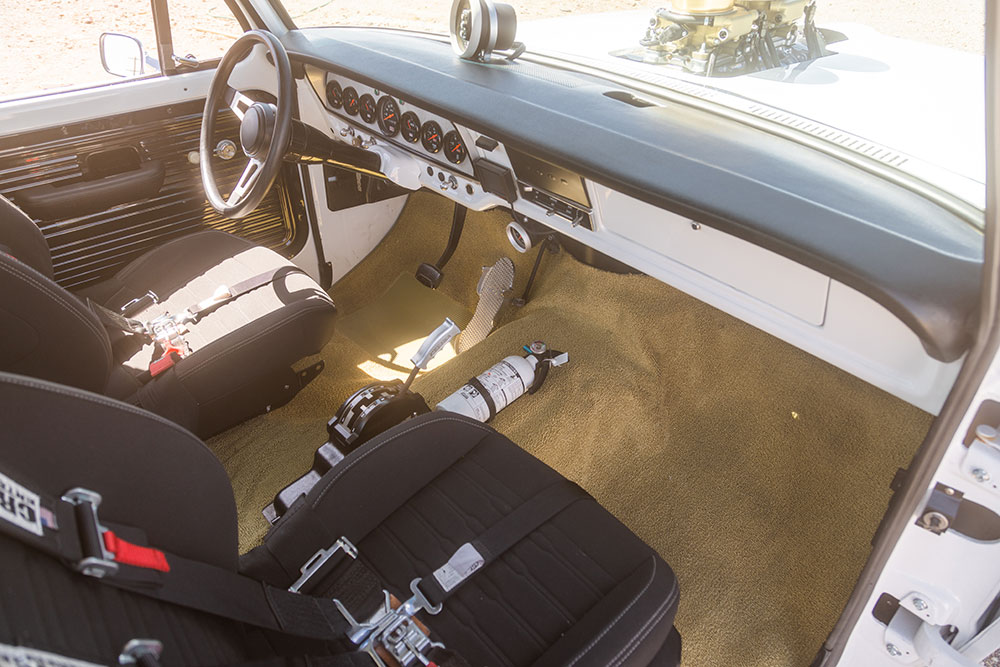 Finally, after Mike Swan had wired the truck, Don re-outfitted the interior of the cab in a semi-resto style with a heavy race-influenced flavor. Gold carpet with black vinyl/plastic accents have been matched up with a pair of '17 Mustang GT bucket seats equipped with five-point Crow Enterprises harnesses. The stock instrumentation has been replaced by "old-school" Mallory analog gauges (flanked by the Holley Sniper EFI system) as Don described. Rounding out Bad Bump's interior very fittingly are a Winters shifter, retro Grant steering wheel, and a Moon "go-fast" foot pedal!