Nostalgic 1933 Chevy Coupe
By Brian Brennan – Photography By Wes Allison
Bob Nicholls of SoCal remembers the fun days while growing up when he would go to the local race tracks. It was these dreams that would eventually shape his future into reality. The "bigger" kids would fill him in with stories of a hot rodder who ran an early Chevy coupe with a GMC straight-six engine that would kick everybody's butts. It was those days that led to Bob building his own 1933 Chevy coupe powered by a GMC that is now punched out to 320 ci.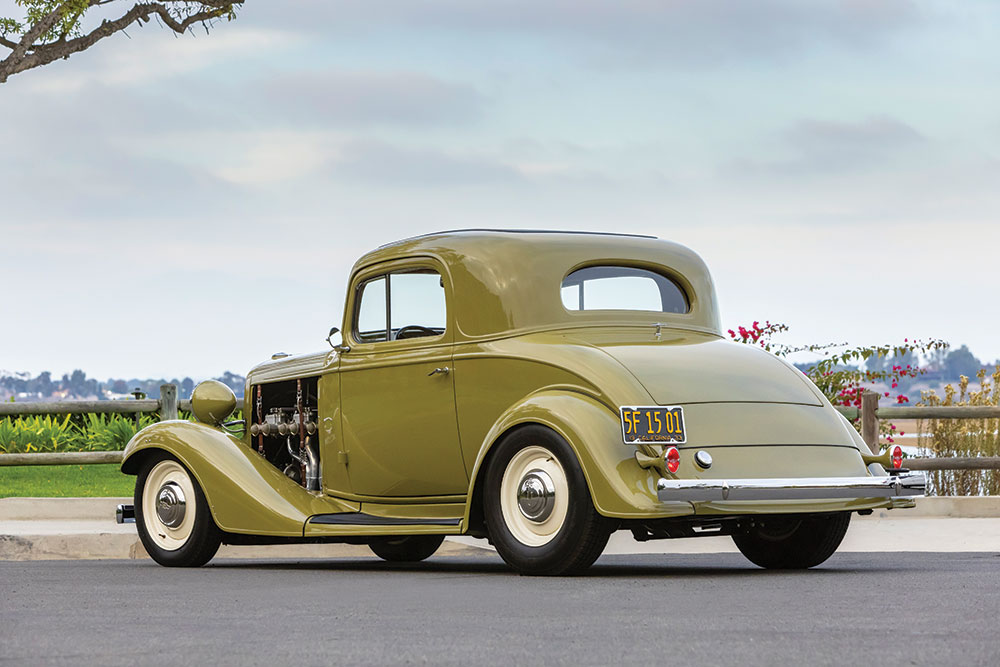 The coupe was purchased from the grandson of the original owner who had purchased it new! The 1933 Chevy coupe was passed down from one grandson to another but each time there was interest but never enough to get the job done. When Bob went to pick up the coupe the body was sitting on 4x4s with all the parts in storage. As for body damage it was minimal, a few spots of rust. A deal was made, and the Chevy went to its new home.
Read More: America's Most Beautiful Roadster 2022 Winner, '34 Chevy
Technically it's a 1933 Chevy three-window Master Sport Coupe that came with an original 206-inch straight-six engine. During the build process it would receive a GMC 302 six that would be bumped up to 320 inches.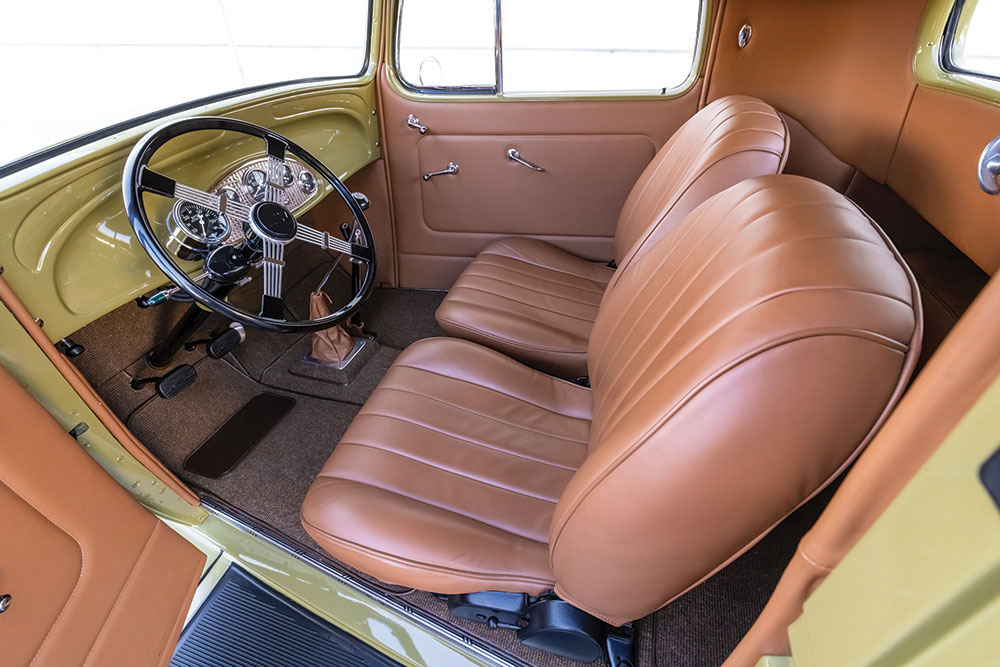 About the motor, the machine work was handled at R&R Machine where the block was bored 0.125 inch and set up for full-pressure oiling. Next, American Custom Cam provided a reground cam. Sissel Automotive received the nod to work with the stock iron head and then modified it to accept stainless steel intake valves (1.94-inch) and (1.60) exhaust valves and Crower springs. While you can't see this "performance" you sure as heck can see the mesmerizing Clifford intake manifold topped with the three DCOE 45 side draft Weber carbs fed by a Carter electric fuel pump. Lighting the fuel load is a dual-point Mallory distributor with a PerTronix coil, Packard 440 spark plug wires, and lit by an Optima RedTop battery. The spent gasses exit via Bob's own handiwork in the form of four-into-two custom dual exhaust measuring 1-3/4- and 1-7/8-inch primary tubes that empty into 2-1/4-inch exhaust tubes, all ceramic coated, through MagnaFlow mufflers.
Other engine appointments include a six-cylinder Chevy 235 water pump & starter, while the alternator is a Powermaster PowerGen. Cooling falls to an aluminum radiator from Brice Thomas Radiator along with a flex fan. As six cylinders have a way of performing, the torque is rated higher than the horsepower: 350 lb-ft and 300 hp. All this power is run through a Powertrain Industries driveshaft linking the TREMEC TKO 600 5 speed manual transmission. The clutch package is a McLeod Super Street Pro clutch setup, including pressure plate and a Z/28 nodular flywheel and a 1957 Chevy rear end running 4.11 gears.
Read More: 1930 Ford Highboy Coupe Hot Rod Dream Build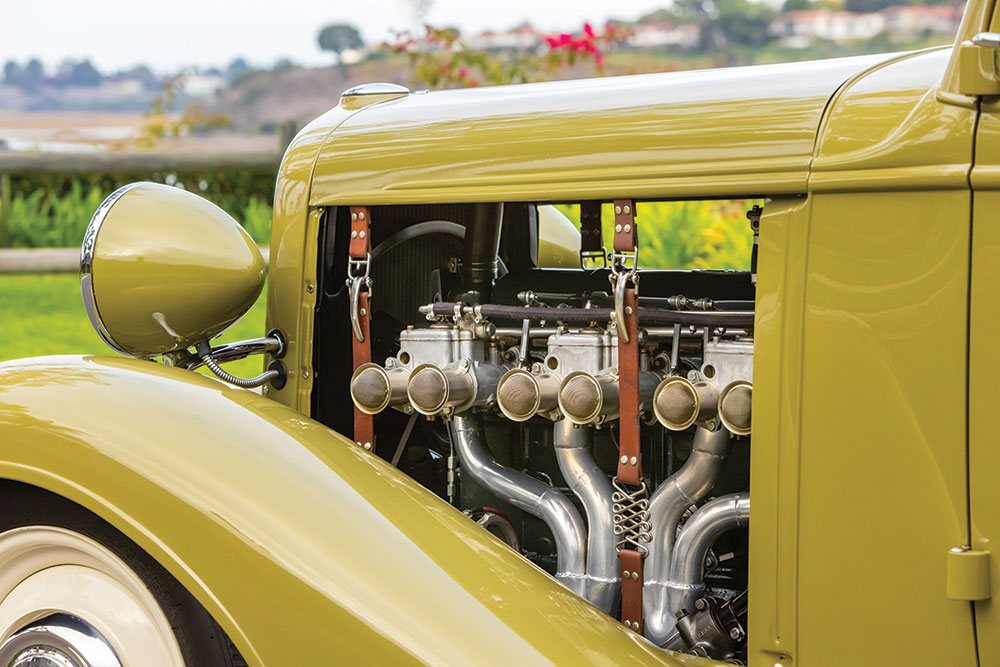 The inline-six engine rests between the boxed stock frame rails that feature dual 1×2-inch rectangular steel K-style crossmembers and an added shock crossmember. The front suspension is based on a 2-inch drilled-and-dropped axle by Sid's Axles with Posies Super Slide springs and 1956 Corvette spindles and a pair of chrome Pro Shocks. Also included is a ¾-inch adjustable sway bar and stock-style parallel leaf springs. The steering is a 1938 Chevy box (19:1) and steering column. The rear suspension is based once again on stock-style parallel leaf springs with lowering blocks, Posies Super Slide springs, a pair of Monroe shocks, and an adjustable ¾-inch rear sway bar.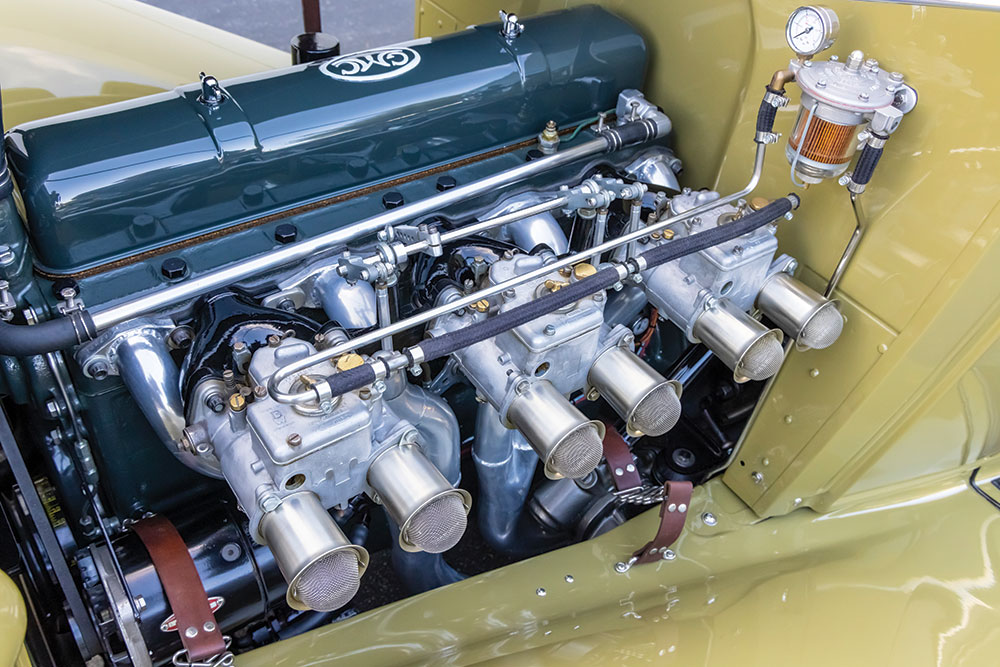 Stopping power comes by way of 1962 Buick 12-inch drums that are covered with finned aluminum brake drums with drilled backing plates that also use stainless steel screens. The master cylinder and pedal assembly comes from a 1939 Chevy. All of this rides on a set of Wheelsmith Smoothies 5×16 and 6×16 powdercoated wheels wrapped with 5.00×16 and 7.00×16 Excelsior/Coker Super Sport radials.
The steel 1933 Chevy has a few modifications, such as the rear tire mount removed, car runs minus hood side panels, but LimeWorks leather hood straps can be seen. The Chevy still features a wood superstructure with much of it replaced with a combination of David Entler Reproduction Wood and home-shaped pieces. All the wood was then finished with a clear epoxy sealer.
Read More: Out Of This World 1963 Ford Galaxie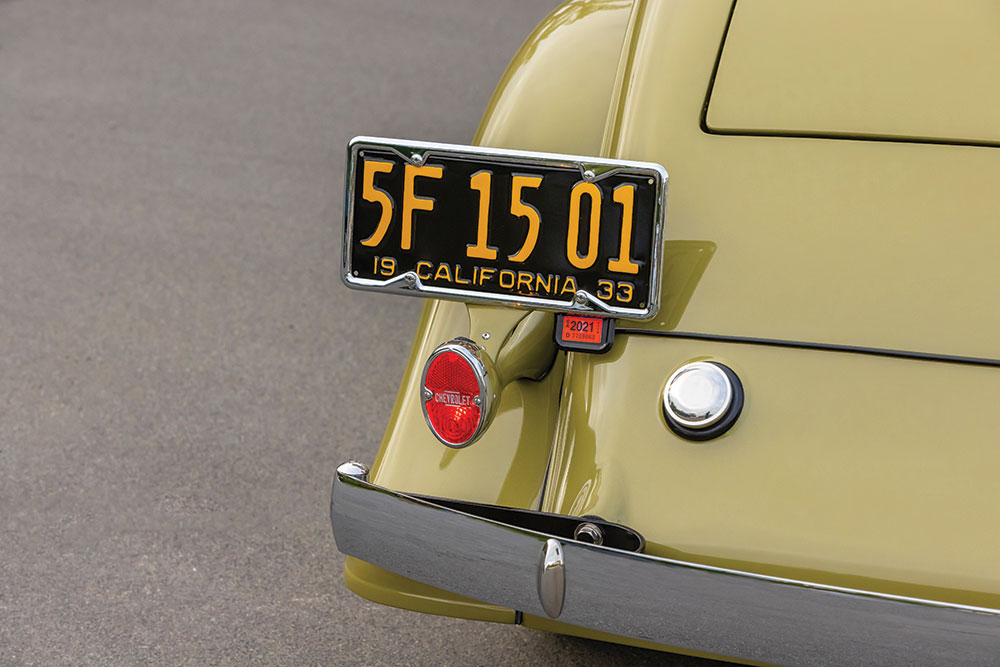 The bodywork was handled by Salamanca Metalcraft and from here Arts Place applied the single-stage urethane Commando Green ('15 Jeep) color. The original dash features a Haneline engine turned insert with Stewart Warner gauges then wired through an Enos Custom Components harness. From here a Brooklands-style banjo wheel is used along with the 1938 Chevy steering column. BJ's Auto Trim stitched over the Ford Escort bucket seats and rumble seats in a Nappa old leather in Bourbon Brown with a taupe-hued headliner. Black aircraft-style lap belts are also included.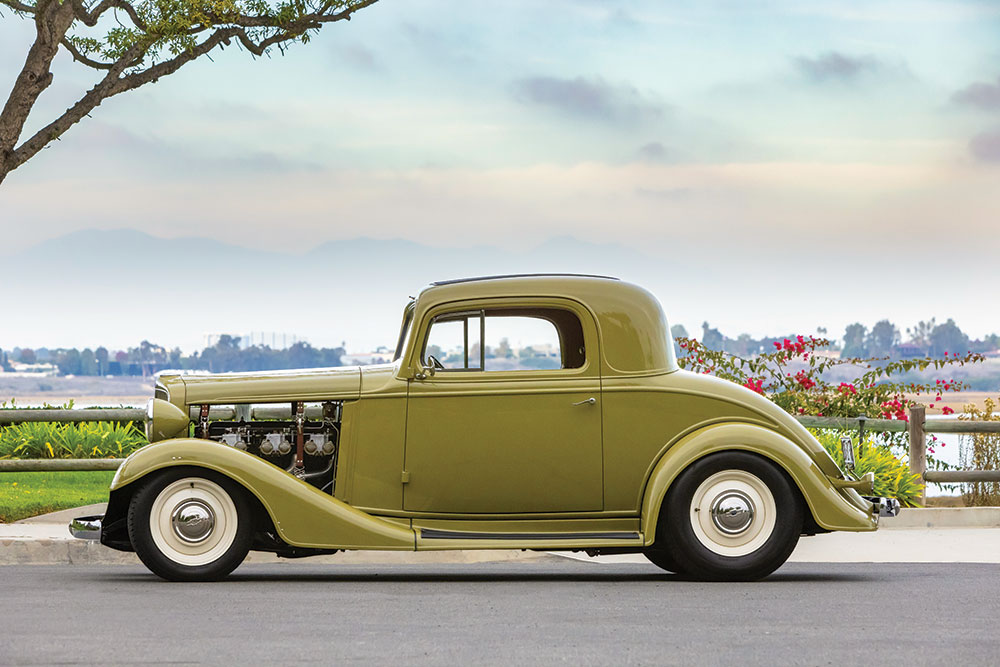 If it weren't for dreams, there isn't a hot rodder alive who would have his current or "soon-to-be" ride. Thank goodness all of us never stop dreaming. MR