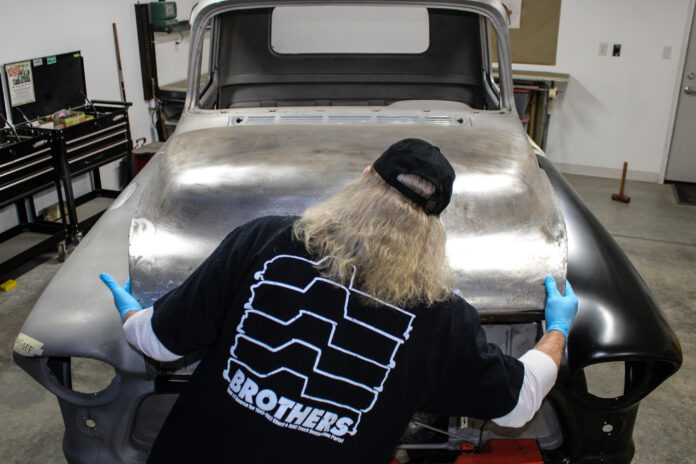 Fine-Tuning with a Twist
By "Rotten" Rodney Bauman – Photography By The Author
Back in the mid to late '50s how well could a Chevy truck fit? Along the way to acceptable panel alignment, our little 1955 Second-Series build has tested us at times. No doubt about it we have worked for what we've gained so far. At this point we're still in the body-beating stages, near the end of a long, ongoing gapjob. For the job at hand we're not seeking perfection, but it'd best fit better than new.
With 3/16-inch average gaps, the previously crashdamaged hood was fitting in with adjacent panels, except toward the front corners. The driver side was the worst. In that short stretch the hood appeared to sit a bit too high, as it also protruded a bit too far forward—at least by most of our standards today.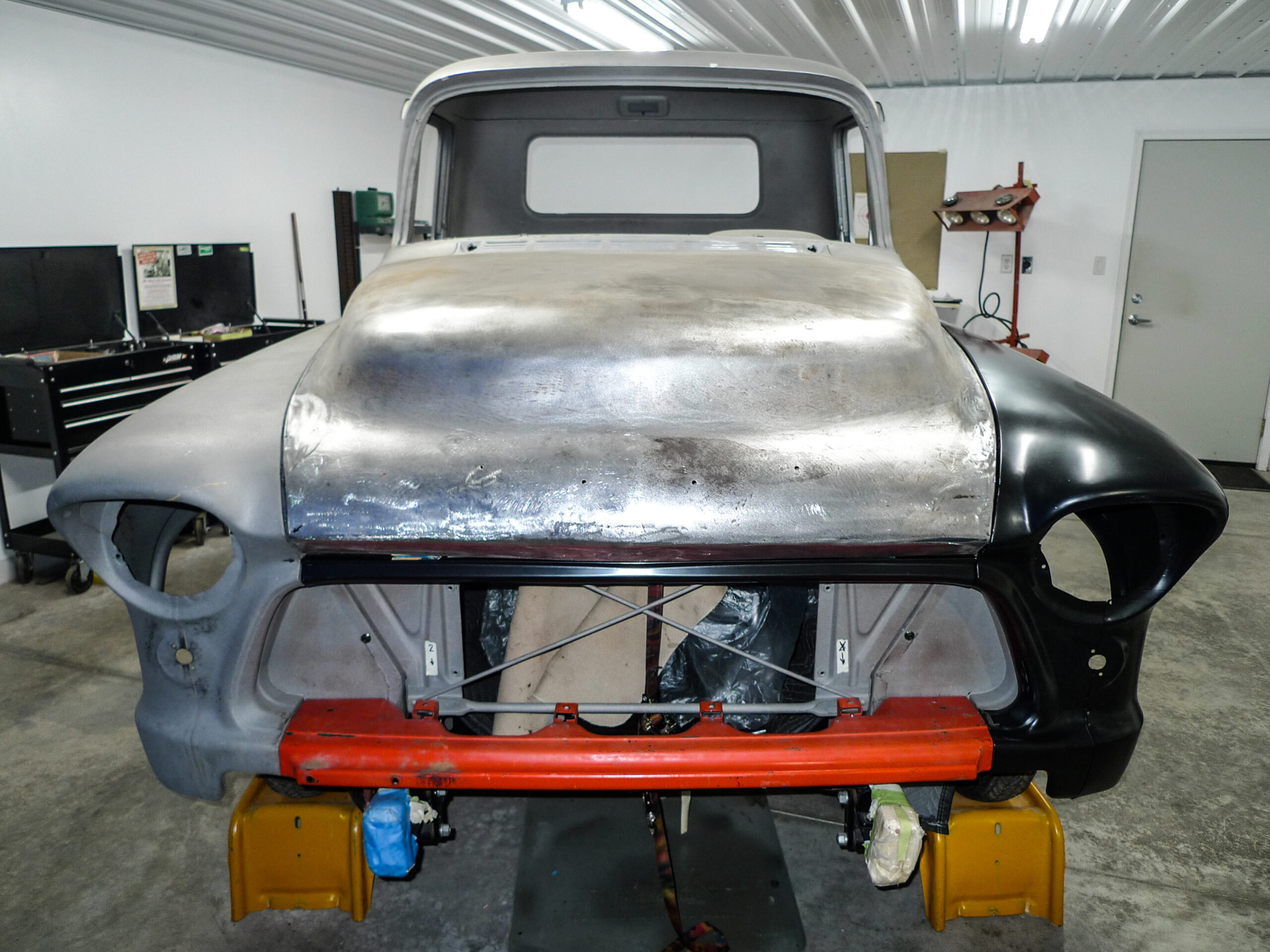 Earlier we'd gone to some trouble to get the hurtin' hood sitting squarely on a flat, horizontal surface—Mrs. Rotten's welding table. With the underside X-brace (aka "hood diagonal brace" in our assembly manuals) loosened, clamps and a ratchet strap were employed to hold the hood somewhat past square. When the brace's bolts were snugged, the strap was released. Somehow we nailed it the first time and the hood was resting evenly with its corners all touching the tabletop. When it reassumed its position atop the new hinges that we'd previously purchased from Brothers, we were satisfied that the hood was square. Right about that time, our friend Dave Symcox of Restorations Limited stopped by. "I'm not sure square is what you want," he says. Symcox knows this type of truck quite well. He's been our go-to guru, and, as it turned out, he was right—again. The core support had already been shimmed to raise the left side as necessary. Even so, the left-front horizontal gap was wider where the hood's lower edge met the new Brothers upper valance.
Toward the end of a lengthy adjustment period, the roughed-out original hood fit nicely at the cowl. Where it met the new Brothers fender, the gap was beginning to look about right, except for the aforementioned stretch toward the front where the hood appeared to sit too high. As Symcox suggested, we loosened the X-brace for a little twist adjustment. Now, with the left-front hood-to-fender fit as it is, it looks as though the hood could still use a bit more twist.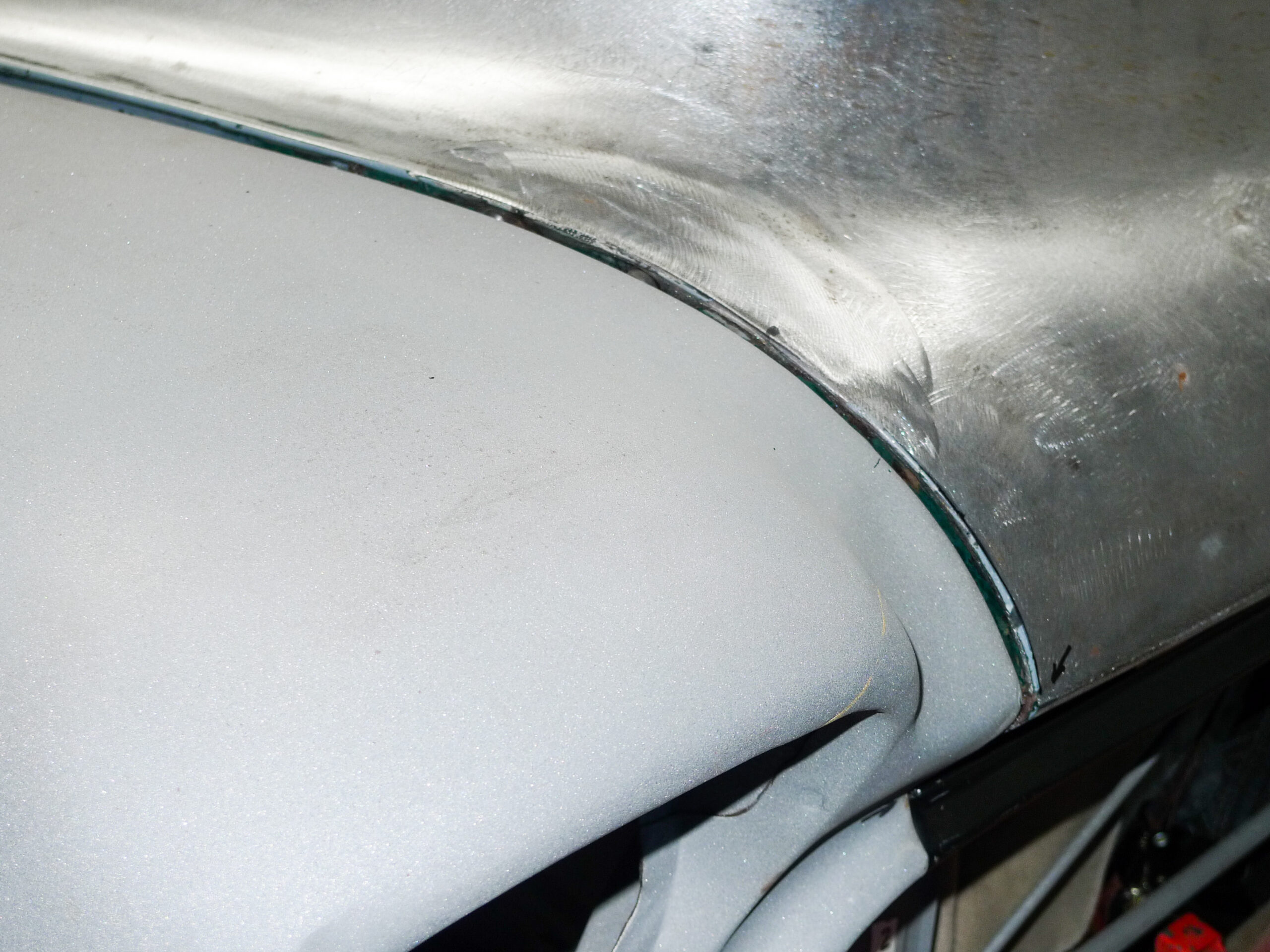 Constructed of 3/8-inch-diameter steel, the X-brace does a fine job of holding its hood in shape. Its two rearward attachment points stay fixed with round boltholes.
The forward holes are slightly slotted. Those two slots allow a good deal of hood-twist adjustment, but wouldn't you know it, we're to the end of ours. It wouldn't take much to get that last bit of twist we're in need of. The brace's forward slots could be exaggerated. There's room for that, but we sort of got to thinking it might be fun to just fabricate an adjustable X-brace.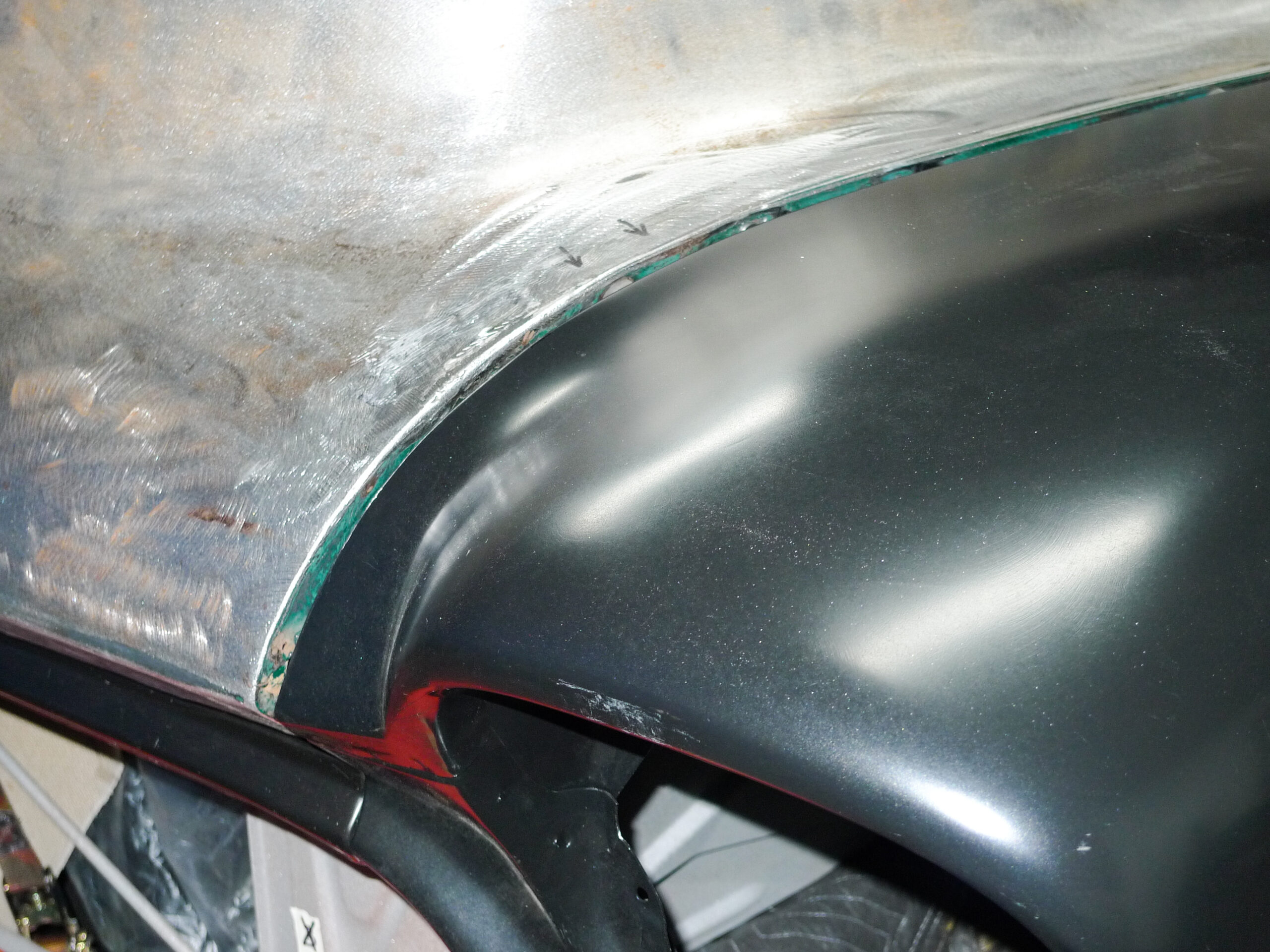 Granted, what we're about to try isn't absolutely necessary. It certainly won't be easier than filing the ends of two slotted holes, but who knows? If this works, we might gain a little fine-tuning advantage. On that note, let's see!
SOURCES:
BROTHERS TRUCK PARTS
(800) 977-2767
www.brotherstrucks.com
SPEEDWAY MOTORS
(800) 979-0122
www.speedwaymotors.com
RESTORATIONS LIMITED
(406) 892-7897
www.restorationsltd.com