Clowers' "Havasu Heat" 1968 C10 Build
By Fuelish Media
Dean Clowers and his wife, Lori, are residents of Anchorage, Alaska, but have a vacation home in sunny Lake Havasu City, Arizona, to get away from the cold. Dean was getting close to retirement, and when the time finally came to put his woes of 9-to-5 (and then some) life on the shelf, he began planning for what would be his ideal method of occupying a solid chunk of his upcoming free time.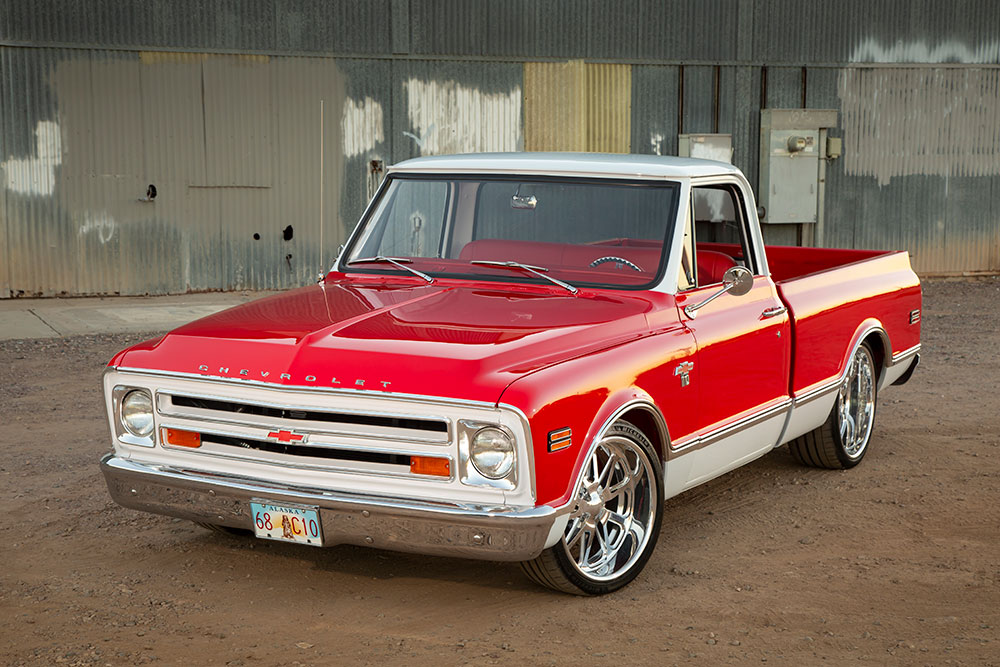 "After owning and selling several K10s and C10s over the years, I decided to find and build another one at our vacation home," Dean says. "I found a pretty rough 1968 C10 that I purchased in 2014, the same year that I did retire, but in mid 2015 I had the opportunity to go back to work, so naturally the project stalled out."
Read More: Dino's "Black Widow" 1973 Chevy C10 Stepside
Even though Dean had to put his truck on the back burner, he still must've been counting his blessings. He was able to score his '68 C10 short bed for only $6,400! It had the original big block Chevy underhood, big back window, a wood plank bed, and working AC! "What a deal, right?" Dean asks for his truck score. "I thought it was, but then when you start buying parts to make your vision a reality, things add up fast."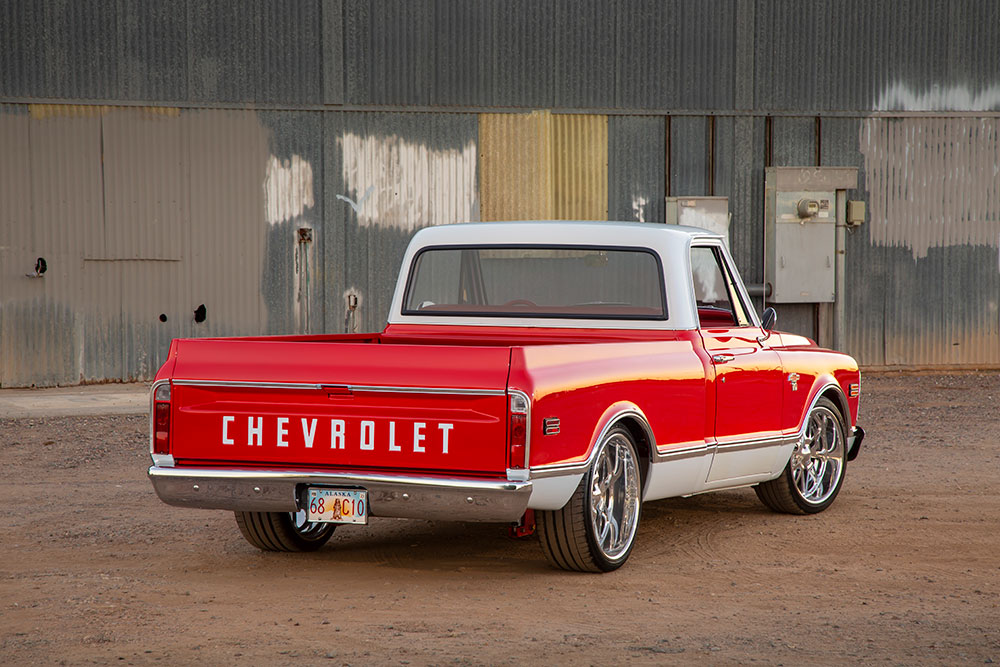 Dean wasn't able to do much more to his C10 with his own hands during that time, he figured it would be best to seek out help to keep the progress rolling. He began scouting for shops local to Lake Havasu and soon landed at the door of Premier Street Rod. Although Premier does work on just about any type of custom vehicle under the sun, they do specialize in classic Chevrolet trucks, so Dean figured they would be the ideal fit.
Once the '68 was in their possession, Premier picked up where Dean left off by installing a new Roadster Shop SPEC chassis equipped with coilovers all around, along with a Truetrac limited slip differential equipped Currie 9 inch rear end and upgraded Baer brake kits. Finishing off the chassis system was a staggered set of polished 20×9 and 22×10 GTB-G Budnik wheels, as well as 255/35ZR20 and 285/30ZR22 Michelin Pilot Sport tires. This well-orchestrated, performance-centered suspension setup was designed to give the '68 C10 excellent on-road handling that could seamlessly transfer to the track.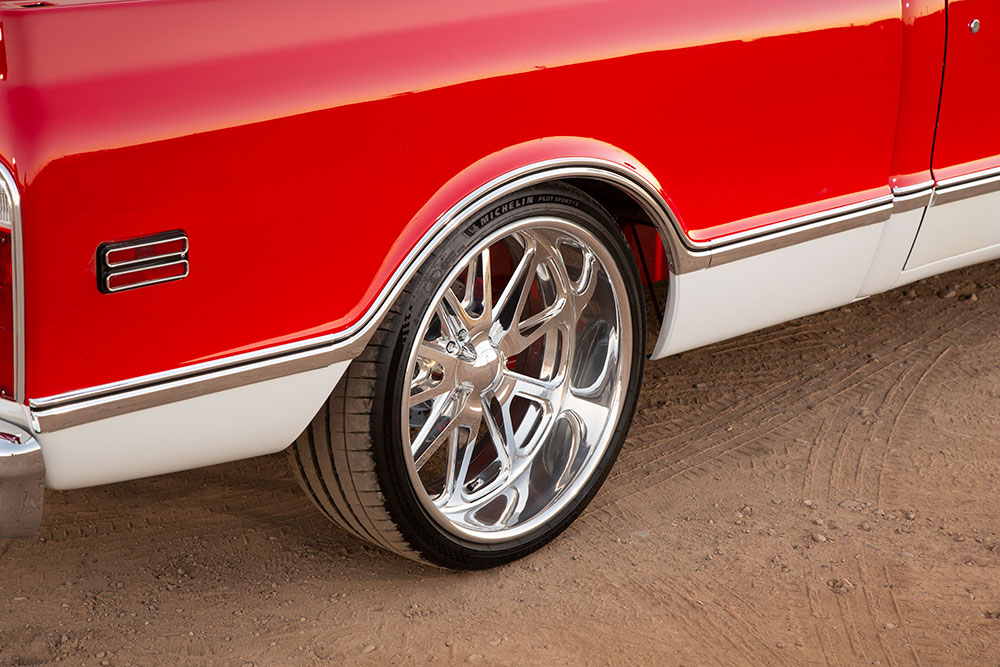 Read More: Electric Parking Brake Conversion Kit For C10s
To further add to the truck's performance abilities, an optional LS motor mount was added to the Roadster Shop chassis to easily accept the crate LS3 engine that was already en route from Gandrud Chevrolet. The new motor was paired with a 6L80E transmission and quickly upgraded with a custom aluminum radiator from Performance Rod & Custom, as well as a mid-rise Holley intake manifold and Holley EFI and Delmo LS valve cover adapters to finish it off. Premier then fabricated a 3-inch stainless custom exhaust system complete with a Borla S type muffler for its highly adaptable compact design.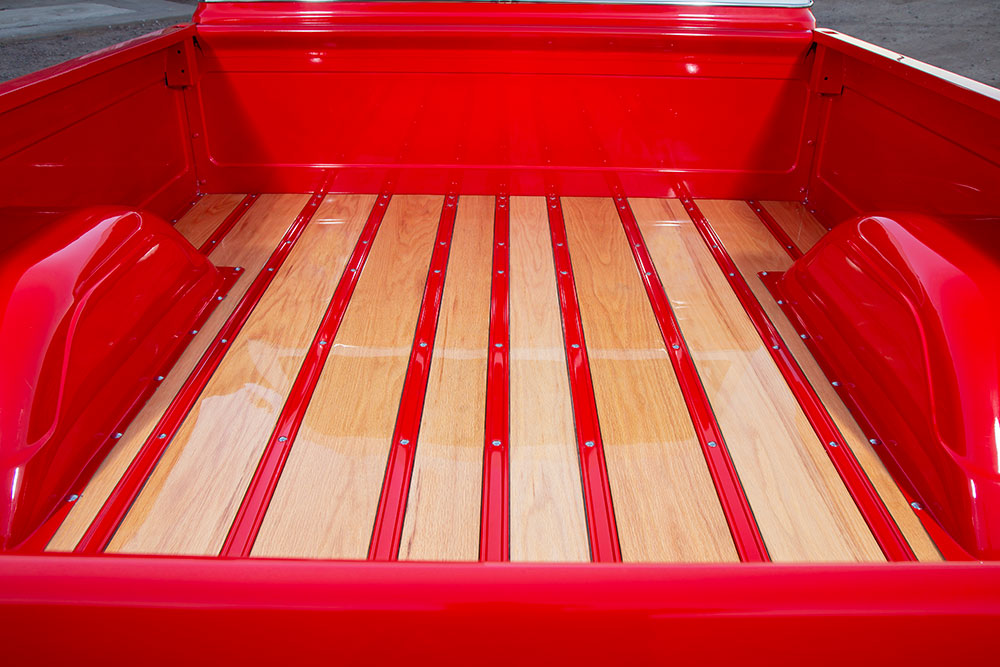 When the time came for the '68 C10 to receive some much-needed bodywork, the guys at Premier aimed to keep the truck classic in both appearance and form. A great deal of the exterior parts and pieces, such as the hood, grille, headlights, taillights, and so on are all factory replacements to fulfill the simple and period-correct approach. A Mar-K wood bed floor and side moldings were slated for installation right after the fresh paint was dry. Next, a never-out-of-style, two-tone cherry red and white paint scheme was decided upon for its understated charm. Tommy Case of Slick Customs Body and Paint of Lake Havasu sprayed the color and buffed the entire truck to a brilliant shine before recommending a trusted name to begin work on the interior.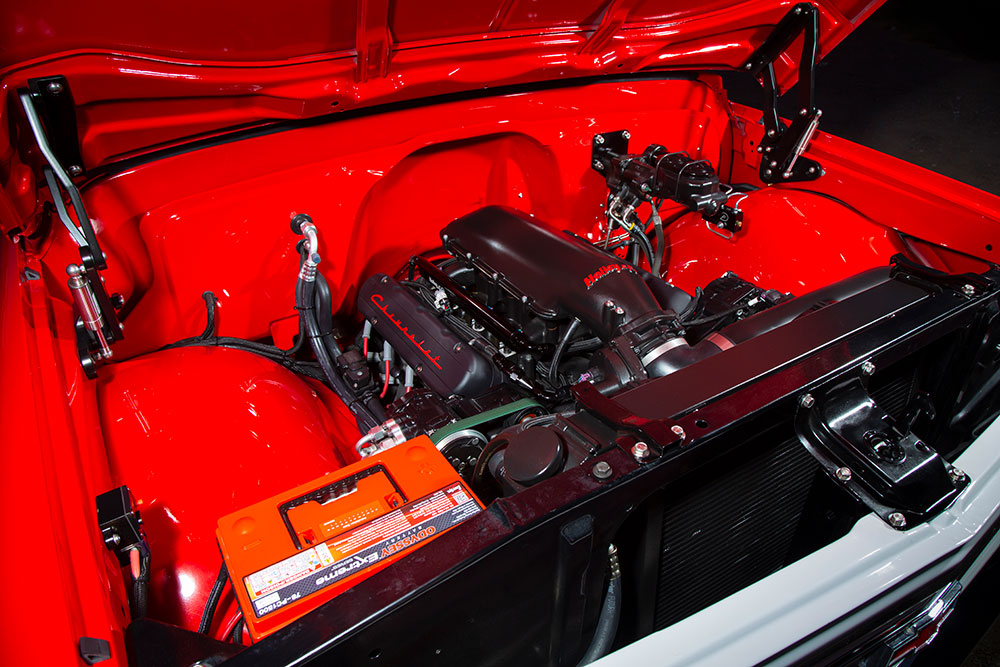 Tommy's dad, Tim Case of Tim's Auto Upholstery, soon stepped in to redo the carpet, recover the dash pad and door panels, as well as upholster the Snowden custom bench in matching red leather upholstery. Dakota Digital HDX gauges and a billet Budnik steering wheel update the dash area, and a Vintage Air system was incorporated into the cab to ensure cool cruising year-round. To give the C10 a commanding sound system, local Havasu audio shop Ron's In Your Ear joined the project by wiring up a wide array of JL components. In no time at all, Dean's old truck was looking fresh inside and out.
Read More: Showstopper 1968 Chevy C10 Family Truck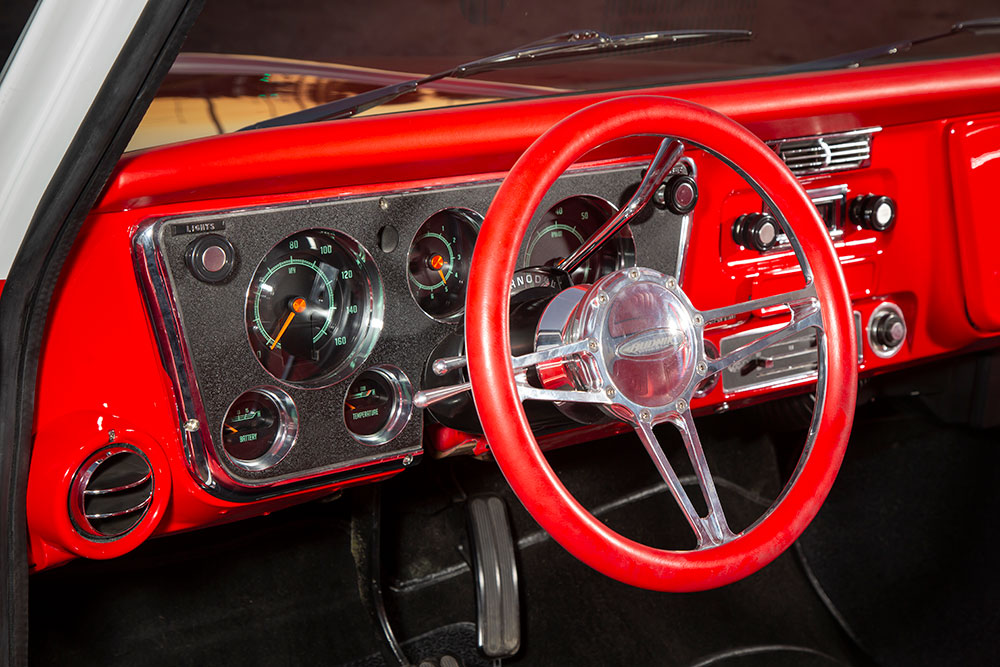 While the total cost of the project did exceed Dean's original budget, the outcome greatly exceeded his wildest expectations for his old Chevy truck. "I never intended to include an LS engine or a brand-new Roadster Shop chassis when I planned on working on the truck on my own, but I'm so glad this is the route we ended up going," Dean admits, "The truck was finished off in just about five years—who knows how long it would've taken me if I tried to get things done here and there when I wasn't working. Premier Street Rod ensured the truck remained on a steady track to completion and the work they did was truly amazing."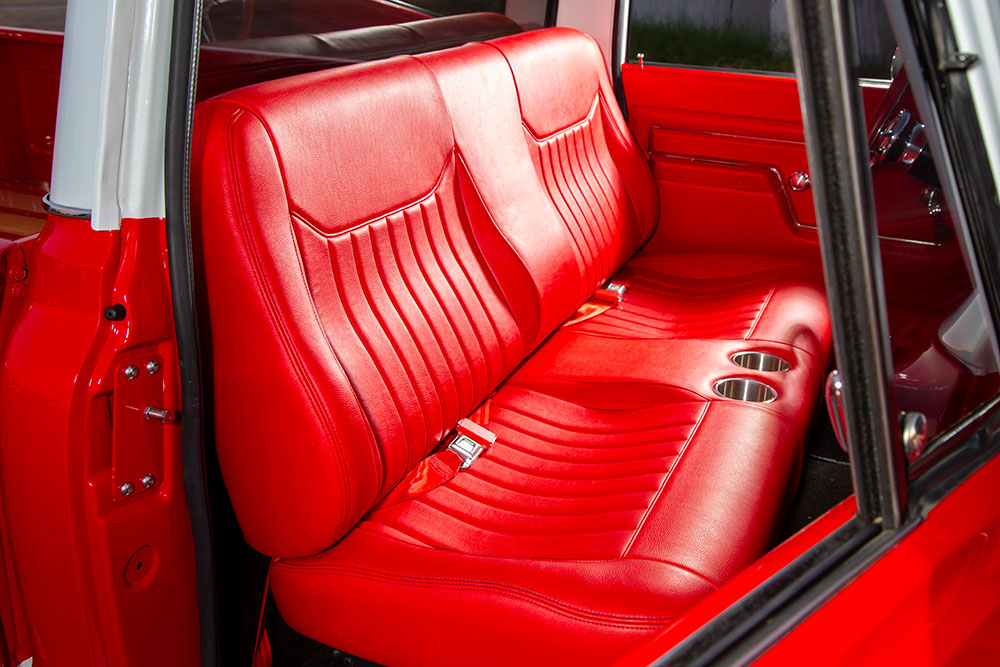 Dean may still be back to the daily work grind (for now), but at least he can count on taking his 1968 C10 out for a spin anytime he wants.