By Ron Ceridono – Photography by the Author
After a few failed attempts at creating a nice driving pick up, by the previous owners, our 1954 F F-100 gets a suspension overhaul. We install a Speedway Motors G-Comp independent front suspension for vintage Ford F-100s.
This saga started not long after our good friend, Paul Willis, announced he had unequivocally finished his last project truck. Shortly thereafter Willis brought home a 1954 Ford F-100 that he claimed would really be his last project.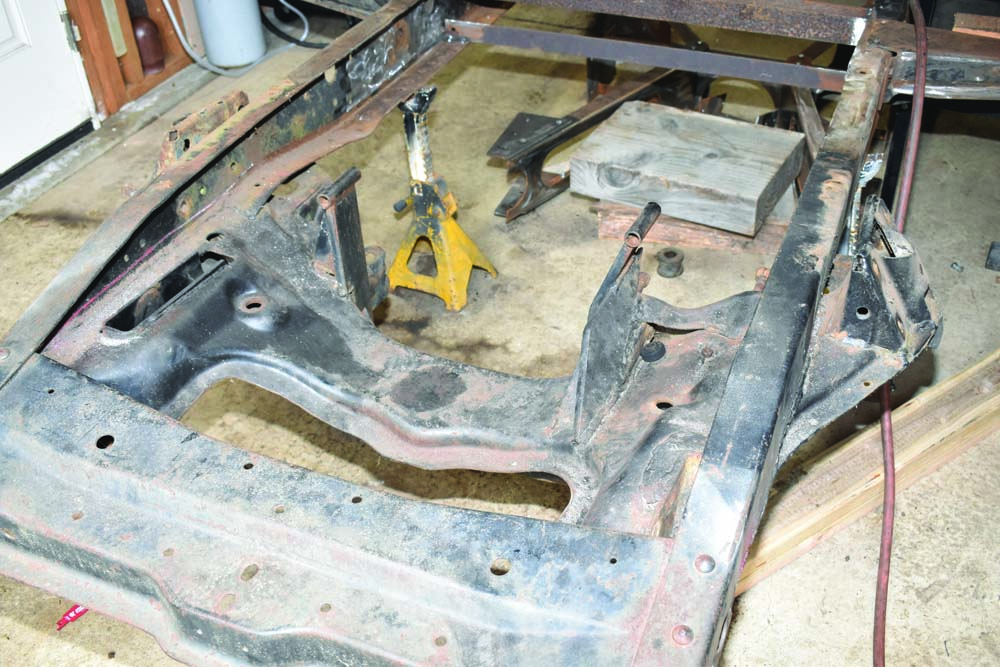 Like many trucks its age, this latest acquisition had undergone several modifications—the most notable being the once-popular installation of a Volare transverse torsion bar front suspension. This swap included a failed attempt at adding a rack-and-pinion steering gear of unknown origin and a pair of crudely fashioned motor mounts. It all had to go.
Read More: Bobby Alloway Rounded Up Leftover Hot Rod Parts and Built This 1932 Ford Highboy Roadster
As was often done with such installations, the bottom lips of the Ford's frame rails were cut away, then the complete Mopar crossmember was welded in place. That meant to install a more suitable independent front suspension system the Volare crossmember would have to be cut out, after which the frame rails would require major repairs.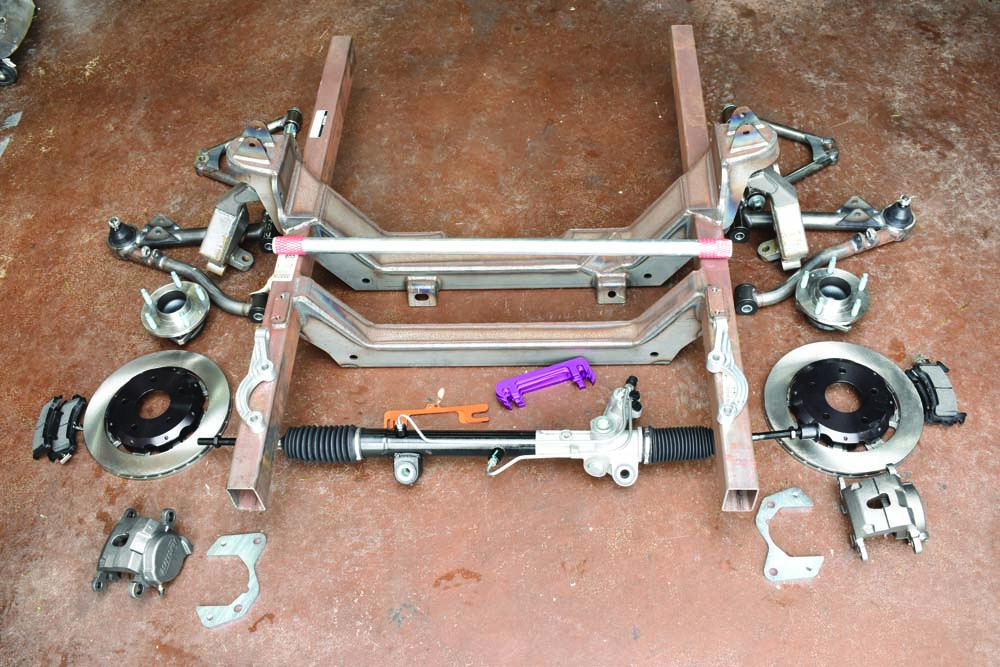 When it comes to selecting a replacement independent front suspension for the Ford there are a variety of kits to choose from, but one of the most intriguing is Speedway Motors' G-Comp Universal front suspension system. Not another version of the Pinto/Mustang II design that's been done over and over, the G-Comp Pro Touring style frontend is a complete assembly based on a subframe made from 2×3-inch, 0.120-inch wall tubing. Available in 56-, 58-, 60-, and 62-inch track widths, 56- and 58-inch versions are 29.75 inches wide at the outside of the frame rails, while the 60- and 62-inch versions are 33.75 inches at the outside of the rails.
The G-Comp suspension is based on Speedway Motors' exclusive G-Comp uprights that use Corvette-style cartridge spindles. Engineered for optimum handling and vastly improved control, the G-Comp suspension geometry provides optimized camber gain for better handling and no bump steer.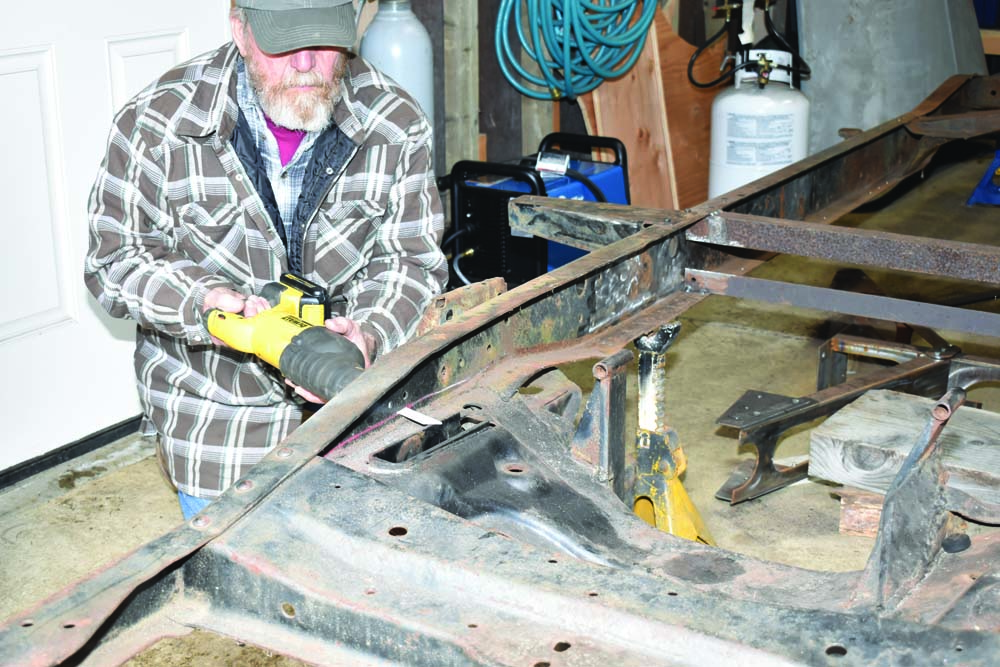 To provide the ultimate in suspension tuning options camber adjustments are made with shim plates and caster changes are made with inserts in the upper cross shafts—both are more secure than the slotted adjustment holes often found in Mustang II front end kit. Also included in the G-Comp Independent Front Suspension kits are a power rack-and-pinion steering and a 1 1/4 inch od splined sway bar (coilovers are sold separately).
The G-Comp front suspension is designed to use C6 Corvette brakes, such as the Wilwood six piston calipers Front Disc Brake Kit (PN 835-1408921) with 13-inch rotors. Another option is Speedway Motors' Economy disc brake kit (PN 3502001) that uses their own GM metric-style calipers and Pro-Lite brake rotors. It will work with 15-inch steel wheels and 16-inch and larger aftermarket wheels.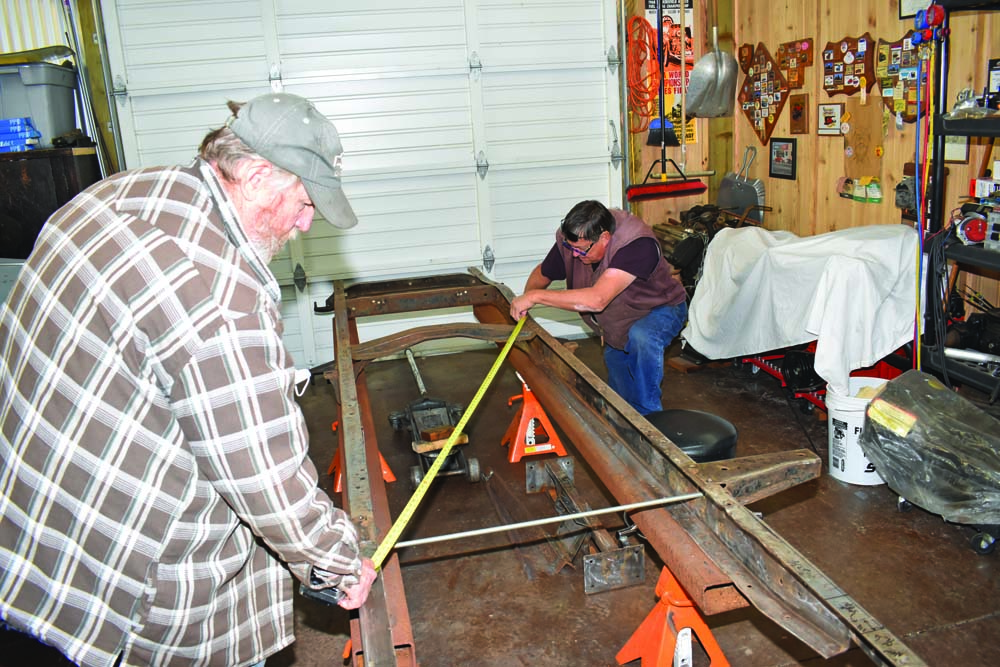 Read More: Pro-Touring Truck Shootout at Wild Horse Pass Motorsports Park
With the Volare frontend removed, we simply cut off the damaged portion of the Ford's frame then slipped the Speedway Motors subframe inside the remaining portion of the 'rails. With the subframe in place it was thoroughly welded to the original frame and then the areas where the two were joined were boxed. In our case the only additional modifications were to add portions of rectangular tubing to the front of the subframe to provide mounts for the stock bumper.
Speedway's G-Comp suspension is the ideal update for the front suspension under almost any classic truck. For us it fixed our fouled up frame and provided our 1954 F-100 with a truly state-of-the-art modern suspension system—we call that a win on both counts.
Source
Speedway Motors
(800) 979-0122
speedwaymotors.com