It's a Fine Line
By Brian Brennan – Photography and Videography by Tim Sutton
To get a better feel for what it takes to add your own custom touch through panel painting and added lace artwork to your hot rod or custom we visited with Jack Fields of Kraftsman Autoworks in Torrance, California. Fields regularly uses House of Kolor paints and as luck would have it,  Fields had a station wagon going through the painting process and its owner wanted something special for the roof. (We are seeing more and more custom panel and lacework painting done to roofs of cars while the remainder of the paintjob is straightforward. It's proven particularly popular on station wagons, customs, and Gassers builds.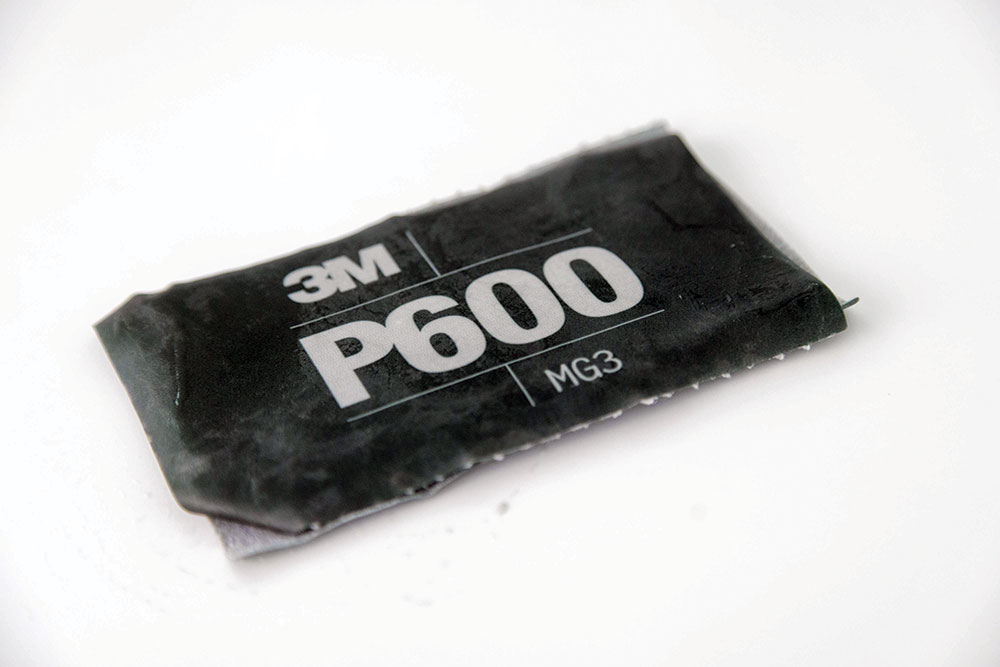 We followed along and watched  Fields who has the experience, creativity, and patience to do this type of work. Basically, as with any paint work, it's all in the preparation. Here  Fields preps the roof of this wagon. He began with a degreaser to make sure that the surface is clean and free from any and all "baddies." Next up he's now going over the roof (or the surface to be painted) with 600 grit sandpaper wrapped around a soft sanding block. If there was some "orange peel" to work around then you might start with a 400-grit sandpaper.
Watch More: Tips From the Pros for an Amazing Paint Finish
The intent is to knock off the shine and prep the color (there's no clear sprayed over the paint at this time) so that the new designs can be sprayed on and it will "grip" (adhere to) the base color. House of Kolor offers a solvent-based, California-compliant white paint that was used on our project wagon. (Many other companies have gone with water based paints but House of Kolor has achieved success utilizing a solvent-based paint.)  Fields also used Kandy Koncentrates, which was developed by House of Kolor to intensify the base color. It will also speed up your spray process by using it to tint your base color and sealer. (It is also recommended for airbrushing.)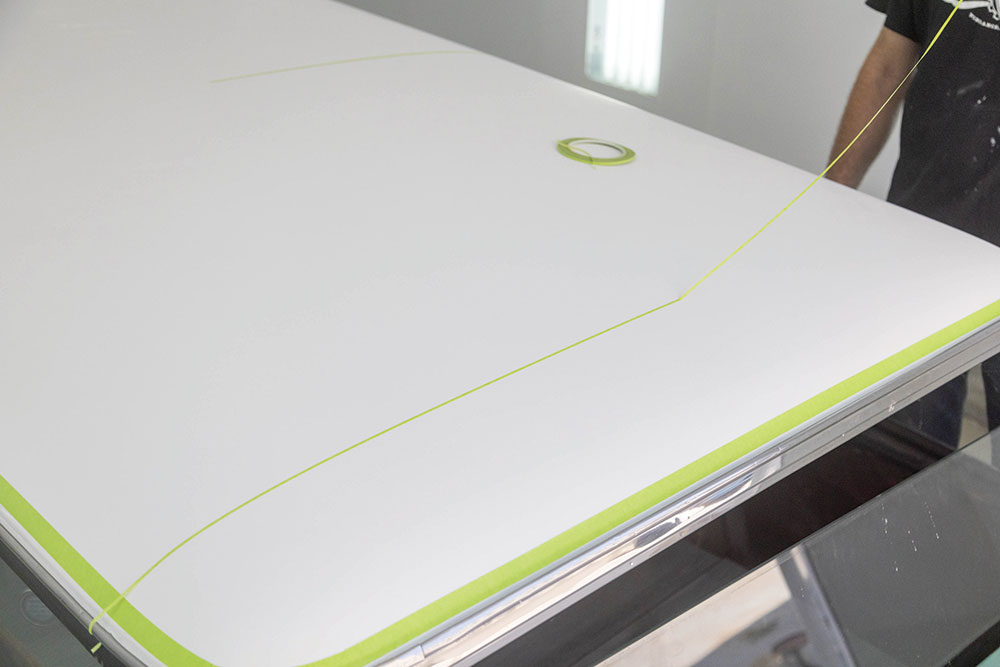 After degreasing and sanding comes the initial design phase. Here  Fields begins the fun part, laying out the design, which in this case relies on a great deal of free-form art so that's why you go to someone like  Fields who has an artistic sensibility and can conceptualize the result, knows how to get there, and what it will look like.
Read More: Shop Truck: 1955 Tri-Five Chevy Station Wagon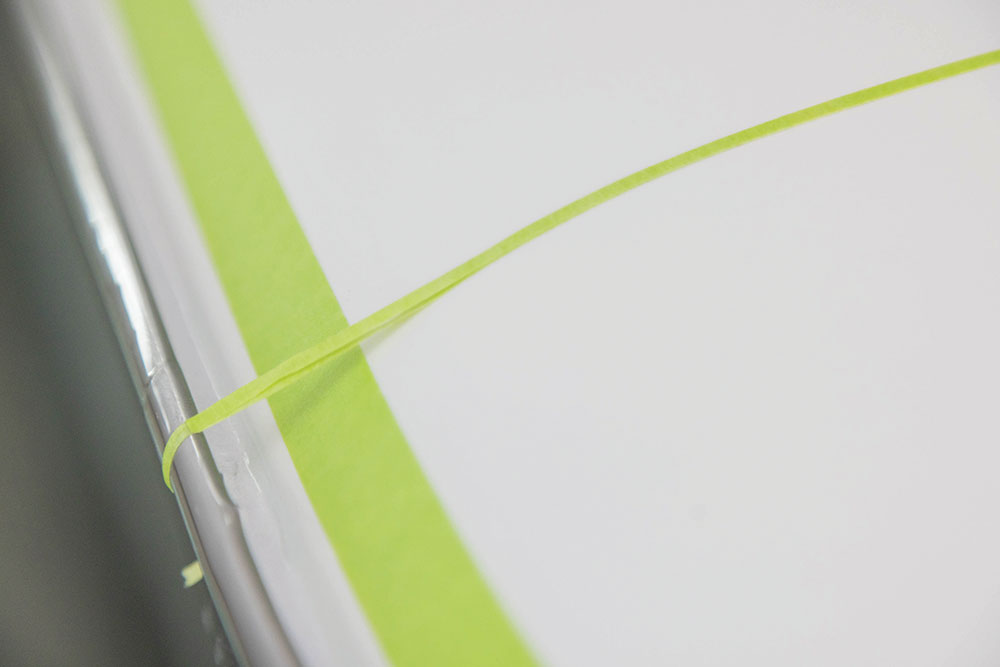 You will notice that he starts with 3/4-inch masking tape that's compliant and offers a nice straight line. Look closely and you will see that he has positioned his tape approximately 3/4-inch away from the rain gutter. He didn't want any additional paint to flow into the rain gutter area so it would be masked off. Next up the thin masking tape is used to find the centerline of the roof through the use of two lines of tape laid down; one will be to find the roof's width centerline while the second will find the roof's length centerline.
Fields does this by laying the tape all the way across the roof while selecting the same ending point on each side. Then he will take one side and peel it back and lay the tape over itself until both ends are evenly matched. The center point of the tape (and roof) will then be that point where the tape begins to go back over itself. This is very important if any of your panels or artistic designs are symmetrical. Of course, if your designs are to be asymmetrical then having the centerline may be less of a consideration, but it's a good reference point to have.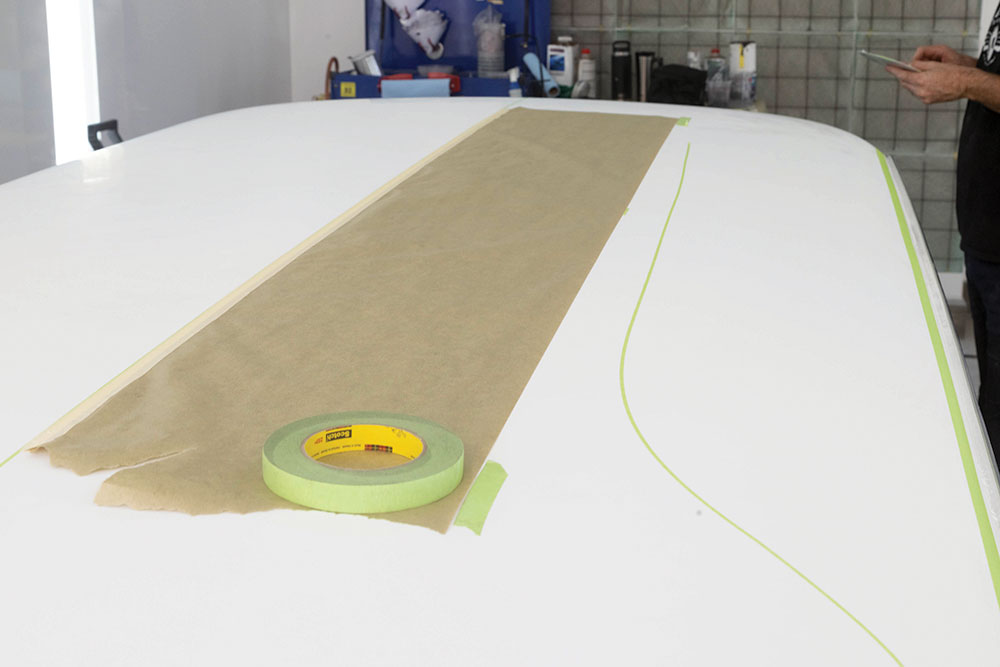 Read More: Auto Body and Paint Supplies 101
Fields has a pair of parallel and free-flowing lines as well as symmetrical panels in his roof design and as such he needed a way of keeping the parallel lines to stay parallel even though they bend during their flow from front to the rear of the roof. Here he uses a handful of pieces of 2-inch-wide masking tape to maintain spacing between the parallel lines as they traverse the roof. From here it's a series of trial-and-error shapes to find out what shapes yield the design most desirable.  Fields also uses a series of "endless lines" that gives the asymmetrical shapes that occur.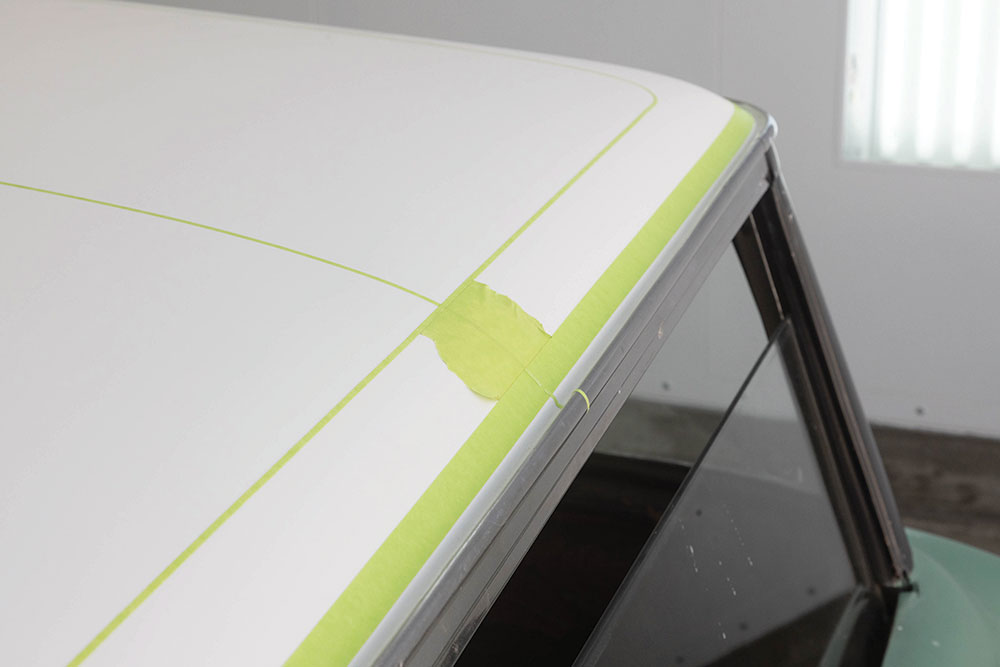 Fields selected the use of House of Kolor candy paints because the roof was done in a white pearl that has a metallic in it. The candy is a transparent paint so that the pearlescent color of the flake will stand out. From here when you spray the candy colors over the metallic it will reflect back through the pearl. Next month we will deal with the painting and lacework. MR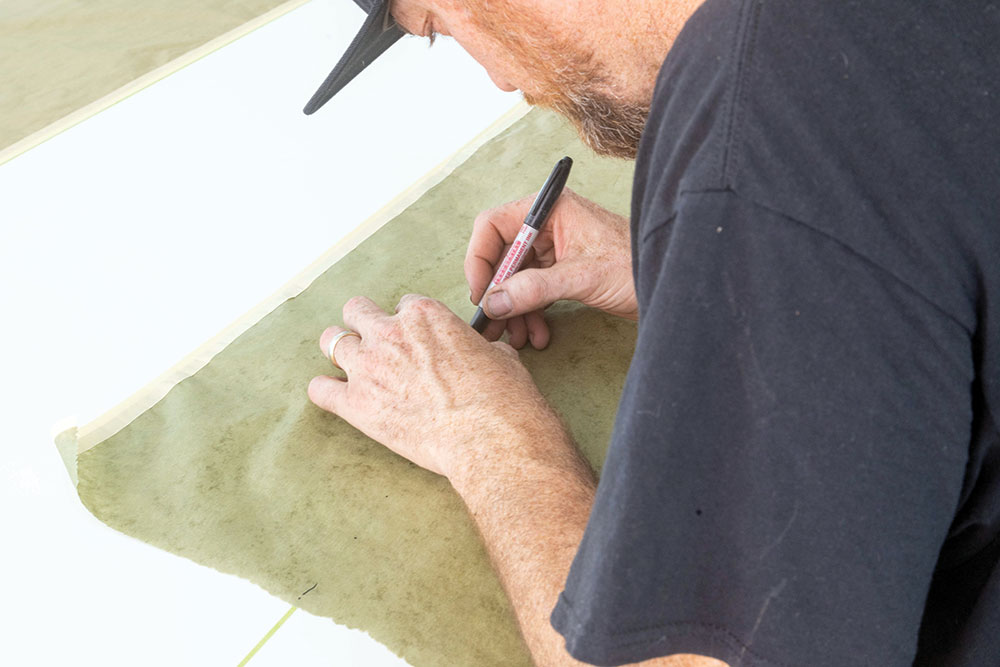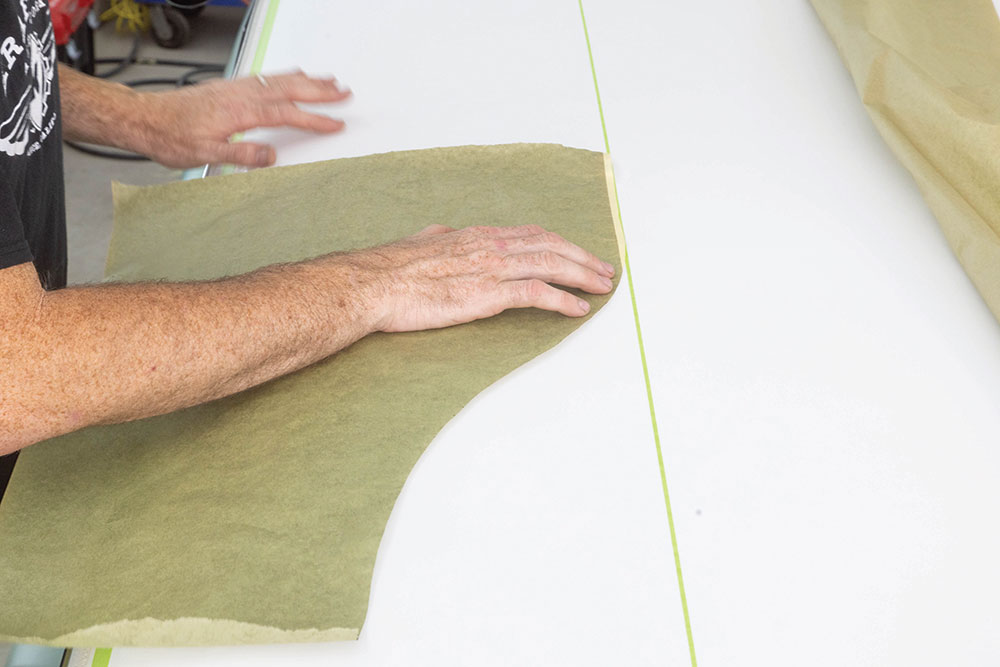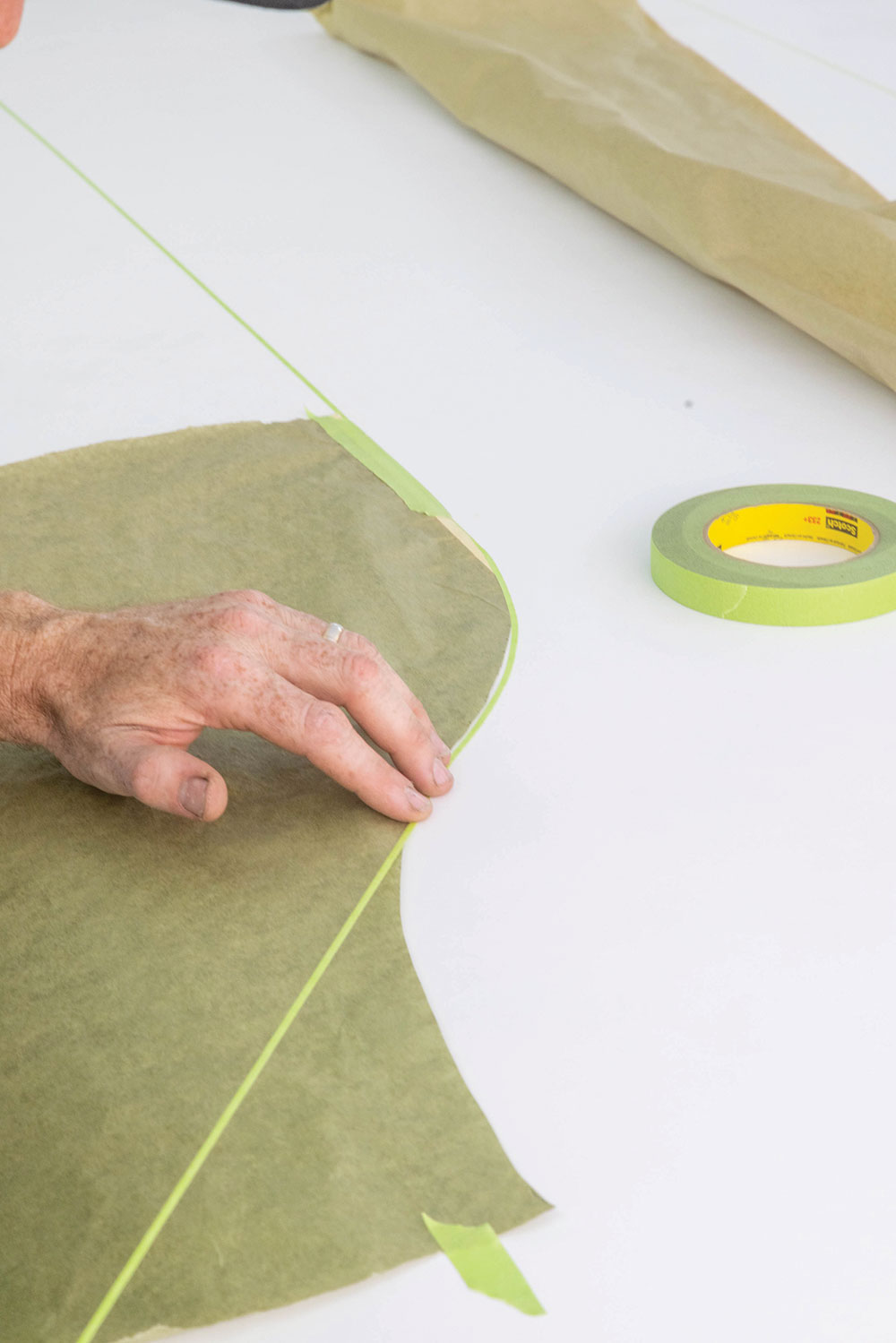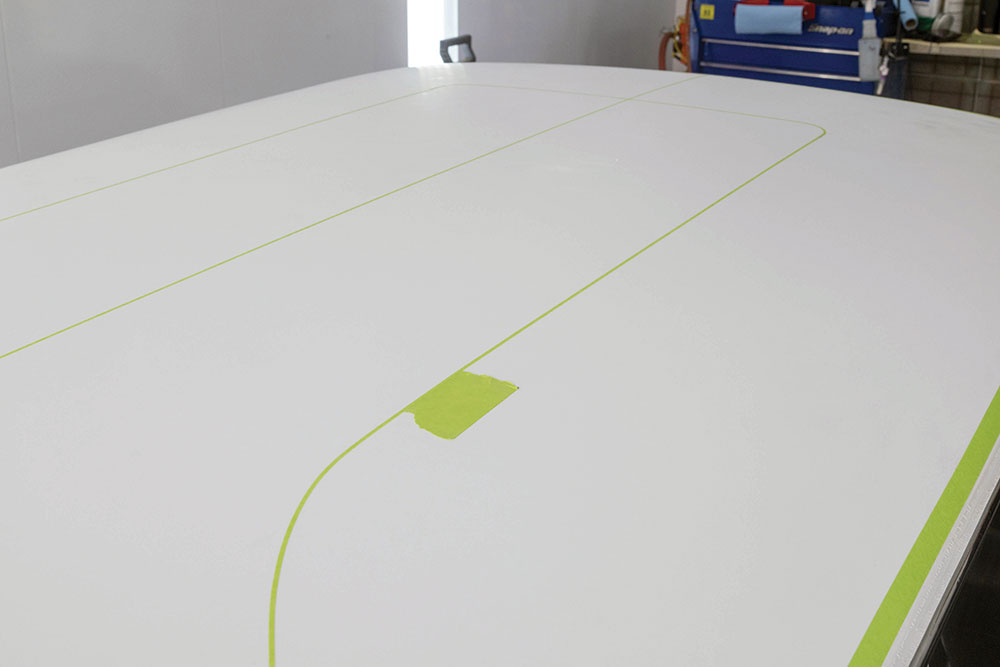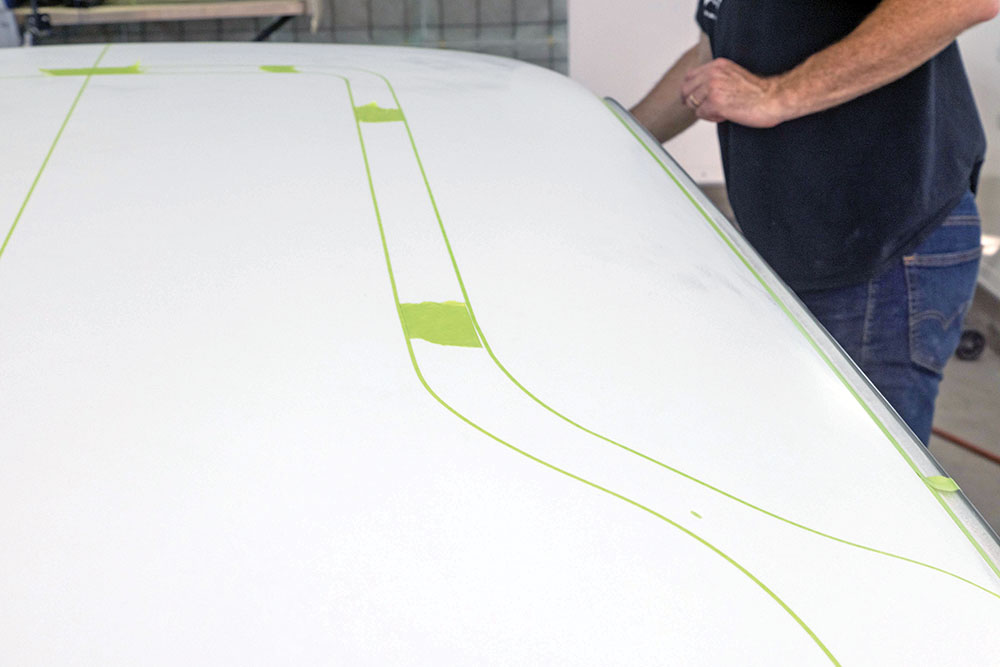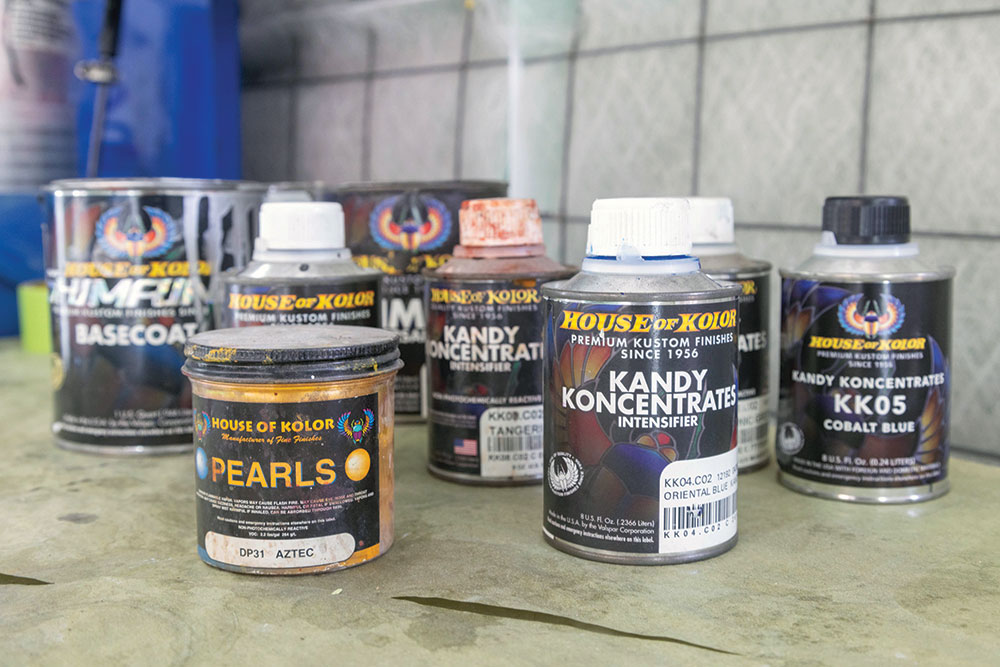 Sources
House of Kolor
houseofkolor.com
Kraftsman Autoworks
(424) 271-5930
kraftsmanautoworks@gmail.com