Danielle's Restomod 1956 Chevy 3100 With a Name That Just Fits
By Scotty Lachenauer   –   Photography by the Author
"I may not have understood what was under the hood when I was a little kid, but I knew what I liked—the cars. I always had an interest in them," Danielle Rigos states when talking about her lifelong love affair with hot rods, muscle cars, and trucks. "It was all around me when I was growing up. My brother is 10 years older than me and always had some sort of hot rod around. At that age I knew I wanted to be part of that scene."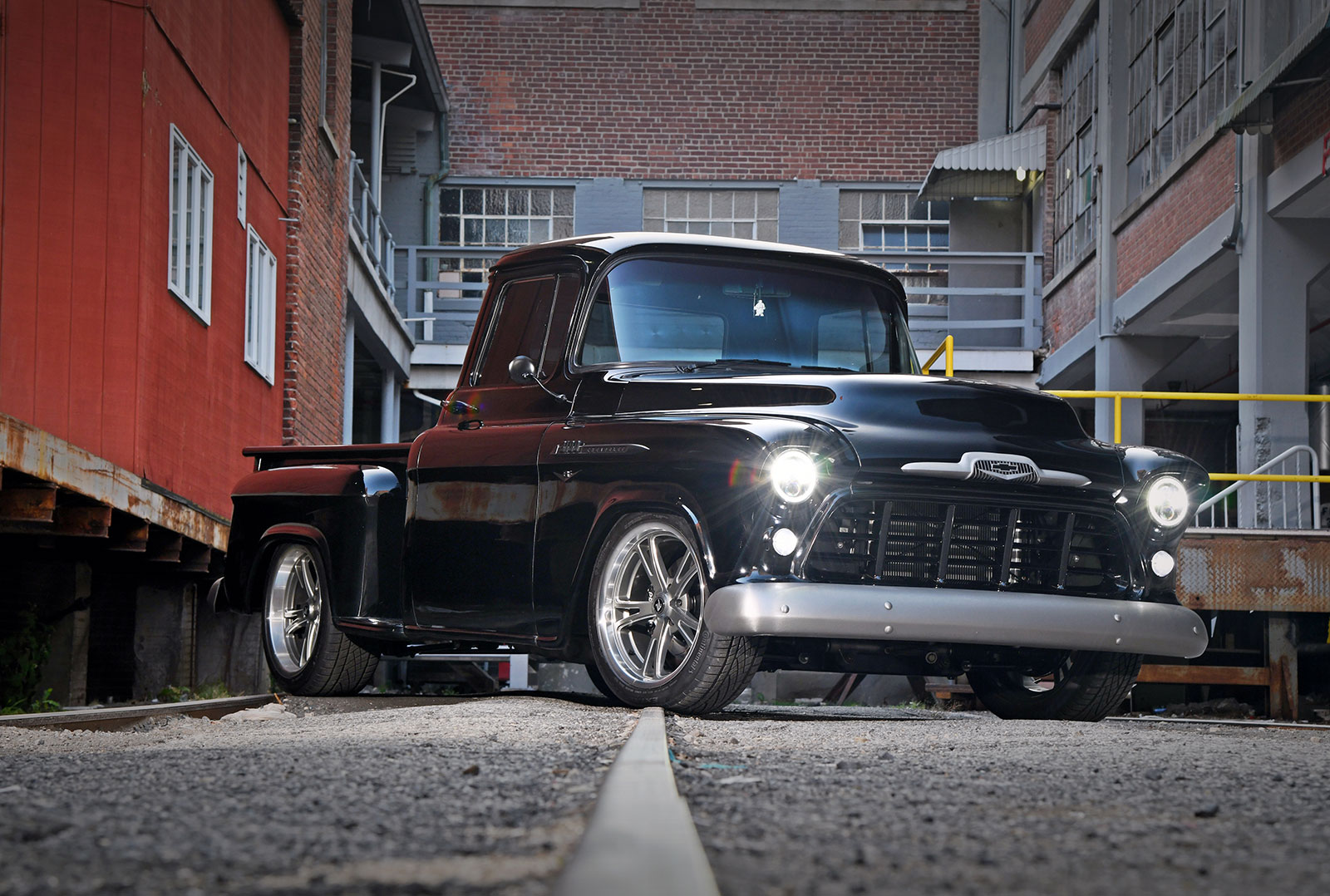 In her formative years there was a steady procession of cars around Danielle, courtesy of her brother. "He had a '55 Chevy, a '68 Mustang, a '69 Mach 1, and some Corvettes. My brother and his friends would wrench on them at the house. Then he moved to California and the cars were sold off. After he left the car thing was still relevant to some degree because I hung out with guys who had cars and would work on them. But I still had the desire to get a ride of my own to work on."
Read More: Race Ready: A Pro Touring 1972 GMC Truck
Things got interesting when Danielle bought a car with a warped head. "I took matters into my own hands and bought the Chilton repair manual for it. I was so determined to fix it myself. I did the best I could. It was the first time I took on a big engine repair." The flame was ignited.
Black Light
"I've always had the desire to get a hot rod to build the way I wanted but I never pulled the trigger. The turning point was watching Chip Foose's Overhaulin' where they surprise Chip with the old truck he bought from his dad. I was sold! I knew at that moment I was going to seek out a vintage truck to build."
After seeing that episode it still took Danielle years before she made the move. "I woke up one morning in 2019 and literally said 'screw it. I'm buying a truck' … and that's when the search officially began."
So, now the hunt was on for a buildable, bedded hot rod. "My husband, Greg, was a mechanic (turned firefighter) who has his own Tri Five Chevy. He was very supportive from the start and helped me get going." The duo started looking for a particular Chevy truck that Danielle wanted, expanding their search from coast to coast. They found what they were looking for close by in New Jersey.
"We took a ride out to Jersey and checked out a '56 Chevy 3100. It had some issues, like a bad 5 speed transmission and a poor stance." After driving the truck Danielle knew it had potential and suddenly all of her hard negotiating skills went right out the window. "I then dropped a deposit down and went back the next week to get it." Danielle finally got the opportunity she had waited her whole life to have.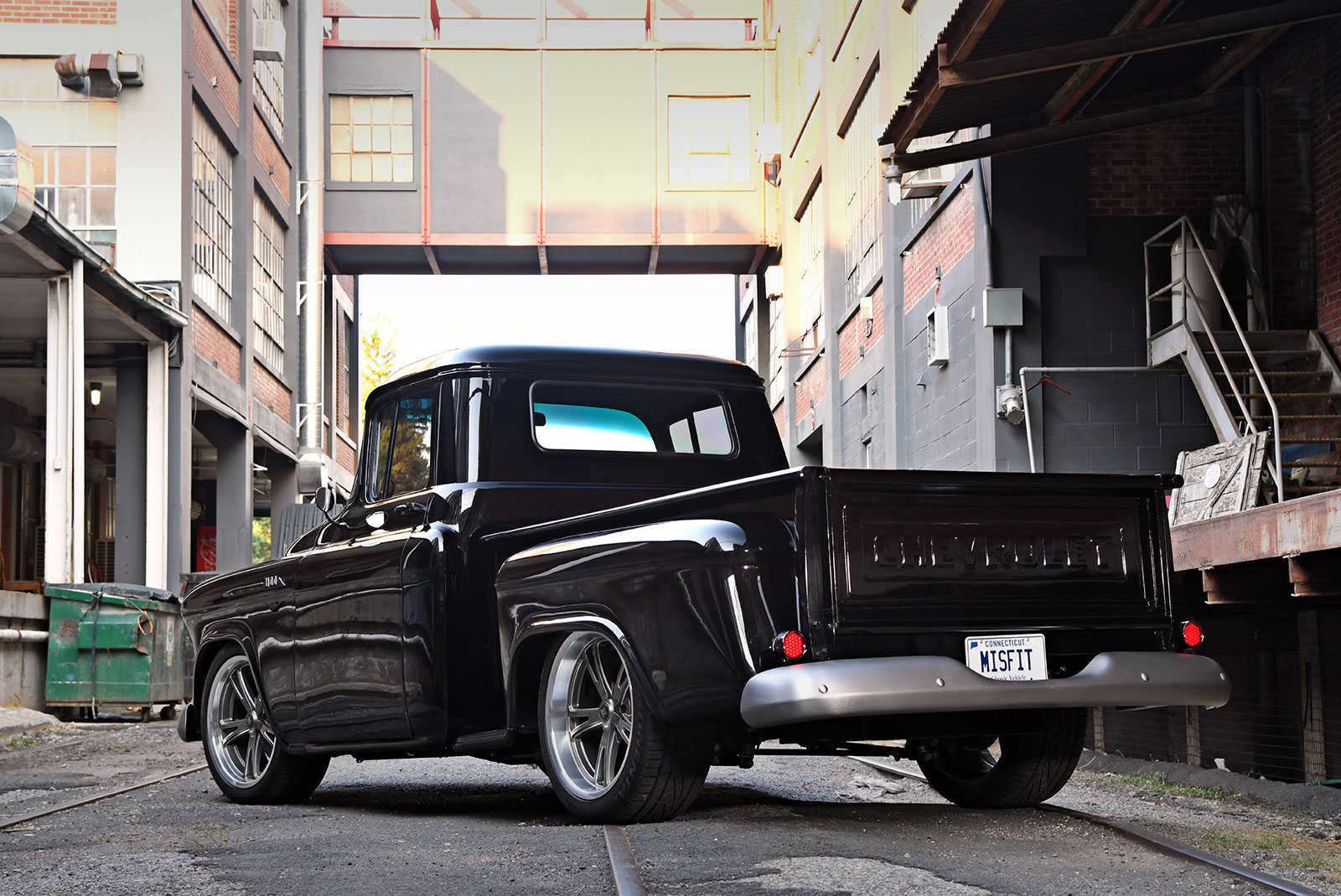 Interestingly enough, the pickup truck started its life out west. "Its history begins in Alaska, of all places, and then spent some time in Seattle before being claimed by the last owner. I love knowing the history; it's pretty cool being aware of where it's been."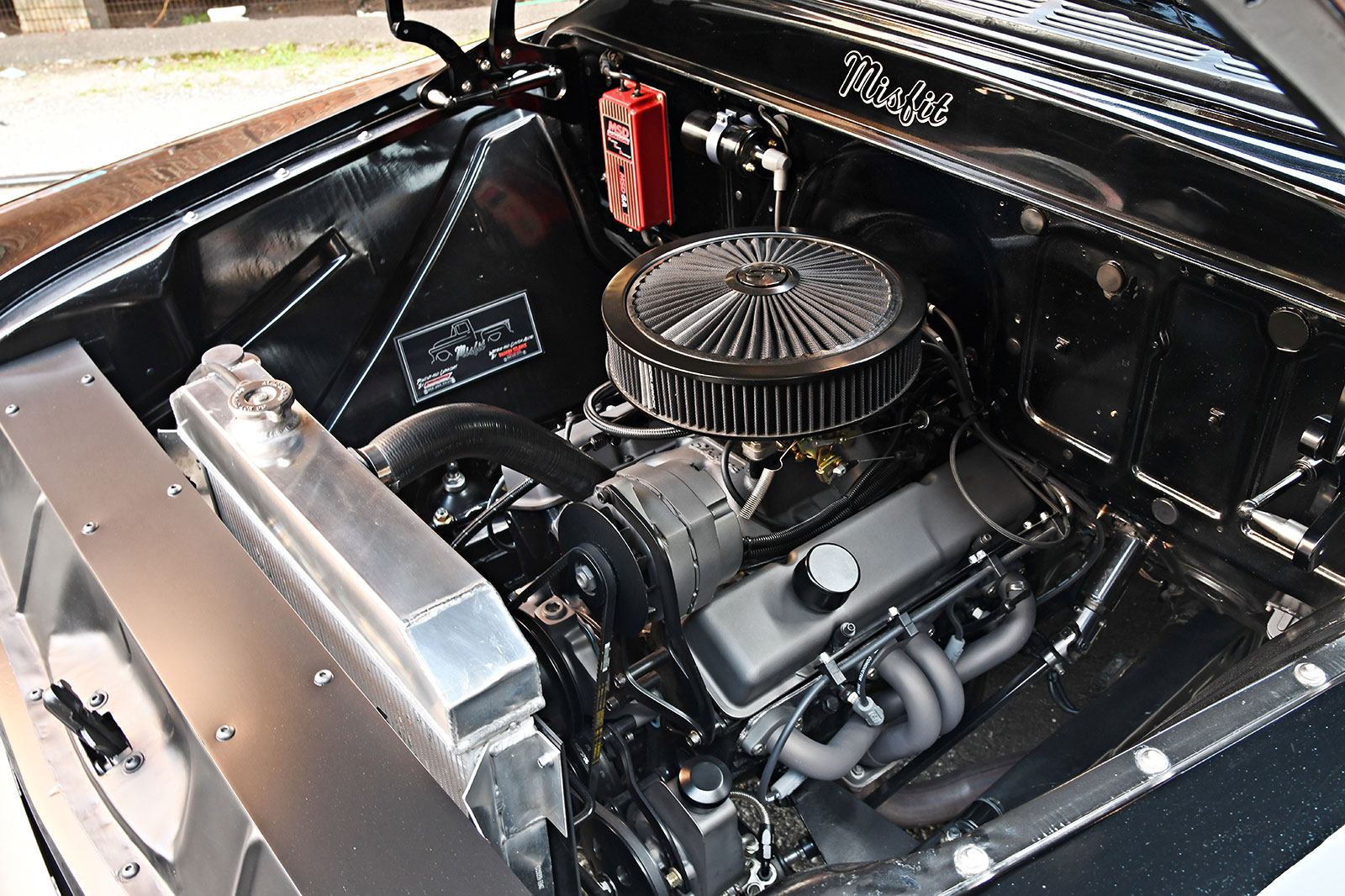 Where Eagles Dare
Prior to the purchase, Danielle did her homework, researching past builds and making a bullet list of things she wanted in her new ride. "I knew it was going to be a restomod, I love the mix of vintage and modern, so we started ordering parts that would work with the build."
Read More: Wildfire Warrior: 1959 Chevy Apache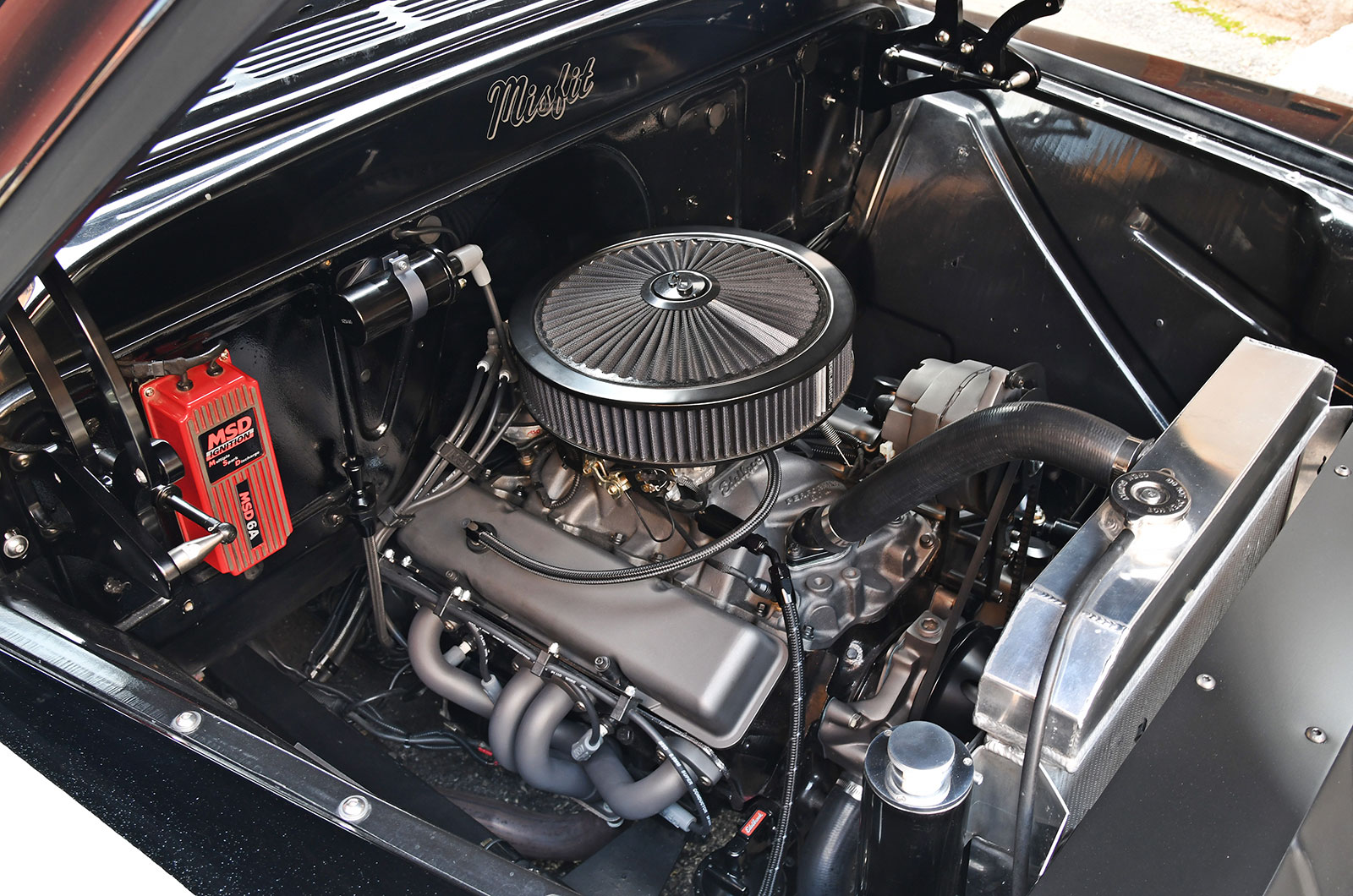 The truck was already built into a hot rod by the previous owner. "It had a good black metallic paint job with some flake in it that was nice, so we kept it and moved on." The heart of "Misfit" is a Chevy 350 0.030-over power plant built with TRW forged pistons, forged crank, and a full roller valvetrain. "We gave the engine a face-lift by powdercoating and Cerakoting the engine's accessories to the truck's chosen color theme." A Performer Edelbrock intake manifold and Edelbrock 650 cfm carburetor feed the small block Chevy and a billet MSD distributor, 6A ignition, and blaster coil tie it all together.
A TCI Street Rodder 700R4 transmission was installed to get the truck through the gears. It feeds a 12-bolt rear taken from a C10 that was rebuilt with an Auburn posi unit and stuffed with 3.42 Richmond gears. A TCI four-link now sits out back. It was converted to single-adjustable Ridetech coilovers both front and rear. Up front, 2-inch drop spindles get the truck down where Danielle wants it. A TCI Mustang 2 front end with tubular A-arms and power rack help keep this truck pointed in the right direction.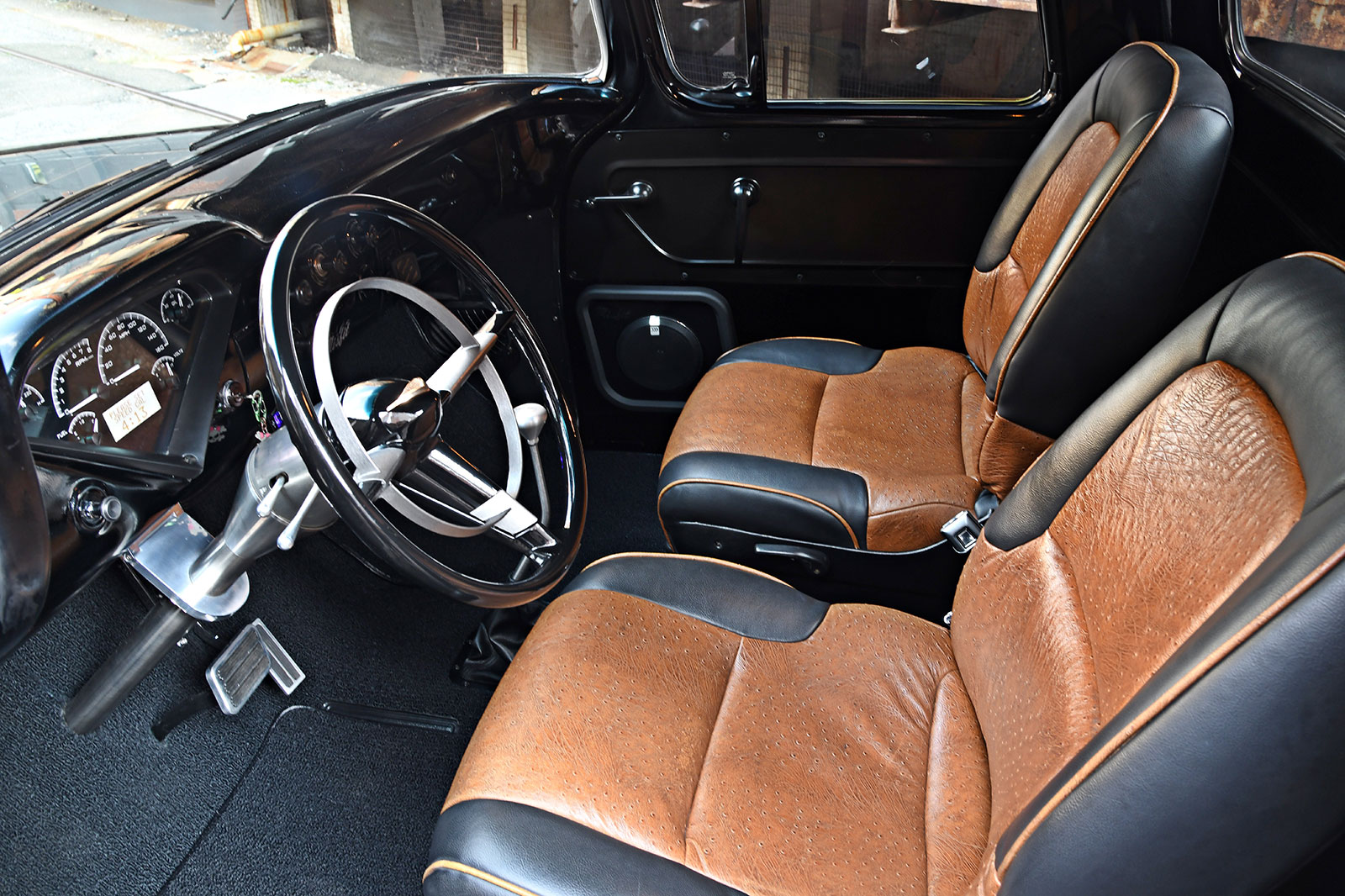 As far as the body goes there are plenty of aesthetic mods. "The emblems, door handles, wipers, and mirrors were all powder coated satin black. The front hood emblem and front and rear bumpers were wrapped in brushed gunmetal vinyl!" Halo headlights and LED tail lights add some pop to the build. The back bed is built on mahogany planks finished in mocha stain, which is finished off with flat top hidden bolt aluminum strips in brushed gunmetal. "We added a hidden hinged fuel door in the bed with soft close hinges." Lastly, the front grille was color matched for a cohesive look.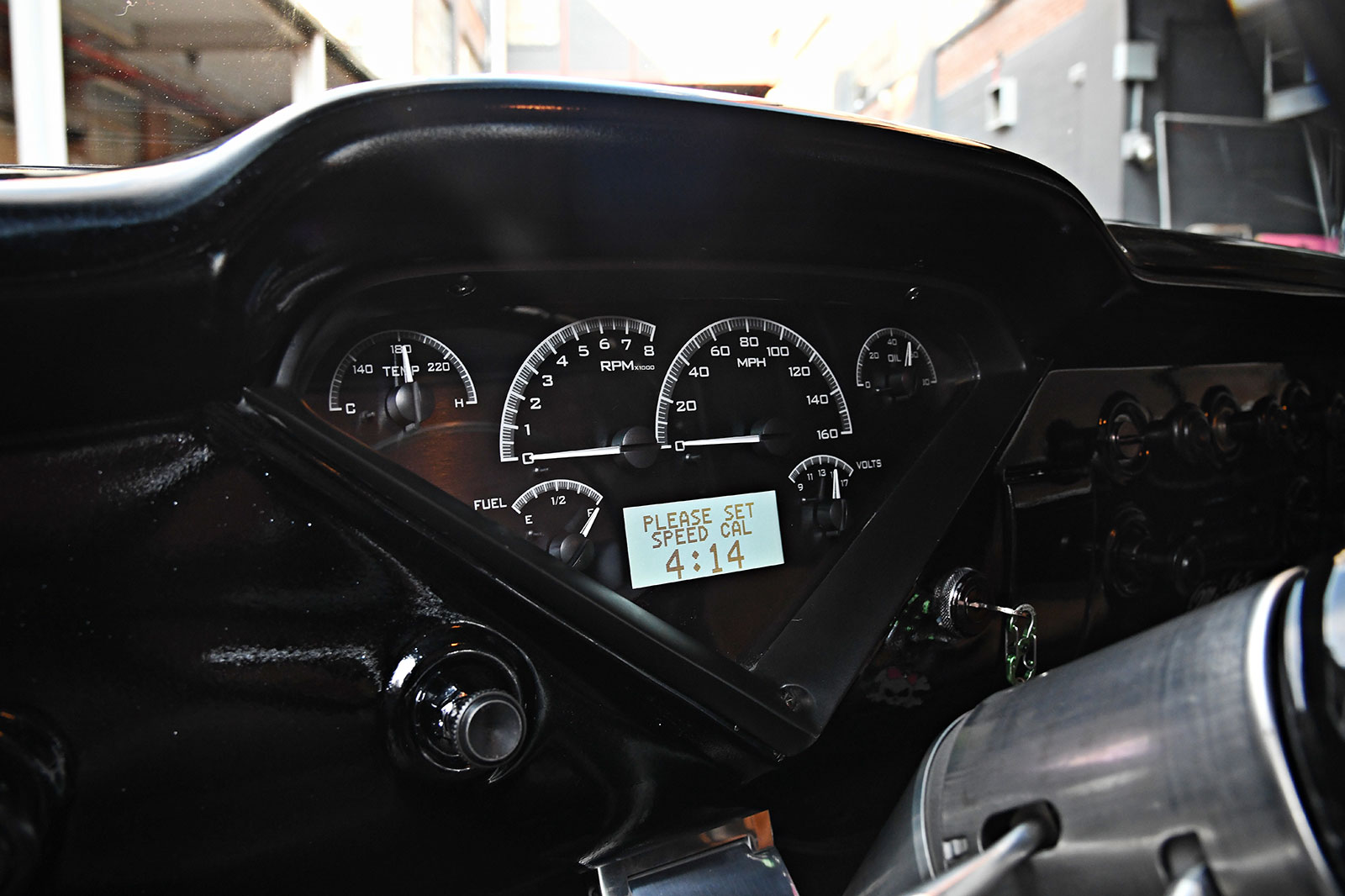 To fit the big rear meats that she wanted, Danielle, along with friend Eric Woodin, installed 4-inch tubs out back. 606s Ridler Wheels, 20×8.5 up front with big 20×10.5s in the rear. The rims are shod in Continental tires, 245/45-20 and 275/40-20 respectively. They are mounted with 1-inch spacers. For stopping power, the owner went with Wilwood brakes all around. Massive 14-inch drilled-and-vented rotors with Superlite six-piston calipers are up front and 12-inch drilled-and-vented rotors sit with four-piston calipers under the quarters. A frame-mounted Wilwood master cylinder helps pinch the quad-disc setup.
As the truck's build progressed, the interior needed some attention, so Danielle carried the satin black, gloss, and gunmetal theme into the cab, which helped the ostrich-covered bucket seats the truck came with pop even more. The previous owner had installed a Grant steering wheel that was pulled and replaced with a '56 stock piece  now mounted to a Flaming River steering column. A Dakota Digital dash keeps track of the vitals and a Lokar shifter gets it through the gears. Tunes are important to the owner so a Sony XM-GS6DSP amp was installed along with a Bluetooth direct-to-amp receiver. Morel Virtus Nano Carbon Integra speakers push out the decibels to her liking.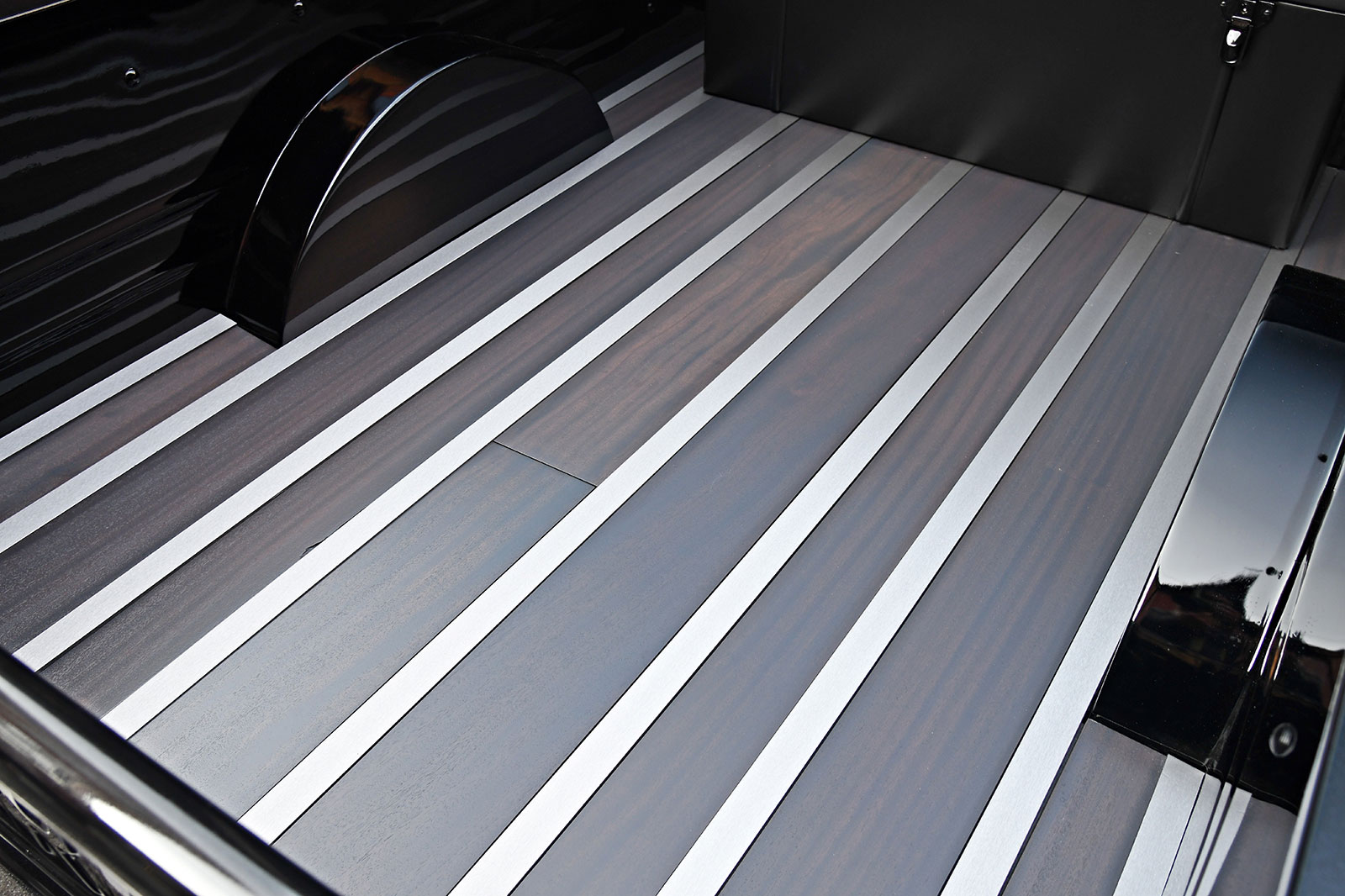 Bullet!
After the perfect storm that was this Chevy rebuild, Danielle could reflect about her new ride. "This build was a snowball effect. Greg and I have touched just about every part of this truck, and we have had help along the way from some family and friends who helped this build come to fruition. There are still things I am going to do to it, and I know it will always be a work in progress. Yet when you build something yourself and put hours of hard work into it, you create a special bond so when you drive it, it's a feeling like no other."
Thanks go out to several very important people and businesses. "I want to thank Broken Silence Custom Audio, Prodigy Performance Coatings, Mamaroneck Auto Body, Motorwerks, and De Dona Enterprises for their products and hard work. A special shout-out goes to Uncle John, Anthony G., and others who gave their support, time, and effort."
Read More: The Seedorf 1954 Chevy 3100 "Hemi Truck"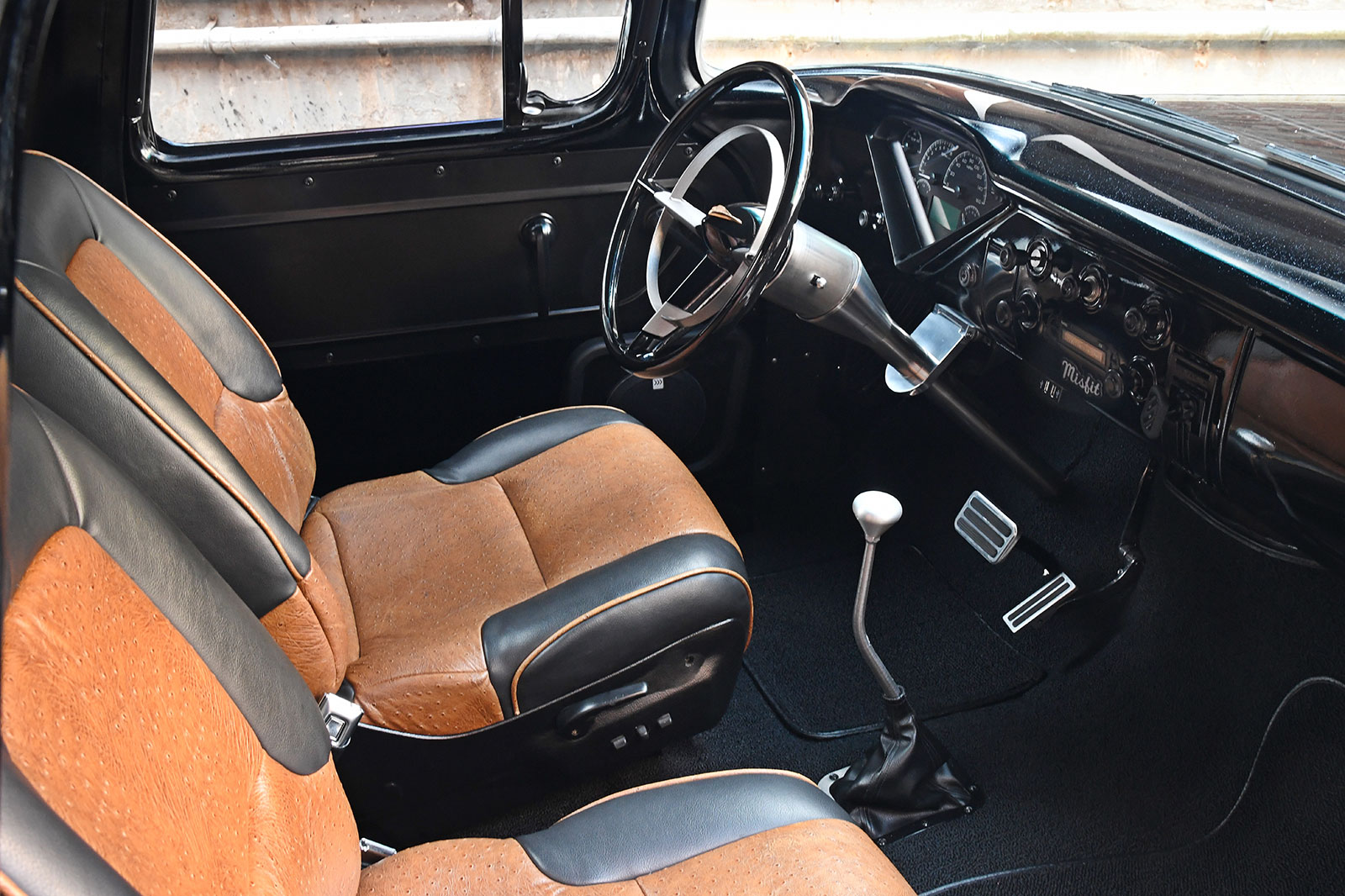 On a final note, we must ask; why was the truck christened Misfit? Danielle explains it this way: "One, because people don't expect a female to be driving it. They always assume it's Greg's. Two, there were so many things that were giving me a hard time when we first got the truck that it reminded me of the Island of Misfit Toys in Rudolph the Red-Nosed Reindeer. That's why I have the elephant with the pink dots hanging from the mirror. Third, I love the band the Misfits. And fourth … it just fit."